Chairman of the Bored
Wickham Park, Manchester
May 2017
I've no idea when you're reading this… or if you're even reading it. But if you're not, why am I talking about you? You're a bum who probably likes Chicago deep dish pizza and wears Crocs. Jerk.
For the rest of you erudite and astute members of society, you probably already know all about Wickham Park. It is a gem.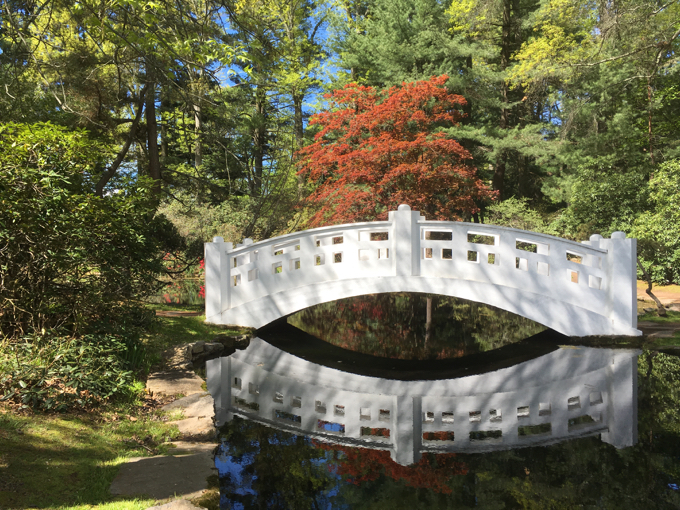 I've been to Wickham many times for many different reasons. On this day, however, my reason was perhaps the most important of all.
For this post marks my final Manchester entity to visit to "complete" the town! (Granted, there are at least two, maybe three breweries set to open as well as a possible museum and a trail that may be cleared in the future, but you get my point.)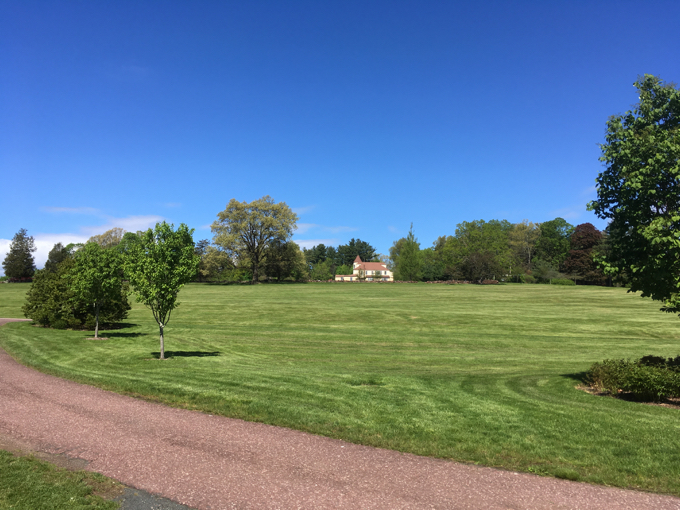 This page is about walking at Wickham. If you're more interested in the aviary (which is awesome) and the nature center (which is merely okay), you can go here. If you looking for the cool outdoor model train, I've got a page for you too.
But Wickham is all about the beautiful gardens. As a private park, you must pay five bucks to get in here to stroll through them, but it's worth it.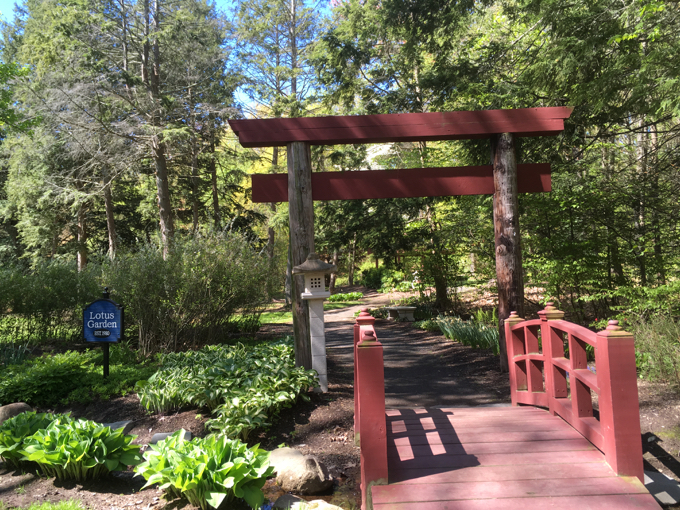 There is also a trail network in the eastern section of the park which, to me, is almost as cool as the gardens.
Objectively, the gardens are infinitely better than the woodland trails here. No question. But one day… I think it was the day I just had to seek out the covered bridge at some apartment complex near Wickham, I happened to notice a chair up on a hillside overlook at what I figured was in Wickham Park.
I had to find that chair.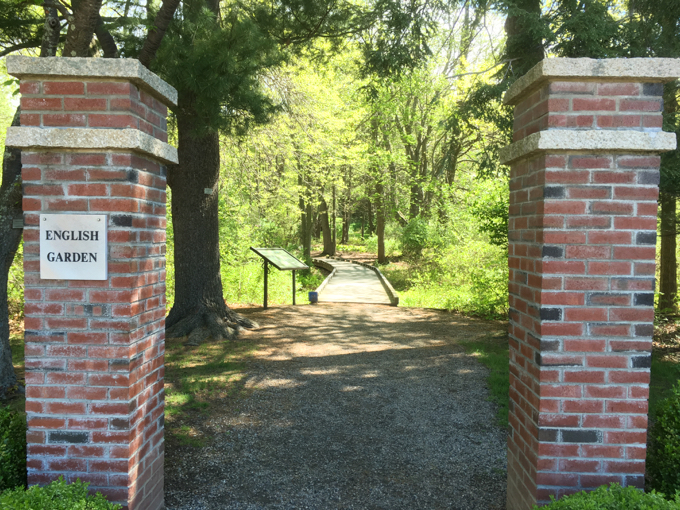 Not only that, but I decided that that chair would be my final Manchester picture. A rarely visited chair at the furthest reaches of Wickham Park overlooking the whole of Manchester.
Sure, most people would climb up Lookout Mountain at Case Mountain Park for their Manchester view, but you guys know me by now. I wanted a different view.
And that's what brought me to Wickham… to "complete" Manchester.
Poetic, dontcha think?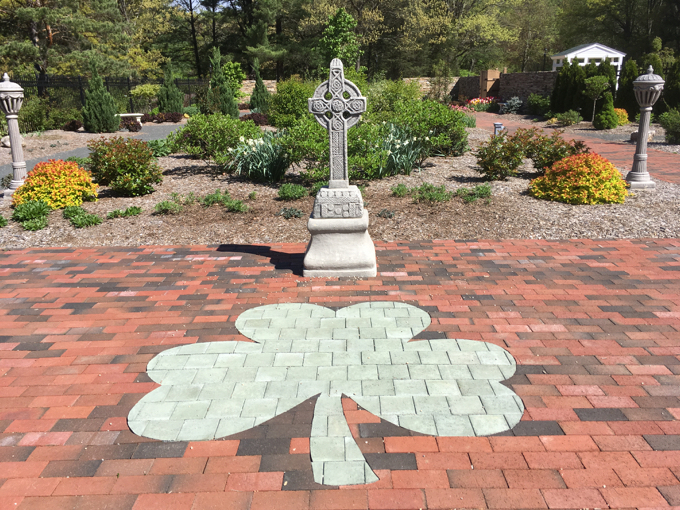 I first poked around the gardens. As I've said, they are beautiful.
Wickham Park's most unique feature is its many acres of ornamental gardens. There are six different themed gardens, ranging in size from one half to eight acres.
Let's start with the largest and oldest; the Oriental Garden. I've no idea if "Oriental Garden" is still okay to say. I know rugs can still be "Oriental," but my Asian wife cannot. I also know this is still funny, no matter what anyone says.
Still gets me.
Within its eight acres are several oriental structures and statues. The most identifiable are the torri archway, the fu-dogs, the arched moon bridge over the pond, and the Teahouse.
(These are "fu-dogs" (sic). And this is a "torri' (sic) archway.)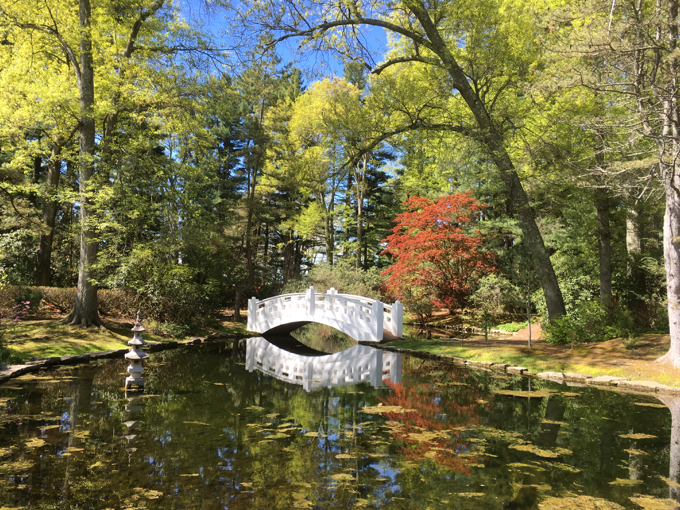 There's no denying that this area is beautiful. Nearby you'll find the English Garden.
One of our new gradens, the English Garden covers just under 2 acres in an area adjacent to the Oriental Garden. Based on formal English design principles, it contains three "garden rooms": the Maze, the Knot Garden, and the Great Lawn.

It has been designed so that areas of the garden are in bloom all season long. Entrance is gained through the lilac or cherry walks, with detours into the rose walk and the hydrangea corner. Our most formal garden, the English Garden contains 1000 feet of hedges, dozens of shrub and rose varieties and hundreds of perennials
Sigh. We Englishfolk are just… boring. I find English gardens beautiful and I like their overall design but, I don't know, they're just as stuffy as the people on Downton Abbey.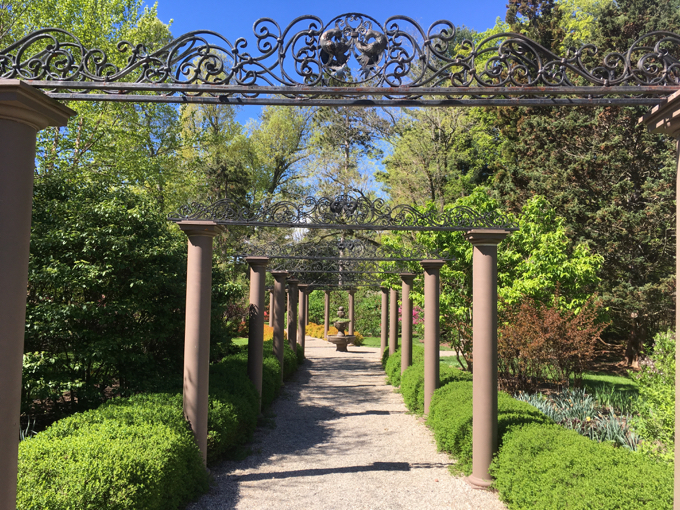 For some reason there's also a Scottish Garden here. I have no clue what differentiates a Scottish from an English garden, but there's yet another reason why you should visit Wickham Park. See if you can figure it out.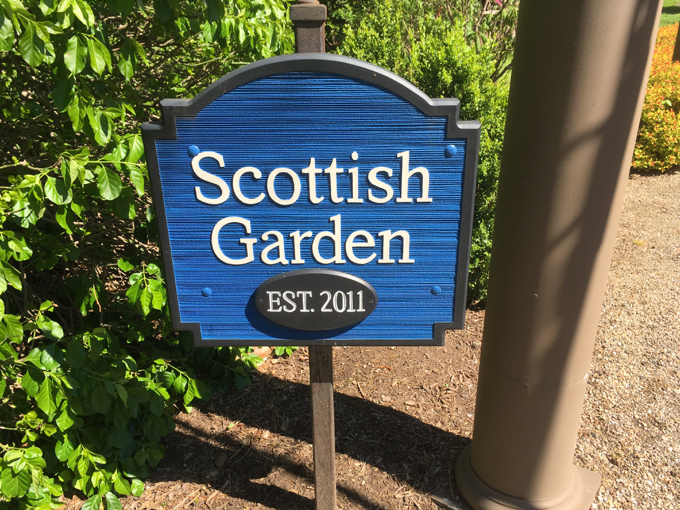 [The Scottish garden] incorporates plantings and statuary with historical or mythological significance to Scotland.
Okay, what else? The Lotus Garden was closed during this particular visit ("The pagoda is an oriental structure which provides a lovely setting overlooking the pond"), I missed the Rhododendron Garden ("Even regular park visitors may still not be aware of our newest garden.", and I also didn't make it up to the Cabin Garden.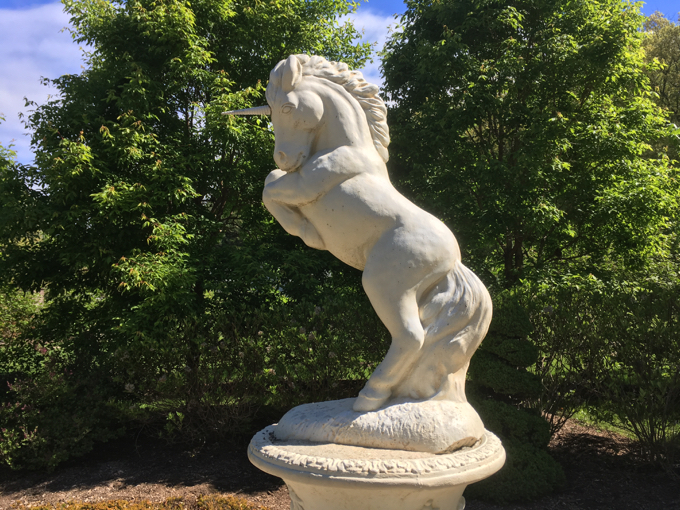 Don't make that same mistake; the Cabin Garden is located at the highest point of the park, and surprises most first-timers with a great panoramic view of Hartford.
There's also the Italian Shrine, which I was interested to learn…
This garden was originally created by Clarence and Edith Wickham as a place for their workers to worship. The Shrine is a structure with stucco pillars and a flagstone base, which is set on a grassy knoll enclosed by beautiful plantings. Statues of St. Theresa and St. Francis highlight this garden.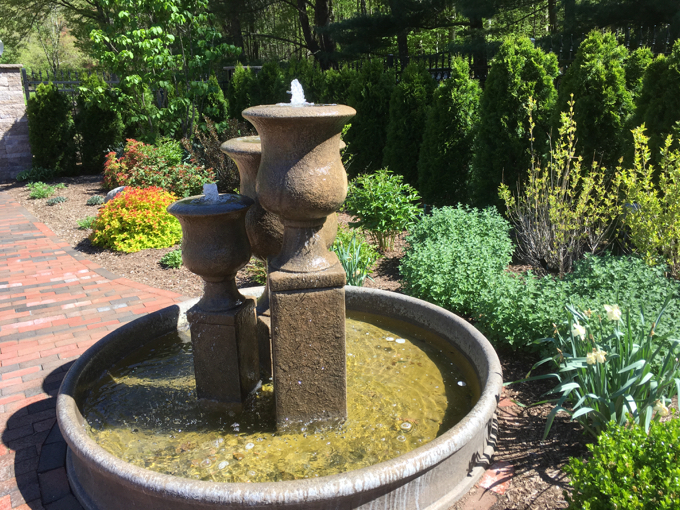 What nice people those Wickhams were. Here guys, here's a beautiful shrine for you. No need to go to the church down the road.
Lastly, there is the Wetlands Garden. This is way, WAY bigger than you think it is.
Debuting in 2005, the Wetlands Garden, was created with funding from the Connecticut Department of Transportation. This is our most natural garden, containing trails of over six tenths of a mile (mostly boardwalk), benches, interpretive signage, and thousands of native wetlands plantings.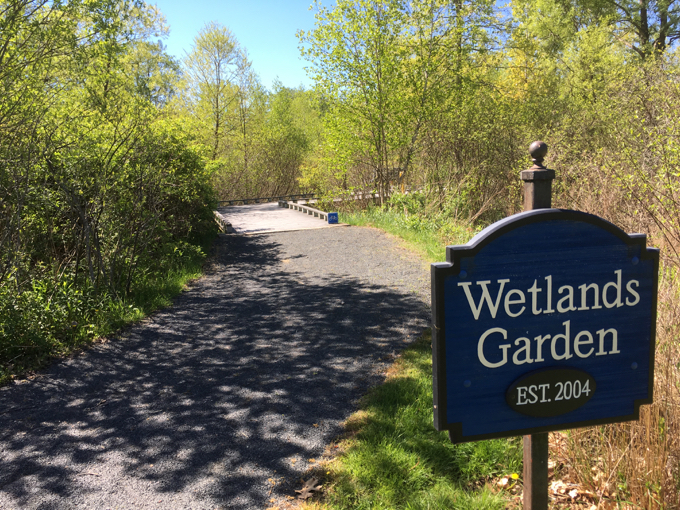 Sure, half a mile is only half a mile, but the trail twists and turns and splits off and you can never see too far ahead. It's almost disorienting. I was hugely impressed with the upkeep of this area.
Keeping the invasives at bay here must be nearly impossible, and Wickham has done a decent job of it. There were some birders out on the Wetlands trail while I rumbled by. They gave me dirty looks. I didn't know how to take that; after all, this was a public trail at a very popular park.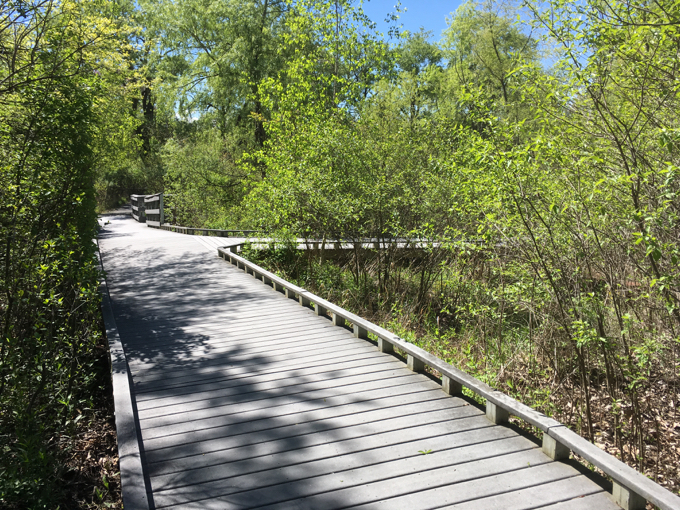 Then I realized that very few people ever walk to the far reaches of the wetlands trail. But I wasn't sorry. I've got my own hobby, people.
And that hobby takes me to secret chairs at secret overlooks. I began walking up the Fitness Trail at Wickham. My plan was to check out the Bird Sanctuary first.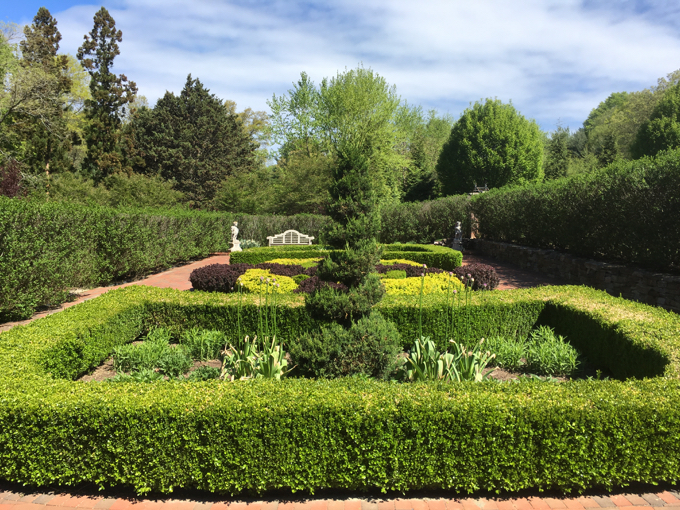 One of the least traveled areas of the Park is the Bird Sanctuary. When the Park acquired 35 acres north of the fitness trail a few years ago, it already had a diversity of wildlife because of its remoteness and lack of accessibility to the public. We have since worked at maintaining a mix of meadowlands and transition forest with a system of trails throughout a portion of the acreage. Future plans include a trail map, some signage, and educational resources for the area.
I know that was written several years ago and from what I can tell, they are still waiting to make this area friendly for the public. There were no signs beyond this one: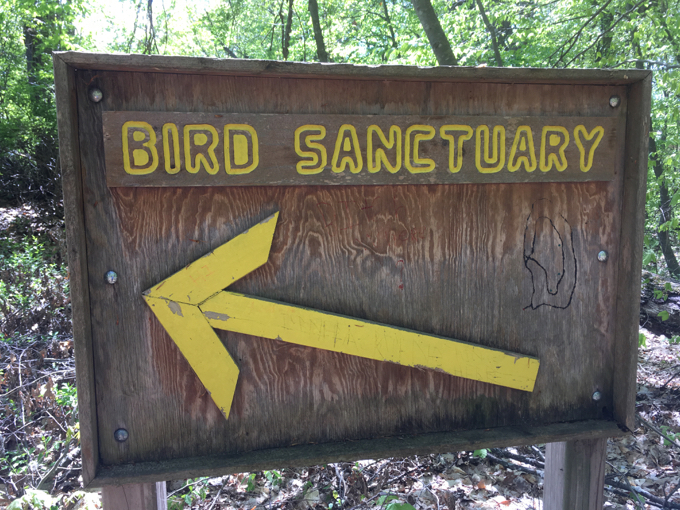 And that one pointed the way to a faint trail that disappeared pretty quickly.
I fought through the brambles and stuff to get to the open hillside…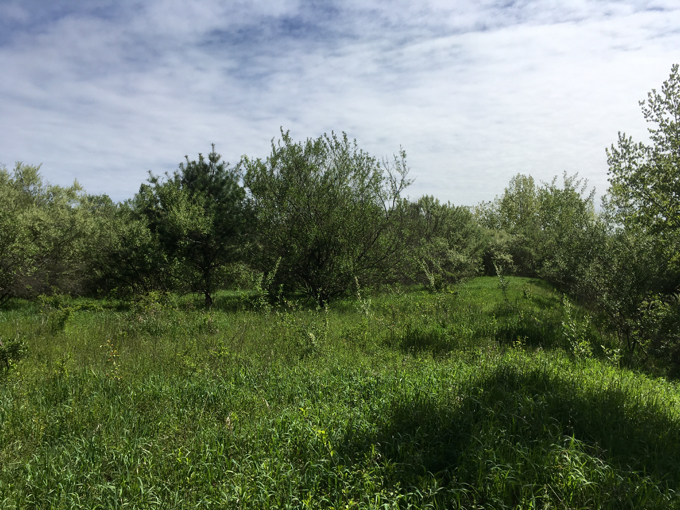 And poked around before declaring it a tick sanctuary. It was time to find the chair.
More fitness trailing and I knew I was heading in the right direction. Here's the secret… which you totally deserve for reading this much of this page. Ready?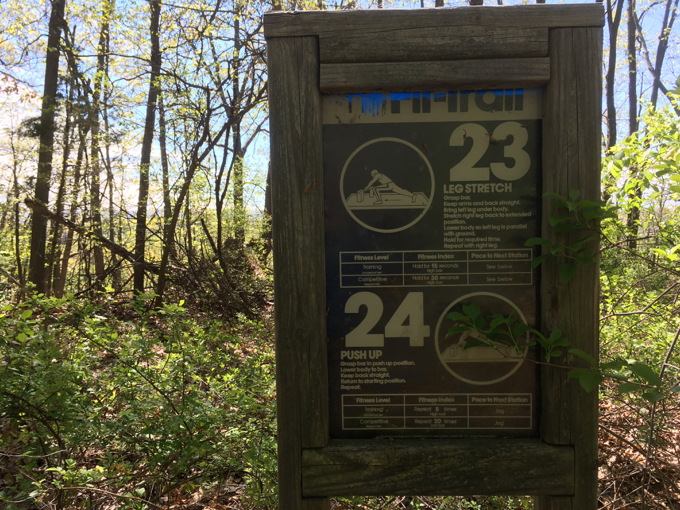 It is at this fitness station you'll find faint trail into the woods. Follow that trail. Don't worry, you'll be okay. I promise.
It's only a hundred feet or so, down, around, and…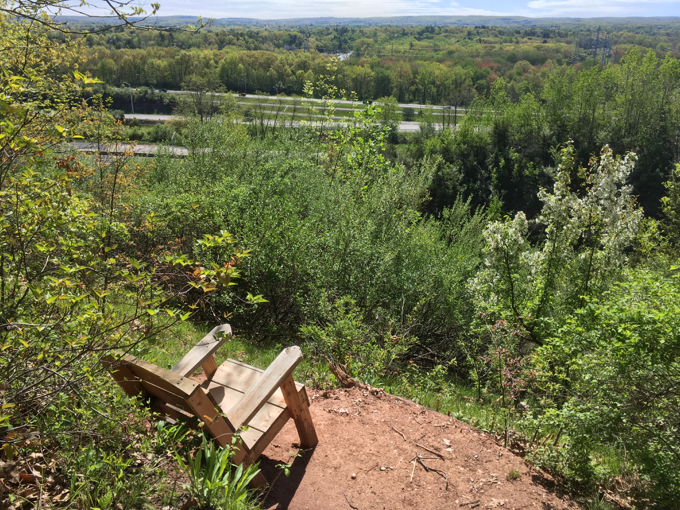 The chair! You must hop down a few feet to actually get to it, but you can do it! YOU CAN DO IT! This was it! I had "completed" Manchester! Time to soak it all in.
I sat in the chair and wondered what percentage of Wickham Park visitors sit in this chair. Certainly less than 1 percent. I'd guess maybe a tenth of one-percent. (Let's bear in mind that probably two-thirds of visitors are here for specific things that don't involve walking up a hill and into the woods.)
Manchester thus became the very first town of our 169 that I "completed." It felt good. I pushed aside the fact that towns like Manchester won't ever be truly "completed." They are too big and there will always be something new.
But whatever. For the moment, I had my chair, my view, and my accomplishment all to myself.
December 2021 update: I have "re-completed" Manchester and yes, many things were added since this day at Wickham. Just thought you should know that.

Wickham Park
2009 Visit to the Aviary & Nature Center
Wickham Park train
CTMQ's Gardens, Greenhouses, Wild & Weird Plants
Manchester Trails
CTMQ's Manchester Town Land Trails Main Page