Through Zephyrs and Rain and Damian, We Continue the Wine Trail
NorthWinds Vineyard, Watertown
July 10, 2010
This winery closed in 2013.
This page used to begin with several paragraphs of me lamenting the shortcomings of the CT Wine Trail. Namely, the terrible website, the woefully out of date brochures, the paucity of information available to consumers… but much of that has since been rectified.
Anyway… NorthWinds. In Watertown. Watertown? Yeah, Watertown. What's it to you? A good friend of mine grew up in Watertown, got married and ought a house in Watertown, got divorced and lived with his parents in Watertown, works for the town of Watertown, and is now a remarried father living in new house in… Bozrah. Nah, just kidding… He's still happily in Watertown.
No one lives in Bozrah. NO ONE.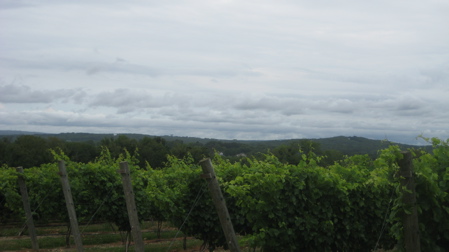 The vineyard is perched up on a hill overlooking the valley below and the hills beyond. It's quite striking, really – and a bit surprising after driving up through Watertown's commercial center. There is a very nice new giant building here too, which I'm assuming is the owner's house. We walked around back to find their "open-air tasting pavilion," which is a change from the usual tasting room, I'll admit.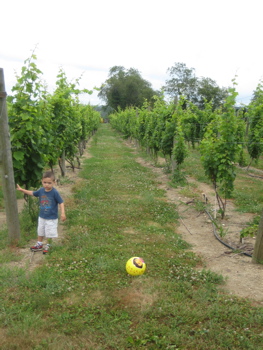 Damian became difficult from the moment we arrived and huffed and puffed around the grounds. Ironically, there were children's toys here and plenty for him to do, while Hoang and I did our best to learn about the new operation.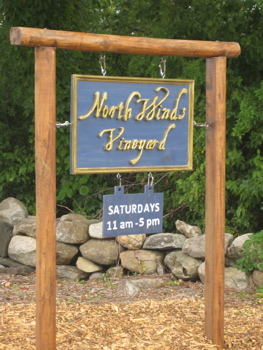 NorthWinds Vineyard is a small family owned 5 Acre vineyard featuring estate bottled wines made from Riesling, Traminette, Vidal Blanc, St. Croix, and Cabernet Franc grapes.

Our mission at NorthWinds Vineyard was to take our prime farmland soils and establish crops that could produce premium wines. The soil along with a steady cool climate and hilltop setting allow for ideal growing conditions for the Varietals offered. Over 85% of the total wine produced is Estate Bottled, and all of our hand-crafted wines contain fruit from our vineyard.

Keeping production under 400 cases allows us to oversee every aspect of the grape growing and winemaking process from pruning to harvest, and grape to glass. This gives us more hands-on control of the winemaking process which allows us to use techniques that on a large scale wouldn't be possible so the quality comes out in the end product.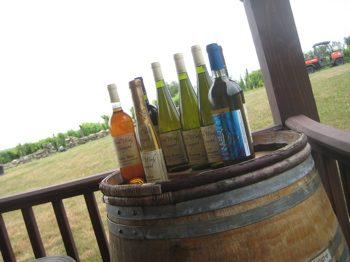 Forgoing the usual tasting in light of Damian's plight, we each got a glass of wine. Of course, this makes this review unfair as I like to do a tasting at new places. Oh well.
I found this tidbit from their website interesting:
We take an organic – sustainable approach to growing our grapes. Our pest management program utilizes OMRI (Organic Materials Register Institute) listed materials for protection of fungus, mildew, and non-beneficial insects. We spent 5 growing seasons developing this program and found the OMRI fungicides yielded better results in health of the vine and taste of the fruit.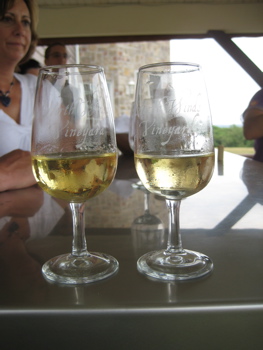 We got a glass of the Zephyr ("Zephyr is a blend of whites with crisp acids and soft fruit. An elegant white with a zing of acid") and another of the Vidal Blanc ("The harvest of our Vidal is split to bring out the best expression of the grape. Crisp acids, floral, and citrus aromas are retained in the October Harvest. The rest of the crop is left on the vine to gain more concentrated sugars and acids. In the December harvest, the unfermented juice called the "sussreserve" is blended into the already fermented wine contributing the residual sugar necessary to balance and create a full bodied wine.")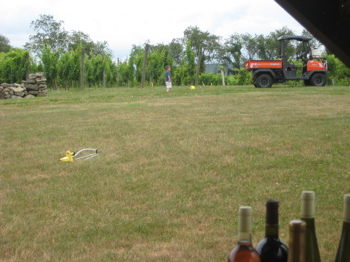 Our distracted amateur judgement: The Zephyr was decent and, well, the Vidal wasn't the best. I feel terrible that we didn't try anything else. The other guests were very much enjoying their tastings and buying bottles of the reds. I'm sure I'll stop by again someday unencumbered by Damian's antics. (He actually found a ball and kicked it up the hill, into the vines and far, far away from us which was great… Except for the, y'know, him being all alone by himself in some random vineyard on a hill in Watertown in a drizzling rain.)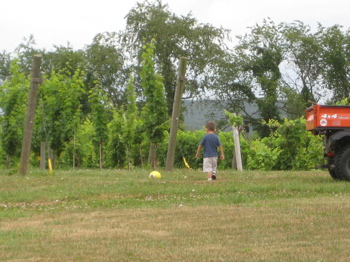 I felt (and feel) badly for the nice young women doing the tasting and pouring. They were exceedingly nice and kept smiles on their faces with two obviously grumpy parents (that would be us) and an obviously difficult child (he knows who he is). I owe it to them to return some day and do a proper tasting. And with the Mattatuck Trail still to do relatively close to here, I promise that I will.
2013: Whoops. I never did. Sorry.

CTMQ's Visits to Connecticut Wineries