Corny
Foster Family Farm, South Windsor
September 24, 2017
I had never in my life done a corn maze. So I figured I should do one. "Completing" South Windsor gave me such an opportunity.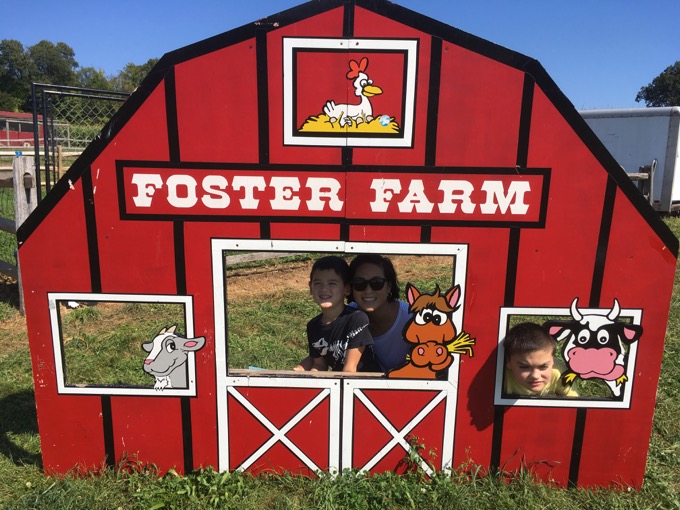 I have now done a corn maze. In fact, according to the Foster Family Farm website, I've now experienced Connecticut's "premiere farm attraction." I am complete.
And so is Calvin!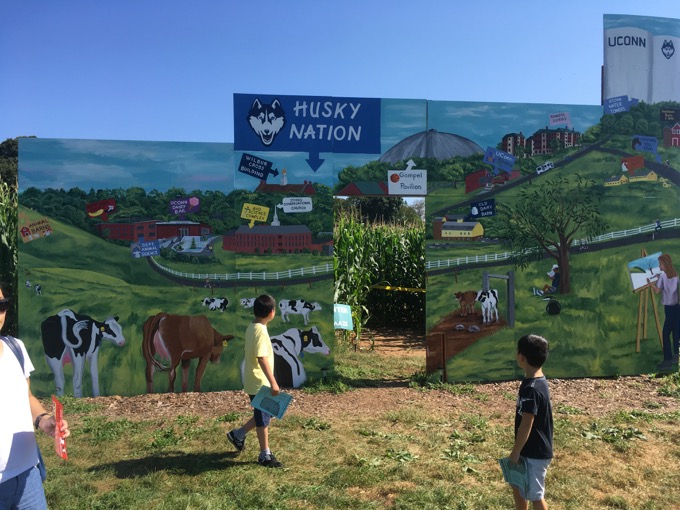 There are probably 20 or more corn mazes around the state and in case you were concerned, no, we will not be hitting them all. And really, after spending a sweltering 92-degree afternoon at the "premiere" one, everywhere else would be a letdown anyway.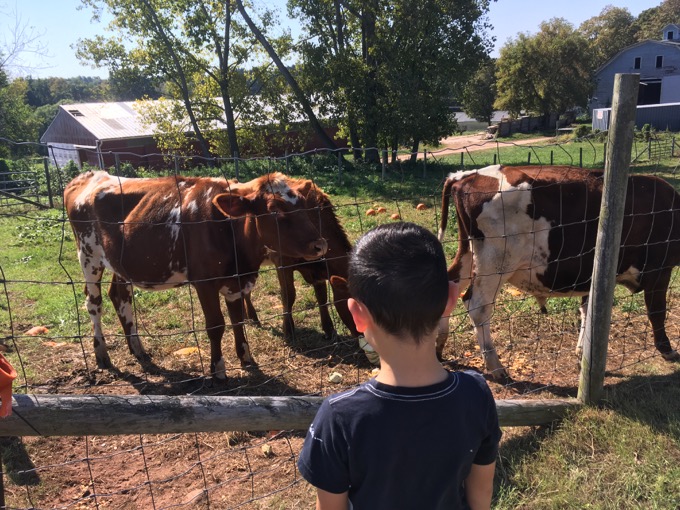 We wound up here because when I was filling out my list to "complete" South Windsor, I figured that the premiere farm attraction in Connecticut was CTMQ-worthy – and it is!
I also (correctly) figured that my youngest son would soon be aging out of corn maze fun – and he is! So here we are. In a cornfield. In South Windsor. At the one and only corn maze that will ever appear on CTMQ!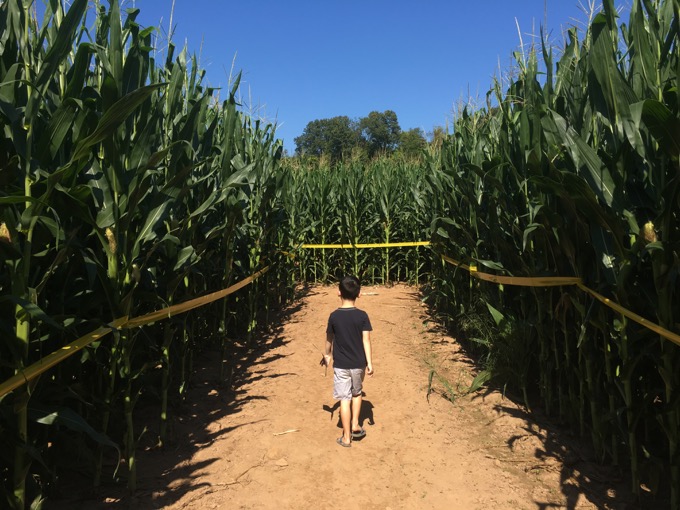 I have no idea if all corn mazes are as expensive as Foster Family Farms' but $34 for our family of four seemed a bit steep to me. (Especially since, as we should have expected, Damian wanted nothing to do with the whole thing and sat it out. It was just too hot for him I guess.)
Foster Farm has 3 distinct corn mazes, actually. There's the baby one that we did in about 3 minutes. But there are two other massive ones:
Two full sized corn mazes encompassing 8 acres of land and 4 miles of trails. Enjoy the outdoors as you hike through our fields, exploring the land that time forgot. Who knows what might lurk in our cornfields? It is all part of the fun in our one of a kind interactive corn mazes.
Get Lost in the adventure!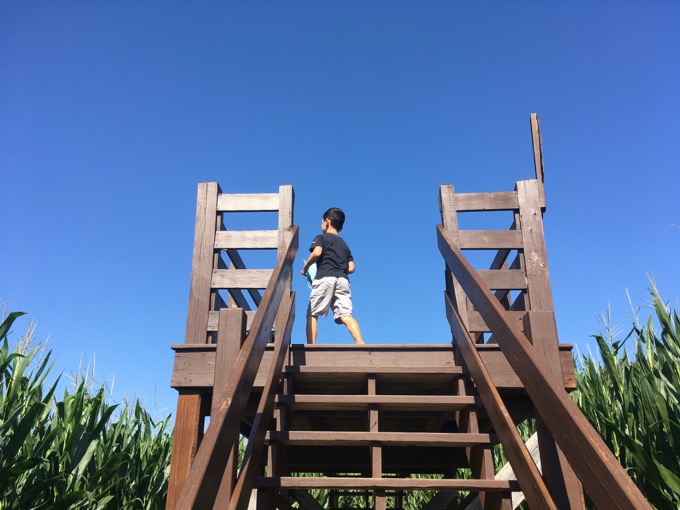 It's a little silly to say there are "4 miles of trails." I mean, for someone to actually walk every foot of the maze would be literally insane. Being totally new at the corn maze thing, it took me a few minutes to realize that the map I was given was actually a true-to-life map of the maze.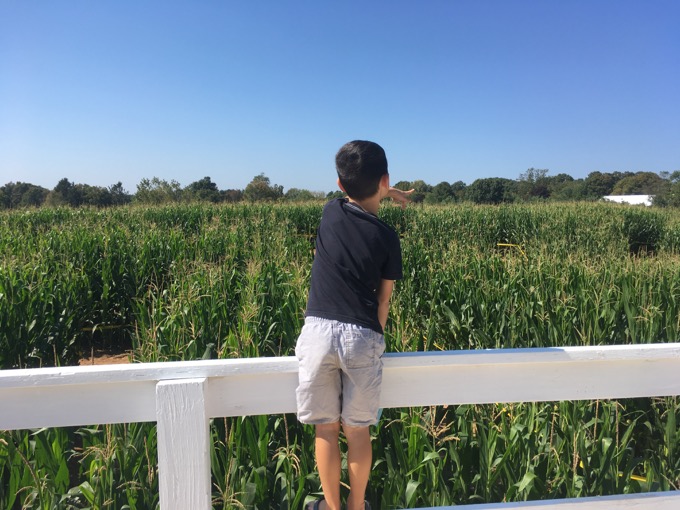 Which, you know, sorta makes the whole "getting lost in a corn maze" thing moot. (Although, without the map… yeah man, these things would be tough!) I used the whole exercise to teach Calvin a little bit about map reading and we had fun doing so.
This year's theme is UConn and the showpiece maze is pretty incredible from the sky: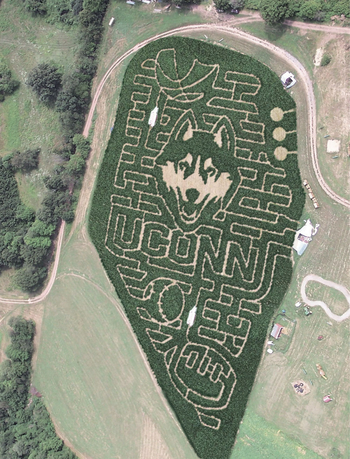 I imagine a LOT of work goes into this – $34 worth of work to be sure. Throughout the maze there are little games and informational placards about UConn, so they keep you engaged. Calvin had fun.
We made fairly quick work of the maze, hit all the checkpoints, and emerged to find Hoang and Damian at the playground, sweating profusely. It's not really supposed to be above 90-degrees in September.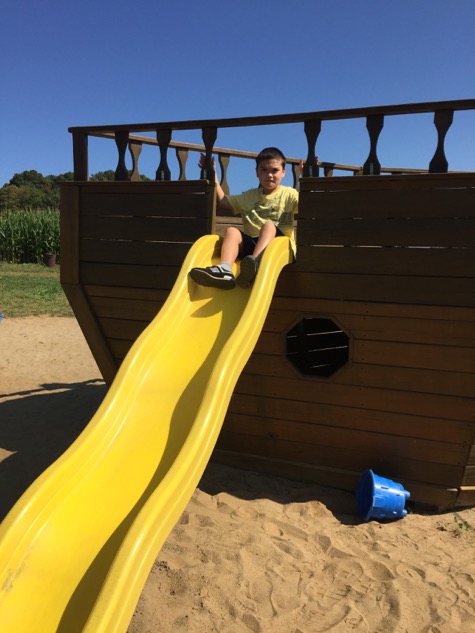 Foster Family Farms has some other stuff for little kids but again, mostly stuff for kids littler than my littlest kid. But he still had to dominate the trike race course: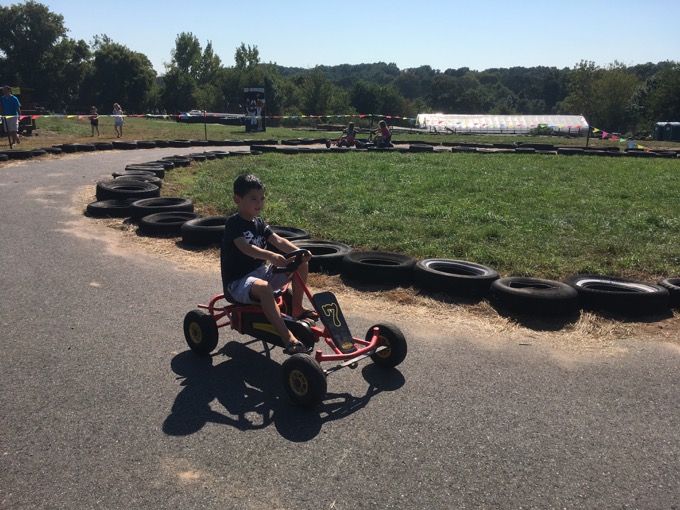 Those 4-year-olds didn't know what hit 'em. Hoang bought some pumpkins and I got Calvin an apple and we hit the road.
This place is well-run, the folks were incredibly friendly (despite the young employees having to stand out in the heat), and if you have younger children, this would be a nice autumn afternoon well-spent. They offer hayrides and some other things we didn't really do – due to the heat, Damian, and Calvin being a little older than the target demographic. But we had a lot of fun regardless!