Don't Know Jack
Indian Jack & Charlie Krug Caves, Plymouth
December 2022
If for some odd reason you've been reading through my pagef on various Connecticut caves and dens, you're surely tired of reading that almost none of our state's caves are actually caves. And that sometimes our caves aren't even cave-like.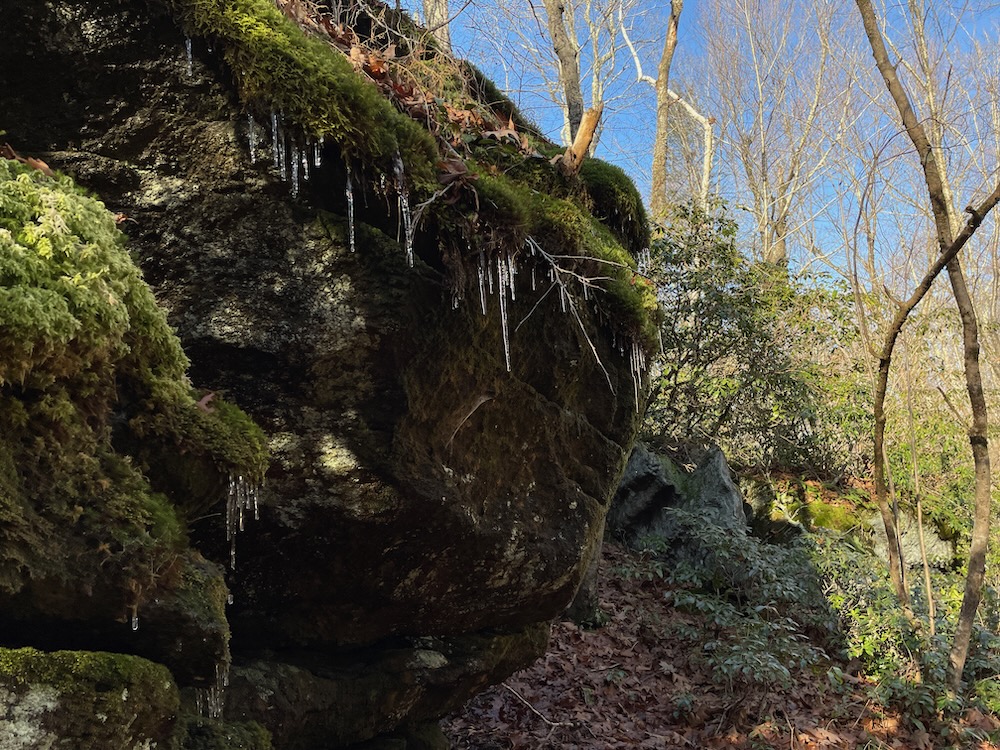 Two "caves" are noted along the southeasternmost section of the Mattatuck Trail, which begins in Wolcott and winds its way into Plymouth, then Thomaston, and beyond. They are only about a fifth of a mile apart and both are right on the trail.
And they are very different from each other. And by that I mean one actually looks like a cave and the other looks like nothing.
Charlie Krug Cave
I do not know who Charlie Krug was, but I'm sure he was more important than his namesake "cave," which is located in Plymouth, mere yards from the Wolcott line. I was hiking the Mattatuck with my friend Kevin and had promised him we were nearing a cave.
Then we passed next to a rock overhang right where I figured the first cave should be. I stopped. Looked at it. I rhetorically asked Kev if he thought this qualified as a Connecticut cave and he laughed at me.
"No, dude, sometimes this is all they are." He laughed again. I took a few pictures and even said out loud, "I think think this is it, so I'm taking a few pictures in case it is and I have to write something about it."
He rightfully laughed at me again.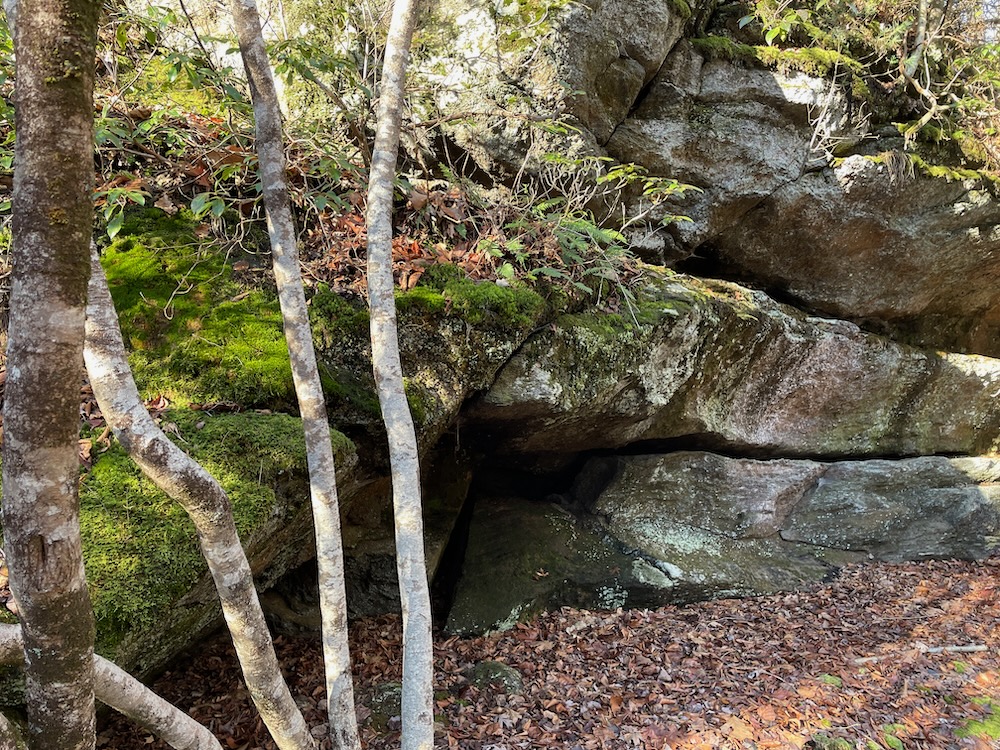 But yeah, this is Charlie Krug Cave. It is a depression hollowed out in the granite along a peaceful stream with pockets of white quartz lying nearby. Kev was more interested in keeping his feet dry than looking at the big rock.
I took my pictures and sheepishly promised better things a short way up the trail. The other cave had to be cooler than this, right?
Indian Jack Cave
Right.
Indian Jack Cave is a proper fake cave. Access to this section of the trail is quite easy, as there is trailhead parking on Wolcott Road in Plymouth and Spindle Hill Road in Wolcott – with the caves and a spur trail overlook in the middle.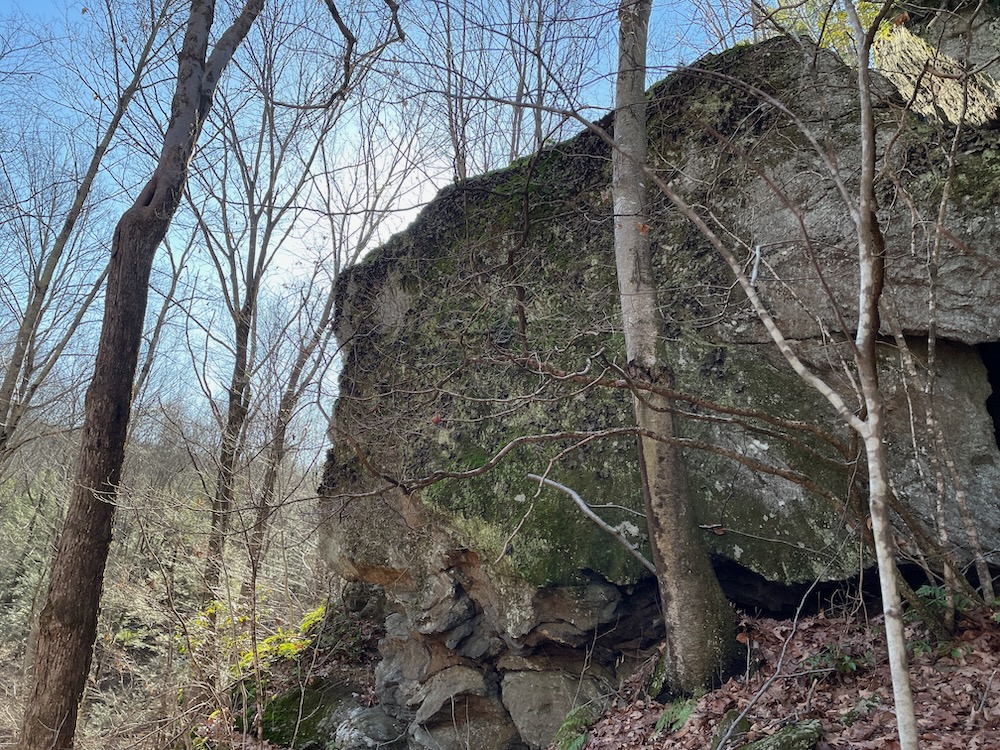 We rounded a curve through birch and laurel and stared up at a massive line of cliff faces ahead of us. There! To the right! A gaping maw that had to be Indian Jack Cave!
KO and I scurried up the blue-blazed path towards the opening, giddy with excitement. (Okay, that was just me. Kev was thinking about putting this hike behind him at this point due to some knee pain.)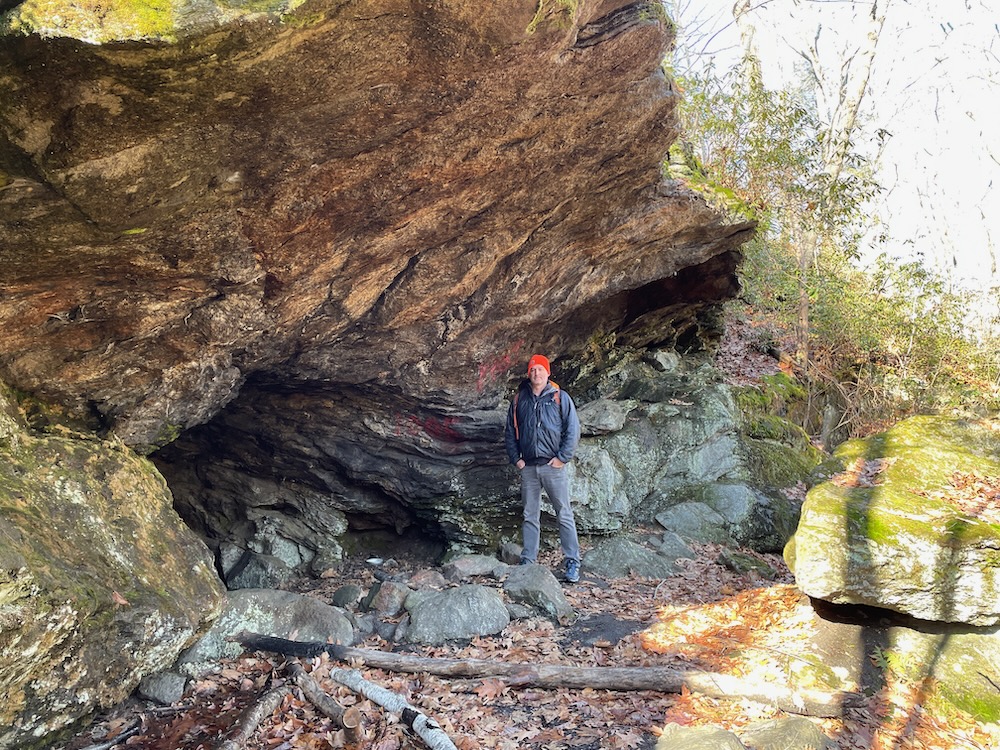 Indian Jack Cave is different from most fake Connecticut caves. First, it really looks like a cave from anywhere outside of it. Of course, once in it, you realize it's just a rocky overhang like all the rest, but it's a pretty darn deep rocky overhang with a nice flat bottom. Locals have fashioned a cooking fire ring here and installed a few kitchen implements.
And, as always, there are many stories that come with the cave, including tales of how it was the last place a group of Native Americans, led by Jack, called home. Another tale tells the story of a man named Jack who lived there with his girl, who made baskets and sold them in town. The cave was frequently used by tribes as it was located along an old Indian trail that connected settlements to the Naugatuck River.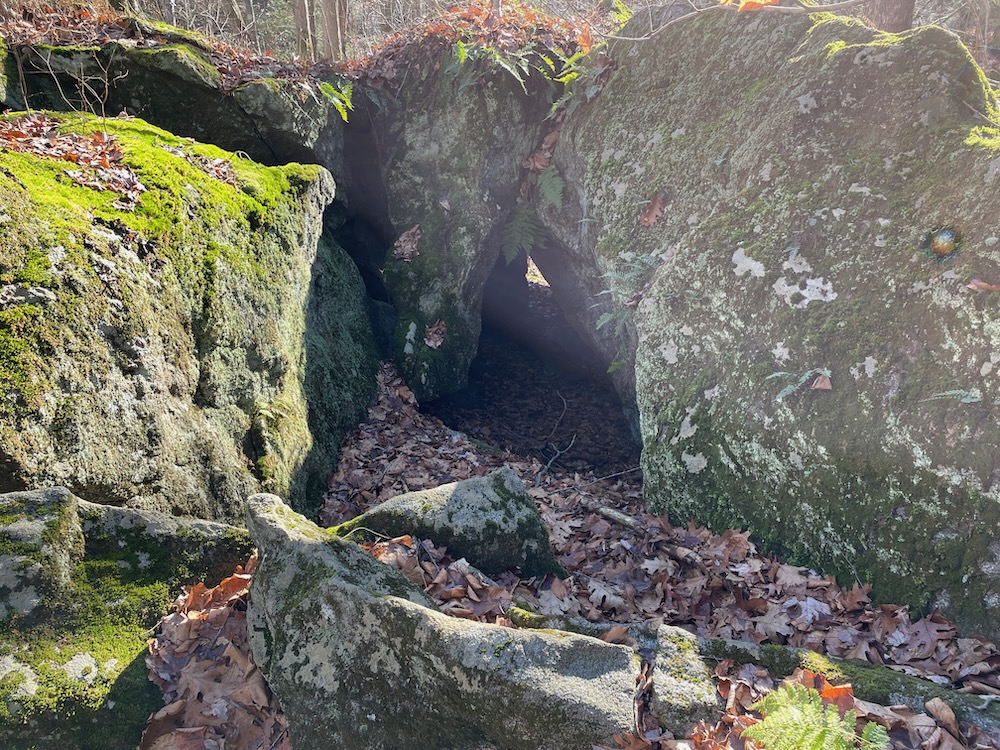 Just to the west of Indian Jack's, there's another huge rock cliff with some neat non-cave features to explore. As I told Kev, "Man, if my son was here we'd have to wait for him to climb all of this and suffer through a couple heart attacks while he did so."
No crazy 11-year-olds, no such rest for us. In fact, we went up a spur trail to a take in a western view across to Black Rock State Park and beyond. I'm sure it's quite stunning during peak fall foliage. In December? Eh, it was still pretty nice.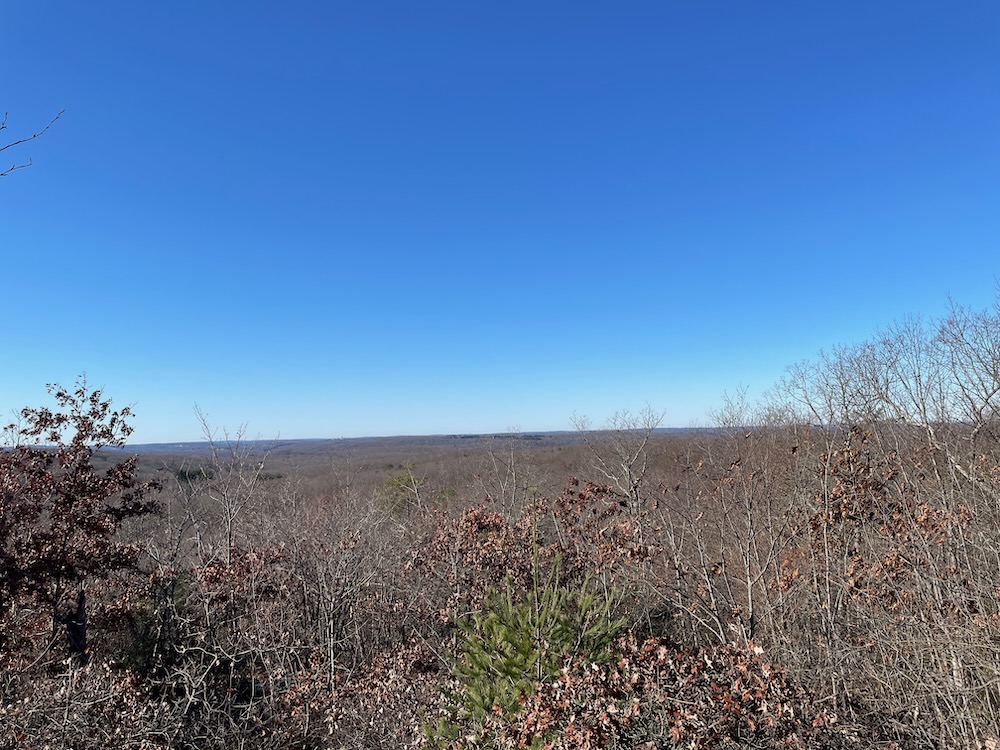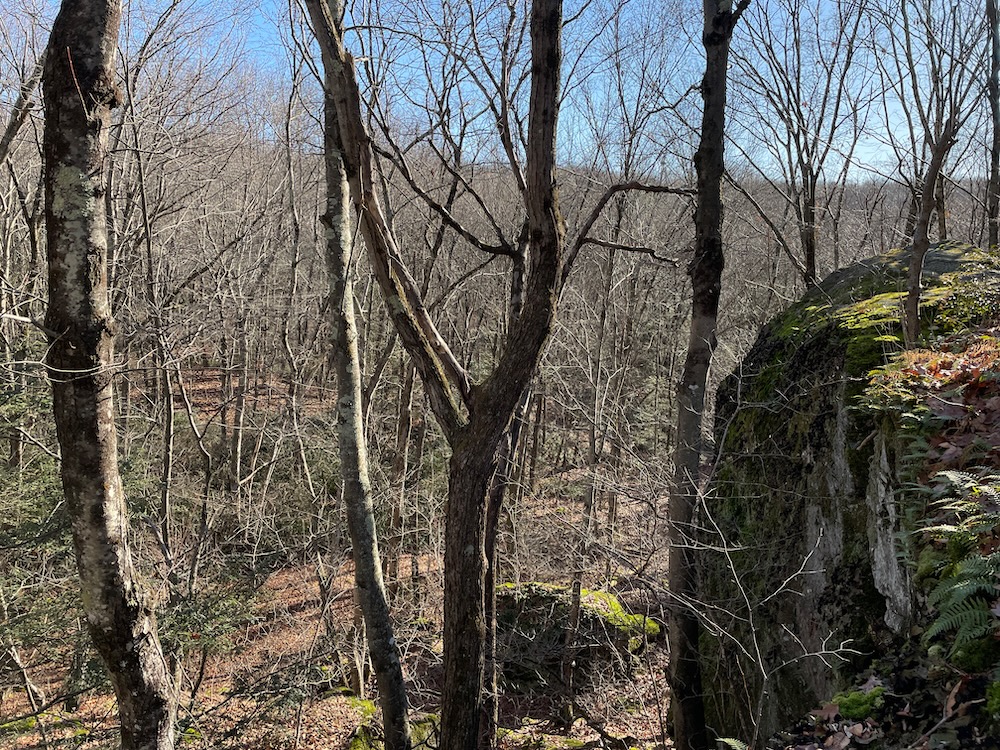 We returned to the Mattatuck and continued west. This same trail will take you to the much more famous Leatherman's Cave nearer Black Rock State Park in Watertown. (And if you know the area, you can also access the "other" Leatherman's Cave in over there as well – which I've read was used more often by the famous vagabond.) I'm sure he stayed a few nights here, at Indian Jack Cave, as it's really quite nice and homey.
But really, when it comes to The Leatherman and where he slept, we don't know Jack.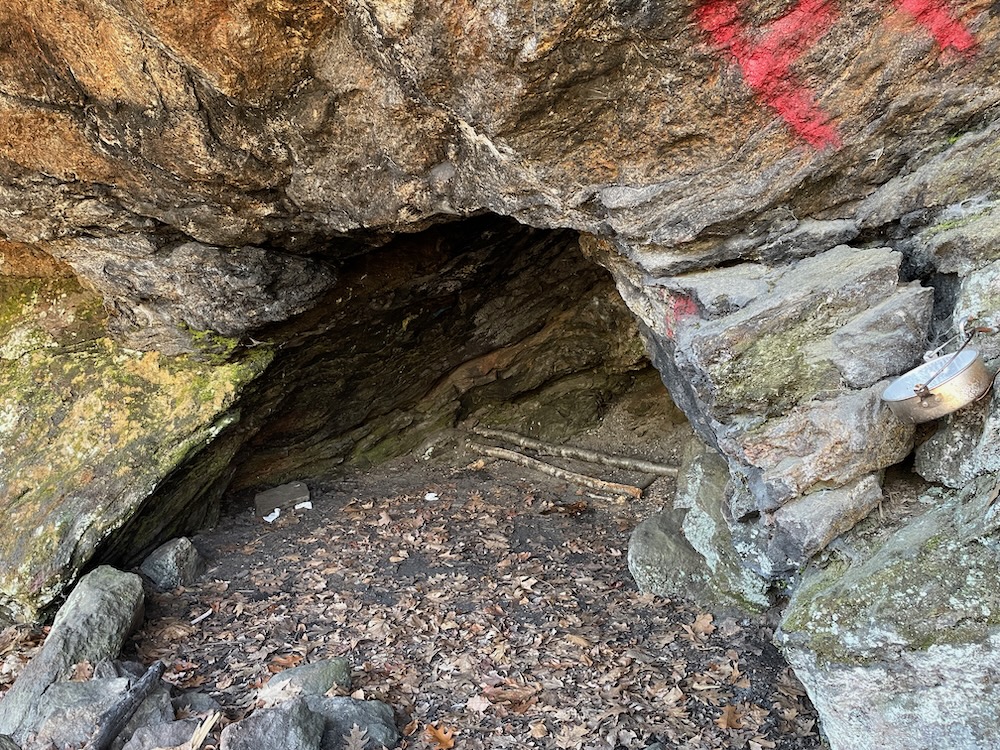 CTMQ's Caves, "Caves," & Dens
CTMQ's Mattatuck Trail Section 1