"'Leathahman' Slept in Here, WHAT?!"
Leatherman's Cave via Park Road, Watertown
December 13, 2014
This page will not spend too much time getting into the whole Leatherman thing. That was done over here, on a page about another nearby Leatherman's Cave.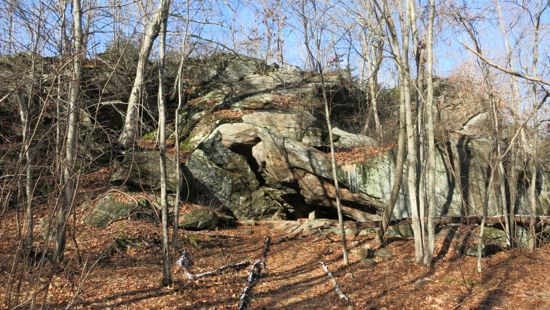 I have no idea which cave was used more by the mythical (but very real) traveling hobo. There were plenty of options for the guy in this region, and since he strictly followed "Leave no Trace" ethics, we have no idea. After receiving several emails and comments pointing me to this particular cave, I decided to check it out with my boys. Also, yes, we all know these "caves" are not actually caves, but I've also become tired of addressing that Connecticut quirk as well. And typing "rock overhang" or "jumble of rocks that provide shelter" is just too much to type over and over.
So seriously, you should go and read the page that contains far more stuff about the Leatherman before bothering with this page. Even if this page is the more "real" Leatherman Cave of Watertown. Dude is legend.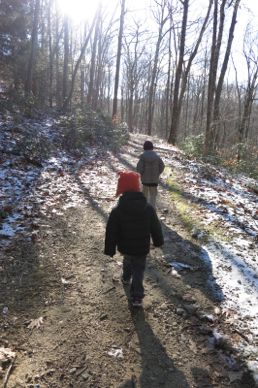 There are several books on the Leatherman and his portrait hangs in museums and libraries from Derby to Granby and points west into New York. Hartford's PBS station produced an interesting half-hour show on the Leatherman – I really wish they'd pop it back into rotation.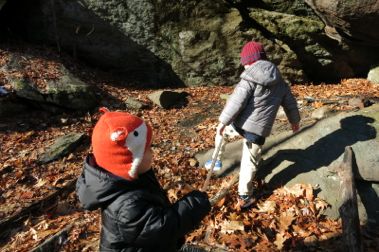 Quickly, the Leather Man walked a clockwise circuit of 365 miles every 34 days between the Connecticut and Hudson Rivers. He died on March 20, 1889 in Mt. Pleasant N.Y., and is buried in the Sparta Cemetery just south of Ossining, N.Y. For many years after his death, his identity was unknown. Then, for just as many years, he was identified as Frenchman Jules Bourglay. However, recent research by Dan DeLuca (who has recently published a book on the Leatherman) has confirmed that he was not Jules Bourglay. Or so he says.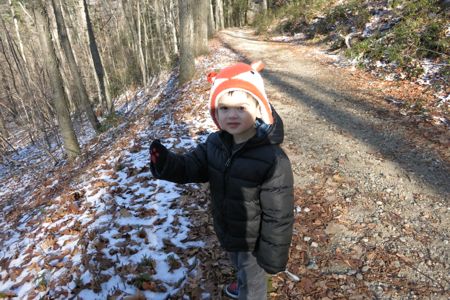 He was a vagrant and a tramp. His home was the woods of Connecticut and eastern New York; sleeping in caves and crude huts, living off the kindness of strangers. According to the legend (which has also been slightly debunked), his impossibly rigorous 34-day cycle was uncanny. He'd arrive at the same doorsteps asking for food every 34 days. If the town was too populous, or if someone startled or upset him at some point, he'd never return to that spot. The Leatherman almost never spoke, but rather grumbled and gestured his needs.
His name comes from his clothes, of course, He wore a self-made sixty pound suit of leather winter, spring, summer and fall. There are a bunch of websites dedicated to the guy, so I'll just let NPR sum him up for us here.
I was alerted to this cave by a reader who wrote,
… My info comes from the Campbell book, early editions of the Connecticut Walk Book and also from The Connecticut Guide and second generation accounts passed from eyewitnesses.

To go to the shelter mentioned in the Campbell book is just over a 1/2 mile round trip along level ground from the access at the "S" curve on Park Road. Once you see the location of this shelter it is easy to see why the LM would stay here as it is a much easier access. Also, I have just received info about a home he stopped at on what is now Rt. 6, in Watertown, not far from this shelter
This particular woman has written me emails and commented on this site about the Leatherman several times. I have no idea why Susan Campbell's book is THE authority here, but whatever. Others claimed that the "real" Watertown cave is the one on this page and not the other one.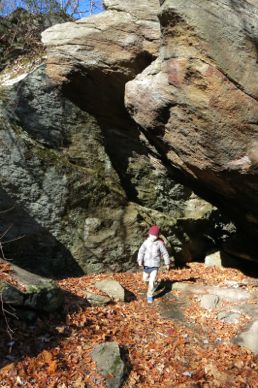 The other one is at Crane's Lookout which is at the terminus of the CFPA's Jericho Trail at the Mattatuck Trail. It's really cool. This one is nearby (though not "just yards" away) along an unmarked trail in the Mattatuck State Forest. If you aren't encumbered by two little cold kids, you can get to both spots in very short order.
See here:
The "hike" is very short. An adult could do it in maybe 4 minutes. Ignore the "No Trespassing" signs on the right hand side, as the trail is legal – but venturing off to the south (right) is not. You can't miss the cave, trust me.
We arrived and my older son Damian just kept going in while I futzed with my camera settings. Within seconds, he had disappeared into the dark. He didn't scream from a pit, so I wasn't too concerned, but when I caught up to them I must admit that I was a little scared.
It's funny… Damian is scared to do many, many things with his special needs limitations. But exploring dark caves and tunnels has never bothered him. Weird.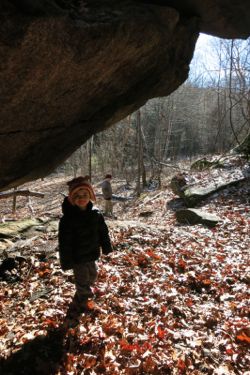 The cave is nice. It looks quite comfortable to spend a day or two in, I must admit. But why this one is any measure better than the other one, I have no idea. But I'm also not a cave dweller.
With such easy access from Park Road (and probably route 6 as well), I thought this place would be trashed. There is graffiti, but really wasn't too much other junk. I got a short video of the boys emerging from the blackness and I urge you to watch through to the end, as Calvin sums up the whole Leatherman thing quite nicely.
Calvin demanded I break off some icicles for him to swashbuckle with which was great fun until each one broke. I told him to be careful with the last one so he held onto it on the walk back to the car.
Then this happened:
There you go. The "other" or "correct" Watertown Leatherman Cave. My fake work on fake caves is never done.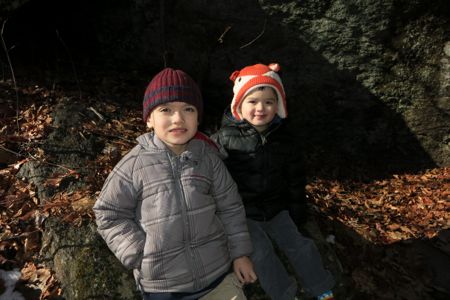 Buy Dan DeLuca's book, "The Old Leatherman"
CTMQ's Caves, Dens & "Caves"