Sleep Tight Knowing This
Bedding Plant Capital of Connecticut, Cheshire
Normally something like this wouldn't rate a CTMQ page. But over the years, I've come to learn that people often confuse Cheshire's town motto with what it means – and what they think it means.

I actually lived in Cheshire for about 10 months in 2000. Thank goodness I have great friends who allowed me to essentially squat at their house during a dark period of my life. (For a brief period in 1999, I was literally homeless and nearly penniless. And probably unemployed for a couple months too. In short, I was in a bad place and my wonderful friends the O'Donnells gave me shelter. Then I met my wife and got my stuff together and… all is well.)
When I lived there, I'd see "Bedding Plant Capital of Connecticut" on signs and wonder where all these bed factories were in town. It wasn't until years later that I learned "bedding plant" means plant beds/greenhouses/flower farms and not mattresses and bedsprings. Not only was I homeless and broke, I was dumb too.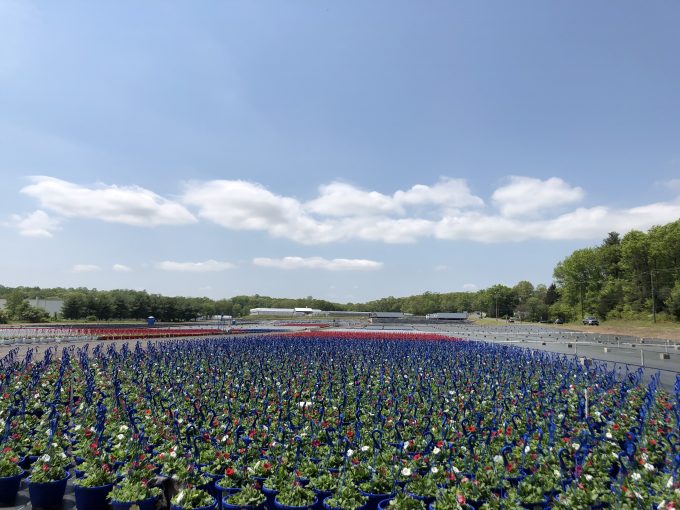 Like many Connecticut towns, Cheshire began as a farming and light manufacturing community. While it has attracted many industries to its Industrial Park in the northern part of town, its farming influences remain with thousands of acres of open space and an active agricultural industry. It is still called the Bedding Plant Capital of Connecticut because of the many greenhouses still in operation.
And I guess Cheshire has more than any other town in the state. I'm not sure anyone has checked up on that claim – and I'm not about to either. But since "Bedding Plant Capital of Connecticut" is the town's official motto, what happens if and when that no longer becomes true? Does the motto become "Formerly…" or "Second-most…?"
Michael's Greenhouses hosts an annual brewfest with Mikro in Hamden which is one of the few that are well attended anymore. On a day tooling around town I happened to drive by CK Greenhouses and whoa! I get what the motto means now! Acres of baby flowers – and that was outside! The company has tons of greenhouses too which are filled with billions (est.) of plants.
CK Greenhouses was established in 1995 by Charlie Kurtz. Growing up in the industry, he gained an extensive knowledge of horticulture development and continued on to earn a degree in business from Ithaca College. As a young entrepreneur, he began CK Greenhouses by purchasing a few acres of land and constructing small hoop houses. Over the years the demand for his high quality product increased and today, CK Greenhouses has evolved to be one of the largest growers in the northeast.
Having seen it – and Michael's – I believe the claim. And now you won't go around telling people about the mattress factories in Cheshire that don't exist. You're welcome.