Wuyeepuyoq
Foxwoods' Fake Waterfalls
Ledyard
Wuyeepuyoq.
Wuyeepuyoq to this page on a bunch of fake Foxwoods Waterfalls. Yes, Welcome. I've written before that I'm not a gambler or a casino-goer, but I made the trip to Foxwoods for a few CTMQ reasons: It's the largest casino in North America and has more slot machines than… anywhere? Something like that.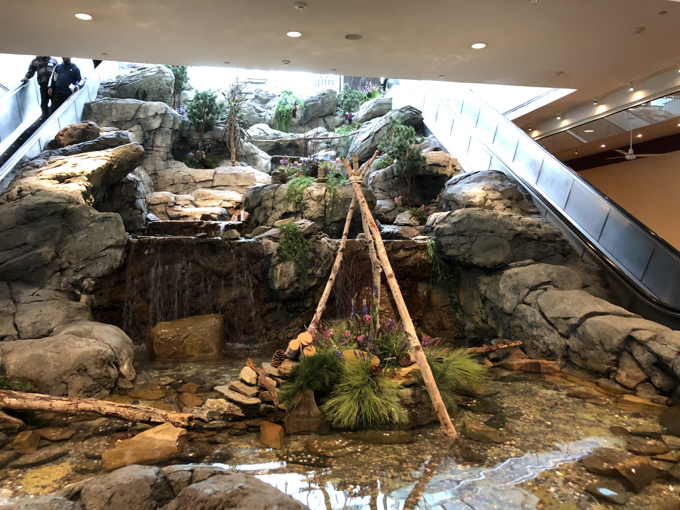 But also because there's a Connecticut brewery to visit here. And… waterfalls. Now, I'm not particularly keen on fake waterfalls, but I saw that the other guy who maintains an official list of Connecticut falls has the two "big ones" from the two current Connecticut casinos. Spoiler alert: The fake falls at Mohegan Sun are way better than all the fake Foxwoods Falls.
I didn't know what I was looking for as I wandered around the moronically designed and horribly decorated Foxwoods. I was just looking for some damn fake falls. I finally found some at the Great Cedar Hotel entrance near an escalator.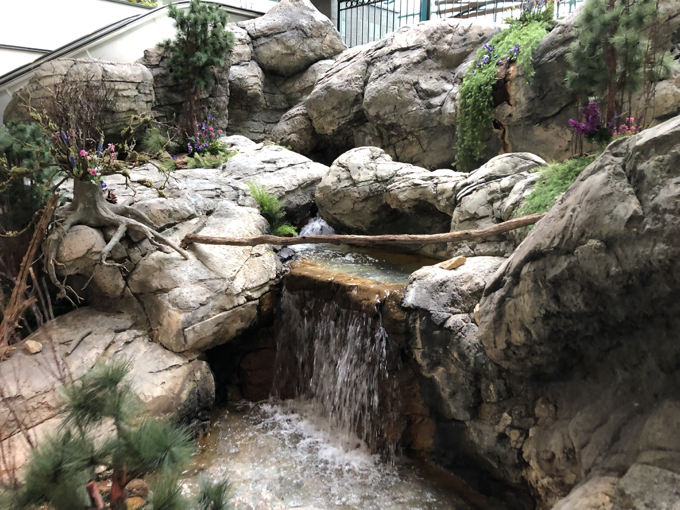 These Great Cedar Falls are tacky and not remotely impressive for the setting. There's a sign at the foot of the falls stating that all of the coins thrown into the pool at the bottom are donated to the Mashuntucket Pequot Museum. Because, you know, the casino needs to scrape pennies to help out the best thing the down here at the casino.
Sigh. These fake falls are lame.
But it turns out, there are other fake falls at Foxwoods. What follows is the extremely rare instance on CTMQ when I steal pictures from Trip Advisor and the casino's site because I didn't find these things. Honestly, I just wanted to get out of the Cavern of Despair known as Foxwoods Resort and Casino.

Tile Wall Fake Foxwoods Waterfall
MGM used to have a branded hotel and other stuff at Foxwoods, but then they pulled out when they opened their own casino up in Springfield, MA. Now that portion of this place is called Fox Tower.
This waterfall wall is at the check-in area. I don't know why I'm including this.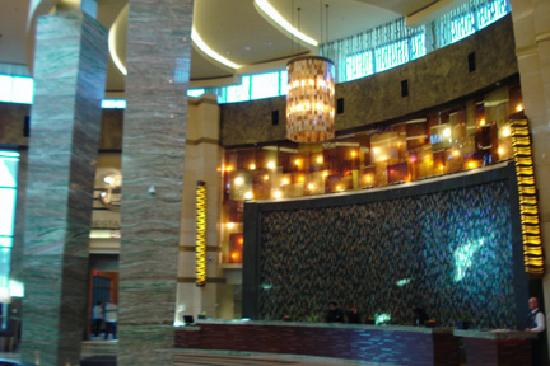 That's nice.

G-Spa Waterfall Shower
And you thought the tile wall fake waterfall was the dumbest thing you'd read about today. Wrong. Because here's a picture of a woman underneath a "waterfall shower." What's funny is that when you try Googling "Foxwoods waterfall," all the first hits are for these showers at the G-Spa.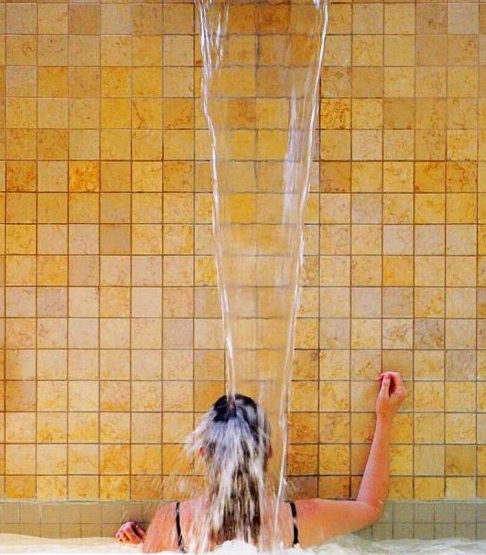 That looks nice. But can we say that naming a spa "The G-Spa" is both clever and icky at the same time?
Because it is.

Rainmaker Buffet Fake Falls
I did make an effort to find this one, but the buffet was closed during my Foxwoods visit. That's just as well, because as I write this I'm imagining myself going into the buffet to take a picture but not actually eat any of the food there.
Which would have been super awkward. It's much easier grabbing someone else's picture.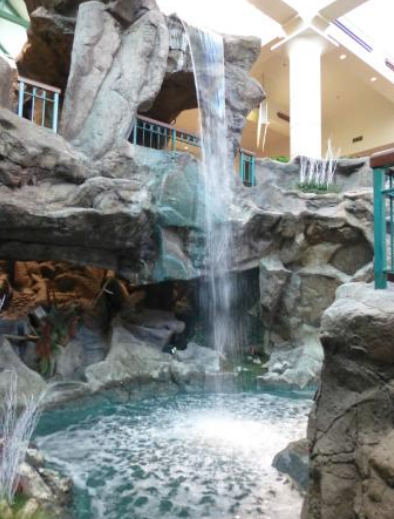 This seems to be the champion fake falls at Foxwoods and I guess I'm a little chagrined that I wasn't able to check it out. If this was a real waterfall, I'd make the effort to visit it for real.
But it's not, and therefore I don't care.

Two Tree Inn Fake Falls
This one's nice. It's outside! With real plants and real sky and real birds and stuff! There's this funny page on the Foxwoods website that lists all the other activities available to visitors beyond gambling and eating and sleeping.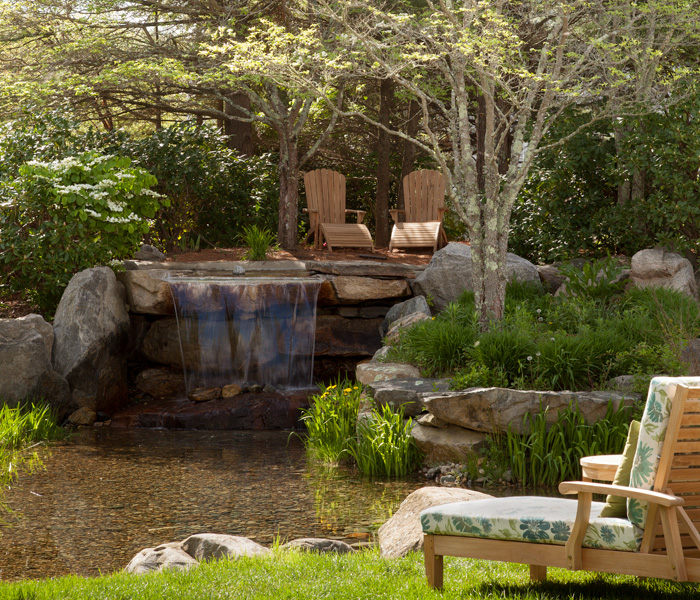 Near to bottom of the list is a link to "Pequot Trails." I spent some time poking around looking for the trail, and I think it's pretty much walking along sidewalks – although the hike up Lantern Hill is legit (and is a CFPA trail).
I have no idea what I put this page together.