Fake Stone by a Fake Creek
Stony Creek Brewery at Foxwoods, Ledyard
May 2019
This brewery location closed in March 2021.
I am not a gambler. I don't even know how to play poker and while blackjack can be fun, it's simply not fun losing money. I've never put a dime into a slot machine. Ever.
Foxwoods is depressing. It just is. Visiting on a Tuesday morning? It's awful. Dark, dank, and mostly empty, this once thriving mecca of gambling and entertainment now seems more like the Enfield Mall on a good day.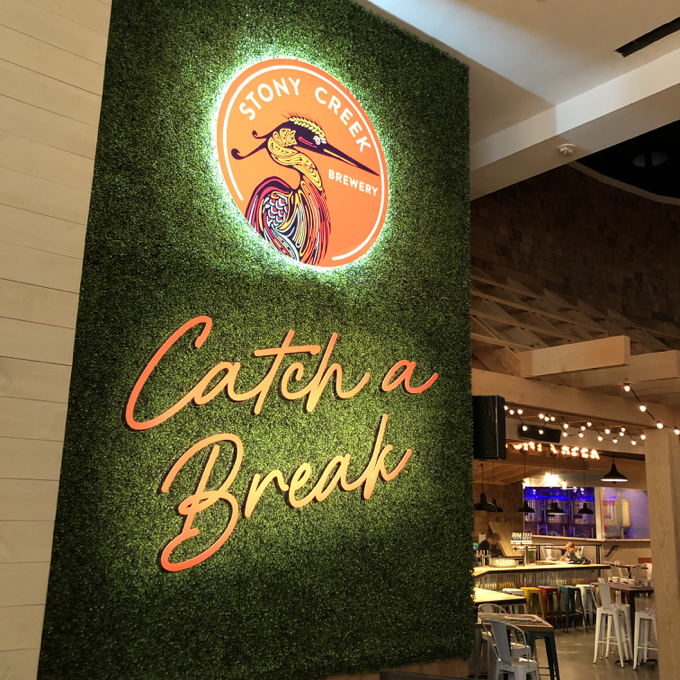 I realize Foxwoods is still profitable and that surely the weekends still bring crowds. But long gone are the days in the 1990's when there we no casinos closer than the dumps in Atlantic City. Now there are several within in hour's drive. All are newer and (probably) classier. Mohegan Sun up the road in Montville is inarguably nicer.
And, some of you may recall, Mohegan Sun was home to Connecticut's first brewery-at-a-casino experiment: The Brewpub at Mohegan which was then The Hooker Test Kitchen at Mohegan Sun. That only lasted a very short while and has been replaced by a New Belgium bar. Perhaps the fact that its in the Race Book there that doomed it? After all, visiting a brewery featuring rows of gaunt chain smoking old white dudes in crusty windbreakers and mesh baseball hats betting on dog races in Florida – probably isn't all that fun.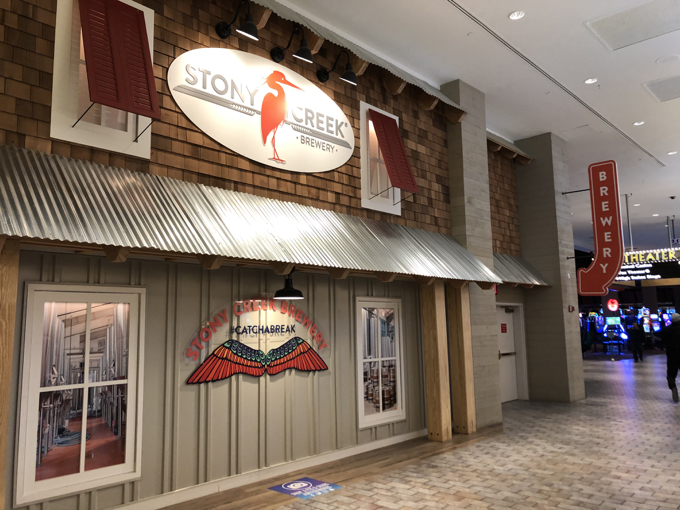 But back to Foxwoods and Stony Creek. Ah yes, Stony Creek… with a very successful home base in Branford, an incredibly impressive distribution imprint, and, let's face it, an ownership group with a few extra bucks after lifetimes of success in other industries. Stony Creek is also a brewery that is much maligned amongst the malignant circle of jerks known as CT Beer Facebook for mostly undefinable and ridiculous groupthink reasons.
That said, Stony Creek isn't making world class beer. They've had some clunkers for sure, and unfortunately with their reach and marketing, their clunkers are under a glaring spotlight. (Some of their portfolio is outstanding, however.) And let's face it, their popular taproom in Branford is the opposite of what I look for in a brewery experience – they have meathead bouncers and patrons who bathe in Axe and spray tan. But they are also profitable (I assume), and that makes Stony Creek a commercial success.
For what it's worth, all of my interactions with everyone from Stony Creek have been nothing by cordial, professional, and cool. I have nothing against anyone there at all and want them to succeed – if only to drive the 37 clowns on CT Beer Facebook insane.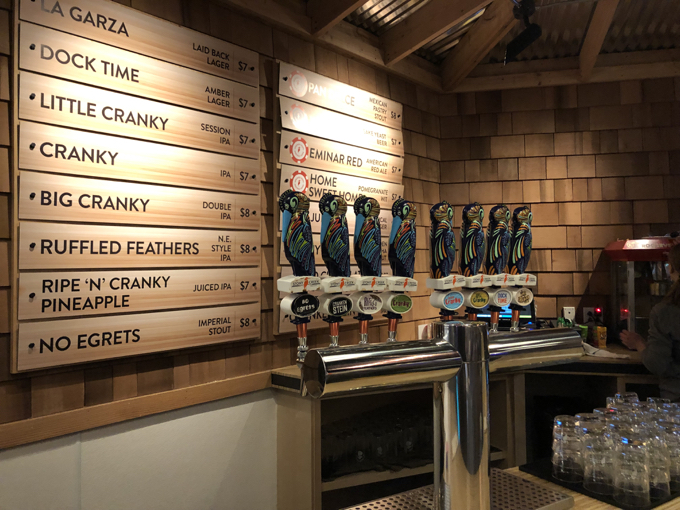 So why open an outpost at Foxwoods?
Stony Creek Brewery at Foxwoods is a two floor, 7,100 square foot fully functional brewpub located next to the Fox Theater. The first floor is pure Laid-Back New England featuring warm, open air communal areas. Explore our award-winning beers and unique menu designed to bring a fun food truck-style experience to the casino. We offer small batch, limited release beers brewed onsite alongside our core draft beers brewed in Branford.
"Pure Laid-Back New England featuring warm, open air communal areas?"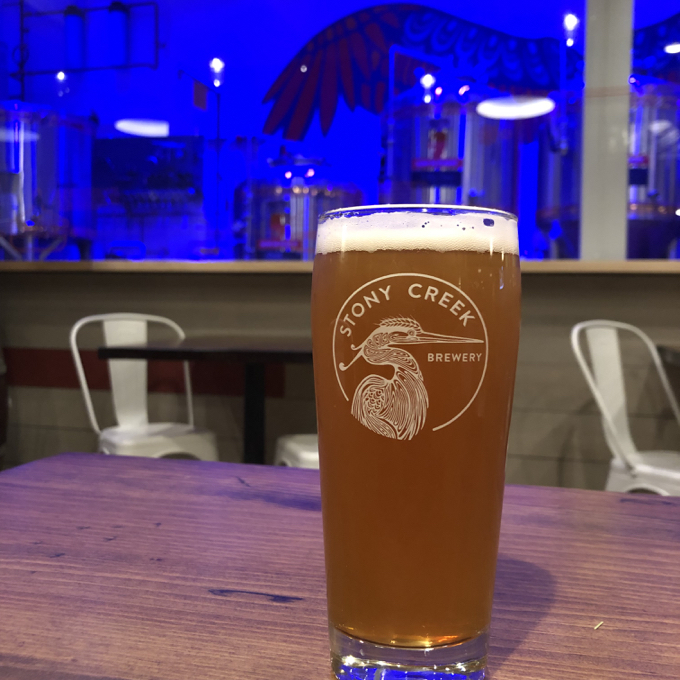 I think most people just call it a bar. Yeah, there was a beachy theme going on I guess. But you are in the bowels of a casino in Ledyard, Connecticut and that's hard to forget. Stony Creek put a lot of money and effort into the design here, and it shows.
It's very nice, and at 7,100 square feet, way bigger than you'd initially think. And the brewery's tanks look like they actually get used here. They whole place is darker than any other Connecticut brewery, but that's not the brewery's fault. It would be weird to have a brightly lit brewery in a casino. But I think that's what's bothering me as I write this…
Stony Creek in Branford is beautiful. Situated right on the water along some cove on Long Island Sound, it's perfect. I guess the idea here was to try to replicate that? In a casino?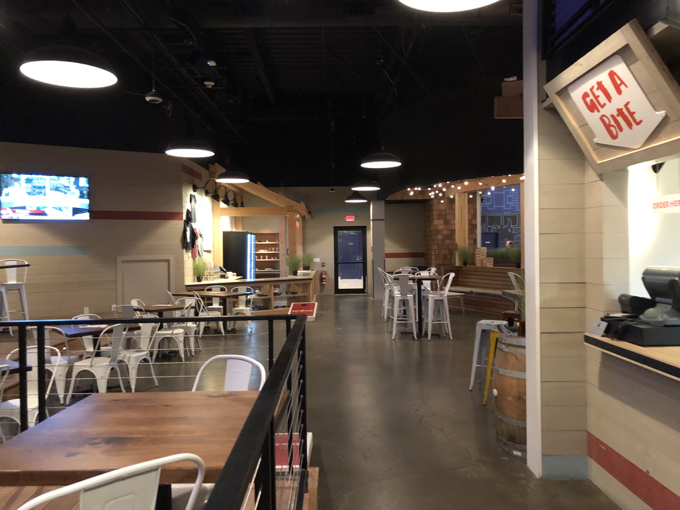 I tried to sort out which beer or beers were brewed here as opposed to the mothership, but I gave up. I went for an odd bird called Koi Bird – it is a Citra dry-hopped rice beer fermented with Grapefruit Juice and Sake Yeast. Jasmine and Red rices were used which makes for a rather unique, light and refreshing beer.
I thought it was quite excellent, actually. (This choice followed a taster of a pomegranate boysenberry witbier that I'm pretty sure was brewed here. I didn't order a full pint of that for a reason.)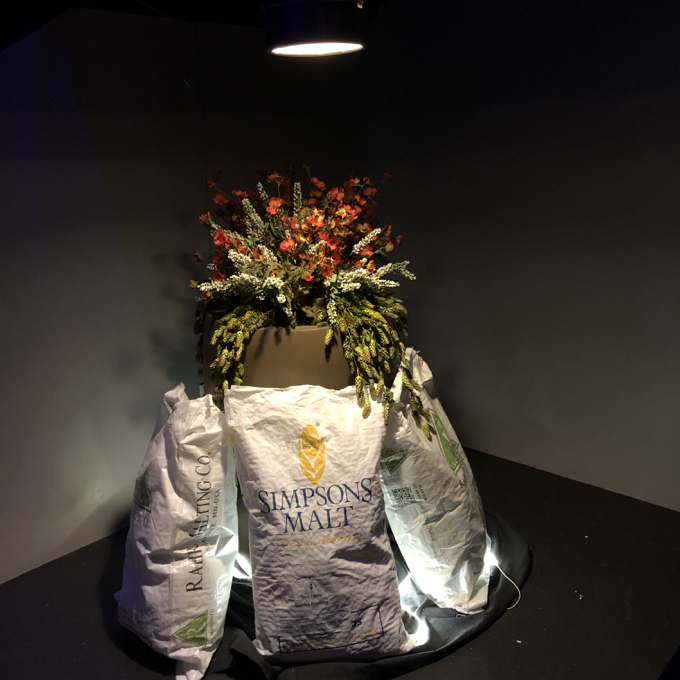 Let's go upstairs.
The second floor Roof Top offers a glimpse into our West Coast Aggressive side. We feature draft brews, a variety of craft beer cocktails, wine, and soda. Enjoy an intimate moment with friends over a beer while sampling our sharable food menu. Whether lounging in the Pool House or enjoying an acoustic band, you will feel like you are on a roof top deck in Southern California.
Let's all agree that this is ridiculous. Has the writer ever been to Foxwoods?
However, the designers absolutely did a fantastic job here. The decor and furniture and idea behind this place are all pretty awesome. I was there at opening and couldn't figure out how to turn the lights on upstairs myself to get a full picture though. I should mention that Stony Creek turned to some folks at Good Beer Hunting for help on the brewpub. There are a lot of good nuggets in this piece.
Perhaps the craziest thing about Stony Creek at Foxwoods is how much "ink" it gets around the casino. I parked in some parking garage somewhere and after trudging along a mile of grossly carpeted hallway and up a cigarette-stained elevator, I was greeted with signs for Stony Creek. There were stickers on the floors pointing the way. Of the 50-billion restaurants and bars here, it was the one always lit up on the electronic waymarking signs.
Do they pay for that? Or is it just the newest "big" thing here? I have no idea, but I was quite surprised by it – again, no other store/bar/restaurant has it's name inlaid on floors at the top of escalators half a mile across the casino.
Despite walking all over the place, I didn't spend a dime at the casino beyond this one beer. I actually thought about it on the way down here. I felt the electric excitement of winning some money in my imagination.
Then I saw the reality of a Tuesday morning at Foxwoods: a sparse crowd of crepe paper-skinned zombies at slot machines and bored Asian dealers counting the minutes and staring at empty card tables. Once inside, I never once thought of gambling. So why did Stony Creek pour so much money into this outpost?
Stony Creek is made up of a small experienced team who is passionate about craft beer and our home state of Connecticut. We built a modern brewery in Branford, CT designed to reflect our spirit and allow for growth in the industry and community. After seeing more than 700,000 guests over three years, we created second location, an oasis brewpub at the world class Foxwoods Resort and Casino to bring guests from around the world closer to the action to share our thirst for craft beer.
Ah. I see. "To bring guests from around the world closer to the action to share our thirst for craft beer." I have no fair impression of how many guests from around the world hang out at the "Southern California beach house bar" on, say, a Saturday afternoon. I hope there are a lot.
Stony Creek/Good Beer Hunting did a really great job here. I know I joked a bit above, but I am hugely impressed with the vision and the execution of the space. No, I never felt transported to Malibu, but I can see how that's actually possible in a sense.
As the first person to drive an hour to Ledyard to go to the largest casino in North America simply to have one $7.00 beer and then leave, I can say that I wasn't mad that I did that.