TaughanSICK!
Taughannick Falls at Mohegan Sun
Montville
For some reason Connecticut casinos need fake waterfalls. Having been thoroughly disappointed by the fake falls at Foxwoods, I wasn't expecting much better up at Mohegan Sun. I was, however, expecting better simply because Mohegan is just straight up nicer (and newer) than Foxwoods.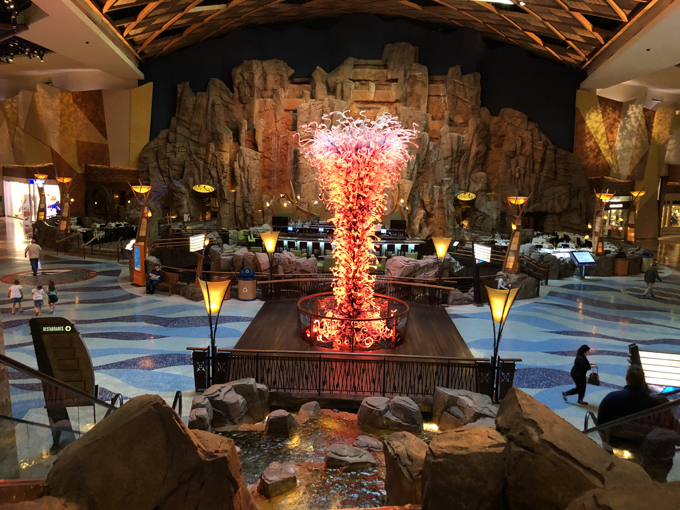 It's still a depressing casino, but it's less depressing than Foxwoods.
So imagine my surprise when I found my way to the 55-foot indoor waterfall behind the bar at Todd English's Tuscany. It's really cool. And it has a name! Although I'm not sure what Taughannick means.
But that's not all. There is actually a second fake falls, directly opposite of Taughannick Falls. Let's call them Little Taughannick Falls. Mohegan has done what Foxwoods couldn't – make an indoor waterfall look nice.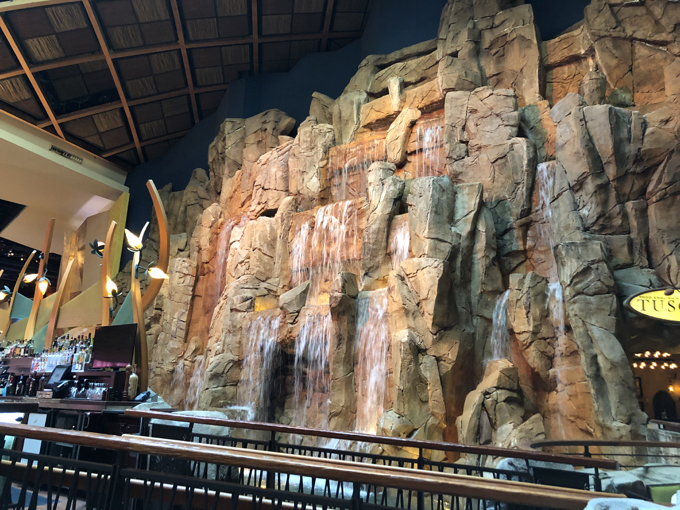 In between the falls is a giant Chihuly sculpture. But that's not the real story here. For the casino calls the walkable space between the falls "Chahnameed's Island." And hoo boy, am I glad they do.
Because as a result, I'm able to learn about Chahnameed. Chahnameed was awesome. Chahnameed, or Big Eater, is a trickster character who lies, cheats, is greedy, and basically acts completely inappropriately by Mohegan-Pequot standards – often in the most amusing possible way.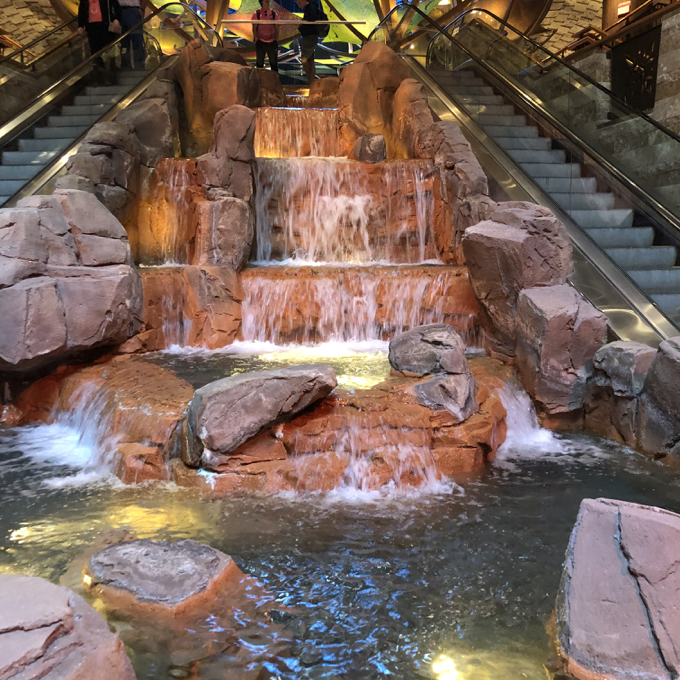 You want amusing? I offer you the following story:
Chahnameed and another man had a dispute. Each said that he could eat more than the other, so it was soon decided to hold a contest. But before the time came, Chahnameed went home and got a large bag. He fastened it under his coat with the opening near his throat so that he could pour food into it. He wanted to deceive them, so he did it well.

Now they held the contest. A barrel of soup was brought, and the two began to eat. It was only that other man who ate, because Chahnameed was really stuffing the soup into the bag. But the people did not know that. He was fooling them. Now the other man could eat no more. He had to give up. But Chahnameed laughed and said "Come on! Don't stop! I am not full yet."

All the people laughed, but they did not know why. Soon even Chahnameed stopped. The bag was nearly full.

"Now I will show you. Give me that knife," said Chahnameed.

"Will you do what I do?" he asked the other man.

Then he made ready to stick the knife they gave him into his stomach. But he would only stick it into the bag. The people did not know that. The other man was beaten, but now he said that he would do what Chahnameed did. Then Chahnameed stabbed the bag where his stomach was. And the soup ran out. Everybody thought that he really stabbed himself, but Chahnameed laughed at them all. Then the other man stabbed his stomach. But he died.
That is quite a story.