Happier Than a Pig…
Aussakita Acres Farm, Manchester
October 2020
The town of Manchester continues to fascinate me. I lived there for several years in the 1990's and while I thought it was fine, if you'd told me that 20 years later I'd find so much to do there I'd have called you crazy. From trails to museums, to breweries to more trails to some place where you can hang out with baby pigs while they cuddle up into your lap and untie your shoes…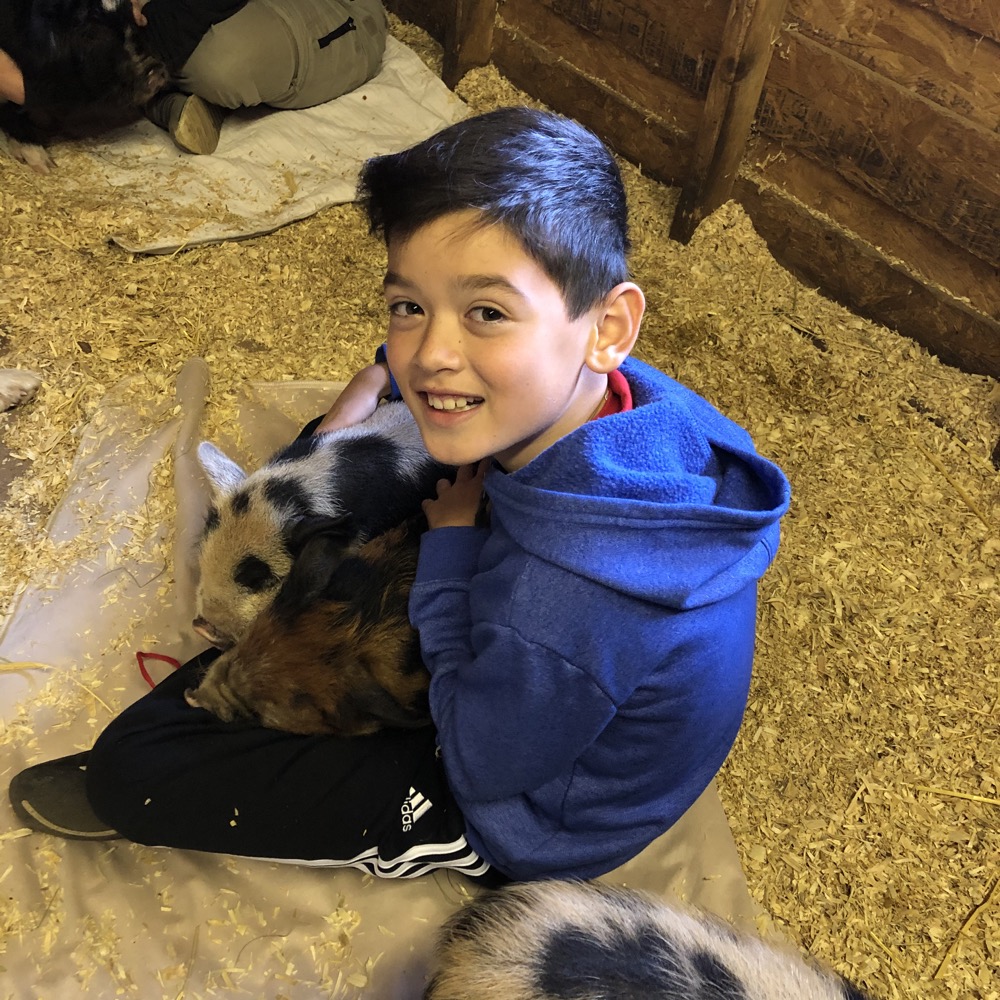 What? You heard me. There's a farm in Manchester where you can hang out with baby pigs and… cripes, you can see what's going on in the pictures.
Struggling to find things to do during 2020's pandemic, I was happy to learn that Aussakita Acres was still putting on their programs. They offer farm tours and various baby animal experiences throughout the year.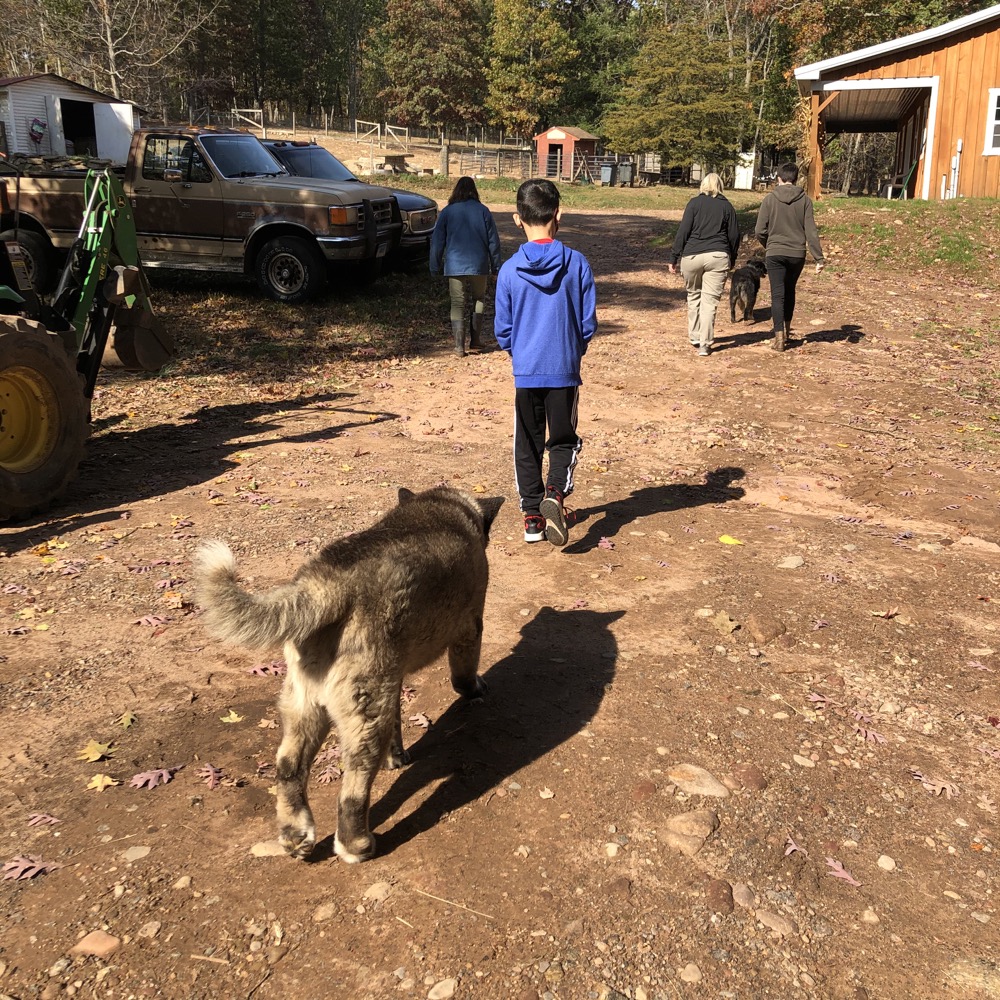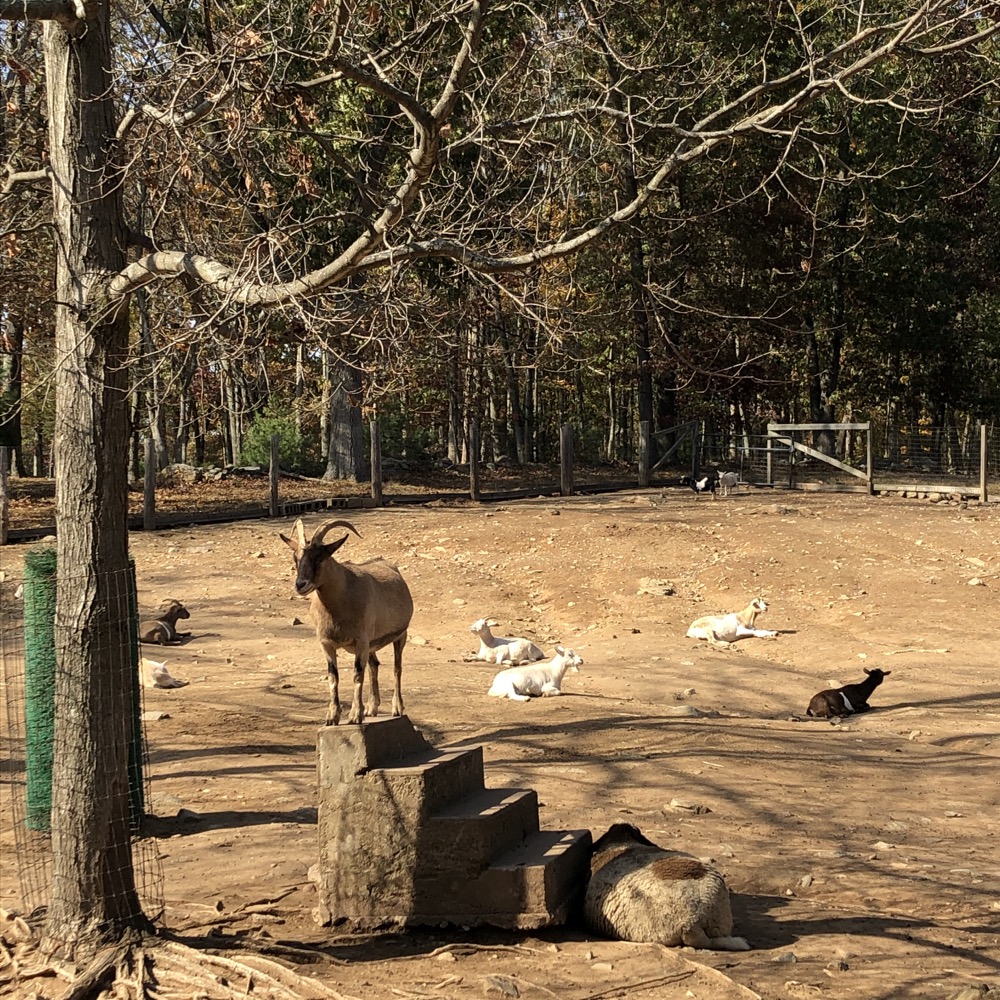 Aussakita Acres is owned by Tracy Longoria and DJ Lupacchino and we look forward to being your hosts when you come and visit. We are a small family run farm nestled in the woods of Manchester, CT.

We offer hands on, educational farm tours. where folks and families can feed, pet, interact and learn all about the many farm animals that we have here. We also offer Baby Farm Animal Socialization Sessions were folks get to cuddle, and play with our new born baby farm animals!

We also happen to be CT's Premier Goat Yoga and Farm Animal Yoga destination, so if you like to be fit while socializing with our farm animals and this is a must for you.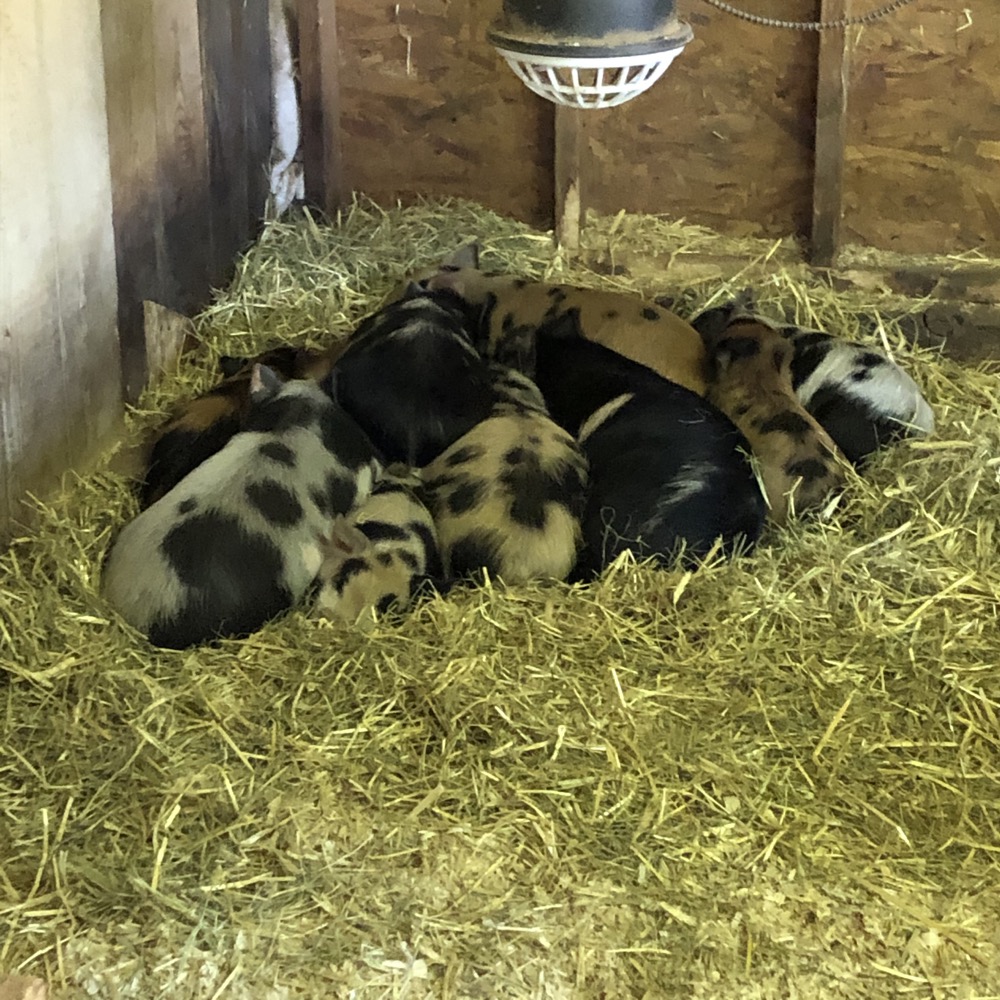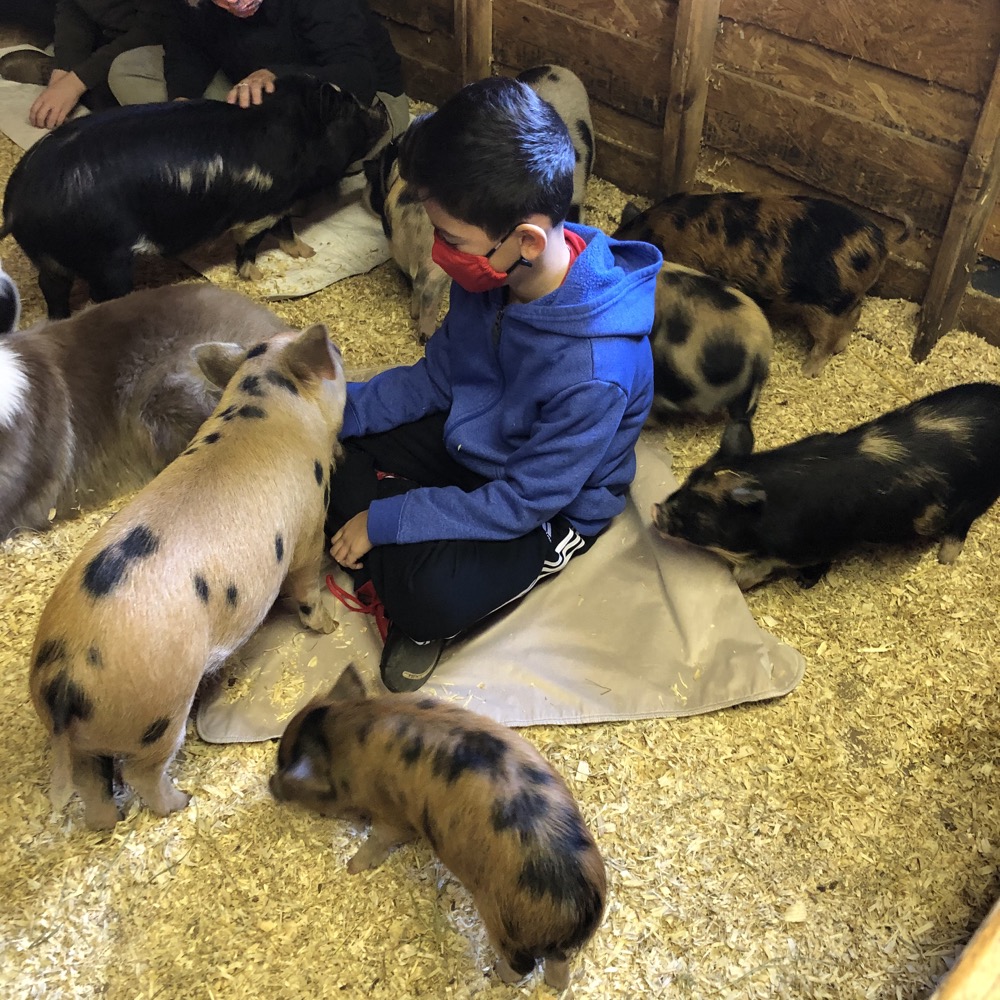 Oh yeah. Goat yoga. I've never understood goat yoga, but it seems to be a thing people enjoy and now I know that Aussakita is the best. In fact, they are the best at everything:
We strive for the best in everything we do, may it be the best farm animal tour experience, raising happy healthy livestock, breeding for great genetics, confirmation and temperament, or producing incredible fiber for our alpaca products.
I set up our appointment to squeeze in before one of Calvin's soccer games and we made our way to eastern Manchester. It's out near Bolton and I just realized that in 2017, I parked across the street to "hike" one of Manchester's supposed town trails called simply, "Lake Street to Lydall."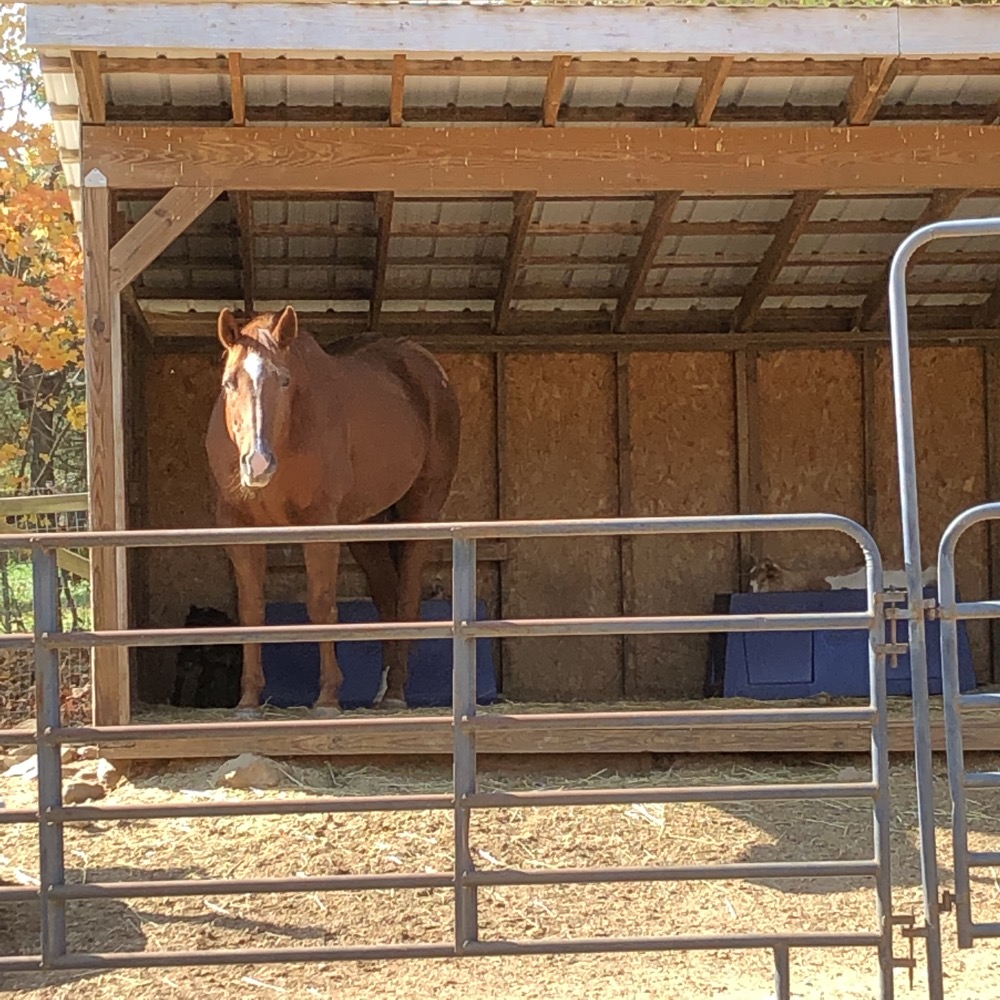 This is not the Manchester you think of when someone tells you to think about Manchester. Calvin and I arrived and were greeted by the farm owner, Tracy (I think). We were also greeted by a few of the farm's dogs – massive and very well-mannered beasts. One is an akita and the other is some equally huge dog.
It was only at this point that I realized this place was more than just a place to have piglets crawl over you.
Besides the fun farm tours and events, we also raise and sell our livestock to pet homes or as breeding stock. We produce our own Alpaca fiber, have it turned into fabulous products for sale and we sell duck eggs from our farm raised flock. If that wasn't enough we also offer professional dog training for obedience and farm dog duties.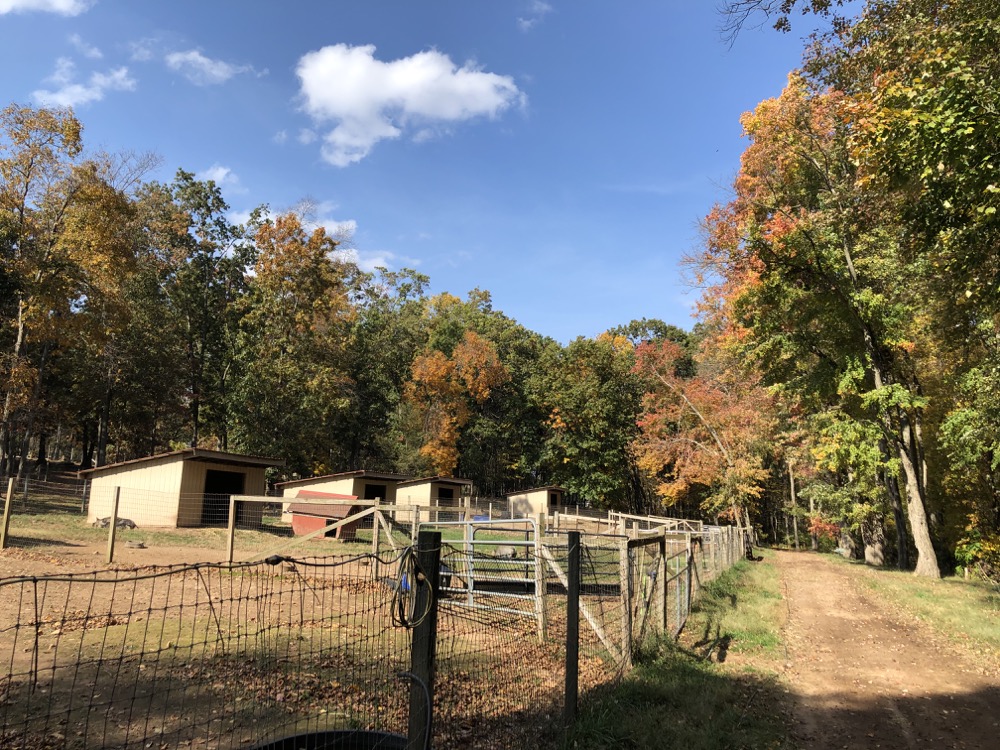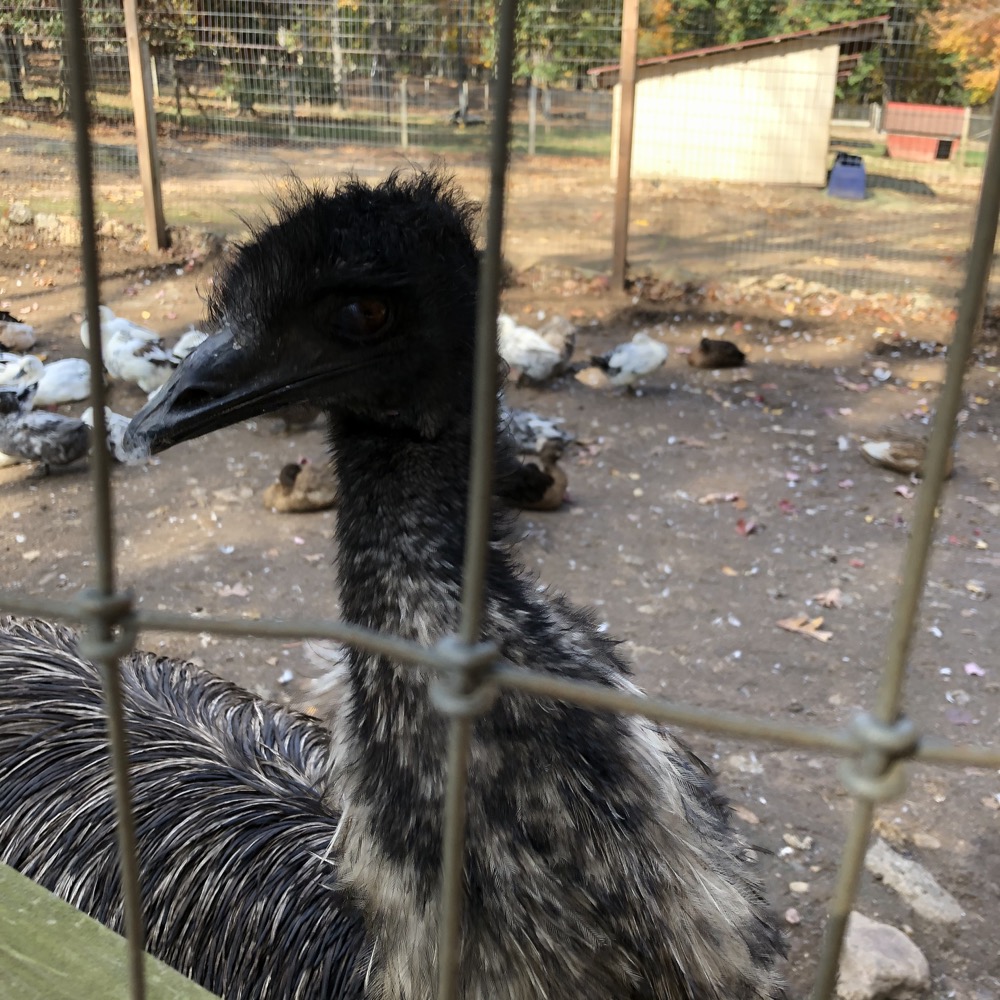 There are a whole slew of other animals here: goats, alpacas, cows, horses, more goats… But Calvin was here for piglets and the "piglet social." We went to the pigpen and – holy cow! There were a dozen or so piglets all snuggled up together in a pig pile as Tracy laid out the rules.
Which, it must be said, are very simple. Don't sit where they urinate and defecate – pigs use the same spot and never go elsewhere because pigs are impeccably clean and fastidious – and… that's pretty much it I guess.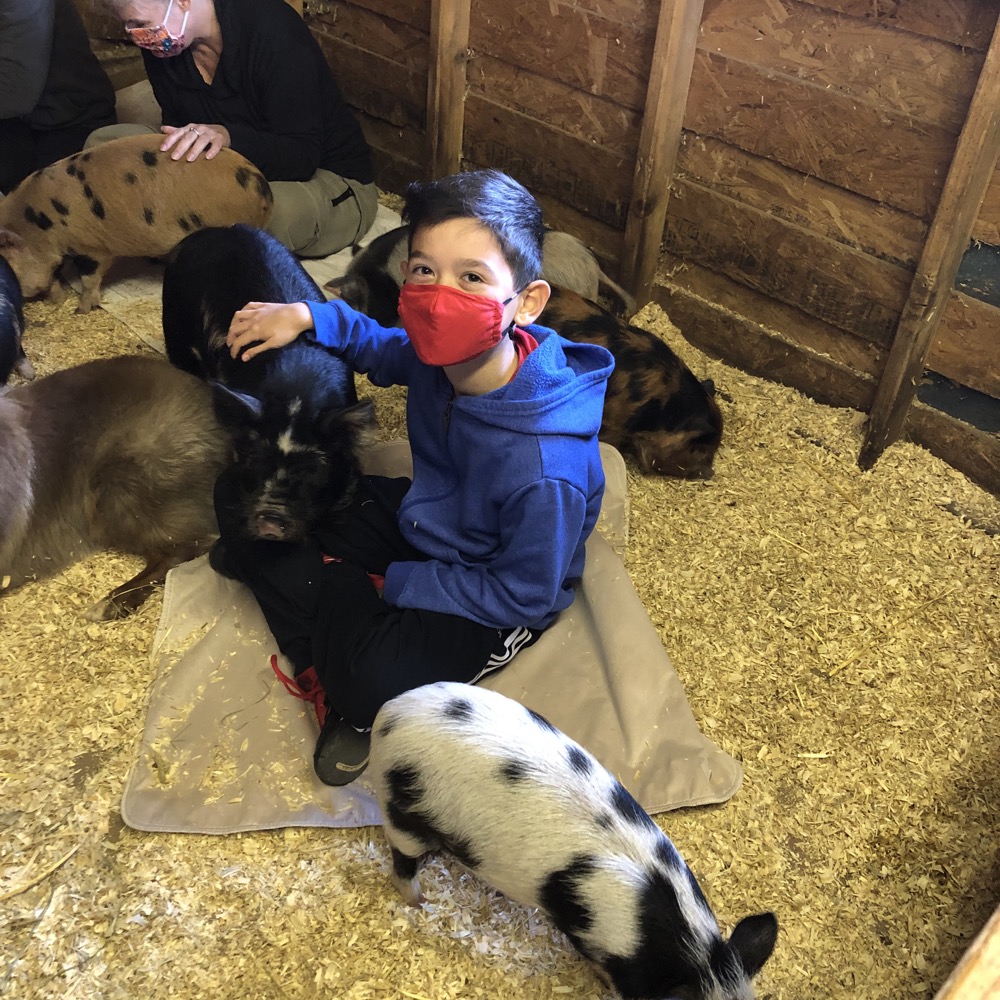 I did not participate, but rather, I listened to all the pig facts that came our way. Tracy did a great job of engaging participants. I wish I could share with you all the pig facts I learned, but I've forgotten 80% of them unfortunately.
I do know that these pigs are bred from the Kunekune, a small breed of domestic pig from New Zealand. "Kunekune" is a Maori-language word meaning "fat and round". These little guys were certainly that. They have been bred to be super friendly and yes, these little guys were certainly that too.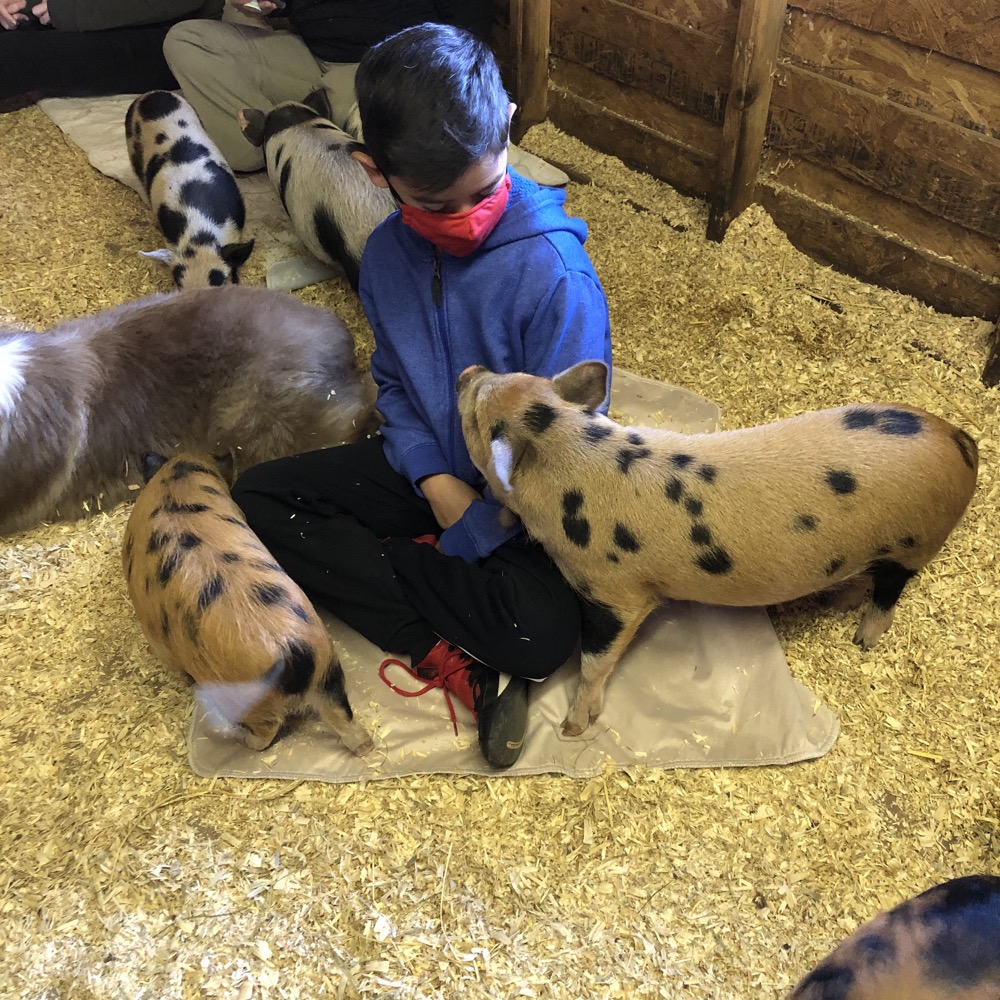 Back in the 1980's, purebred kunekunes were almost wiped out, as only an estimated 50 purebred remained in the world. A couple guys began a breeding program and saved the breed, which is how there's a whole bunch crawling all over my son at Aussakita Acres Farm in 2020. These piglets are to be pet pigs and nothing else.
In fact, every animal at the farm is there to live out their lives happily or to become a pet. If you agree to purchase an animal from them, you have to sign a contract or something to say that you won't eat it.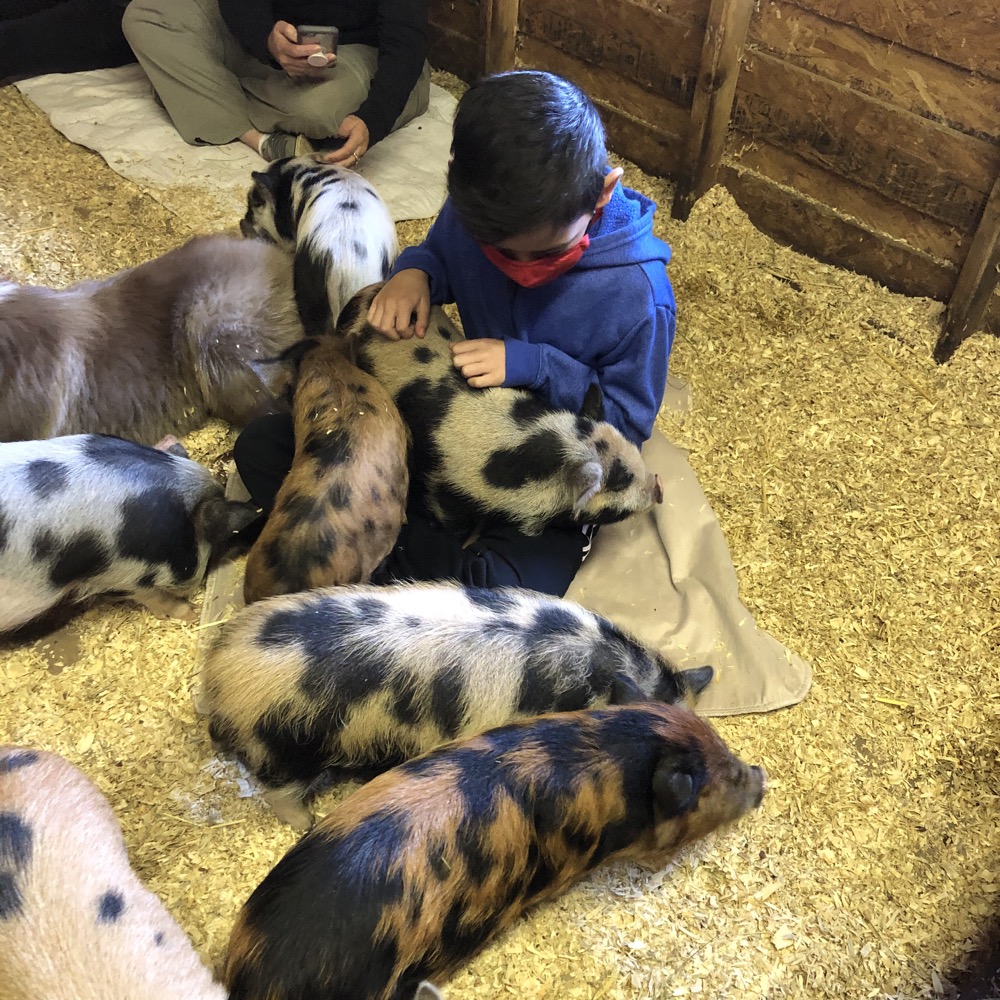 The pigs are well-trained and even (supposedly) know their names. Once Calvin and the other guests were in place, the door was opened and anarchy ensued. A crazy farm dog, who thinks she's their mother, rustled them into the petting area and I don't think I've ever seen a happier dog. She rolled around with them and nuzzled them and let them crawl all over her. I've never seen such a thing in my life.
The pigs ran wild. From person to person – sniffing, snuggling, curling up in laps. It was craziness. Calvin learned each one's names and personalities in the 45 minutes he played with them. They all untied his shoes. They dug through is pockets. They took leave of him to pee in the corner. They fell asleep on his lap only to be pushed off by another one who wanted to take a nap on his lap.
After a while, I left the pigs and took a walk around the property. The animal enclosures are large and natural. Well, except for the stuff in with the goats for them to climb on. Farm dogs had free reign and patrolled the area, keeping an eye on me to be sure I didn't punch an emu or something. The whole farm seemed clean and the animals were very well cared for.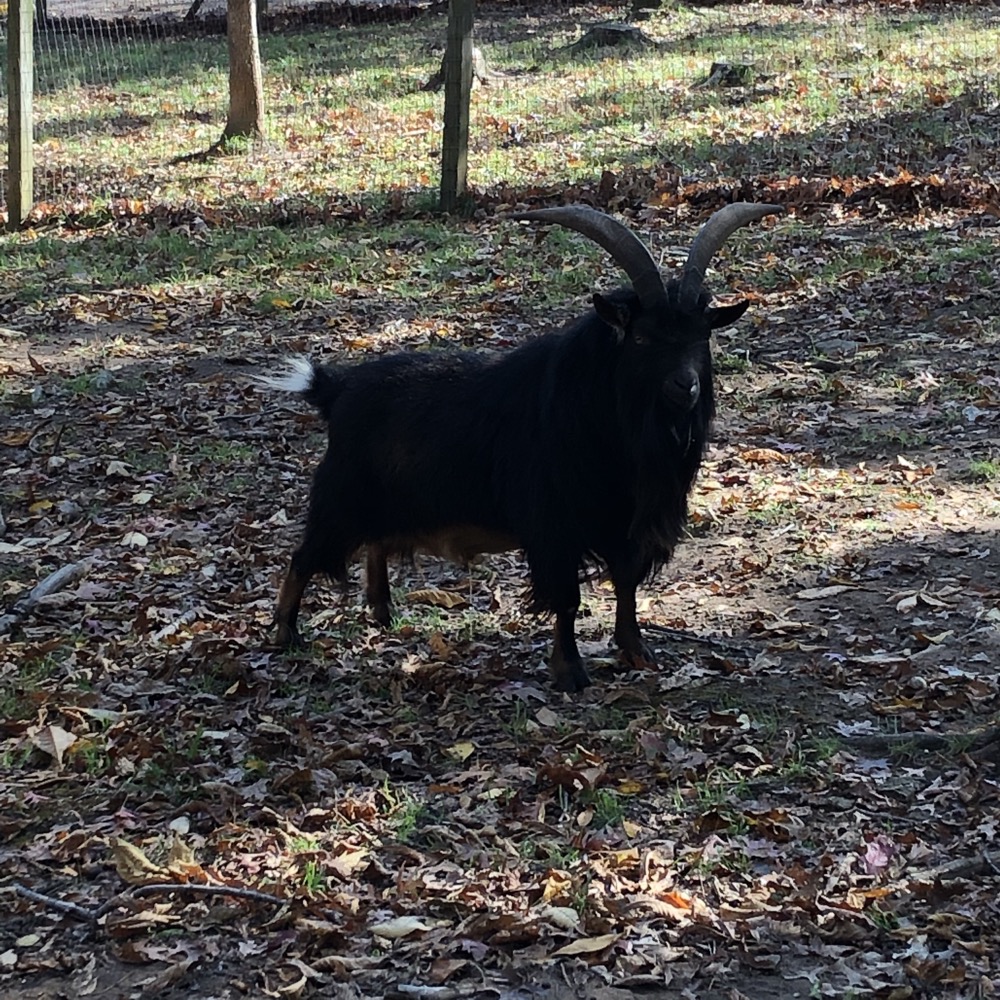 Back to the action and my son who was still grinning ear to ear, covered in piglets. Tracy told us that Aussakita is the only place in New England that has these "piglet socials" and one of the few that refuses to sell animals for meat. These pigs are raised to be pets, even though they're, y'know, pigs and grow to a decent size.
We had to jet to get back home in time for the soccer game, but Calvin could have stayed another hour. If you want to have pigs crawl over you for an hour, it costs 20 bucks… but you know what? That money goes straight into the farm and keeps the animals warm and dry and fed. Plus, the owners were super kind and informative and Calvin loved it so it was totally worth it to my mind.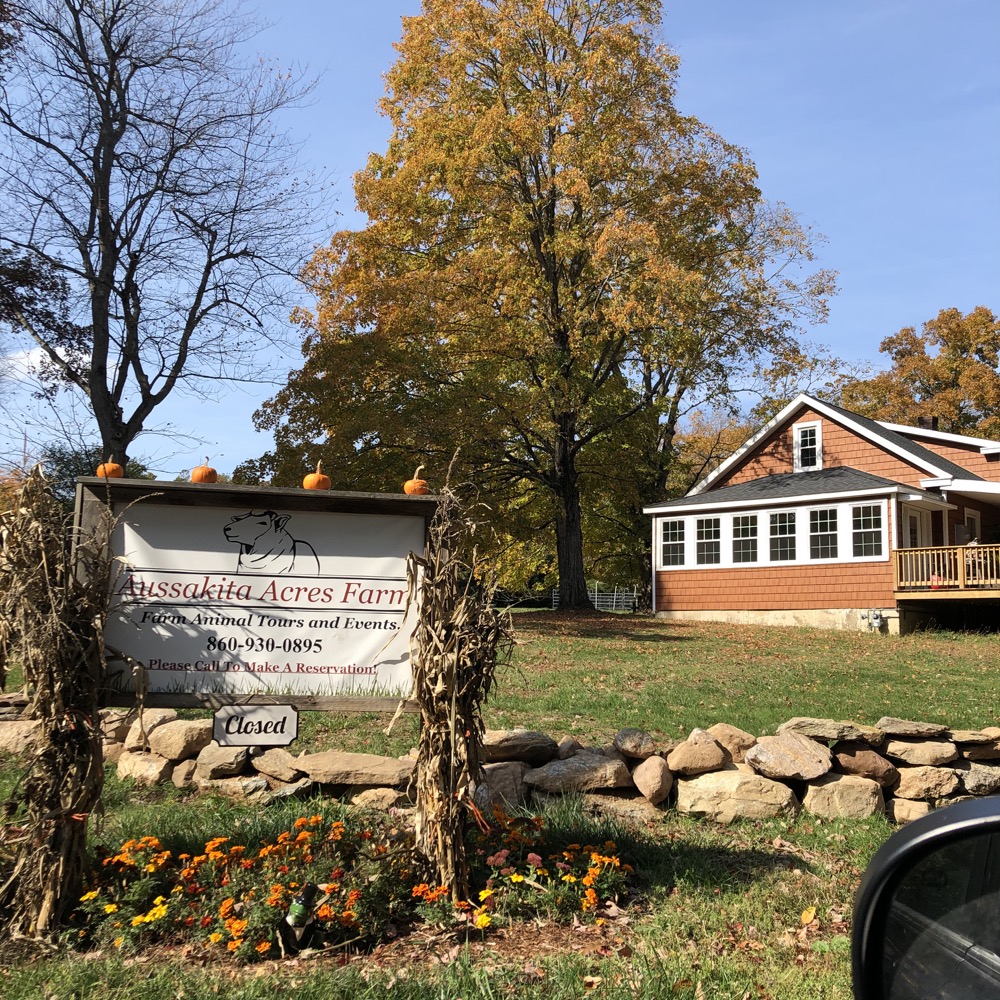 Aussakita Acres Farm
CTMQ's Aquaria, Farms, Wildlife and Zoos