Indian Rock
Punkup Road, Oxford
I have no recollection as to how I became aware of this roadside rock. It could have been a comment or an email or even a passing conversation with someone. I apologize to that someone for forgetting your important contribution to the CTMQ canon.
That important contribution is… Oxford's Indian Rock: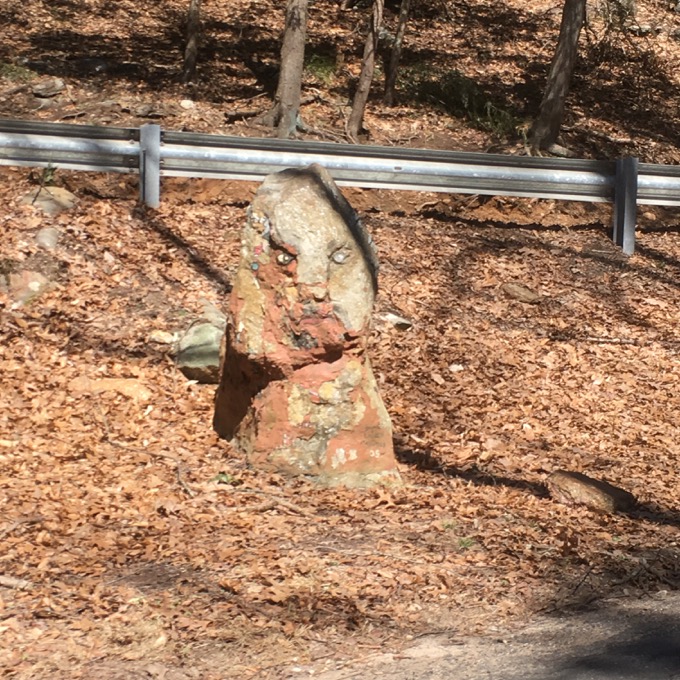 It is located on Punkup Road, just below the intersection with Little Punkup Road, on its perilous way down to the Housatonic River. As you are surely aware, this is between Fivemile Brook and Eightmile Brook, which both feed the Housatonic.
Friendly tip: Do not attempt to do any of the following:
1. Drive down Punkup Road in inclement weather.
2. Drive down Punkup Road while looking for a painted rock.
3. Drive down Punkup Road In a truck.
4. Stop to take a picture while driving up Punkup Road in a standard transmission car.
5. Drive on Little Punkup Road under any circumstances.
Little Punkup has no business being a two-way street. Someday, someone reading this will find themselves on Punkup Road and will say, "Hey, let's check out Little Punkup Road" and they will crash into something or someone.
I am hereby absolved of any and all responsibility for that person's inevitable car/hospital/psychiatrist bills. After successfully finding the rock, we found much less success finding the Oxford Land Trust's trailed properties.
Painted and/or named rocks in CT