Mall Promotes Sloth
SeaQuest
January 2020
Rarely do I celebrate the closure of anything on this site, but I'm happy to report this nightmare closed in August 2023.
I hate malls. All malls, y'all. I also kind of care about animal welfare and have a moral issue with sketchy small zoos and the like. And I hate overpriced money grabs. So buckle up for a fun visit to SeaQuest! A cramped zoo/aquarium money grab in Trumbull's Westfield Mall!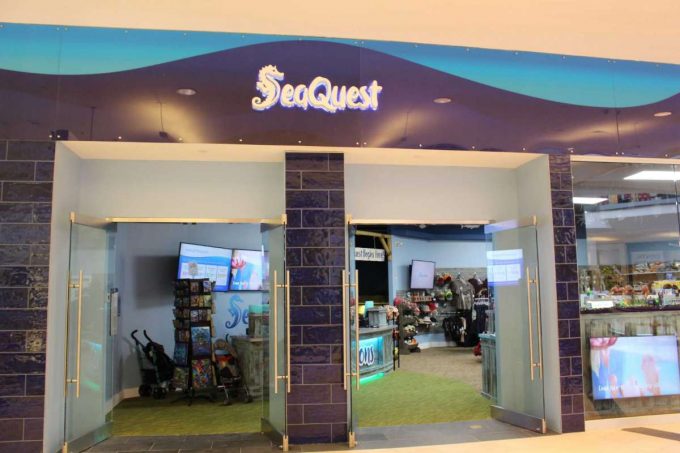 There's a zoo/aquarium in a mall? Why yes, yes there is. And not just in Trumbull either; SeaQuest is a chain zoo/aquarium outfit in malls all over the country. You are correct in thinking that that is a very weird concept. You may wonder if these places are accredited like the Mystic Aquarium or Beardsley Zoo… they are not. You are also correct in thinking that this probably isn't a good thing.
The company has operations in Colorado, Nevada, Texas and Utah, with plans to open in other states and they run into legal and ethical trouble everywhere they go.
SeaQuest founder Vince Covino has been the target of criticism from animal welfare advocates over the company's stewardship of aquariums in San Antonio and Portland, OR. His brother Ammon Covino was convicted on a charge of illegally shipping sharks and rays. And that's only the beginning. The excellent Maritime Aquarium in Norwalk issued the following statement:
We are concerned when we read that SeaQuests' operations in other locations not only have fallen short of (Association of Zoos and Aquariums) standards, they have triggered criminal charges and regulatory fines in response to their care of animals and their attempted procuring of species from the marine environment.
Oh, you want more?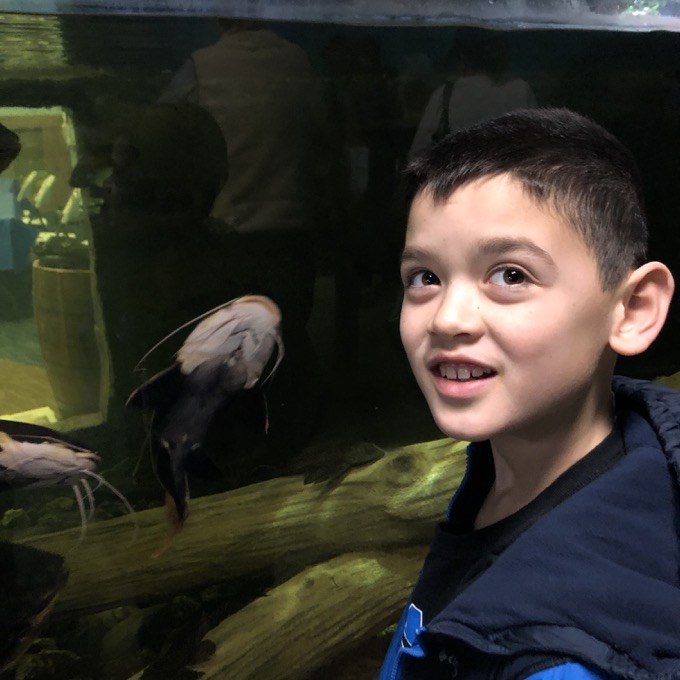 Denver: "Reports show a shark bite, stingray barb stuck in someone's hand, an iguana jumping onto another person's chest and clawing at their mouth, causing them to bleed." This after the state of Colorado issued a cease-and-desist order against a SeaQuest Interactive Aquarium there after state officials determined the site failed to pass numerous Pet Animal Care and Facilities Act inspections of its bird exhibit.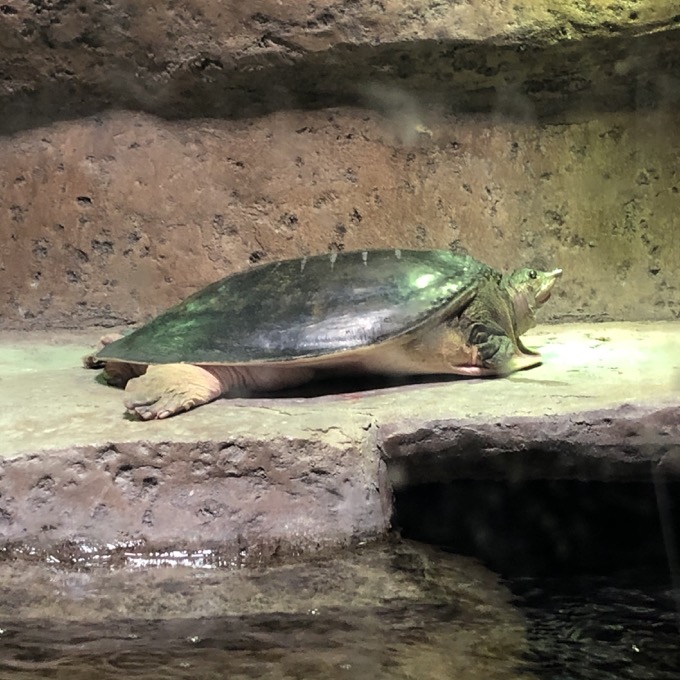 Las Vegas: "An otter dead, a capybara badly hurt after escaping from an improper transport and an animal control investigation just this month after employees were bitten by a coatimundi."
SeaQuest, of course, has disputed the allegations. The town of Trumbull has put stricter rules on our SeaQuest… for what that's worth. It's an aquarium/zoo in a mall though. A mall that Calvin and I visited on a dreary, rainy January Saturday.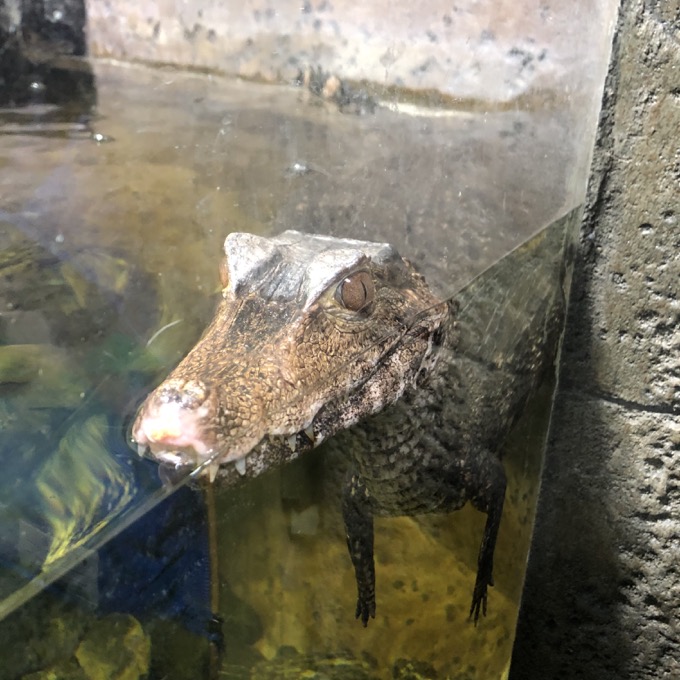 Westfield Mall is weirdly laid out; like a child designed it. And there's a distinct lack of maps for non-Westfield Mall veterans like me. We wandered around a bit and finally found SeaQuest on the lower level. I had purchased my tickets online to save a couple bucks and intentionally didn't buy any of the upcharge "experiences." If you're into wasting money, you can buy all sorts of feeding tokens and "experiences". A couple looked pretty cool – if you ignore what they mean for the animals – but for what it's worth, my eight-year-old was really only interested in one and quickly got over the fact we weren't doing it.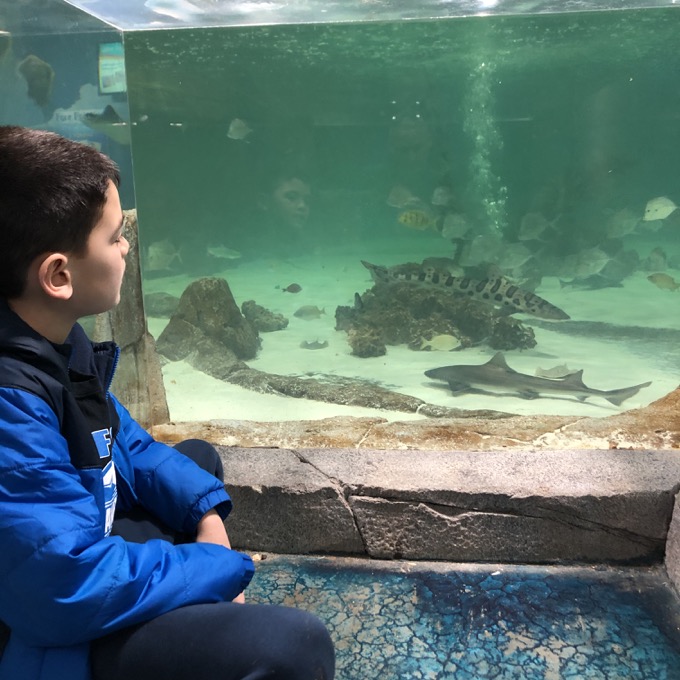 The employees here were all bright and cheery – doing an incredible job masking what must be an absolutely soul-crushing reality of working at this place.
SeaQuest is home to approximately 1200 animals of 300 different species! They come to us from different sources. Many are rescues or come from homes where they have outgrown their habitats. Others come to us injured for care and rehabilitation. Stingrays, sharks, tortoises, snakes, lizards, insects and birds are just a few of the many animals that call SeaQuest home. Each SeaQuest location has different animals, and they do change from time to time.
They forgot to mention the bit about illegally obtaining some of the animals, but whatever. As you've surely gleaned by now, SeaQuest is hardly boxed in by the "Sea" in its name. More than half of the animals here would die if tossed into the sea. (ProTip: CTMQ was born CT MuseumQuest but once I focused on stuff other than museums, I changed the name. SeaQuest could just be SQ!)
And yeah, I know, SeaQuest "rescues" animals and gives some money to some charitable animal organization, blah, blah, blah. Good for them.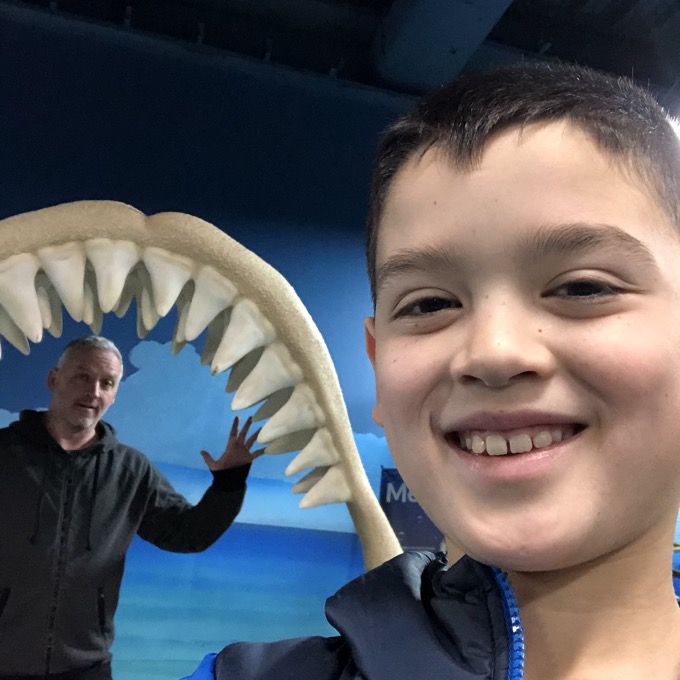 The pathway through this joint is tight, but the "rules" seem lax. After passing a few fishtanks, we came upon the iguanas. There is a gate to get into their enclosure, and we walked right in. There was no staff present and we watched some kid squirting water on the docile reptiles. In what is a theme here, kids were simply allowed to touch, poke, prod, whatever to the free-ranging iguanas. I found that a little odd.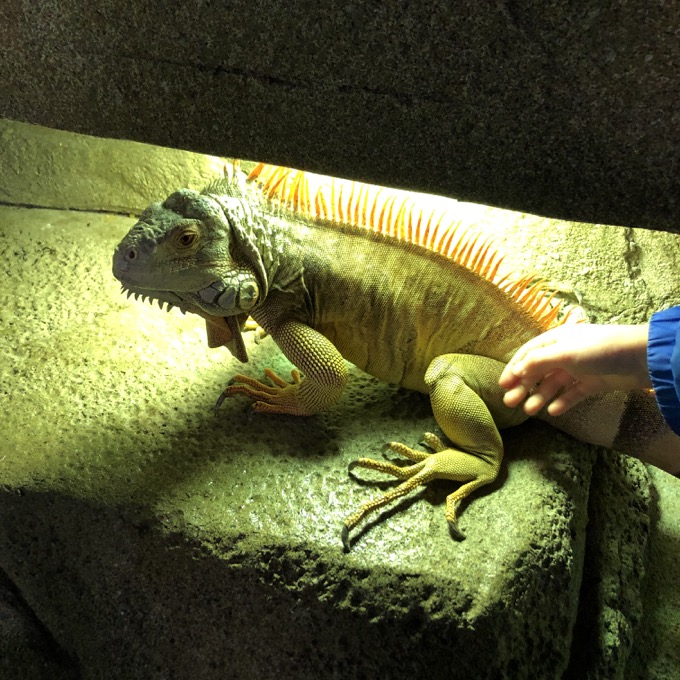 We passed their two-toed sloth, hidden high up on his concrete windowless perch. (For 30 bucks or something, a staff member would have placed it in my arms.) I can't stress enough that there are no windows here. No outdoor access for the animals. No sunlight, very little room to roam, and… they're in a gosh darn mall.
The ironically named Parakeet Paradise is an enclosed space with a billion little parakeets flitting about. Groups of 6 or 7 would pay an upcharge to go in, sit on a bench, and have little parakeets fly around their heads in the cement and glass enclosure. Simply paradise. My favorite part of this particular exhibit was that the employees implored the guests to shuffle their feet on their way in and out, so as to not step on a birdie. My word.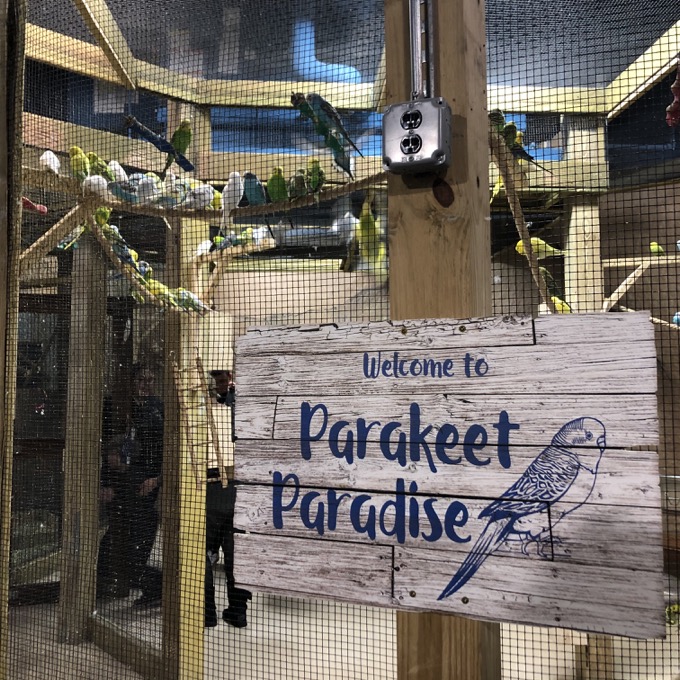 On to the capybaras! Essentially giant dumb guinea pigs, the world's largest rodent wandered in their feces-filled cement pen while children, including mine, would constantly pet them. Capybaras are really not very cuddly or soft at all. They are very dirty and eat their own poop as part of their regular diet. They are also poised to become the next invasive problem for south Florida like the nutria is already. This is a fun read all about them!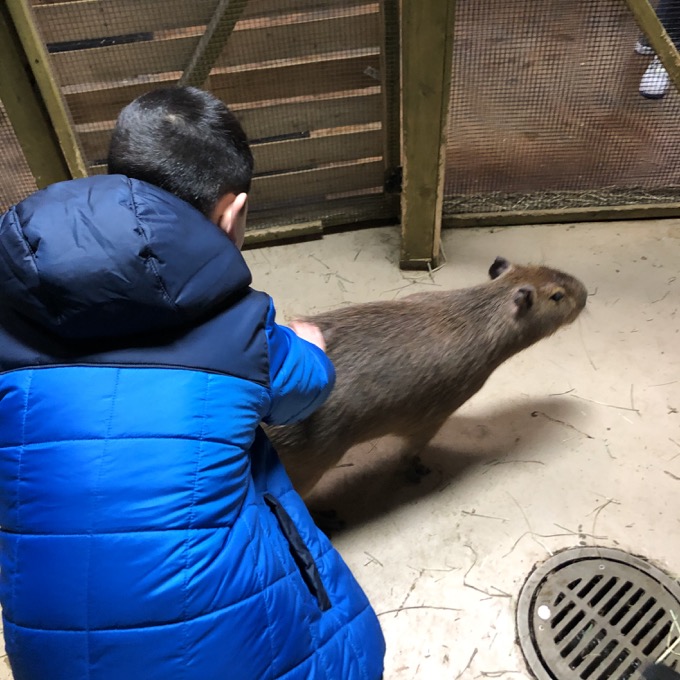 Across the way it's a raccoon! It's a monkey! It's a raccoon-monkey! Otherwise known as a coatimundi! If so inclined, you can pay who knows what to sit on a bench in their too-small, too-unnatural space and have them crawl all over you, pull your hair, rifle through your pockets, and untie your shoes. One woman was enjoying that experience while Calvin and I watched her get coatimolested for five minutes.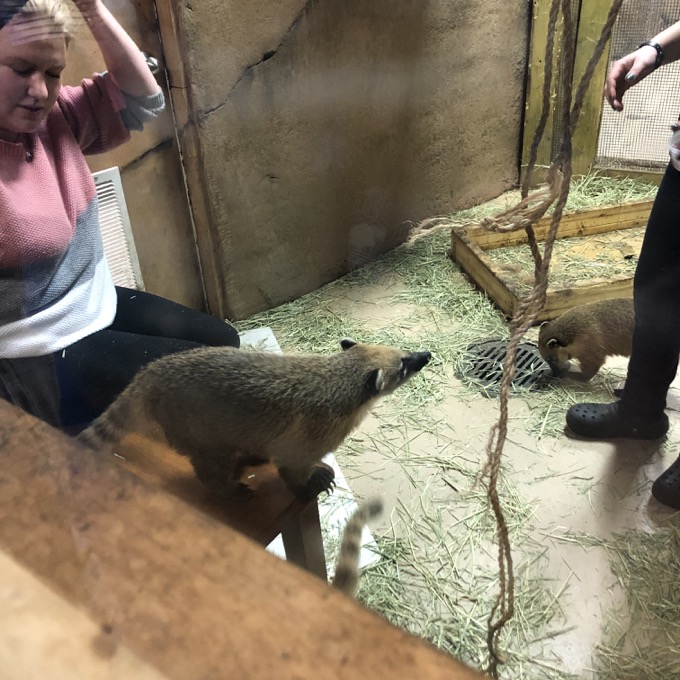 This place is a blast.
Again, it bears mentioning that the staff were all great. The chirpy woman in with the coatimonkeys was informative, funny, and seemed to really love the animals. A random staffer randomly asked Calvin if he'd like to play with a tarantula. Others attempted to answer all patron questions, no matter how dumb they were. But let's get to the real problem with SeaQuests the world over: access.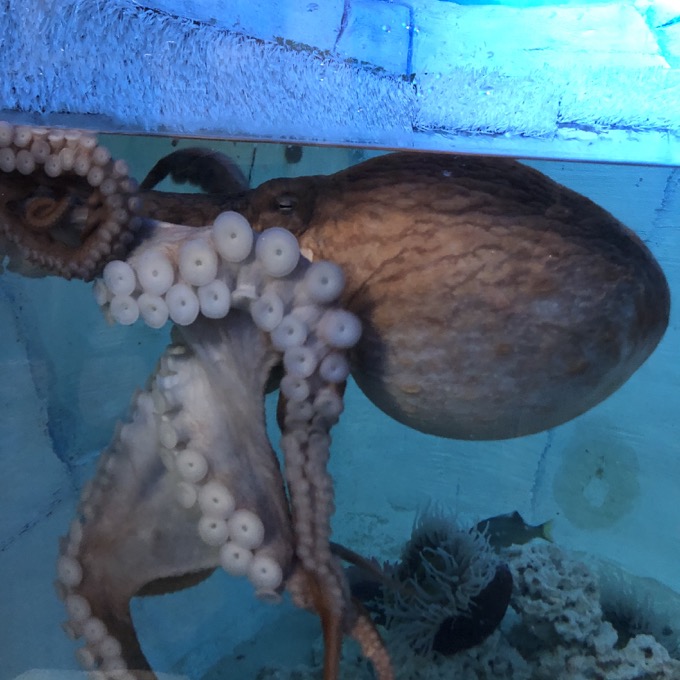 Even if we believe that the company has learned from its mistakes and now comply with even the most stringent animal welfare and animal collection laws and morals… and even if we believe that the cramped cement cages are perfectly fine for wild jungle animals… the mere fact that dopey little kids and jerk teenagers and moronic dads have unfettered and unsupervised access to dozens upon dozen of animals is a problem. To pretend it's not is irresponsible folly.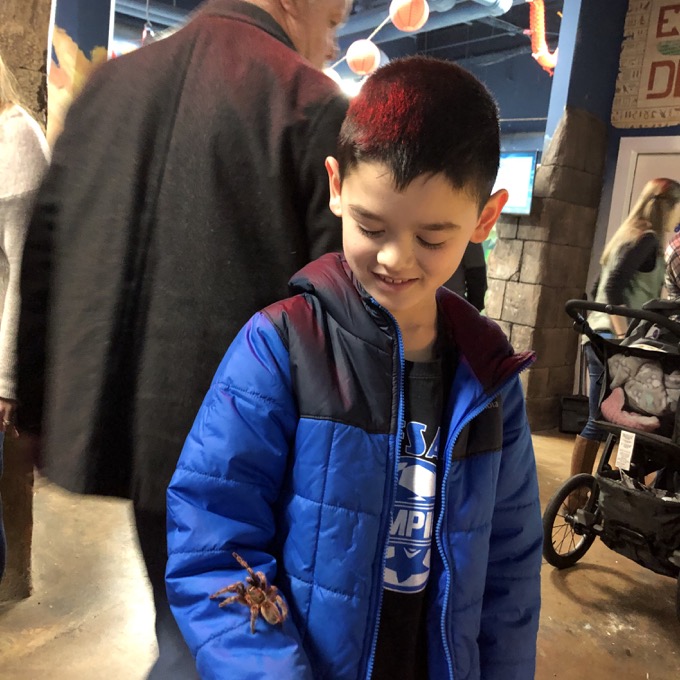 This is where Calvin learned that a frenzy of rainbow trout do, in fact, bite little boys' fingers: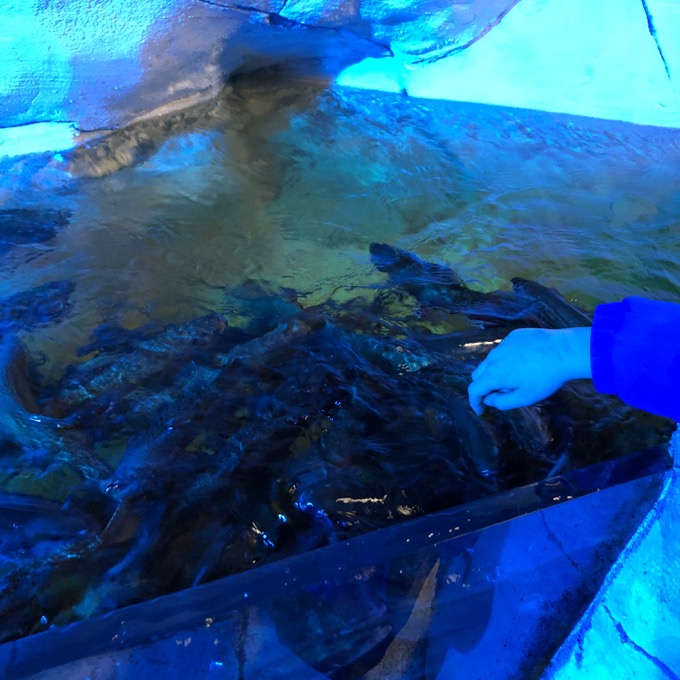 This is where I "caught" a man punching an albino wallaby on his cement floor with bonus poop and wooden platform:
Okay, he wasn't actually punching it, but rather petting it with a fist (for real), but the point remains. He could have punched it if he wanted to. Kind of like how this Giant Pacific Octopus was literally inches from us in an open tank. I could have, in theory, lifted it out and paraded it around. Or I could have poked at its head like I saw a child doing shortly after taking this picture: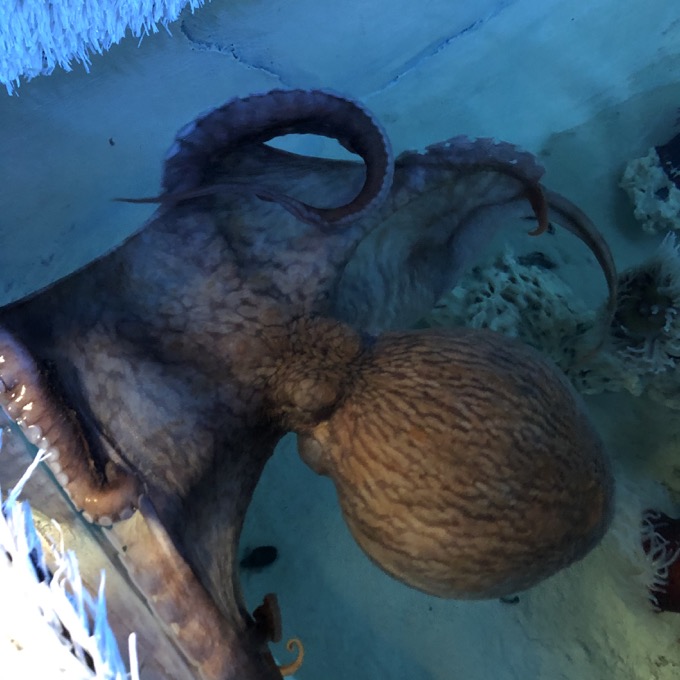 And what about this poor Sulcata Tortoise? Homie was – and I'm not making this up – he was trying to bust out of his enclosure, repeatedly pushing at the fake rock keeping him penned. Also note that his face was inches from mine. Calvin could have hopped on his shell for a "funny" picture and probably have gotten away with it. This place is nuts.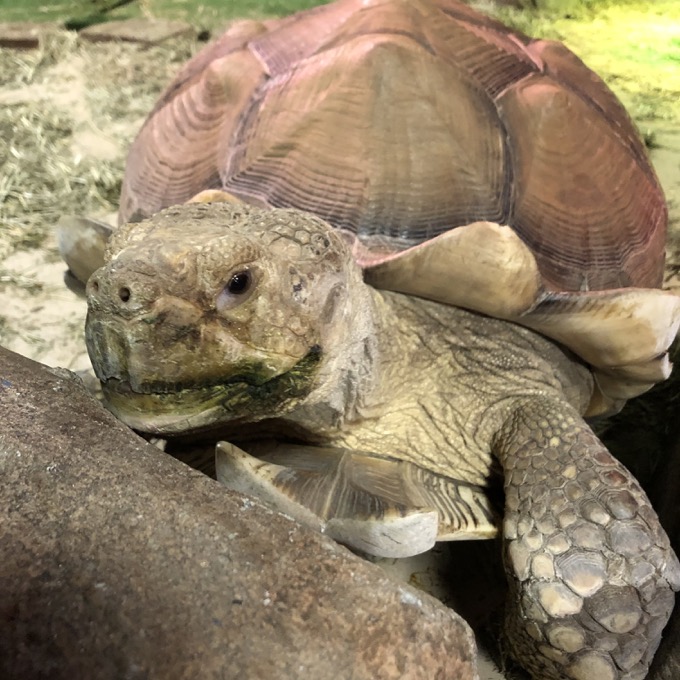 Now's a good time for a dope acid trip fish tank song.
Good stuff. Dog face puffers are cool looking fish. They have one of them here. A lionfish too. They also have a massive tank full of various stingrays, most of the Southern Stingray variety. There's even a little tunnel that you can squat down and go into and watch various rays and sharks swim over and around you. Neato.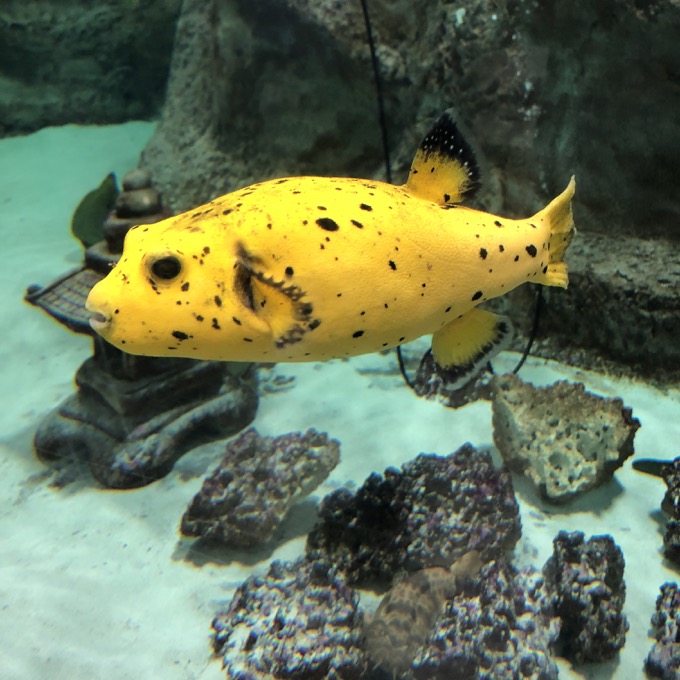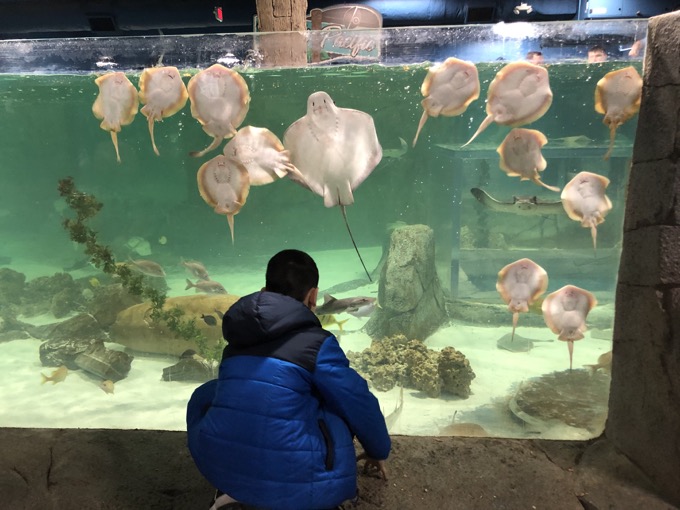 A pygmy goat, some ducks, a few Flemish rabbits, and some chickens as well. This was the barnyard portion of the SeaQuest I guess. Oh, let's see what else.
Y'know, it's funny. Calvin loves animals. Really and truly loves them. But he just wasn't into this place. He thought some things were cool, sure, and maybe he was sore at me for not dropping an extra 50 bucks or whatever for the "experiences," I'm not sure. But he definitely felt sad for some of these creatures. How could you not?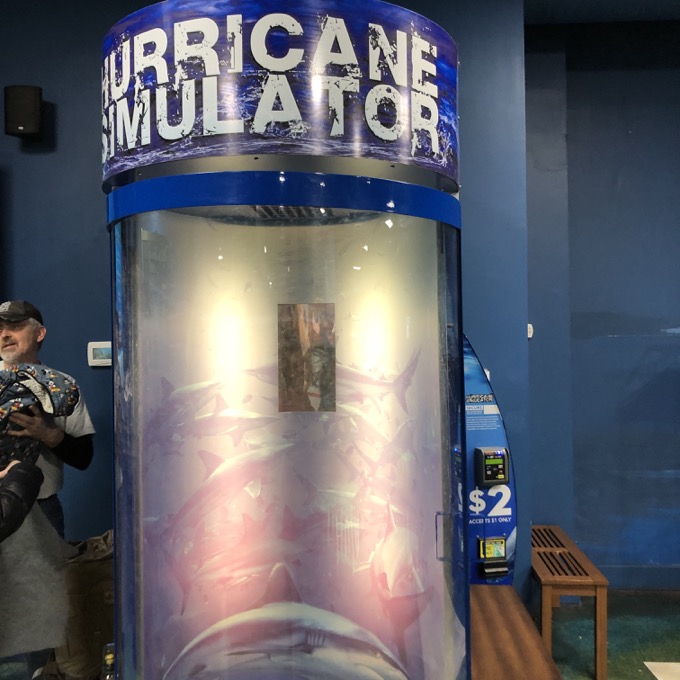 Not only did I feel sad for the animals, but I felt sad for the humans who paid two dollars to step inside this Hurricane Simulator. I watched a woman who paid, stepped in, and had her hair gently tussled for a minute. So dumb.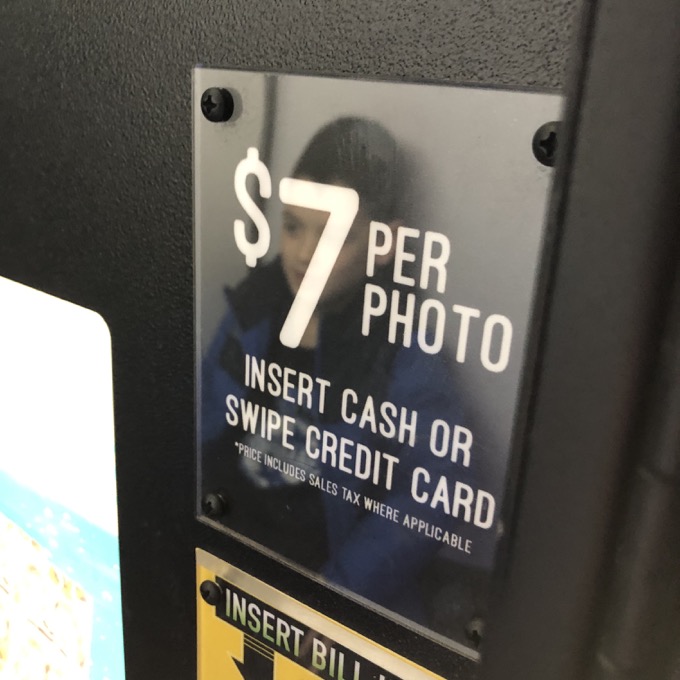 And who the heck is dropping seven bucks on a photo from their photo booth?! Bananas.
The Axolotls were rad though. These bad boys are salamanders that live in Mexico and have some amazing regenerative powers. Scientists are currently all up in their goofy grills, trying to figure out how they keep growing legs after losing them. They are unique in other science ways and this cute little video does a good job at explaining some of them.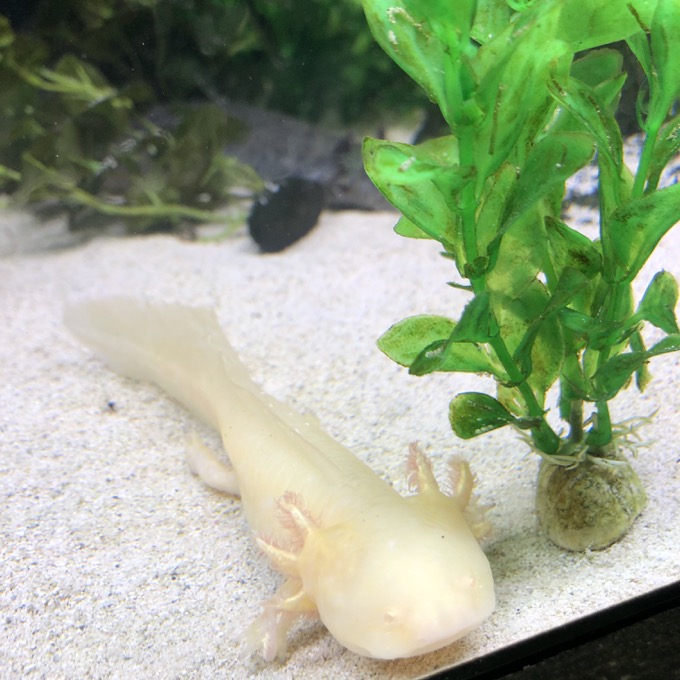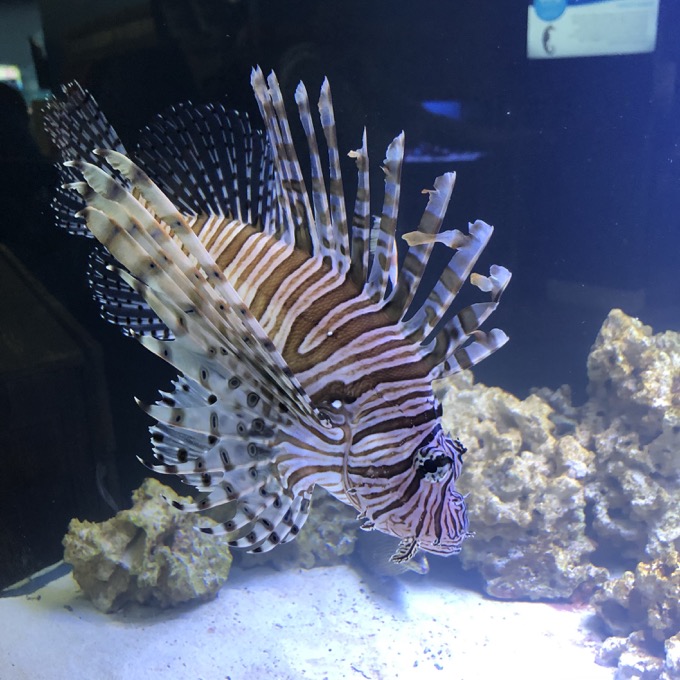 They're probably my favorite animal here (Calvin voted for the sloth) and allows me to end on a good note. Oh, wait, Calvin wanted me to take a picture of this guy because he was naked. And was missing a certain something.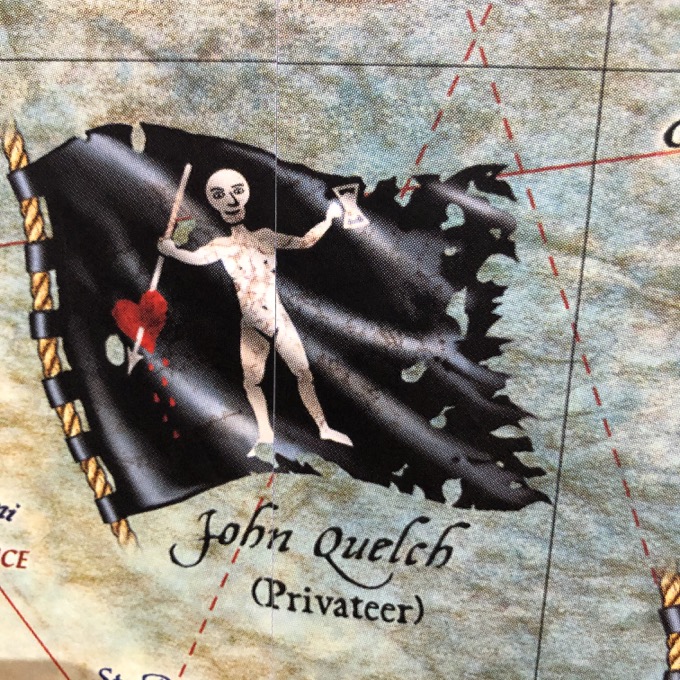 We exited and Calvin didn't even glace at the gift shop. Taking after his father, which is always nice to see. Our visit was "only" $26.14, which is with an online discount and no add-ons. We were one of the very few there who didn't pay for anything beyond our entry, so I'd guess the average family of four spends $80 here – which is cRaZy. Norwalk's Aquarium is not far away. Beardsley Zoo, which isn't that great but at least cares for their animals, is under 15 minutes away in neighboring Bridgeport. The Mystic Aquarium and the Bronx Zoo are both a reasonable distance and much better uses of your animal viewing time.
But… but if you like what you see and feel the need to visit, I'd suggest doing so soon as I'd guess the entire SeaQuest company will be forced to shut down one way or another.