Connecticut River Viewpoint, Overlooking Chester-Hadlyme Ferry
CT Art Trail Viewpoint
Gillette Castle State Park, Lyme
Even though I never found the actual Viewpoint sign, I'm going forward with this page. Maybe someday when I'm back in East Haddam Lyme and East Haddam to hike around the state park, I'll seek it out.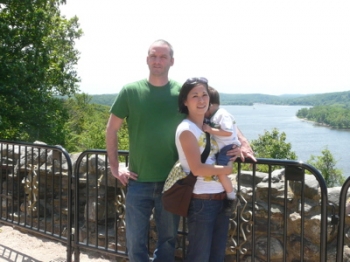 (I returned… several times and while there is no sign, I did learn that this view point – and the castle itself – is actually in Lyme.
Gillette Castle is a really cool spot to go to in Connecticut, made extra-double cool since it has the added caché of being an Impressionist Art Trail Viewpoint!
From the one article ever written about the Viewpoints:
A ferry has been crossing the Connecticut River between Chester and Lyme since 1769; in its early years it often carried supplies used in the Revolutionary War. William Chadwick (1879-1962) painted the river at a more peaceful time, about half a mile down river from the site chosen for the Viewpoints exhibition in Gillette Castle State Park, according to Leslie Lewis of the Department of Environmental Protection and State Parks. The text indicates that Chadwick, who lived and had his studio in Lyme, and other American Impressionists knew of the location. "Connecticut River" is in the Lyman Allyn Art Museum in New London collection.

CT Art Viewpoints Trail
CTMQ's Intro to Gillette Castle State Park