"On the morrow morning…"
The Auncient Oak, Bethlehem
November 2014
This tree fell during a storm in 2022. See comment at bottom for more information.
On the morrow morning Ricciardo went to an auncient woman of his acquaintance, who was the Mistresse of a Bathing-house, and there where he had appointed Madame Catulla, that the Bath should bee prepared for her, giving her to understand the whole businesse, and desiring her to be favourable therein to him.
— The Decameron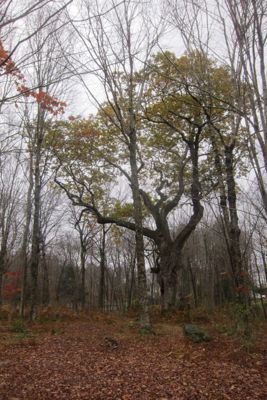 I won't pretend to know the first thing about The Decameron. I don't care to learn about 14th century Italian novellas either. But since that seems to be the only important use of the word "auncient," ever, I figured I'd have to use it.
"Auncient" of course, is just an obsolete form of "ancient," and for some reason the town of Bethlehem clings to it. For this tree is called the Auncient Oak, which stands tall in the Bethlehem Land Trust's "Auncient Oak parcel," on, you guessed it, Auncient Oak Road.
Auncient Oak Road is a dead end road in the middle of nowhere, lined by rather nice half million dollar homes. Where these people work and play boggles my mind to be honest with you. Litchfield's tony center is not far away at all, but really, who are these people that live out here?
Well, tree lovers would be one subset. This is a lovely old red oak.
Over the years, I've received a few emails and comments about the tree, but no histories or interesting facts about it. Nor can I find any online. I think what makes it interesting is merely its size, its protected status, and more importantly, the fact that it retains the name "Auncient Oak" for some reason.
But this is Bethlehem; the town which unapologetically celebrates its biblical etymological roots. It calls itself "Christmas Town" and celebrates that purely Christian fact annually. Bethlehem is a unique enclave in this liberal heathen gay married state of Connecticut.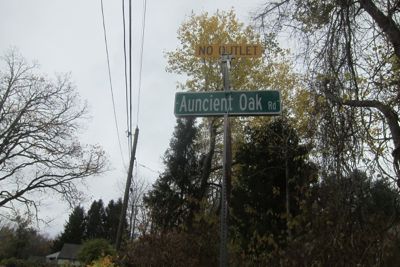 You can't change Bethlehem. You can't even try. (Here's our visit to the Christmas Town celebrations.)
To sum up, there's a big old red oak on a dead end in the western part of Bethlehem off the truly beautiful drive down Todd Hill Road (a drive I would not want to do in snow). It is just south of Morris and just east of Washington, if that gives you any indication of how you have no idea where this thing is.
Note: Other young trees in the picture look taller because of perspective. They are not taller. I didn't exit the car to touch the tree because my 3-year-old was getting a quickie nap in… and just as you don't mess with Bethelehem's ways, you don't mess with my 3-year-old's naps, rare as they are becoming.
Note 2: I just found an email from 2011 from a reader that said, "To my knowledge there is no sign posted for this tree, but it has been told to me that it is the "second oldest tree in CT"."
For what that's worth.

CTMQ's Trees, Arboretums, & Pinetums