O (My) Little Town of Bethlehem
A visit to Christmas Town
December 2009
Crazy. Plum crazy I says. I had heard about Bethlehem from a trusted source who used to write for a local paper out this way that Bethlehem was a "very conservative, very unique" place. I had read that they celebrate their name through unabashed Christian celebrations and knew that their post office was a December destination for people from far and wide simply to get a Bethlehem postmark on their Christmas cards. I knew it was home to the oldest theological school in the US and the Regina Laudis Abbey, home of the cheesemaking nuns.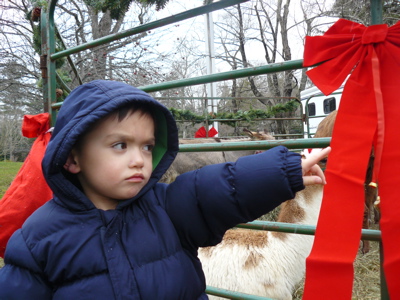 But having lived in "liberal commie atheist" Connecticut for half my life, I was still surprised during our visit during their Christmas Town Festival. Not "Holiday Festival," but Christmas Festival. I guess when you're named Bethlehem, and you are about as inaccessible as you can be in Connecticut, you can get away with this stuff. And take it from this heathen liberal: It's actually pretty cool.
Or should I say, "pretty cold?" Because it was snowing during our visit, but Bethlehemites are a hardy lot and their outdoor festival was still underway when we arrived. Our first stop was the Bethlehem post office, pretty much THE destination in town during December. I didn't really know what to expect, but fortunately it was still pretty early during the day (and in early in December), so there weren't the big crowds I'd read about – despite our visit being in the midst of the two day Christmas Town Festival.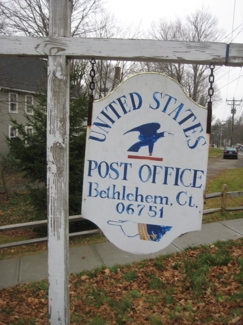 Each December, the petite post office in the town of Bethlehem becomes one of Connecticut's busiest postal facilities. The Bethlehem Post Office has introduced a new "Christmas Cachet" design each year since 1938, and there are now annual different festive embellishments available to decorate your holiday mail. Designs have been created by local residents, artists and children. And I do believe all the annual stamps are still available here, but I didn't count.
A visit to Bethlehem to send holiday mail has become an annual tradition for many families. Once there I had the opportunity to select one of the cachet designs and to hand-stamp my cards before sending them. The rubber stamps are splayed out on a few tables and I was allowed stamp, stamp, stamp to my heart's content. I imagine this is quite a mess of humanity during peak times. Once stamped, cards can be placed in boxes to get mailed from Bethlehem and secure that cherished postmark.
It struck me, here in the hinterlands of Connecticut, that people are still deemed trustworthy enough to allow this practice. We all know that grannies and aunts still send cash in Christmas cards and I could have easily taken 200 cards and no one would have batted an eyelash. I guess my big city cynicism just hasn't come to Bethlehem yet.
After I stamped a few envelopes, being mindful to have brought the cards for the most Christian people on our holiday list (my aunt and uncle in Kansas), we moved the car a few hundred yards and headed over to the festival proper. In the snow.
Borrowing what I wrote in my write-up about the first theological school in the country:
We went out to sleepy Bethlehem on perhaps the most unsleepy day, during their annual Christmas Town Festival. After all, Bethlehem labels itself Christmas Town for obvious reasons. And they don't take this moniker lightly; eschewing all modern day political correctness, the town celebrates all the Christianity of the Christian holiday, complete with a nativity scene on the tiny town green while religious Christmas hymns are played through a loudspeaker across the road.
Nope, no "Happy Holidays" here. No menorah over in the corner. Just full-on Christianity for all to enjoy. Bethlehem is sort of a hidden away tiny town in Connecticut, accessible only via two-lane twisting roads down from Litchfield (via Morris… Yes Virginia, there is a town called Morris in Connecticut) or up from Woodbury. No one just "happens to pass through" Bethlehem by accident –and that's the way they like it.
This sort of celebration simply wouldn't fly in my hometown of West Hartford. And not just because we have a very large Jewish population, but because it's just not the politically correct thing to do in 2009. Hoang and I were a bit surprised by it all, but we went with the flow.
And most of the flow was heading into the town hall for warm drinks and chicken noodle soup to complement their shopping for local crafts. Damian declared his hunger so he and Hoang hung back to enjoy some of that soup while I ventured out into the festival. It was a bit muted, I think, due to the inclement weather. There really wasn't much to do at all, other than buy crafts and eat festival food. Oh there were llamas wearing Santa hats and some guy carving animals with a chainsaw, but that was about it for the typical visitor.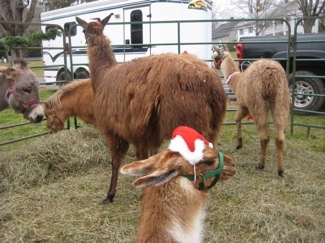 However, for me, there were a few other exciting things… Like the dual kooky Progressive Insurance E.T. road signs that I'm constantly on the lookout for (See my collection here) and, the best thing of all – a surprise museum! That is, a museum I was unaware of, right smack-dab in the center of it all: the one room District Schoolhouse No. 1! And it was open!
So instead of shopping for stuff I don't want or need, I spent a good 20 minutes in the schoolhouse museum talking to the kindly women who were interpreting the place. I saw Hoang and Damian walking around outside while I was learning about old timey Bethlehem (which really wasn't much different than "modern" Bethlehem) in an overly warm little room. You can, of course, read about the museum here.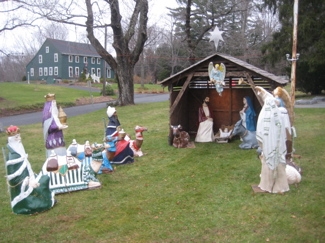 And that was pretty much it. Our visit to the very unique Christmas Town Festival in Christmas Town, Connecticut. There is, of course, much more to do here depending on the time of your visit and if the weather was better, I'm sure we'd have had much more to talk about.
As it was, we still had the Bellamy-Ferriday House to get to (which we did, here), so we wished everyone a Merry Christmas and marveled one last time at just how dang Christian this whole thing was.