Brushmill Waterfall by The Brushmill by the Waterfall
Brushmill Waterfall, Chester
I can't be the only person that finds the fact that the restaurant here – The Brushmill by the Waterfall – is weird for naming themselves after what is clearly not a real waterfall. And since it's not a real waterfall, I want it to be named "The Brushmill Waterfall by the Brushmill by the Waterfall."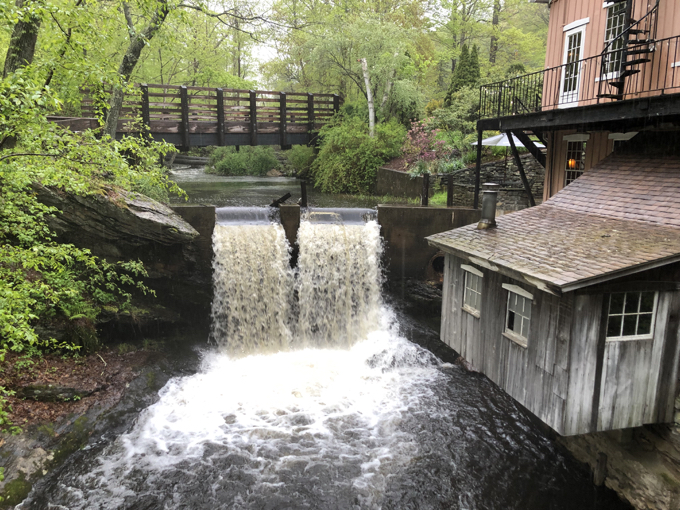 It is likely that there was once a less dramatic natural tumble of river here back in the day. Then someone built an unattractive dam and now diners paying too much for prime rib – this restaurant seems like one of those places with dark rustic interior that serves stuff from 1978 menus – get to look at a concrete wall with water flowing over it.
First opened as a restaurant in the late 1960s, the Brushmill by the Waterfall serves classic-American cuisine with a twist in an elegant setting overlooking a romantic waterfall in picturesque Chester, Connecticut. The 19th Century structure has been lovingly preserved and expanded to offer several intimate dining experiences, private dining rooms, a casual dining experience in the tap room or a leisurely experience on one of two dining terraces. The restaurant is family owned and operated and benefits greatly from over twenty five years of CT Shoreline restaurant experience. Come and enjoy the rustic antique chestnut structure while enjoying live music, exceptional fare presented with first class service.
Nailed it. Though I'm sure it's lovely.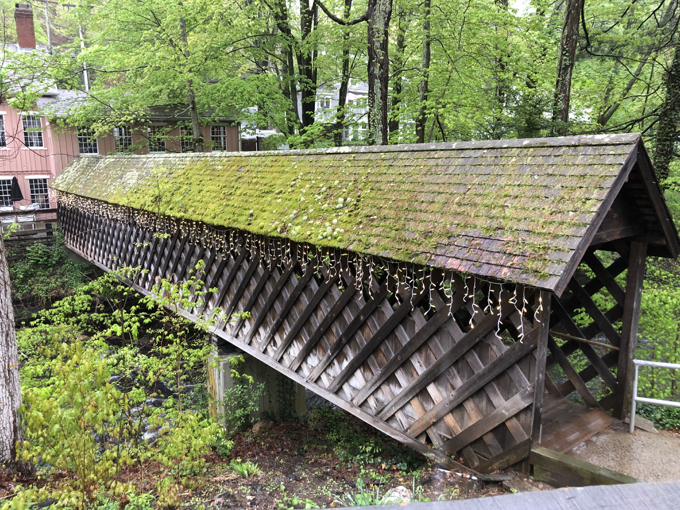 Also lovely? The little 69-foot long covered bridge that takes patrons from the parking lot, over the Pattaconk River, to the restaurant. There's an informative sign and everything.
Sigh.
You want me to copy to sign, don't you? You can't just hop in a car and drive to Chester on your own? It's one of Connecticut's quaintest and cutest little towns? With a great restaurant scene? And even a good new (in 2018) brewery? No? Okay.
C.B. Rogers and Israel Champion formed their partnership and built the Rogers and Champion Brushworks in 1859. The factory made a considerable contribution to industry in and around Chester. It was primarily a woodworking business which produced a line of products from skate-woods, auger bits, and carpet sweepers to its main product of brushes.
Wait. Dudes were skating back then? (I honestly have no clue what "skate-wood" was in the 19th century and I'm finding it difficult to figure out.)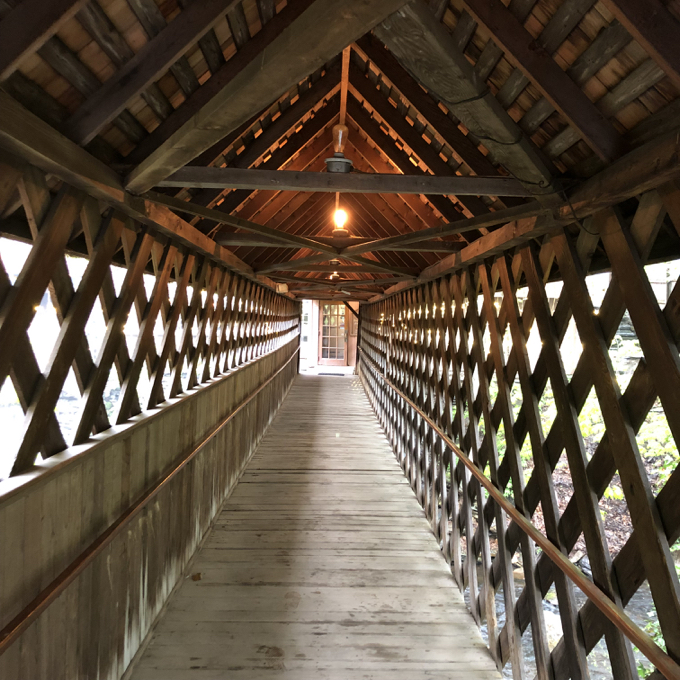 These high quality brushes, primarily used in the daily and janitorial trades, had a wide distribution around the world reaching a peak production from 1910-1928. The brush shop employed up to fifteen workers who were paid a maximum of 40 center per hour. Still in the belfry is teh 1886 bell used to call the employees to work. During WWII, it functioned as an air raid signal.

The fast flowing Pattaconk River provided water power for 18 factories as it traveled from Cedar Lake to the Connecticut River. Rogers and Champion Brushworks is the only factory existing today along its banks. Like many other early American factories, hydropower-operated the brushworks, powering the machine through a network of pulleys and belts which are still in place inside the original shop.

The building with its chestnut timbers, original lights and windows, is a monument to early American industry. The revitalization of the mill is a tribute to those people who believe that the past is a meaningful and integral part of today and tomorrow.
That's you! And me! And now I'm glad I transcribed the sign. But you should still go to Chester.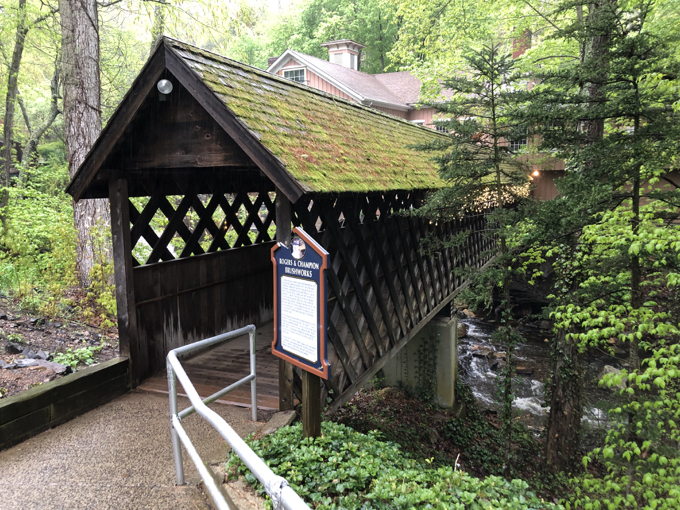 The Brushmill by the Waterfall
CTMQ's Waterfalls & Cascades
CTMQ's Covered Bridges List