Uplands Preserve
Canton Land Conservation Trust
July 2014
Since hiking this property, the CLCT has added a little white loop trail and has surely improved upon the blue and yellow loops.
Most of the time I write about hiking in Connecticut, I'm fairly effusive. Even when I hike and write about somewhat crappy trails, I usually find a silver lining and would encourage any and all to repeat the same hike.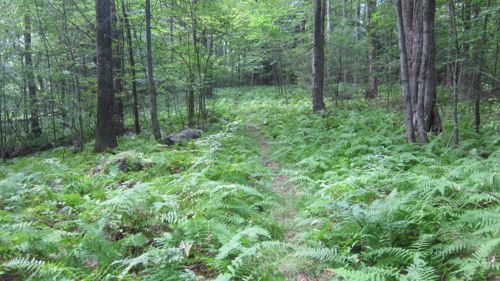 Some of the time, however, I can't do that. A trail can be hopelessly boring or somewhat abandoned and poorly marked and/or cleared. Unfortunately, the Uplands Preserve trails in Canton have a bit of all of that – at least in the summer of 2014.
Now, I've learned over the years of writing about little-known trails around Connecticut not to disparage them too badly. Almost every one is a volunteer effort. And disparaging volunteer efforts is just a lame thing to do.
The Canton Land Conservation Trust has a bunch of trails, and some of them are just fantastic. So keep that in mind. That, and the fact that I hiked through this property at the end of July, arguably the hardest part of the year to maintain clear trails.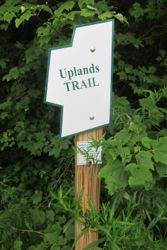 Yellow Uplands Trail
The most impressive thing about this whole property is the huge kiosk in the woods where the trails truly begin. It gives one the feeling that they are about to hike into an equally impressive wonderland of Connecticut woodland scenery.
I hiked the yellow trail clockwise, as that was the only direction where I saw blazes. The trail pretty much does a loop around the edges of a plateau (aka, the "upland") and does approach a very steep drop off at it's farthest point from the trailhead.
I hiked through some beautiful fern groves, and you all know I love fern groves. I also went through some dead hemlock groves and typical central Connecticut hardwood glades.
There was one exposed rock formation.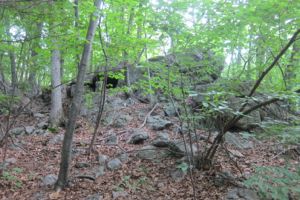 And that was pretty much it – oh, and stonewalls. Stonewalls are always kind of cool.
The trail is very faint in places; equal to some deer trails and other paths the locals have forged. I'm sure they will re-blaze the trees at some point, but when I hiked, the blazes were difficult to see.
I do like how several houses along the way had their own little access trails. It gave me joy to think of little boys and girls going off on their own into these woods to explore. You know, like we all used to do just 30 years ago. It's just so rare these days.
I never lost the yellow trail, but I came close a couple times. This provided decent foreshadowing for my next effort…
"Blue" Uplands Trail
I put blue in scare quotes above because the blazes, when they were present at all, were decidedly silvery gray. Which is a terrible color choice on trees like beaches and birches and ashes and pretty much everything found in a hardwood forest in Connecticut.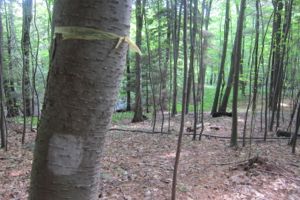 I cannot endorse this trail at all. It almost seems like the land trust has given up on it, for it barely exists at all.
Now, granted, with so many other cool trails to hike on the CLCT properties, why would anyone care about this short little loop around a stagnant mosquito hatchery? It's pretty clear that no one does, as there were so many blowdowns that it apparently no one has cleared this trail for a few years. And I'm not even talking about the overgrowth.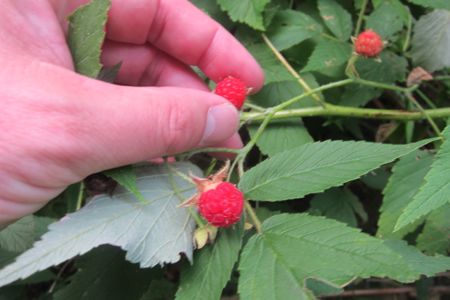 I lost the trail once, twice, three times along my way. I kept finding pieces of it here and there though, so I kept plugging along. (It's not a long or difficult "trail.") The heavily contoured CLCT map is pretty laughable with its 10 foot intervals. So while it may look like the blue/silver/gray trail takes you down and up a steep incline, it is only 150 feet or so of difference.
This trail was completely and utterly forgetful when I hiked it. Though if I was prone to mosquito bites, I guess I've have plenty of memories for a few days to come.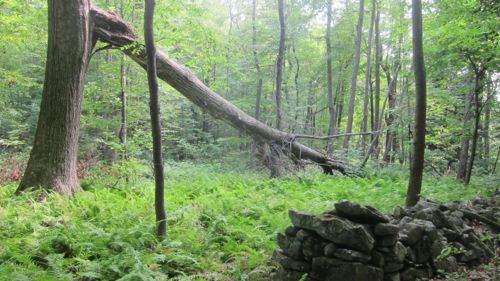 Description and Map
Canton Land Conservation Trust
CTMQ Hikes CLCT's Trails