"Because They're There"
Ten Highest Peaks in Connecticut
I was engaged in a Twitter "conversation" this morning about a random trail in Portland. Somehow, I ended up on the Meshomasic Hiking Club's website and saw in their "Year in Review" that they had a difficult hike up a thing called Gridley Mountain.
Upon looking it up, I learned that Gridley is the third highest peak in the state. And I'd never heard of it?! What the heck was going on here? Am I not who I think I am? Not only did I decide this morning that I must climb Gridley, despite it being a pure bushwhack, I would try to sort out the five highest peaks in the state.
That's when my friend Brendan sent me a concise list of the ten highest peaks. Ok, that's even better I thought. I gave him a virtual fist bump.
Not sure I'll be able to summit all ten, but if you're going to climb Round Mountain, you might as well continue on to the South Slope of Frissell to get the highest point in the state as well.
The list of the top 10 is from this site. Mostly.
I'm comfortable with the list.
November 2017 Update: I am no longer comfortable with the original list. I received some information from some guys who have summited most of these mountains and was convinced to change my top 10. Here's how that happened.
(A. South Slope of Mt. Frissell, 2,380 feet, Salisbury, Multiple climbs)
1. Bear Mountain, 2,323 feet, Salisbury
2. Round Mountain, 2,280 feet, Salisbury, October 2017
3. Gridley Mountain, 2,192 feet, Salisbury
4. Bradford Mountain, 1,962 feet, Canaan
5. Bald Peak, 1,929 feet, Salisbury
6. Crissey Ridge, 1,800 (est), Norfolk – see here
7. Bald Mountain, 1,768 feet, Norfolk
8. Mount Riga, 1,752 feet, Salisbury
9. Stone Man Mountain, 1,722 feet, Canaan
10. East Bald Mountain, 1,703 feet, Norfolk
10. Thorpe Mountain, 1,699.48 feet, Sharon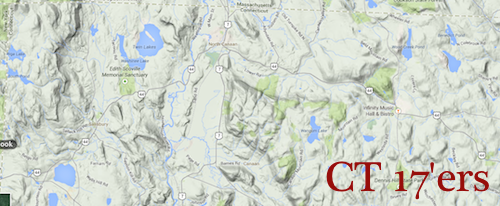 Other than Round and Bear, and maybe Bradford and Riga, I think the rest are bushwhacks – and/or are private property of some sort. So, y'know… I'm not the one who told you to go get lost and die on some privately owned hump in northwest Connecticut.
By the way, the top 10 peaks in Connecticut are all over 1,700 feet which makes a nice tidy list. I deem them the CT17ers.
CTMQ's Geography page
CTMQ's Peakbagging page