This Page now only exists for historic context
File this post in the "How Steve's Brain Works" section of throwaway CTMQ pages. I've written many times that of all the stuff I write about, it's the hiking and peakbagging stuff that excites me most. I know that comes as a surprise to the museum and beer folks, but… hey, what can I say?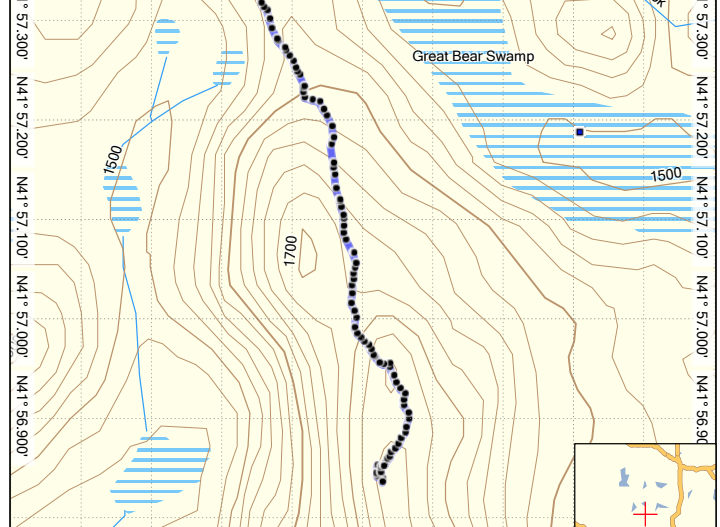 Back in March of 2014, I published the list of Connecticut's 10 highest peaks. A decent amount of research went into that page, and as you can see in the early comments, there was some confusion. This isn't a peakbagging list that existed as one that people actually pursued.
(Note: It still isn't. Most of the peaks are not trailed. Most have no views. Many are difficult slogs through thickets of laurel. And a few are on private property. In other words, the pursuit of this list is foolhardy and at times, requires trespassing.)
But I strive for accuracy and landed on the list that has been generally accepted for quite a while. Then my world was turned upside down by reader TomK. He commented:
Noticed that a couple of peaks in the list are in Norfolk, and then I remembered that on the back of the Great Mountain Forest map, it states that Crissey Ridge is the highest point in the Town of Norfolk. Maybe it got missed because it is named as a "Ridge" rather than a "Peak" or "Mountain". The ridge is in Great Mountain Forest, and there is a trail up the ridge. The trail gets a bit sketchy as you get above 1,700 ft, and I don't know that I reached the actual top of the ridge. My GPS gave an altitude of 1,801 ft, but the topo map shows no contours above 1,740 ft. But if the ridge is over 1,740 ft, that would put it on the list, right?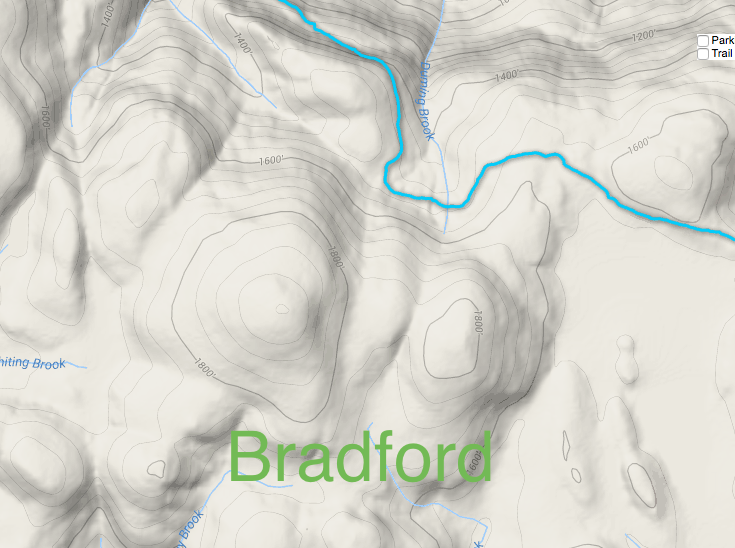 Whoa! This potential rejiggering of the list was important; not only for accuracy's sake, but also because it would mean that all 10 summits would therefore be over 1,700 feet. A nice round number! (The 10th highest on my original list, Thorpe Mountain in Sharon, clocks in at 1,699.48 feet.)
I wrote to TomK:
Tom,

I rarely email commenters, but when it's something as important as CT's 10 highest peaks, well, here we are.

I'm not familiar with Crissey Ridge at all. So pardon my ignorant question – Is it possible that it's part of one of the two Norfolk peaks listed? (If you're familiar with peakbagging, the whole prominence thing may come into play?)

I WANT it to be real! If only b/c then we'd have a clean list of 10 over 1700 feet.

But I'm dubious. thanks for reading (especially the weird parts on the site that I often think only I care about!)
TomK came through, with a thorough email that one can expect from the hiking/peakbagging community. This is just how we are.
Hi Steve,

What happened is someone posted a trip report for a bushwhack to another peak on the list, Branford Mt, to vftt.org, which I follow. The person who posted it (from Vermont) said he was doing the 10 highest peaks in CT, and since I live in northwest CT, that got me wondering what the ten peaks were. My search for the list is what got me to your site.

I thought about prominence as well (I have 45/NH48), but no chance of an issue there – the two peaks listed are both north of "downtown" Norfolk, while Crissey Ridge is south of the town.

Crissey Ridge is part of Great Mountain Forest, and they publish an excellent paper map, which is available locally in Norfolk. There is a pdf map, which unfortunately does not show most of the trails. The pdf map is here.

I am also attaching a map from Basecamp showing the track of my hike on the ridge in July, 2017, and also a gpx file of my tracks of trails in Great Mountain Forest. Of interest for Crissey Ridge is the East Gate Trailhead, Crissey Trail and Crissey Ridge Trail.

To get to the top of Crissey Ridge, I started at the Great Mountain Forest East Gate trailhead, followed the Crissey Trail to the Crissey Ridge Trail, which goes up the ridge, supposedly to the high point of the ridge. I found the trail hard to follow once I got above 1,700 feet, and I don't know that we ever found the high point of the ridge. Eventually we gave up trying to find the trail, and not seeing anything that looked higher, we headed back.

The GPS said that the highest point I reached was 1,801 ft, but I think that is a little high. It's a nice hike, about 3 hours round trip, and I am a slow hiker. Not much for views (in July) there may be better views now that the leaves are dropping. The area at the top of the ridge was fairly open, so bushwhacking around in search of the trail wasn't particularly troublesome, just that the trail footway was not very discernable above 1,700 feet, and the blazes were few and far between.

If you want to head up there sometime and want some company, let me know, I could go up there again. Thing is, I am a bit slow, especially uphill.

Hope this is of help to you. If you have additional questions, feel free to ask.

TomK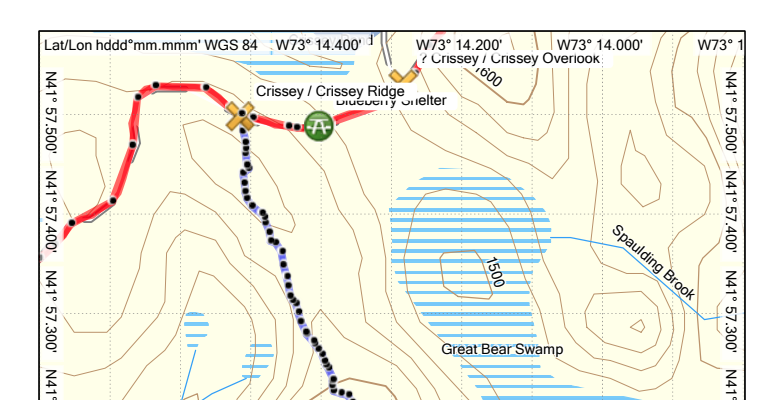 Swoon. I think I love TomK.
I'll spare you the next four emails back and forth. Checking and double checking different maps. Counting contours. Confusion of the CFPA's Iron Trail in Canaan and the Great Mountain Forest's extension of it. Where Stone Man Mountain fits in. More contour counting on other maps. A discussion on GMF's "private" land ownership and the potentiality of them "closing" Crissey Ridge to hikers.
In the end, I am prepared to say that Crissey Ridge is, indeed, a top-10 Connecticut summit – AND that it is around 1,740 feet.
This is how I spend my free time.