Where Snacks Get the Royal Treatment
Rosie's Royal Chocolates, Southington
April 2022
We live in an age of repurposing empty factories. These buildings are very often hulking ugly brick structures with massive open floors and giant windows. Some have become loft apartment buildings, some now house breweries or giant food courts. Anything is better than crumbling monoliths leftover from our state's industrial past. Downtown Southington's entry, right alongside the Farmington Canal Heritage Trail, houses several "hip" businesses.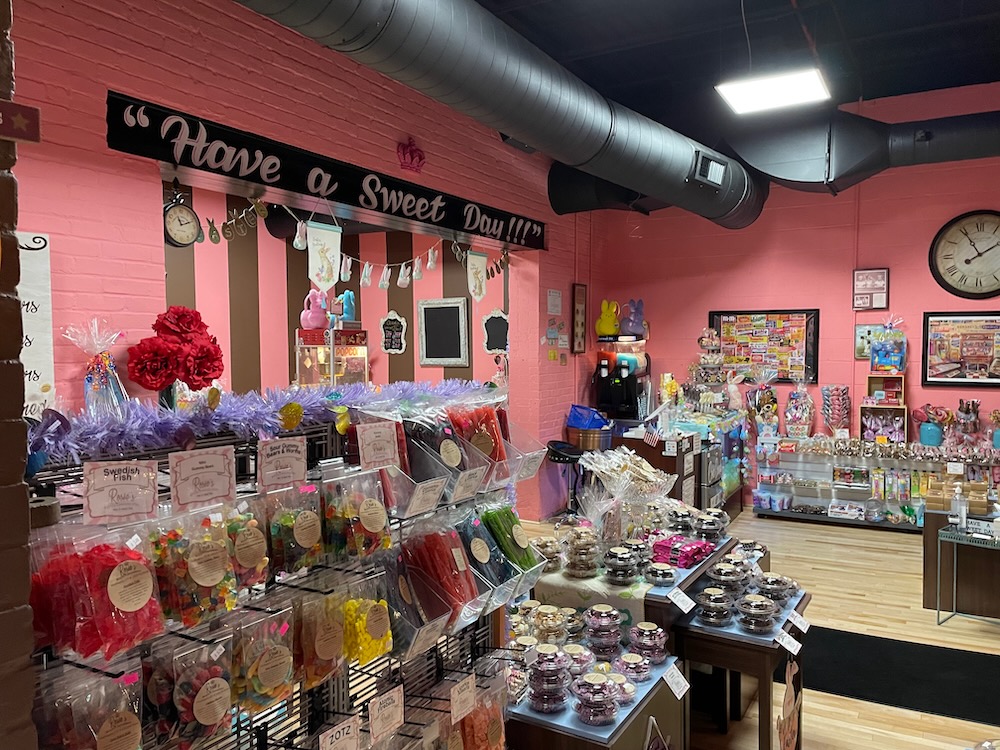 In early 2022, those included Witchdoctor Brewing, Gamecraft Arcade and Bar, Hardcore Sweet Bakery, Perkatory Coffee, one of those axe throwing places, and Rosie's Royal Chocolates. Good for Southington.
Well, maybe not good for Southington's general health and well-being… "Hey, let's go sit around playing video games whilst drinking lots of beer and eating chocolate before we throw some axes." At least they can ride their bikes there.
I was only here this time for the chocolate.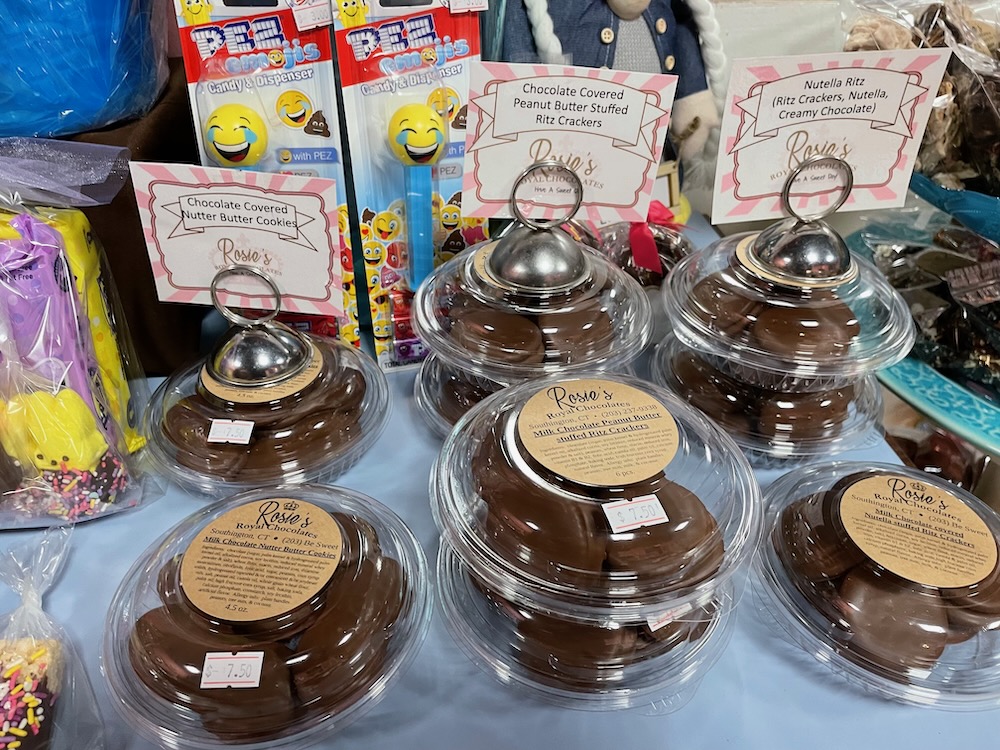 Rosie Okinsky is a third generation chocolatier. Her great-grandmother owned a candy shop. Her mother made chocolates. She couldn't not do the same. So she did the same… in New Jersey. Yes, Rosie's Royal Chocolates began in New Jersey where Rosie used her great-grandmother's recipes for candies, chocolates, and fudge.
She would then drive her treats up to Hartford and sell them inside various corporate buildings, at farmers markets, and at the Big E. People loved her stuff, so after doing that for 19 years(!), she decided to move her entire operation to Southington and voila. Here we are.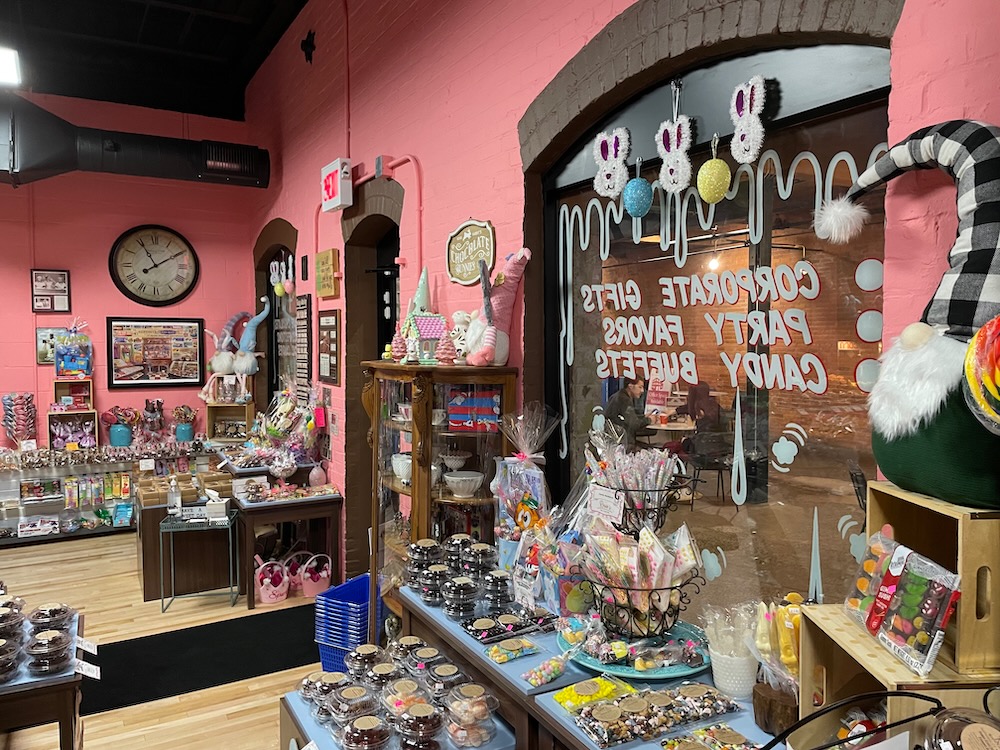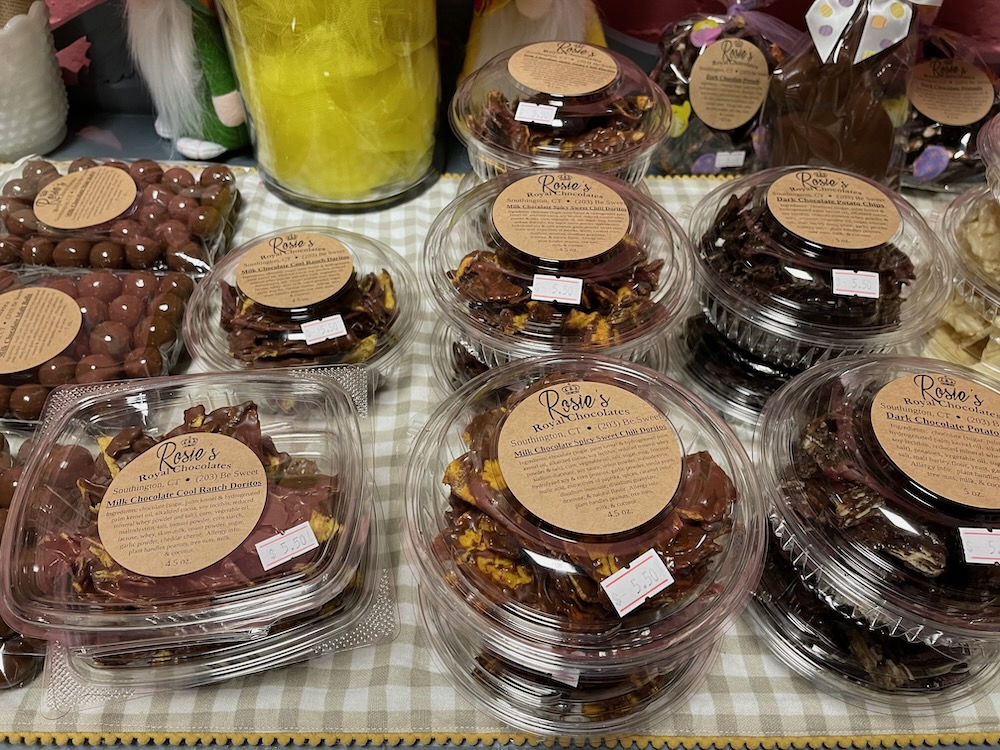 Okinsky has been making her chocolates "from scratch," though I've always been weary of that claim. She does say that everything is made in small batches and she uses fair trade cocoa. I appreciate that and will pay for it… and I did.
I shopped at Rosie's just before Easter, so there was a bit of a theme going on here, but since we don't really "do" Easter at my house, and since I was more interested in some of the "wacky" things Rosie is known for, I didn't really focus too much on the seasonal stuff.
I don't know if it was her annual pilgrimages to The Big E and its infamous wacky foods or just a desire to set herself apart, but something compelled Rosie to start dipping various foods in chocolate and selling them. She used to hand dip all this stuff one by one, but finally got her chocolatey hands on an enrober – a fairly simple machine that does just that: enrobes things in chocolate.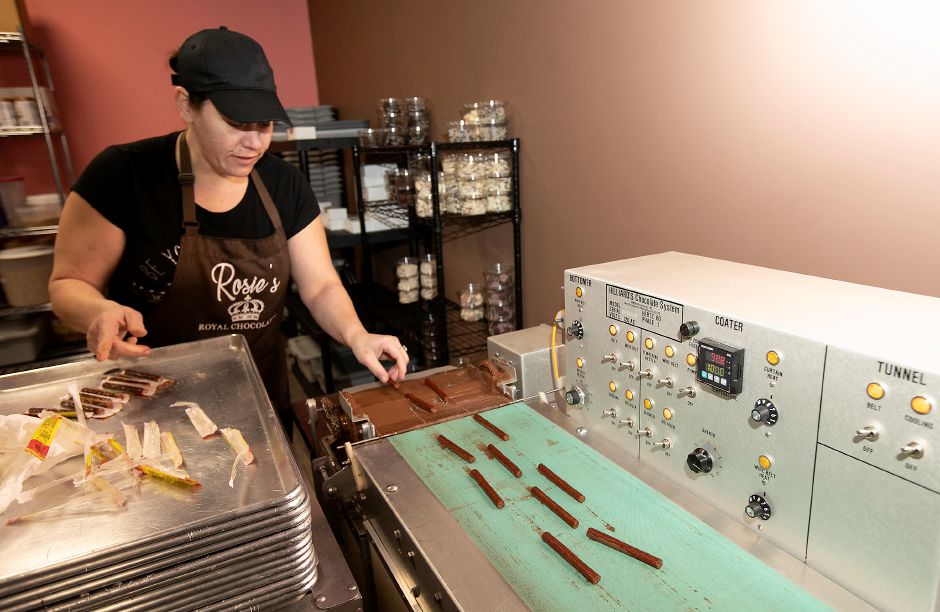 Twinkies, Cinnamon Toast Crunch cereal, potato chips, bacon, Ritz Crackers… Slim Jims, various types of Doritos, and more.
Some of that sounds good… and some of it sounds disgusting. I was sure to buy some "normal" stuff like chocolate peanut butter cups (Rosie makes her on peanut butter too) and chocolate covered Easter Oreos for the boys. That way, I could kind of forget the chocolate covered Cool Ranch Doritos.
I don't even like Cool Ranch Doritos, but Calvin does. "The perfect combination of sweet and savory. This crazy creation will have your taste buds begging for more!" I doubt that, but I bought some. I did not see any chocolate Slim Jims ("The treat that will take your palate for a wild ride.") which is probably for the best.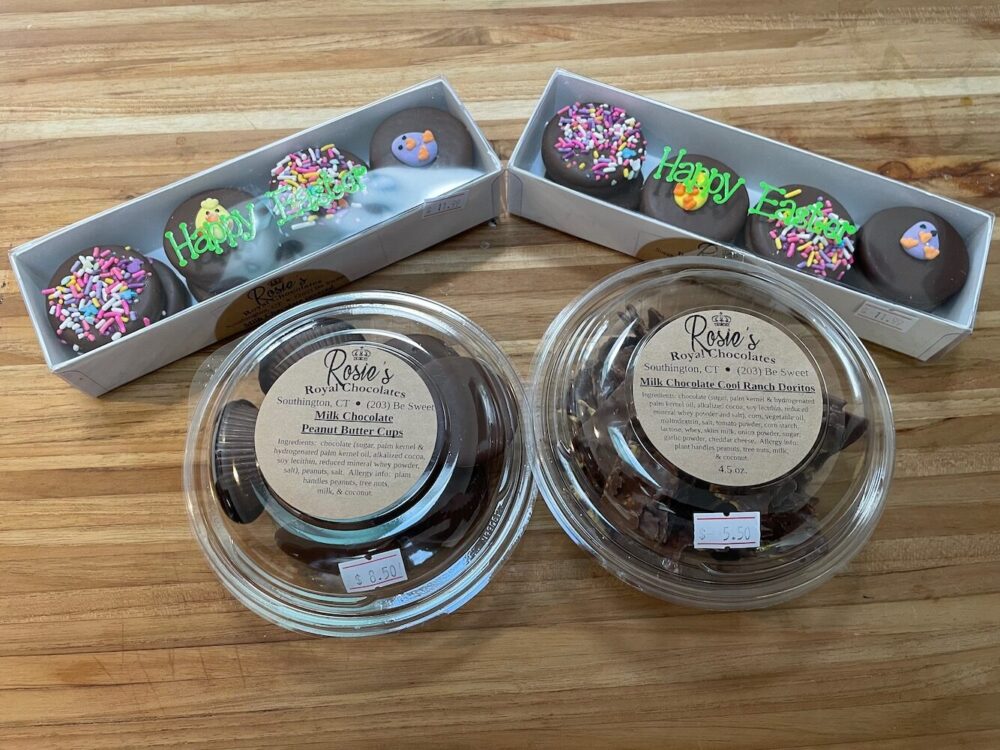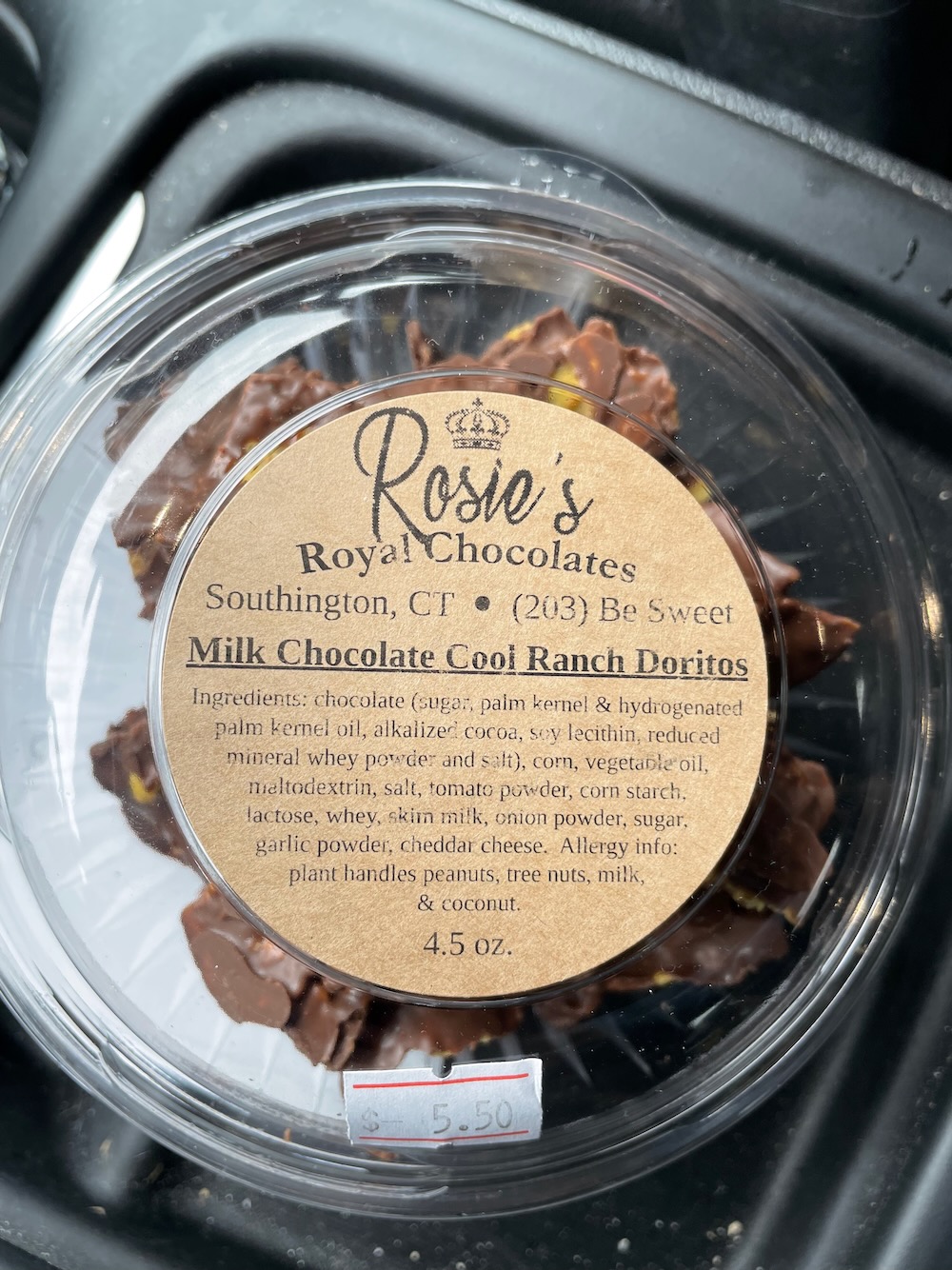 The store has non-chocolate candy and cutesy little gifts like teddy bears and such. Patrons must navigate the cavernous halls of the building, but the signage is pretty good and there's at least some life with what is called The Living Room; a set up that allows patrons of all the businesses to chill and drink their coffee or whatever on couches outside of the main business areas.
I made my purchase, bought a strong black coffee across the hall, and hit the road. Hoang and Calvin were away in Chicago, so I sent a picture of the Cool Ranch Doritos and there was general unease about the idea of eating them. They sat for days, waiting, for their return.
The "regular" chocolate stuff was good. You can't really go wrong with chocolate peanut butter cups and the Oreos were a bit much for me on the sweetness scale, but the boys loved them.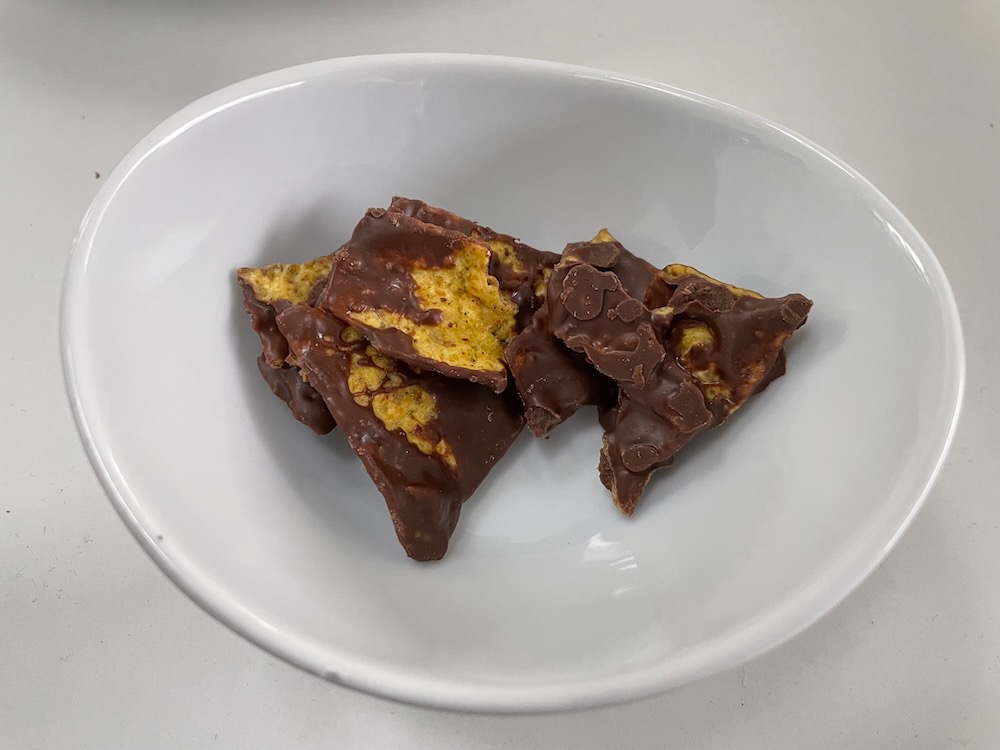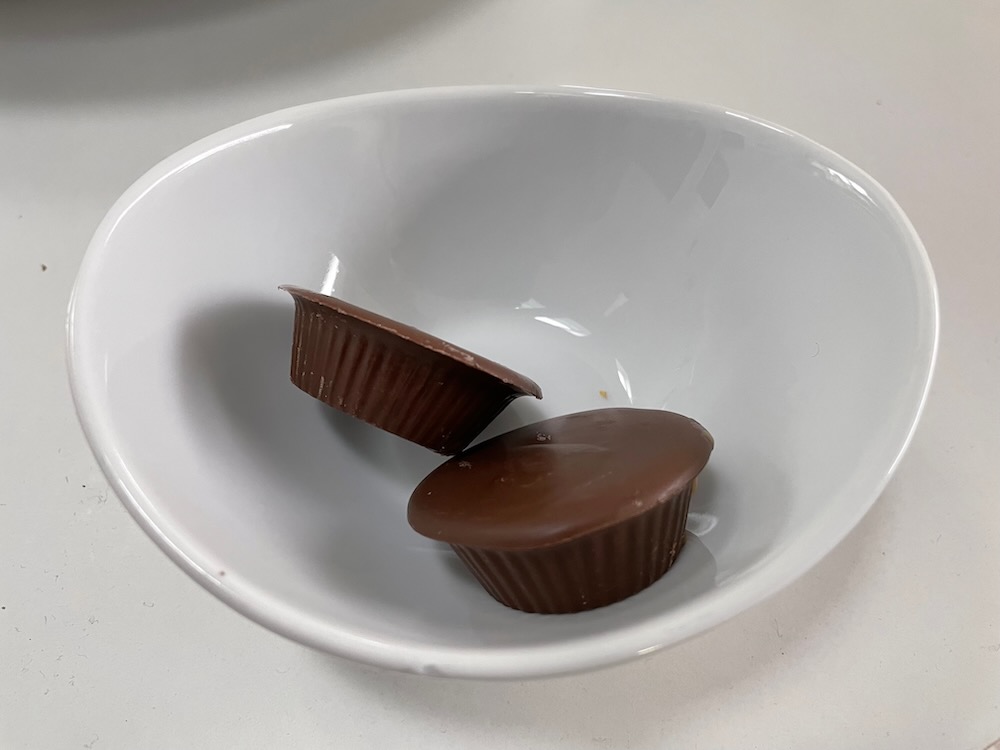 We all ate the Doritos at the same time. They had retained their crunch which I think is absolutely necessary here. Do not eat stale chocolate covered Cool Ranch Doritos. Interestingly, the only one of us who likes the snack chip, Calvin, totally disliked the confectionary version. The person who hates the chip the most, me, liked it covered in chocolate the most. And the most ambivalent one of us, Hoang, who grew up in a salty/sweet food culture, was right in the middle.
Despite probably working 80 hours a week, Rosie was effusively happy while I shopped and the variety of her offerings is staggering – there's way more than I've described. The shop is "cute" and inviting and a bit of a happy oasis in a somewhat dark old factory. I'm always down for some peanut butter cups and gummy bears, but I can't pretend I'll make a trip back for the other weird treats.
Which is fine. Every Rosie has a thorn or two.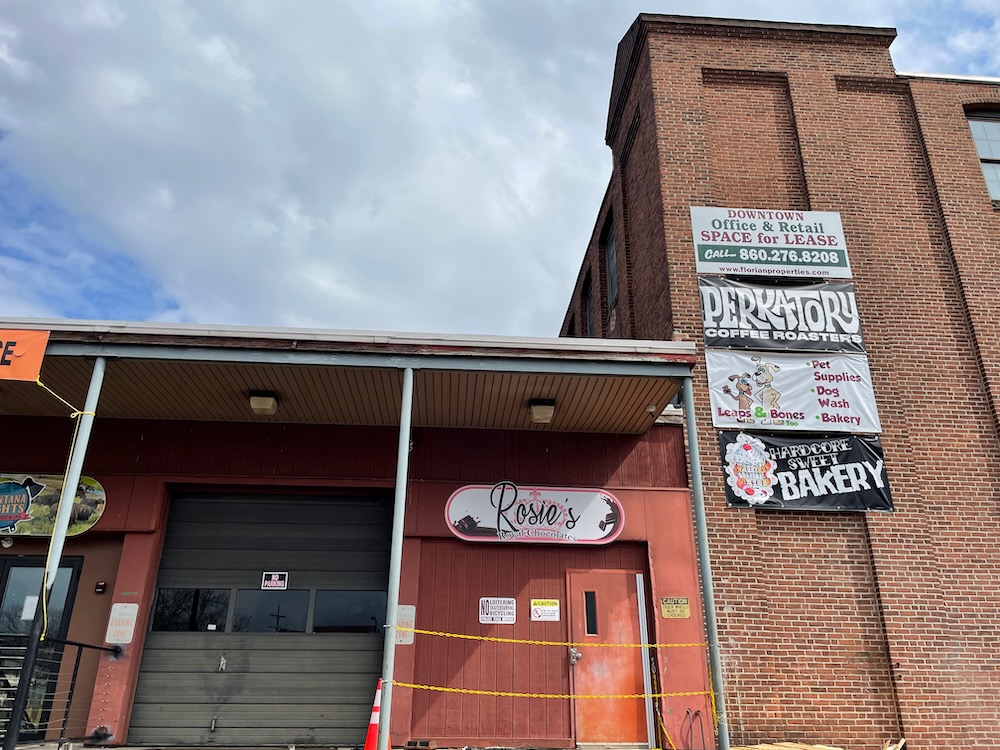 Rosie's Royal Chocolates
CTMQ's Connecticut Chocolate Trail