Everything Bloomfield
I've been exploring and writing about Connecticut since 2006. After a decade, I began compiling CTMQ guides for each town in the state. I plan on "completing" Bloomfield CTMQ-style… as well as the other 168 towns, cities, and boroughs in Connecticut. That is the ultimate goal of CTMQ.
If I've missed anything in town or if anything has closed or changed, please let me know.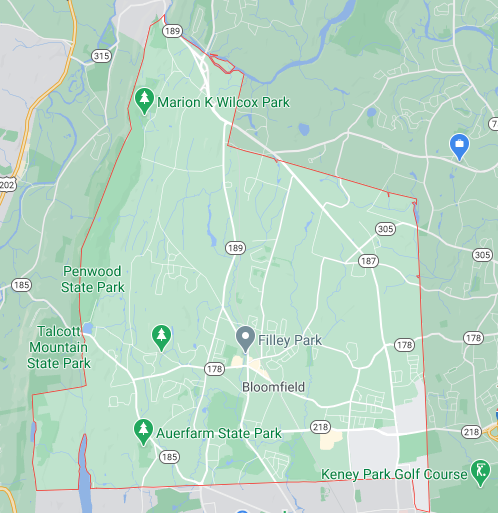 Museums
4-H Education Center at Auer Farm
Auer Farm Mushroom Barn Museum (Potential future museum)
Captain Oliver Filley House (Potential future museum)
Fannie R. Gabriel History Center
The Farm Implement Museum (Closed)
Old Farm School Museum
New England Muscle Bicycle Museum (Closed)
SW District School (Potential future museum)
Hikes & Bikes
Explore Connecticut's Bloomfield's Hiking Guide
Auerfarm State Park Scenic Reserve
Penwood State Park – Intro
Talcott Mountain State Park – Intro
CFPA's East-West Trail – Intro
Section 1: Penwood State Park to TBD (Potential future trail)
CFPA's Metacomet Trail – Intro
Traprock Ridge Land Conservancy – Intro
Bloomfield's Town Trails – Intro
Multi-Use/Rail Trails
Food & Drink
David Glass Cheesecake (Closed)
CT Beer Trail: Back East Brewing Company
CT Beer Trail: Thomas Hooker Brewing Company
CT Spirits Trail: Waypoint Spirits
Looking for your favorite restaurant? Here is an explanation as to why it's not here.
Everything Else
US Oldest: Orthodox Jewish Day School
World's Only: Auer Farm Mushroom Barn
ASME Landmark: Jacob Engine Brake Retarder
CT Underground RR Trail: Francis Gillette House
Griffin Cascades
Van Otterloo Cascade
Dumb Roads of Bloomfield
Auer Severed Arm
Balbrae
Spite Barn (Gone)
Fidelco Guide Dogs
Saba Halal Live Poultry
Pepperidge Farm Bakery Outlet Store
The Wilde Building (Cigna)
Wintonbury Flying Club Fly-In
Bloomfield: Complete!
I "completed" Bloomfield in 2020 but new and/or previously unknown-to-me CTMQ-worthy places and things open all the time, so a town is never really "complete." I will, of course, continue to visit and write about these new places and things.
Wrap-Up and Completion Celebration Meal with Pandemic Take-Out!