Penwood: A Rainbow of Fun!
Penwood State Park, Bloomfield & Simsbury
Multiple Visits
I am fortunate to live very near the MDC Reservoirs – Talcott Mountain State Park – Penwood State Park – Wilcox Park corridor of woods and trails. There are countless routes one can take to see different parts of these properties over the course of an hour or a full weekend. I thought I'd walked every path in all of them until I really looked at the Penwood map. I realized there were a couple trails that I've hiked near and had seen a million times without ever actually exploring them.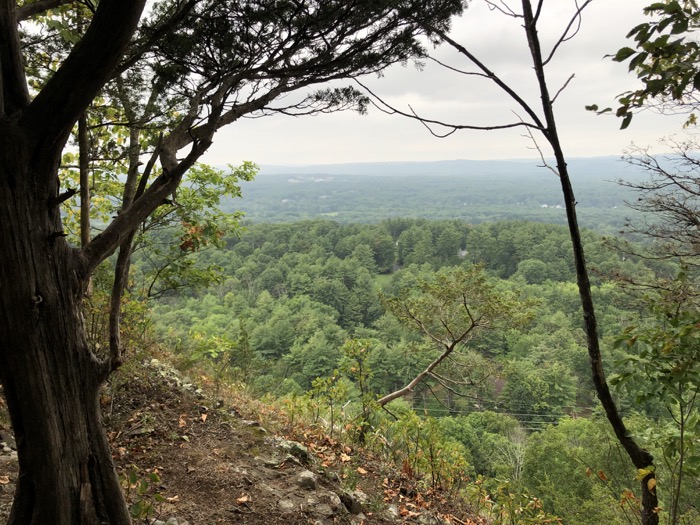 Penwood is a busy place insofar as CTMQ is concerned. Not only does it connect to several other hikeable properties, but the mighty Metacomet Trail traverses its entire length, the fascinating LaSalette Trail cuts it in two, and the CFPA's East-West Trail's eastern terminus is hidden away on a ridge deep within the park. This page is about the other trails here. More or less. Let's get to 'em, east to west.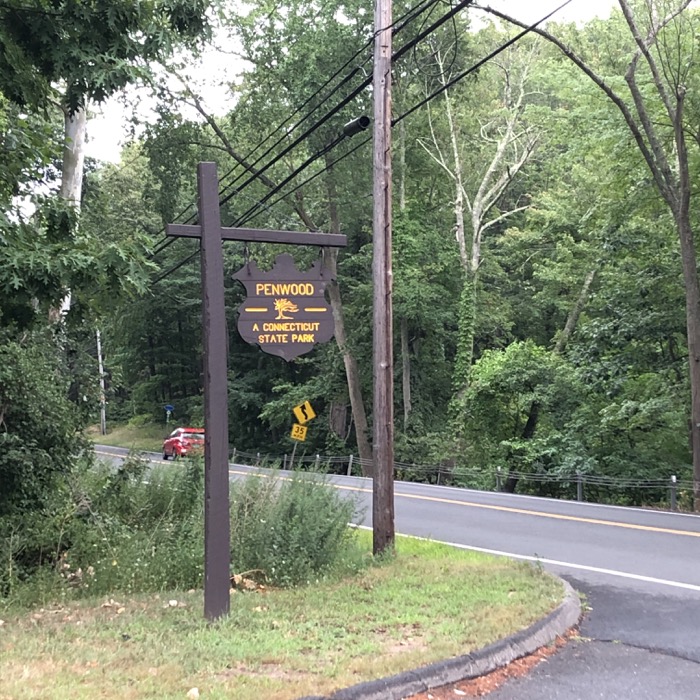 The Red Trail
More of a forest road than a trail, the red-blazed path from Gale Pond at the park's main entrance to the DEEP building and picnic area and secret car entrance just gets the job done.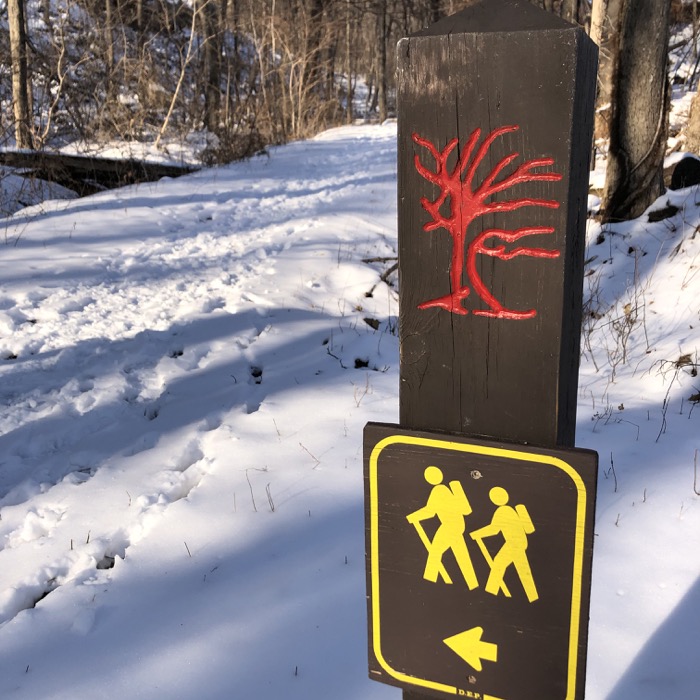 It skirts the eastern border of the park and therefore is very near a lot of private homes. I almost think half the people that walk this trail are those homeowners walking their dogs. It doesn't really go anywhere or show you anything, but offers an alternative to the main road into the park.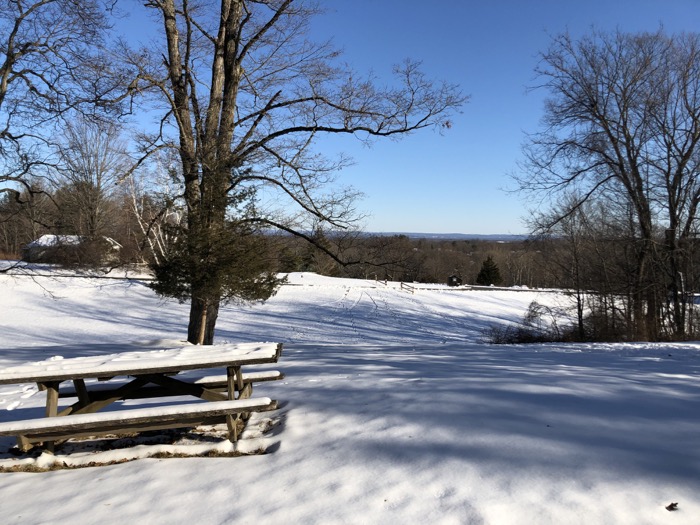 A road which, during non-pandemic times you can actually drive, despite it's generally terrible condition and crowds of walkers. The road ends at a field and picnic area. And I guess you could drive in and park if a) the entrance lot is full and/or b) you want to save a mile or so of walking to get to the views?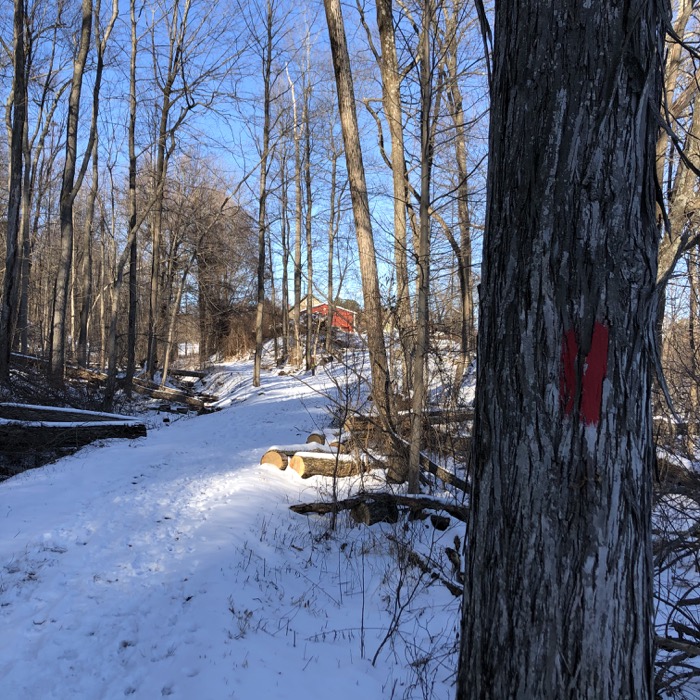 You can access a residential Bloomfield road (Gun Mill Road) from here as well, but the road is supposedly "private". At least that's what a sign says at the other end. Of course, knowing that you can access Penwood "the back way" from it, I totally understand the intent.
The Red Trail skirts the local land trust's Stout Family Fields property and intersects with the Purple Trail, which will take you to points west. If you so choose.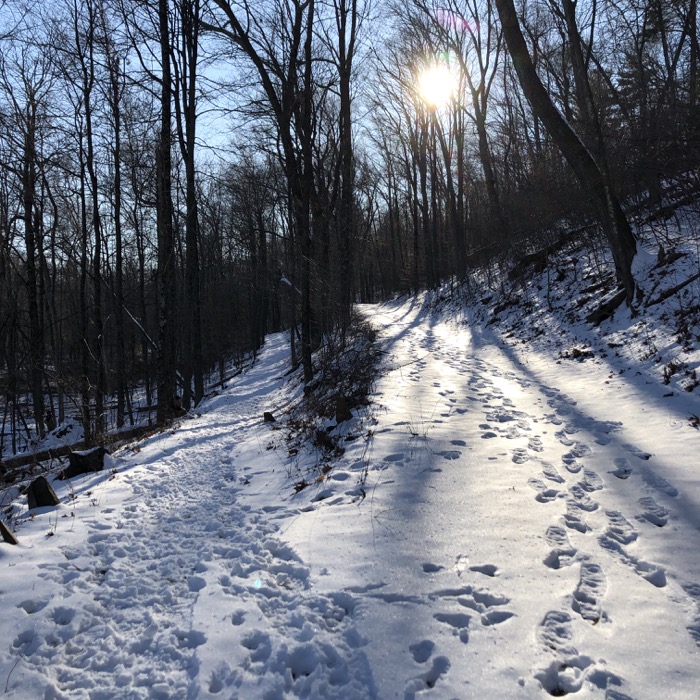 The Purple Trail
There are many short connecting trails at Penwood without blazes. with 3 trails, a road, and a paved path all paralleling each other for more than a mile, you're bound to have crossover trails. The Purple Trail is only different from them in that it's blazed. Purple.
It is best used as a connector to the Wintonbury Land Trust's Stout Family Fields property to the east of Penwood. That is how I hiked it anyway. It begins at the Red Trail at the top of the Stout Family Fields, crosses the park road, and simply goes up the hill to the top of the ridge and the Metacomet Trail.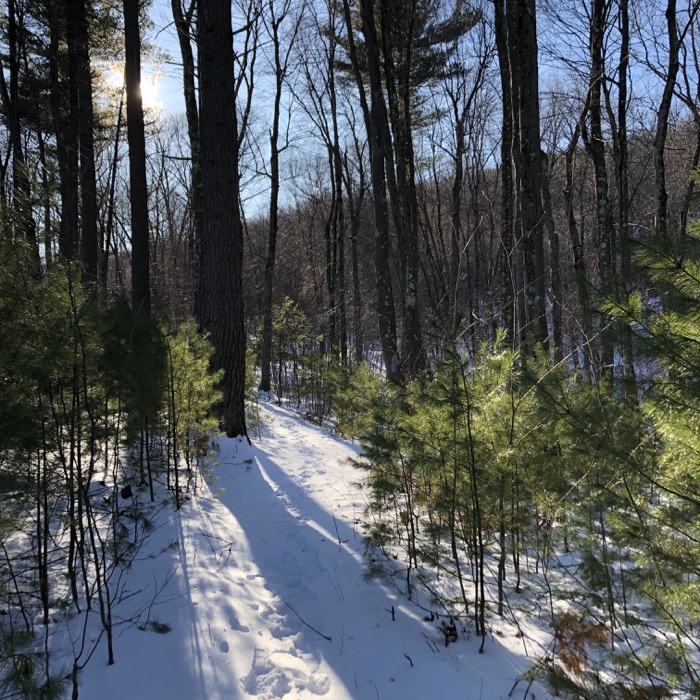 There are two Purple branches, so you can make a little loop if you park at the bottom of the Stout fields if you want. And why not? The Purple Trail is lightly hiked and offers a bit of a cardio workout straight up the hill.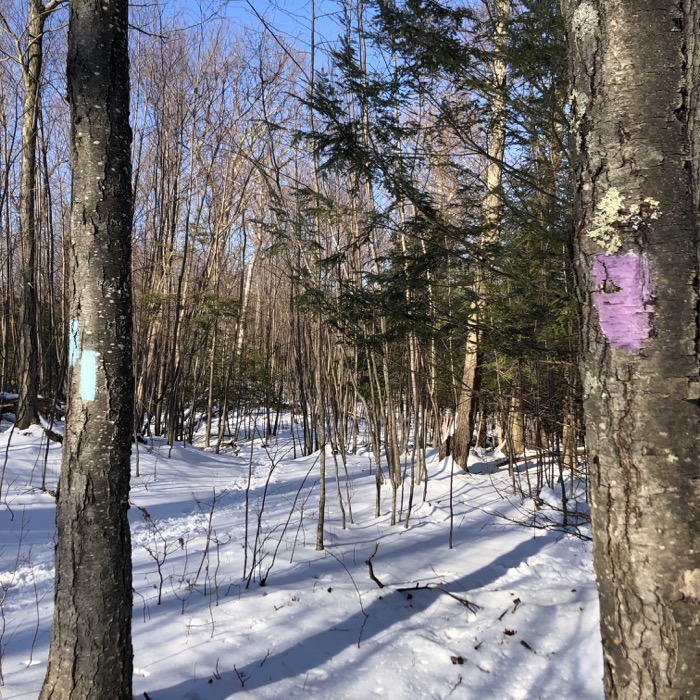 While the Red and Purple Trails are somewhat utilitarian and relatively unexciting, things get better. I promise.

The Road Loop
As I mentioned above, cars are usually allowed on half of the paved "road" at Penwood. But in actuality, the road completes a loop. The portion of the loop that is undriveable is used by dog walkers and regular walkers. (driving it in anything less than a 4×4 would be impossible.)
It's funny, I'd never walked the undriveable portion before I did for the purposes of this very page. It's actually a rather nice walk and it's cool that people can do a loop without all the roots and rocks of the true trails.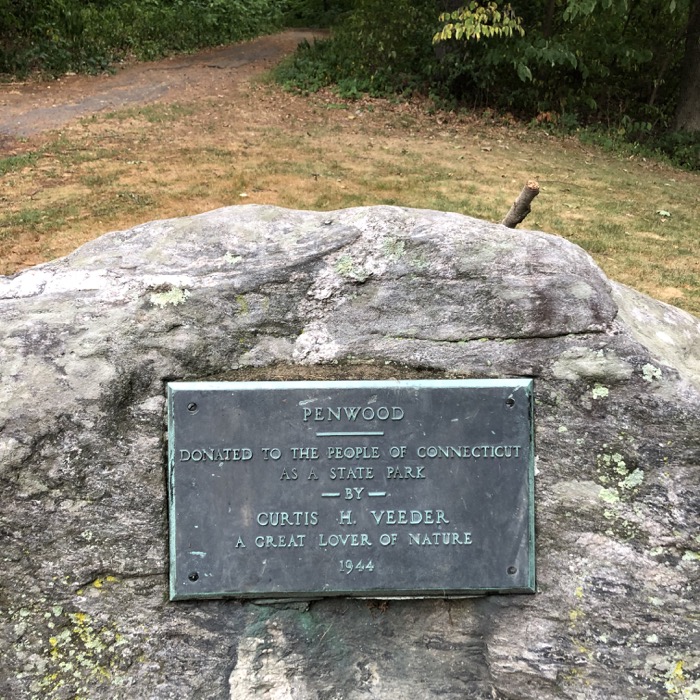 Although, to be clear, the closed-to-cars portion isn't exactly smooth. The pavement was probably laid 60 years ago and its in rough shape. In some places, it's totally gone. But I did see several people on it when I walked it, so its existence is a good thing.
Whichever way you walk the paved loop, you'll get to Lake Louise. Which is a good place to drop some knowledge about Penwood and how it came to be.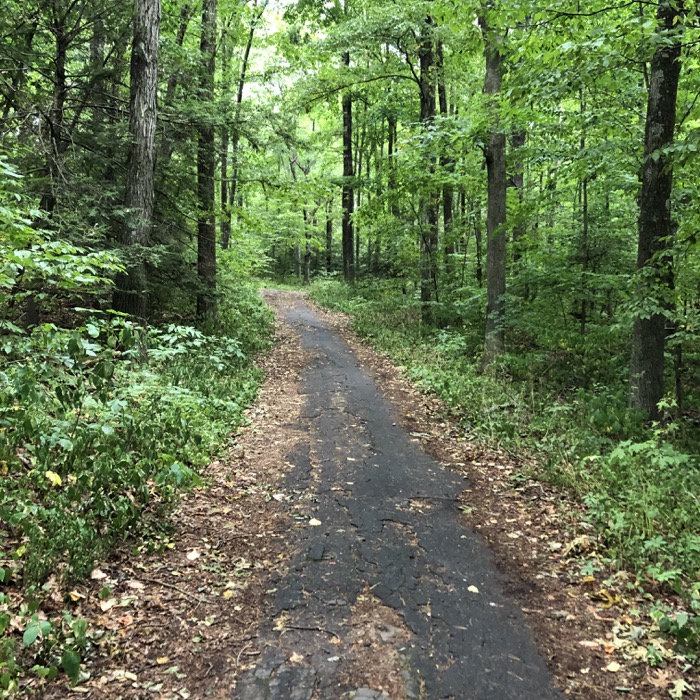 With this gift in 1944 to the citizens of Connecticut of nearly 800 acres, Curtis H. Veeder wished only that his beloved hilltop, "be kept in a natural state so that those who love nature may enjoy this property as I have enjoyed it." Veeder was an industrialist, inventor and outdoorsman. Early maps of Penwood evidence Veeder's engineering skill and demand for precise accuracy. Surveying, often after dark, he used a complex theodolite instrument and a flashlight to establish a true meridian line from the exact position of a star.
Ardent hikers, Veeder and his wife, Louise, built many trails from which to more intimately observe the wildlife, woodland phenomena and scenic vistas surrounding the mountain. Appropriately, a section of Connecticut's Blue Blazed Trail system, the Metacomet, now traverses much of Penwood. In April, as the snow recedes, colorful wildflowers carpet gravelly pockets of soil. The trillium is common as are dutchman's breeches, hepatica, bloodroot, and trailing arbutus. Occasionally the hiker may glimpse the flight of a pileated woodpecker, turkey vulture or bald eagle.
Veeder was a rather impressive guy. You can read more about him here, but you should know that his home is now the Connecticut Historical Society Museum.
Moving on…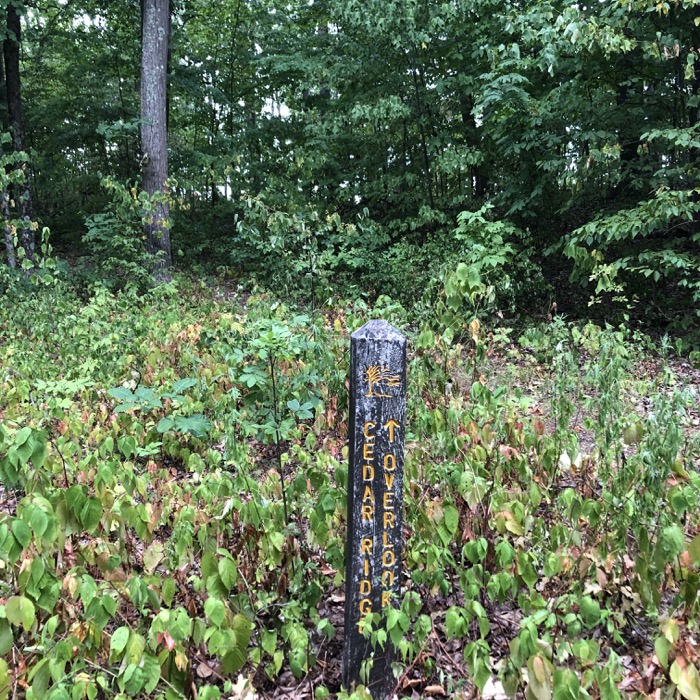 Orange, White, & Yellow Trails
There's no point in writing about the blue-blazed Metacomet Trail on this page. I've already linked it a couple times, but here's another link to the whole dang thing.
The Metacomet travels the full length of the park. And it's great. But there's also the Orange and Yellow trail combination that does the same exact thing, more or less along the cliff's edge below the ridgeline of the Metacomet. I guess we'll travel north to south for this one, starting with the Orange Trail.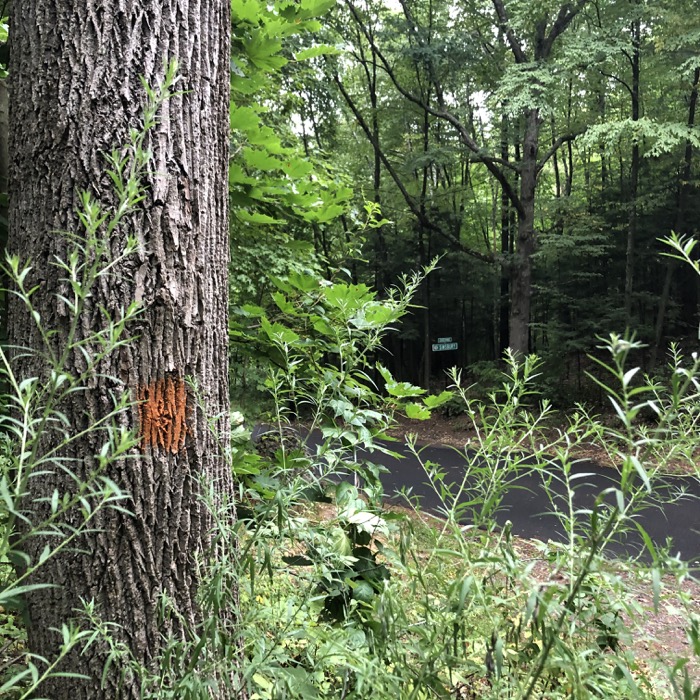 Starting at the end of Wintonbury Road on the Simsbury border, it begins its parallel journey to the Metacomet. (If you were to head north, you'd leave Penwood and head into M.K. Wilcox Park – another fun place to hike.
The first bit of the trail is an uneventful slow climb to attain the height of land. After ten minutes or so, I came upon the first white trail. Listen to me and listen to me closely: DO NOT HIKE THIS WHITE TRAIL.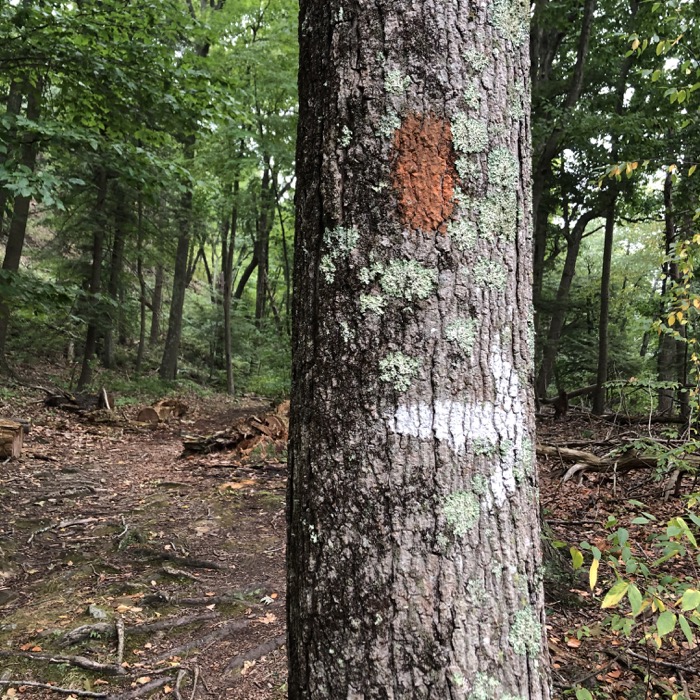 It's even on the Penwood map for some reason. It is very poorly constructed, as it simply heads straight down the very steep hillside into Simsbury. There is a seasonal view at the beginning of it, but after that? It's just stupid.
Okay, it's not totally stupid. It actually connects to Simsbury's Darling Wildlife Sanctuary. But seriously, don't bother with this trail unless it's dry and you are fit. I am barely fit anymore and went all the way down the dumb thing and cursed myself for doing so. You are smarter than I am.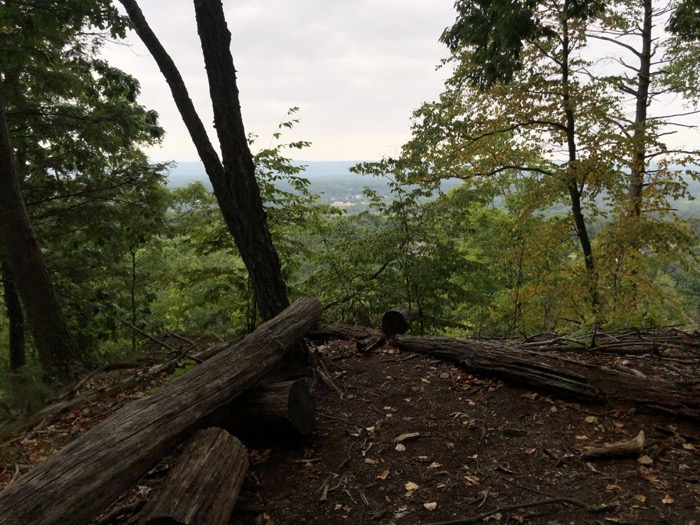 Continuing south on the orange trail, I passed through several impressive stands of white pine and cedar. While there would be endless views west across the Farmington River Valley were it not for those white pines, I knew they were coming.
To the east, the ridgeline rises up taking the Metacomet with it. The massive basalt formations here are some of the best along the entire ridge. Near the point where the Orange becomes the Yellow, the wall of basalt scree is as imposing as anywhere else from The Sound to Mt. Monadnock. It's at this intersection where the Metacomet, (another) White, Orange, and Yellow trails all intersect. The trail blazing on the three non-National Scenic Trails isn't so great, so be sure you know where you're going.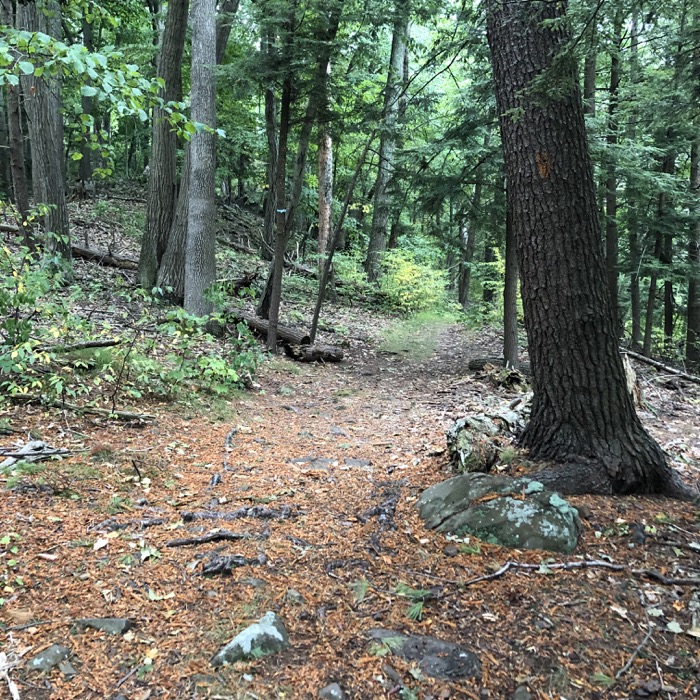 The White Trail here skirts a bog west of Lake Louise and will take you to the paved path and road/picnic area.
On to the Yellow Trail… which is highly recommended. It really is fantastic and requires very minimal effort. Have a friend who wants great views but doesn't feel like making much effort? Walk the Yellow Trail from the park's entrance (or walk the closed paved path and take the cutover trail to the Cedar Ridge Overlook – which is on the Yellow Trail.)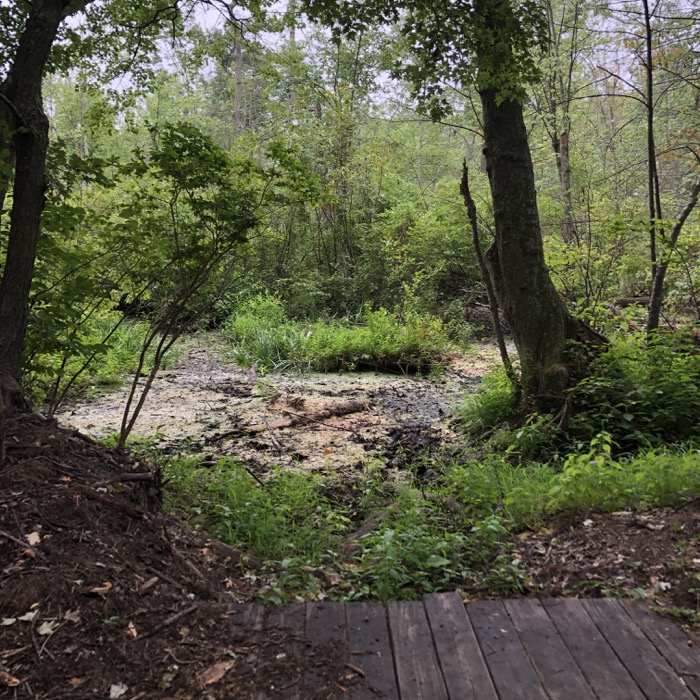 Anyone who has done any hiking in central Connecticut has seen this or similar views too many times to count. There are probably 50 pictures of the Farmington Valley from 25 different trails on this website. At least. And I don't even care – I love it.
You know what else I love? The CFPA's East-West Trail! As of this writing, its official eastern terminus is right here, in the middle of the Yellow Trail at Penwood State Park. Nice. You'll have to hike, uphill, to both the eastern and western ends of this trail when complete. Calvin and I hiked this portion of it while hiking the connecting Simsbury Land Trust properties: Owen-Mortimer and Tanager Hill – both of which are also part of the LaSalette Trail. Phew.
Let's look at some pictures.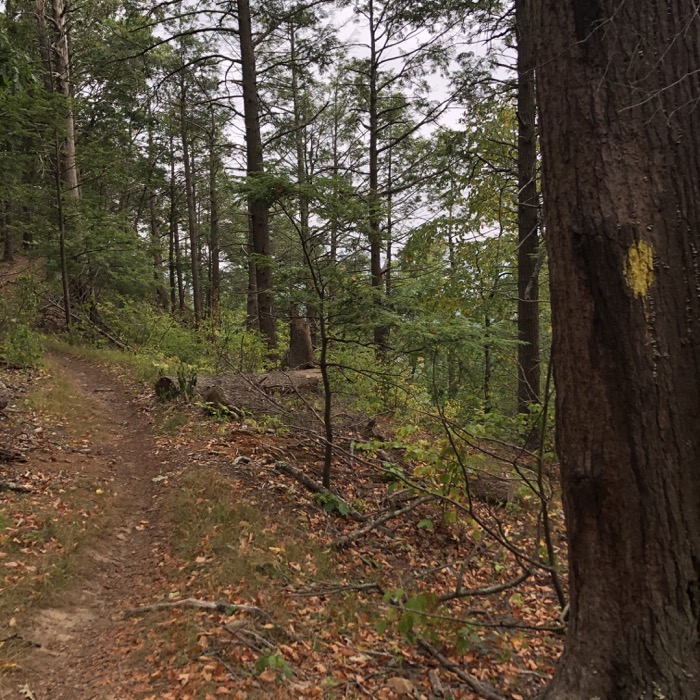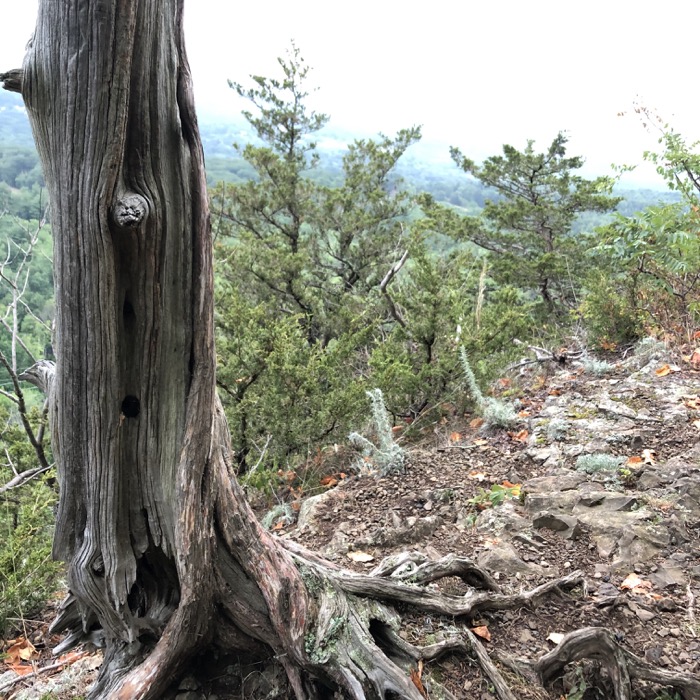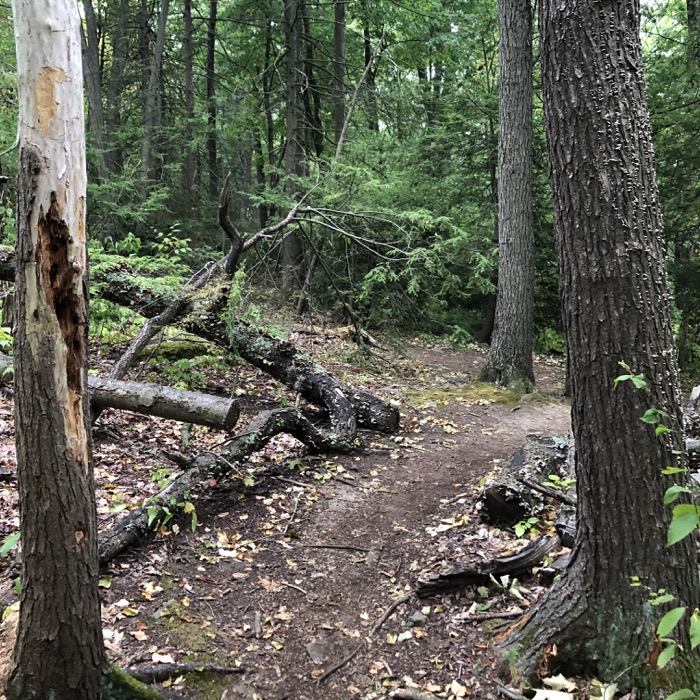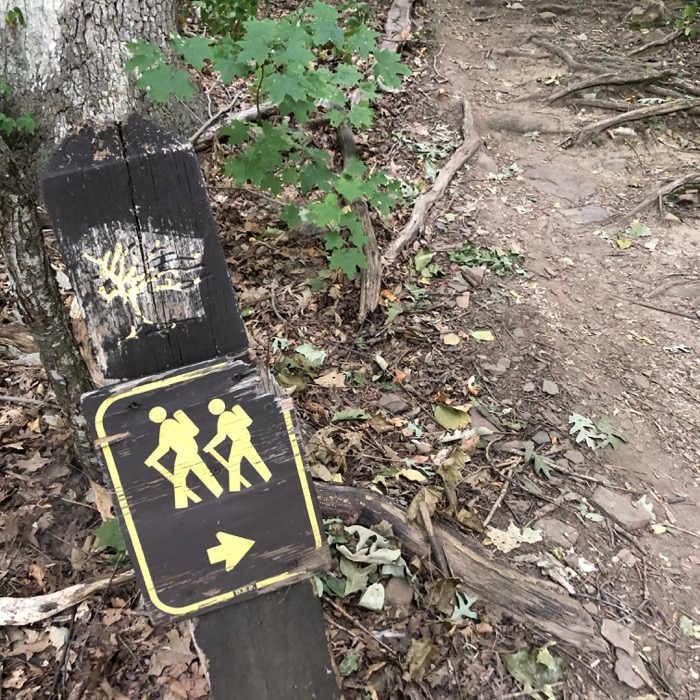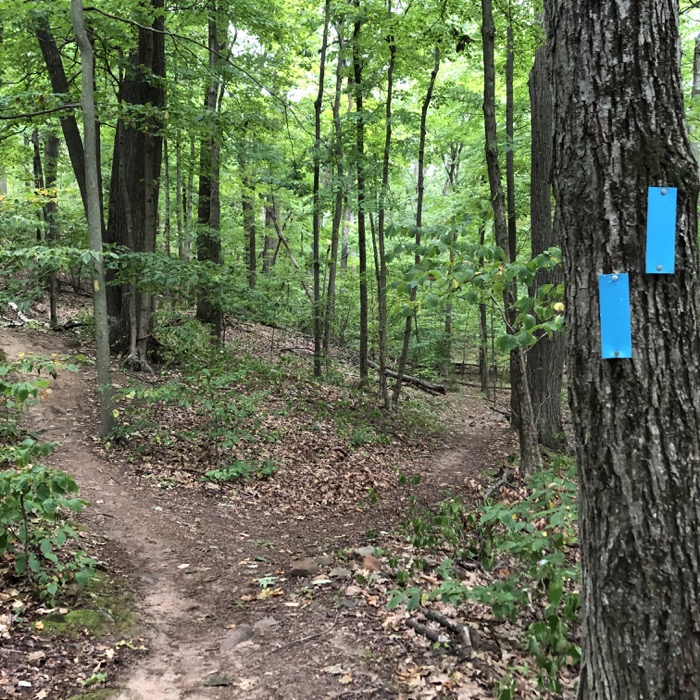 The Yellow trail bobs and weaves along the cliff edge before taking an easily missed 180 before heading over towards the paved trail. From that point, it's through pine and hemlock on its way out to the park's access road. All in all, it's an easier hike than the parallel Metacomet affords so closeby – with views on the same level.
Penwood is less crowded than Talcott Mountain across the road. It has more entry points, more connecting properties, and it's bigger. It doesn't need a tower to be awesome like Talcott. It's awesome on its own. Those of us who live so close by are fortunate and I intend to take full advantage over the next few decades.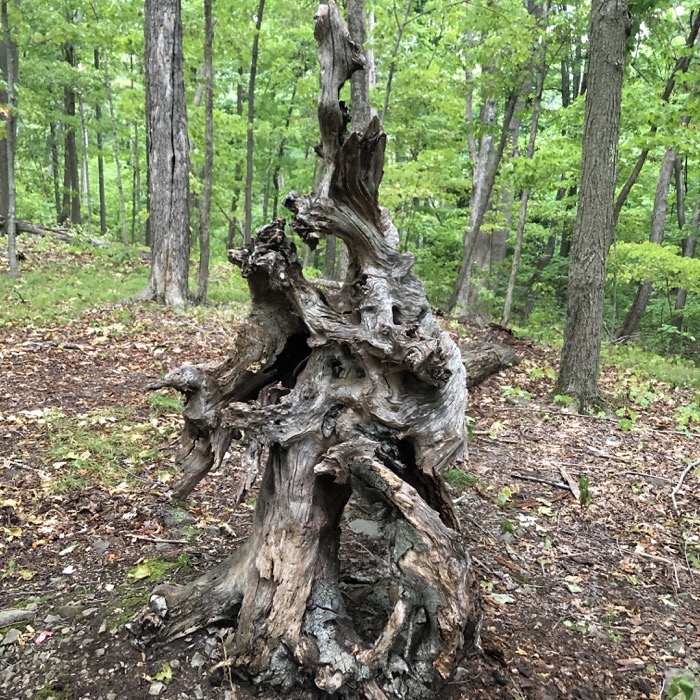 Penwood State Park
Penwood map
CTMQ's Penwood State Park Intro
CTMQ's State Parks, Reserves, Preserves, and Forests