Chartering the Oak
Hartford (Google Maps location)
January 21, 2011 (& Others)
I'm a planner. Some would accuse me of being obsessive, but I don't think I'm that bad. I just like to know what's around the next bend. Okay, I really like to know what's coming and yeah, when my plans don't execute as expected, I get a little antsy.
I guess.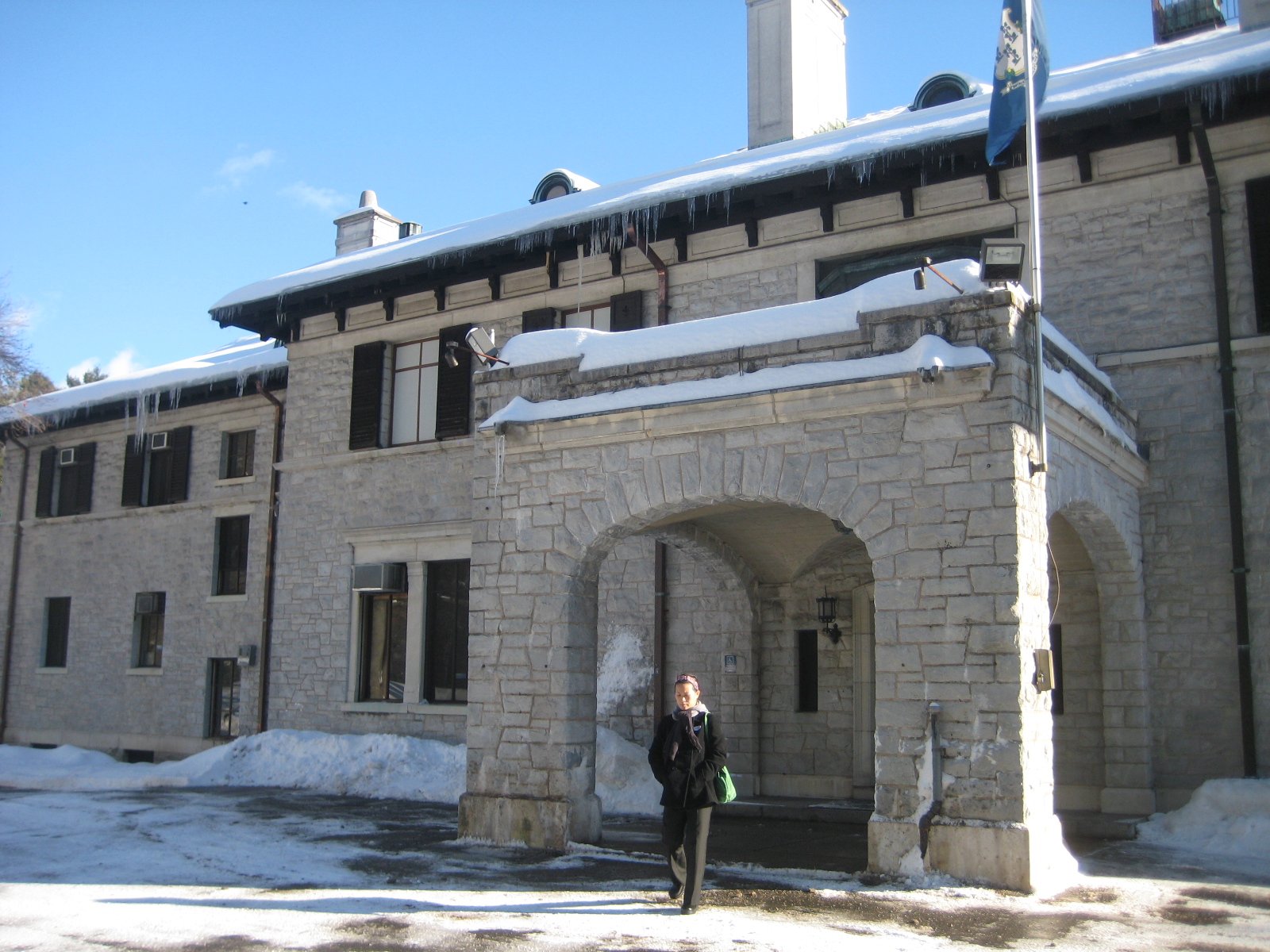 Okay, okay, I don't "guess," I know this to be the case. Look, I have two little boys. Nothing is predictable with them, especially since one has a vexing and difficult chromosomal syndrome. So when I plan stuff I can control, it BETTER go off without a hitch or… or… you don't want to be around me.
That vexing child of mine was celebrating his 6th birthday, so my parents came up from Delaware which gave my wife and I a chance to go enjoy some alone time for a night. Hoang was 6 months pregnant, so what better place to go than Foxwoods Casino for some drinking, gambling, sauna-ing, peace pipe smoking, sushi and soft cheese plates.
I mean, that's just required.
And since I was about to visit my 200th museum, I thought such a special weekend deserved a special museum: The Mashuntucket Pequot Museum, which is essentially the most interesting part of Foxwoods.
Everything was set! It was perfect! And is there anything more beautiful than a beautiful pregnant woman by one's side? No, there is not.
We awoke and gazed out of our hotel window at a fresh coat of snow! Okay, that is pretty beautiful too! Double perfect!
Except for one thing: the fine folks who run the Pequot Museum apparently haven't upgraded from native foot travel in moccasins, since it was closed. Closed! All my planning – from a series of trumped up 200th museum celebratory "fancy" pictures at the casino (above), the stupidly overpriced meal at Paragon, the goofy champagne toasts we did for what would be this page about my 200th visit… all for naught.
Sigh.
On the way home, on perfectly plowed roads, I came up with a contingency plan. We'd be passing by the Connecticut Historical Society in Hartford, and we had some time before my parents expected us and it is certainly a "worthy of the 200th" museum visit… So that's what we did.
Happily.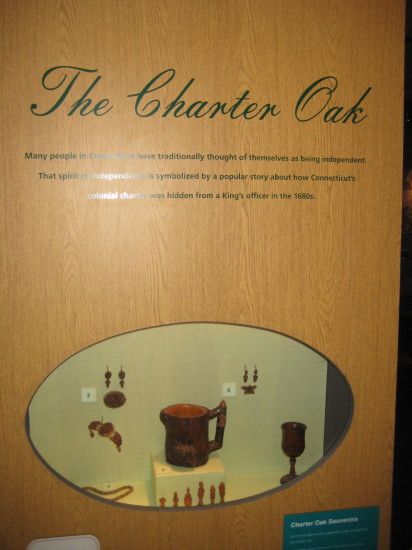 I should note that since this first visit with most of the pictures on this page, we've been back several times – especially for their free kids events on Saturdays. I guess it also would be fair to note that I have come to know a few people at CHS from an archivist who no longer works there (Hi Jen!) to the Executive Director who retired in 2012 (West Hartford pride, Kate!) to the Assistant Development Director who was at the New England Air Museum in 2011 (high-five, Susan!)
But while "knowing people" at CHS is probably a given for someone like me, you, too, can always get in for free on the Saturdays when they open the joint up to everyone for free. I think it's the first Saturday of every month.
Though really, you should support the CHS with your wallet. They – and Hartford – certainly deserve it.
As with any large museum, CHS has a large permanent exhibit (on, what else, the history of Connecticut), an bunch of rooms for temporary exhibits, a research library, a gift shop, and a children's area.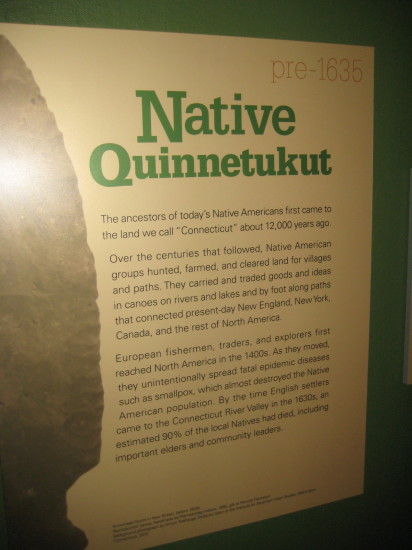 I have visited the museum five or six times since most of these pictures were taken, so please forgive my scatterbrained reporting here. And I'm writing this with the hope that I can actually find the various picture sets of the different visits. Yeah, good luck to me with that. (A quick review shows me I have around 250 pictures from the CHS. Holy cow.)
Let's talk about the iconic building first. It's beautiful. And historic. And historically interesting. From the CHS website:
Prior to becoming the "home" of the Connecticut Historical Society, One Elizabeth Street was the residence of Curtis H. Veeder and his family. Born in Alleghany, Pennsylvania in 1862, Veeder earned his Masters of Engineering from Lehigh University and worked various jobs in Connecticut, Massachusetts, and Michigan before settling in Hartford and opening the Veeder Manufacturing Company in 1895.

Veeder's interest in inventing began at an early age. He received his first patent at 18 years old for the design of a bicycle seat. A bicycle cyclometer, allowing riders to measure how far they had traveled, was the first product manufactured by the Veeder Manufacturing Company. In 1928, Veeder's Company merged with the Root Company of Bristol, CT. Veeder-Root Inc. is still in operation today and continues to produce counting devices.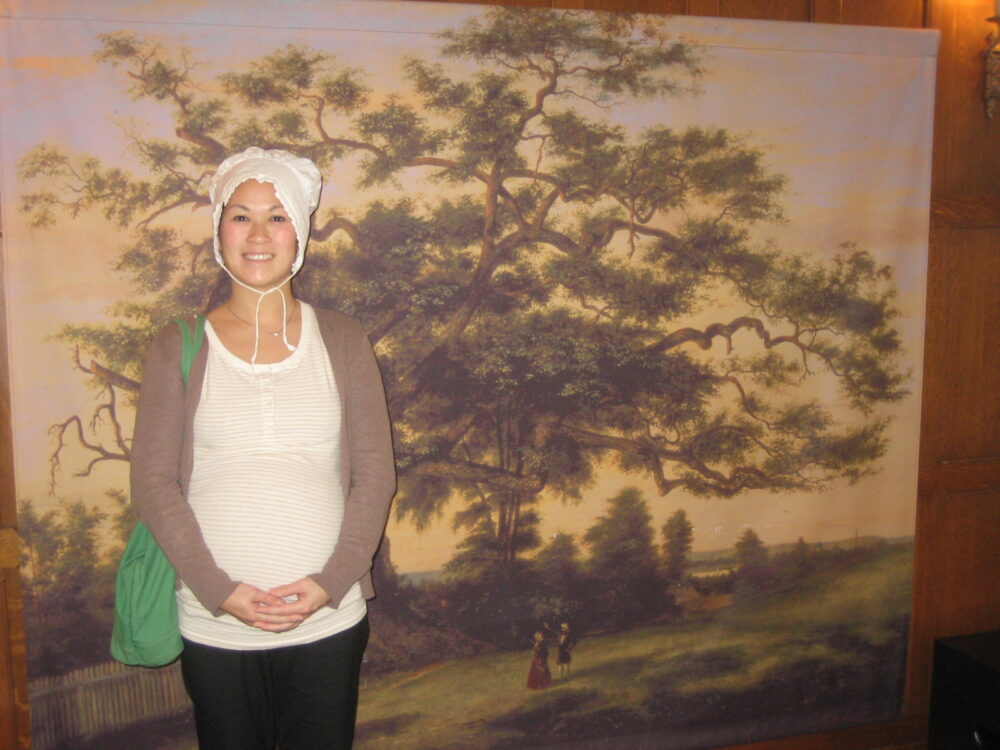 In 1908, Veeder married Louise Stutz, a teacher at Hartford Public High School who had moved to the United States from Switzerland in 1896. The couple had two daughters, Josephine Adair Veeder and Dorothy Irving Veeder. Their home on Elizabeth Street, which included such luxuries as a personal car-wash, an elevator, and a built-in vacuum system, was completed in 1928.

Following the death of her husband in 1943, Louise Stutz Veeder continued to reside at the family home until 1950. She then sold the building and property to the Connecticut Historical Society, which previously shared quarters with the Wadsworth Atheneum. Renovations and additions to the original building in 1951, 1956, and 1971 provided CHS with additional storage space for collections and an auditorium for programs.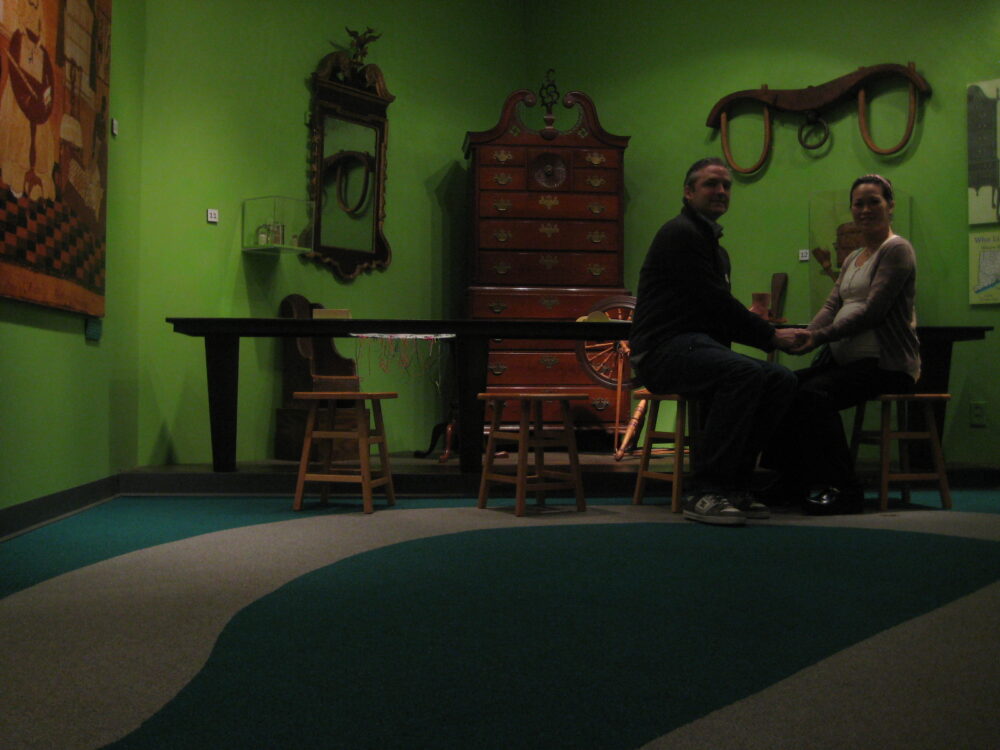 CHS offers special tours of that MASSIVE storage space and other special tours that "expose" the secrets of the Veeder house. I highly recommend both of them, even though I've done neither. Which I guess is probably a bit of a surprise to y'all. But YOU should do them. Seriously.
Big Veeder fan? You should be. And as such, you should go hike over at Penwood State Park in Bloomfield because the Veeders donated that land to the state. I wrote a bunch about that on my Metacomet Trail page through the park here. Veeder superfan? Then make your way out to People's State Forest and enjoy the Veeder Boulders there. (You can find them on this page, here.)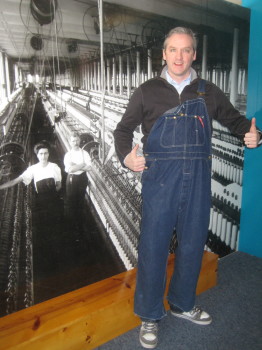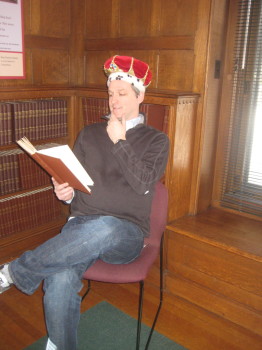 My poor, poor, poor, poor wife
Now, before we get going, you must know that the Connecticut Historical Society collection includes more than 265,000 artifacts and images, over 3.5 million manuscripts, and over 125,000 books and pamphlets dating from the 1600s to today. Choosing what to show to the public at any given time is a monumental effort for the museum. And distilling what I experienced over several visits is also rather difficult. The bottom line is, this is one of Connecticut's greatest museums, and you really should get there every year or so.
In some ways, the first room once inside CHS is the most interesting. This is the Veeder living room and while it is warm and inviting, it also contains a trove of Constitution State artifacts.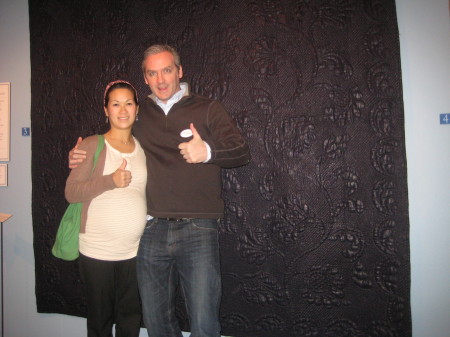 My poor, poor, poor, poor, poor wife
Notably, as per state museum law, the CHS has a nice collection of Charter Oak "stuff." There is no mention of how absurd it is that every museum has a piece of furniture from that one old tree, but there is a little curio cabinet of chalices and canes and earrings and other sorts of wooden things carved from the Charter Oak of Infinite Trinkets. There is a bunch of Charter Oak stuff here… The most important tree is all the history of the USA! This Veeder Room is also where the CHS has its storytime for kids on Saturdays, as well as author readings and other sorts of community gatherings.
There is a beautiful painting of the Charter Oak and – oh, why don't I just show it to you with the pregnant Hoang: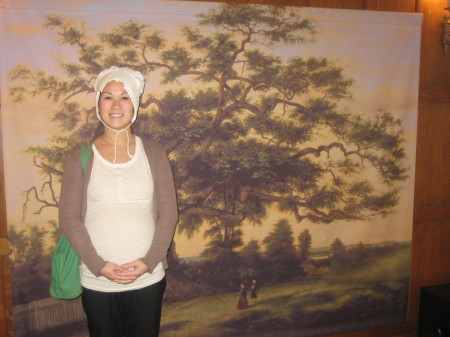 My poor, poor , poor, poor, poor, poor (pregnant) wife
We'll stay on the ground level for a spell, and head down the hallway to the large sort of hall-like room. When we made our January 2011 visit, this room housed the society's massive collection of tavern signs.
Between 1750 and 1850, there were more than 50,000 inn and tavern signs produced by American painters, creating a distinct visual language and offering a glimpse into tavern life, travel, and patriotic ideals in early America. Only a fraction of these signs survive. The Connecticut Historical Society's collection numbering more than 60 signs is by far the largest and most spectacular in the country. That's their claim anyway, and who am I to dispute or dispel it? Back in the colonial day, taverns and inns provided many essential services – so much so that the laws back then required every town to have an inn or tavern identified by "some suitable signe."
Yes, yes… every man needed some "hors."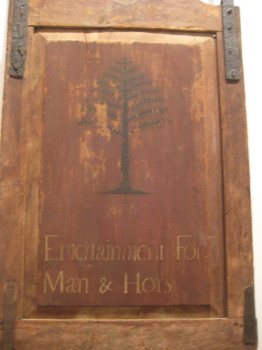 I know, I know, that's was referring to feed and such for their horses. Ease up. The large room is filled with a ton of these old signs. The oldest (unretouched) one if the one just above with the black horse on it – it dates from 1749 and is from Bull's Inn in Centerbrook, CT. Most of the collection was gathered and donated by Morgan Brainard, who was also the president of the little Hartford company named Aetna. All in all, this is really cool stuff.
I took about 30 pictures here, so I feel the need to show a few at least: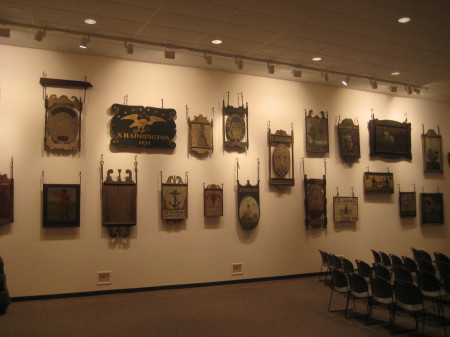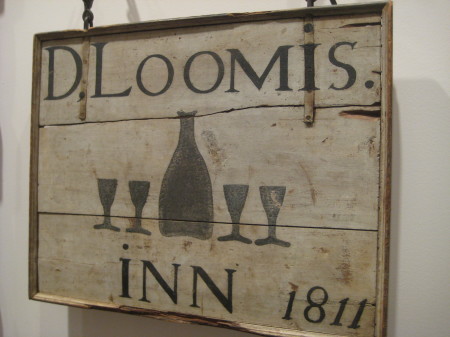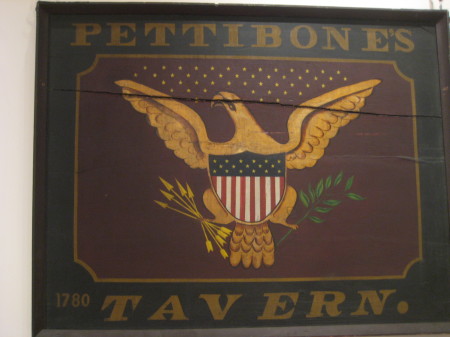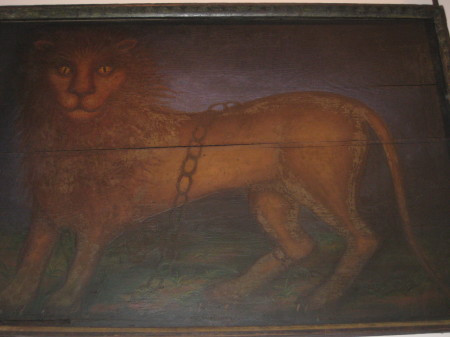 Back out to the main entrance and the gift shop – one of the finest and most eclectic museum gift shops in the state, by the way – visitors can then travel down the hallway and pass a whole bunch of random factoids about Connecticut. You know, the very things I've fed off of for 8 years of writing CTMQ. While you read about our biggest trees and commercial history of chocolate making, your kids can venture into the next room.
Here, there are all sorts of fun little things for the young ones to do. Nothing to atypical for such places, but what do kids care? Instead of trying to describe the stuff, here are some pictures from a 2014 visit for you to get the point: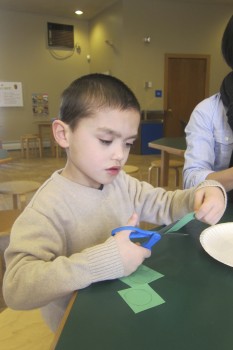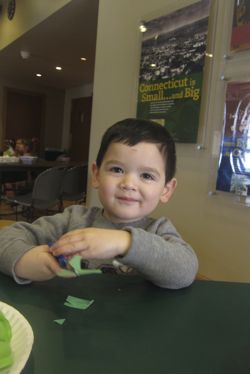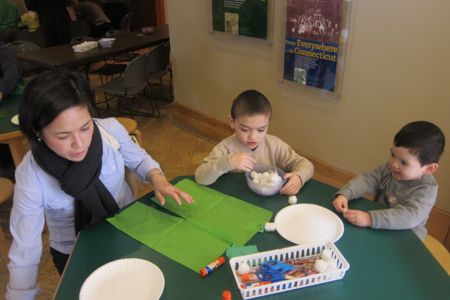 From there, it's time to travel upstairs. (I'd suggest you go back to the front entrance and take the beautiful stairway up as opposed to the really quite crappy elevator back by the kids' stuff and the archivist rooms and such. I've felt like that elevator was going to trap me on more than one occasion. And besides, the stairs are just so nice. So we'll take the stairs…
When you do so, you wind up at the section of the museum that houses rotating exhibits. During the "main" visit for this page, Hoang and I happened upon "Connecticut Needlework: Women, Art and Family 1740-1840." At the outset, I thought I would have no interest in this particular exhibit, but it turned out to be pretty interesting.
This exhibit showcased decorated clothing, bedding, and accessories, school work by children, and masterpieces of needlework art depicting classical scenes, bucolic landscapes, and perfectly-rendered flora and fauna. Also on display were needlework dedicated to preserving family history and the work of one remarkable family—and an even more unusual young woman within that family, Prudence Punderson. I won't pretend to remember many details or have any fascinating insights to the display, so here are a couple pictures…
This one was my favorite: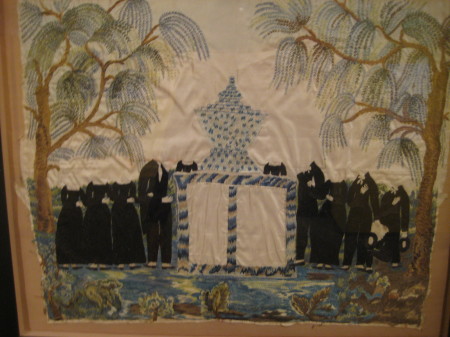 This isn't a ghoulish family or a family of witches, no, it's merely an unfinished portrait memorial by Sylvia Punderson Morgan. It lets us see the creative process as it unfolded and was never completed. I think it's rad. Anyway, here are a few more: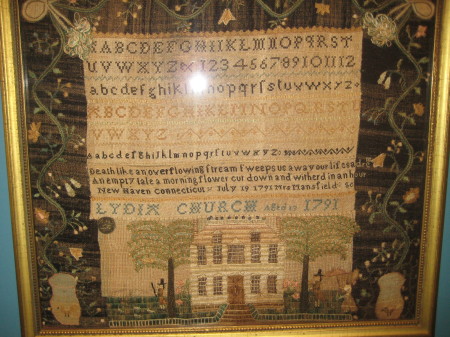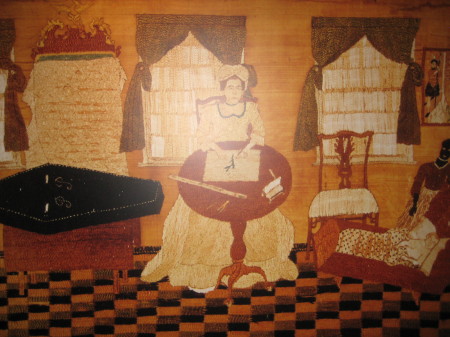 This same space housed a couple other exhibits we took in over the next few years. One in particular was "New Life for Connecticut Trees: Furniture by City Bench". I made a trip to CHS specifically to check this one out, as I found (and still find) these works beautiful and dare I say,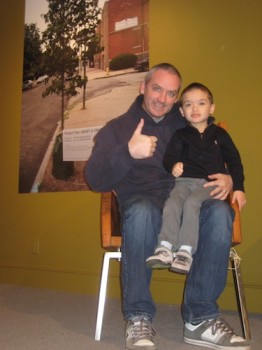 important. The furniture and household objects in this exhibition were made from Connecticut trees once destined for landfills. City Bench, the creation of Ted Esselstyn and Zeb Esselstyn of Higganum, reclaims trees from small towns and big cities to create beautiful objects with meaning, and each piece was displayed with the tree's family history, including its birthplace, significance, and life story. New Life for Connecticut Trees was an exhibition about woodworking, the urban tree canopy, and a history of our trees.
If you don't know him, Ted Esselstyn also creates really innovative and interesting museum displays around the state. Next time you are in a museum or library and see some fantastic display that seems like it is too expensive or professional for wherever you are, check who designed it – I wouldn't be surprised if it's an Esselstyn creation. He's got stuff everywhere all over the state. His "other" job/hobby/passion that was on display at the CHS was nothing short of inspiring. As you can see from the pictures, even my son Damian enjoyed the pieces.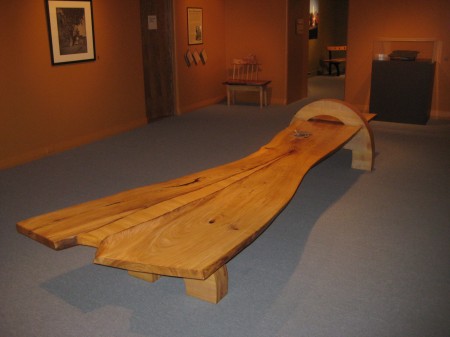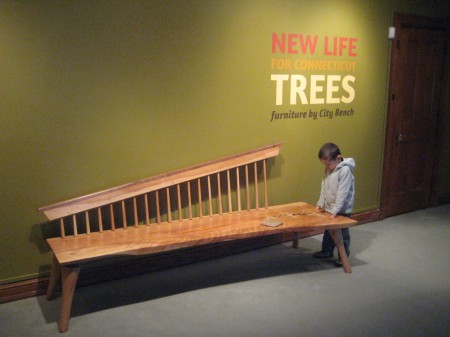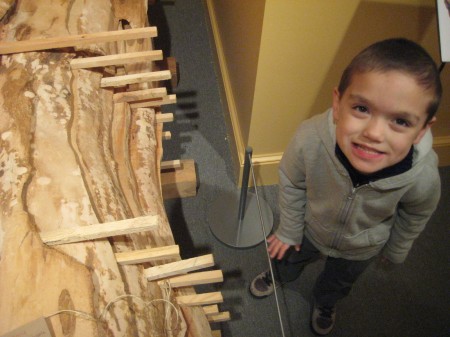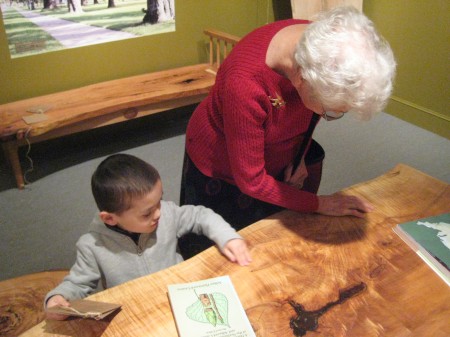 Damian hung out with this lady for a while. Neither knew what the other was saying at all, but they enjoyed their time together.
To take something ephemeral and creating something else so enduring – and functional and beautiful – has always been something I really enjoy. As our cities expand and our utilities chop down our already scant urban landscape, for someone to make the effort to "rescue" those trees and create relatively permanent benches and tables and chairs from them is just really, really cool.
Each piece had a little story attached to it; where the tree was felled, how and why it was felled and what it may have "witnessed" during its life. I spent my time with these works wishing I had the money to spend on a piece (you can buy these or similar things from Esselstyn.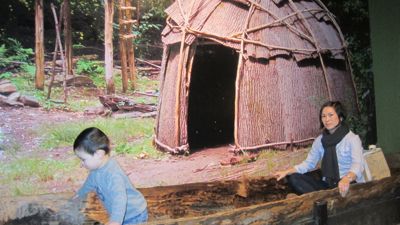 On another visit, these space was occupied by a local photography show, as well as a really interesting exhibit featuring local women photographers from days past. The latter exhibit introduced a new collection of photography donated by the Rosalie Thorne McKenna Foundation as well as a collection by Marie Kendall. The photographs document two generations of women photographers in Connecticut. Harriet V. S. Thorne (1843-1926), a talented amateur, used her camera to compose exquisite and moving pictures of the people and places that she knew, including her Bridgeport summer home, Schoonhoven, where her studio was located. Marie Hartig Kendall (1854-1943) published poetic views of the Litchfield Hills in Northwestern Connecticut where she lived after immigrating to the U.S. from her native Alsace-Lorraine. Rosalie Thorne McKenna (1916-2003) is best-known for her revealing portraits of artistic and literary figures of the mid-20th century; she also documented the fishing community of Stonington where she made her home.
The other photos were selected entries from The Connecticut Photo Contest, including category winners for Connecticut People, Connecticut Architecture, and Connecticut Landscape, as well as Best in Show. I happen to love (good) photography exhibits, so while I really wanted to check out what was on display, now we had little Calvin with us who was not so into it. Oh well. Here are some pictures from that visit: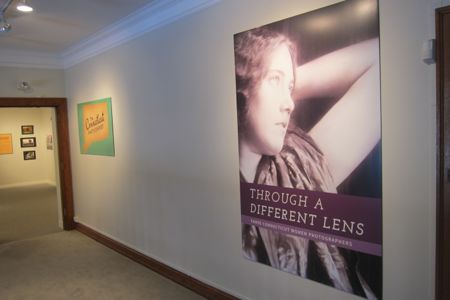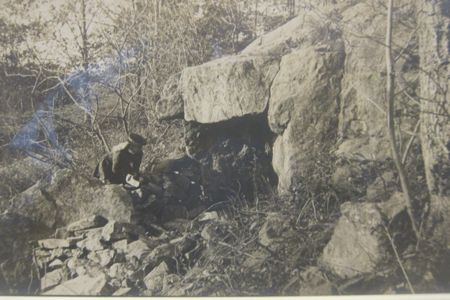 CTMQ Crossover! This is Sarah Bishop's Cave in Ridgefield, near the New York border. I must find it.
Phew. Okay, I think I handled a few visits' worth of temporary exhibits. The rest of the museum houses what I would consider a permanent exhibit all about, and this should come as no surpise, general Connecticut history from the pre-colonial days up through, let's say, the colonial era. And the rest seems to be, to me, a sort of rotating display of slightly more modern Nutmeg history. Part of it was changing over during my first visit, so I've seen these rooms in all sorts of duress. Most of this stuff seems fairly permanent, but bits and pieces of it are changed out every year or so. That's my best guess.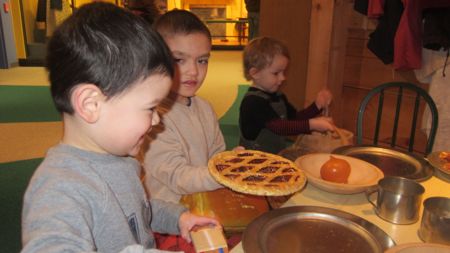 There are things for little kids to do even in the most grown-up parts of the museum
So let's start with the regular ol' Connecticut history. You all know that stuff already, right?
Pequots and Tunxises and Mohegans and Narragansetts and battles and white people and wars and brokered deals and land grabs and suppression and hardships and shipbuilding and industry and immigration – right? The CHS covers it all really well in relatively short order. Here, it's called "Making Connecticut" and it's both fun and informative.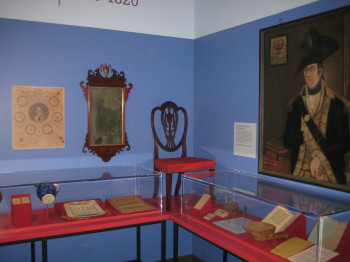 Here's CHS's description of it: "Making Connecticut is the story of all the people of Connecticut, from the 1500s through today. Themes of daily life, clothing, transportation, sports and leisure, work, and social change run throughout the exhibit. Hands-on activities for kids (and adults!) include working a World War II assembly line, hand stenciling designs for a 19th-century chair, sewing a Native American moccasin, replacing bobbins in a textile mill, and cooking a meal and setting the table in both a colonial and a 1980s kitchen. Come be surprised, inspired, and amused as you explore our state's past and your own place in "Making Connecticut."
I'm pretty sure this part of the museum stays fairly static. They probably swap out a few things here and there, but for the most part, what we saw in 2011, you'll see in the future.
There is a nice mix of multimedia and old school museum exhibits. What sets the CHS apart from the 50 other museums that tell this same story is the richness of their artifacts. There is no other museum in the state with the historical collection they have here.
Not even close.
But what CHS does is mix in some rotating or temporary parts to the whole story of Connecticut. During our first visit, they were changing out some stuff, so we got to see some funny stuff like this: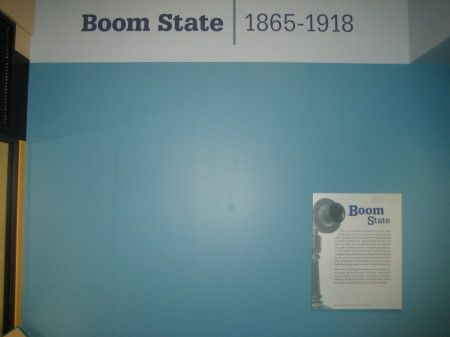 Not exactly booming.
But there was also a rather details (and, in some ways, graphic) exhibit on racism and discrimination in our history. It contained some really ugly stuff. Like this: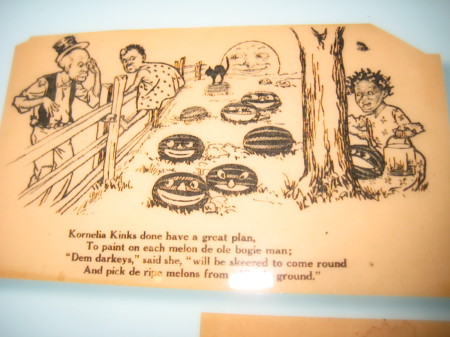 And this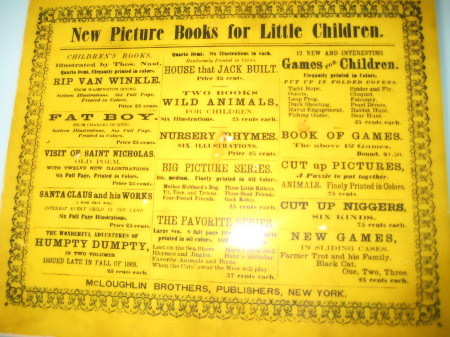 and this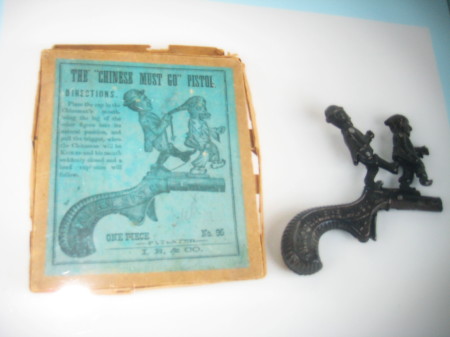 Eesh. There some fascinating stuff from the early 20th century that explained why women's suffrage was against nature. Since it wasn't complete, I'm hoping that they brought that exhibit up to the 21st century and had some stuff on Connecticut's early adoption of gay marriage.
A fact that I'll always be proud of, as a resident.
Also unfinished was a display all about stuff made in the state. Foods and tools and all that stuff, sure, but the most interesting piece to me was this: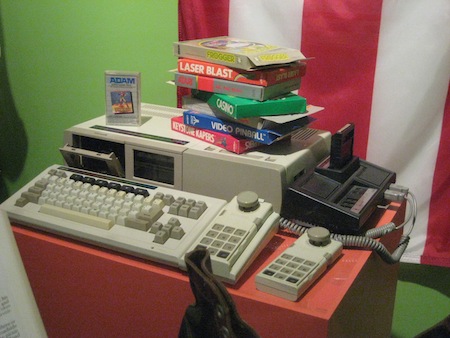 ColecoVision! Adam!
I must admit, I had NO idea Coleco was a Connecticut company. Furthermore, they were headquartered in West Hartford, my home town! The Coleco story is rather incredible, as they had decades of success with an array of products – Davey Crockett moccasins in the 1950's. Wading pools in the 1960's. Video games in the 1970's. The incredible Cabbage Patch Kids in the 1980's. – according to this excellent article from the New York Times.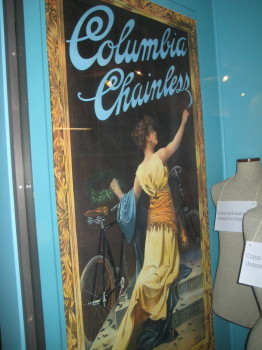 Coleco was founded as the Connecticut Leather Company in Hartford in 1932 by a Russian immigrant named Maurice Greenberg. Through the decades, they kept hitting on things that sold really well. Then came video game console and personal computers. (I distinctly recall their Electronic Quarterback when I was a kid. My brother and I LOVED that thing.)
Anyway, yeah, Coleco – Connecticut Leather Company! Pre-ttee cool.
Another large corner of the second floor is devoted to our state's history of industry. Again, there are some cool things for kids to do here, which is nice as dads like me like to read the stuff on the walls while our kids are kept busy. CHS makes this work quite well.
Aside from some other stuff here and there – movie-making in Connecticut and things like that – that's pretty much it.
I know I glossed over a bunch of the colonial and 19th century stuff, but if you are one of the 3 people to actually read this page, my guess is that you know about all that stuff. But even if you do, I strongly encourage you and yours to get to Hartford's Asylum Hill area to check out the museum.
It's one of our state's best. Period. Now, some final pictures: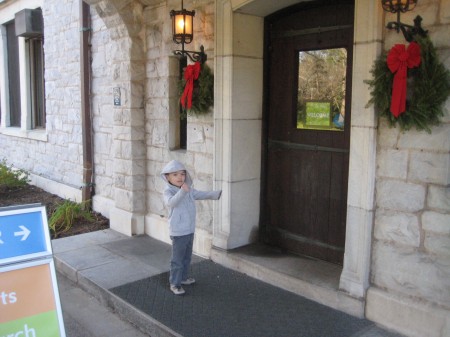 Damian gives the thumb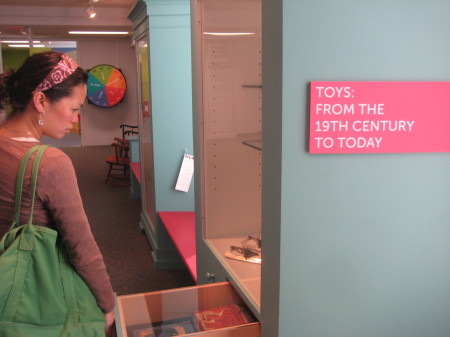 Ok, not so exciting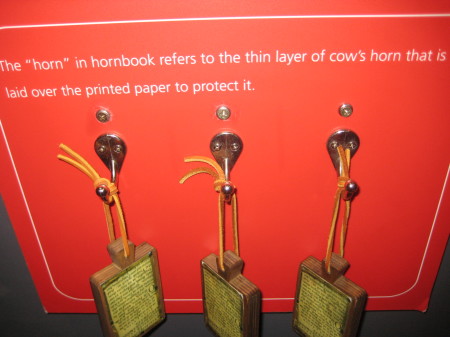 Because everyone always asks why it's called that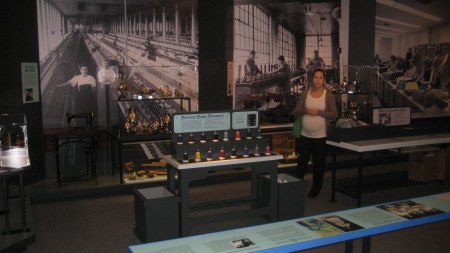 Pregnant? Get to work!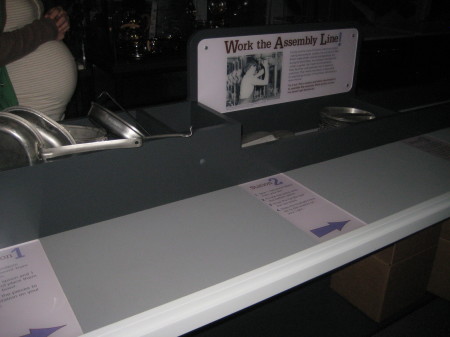 Don't you rest your arms on your belly!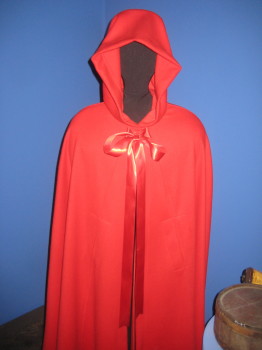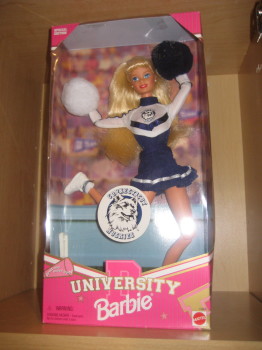 No idea on either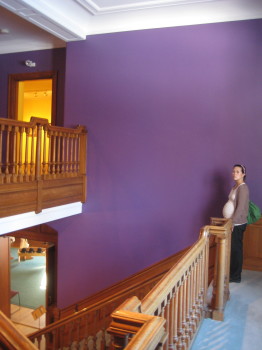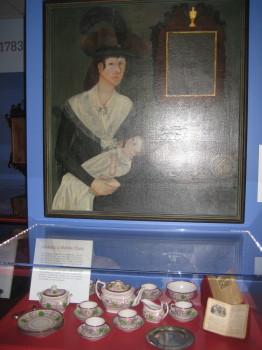 Very womanly woman on stairs… Very manly woman in painting
…………………………………………………….
Connecticut Historical Society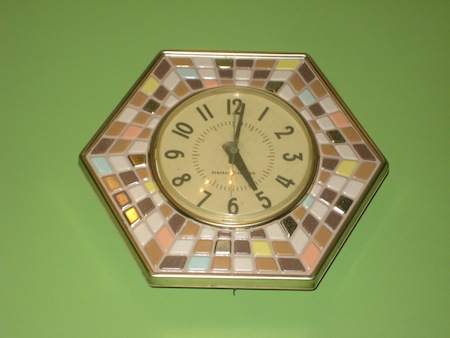 My family had this clock in our kitchen my whole childhood. Who knew this ugly thing was museum quality?