Lots of Green
PGA Travelers Championship, Cromwell
June 22, 2019
I don't golf and I've no designs on ever picking up the game. I will always call golf a game rather than a sport because, well, it's not a sport. It's a game. Granted, it's an incredibly difficult and frustrating game that requires as much practice and dedication as any real sport requires.
I get that.

And I know that while today's successful golfers are generally fit, some still find success while being overweight smokers.
But the Travelers Championship at TPC Highlands in Cromwell is, inarguably, the biggest sporting event held in Connecticut. It offers a $7.4 million purse, with $1.3 million going to the winner. We could have a WNBA champion, and we've had many NCAA national champions in the state, but when it comes to money, this tournament is king.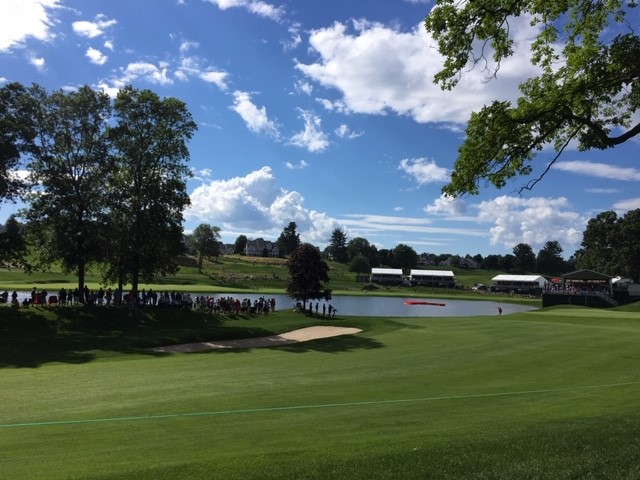 The tournament also gives a ton of money to charities every year. The whole thing seems to be run by some really great people doing good things. So while I'm not a golfer and I don't watch golf, I am a fan of the Travelers Championship.
The golf season is long, almost year-round, so there are a lot of tournaments in a lot of locations. So this may surprise you: in 2018 the Travelers Championship earned the Players Choice Award for the second consecutive year, which is voted on by PGA Tour members for its services, hospitality, attendance and quality of the course.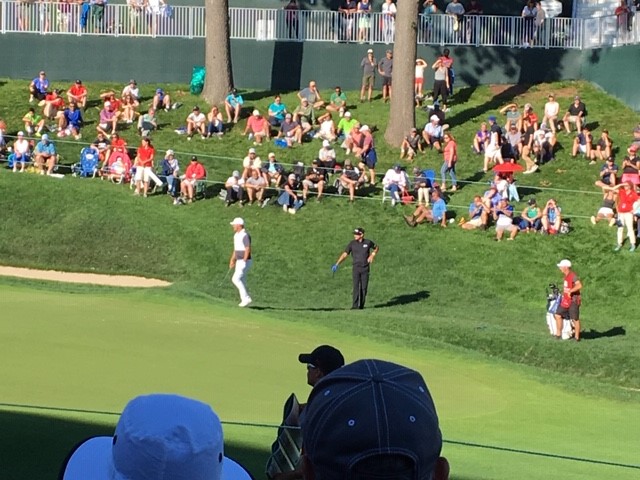 These guys play in Hawaii and California and Florida all the time. Yet they have voted for our fair little Cromwell course as the best? Wow, that's pretty awesome. Even more mind-blowing is this: It is the second-most-attended PGA Tour event annually, behind only the Waste Management Phoenix Open.
That's… crazy. How is that even possible? No, not the attendance figure, but that there's a PGA event called the Waste Management Open. Ba-dum-bump.
The tournament was founded 67 years ago in 1952 as the Insurance City Open. It was renamed the Greater Hartford Open in 1967, a title that was retained through 2003. I went to the GHO a couple times in my wayward mid-90's bartending days (free tickets to the VIP area!) My wife was voluntold to be one of those hot flag holders or drink cart servers for the pro-am event around 2000.
She never understood why she was being asked and her friends weren't. I fell in love with her absolute naiveté when it came to her attractiveness around the same time.
Some people pick a golfer and follow that guy around all 18 holes. On the one hand, it's great that golf fans can wind up getting a decent walk under their feet while being a fan. On the other… is that fun?
I simply went to the corporate tent with the food and the drinks and talked to friends. Even so, driving to Cromwell and dealing with parking for a few free drinks and a sandwich wasn't exactly worth the effort for me.
Big name golfers (that is, ones I've heard of) are fairly rare at the Travelers. Phil Mickelson won back to back titles in 2001 and 2002 – my wife met him and said he was nice. Other winners I've heard of since then include Bubba Watson (three times!) and Jordan Spieth.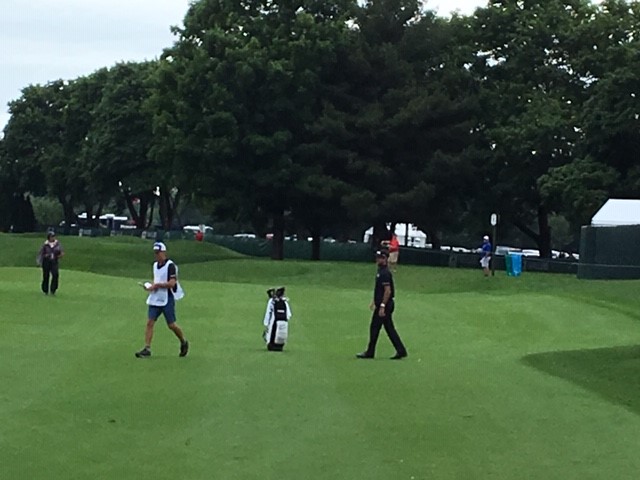 Some other recent winners include guys named Russel Knox, Kevin Streelman, and in 2019, Chez Reavie. Please tell me that Chez Reavie has a sign at his house that says Chez Chez. And that he hosts Chi-Chi Rodríguez for dinners. I digress.
Where was I? Oh yeah. Golf.
This thing was sponsored by Canon and then Buick for a couple years before The Travelers took it over in 2007. It's very well run and they seem to be getting a few more big name golfers now, but I'm not the person to ask.
I do know that the guys in the pictures here are Bubba Watson, Brooks Koepka, and Tony Finau. And I've heard of all three of them, but I'd only heard of Finau because, as a non-athlete golfer, he dislocated his ankle playing golf at the Masters in 2018… but as a gamer, he stuck it out and finished 10th in that tournament.
Props to him.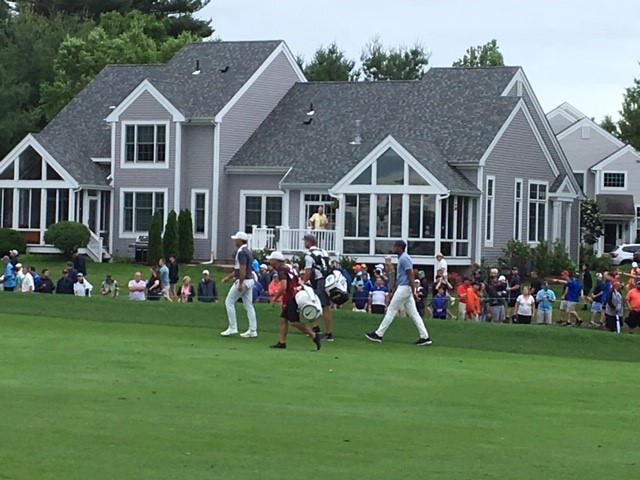 If you play golf, this is probably an annual pilgrimage for you. Free tickets can be had, at least for Thursday/Friday, pretty easily. (Though you can buy your own for 15 bucks or so.) Watching dudes swing clubs at balls towards holes is probably a thing you do. So go for it; the experience is a good one, and the course is impeccably maintained.
Concessions are what you'd expect and you can drink beer and stuff. You just can't yell or make noise or wear your favorite golf shoes: TPC River Highlands has a NO Metal Spike Policy. With PGA and huge insurance money behind it, this is a top notch event; one of the toppest notchest in the entire state.