No Need For a Porter Here
Stout Family Fields, ~.4 mile, Wintonbury Land Trust, Bloomfield
January 2020
On their own, the 13-acres of Stout Family Fields isn't the most exciting place to go for a walk. You walk up a slope towards the trees and are afforded a decent little view across Bloomfield towards Hartford.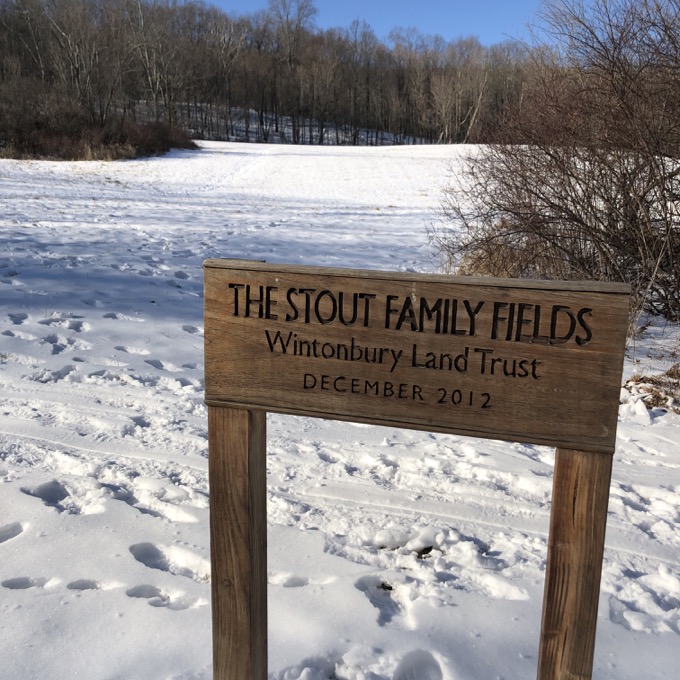 If you're into it, you can also walk around the edge of the field I guess. A cool thing my visit taught me was that this place offers a decent sledding hill and appears to be a rather perfect spot to teach someone how to snowboard.
But a walk through the Stout Family Fields up into the woods offers much, much more. For those woods are Penwood State Park, and Penwood State Park offers tons of great hiking and expansive views.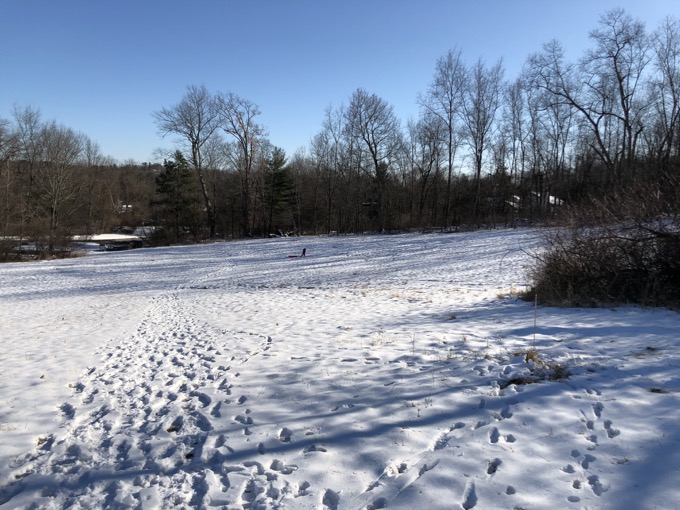 Furthermore, this parcel will be the an important piece in whatever incarnation the East-West Trail will take. I insist that it start in downtown Bloomfield, just a few miles east of here, at Filley Park. I think the CFPA is planning to officially mark its eastern terminus either at the Flower Bridge in Simsbury with the eastern extension over the hill and into Bloomfield being the LaSalette Trail. Time will tell.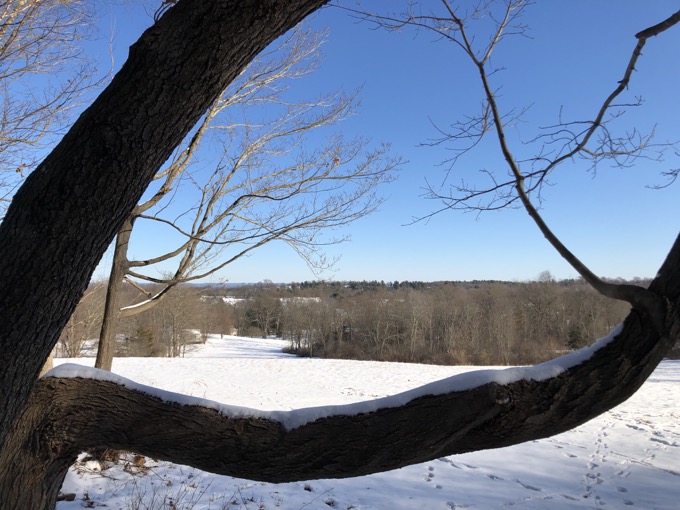 As for what we care about on this page, I walked up the hill while a group of kids sled down it. There's a red gate at the top of the field and this is where you access the state park land. If you try to shortcut it for whatever reason, you'll have a barbed wire fence to contend with.
I use Bloomfield as one of my "Nothing's Going On And No One Wants To Do Anything So I'm Just Going To Go Disappear For And Hour Or So" places to hike. As such, I didn't really have much of a plan.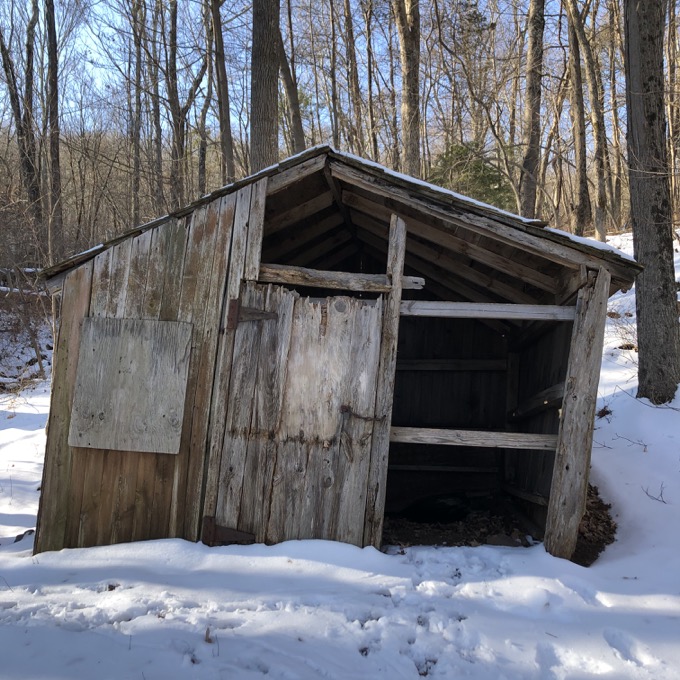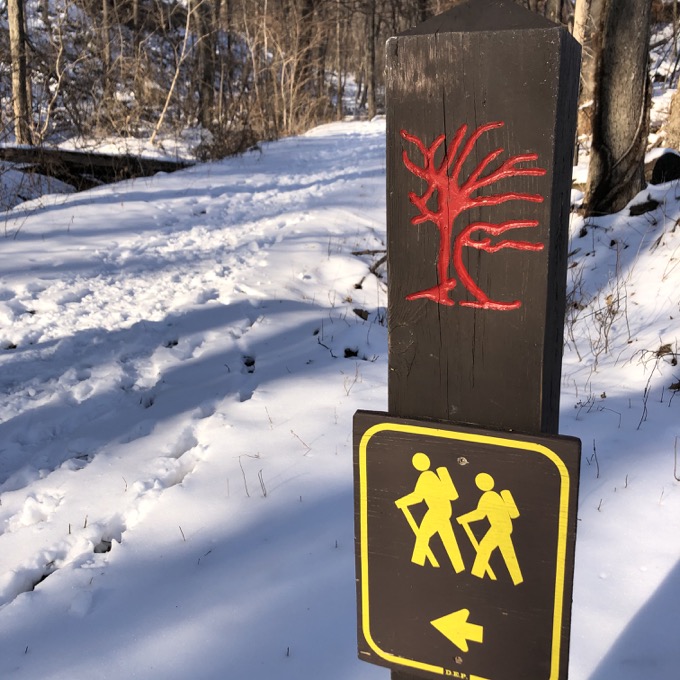 Once in Penwood, I walked north up the red trail, which is a forest road that parallels the paved one lane paved road you may be more familiar with. After a short bit, I reached the MDC offices and buildings which is also a) a Penwood picnic spot and b) right along Gun Mill Lane.
Driving here from either side is just a weird thing. Gun Mill likes to pretend its a private road and driving the one-lane road through Penwood, forcing walkers and cyclists out of your way, is just a jerk move. (One which I've done, by the way.)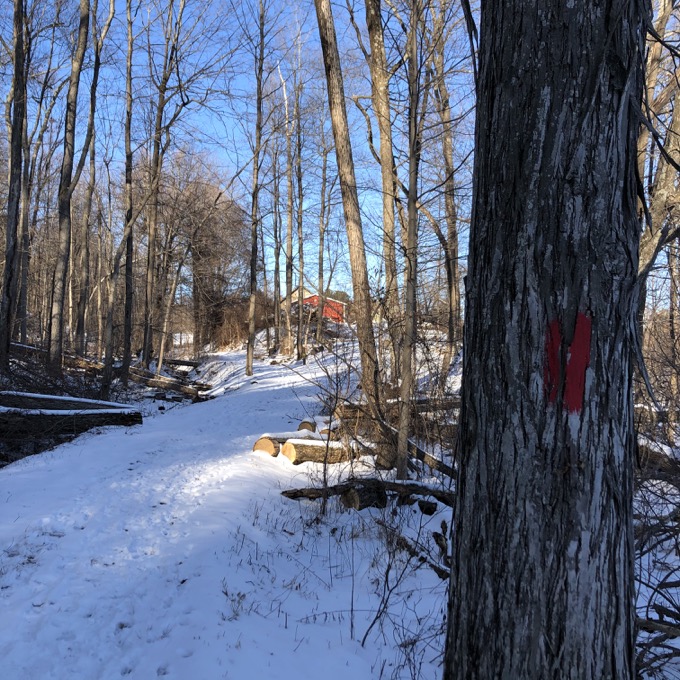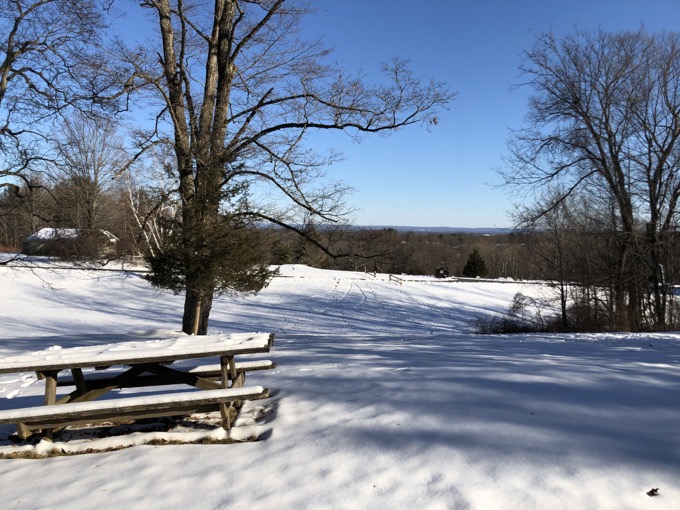 It's that road I walked along after my 180-degree turn at the picnic area. There were no cars or cyclists on my walk, as the road was covered in ice and snow. This road, of course, would have taken me to the main entrance to the park. I wasn't interested in that, however, and I instead took the purple trail straight up the hill to the ridge line and the Metacomet Trail.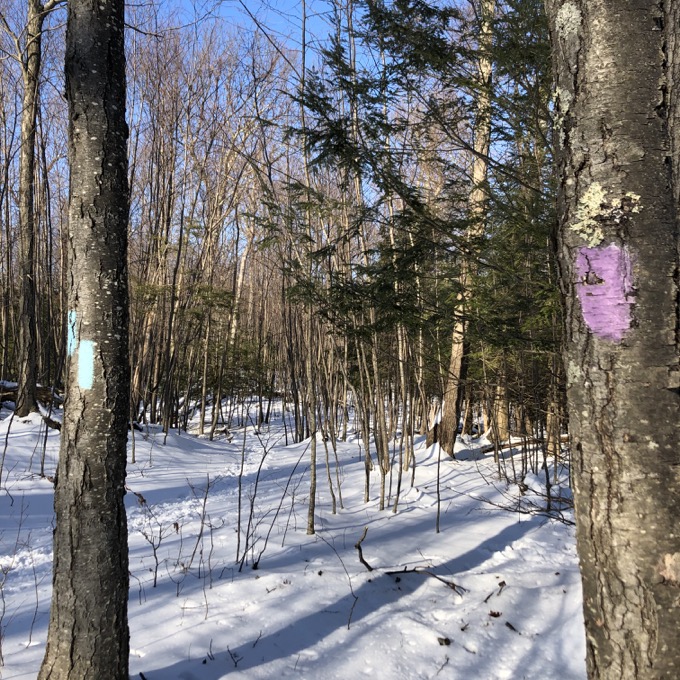 I then turned around, and descended via the purple trail all the way back down to the Stout Family Fields. The Purple Trail is a good trail and you can read about it when I write up the East-West/LaSalette Trail.
Just before getting to the fields again, I hit the red trail. I ventured south for a bit where it splits: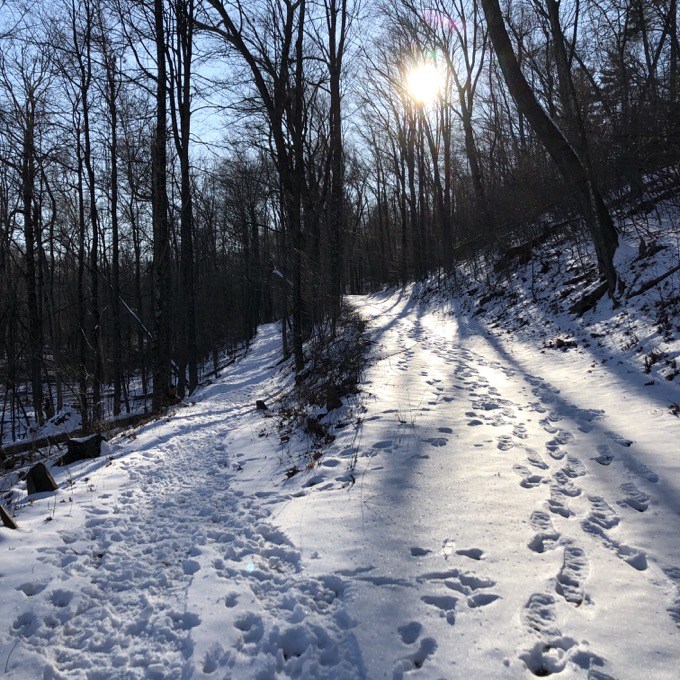 I just like that picture for some reason. If curious, the upper split goes back to that main road. The lower split parallels the road to Gale Pond and Penwood's entrance. I walked along this lower option for a while, behind a bunch of cool houses and small skating ponds. Once I saw Gale Pond, I turned tail back to the Stout Fields and bounded down the hill to my car and home.
This is a pretty great quick little escape for those of you so inclined.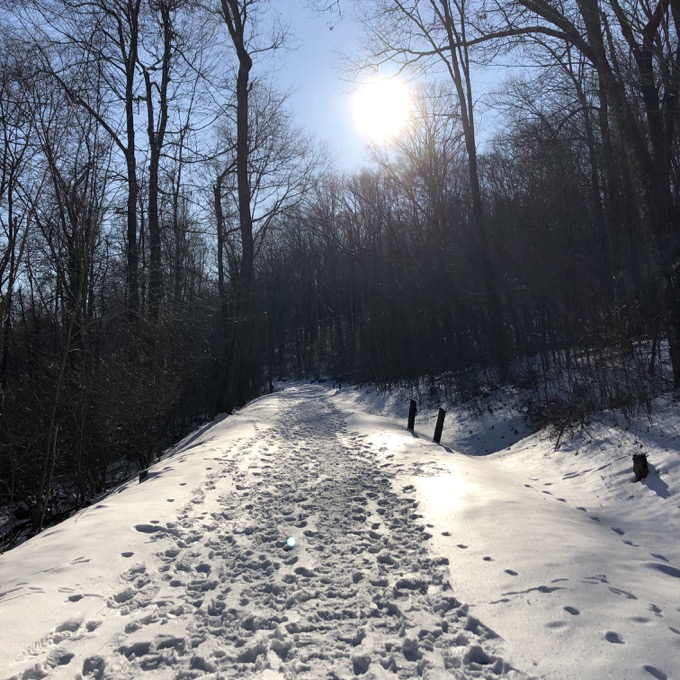 CTMQ's LaSalette Trail
Wintonbury Land Trust
CTMQ's Wintonbury Land Trust Intro
Penwood State Park Map