"Oww-er, It's Cold"
Auerfarm Trail, Bloomfield
January 5, 2016
So far, the winter of 2015-16 has been absurdly mild. Mid-60's on Christmas Eve and nearly 60-degrees today, at the end of January. In fact, it's only been truly cold maybe two days so far this winter.
So of course I went for a hike on one of those days.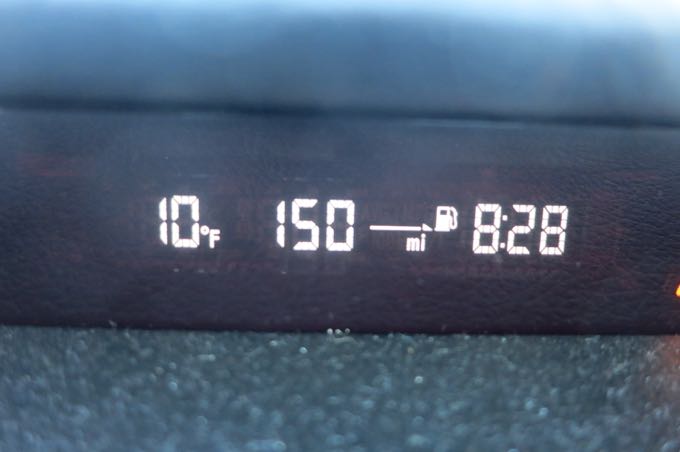 But the great thing is, so did my 4-year-old's classmates. That's right, we build 'em tough here in Connecticut. My son's school visits Auer Farm every month and they do "stuff" no matter the weather. I volunteered to chaperone the January trip simply because I figured no one else would want to. With the thermometer hovering just above single digits, the class of 15 or so little kids walked around the farm for 45 minutes.
Good.
Here's a picture of Calvin identifying animal tracks from a later January trip from the class newsletter. I love that the farm offers this program and I love that my kid goes to a preschool that does this.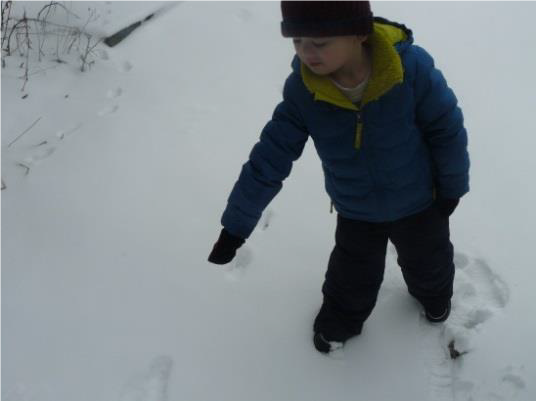 Anyway, with the day off from work, I figured I might as well check out the new loop trail at the farm on my own. This is not a long trail by any stretch, but what it lacks in length, it makes up in potential wildlife and views. And not only is this a new trail, but the property itself is Connecticut's new State Park.
Yes, that's right.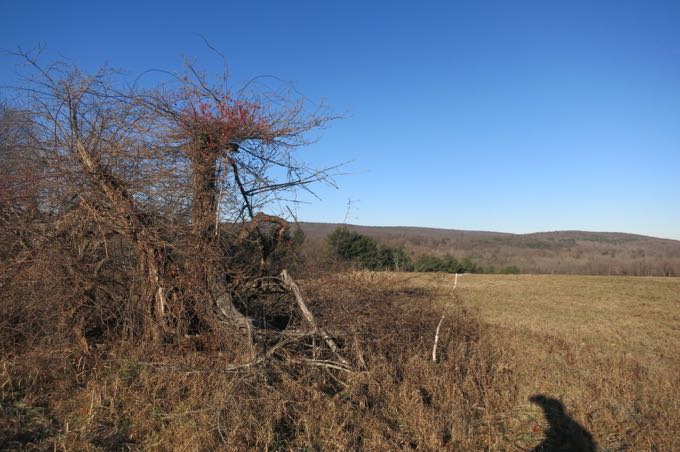 Bloomfield: Home to a chunk of Talcott Mountain State Park, about 2/3 of Penwood State Park, half of the mysterious Mill Brook State Park that is actually just the giant new Amazon distribution center in Windsor, and this place – the only true, official Connecticut state park that lies entirely within Bloomfield.
All 40 acres of it. Oh, and it's actually a State Park Scenic Reserve – a designation different from just "State Park" that I've never quite understood. The CFPA is also involved as the landowner gifted an easement to them.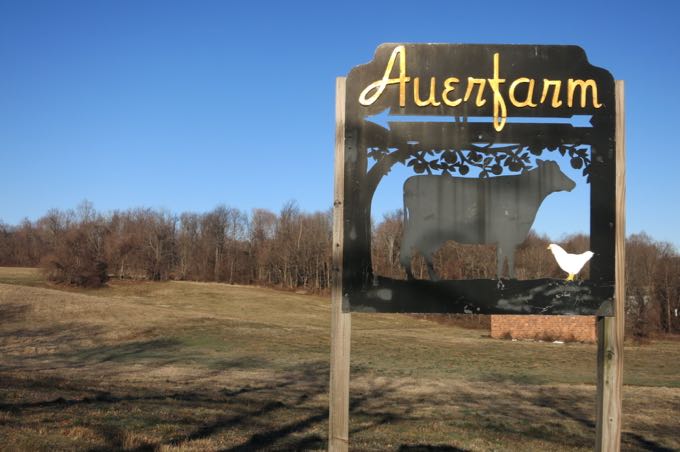 The CT Department of Energy and Environmental Protection bought 40 acres of land in town that will be preserved for open space as the Auerfarm State Park Scenic Reserve.

"We're thrilled to death," said Auerfarm Executive Director Jack Hasegawa, adding that the state has plans for mapping out trails. "This is going to be terrific."

The reserve was donated by Elizabeth Schiro, managing member of Apple Orchard LLC and granddaughter of Beatrice Fox Auerbach, who co-founded the G. Fox department store.

It includes grasslands, historic apple orchards and woodland habitat for wildlife, including migrating and nesting songbirds, raptors and owls, fox, deer and reptiles and insects.
That blurb neglects to mention the massive flock of turkeys that calls the farm home. As I began walking up the dirt road, I encountered them. There were at least 50 of them and let me tell you, when a flock of 50 turkeys takes flight, it's kind of weird. They fly better than you think they do, but they are still pretty gangly and doofy looking up in the trees.
The trail leaves the road and heads to the top of the hill. The hilltop was an apple orchard at some point, and the trees are still viable. Despite the fact that it was January, the air smelled of apples. There were apples all over the ground and even some still clinging to the frozen trees.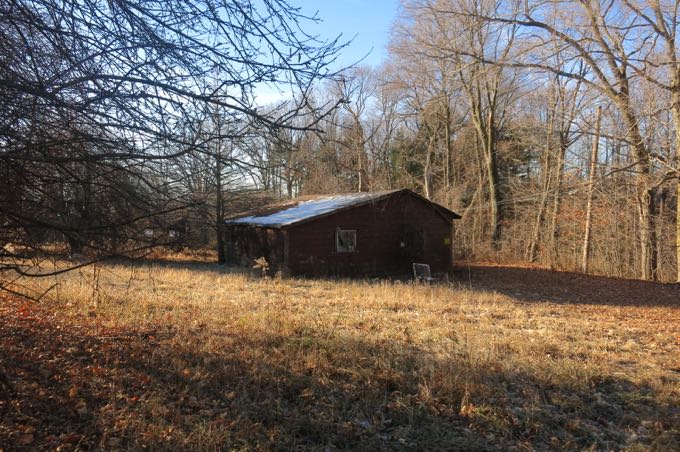 The view on top of the little hill is quite nice. Here, I'll let the state explain it:
This gift provides undeveloped open space for passive recreation to the largely urban demographics of Greater Hartford. The sheer closeness to Hartford and Bloomfield and the potential to preserve these unspoiled acres would be a magnificent addition to the 100-year-old State of CT Parks Division. The Auerfarm tract offers commanding views of the western flanks of Talcott Mountain, the City of Hartford and the CT River Valley. On a clear day, one can see from Mt. Tom in Springfield, Massachusetts to the stone quarries far south of Hartford. In a day and age when many people are short-sighted about the windfall of land development it is a refreshing gesture that Elizabeth Schiro would like to donate this land to the people of CT. She is committed to returning this unspoiled natural site to the public domain."
Weird that "the stone quarries" is noted as a cool thing to see before talking about the negatives of "land development."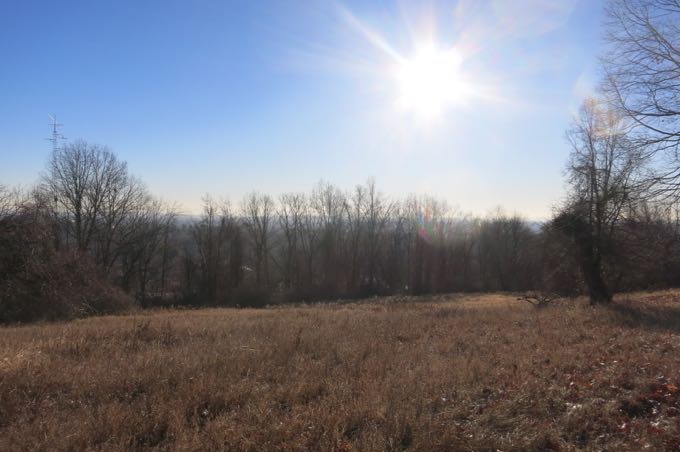 The trail then descends the hill to another orchard – one that the farm still maintains on farm property. There are about 40 types of apple trees there. On my way, I passed a bunch of deer in the woods who bounded down the hill towards Route 185. I think there's a fence down there at least, as I drive that road two times a day, every day, and I've never seen deer on it.
There are a few informational signs around the Scenic Reserve. One, of course, details the life and times of Beatrice Fox Auerbach and how she came to own a farm in Bloomfield. She is certainly one of our states most important historic figures. Heck the CT Historical Society Museum in Hartford has a G. Fox/Beatrice Fox Auerbach exhibit ever few years it seems. (They have a brand new one right now in early 2016.) And hey, one time I got to visit the house she lived in on (of course) Prospect in Hartford – check it out, if only for the G. Fox labeled booze.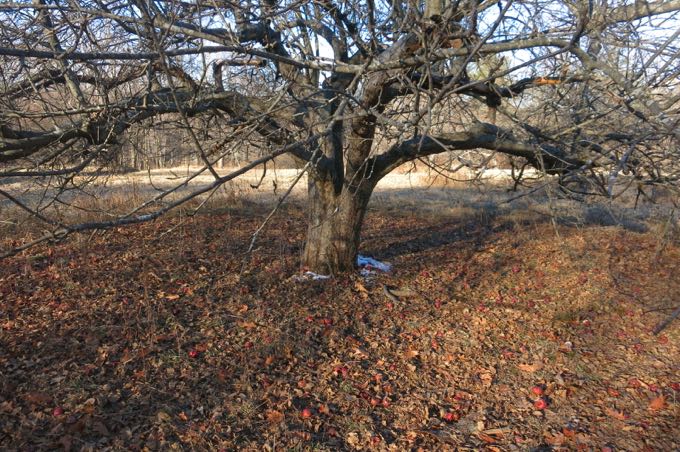 Another sign randomly told me that Eleanor Roosevelt visited the farm and was surprised the quality and quantity of produce available. Yeah… I've got nothing to say on that.
If you happen to go to Auerfarm during one of their family events, you'll most likely take a hayride. The tractor route pretty much follows this very same trail. So go do that someday, it's cool.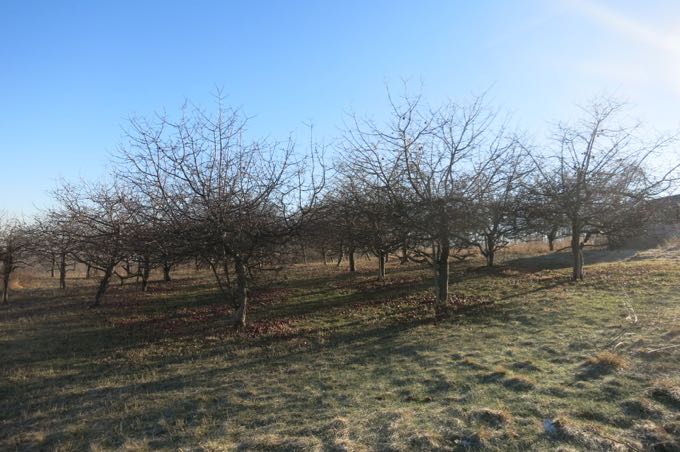 Auer Farm
CTMQ's All Things Auer Farm
CTMQ's Bloomfield Town Trails
Back to CTMQ's State Parks & Forests