Bloomfield: Complete!
Ginza & Naatiya
Here is my list of everything I've done in Bloomfield!
I'm very excited to write this page. This is the 22nd of what may ultimately be 169 town completion celebration pages! Yes, of course I am fully aware of how absurd that is. But I love it.
For those of you who are new here… In late 2016, after a decade of writing CTMQ, I decided to try to "complete" towns. In that decade of traveling and writing, I had already done a lot of stuff in most of our towns already. However, I have been continually surprised by how much more there often is to do. This page you're reading includes my "town completion celebration meal." These will sometimes be at the best restaurant in town. Or the most historic. Or the most iconic. Or the most unique. Or the only one. Or at a gas station. Every town is different!
Let's get to it.

Bloomfield, Hartford County
Population: 20,486 as of the 2010 census. (52nd in Connecticut)
Founded: 1835 (133rd)
Size: 26.01 sq. miles (95th)
Here's the Wikipedia page and the town page
Bloomfield was my: 22nd town completed
First CTMQ Visit: Metacomet Trail section, October 2007

The Celebration Meal
Ginza closed in July 2023 after its owner was sentenced for a $2 million tax fraud scheme.
I'm writing this in August of 2020. The Summer of the COVID-19 pandemic (which followed the Spring of the pandemic and preceded the autumn of the pandemic, just before the winter of the pandemic… sigh). Therefore, my celebration of Bloomfield can't be what it should be: A full out blow out at one of the town's fine restaurants.
Nope. Instead, this celebration was at my house with my wife on the 200th or so night of not going out in Connecticut.
But there's a reason I focused on Bloomfield this summer… and it's not just because I live a minute from the town's border. It's because we get takeout from various Bloomfield restaurants at least as much as, if not more than, my restaurant-heavy town of West Hartford. We have a take-out circuit in Bloomfied: Tapas, Thai Palace, Peppers Jamaican Bakery, Naatiya, and Ginza. (I won't lie – KFC would be on the list too if not for Popeye's coming to the area recently.)
I can drive to these places as quickly as anywhere else, and they are generally cheaper than their West Hartford/Avon counterparts and I'll argue that they can be better. Straight up, Thai Palace's Green Curry and Pad Thai are better than Blue Elephant Trail's. Naatiya's fiery dishes are better than the Indian places in my town. Peppers is… not better than Scott's, but whatever. I like the anger of the women that work there. It fuels me.
I got takeout sushi from Ginza for the purposes of my celebration – one that was a long time coming. Although nearby, Bloomfield wasn't a walk in the park to complete. It was several walks in several parks… and big parks like Penwood State Park at that. Ginza provides those wacky Hibachi table experiences if you're into that, but their sushi is generally pretty good. Not the best around, but it suffices when in the mood.
(And I won't front on them during Pandemic Summer – since it's really hard to know what sales are going to be and it seemed like for this particular meal, a lot of the fish had been frozen for too long; as many pieces were flavorless hunks.)
But I still like Ginza.
Then there's Naatiya. I love this place. Hidden away in the small Bloomfield Mini-Mall – hey, Isaac's Bagel Cafe is there too and that place is also good – you know Naatiya's good because it seems like 90% of the clientele is Indian. They have a large south Indian menu with tons of vegetarian and super vegetarian options (vegan And Jain) which is awesome. Even more awesome? Their own words: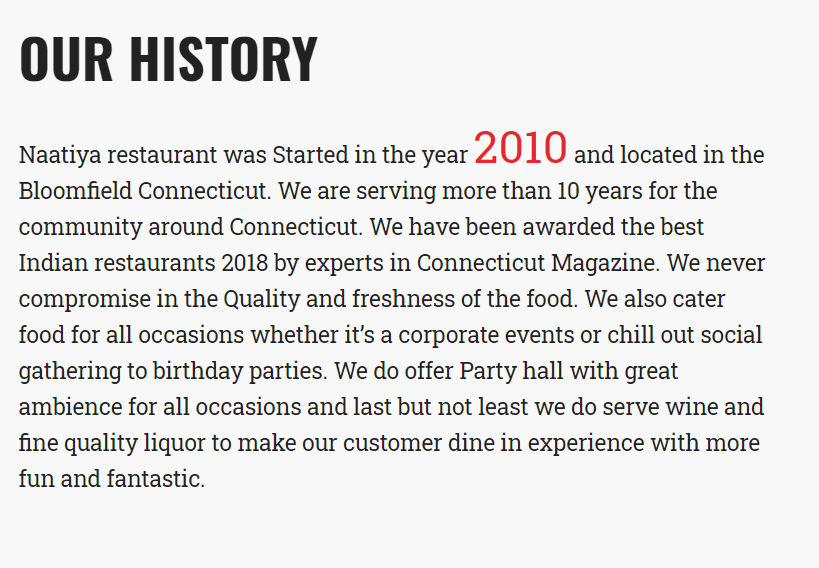 Legit. (Not making fun at all, but I'll never understand why ethnic restaurants don't simply ask a native English speaker to proofread their website blurbs. I'd do it for free for these guys, no problem.)
All of the usual stuff you get from Indian restaurants is good here. We crave a bunch of their appetizers – particularly the papadi chat (Crunchy chips with tangy hot & sweet sauce), Andhra spicy chicken, and chili pakoda (fried chili peppers). And if you like hot and spicy, they'll hook you up here – and melt your face.
They also give you a free dessert when you do takeout but… Indian desserts are just not my thing. Oh yeah, they'll cut your bill by 10% if you pay with cash. I love this place.
Since we're doing this celebration page a little differently, and Bloomfield is my takeout mecca, I'd be remiss if I didn't also mention "that Italian bakery place near Ginza" – which is what everyone calls Pasticceria Italia – and their delicious cannoli and other treats. And then there's the awesome Ocean State Job Lot and the wonderful Prosser Library that stayed open through the pandemic with curbside pickup and then there's Gillette Ridge Wine and Spirits where my man Anand always helps me pick the good stuff. I haven't even mentioned "the best" restaurants in town – Carbone's Kitchen and RePublic. I go to both, usually for work reasons, and both are good.
But for me, Bloomfield is all about the takeout. Certainly multiple reasons to celebrate Bloomfield – a town I've come to love.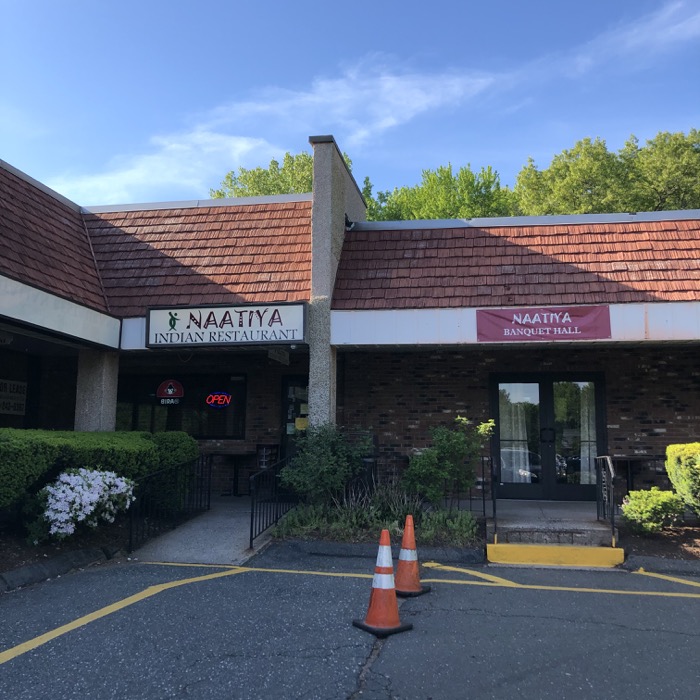 Bloomfield Wrap-Up
I have made no secret of my affinity for Bloomfield. Most of that is simply because of its proximity to me over the life of CTMQ and that I've driven through the town twice a day to and from work, nearly every day, over that span. My younger son attended preschool in Bloomfield and the first brewery in Connecticut I visited is there. I patronize Bloomfield's Prosser Library more than my town's own. As you've read, it's my takeout mecca.
For years, I would constantly hear what a "terrible" town Bloomfield was. This was all through the filter of a bunch of white Northwest Catholic high school grads. (Northwest is in West Hartford, but a lot of white kids from Bloomfield go there instead of the town's public high school.) Bloomfield is an exceedingly rare diverse suburban town in Connecticut – just over a third white, just over half black, and the rest Hispanic and Asian. The public high school? Under two-percent white.
Weird, right? That's Bloomfield. That's Connecticut. I'll spare y'all the soapbox speech on true desegregation and town consolidation. Promise. That's not what we're here for… we're here to celebrate Bloomfield! Woo-hoo!
Bloomfield has a lot of hope and promise. The town's Wintonbury Historical Society oversees/owns several buildings they hope to turn into museums someday. The town's Wintonbury Land Trust oversees/owns several properties they hope to clear trails on someday. The town has a weird, short, disconnected paved rails-to-trail bike path that will hopefully connect to the Farmington Canal Heritage Trail in Simsbury and the Charter Oak Greenway in Hartford someday. Bloomfield is hopeful and I'm hopeful for Bloomfield.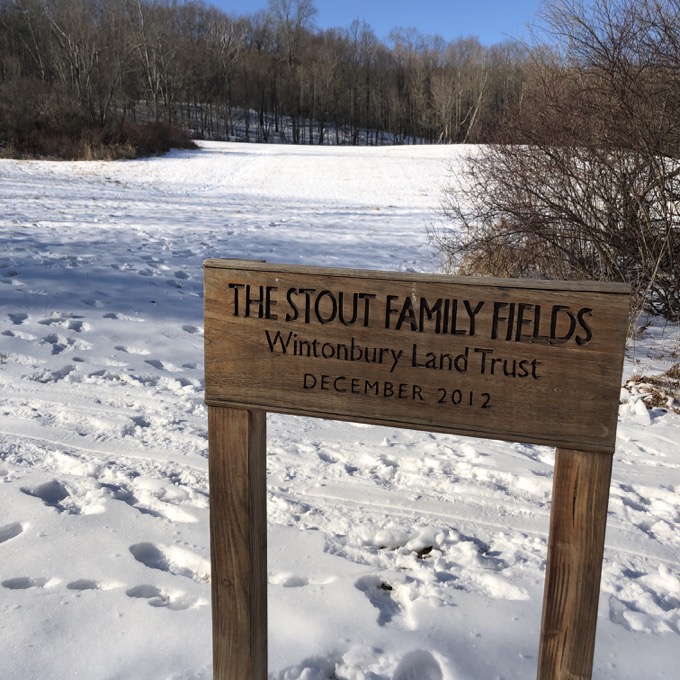 It's worth noting I guess that it was Bloomfield that inspired me to change the whole way this website is structured. It's true. At some point I realized that there was all the cool stuff in towns like Bloomfield but no cohesive way to broadcast that on CTMQ. So I started a "blog" section in an attempt to do that – which morphed into the "CTMQ Town Guides" and the whole idea of "completing" towns was born.
I really like the town and its diversity – of people and of geography. The Metacomet Ridge that more or less forms Bloomfield's western border provides several places to hike and there are views both west to the Farmington River Valley and south and east towards Hartford and the Connecticut River Valley. Throw in excellent breweries, some worthy restaurants, and a museum or two and yeah… Bloomfield's cool.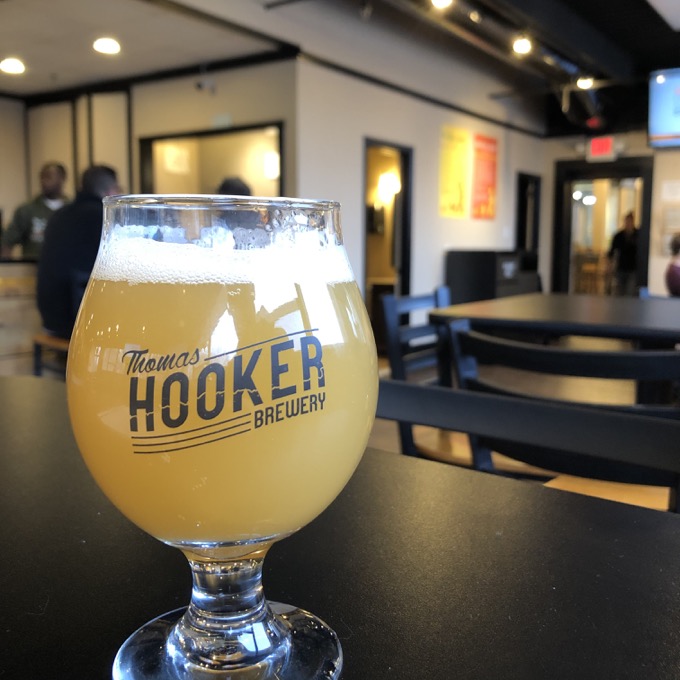 Thought exercise: If I had to send someone to Bloomfield for a day, I'd tell them to prepare to be surprised by how pretty the town is. Start with a morning loop hike up and down Penwood State Park followed by the buffet lunch at Naatiya and then a beer or two at Hooker Brewing. Still hungry? Go get the stink eye while ordering a couple Jamaican patties at Peppers for the experience (and the patties). At that point, you'd not want to hike anymore, so why not go load up at the Pepperidge Farm outlet store which is right up the road from Back East Brewing's awesome new taproom and patio deck. But really, you should probably just spend the day checking out a bunch of the town's trails.
Surprise: The sheer number of trails and beautiful views like at LaSalette Park in a town too often associated with the opposite of open space and scenic vistas.
Favorite fact: That time a cow escaped Salal Live Poultry and the dude shot it with a bow and arrow in the Home Depot parking lot.
Disappointment: The closure of the New England Muscle Bicycle Museum.
Bloomfield: Done!
Previous completed town: Marlborough!
Next completed town: East Granby!