East Granby: Complete!
J&G Restaurant
Here is my list of everything I've done in East Granby!
I'm very excited to write this page. This is the 23rd of what may ultimately be 169 town completion celebration pages! Yes, of course I am fully aware of how absurd that is. But I love it.
For those of you who are new here… In late 2016, after a decade of writing CTMQ, I decided to try to "complete" towns. In that decade of traveling and writing, I had already done a lot of stuff in most of our towns already. However, I have been continually surprised by how much more there often is to do. This page you're reading includes my "town completion celebration meal." These will sometimes be at the best restaurant in town. Or the most historic. Or the most iconic. Or the most unique. Or the only one. Or at a gas station. Every town is different!
Let's get to it.

East Granby, Hartford County
Population: 5,148 as of the 2010 census. (129th in Connecticut)
Founded: 1858 (159th)
Size: 17.48 sq. miles (134th)
Here's the Wikipedia page and the town page
East Granby was my: 23rd town completed
First CTMQ Visit: Plane spotting at Bradley

The Celebration Meal
East Granby is not a town in which one finds too many restaurants. There just aren't that many at all. This problem was compounded for me because I was looking to celebrate my completion of the town in the middle of the COVID-19 pandemic. I thought about this place, simply because it was a) open and b) you know I like a good/bad pun: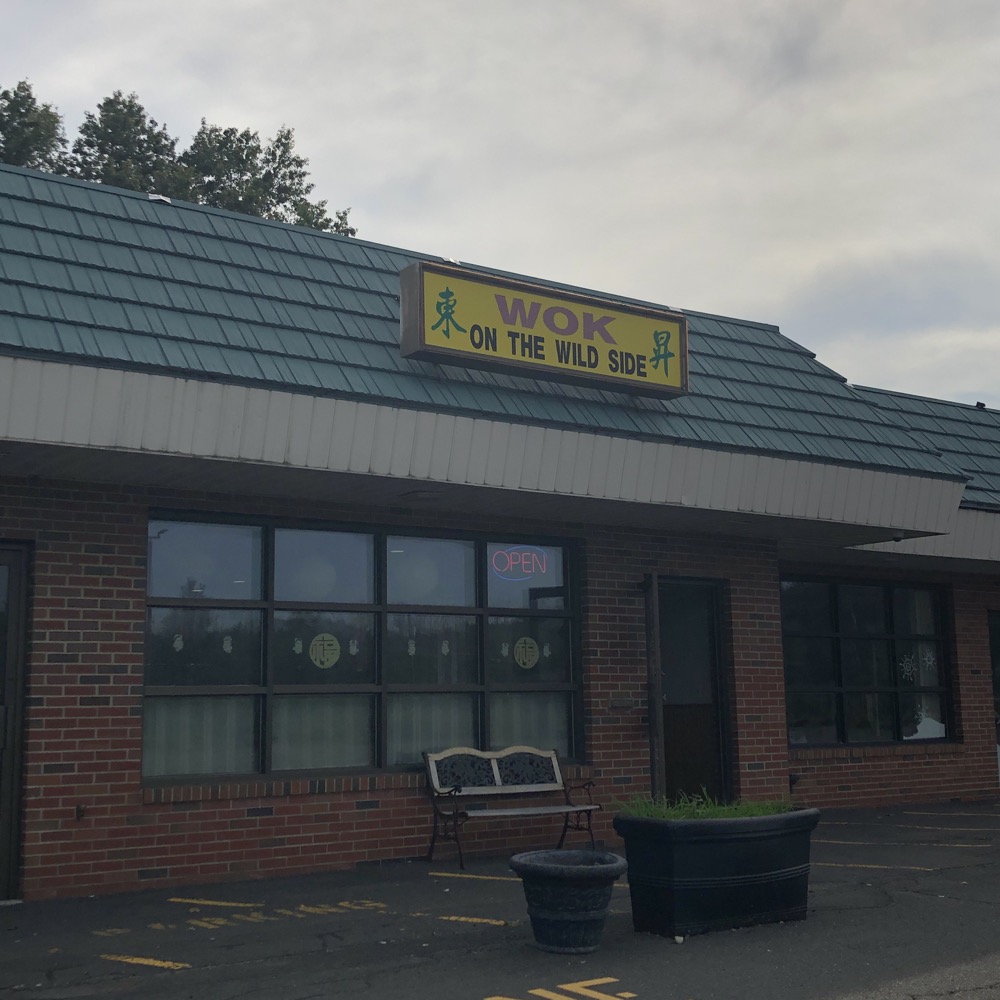 But I decided against it, simply because I don't generally enjoy (presumably) lower-tier Chinese food and because they had no dine-in at the time. That left pretty much only one other dine-in choice: J&G Restaurant. (Which is alternatively called a "Restaurante" and a "Pizzaria" sic on different sites and menus.)
So J&G it was. On a COVID Sunday afternoon. Man, the pandemic has just wrecked the restaurant and hospitality industry. There were four or five other customers in the large space; a couple at the bar and a few at a table. It was depressing… through no fault of the the restaurant. As for me, I would be able to abscond away to a secluded corner, away from COVID coughs and hidden from people wondering why I was taking bad low-light pictures of rather standard fare. The circumstances worked for me.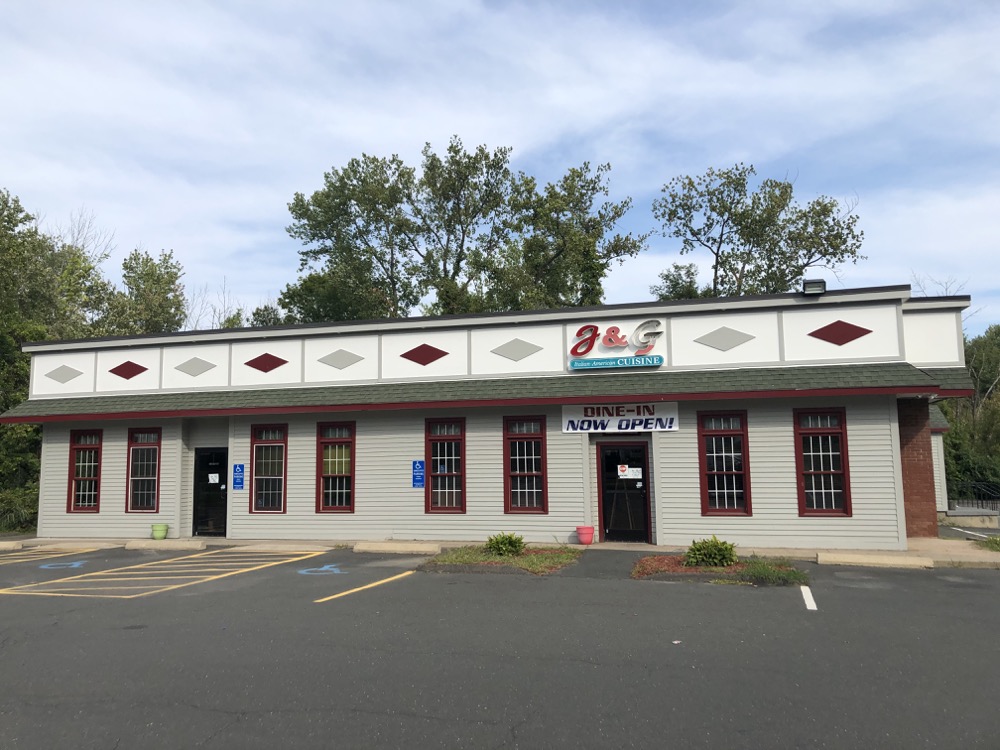 J&G hadn't quite caught up with the craft beer thing yet in 2020. My choices for celebratory beer were very slim, and I wound up with a Steel Rail Ale from Berkshire Brewing. It was okay. Which is all you're ever going to get from Berkshire Brewing. (There had/have been plans for a brewery to open up near here in town since 2018 or so, but as of early 2021, I don't think those plans for Almost Famous Brewing Company still exist. Oh well. Berkshire is fine.)
This is a standalone building in the middle of East Granby – a town without any sort of downtown to speak of. It appears to be the go-to for locals and serves as the townie bar, lounge, restaurant, and gathering place. Yelper opinion on this place ranges from "this is the best ever" to "this is the worst ever." Locals love it and really, that's all that matters.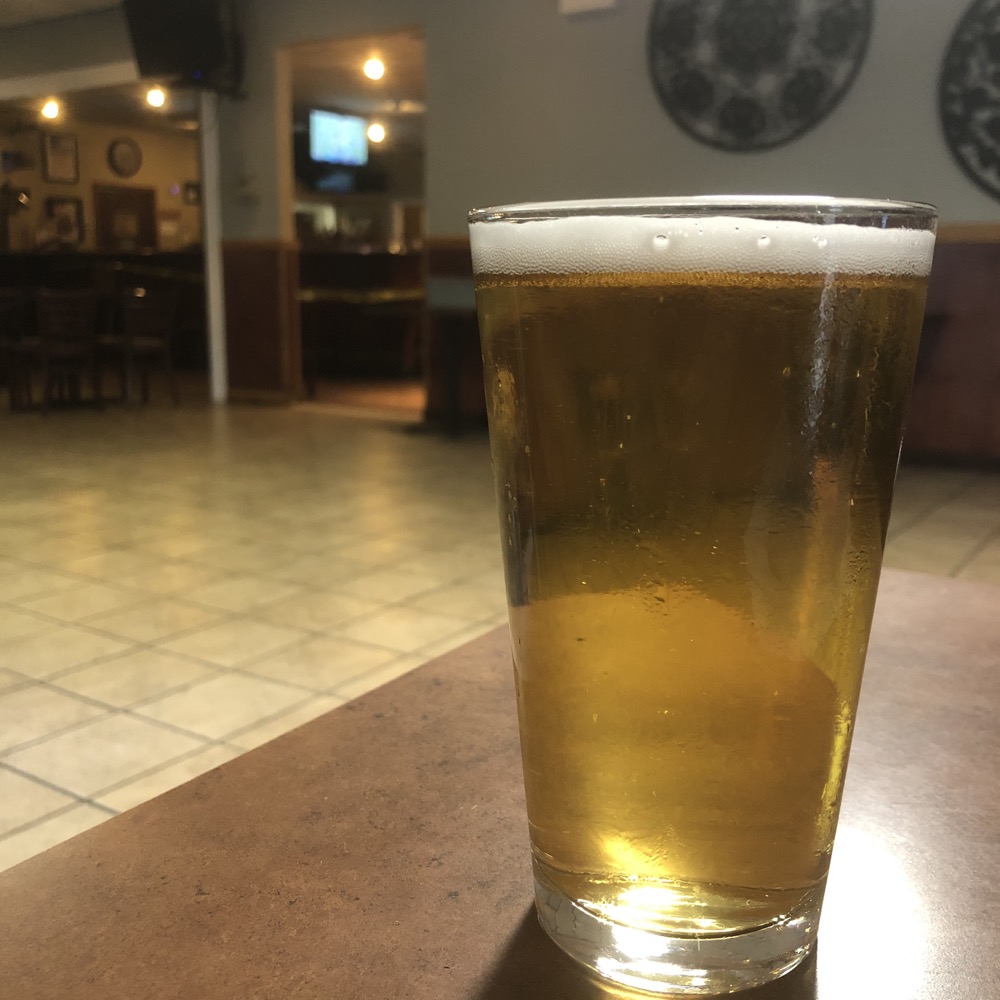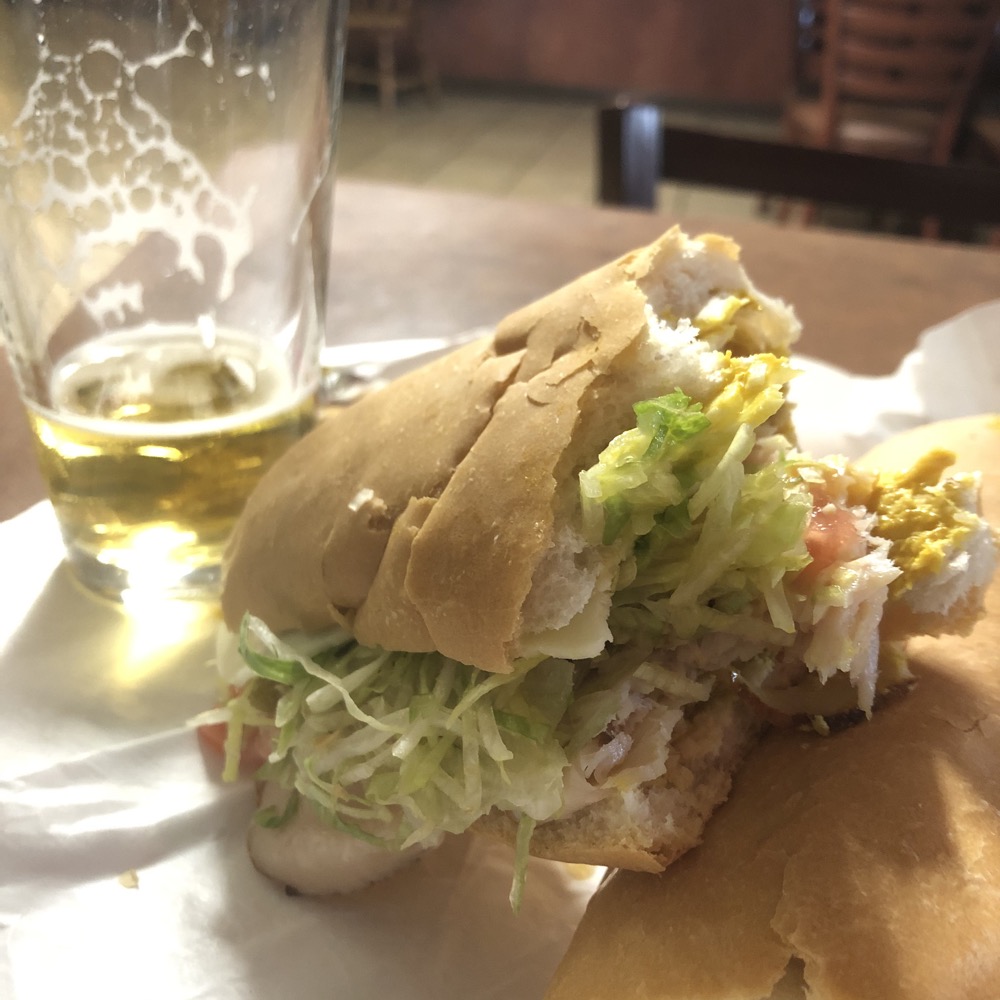 I picked up the turkey grinder I had ordered, took my seat, and dug in.
Holy cow, this thing was rather huge and meaty for under twelve bucks. The bread seemed pretty fresh and I guess I could dock some points for the limp veggies, but during pandemic times, it's impossible for a kitchen to always have only the freshest produce stocked. It was fine.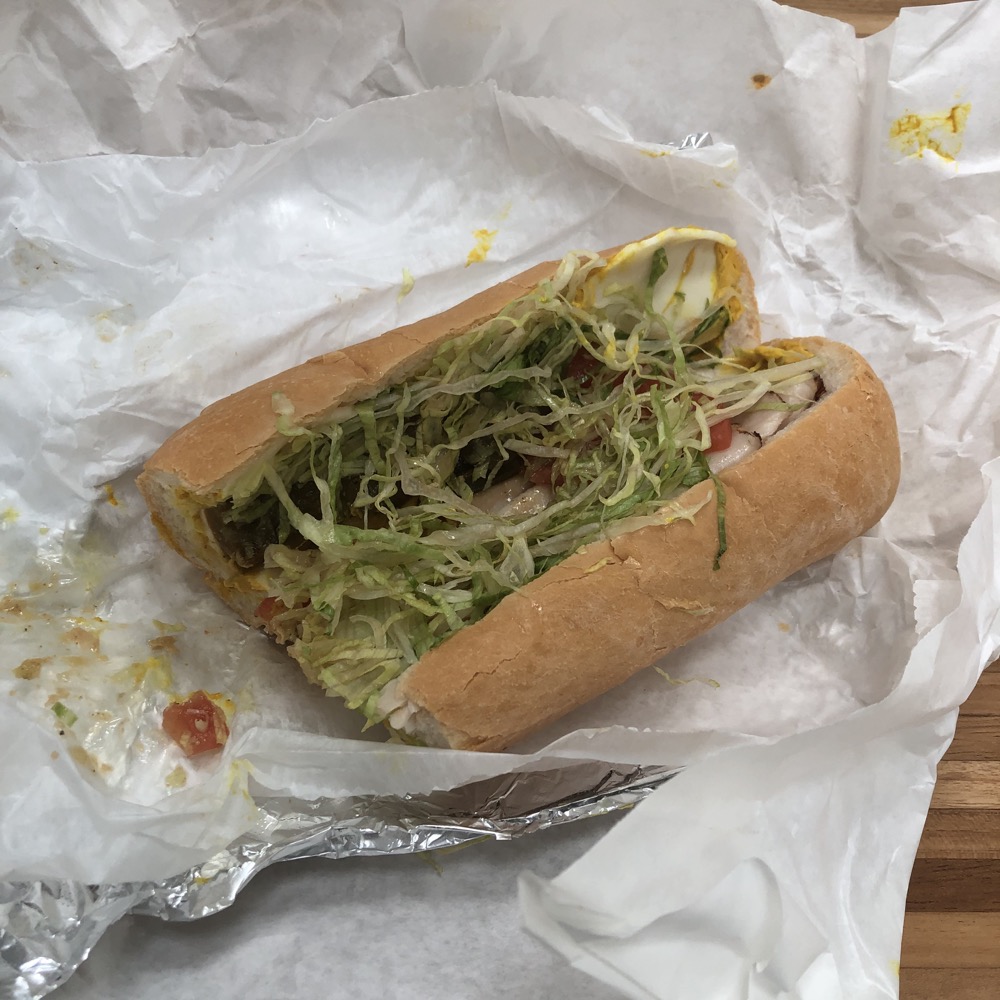 Actually, it was better than fine. It was really good – and the guy loaded the spicy mustard on just how I like. I wasn't very hungry and wound up taking half of the sandwich home to enjoy the next day for lunch. Since my J&G experience was so limited, and likely will never be expanded upon, I'll let a superfan Yelper offer his opinion:
This is my barometer for my favorite for restaurant food. Italian- the sauces here are excellent be it marinara or brown. Their parmigiana (eggplant, chicken or veal) is the best. Better than anything in Federal Hill in Providence or the north end of Boston. Pizza is Greek style, square cut, thick crust and is outstanding. Their club sandwiches are huge. Two patties on the cheeseburger club and tons of meat on the others. ANYTHING on their menu is excellent. That is the reason for crowds on Friday and Saturday nights. They are closed on Monday. My only negative thing to say is about a year or so ago they switched from Coke to Pepsi.
It always cracks me up that people care so much about Coke vs. Pepsi. While I can't corroborate everything the guy above says, I can say that the "club sandwiches" are indeed huge. And really pretty good.

East Granby Wrap-Up
It's somewhat funny to think of East Granby as a bit of a destination town, but it truly is. And for my personal purposes, it's a good thing that this whole CTMQ thing is a decades long project.
For the two destinations I'm most thinking of were both inaccessible for the first 12 or so years that I've been writing this site. The first is of course Old Newgate Prison and Copper Mine. It's a National Historic Landmark, was the first state prison in the country and the first incorporated copper mine. And after a decade or so closure, its open for visitors again and its pretty cool.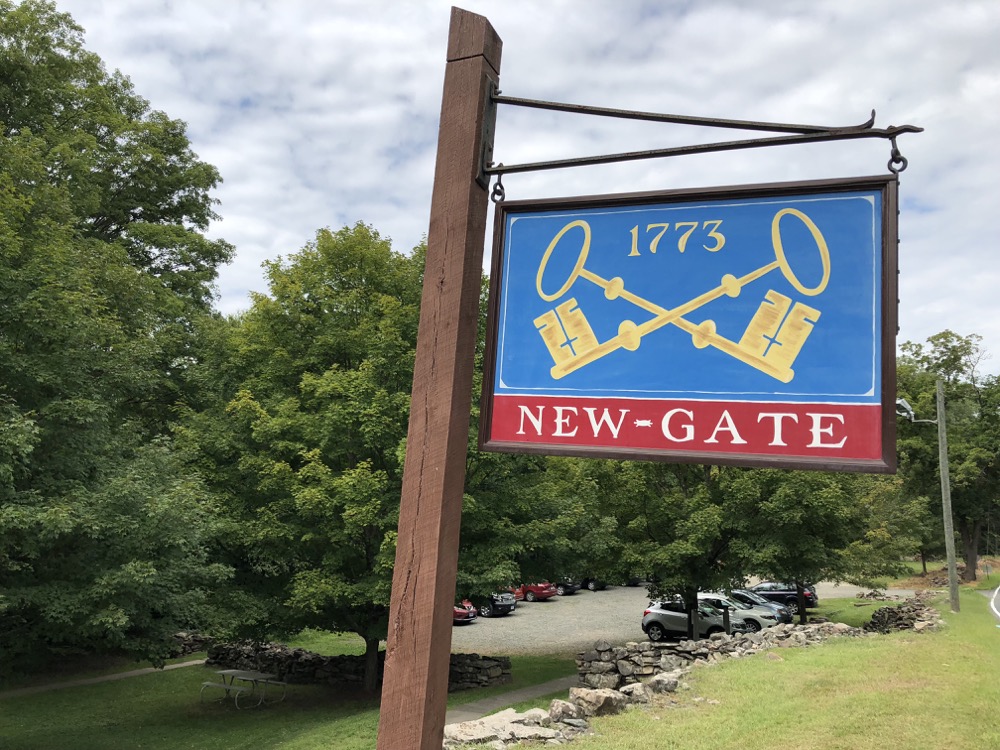 It's also tragic and sad, but that's what makes it such a compelling place to visit. Across the street and atop the steep incline is Peak Mountain and the Metacomet Trail. Just north of here, the National Scenic Trail included a 2.5 mile road walk for decades. Finally, in 2016 or so, easements and permissions were granted to keep the trail along the ridgeline all the way to Massachusetts.
Now that the 215-mile National Scenic Trail is protected from New Hampshire to the Long Island Sound at Guilford, many hikers find themselves gazing down at portions of East Granby every day. Most of the other trails worth anyone's time in town take hikers up to the same ridge.
There's other stuff to do in town of course, and I came to really appreciate East Granby. It does seem to be viewed as a place in between the place you came from and the place you're going though. But something tells me that for the people that live there, that's perfectly fine.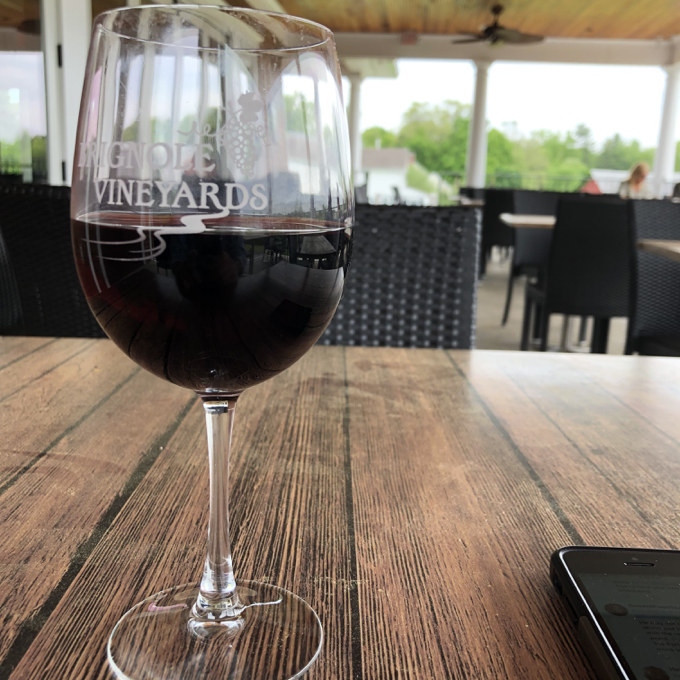 Thought exercise: If I had to send someone to East Granby for a day, I would send them up to the summit of Peak Mountain via the Brian Spears Trail for a picnic lunch with some Griffin Farmstead cheese. Enjoy the views west for a while, before descending back to the car. On the drive over to Old Newgate, why not check out the largest black oak in the country? I just think it's so cool that we can stand next to a national champion like that. Of course hit up Old Newgate Prison and Copper Mine and be sure to go down into the abandoned mines. After that, go chill at Brignole Vineyards and watch the sun set.
Surprise: That it was fairly emotionally moving to sit down in the "prison cells" at Old Newgate.
Favorite fact: A reader provided an explanation of the town's awful "Chrismis Tree Lane."
Disappointment: That many of the Traprock Ridge Land Conservancy's trails are so weak.
East Granby: Done!
Previous completed town: Bloomfield!
Next completed town: Bolton!