!!!!
Brignole Vineyards, East Granby
May, 2019
Brignole Vineyards is very excited. And they have reason to be; while relatively new to the local winery scene, Brignole immediately vaulted to being one of the most exciting to visit if only for their beautiful building alone. I suppose when you're located on the Granby/East Granby line right on route 189, you better do something extraordinary with your property. And Brignole has done that, no question.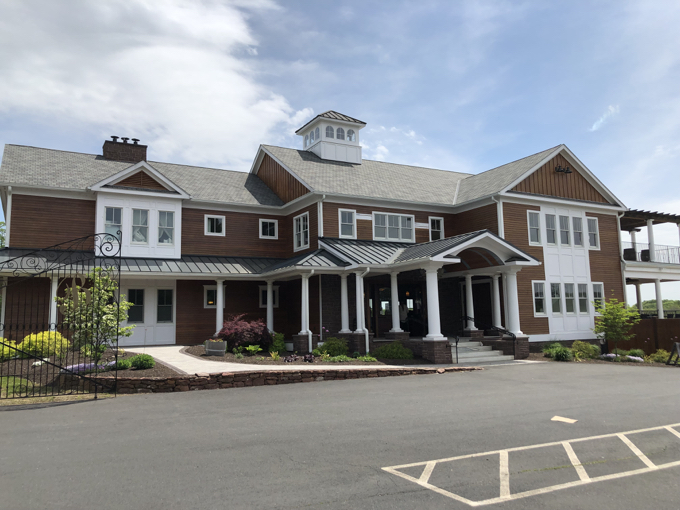 But Brignole is excited about lots of things. They are excited about their tastings:
We do tastings in our first floor tasting room for $10 for 6 wines or $12 for the Eagle Series Tasting!! Glasses may be purchased as a memento for just $2!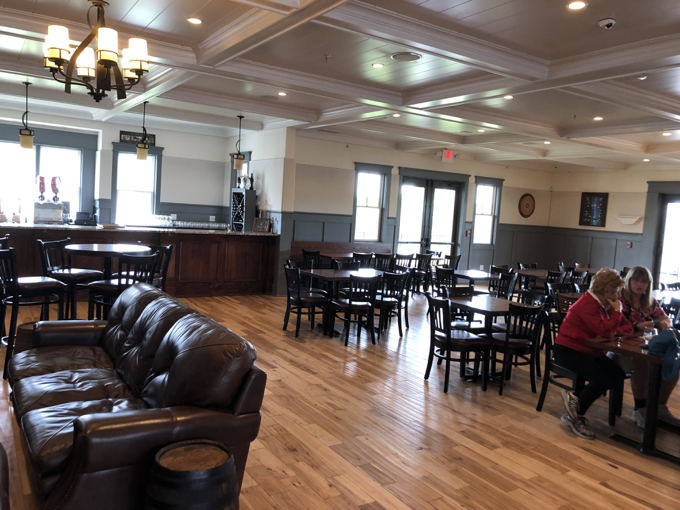 Which is fine. But do they take reservations? Just wondering because I –
No we do not take reservations for our tasting room! All of our seating is on a first-come, first-serve basis! We do ask guests to be respectful and to only take up as many tables as needed for seating!
Oooookay. Calm down, Brignole. These selections are from their FAQ's which has a total of 32 exclamation points attached to 35 sentences. I checked with legal experts and there is 100% agreement that this exceeds the legal limit of exclamation points per website FAQ section.
In fact, some experts concluded that the 32 exclamation points is too many for an entire website of its size. Just poking around a bit more, I'm tending to agree with that leading punctuation expert…
Wondering what a wine slushee is like? Stop in the first Vineyard in Connecticut to start offering them..you will not be disappointed! Offered during the Summer months they make cooling off on even the hottest of days a breeze!
Brignole is beautiful. This paragraph is not. Just a mess all around but the part that gets me is the wild claim about being the first. This isn't remotely true. But enough with picking on their site's syntax and nonsense. Let's get to the important stuff.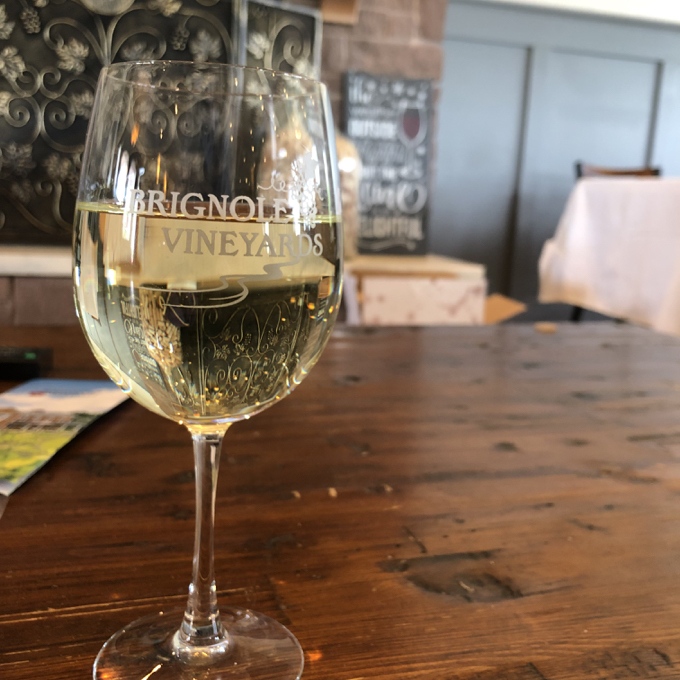 I've no factual basis to claim that Brignole is one of the more popular of Connecticut's wineries, but I'm saying it. Based on all the times I've driven by a full parking lot, yup, Brignole is doing well. In fact, I tried visiting once before and left because I couldn't find a parking spot! (The lot isn't tiny either.)
The building itself is huge. Easily one of the biggest in the state, and when you consider the patios and picnic tables down in the vineyard itself, they can accommodate a ton of people here. Comfortably.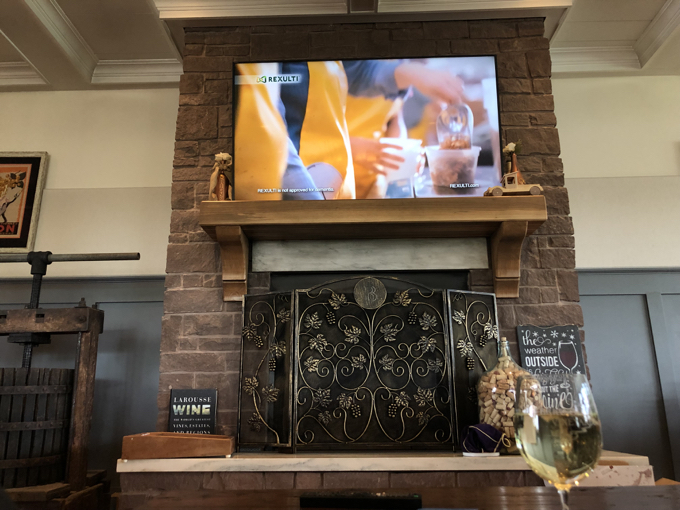 After getting my bearings, I ordered a glass of white wine. Brignole offers more choices than most wineries, so I took my time looking for something that wasn't sweet. I settled on the White Tip, a semi-dry wine that promised an acidic balance to the fruit-forward nature of the wine.
Where to sit… where to sit. The upstairs section was closed off during my visit – it was a weekday afternoon after all – so I chose one of the giant smooshy couches. The kind that are difficult to get out of once you are settled.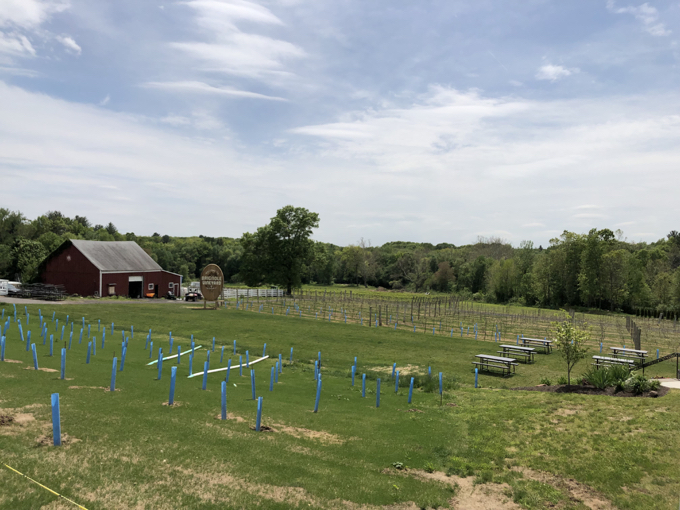 I was fine with that, as the wine was pretty good. I noticed that Brignole does note which wines use estate-grown grapes (not too many, it turns out), which is something I appreciate. Honesty in winemaking is sometimes difficult to come by in certain areas with poorer grape-growing capability.
The Brignole winemaking team is comprised of experienced, award-winning vintners with combined experience of over 70 years. Lead by Winemaker Bob Thomas, and Assistant Winemaker Lee Baldieri they share the same passion of taking the grape and turning it into wine.

Our Winemakers' use estate grown grapes along with California supplied grapes and blend these grapes into our award winning wines. They use the best of old world traditions with state of the art equipment and modern technology and products that result in rich and balanced wines.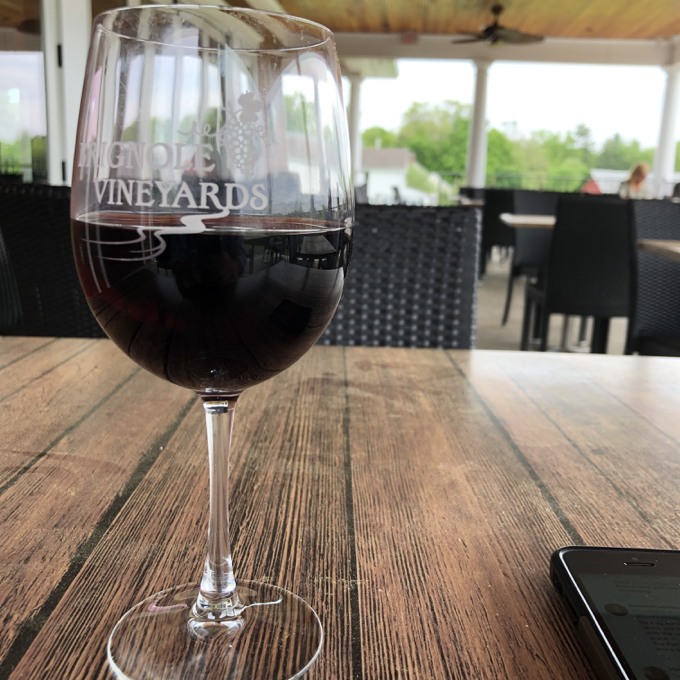 And there you have it. Brignole's wines are good because they use California grapes. Oh, and those two guys sound like they know what they're doing of course.
Many wineries have a good financial backing, so they're usually appointed pretty well. But man, Brignole is really, really nice. Their bathrooms look like a nice hotel bathroom: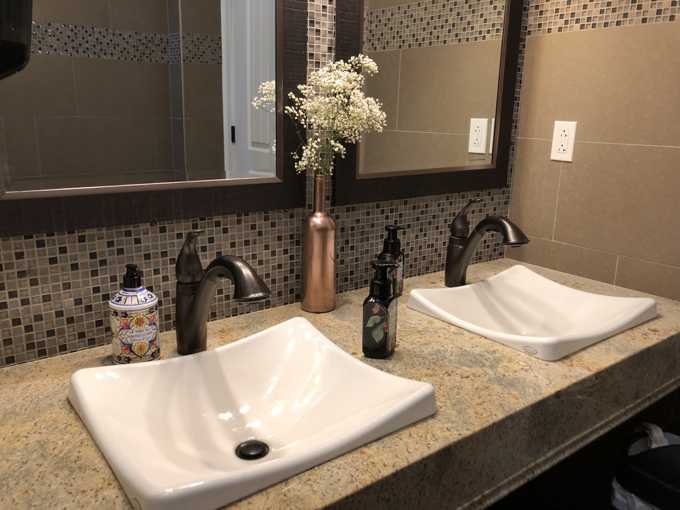 I poked around the joint for a while and ordered a glass of the Red Dragon which uses Marquette and Baco grapes… 2 varietals I've never heard of… which promised "notes of black cherries, spice, soft tannins and a complex, lingering finish." Well that sounds like something I should take outside to enjoy on (one of) the patio(s).
Most of the tables were occupied despite it being early afternoon on a weekday. A group of three young women were preparing to "get lit" with multiple bottles of wine. They seemed quite excited about the rest of their day. Brignole celebrates this spirit with various cheeky signs, like this one: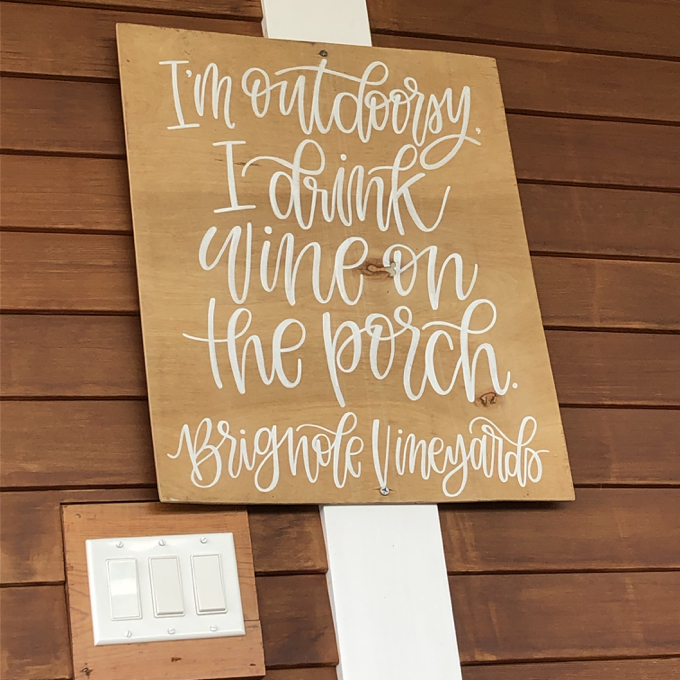 The drunken script adds a nice touch. I've read some knocks on Brignole for being too much of an event space; bacherlorette parties and loud groups and such. On the one hand… who cares. That's their business model, and they've built the space to handle it. As long as they know what they're doing with regards to events, more power to them. You don't go to massive drinking establishments for quiet reflection and intimacy.
On the other hand, speaking of "intimacy," the owner, Timothy Brignole, must be mentioned. Himself a personal injury lawyer, he has been accused of being a sexual harasser in a series of lawsuits – in which I learned he was accused of trading sex for representation. I don't know the outcomes of those suits, but… he was represented by Norm Pattis, which is essentially admitting guilt. Dude. Stop. All of you dudes, just stop this crap.
The wine was, again, pretty good as far as my uncultured palate could tell. The porch/patio overlooks the vineyard and some housing which isn't ideal, but… that's what you get here. With so many Connecticut wineries perched on sweeping hillsides, away from any sort of development, Brignole does a decent job trying to match that even though they are decidedly not that.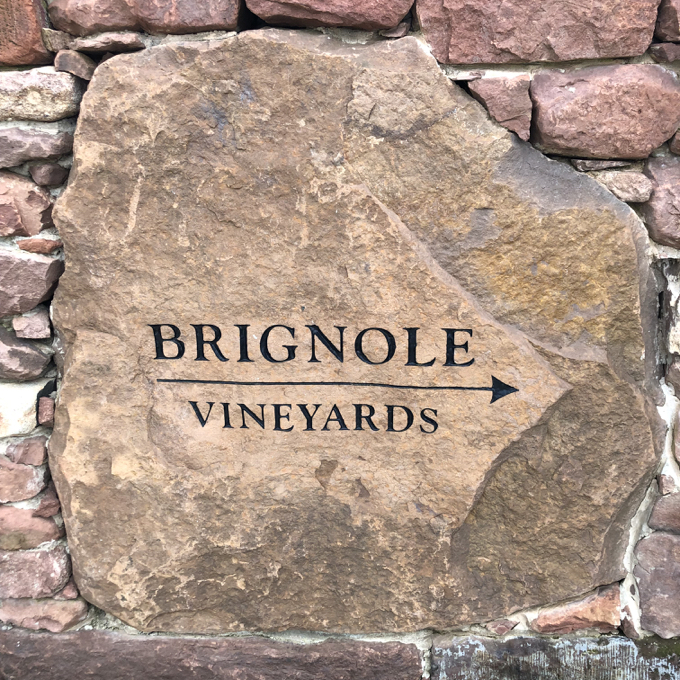 Brignole Vineyards
CTMQ Goes to Every Connecticut Winery