Bolton: Complete!
3 J's Café
Here is my list of everything I've done in Bolton!
I'm very excited to write this page. This is the 24th of what may ultimately be 169 town completion celebration pages! Yes, of course I am fully aware of how absurd that is. But I love it.
For those of you who are new here… In late 2016, after a decade of writing CTMQ, I decided to try to "complete" towns. In that decade of traveling and writing, I had already done a lot of stuff in most of our towns already. However, I have been continually surprised by how much more there often is to do. This page you're reading includes my "town completion celebration meal." These will sometimes be at the best restaurant in town. Or the most historic. Or the most iconic. Or the most unique. Or the only one. Or at a gas station. Every town is different!
Let's get to it.

Bolton, Tolland County
Population: 4,980 (131st)
Founded: 1720 (52nd)
Size: 14.41 sq. mi. (149th)
Here's the Wikipedia page and the town page
Bolton was my: 24th town completed
First CTMQ Visit: Fish Family Farm, August 2009

The Celebration Meal
From what I could gather, I had only a few restaurant options at which to "celebrate" my "completion" of Bolton. And they're all on route 6 very near the Manchester border – at which sits the venerable Shady Glen Restaurant where everyone near hear defaults to if they're not specifically seeking out a place in Bolton.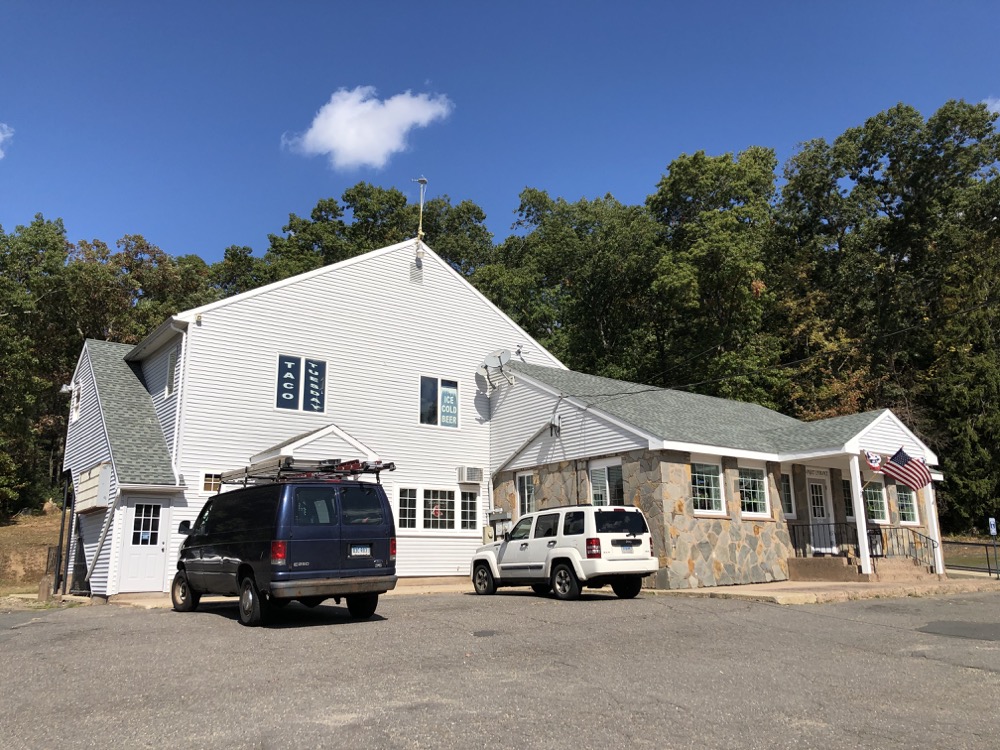 There's a little Thai place I didn't know existed until right now writing this page. There's Georgina's Italian Restaurant and Banquet space. And there's the local hangout Three J's Café. Every town has a little Thai place and an Italian family-style joint. Not every town has a Three J's.
Three J's it was. (And, truth be told, this was smack-dab in the middle of the COVID pandemic and only Three J's was open for sit-down dining. But I'd have chosen them anyway. When you do Bolton, it's best to go full Bolton, right?)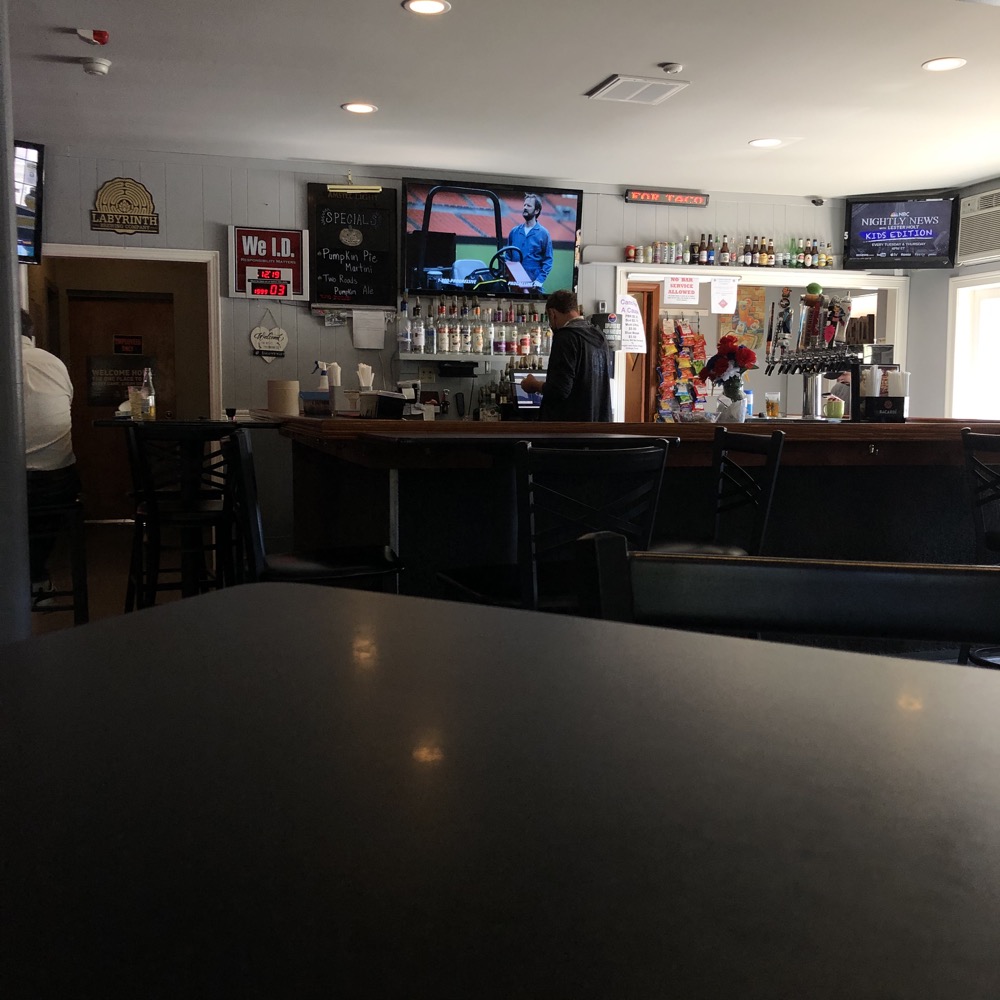 Bolton is not a big town, and it has scant commercial property. It is heavily forested and farmed. People don't go to Bolton to find restaurants or bars. Fortunately, Three J's exists and it is both restaurant and bar.
They have no website. No one not from here ever really goes here. Heck, it's not even well-signed and it looks like a house. And I'm pretty sure that's how they like it. I, an obvious interloper, felt welcomed though and the bartender was very friendly.
He was also a very new hire, as it was clear that a) he had no idea what he was doing, and b) the scattered regulars enjoyed razzing him for having no idea what he was doing. Which was good for me, the obvious outsider, who was over at my COVID-distanced table trying to take pictures for this page.(He also had an English Premier League game on the TV over my head, which was wonderfully incongruous and appreciated.)
Taking furtive bad pictures of food is never a comfortable situation for me, especially in a drinking establishment. And despite it being around noon, these guys were well on their way with their vodka tonics and quick succession of Buds and Millers. Two tradesmen complained about suppliers, current lumber prices, and ignorant clients. Colorful language rules the day at Three J's Café. One older gentleman in Trump gear glumly sat alone drinking his pain away.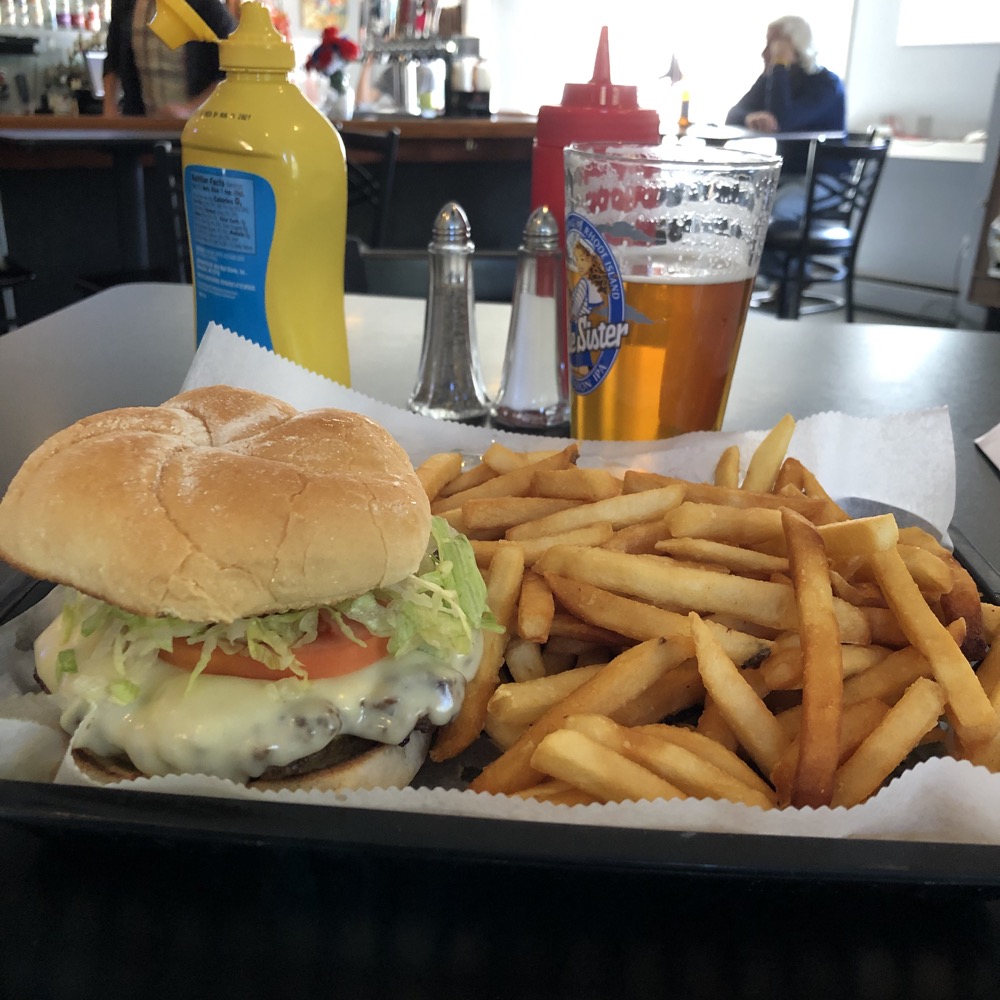 The 2020 election was only a few weeks away and this local Trump fan seemed resigned to the impending loss. I've always been fascinated why Trump's fans fly Trump flags and wear Trump clothes – and still do so long after his defeat. It's just so weird to me. Anyway, I digress.
And I'm also painting a slightly skewed portrait of this place. The tap line-up here was and can be pretty darn good. I had a Sea Hag from New England Brewing, but a quick skim of what was on tap the last time they updated their menu (two years ago), they had Beer'd and Cigar City among others. Even so, I felt fancy ordering anything but what the regulars drink.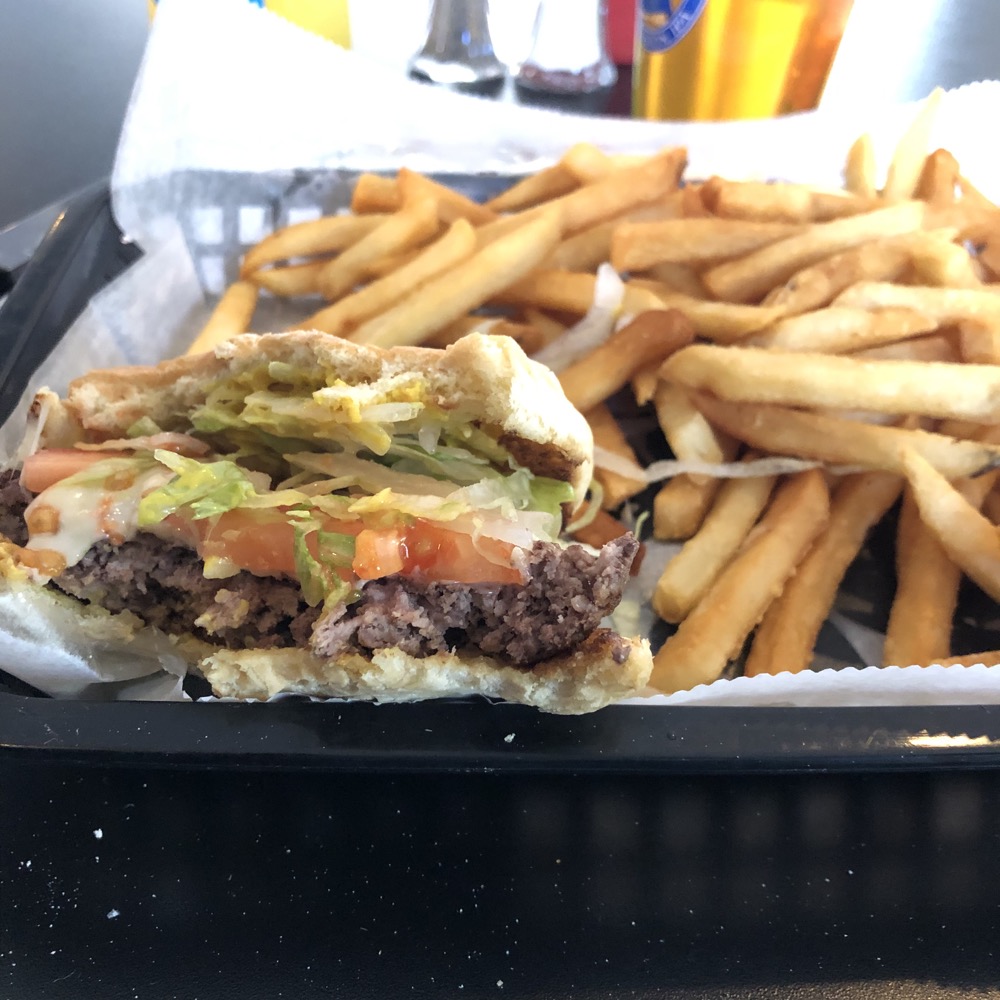 To prove I was so fancy, I also ordered a good ol' 'Merican cheeseburger. It just seemed like the right thing to eat here in Bolton with the MAGA crowd. As I waited for my food – my word, these contractor guys are something else. I wonder what the contractors I've hired have said about me while getting drunk in the middle of a workday?
The Trump guy slumped over at some point, but was roused to use the restroom. My burger came and it was a serviceable burger. Cooked to order and a good weight for the price. My mustard request, admittedly risky amidst such a patriotic ketchup crowd, caused some panic on the part of my server. It was fulfilled and I enjoyed my meal.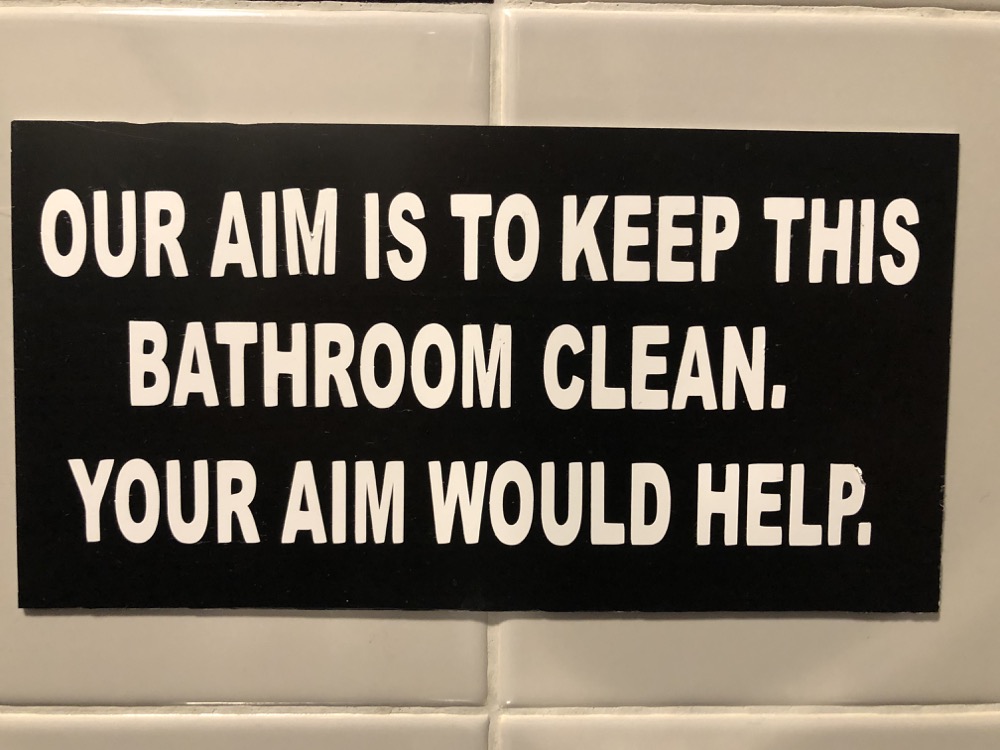 And I enjoyed being able to have a hypothetical conversation with my fellow patrons about how happy I was to have completed Bolton. "Are you guys upset the town is one of only a few in the state without a museum? Have you walked the hills at Heritage Farm and felt the presence of Rochambeau's troops?" I suppose in reality I could have mentioned the giant American flag on the rocks above Bolton Notch State Park and received some appreciative nods.
The smoking area at Three J's is still well-attended, but the place was clean, the bathrooms were clean, the prices were right, the food was good, and the portions were generous. And that's all I need from a tavern of any sort, really. Bolton, you're alright.

Bolton Wrap-Up
Despite my silly stereotyping above, Bolton is a completely inoffensive little town. (And for what it's worth, Biden carried Bolton in the 2020 election.) Bolton is a perfect rectangle. It's small, quiet, and celebrates its open spaces. It's located right at the end of an interstate highway and is a pass through to UConn, Willimantic, and heck, Cape Cod and Rhode Island for some people.
I've sort of targeted some of Connecticut's "no museum" towns early in my completion quest simply because they're easier to complete – especially during a pandemic. But as I began researching and exploring Bolton more, I kept finding cool stuff.
The land trust has a decent amount of space to work with, and they've done a good job. I particularly liked the Lombardi Ridge Preserve and the Edith Toomey Clarke Property. The outdoor highlight here is, of course, Bolton Notch State Park.
I love that it connects to pretty much everywhere via the two bike paths (Hop River State Park Trail and the Charter Oak Greenway… and there's a potential third on the way someday – the Nathan Hale Greenway) as well as its trails which can take you to various parks in Vernon. There's a real cave! And a really cool tunnel! And railroad history!
And really, 90% of the people who visit Bolton only go to the state park. And that's fine. I know I'm not like 90% of the people… or when it comes to "doing stuff" in rectangular little pass-through towns, not like 99.99% of the people.
I can live with that.

Thought exercise: If I had to send someone to Bolton for a day, I would simply send them to Bolton Notch State Park with a bike and a map. Hike up to the cliffs and around the park. Hop on the bikes and ride west, then east along the Hop River State Park Trail. Pull off along the way to enjoy a beer at Breakaway Brew Haus, not because it's anything great, but simply because it's in the guy's garage. Ride as far east as you like and then return to your car. From there, make the short drive over to Fish Family Farm to get a taste of real rural Connecticut before enjoying an ice cream cone while staring at some cows. And what the heck, you might as well pick up some Munson's chocolates before heading back home… hopefully with Michael Bolton crooning through your car speakers.
Surprise: How much stuff one can see and do from the tiny Bolton Notch State Park parking lot
Favorite fact: Breakaway Brew Haus is a legal brewery in a dude's garage
Disappointment: There are no museums in Bolton
Bolton: Done!
Previous completed town: East Granby!
Next completed town: Canton!