A Hop, Skip, and… a Bike Pump
20 Miles, Andover, Bolton, Columbia, Coventry, Manchester and Vernon
For years this page existed to tell readers that I wouldn't be completing the Hop River State Park Trail. Then my son got a bike and liked to ride it. Then I got a bike and I liked to ride it. Then I got a bike rack for the car. Now this page exists for the reason all CTMQ pages exist: because I'm gonna do this thing.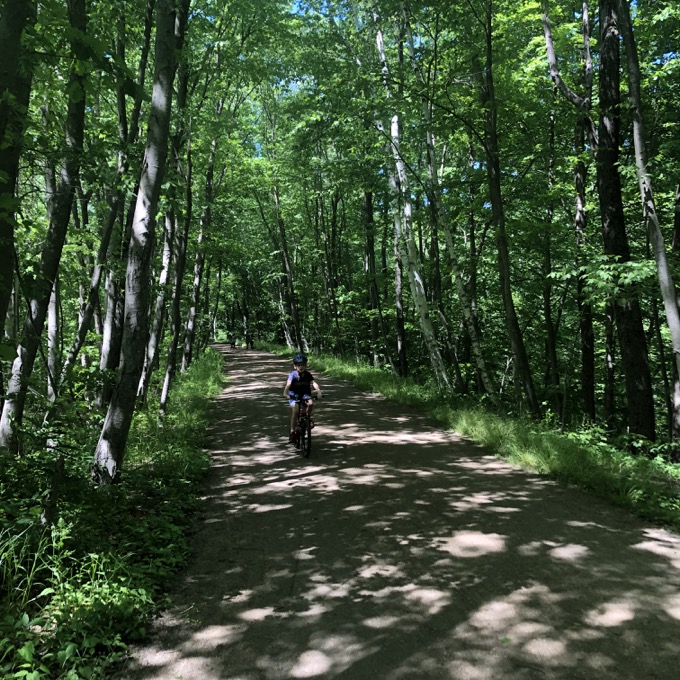 So what is this thing?
This former railroad line is now a trail that winds 20.2 miles through the towns of Manchester, Vernon, Bolton, Coventry, Andover, and Columbia. Like a pathway through time, this serpentine path passes among modern subdivisions and crosses roads, but mostly takes the trail user along a remote, quiet and long unused path through the eastern Connecticut countryside.
Sounds good.
Half of the Hop River Trail is part of the enormously ambitious East Coast Greenway, which aims to connect Maine to the Florida Keys, and as such, the trail connects to the Charter Oak Greenway in Manchester and the Air Line State Park Trail in Windham.
Hop River State Park Trail
Described west to east
Section 1: Let's Get Hoppin', Manchester, Vernon, & Bolton
Section 2: Spurring Adventure, Rockville Spur, Vernon
Section 3: Another Notch in Our Belts, Bolton, Coventry, & Andover
Section 4: Hoppin' Cold, Andover, Coventry, & Columbia

Hop River State Park Trail
CTMQ's Cycling, Multi-Use, & Rails-to-Trails Paths