Youth of Today
New Britain (Google Maps Location)
September 27, 2008
Growing up, I was mostly influenced by my older brother. In the early to mid-eighties, he (and therefore, I) started getting into punk and hardcore music. I was never a social outcast or anything, I was simply drawn to the hard, fast, angry-yet-positive message of those types of bands back in the day.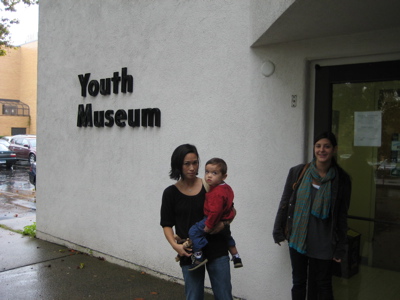 One of those bands was Youth of Today, whose lead singer happened to be from Connecticut. The Connecticut hardcore scene was pretty intense for a good long while – and still exists, which UConn attendee and friend Jamey Jasta keeps alive with his various bands, notably Hatebreed. Man, I remember going to Jasta 14 shows back in the day with 20 people, and now he hosts "Headbanger's Ball". Crazy. What in the world does this have to do with New Britain's Youth Museum? Absolutely nothing, I just thought I'd share.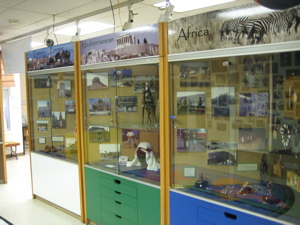 Oh sure, I could talk about how this spartan museum seems to embrace the punk DIY and keeping-it-real ethics. And how the curators apparently don't care about what YOU think… This is their little museum and this is what you get, so get out of my face, you squares.
Before we get going it must be noted that Damian totally dug this place. It marked the first time, I think, where we had to drag him out of somewhere happy. There were a couple factors: We were with our friends Caroline and Scott whom Damian really likes and we also ran into his physical therapist and her family there as well. And Damian loves all of his therapists. So… so many therapists.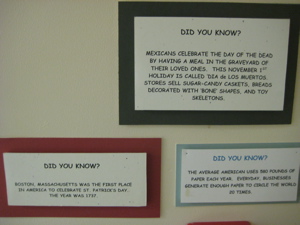 The New Britain Youth Museum, founded in 1956, encourages children and families to explore the history and cultures of Connecticut and the world. The museum in downtown New Britain offers school programming outreach, exhibits and special events that focus on history, art and the cultural heritage of the diverse peoples of central Connecticut.
There are actually two New Britain Youth museums – the other one is at Hungerford Park over in Berlin and offers educational programming, exhibits and special events that relate to science, natural history, the environment and other issues confronting today's society. But that's for a different – non-pouring rain day.
How cool is the name? "Youth Museum." Eschewing the much more common "Children's Museum," this place – as I've said – plays by its own rules. And how about their building? A bold mix of Pueblo Indian adobe, Cold War sparseness, and mid-century modern greets visitors. I love this place.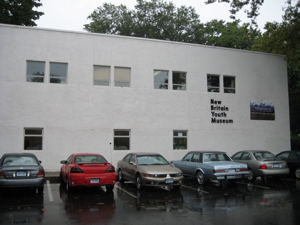 And note in the bottom right-hand window the hand-written "Open" sign. The punk ethic is strong. We entered and were initially a bit off-guard. Well, Caroline was anyway, being new to the "tiny museums in not-the-best locales" thing. Hoang the native didn't flinch. Scott, whose dad was once the Chief of Police in town jumped in head first.
Damian led the way off to the right (where his PT was) and explored all that the room had to offer. And what's that? Only… The entire world. Yes, in a series of displays the Youth Museum globe trots from South America to Europe, from Asia to New Zealand and back again by way of Africa.
It's a rather meaty undertaking, as the world and all its various cultures are rather extensive. Each display case has a short blurb about the region, a few dolls, a map, some pictures, and perhaps an indigenous item or two. For those of you who don't feel like heading to one of those fancy-dan natural history museums to plunk down ten to twenty bucks only to spend and entire day immersing yourself in the history of a certain people and/or region, this is the place for you.
Where else can you learn about "Asia" through nine pictures, two short blurbs, two dolls, and some Chinese characters on silk?
Which reminds me, I was pretty dumb for not taking a similar picture of Lebanese/Italian Caroline in front of the "Mediterranean" display. Sigh, I hate missed opportunities that no one will care about other than me.
Damian really enjoyed the world map carpet there and the large stuffed animals to play with. He particularly liked the penguin and despite our best efforts to have him place him "night-night" in Antarctica, he kept tucking him in elsewhere. Let's move along.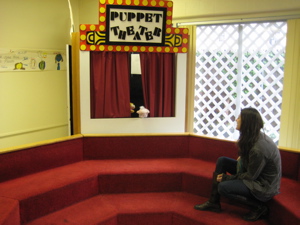 Behind the tour of the world is a puppet theater. I'm not sure how it works since the seats seem to be backwards, but whatever. Scott put on a show for us all with a tiger eating a princess. Damian became distracted, though, with the eight black boxes which light up upon the push of a button.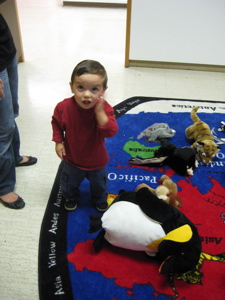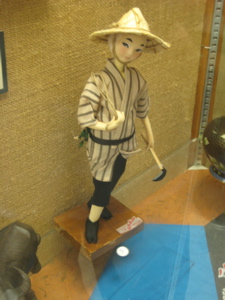 Aww, he's so cute. But wait a minute… can you read what the carpet says in the lower left? It says, "Asia Yellow." Hmmm, that's strange. And… That's Racist!
(Apologies to the great Angry Asian Man.)
And when they light up, they reveal their often creepy/strange contents. I can't remember exactly what most of them were – but there was a piece of wood in one and a piece of brain coral in another. Damian didn't care… which I guess is the point.
Outside is a little herb garden for some reason. That's nice.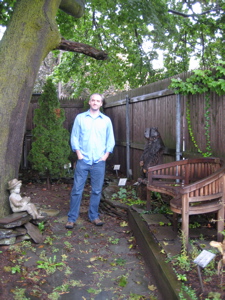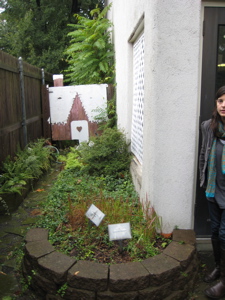 I included the second picture of the tiny garden only because of Caroline's cameo. It cracks me up.
Back inside, there is another room which is an odd mix of local geology, paleontology, and playscape. "Oh surely that works," you say. No. Not really. But again – Damian loved it. He slid down the slide above the sign explaining the leading theory on how the dinosaurs died. He climbed over the bridge where we learned that we are drinking the same water today as the dinos did 100 million years ago. He poked around in the "cave" which explained nothing but held a few toys.
Scott and I roamed the room, reading signs about our local basalt traprock. As all CTMQ readers know, anytime our beloved Metacomet Ridge is mentioned, I must link my Metacomet Trail hike which does dip into New Britain for a short spell. Along roads and under a highway, but still. It hits New Britain.
This room is used for various programs and crafting and even birthday parties. The Youth Museum does indeed have educational programs of all sorts for the youth, and I'm sure they are quite good. The woman from the museum kept plying us with various brochures touting these very programs, which I'm looking at right now. It looks like a return visit is on the horizon!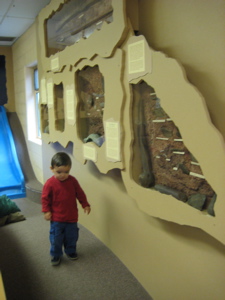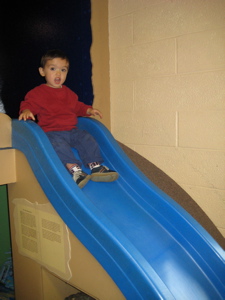 On November 20th, it's a Thanksgiving Party! "Bring in a canned good or non-perishable item and receive a free pencil!" Five days later there is an animal program titled simply, "Turkey." And, "Meet our turkey." Hm. Will they chop his head off and cook him up?
The lady didn't appear desperate to have us attend, but did seem a little pleading. I think we can all admit that a free pencil is not exactly enticing. But hey, that's the New Britain Youth Museum – which is FREE – and that's how they roll.
Yes, it's a bit limited and yes it doesn't appear to have been updated much from their original 1956 design, but it's a fun little FREE place for the youth to hang out, make some paper crafts, learn about dinosaurs and herbs and Asia and Mexican holidays.
This place is the definition of punk.