Another Notch in Our Belts
Bolton Notch State Park to Parker Bridge Road, 8.5 Miles
Bolton, Coventry, & Andover, May 2020
As Calvin and I rode the first mile or so of this section of the Hop River State Park Trail, I pondered aloud, "This may be one of the coolest stretches of Rails-to-Trails in all of Connecticut.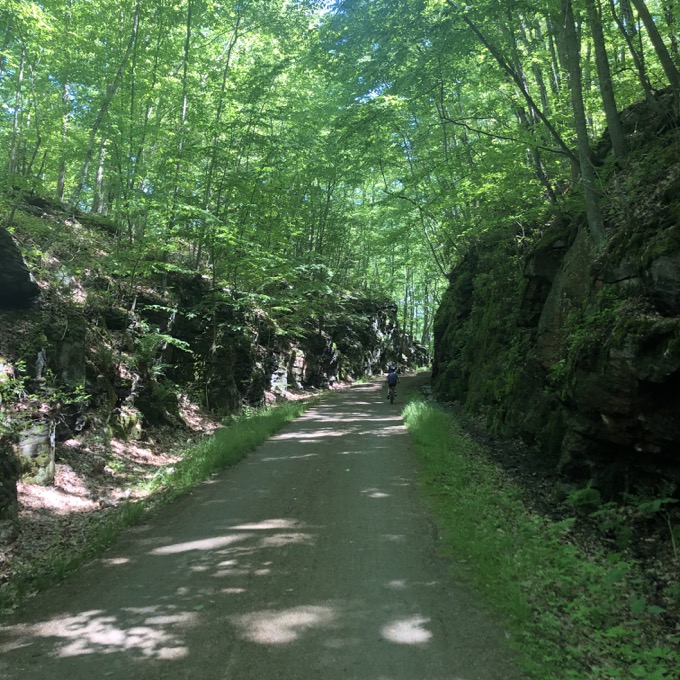 I believe that to be true – even though I've only ridden a scant percentage of these paths in the state. Bold opinion, I know.
Starting at Bolton Notch State Park and heading east, the trail goes through one of the most impressive tunnels in the state. I've always loved the Bolton Notch tunnel because it has natural rock formations and water features inside of it. I have never been able to take even one picture worth a darn it it, but believe me when I say it's rad.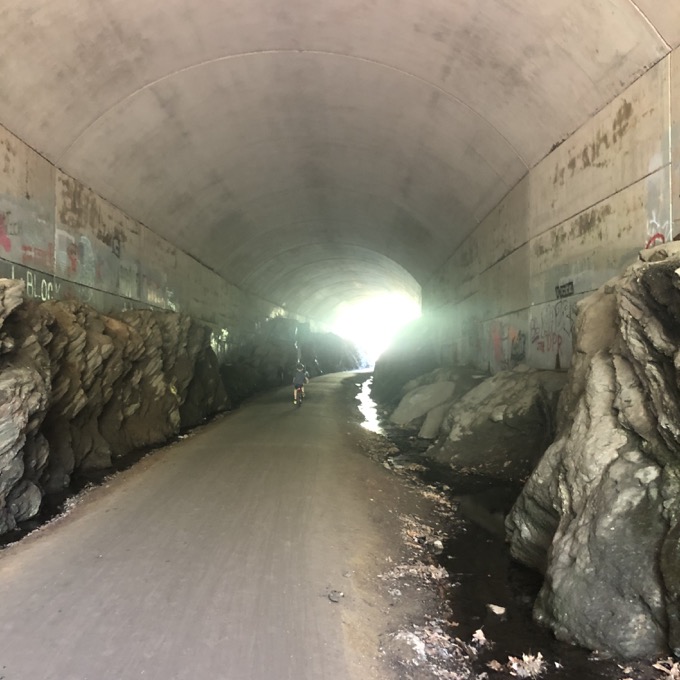 East of the tunnel are a few more deep rock cuts for the former railroad that ran through here.
Connecticut enjoyed a great railroad building era from the 1840s to the turn of the 20th century. This trail which began as the Hartford, Providence and Fishkill line from Hartford to Willimantic via Manchester was completed in 1849. Six years later in 1855 it was the longest the east-west line in the state. By 1884 the line had become the Eastern Division of the New York and New Haven Railroad and a ticket would get you from Hartford to Willimantic in 65 minutes.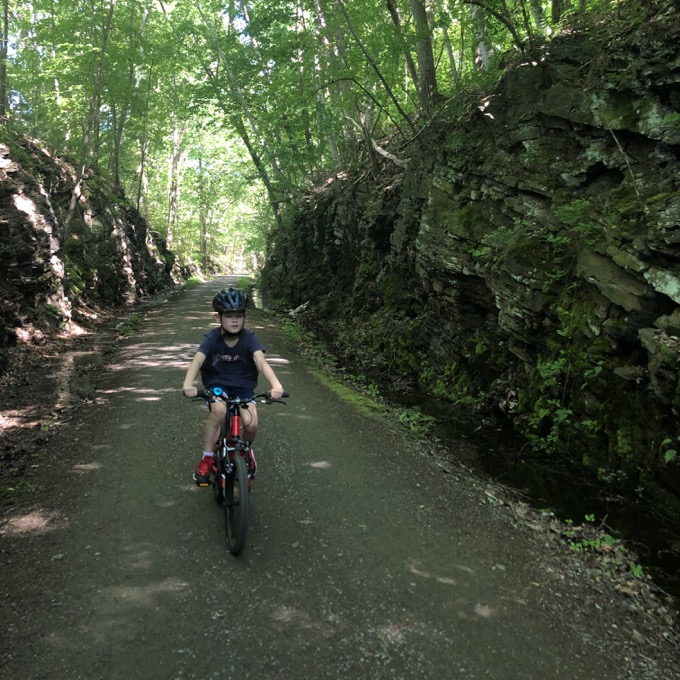 As the railroad that once connected Hartford to Manchester, Vernon, Bolton, Andover and Willimantic became abandoned, weedy growth took over from lack of use. And as with so many rail lines, the war efforts demanded the steel of the rails and they were removed for scrap value. Fortunately for today's trail users the rail beds are much more difficult to erase from the landscape than the rails and ties, and conservation efforts through the years have yielded the many rail-trail systems we have today.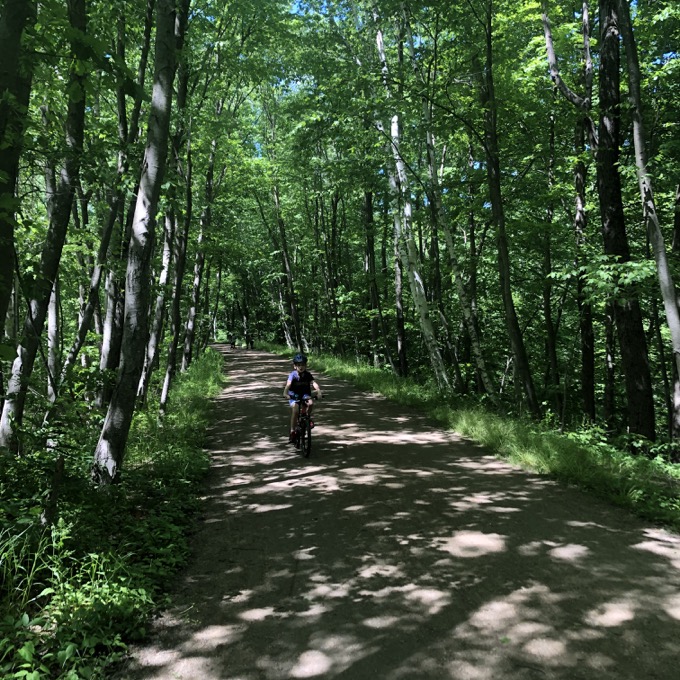 See that picture? This is just such a pleasant walk or ride. Well-tended trees line the path. Birches and oaks; it's just ideal. Adding to the fun are the town line sign posts along the way. It's like they know there are nerds like me out there interested in knowing when we clipped the corner of Coventry, only to pass back into Bolton a minute or two later.
We also passed trailheads for the Rose Trail at Heritage Farm and the Edith Toomey Clark Property, both in Bolton. I would recommend taking in both in one hike someday, and you'll even learn some cool Revolutionary War history by doing so.
There are a few road crossings along the way, all guarded by yellow gates and boulders. Word of warning: Don't try to be cool and scoot through the narrow openings between rock and metal too fast – they are designed to slow you down so you don't get hit by a car. Heed them. (Hint hint, Calvin. Sheesh.)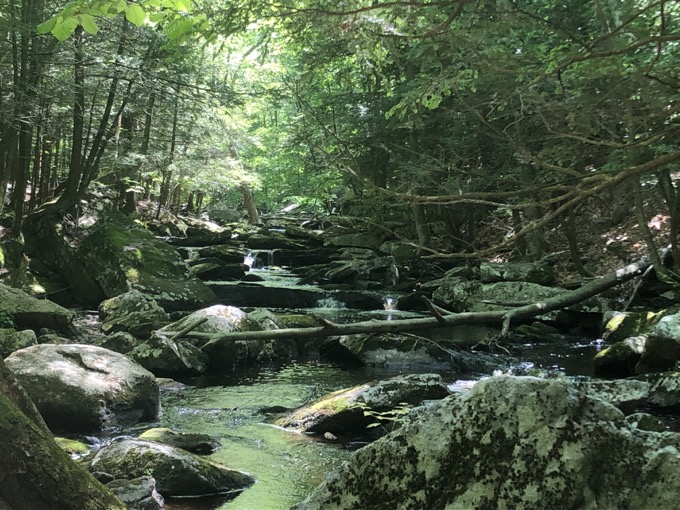 Yes, he bit it between a boulder and the gate at Burnap Brook Road, which allowed us to take a few minutes off of our bikes to check out Burnap Brook. (And allowed me to explain again to him why those giant yellow gates and narrow passes exist.)
The area is beautiful. The stream tumbles through deep woods; a mix of hemlock and hardwood. Heck, I'm surprised this area didn't make it onto the CTMQ Waterfalls list as a "cascade" or something, as it's right on the cusp of qualification. Burnap Brook passes underneath the trail through an original archway bridge and it's all just so quaint and lovely.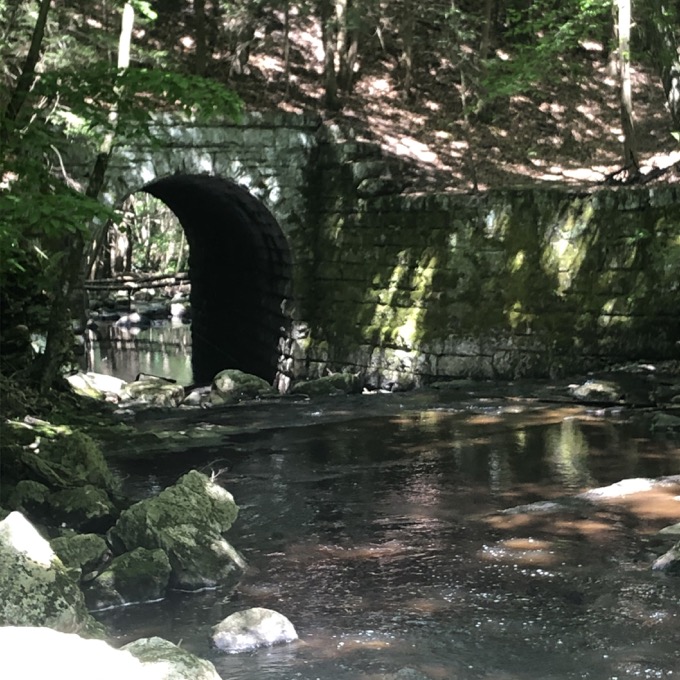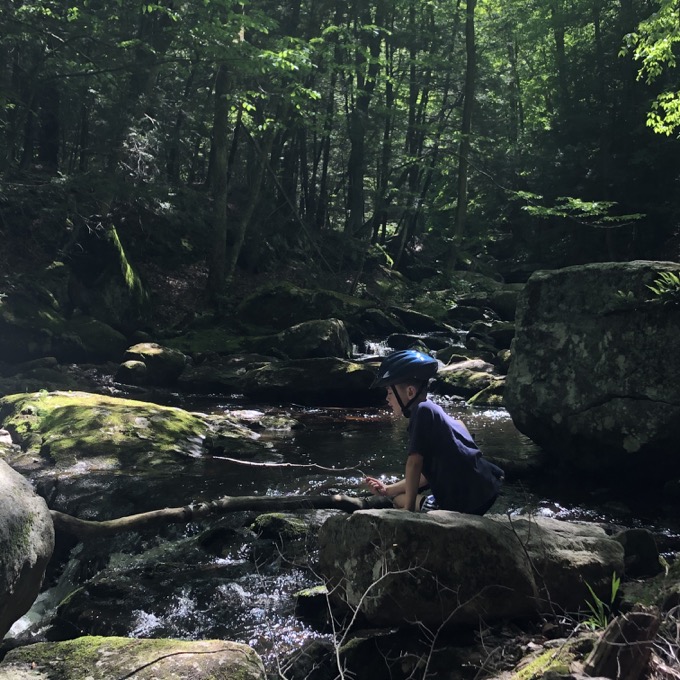 After the little respite and with Calvin's leg now ready to roll, we continued east towards the bustling center of Andover. With it's massive postal service operation: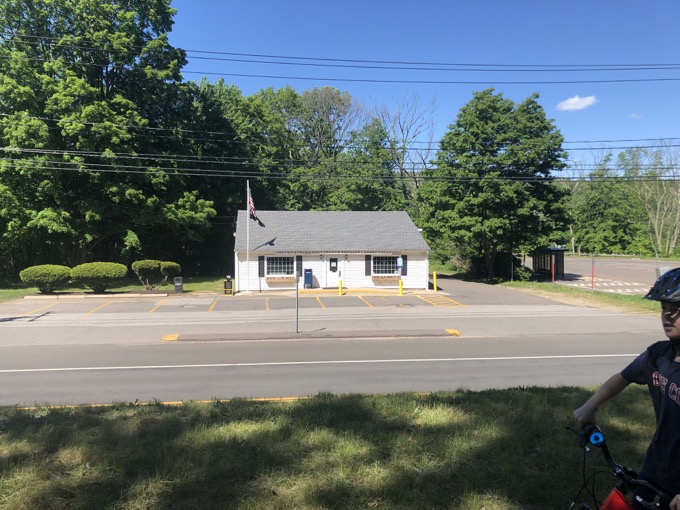 And megachurch: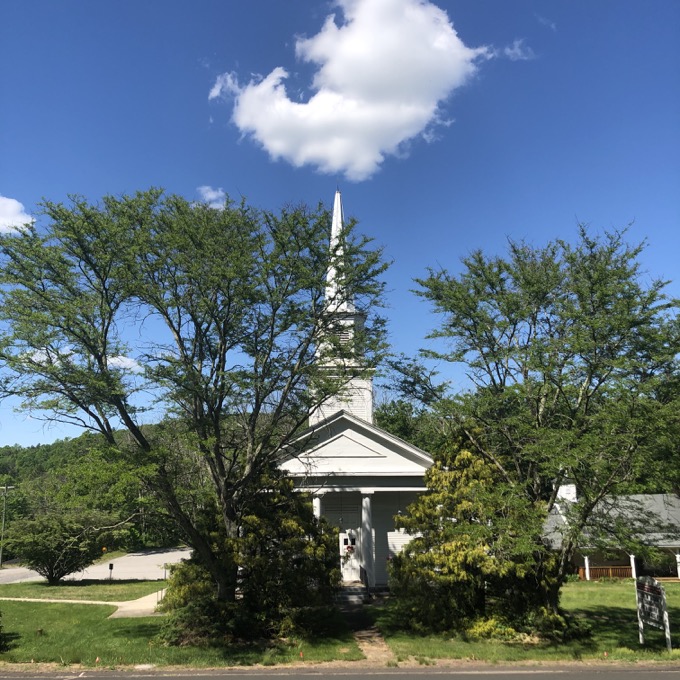 Here, the trail parallels route 6 pretty closely, but since this is Andover, it might as well be a country lane. I had promised Calvin a "cool covered bridge" near the end of our ride, and I wasn't kidding. Though mostly forgotten by now, the saga of the "Andover Gap" bridge was long and painful.
The Howe truss bridge was built, years before its installation, in a factory by Echo Bridge in Elmira, NY. There it sat for years while Andover moved its slow way toward getting the old railroad bridge abutments reinforced and the bridge upgraded to meet changing safety standards. It was finally trucked here and lifted into place back in April of 2012.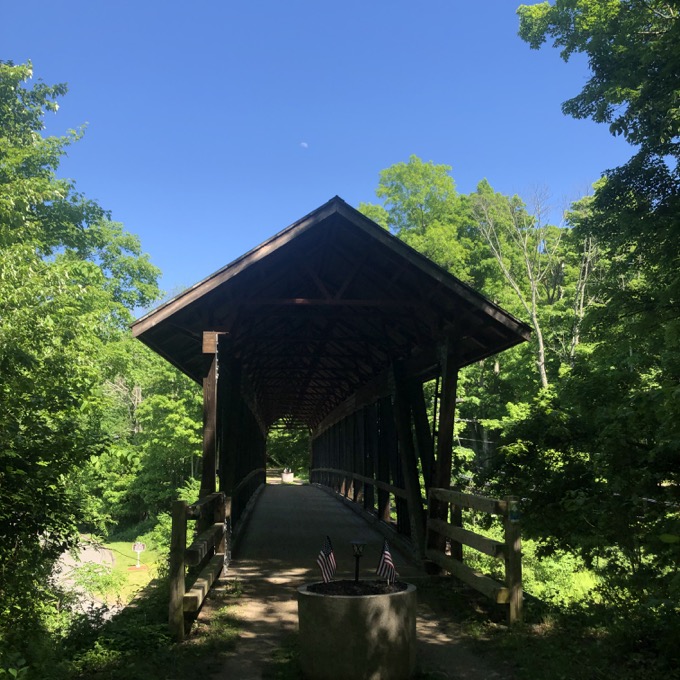 It was ridiculous, but at least the resulting bridge is really attractive and certainly provides a smooth ride from one side of route 316 to the other. (Prior to the bridge, one had to essentially slide down one side of the steep embankment and then clamber up the equally steep slope on the other side – with a bike.) Hey, did you know I have a page on all of Connecticut's covered bridges like this one? Well, I do.
Just past the bridge going east is the Andover History Museum – a rarely open museum. Also in Andover is a sportsman club with pistol ranges, so yeah, you'll likely hear gunshots nearby.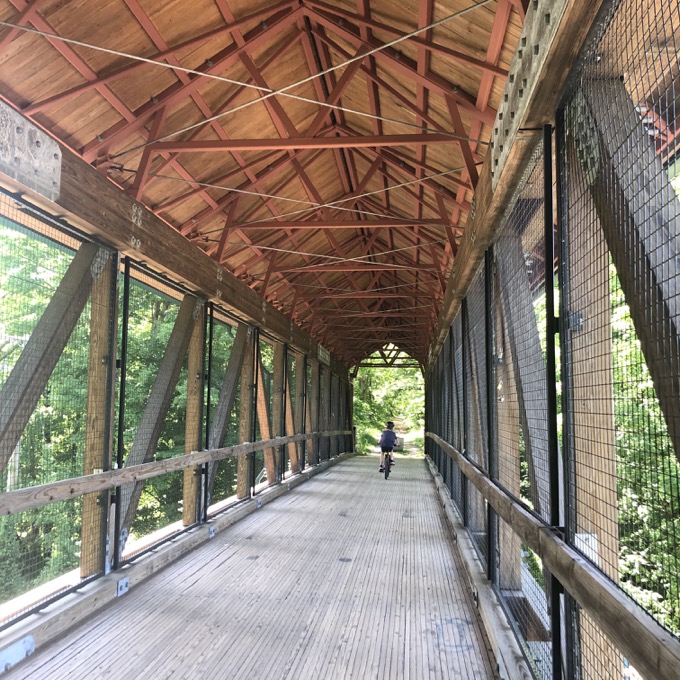 After the excitement of the bridge, the rest of the way to our turnaround point at Parker Bridge Road was rather uneventful. A side trail shortly after the bridge leads to a bunch of mountain bike trails and the Doris Chamberlain Nature Preserve. A tunnel under route 6 that doesn't feel like a tunnel and some more nice woods. The whole path is mostly crushed gravel but is packed mud in places – so I assume it gets pretty messy in winter and early spring. Be wary.
Now that I've written this page, I'm standing by my opening statement: this is a fantastic stretch of rails-to-trails trail.
Continue on to Section 4: Hopping Cold

CTMQ's Hop River State Park Trail Intro
CTMQ's Bolton Notch State Park Intro
DEEP's Hop River State Park Trail