A Rose is a Heritage is a Rose
Rose Trail at the historic Bolton Heritage Farm
April 2020
After hiking this property and only then learning of its recent troubled past, I must say that I'm shocked. One would think that the handsome old farm with sweeping views across the historic fields and hills where Rochambeau's army – you know how no one ever calls Rochambeau by his full name? That's because it's Marshal Jean-Baptiste Donatien de Vimeur, comte de Rochambeau – anyway, his army camped here during their historic march south to help General George Washington defeat the British.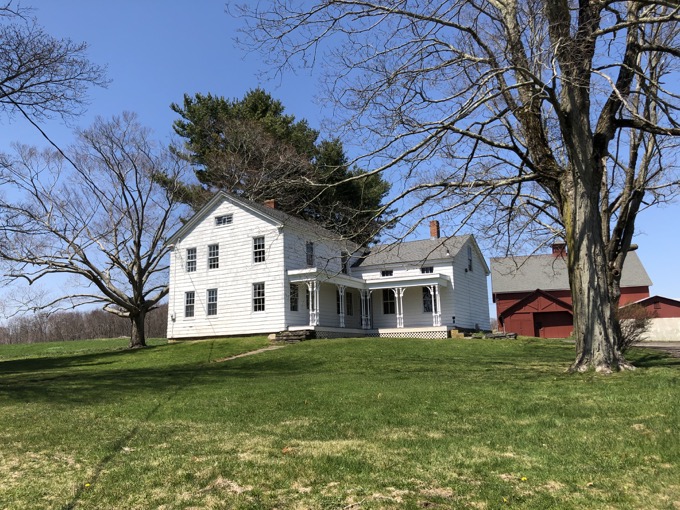 (As such, the fields here and a nearby house serve as sites along the Washington-Rochambeau Revolutionary Route National Historic Trail.)
Back in 2000, Bolton purchased the 100-acre farm for over a million bucks. It used to be called Rose Farm, then the town named it Heritage Farm. Then the town did nothing with the property. So the farm sat vacant, the fields were overgrown, partiers used it, and it became a de facto dump.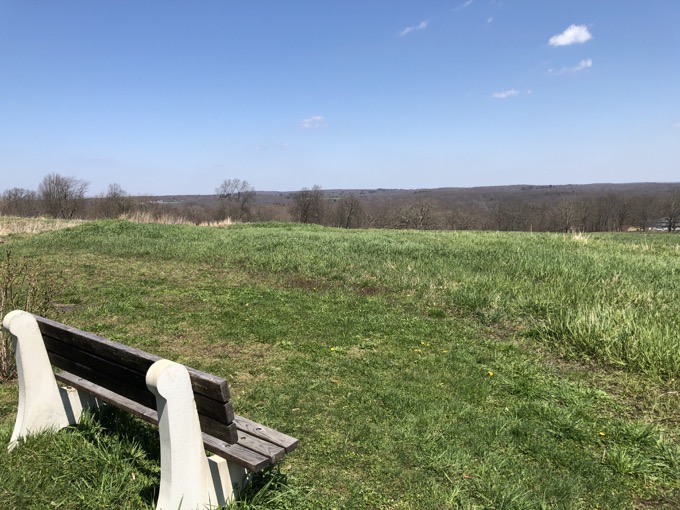 At some point people got mad enough to do something about it, and local volunteers with the Bolton Land Trust and other organizations spent two years cleaning it all up. And seven years after Bolton purchased the place, the Rose Trail was cleared and open for visitors.
The full loop here is about 1.5 miles and takes in fields, barns, stone walls, history, archaeology, woods, hills, and even connects to other trails. Why it took Bolton seven years to get this place cleaned up is beyond me.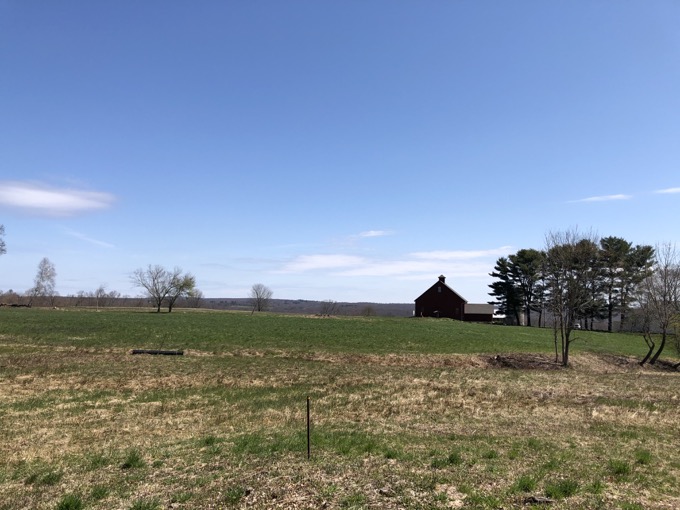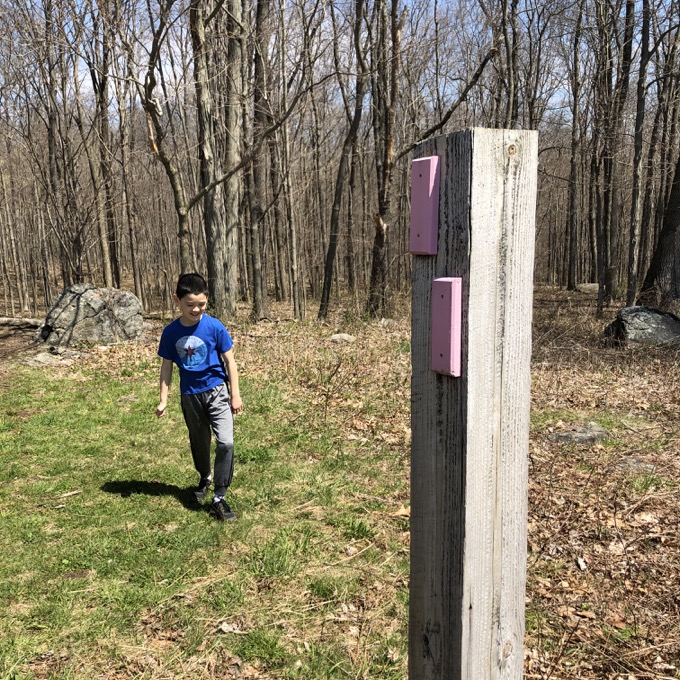 Calvin and I parked up at the barns and began our trek around the upper hay-farmed fields. The kiosk and trail signs through the fields was yet another appreciated Eagle Scout Project several years ago. This was another "soccer hike" for Calvin – since the winter and spring seasons were COVID-Canceled.
He'd like to apologize to the Eagle Scout for being good enough to accurately nail his signs with the ball from decent distance: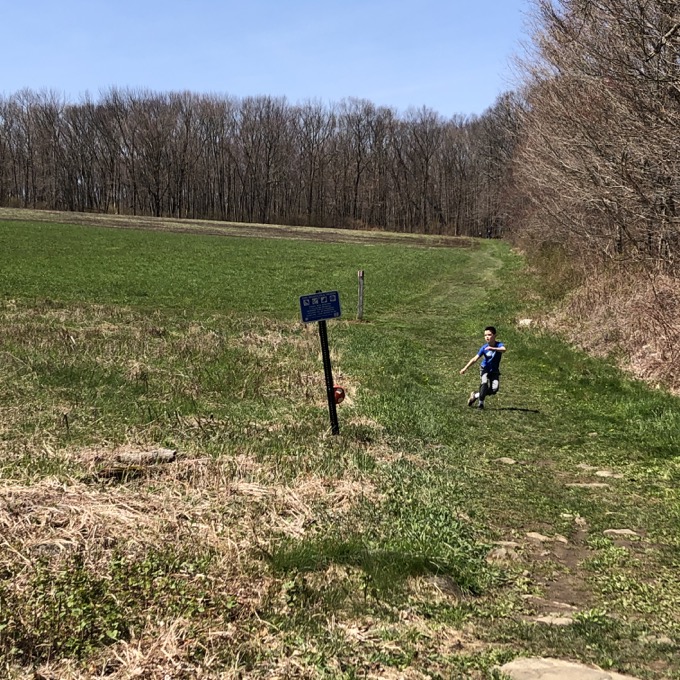 Actually, that wasn't a Boy Scout trail sign, that was a metal State sign nothing that this was an archaeological preserve. Knowing that this was a Revolutionary War campsite, a study in 2001 found regimental buttons, .66 caliber musket balls, period coins, and a lead bar. I explained to Calvin what the field was used for historically – okay, I embellished a little bit and told him George Washington camped here – and he was fascinated.
He even stopped kicking around the soccer ball for a while to ask questions about the hows and whys George Washington and an army would ever have spent time on this random hill in Bolton. It was a nice moment, but we had more hiking to do. Into the woods!
You can choose to stay up in the fields as the trail does continue around and back up to the barns. However, The Rose Trail also heads down the hill through the woods, eventually hitting the Hop River State Park Linear Trail.
The Rose Trail here isn't all that exciting, but once at the multi-use path, you can continue exploring. You can walk as far as you'd ever like along the Hop River Trail, since it connects to other long-distance paths as part of the East Coast Greenway. Or you can continue across that and hike the land trust's Edith Toomey Clark property.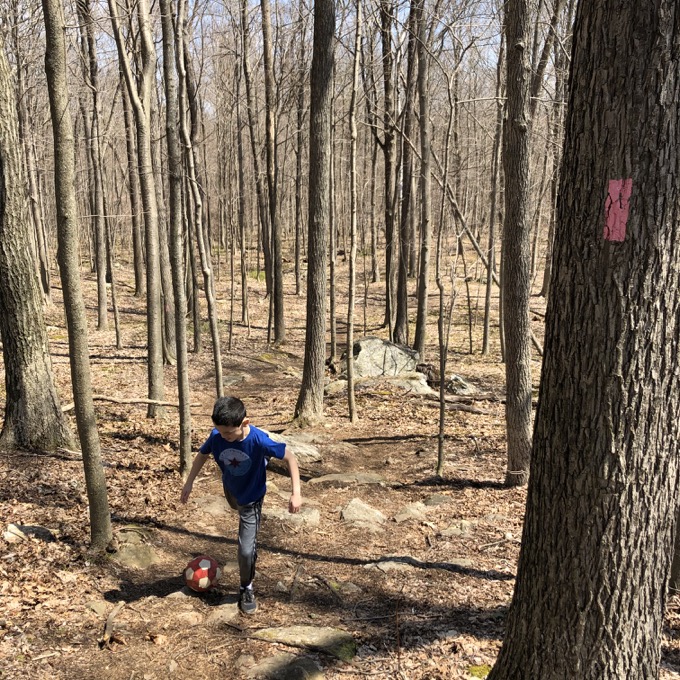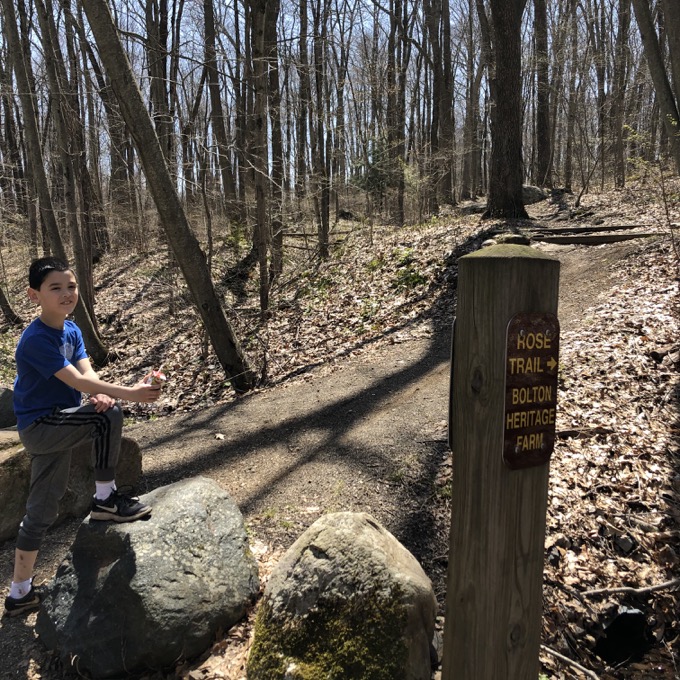 That's exactly what Calvin and I did and I would highly recommend combining the two properties for a more proper day out in the woods. After returning to the Hop River Trail, ascending back up to the Heritage Farm Fields along the Rose Trail again, we completed the field loop portion of the Rose Trail.
There is a fairly stunning copse of old oak trees with a picnic tables here. I imagine photographers flock here in the fall or during full moons to take some great pictures. Me? It's just my kid kicking a soccer ball around them.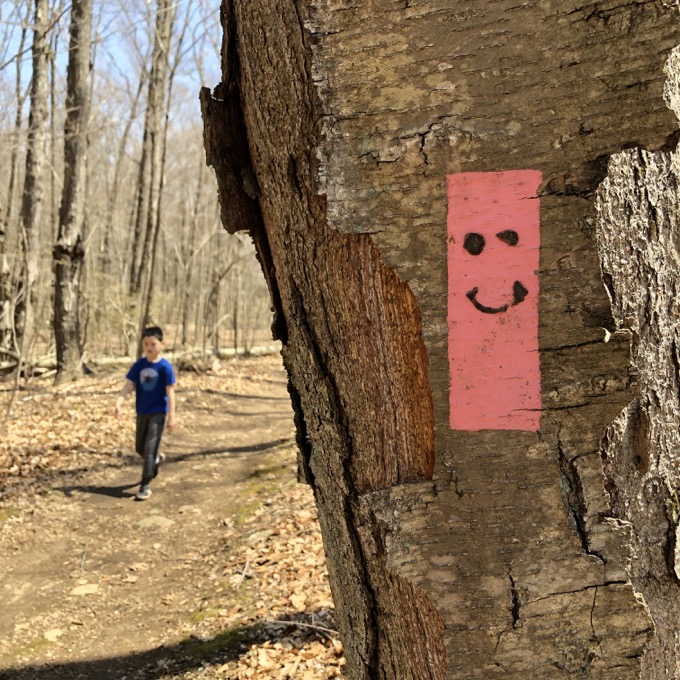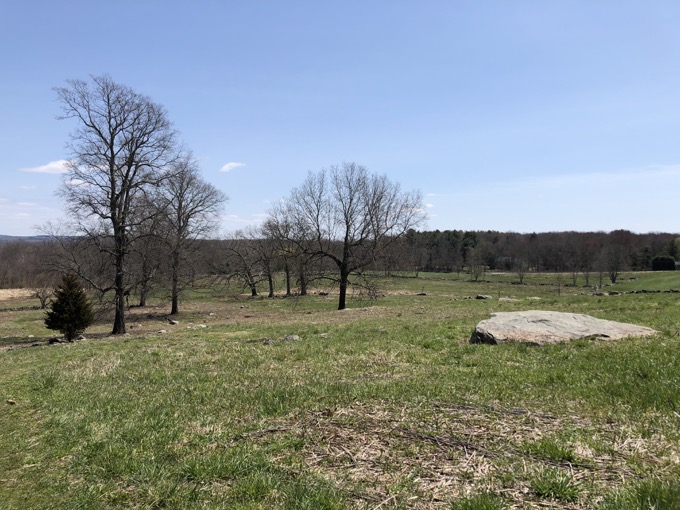 Many of the stone walls here were sited back in 1781 when Rochambeau's troops spent a week. Old maps show them in the same configuration which is pretty darn cool. Furthermore, Bolton was an early home to "Great Awakening" preacher Jonathan Edwards (the "Sinners in the Hands of God" guy) who wrote that he drew inspiration from these "fields of Bolton."
It is a beautiful area, especially on a warm early spring day like Calvin and I had. It offers diverse landscapes and opportunities to continue on to longer hikes. We should all be very happy that Bolton and its outdoor organization partners saved Heritage Farm for us all to enjoy for decades to come.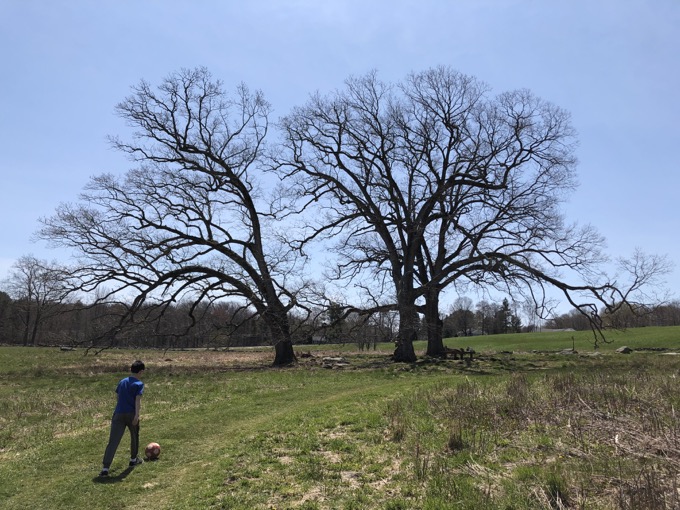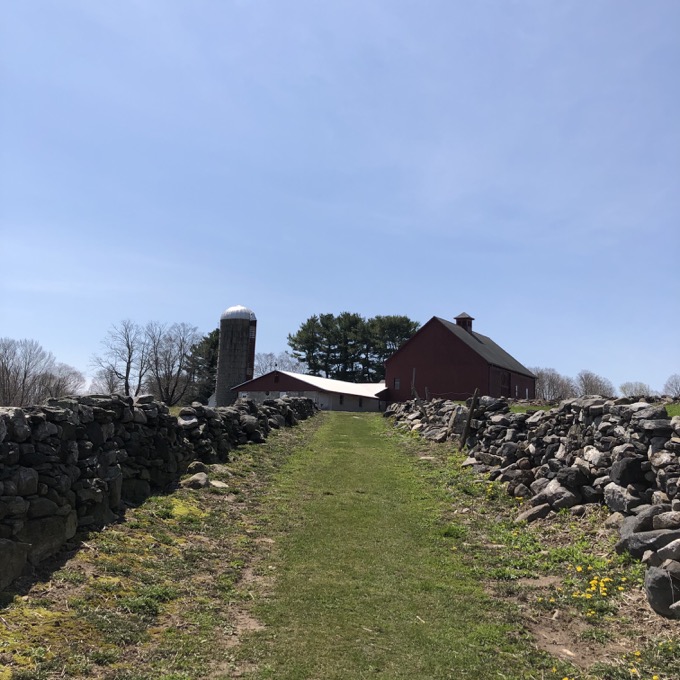 CTMQ's Bolton Town Trails
W3R NHT Intro
Hop River Linear State Park Intro