The Sky's the Limit 2017 Hiking Challenge #2
Bolton Notch State Park, Bolton
February 19, 2017
We were so emboldened by yesterday's 2017 TSTL kick-off hike that we decided to do another one the very next day. I drove the boys up to Bolton Notch State Park; a place I'd been to a few times before.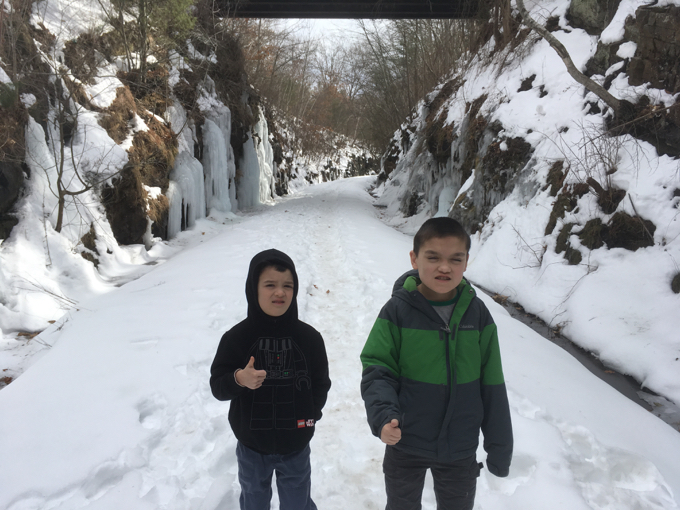 I mention this because unless you know exactly how to get into the small parking area, you will miss it at least once, if not 17 times. I won't give away the secret. But I will say that in ice and snow, it's all the more exciting.
Speaking of which, this marked the first time I've taken Damian "hiking" in the snow. I put "hiking" in quote because, well, this challenge point isn't exactly a Himalayan trek. The DEEP suggests TSTL'ers also take a ride along the Hop River State Park Trail, which follows an old rail bed through several towns.
As you've already guessed, we did not do that.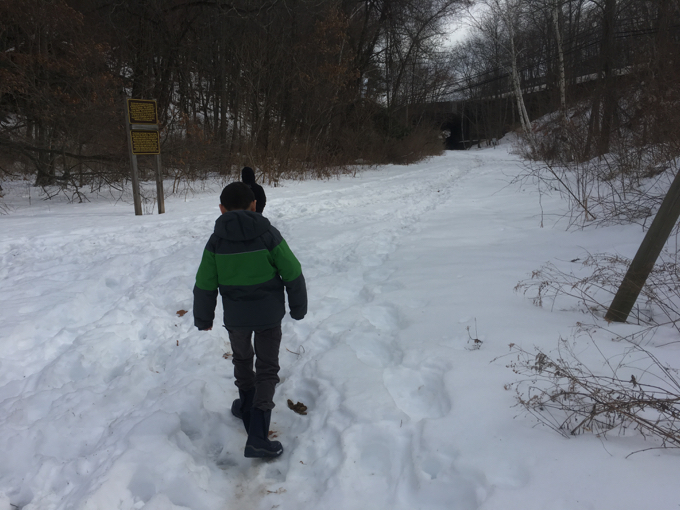 We were here simply to check out the tunnel, take our pictures, and move along to do some other stuff.
Bolton Notch is an interesting little park though. Beyond the tunnel and the Hop River Trail, the Shenipsit Trail also courses through on its way north, and there is an actual, real, cave as caves are defined cave here. (The only one in eastern Connecticut.) Calvin claims he's excited to revisit the area to check out the cave when we can. We'll see.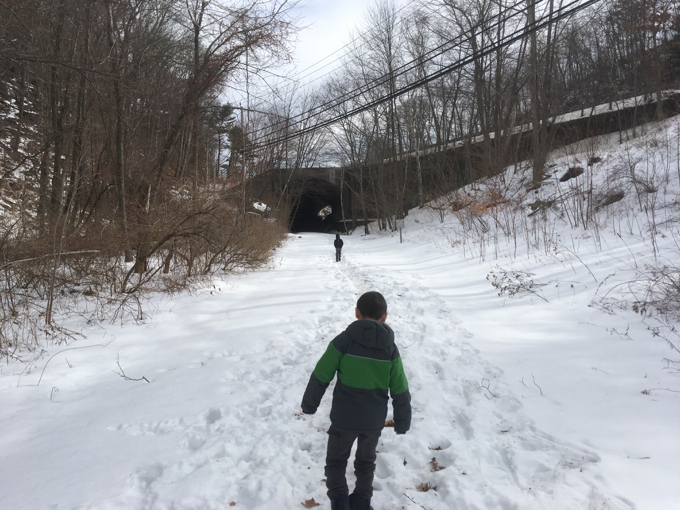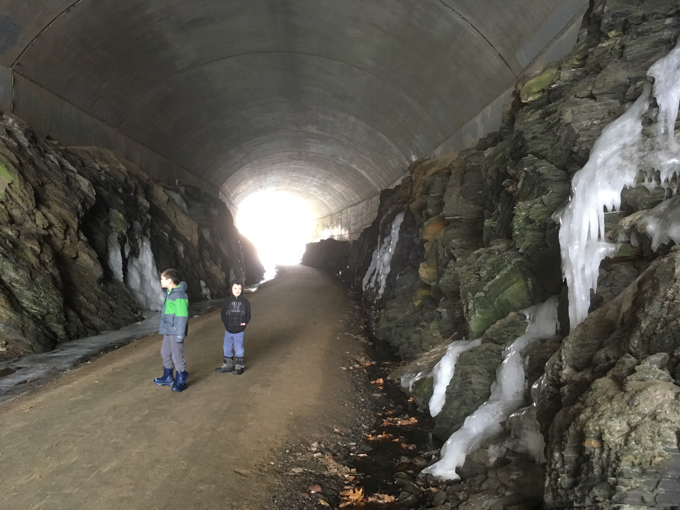 Damian was not such a fan of walking over the compacted snow to reach our goal, but once inside the tunnel, he admitted that it was pretty cool. (The lack of snow aided this opinion.) Meanwhile, Calvin was wondering how he could ice climb to the top of little cliffs and if the frozen pools could support his weight, etc.
The boy is a handful.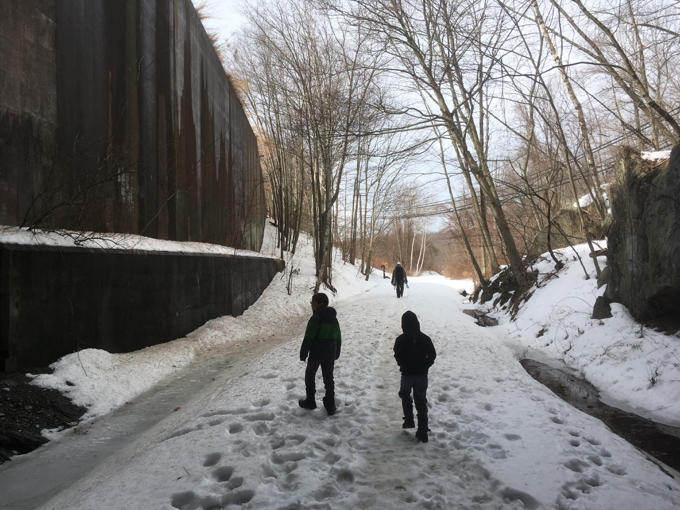 We walked through the cave, met a real ice climber, and then returned to the car. There is a lot of history here, from the Native Americans who hunted and fished in the Notch to the early road and rail road building efforts. (Remember, this year's TSTL them is "history.")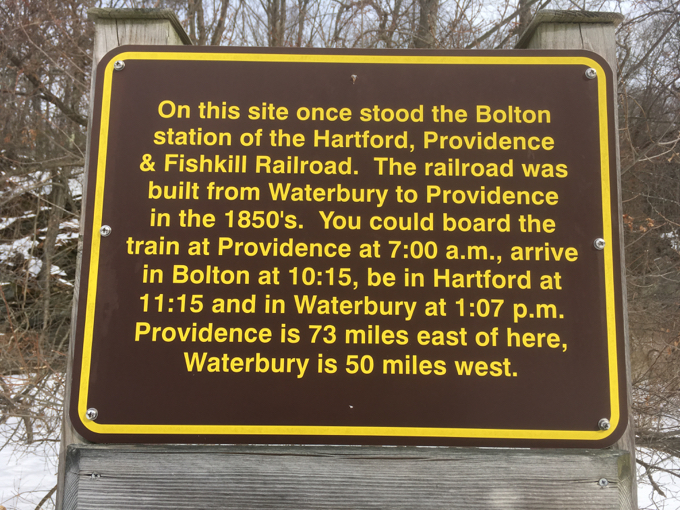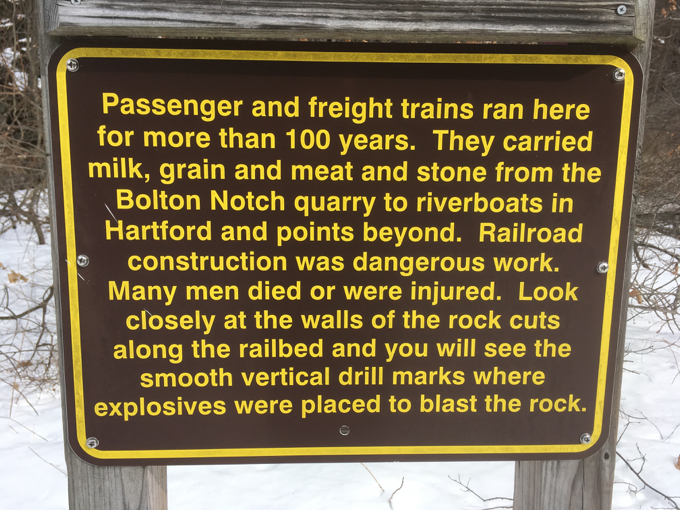 As far as we were concerned, though, is that we were now done two TSTL challenges before President's Day.
Ah yes, President's Day…

CTMQ's 2017 The Sky's the Limit Challenge
CTMQ's Bolton Notch State Park Intro
CTMQ's Highways, Roads, & Tunnels