Not a Showcase
Charter Oak Greenway, 15.4 Miles
Bolton, Manchester, East Hartford
Every other "trail report" for the Charter Oak Greenway is nothing more than some mileage markers and a few comments about its hills or propensity for highway proximity. Not CTMQ. Oh, no. So sit back and prepare for a billion of my bad pictures and general thoughts as we ride from Bolton down to the Connecticut River in East Hartford.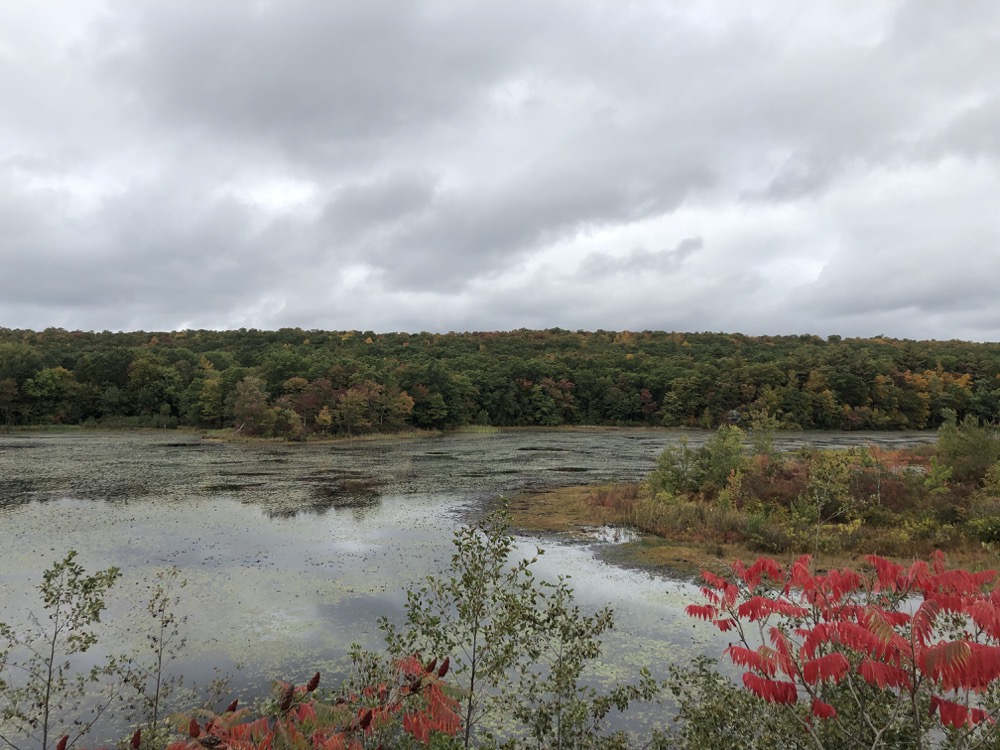 Note: The pictures will show sun, clouds, snow, and changing leaves because I rode this trail on different days, cobbling it together amongst other activities. Which is actually what makes it so cool – that it can take you to all sorts of interesting places and things.
As of late 2020, the entirety of this path is part of the East Coast Greenway, a huge project linking various bike paths from Calais, Maine to Key West. I have no idea how open to change they are with the route, but I have a feeling it may change halfway into the Charter Oak Greenway. But we'll get to that in a bit.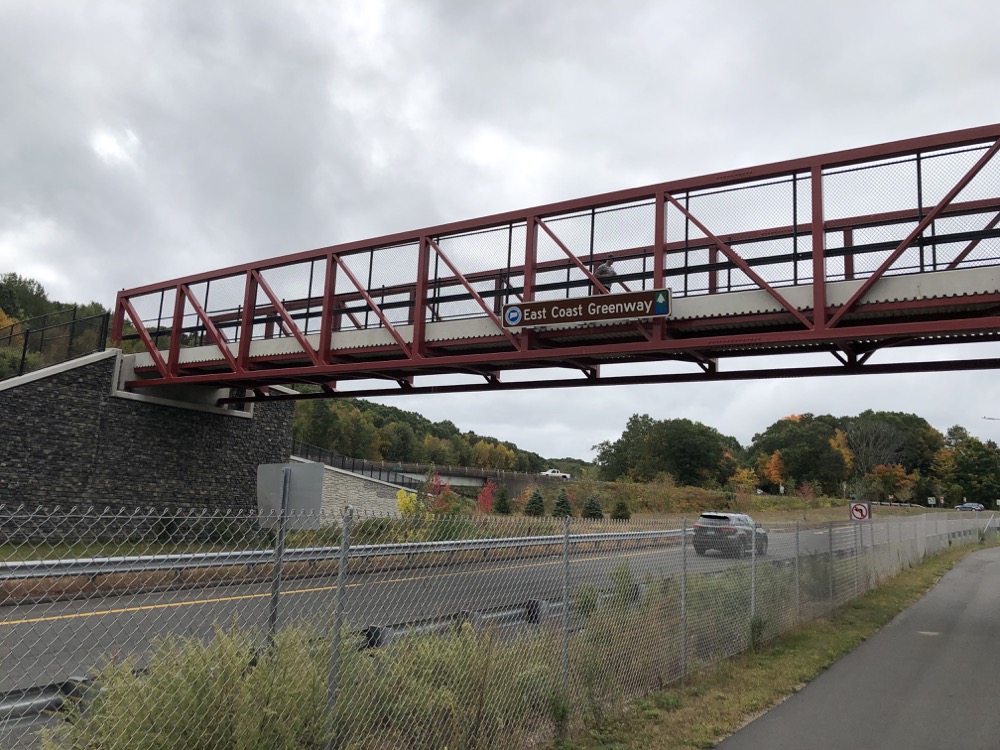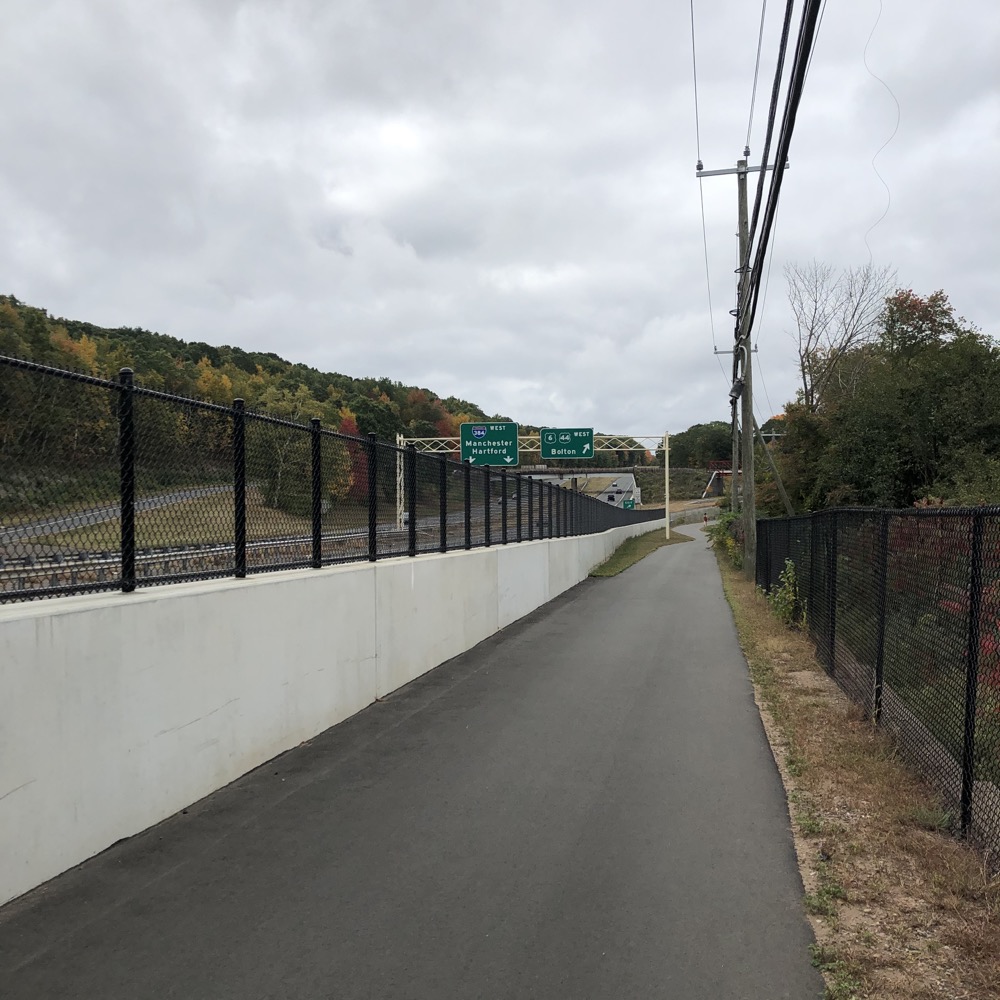 The trail begins at the hub of activity known as Bolton Notch State Park. This is where it connects with the Hop River State Park Trail. That trail will take you west and south through Vernon to Manchester to the Cheney Rail Trail which will bring you back to the Charter Oak Trail… or east to Columbia and Windham… at which point you can pick up the Air Line State Park Trail and head north towards Maine if you so choose.
Cool, eh?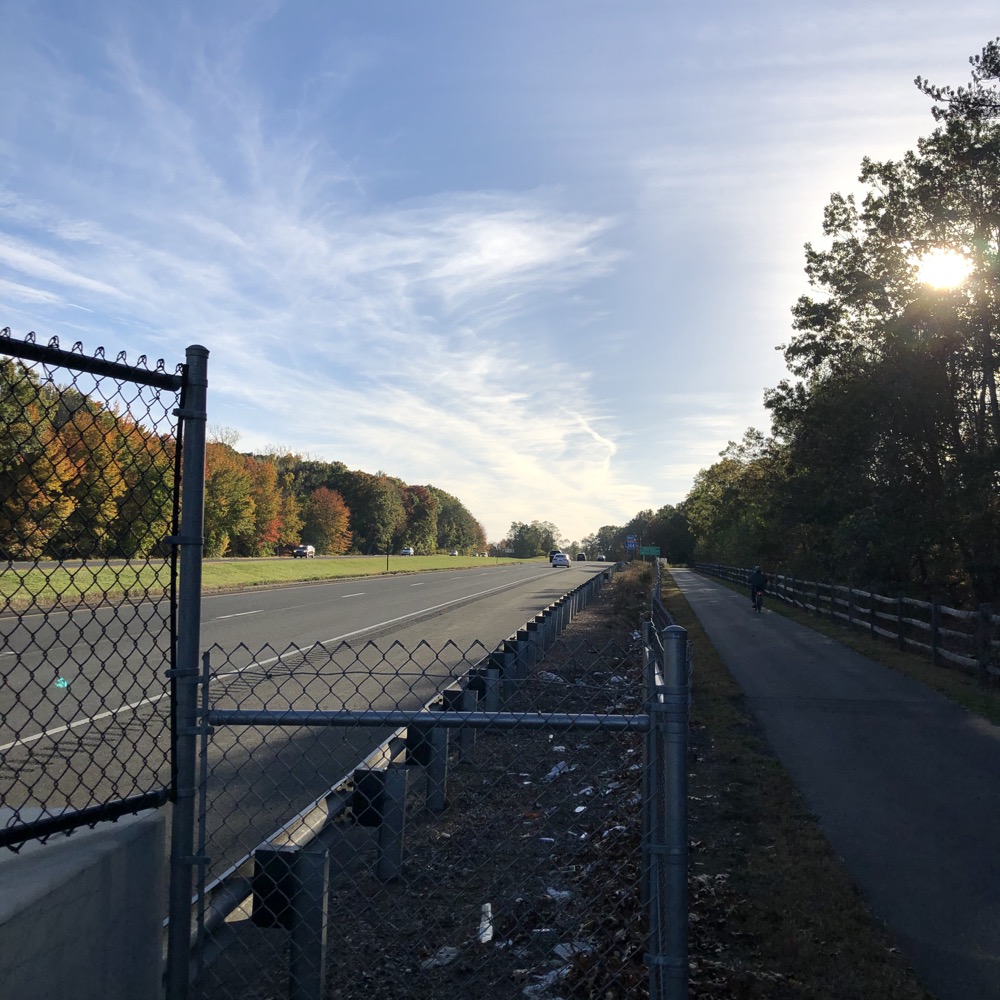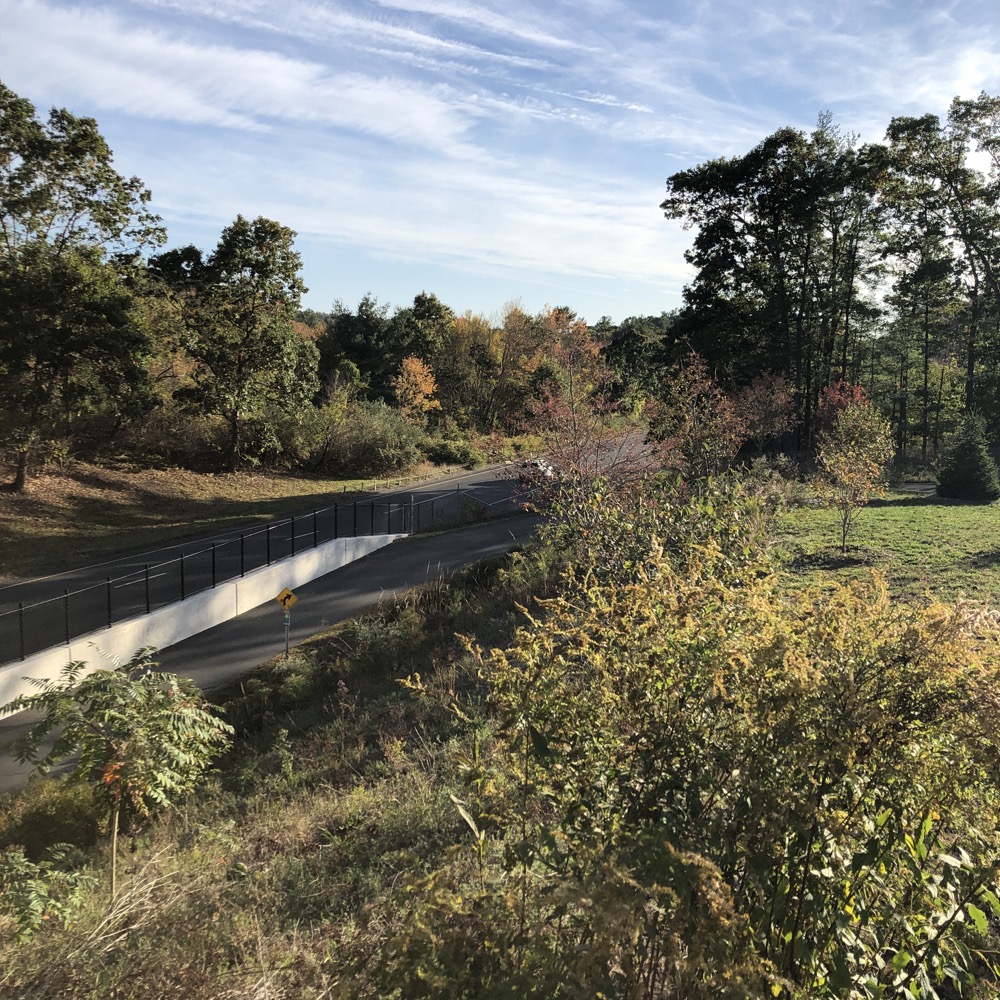 The Connecticut DOT just finished work on this northern stretch of the COG in 2019, and they did a great job. Huge attractive red bridges… massive cloverleafs to deal with all the roads and highways… it's all very impressive.
From Bolton Notch, I headed west towards Manchester, first passing Bolton Notch Pond and then Freja Park. Thus ends the scenic portion of the 15.4 mile trail.
I'm barely kidding. But that's not to say the rest isn't interesting regardless. I navigated the first of what would ultimately be several large loops up to a handsome new bridge to cross route 44 and then alongside I-384. The asphalt on this new section is lovely and smooth. The long hills are gentle and gradual.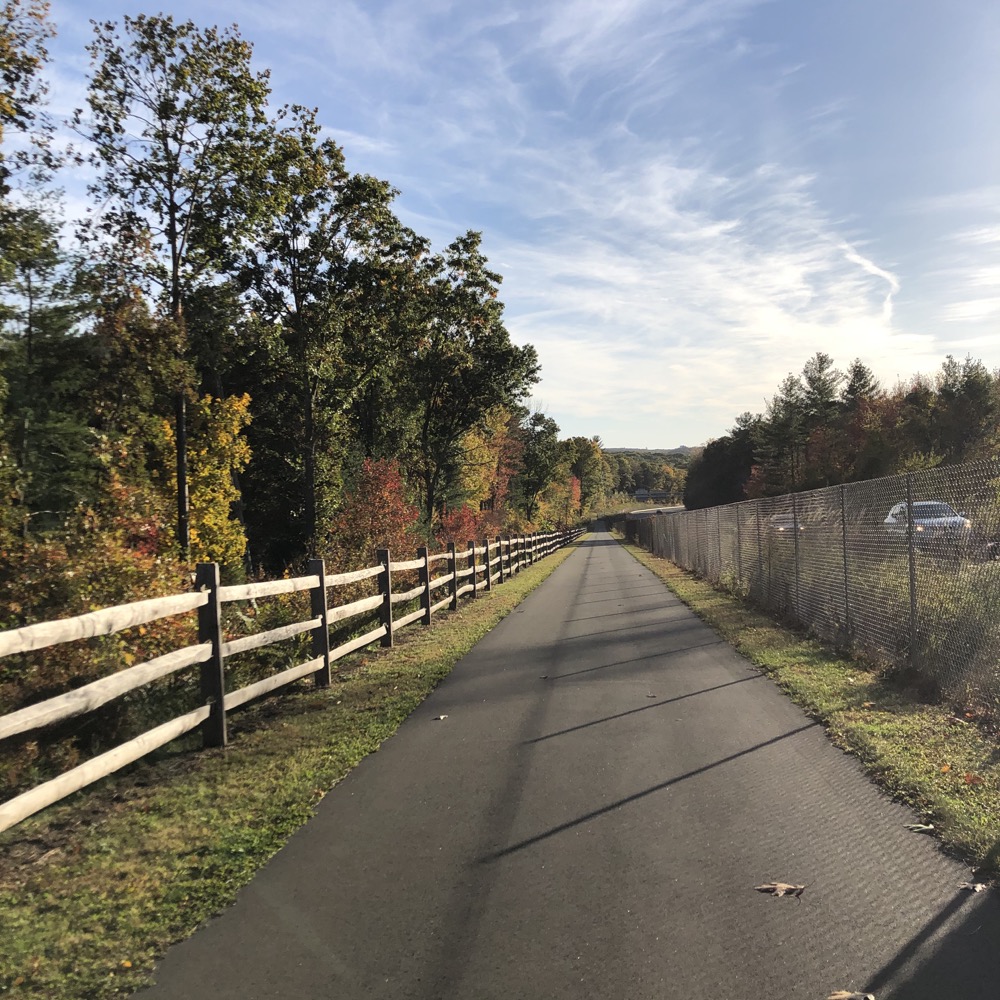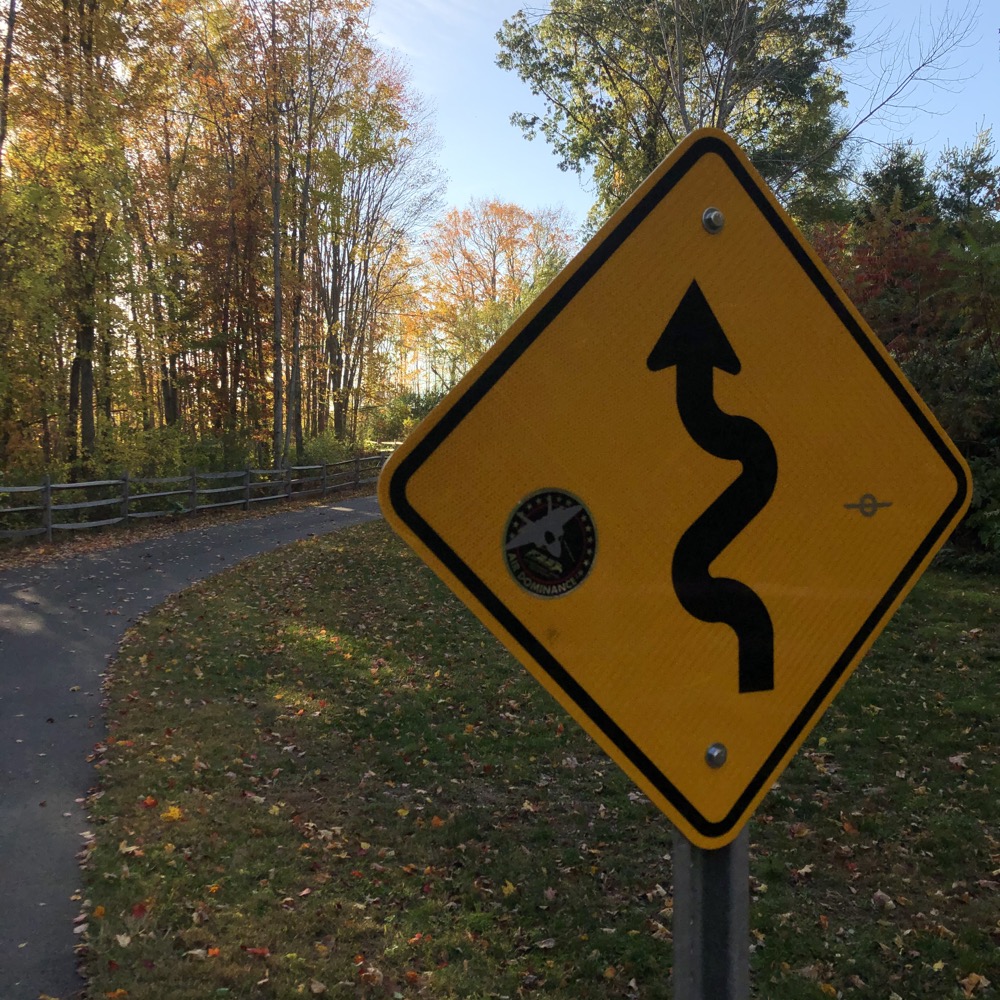 After crossing over the highway via Route 85, the first steep(ish) hill took me down towards Manchester. Now, the hills on the COG are not Alpine at all. But for those used to rail trails, they likely come as a bit of a shock. (Since I did the entire COG as a series of out-and-backs, I can report that going north on this trail from the Connecticut River to Bolton Notch will gain a decent amount of altitude in fits and starts.)
Once into Manchester, the path enters the woods for about a minute before crossing another cool new red bridge and doing another loop down to Camp Meeting Road. (Here, if you are so inclined, you may pop over to the "secret" Case Mountain parking lot and ride the Case Mountain Trails if you're on a mountain bike.)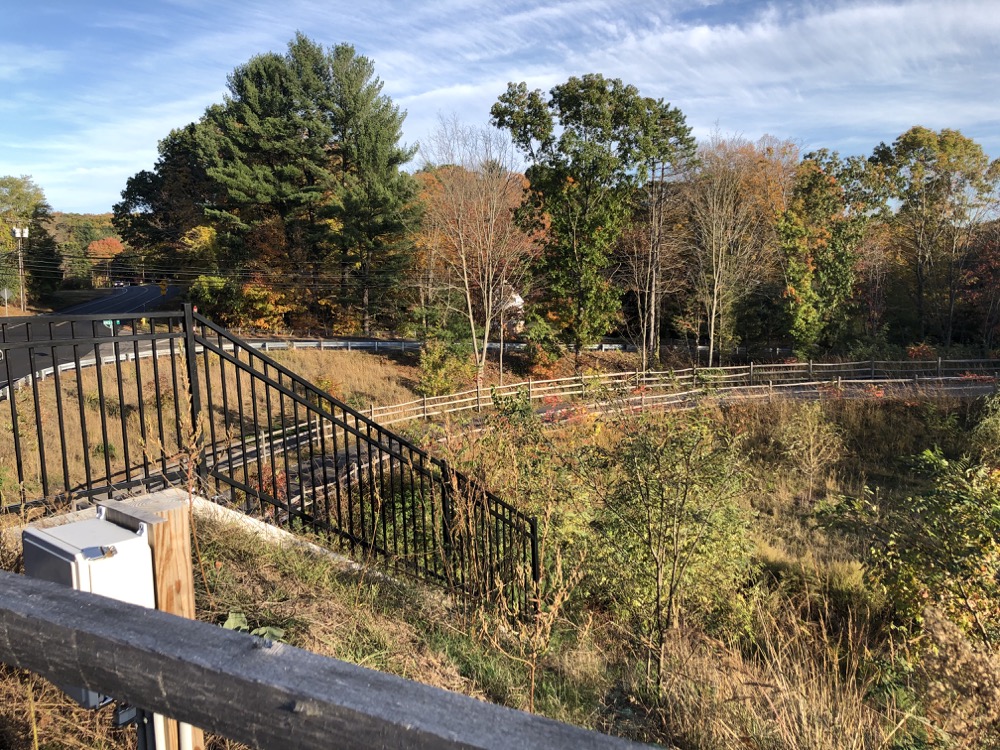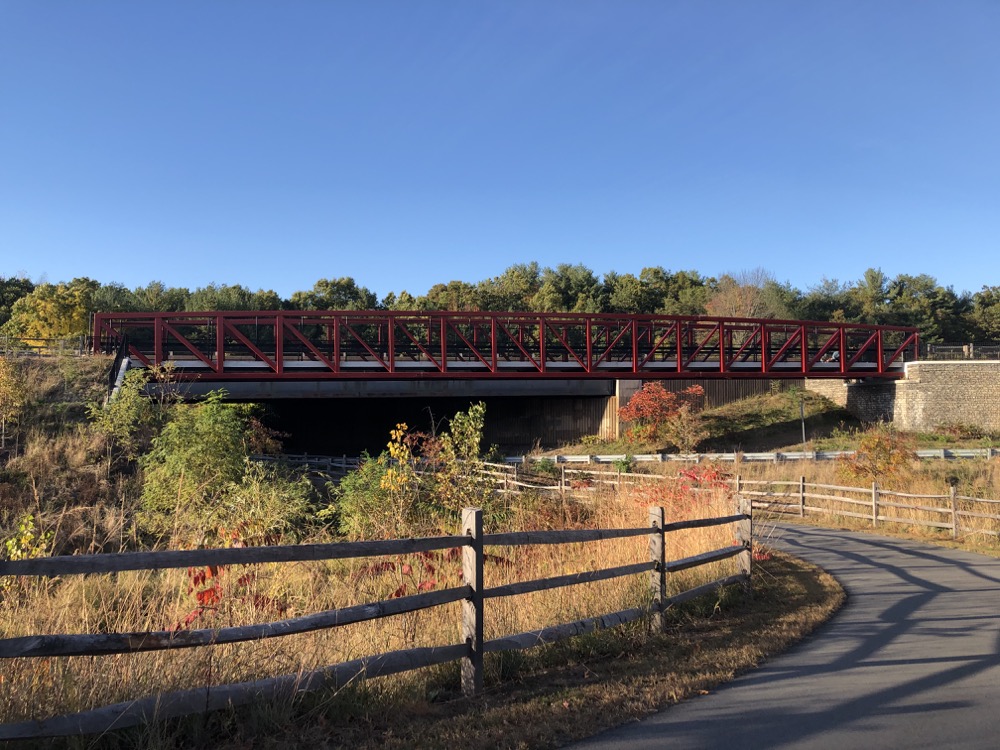 I remained focused on the COG. Under I-384 now and past a medium-sized parking lot for the trail. For the next mile or so, if you are traveling north, you need to have some level of fitness. The hills here are more the short and (relatively) steep type rather than being long and gradual. A drop down to the Highland Market and across Wyllys Street.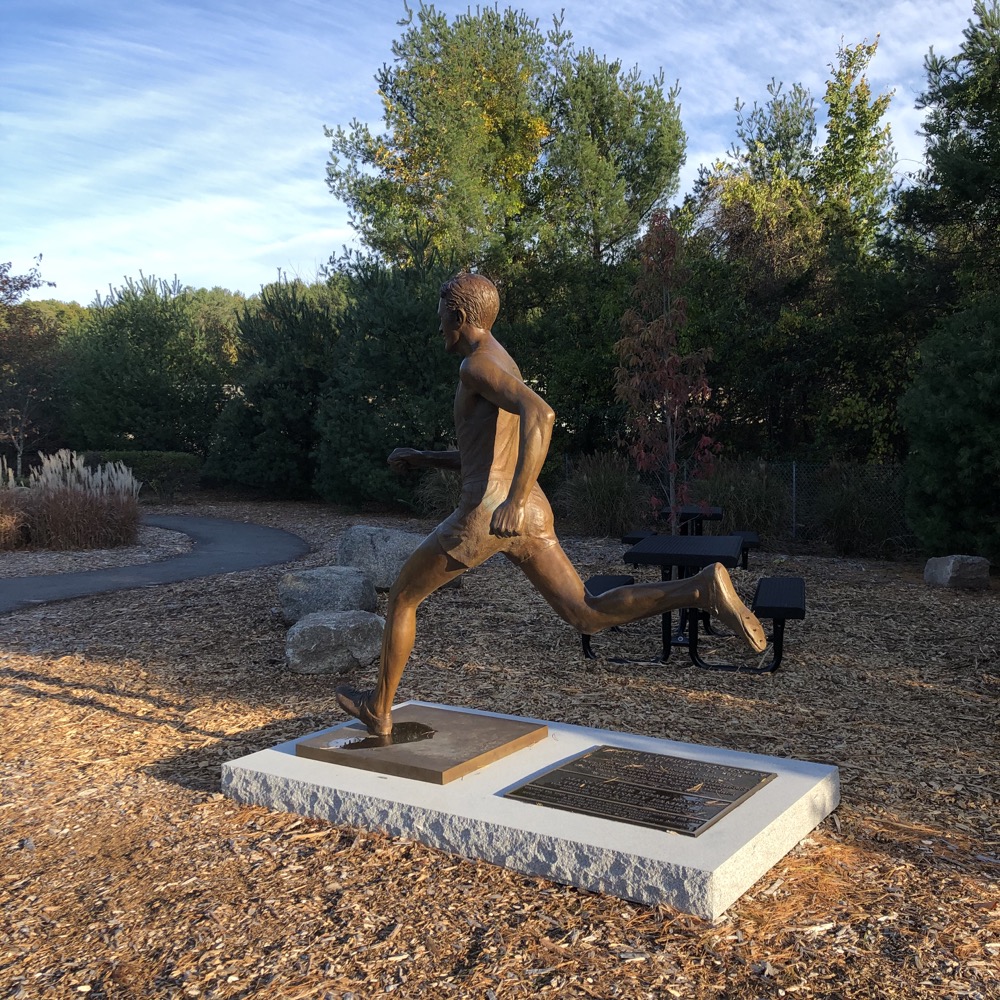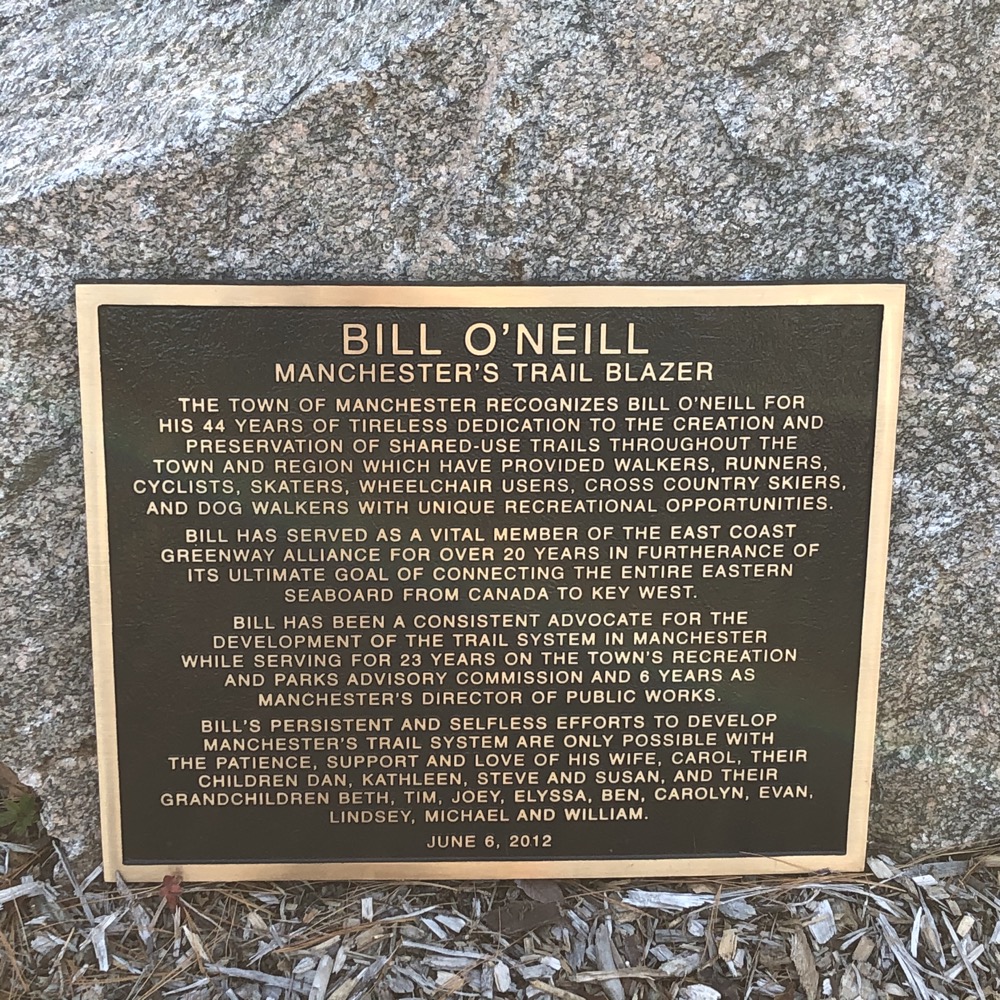 Another drop down to and across the I-384 onramp – if you're with kids, the COG isn't great period, but certain road crossings like this are pretty hairy. BUT! But the next mile or two is also kind of pretty.
Bonus: The infamous Charter Oak Greenway Switchbacks!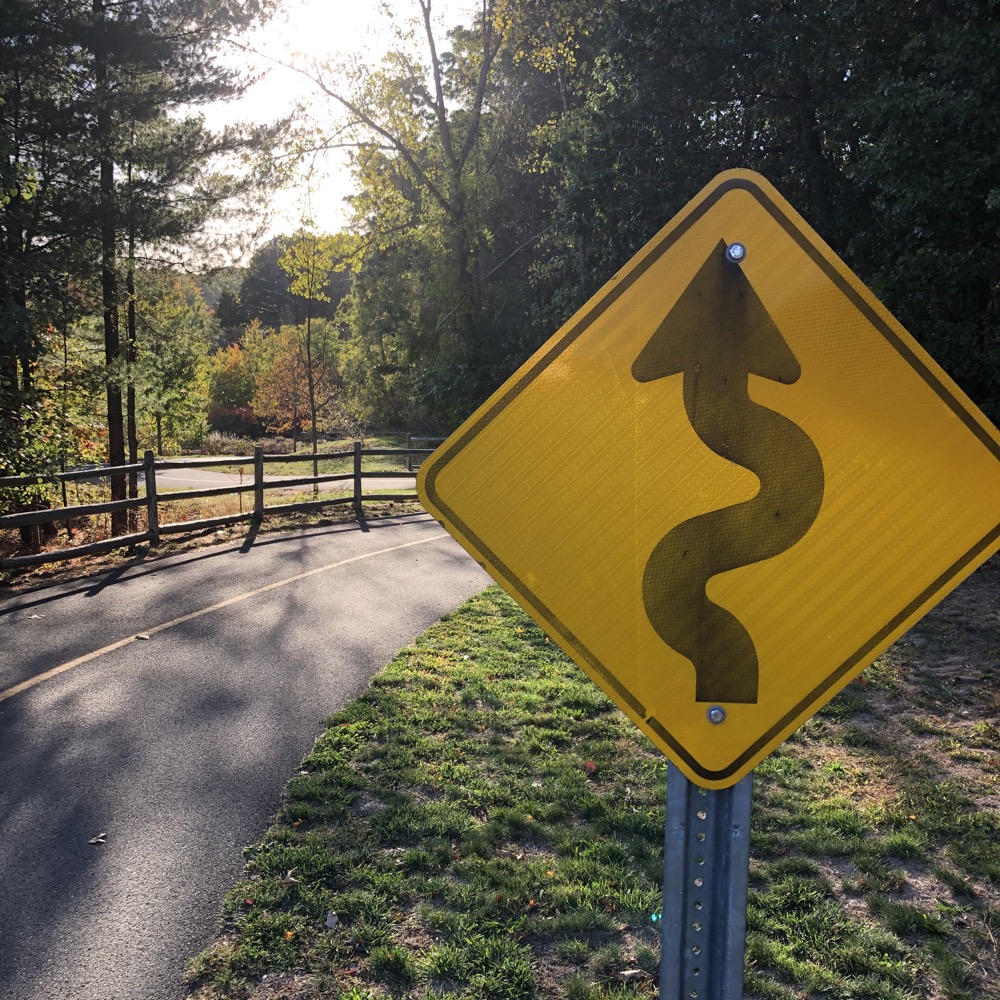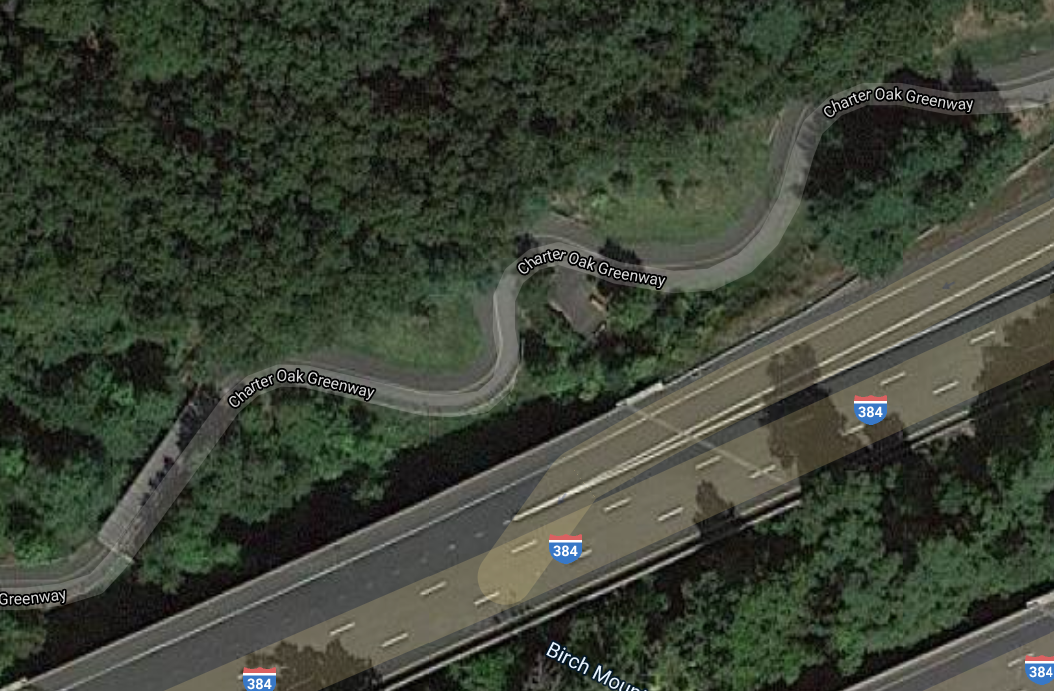 That little hill is, again, fairly steep… but it sure is fun going down. At this point, I was in the woods. Granted, still within yards of the Interstate, but it's a nice stretch. Before too long, I entered Manchester's Charter Oak Park. A side path will take you up to Mt. Nebo Park which isn't all that interesting for my purposes. The town has invested a lot here in sports fields and general recreation.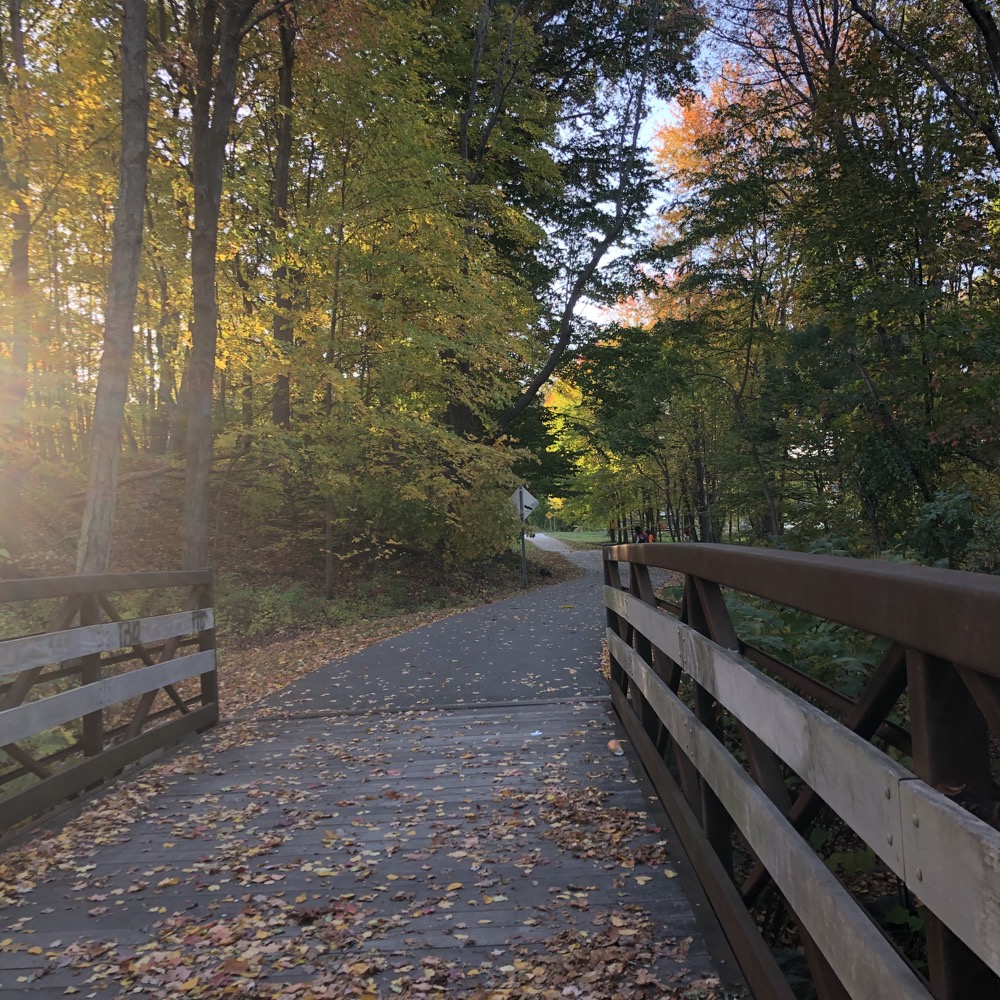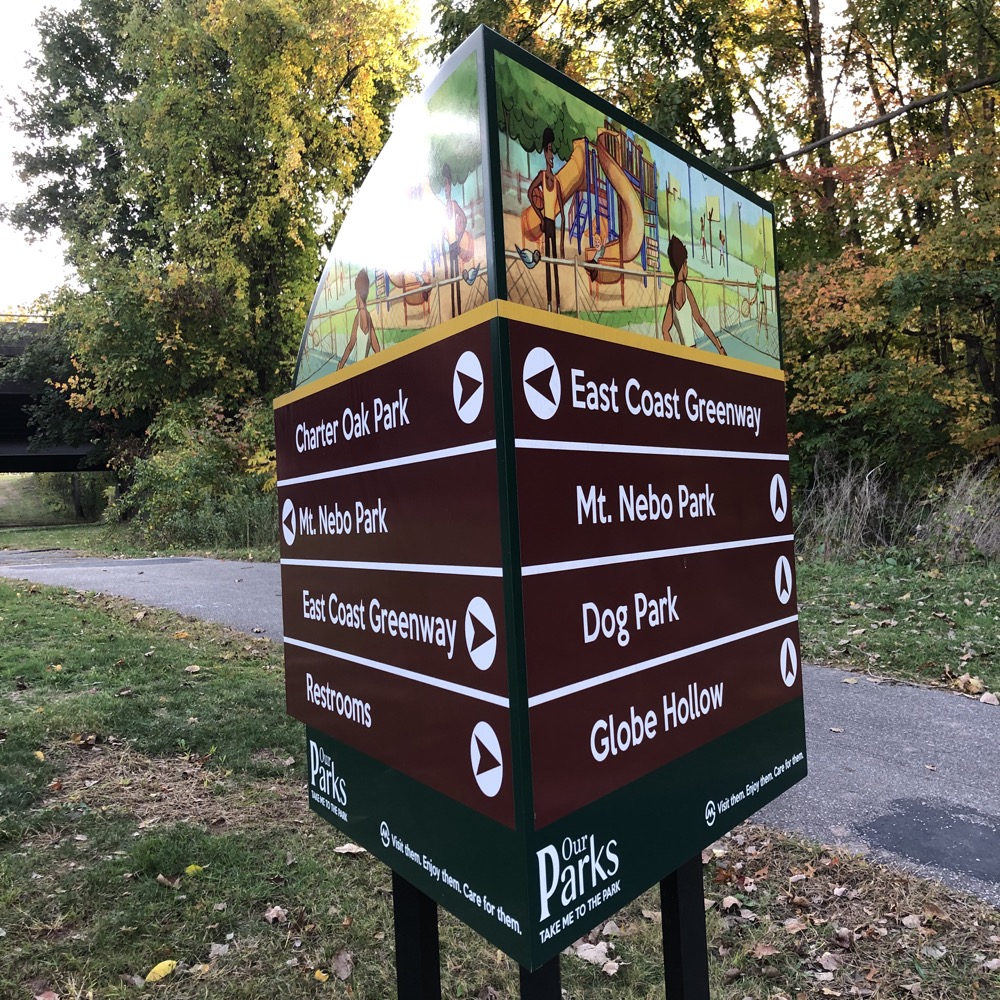 It's a heck of a lot nicer than I remember how it was when I lived in Manchester in the mid-to-late 1990's. It also serves as another parking lot for your COG adventures. Continuing on, under an on and then an off ramp, I once again enjoyed this new thing where artists are commissioned for graffiti. It's a cool trend that I hope continues.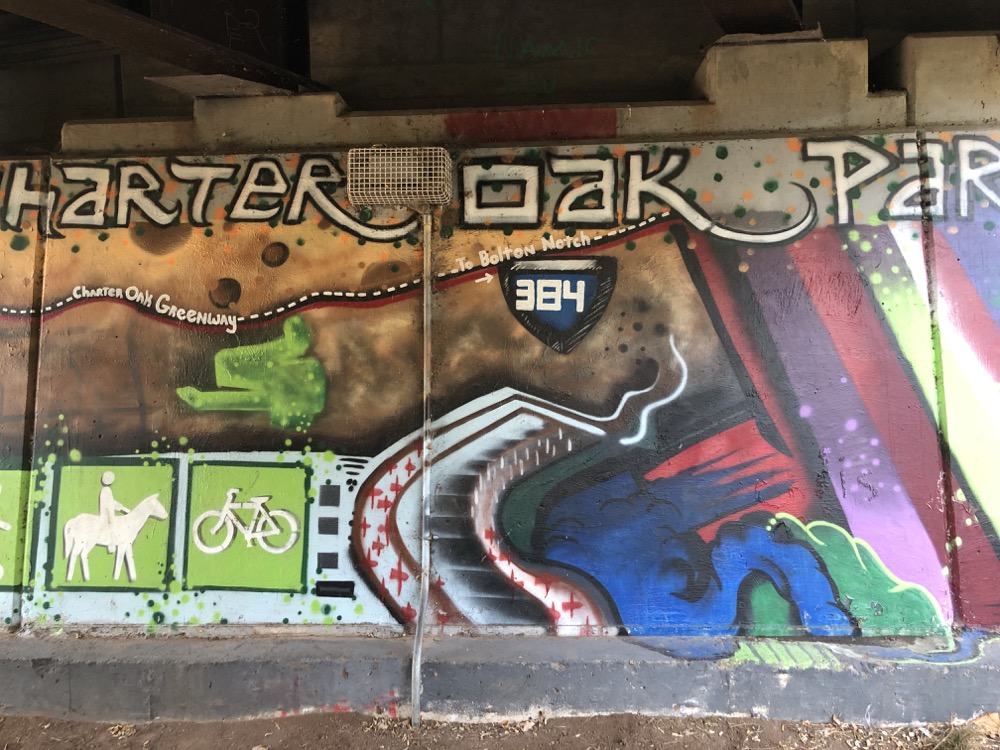 Time to cross I-384 again, this time via Main Street, and around another big loop to ride alongside the other side of the highway for a while. Again. And then cross over again at Keeney Street. The planners certainly had their work cut out for them designing this trail, and I know they did the best job they could with what they had to work with. It becomes pretty funny going back and forth across I-384 so many times though.
Once alongside Hartford Road, the trail is all done with being in the woods pretty much the rest of the way to the end. In 2020, Hartford Road was closed to car and bicycle traffic, necessitating a rather annoying detour. I assume it'll be fixed by the time you read this though, simply because it's a decently trafficked stretch of road and I'm sure driver pressure will get it done. I'm going to catch up the pictures to the route here. Sorry.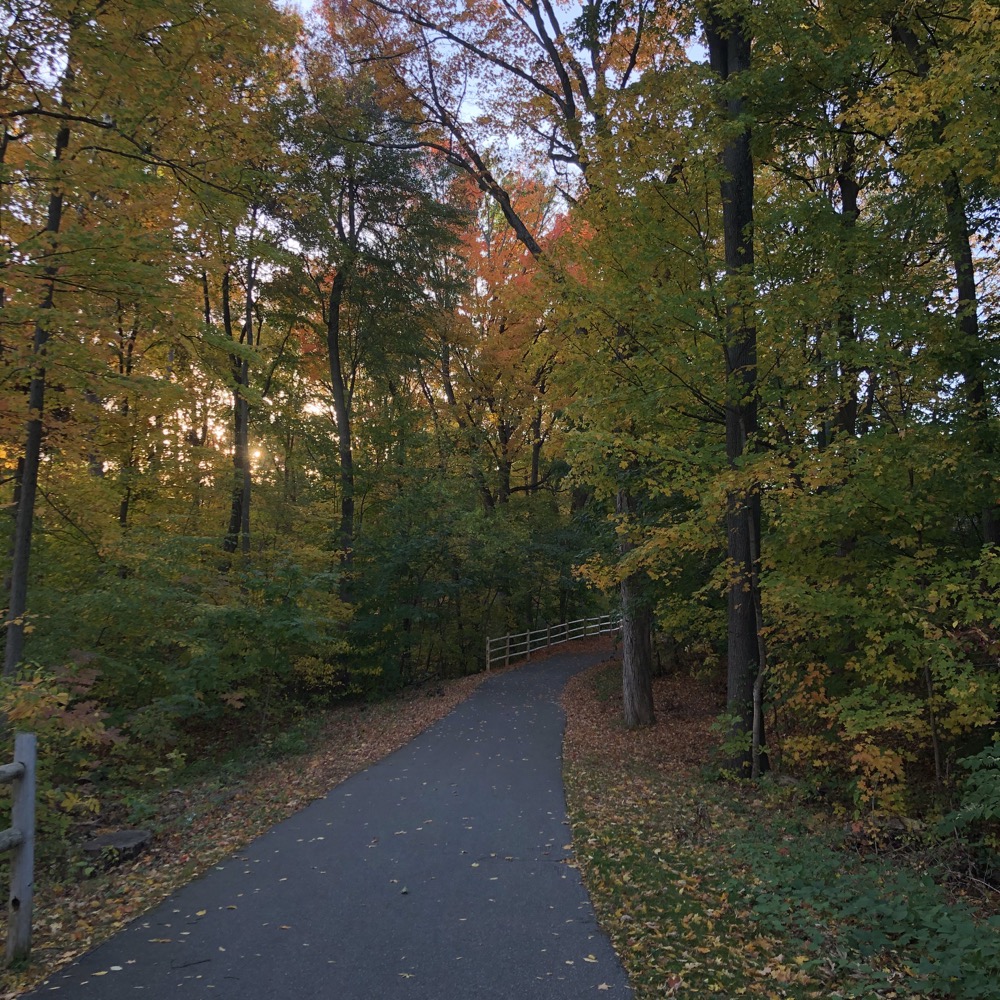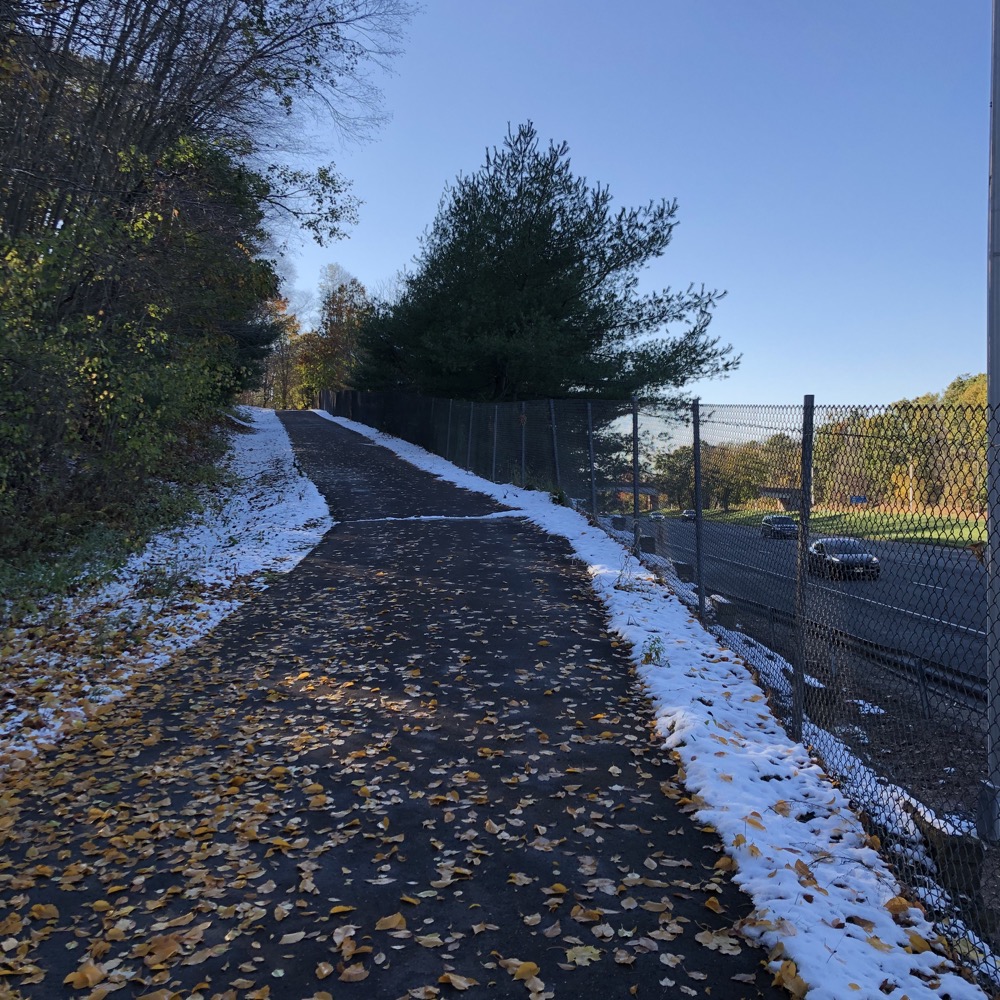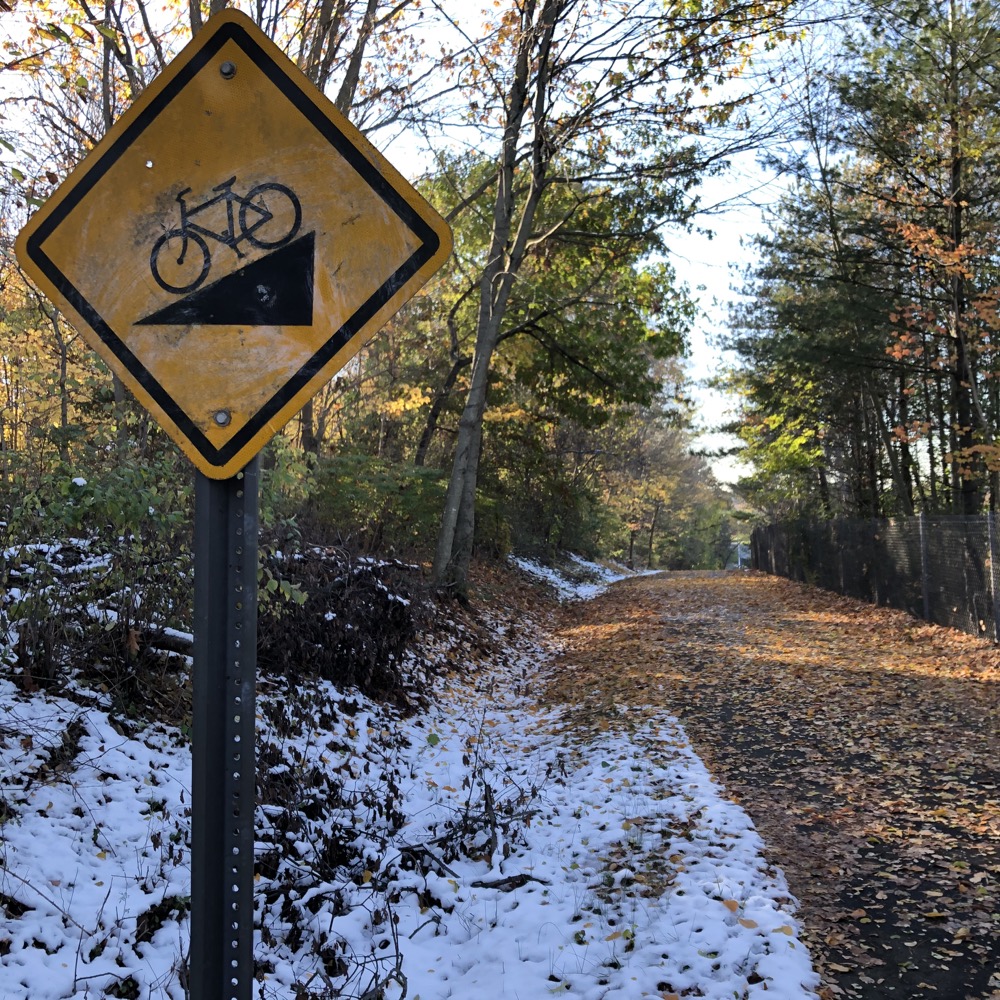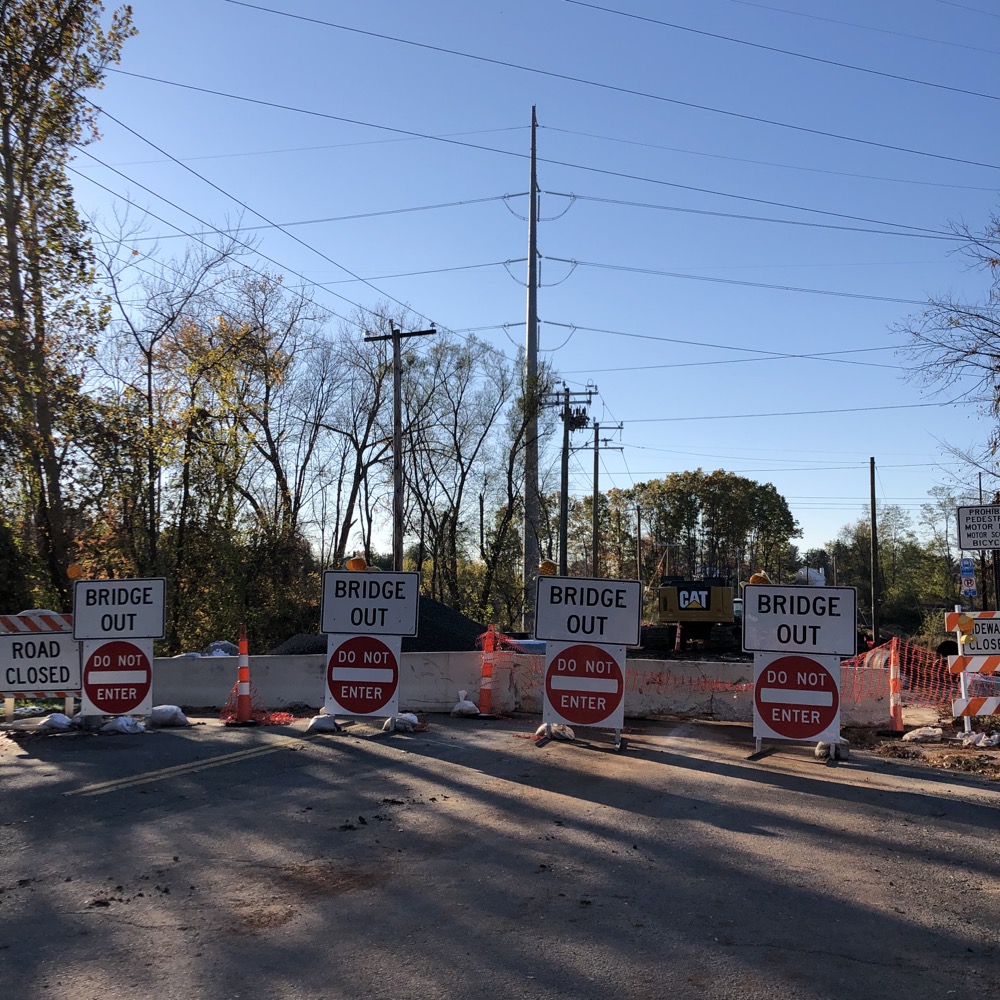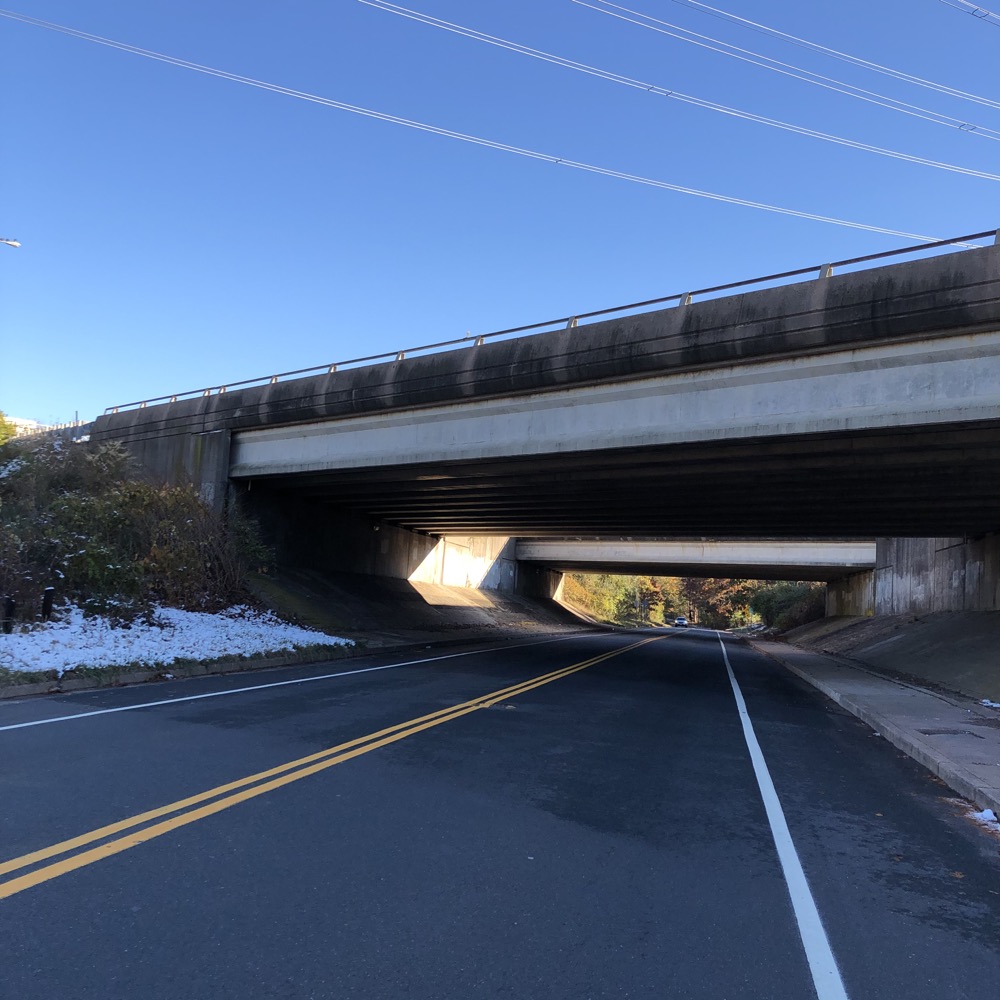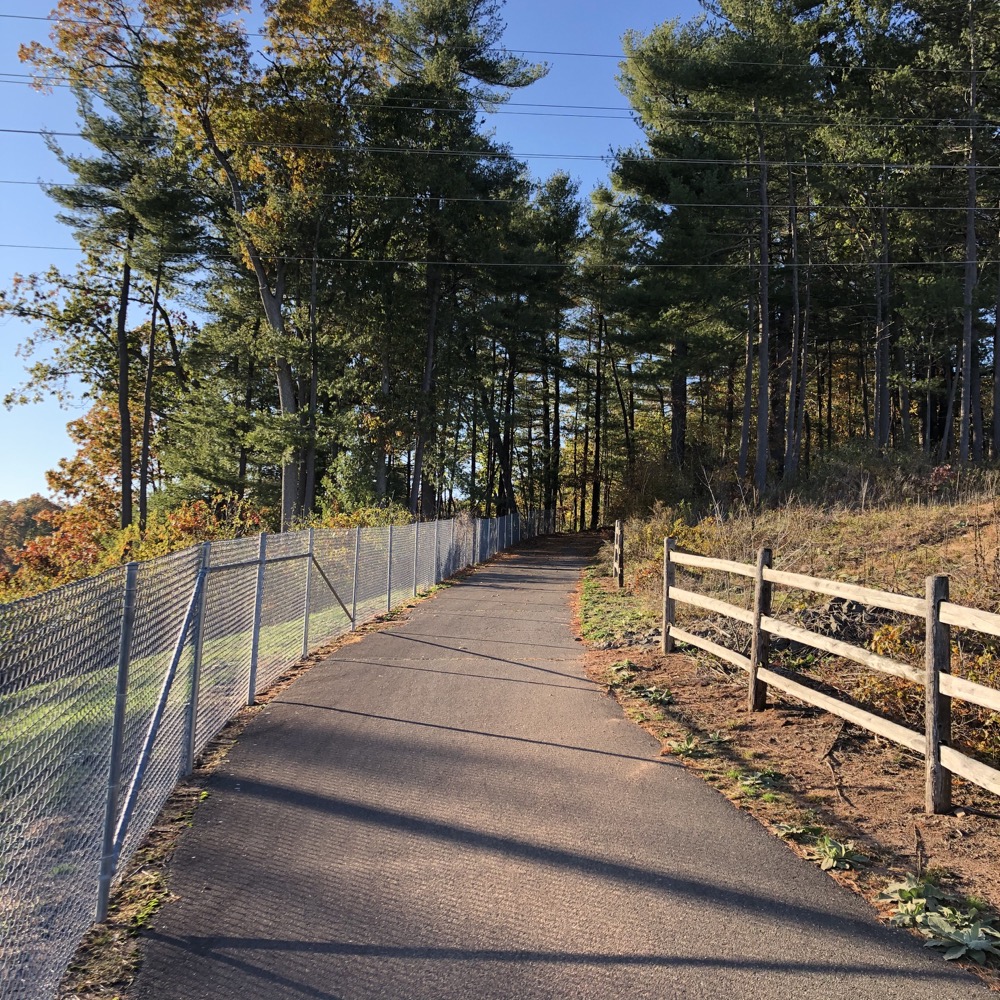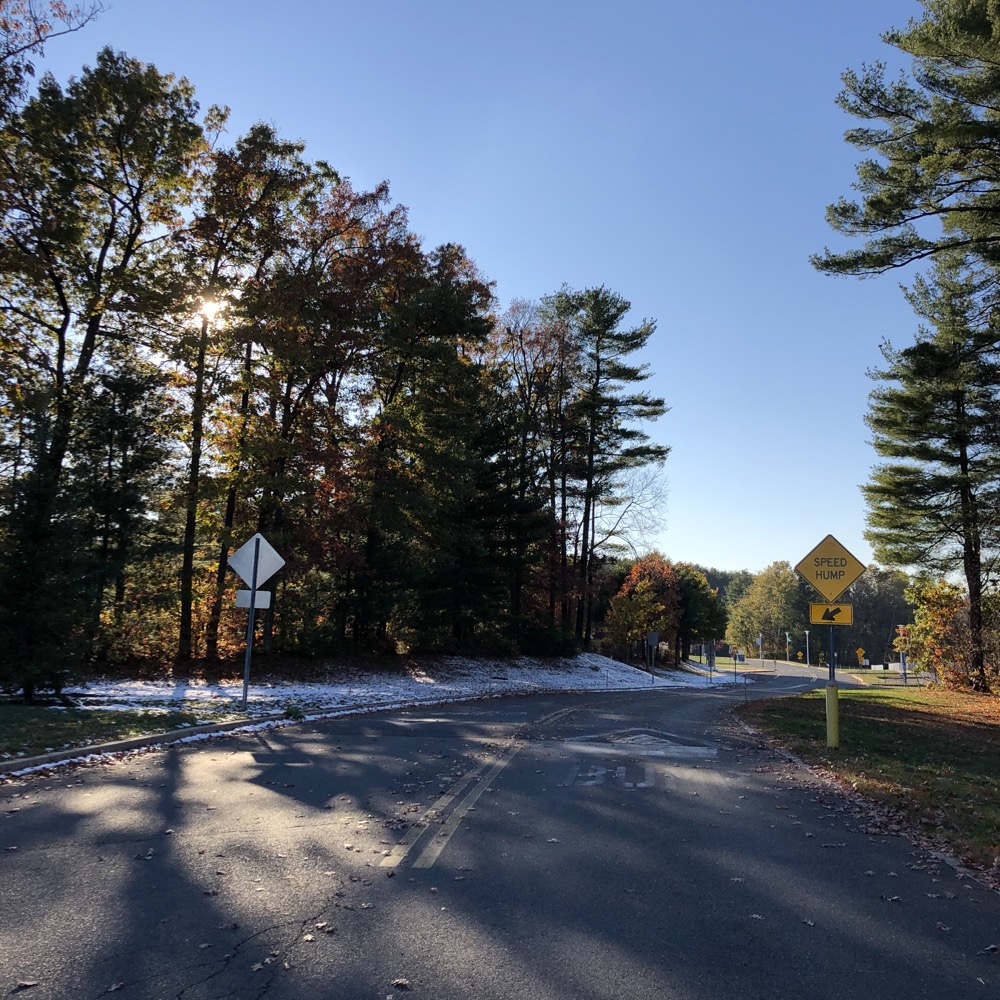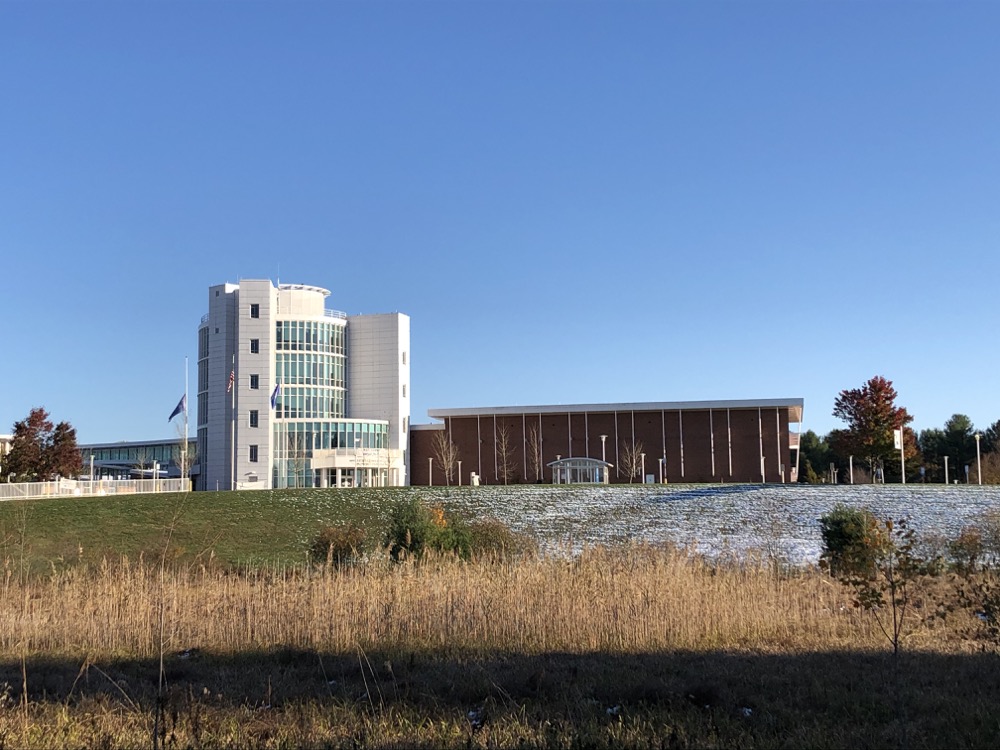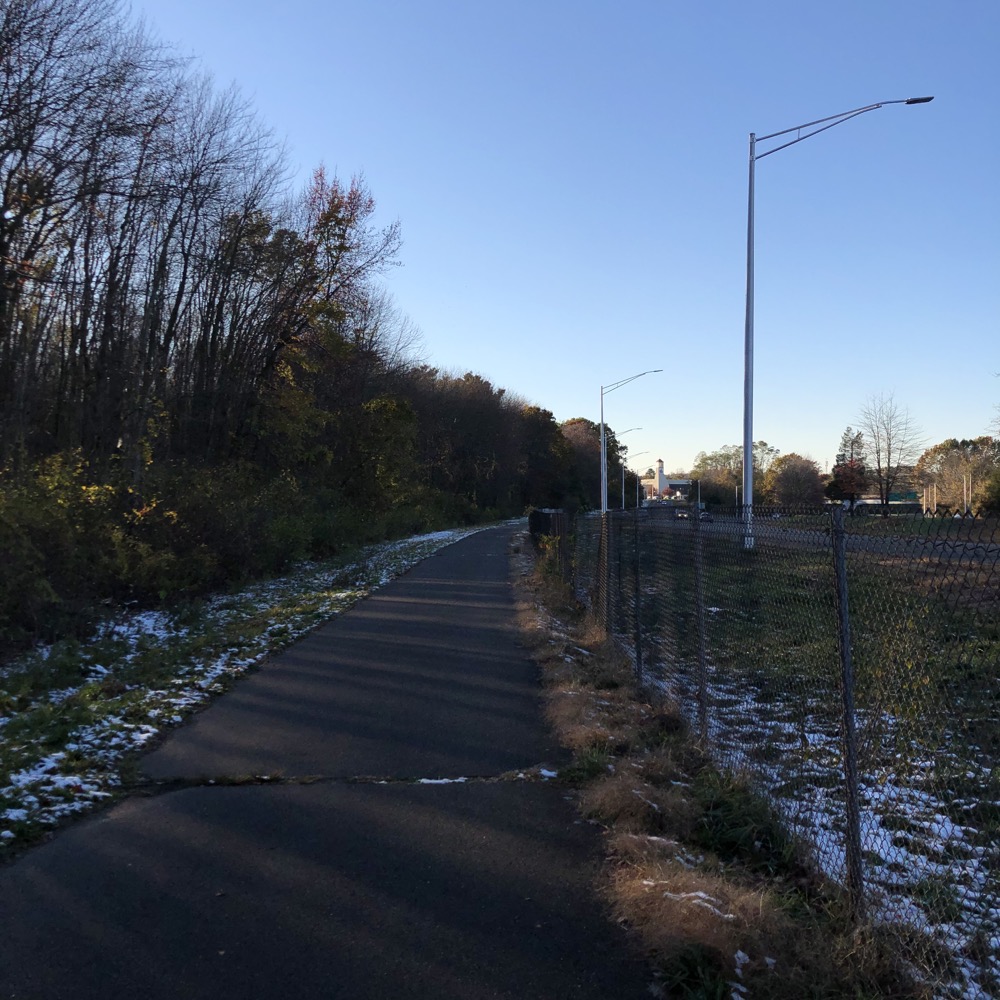 Guess what? Back under I-384 via Bidwell Road and onto the attractive Manchester Community College campus. MCC has grown quite a bit over the last 20 years, and the landscaped grounds and architecture is likely nicer than you probably assume it is. I passed two large solar arrays before squirreling around this access road and that.
A quick swing through a patch of nice woods and back down alongside the highway. I should mention that at this point, the trail surface has deteriorated a bit, but it's still fine. Across Silver Lane and a giant church parking lot. (I used this lot to park my car and felt fine doing so.)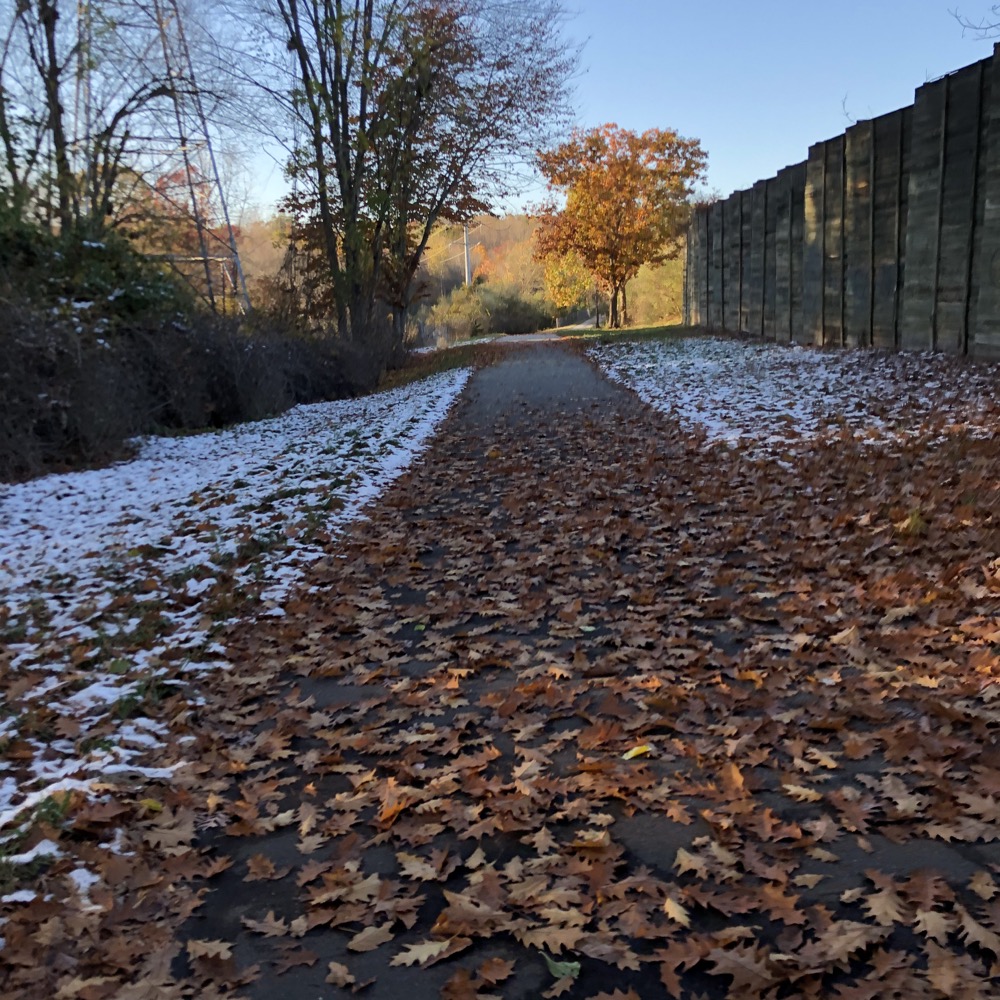 Still alongside the the highway, I crossed over into East Hartford and soon reached the junction with the Captain John Bissell Trail. That trail, which is just as highway-centric, will ultimately take you over to I-291 across the Connecticut River to Windsor. From there, it's an easy ride into Hartford's Keney Park.
I think it would make more sense for the East Coast Greenway to use this route to get up to the new Bloomfield Greenway and on into Simsbury to hook up with the Farmington Canal Heritage Trail and then head to New Haven and southward.
But I'm not a massive 3,000 mile bike path planning expert. Back to the COG… there's a side spur that goes straight up a hill to Veteran's Memorial Park and Clubhouse. I only mention this because it's sort of a weird, hidden big old house on a hill in a park setting in an East Hartford neighborhood that no one knows about. You can park here too to access the COG too if you'd like, but there are a million rogue parking areas for this trail in East Hartford, so I'll stop mentioning them.
Back along the highway, which is I-84 now, and under Forbes Street. From this point to the river, the COG is… a bit rougher. For the next three-quarters of a mile or so, the trail is hemmed in by the highway and a tall chain-link fence. The fence protects cyclists from the expansive asphalt wasteland that was once the huge Showcase Cinemas and parking lot.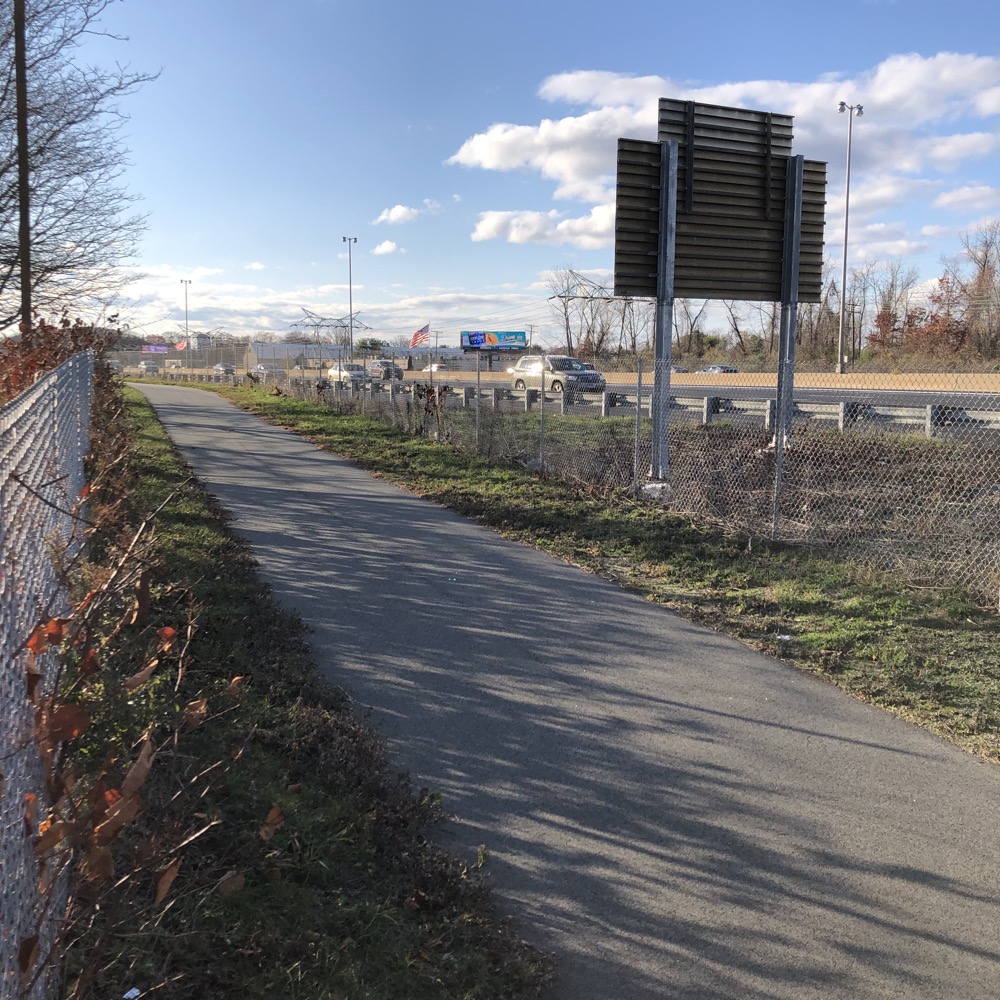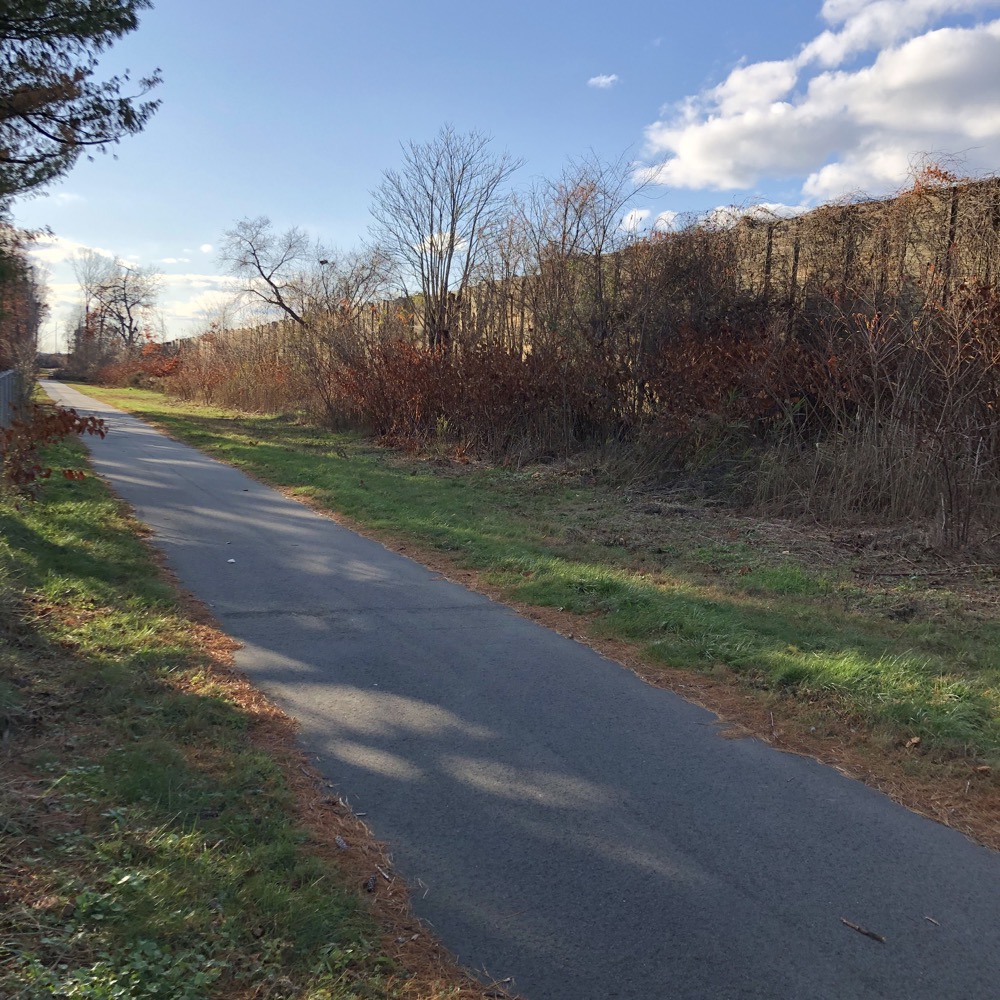 It is ugly. There have been plans to rehabilitate this mess, but they've never come to fruition. (The latest, in late 2020, is a new apartment complex.) Parts of Silver Lane here are really pretty sad; entire empty malls on a rather busy street – with a multi-billion dollar military-industrial company right down the road. Go figure.
Still along the highway, now behind a few apartment complexes, I was about to make a left turn onto city streets! Exciting… and confusing. Simmons Road takes the trail to Silver Lane and then it becomes sort of a "bike your own bike" type of thing.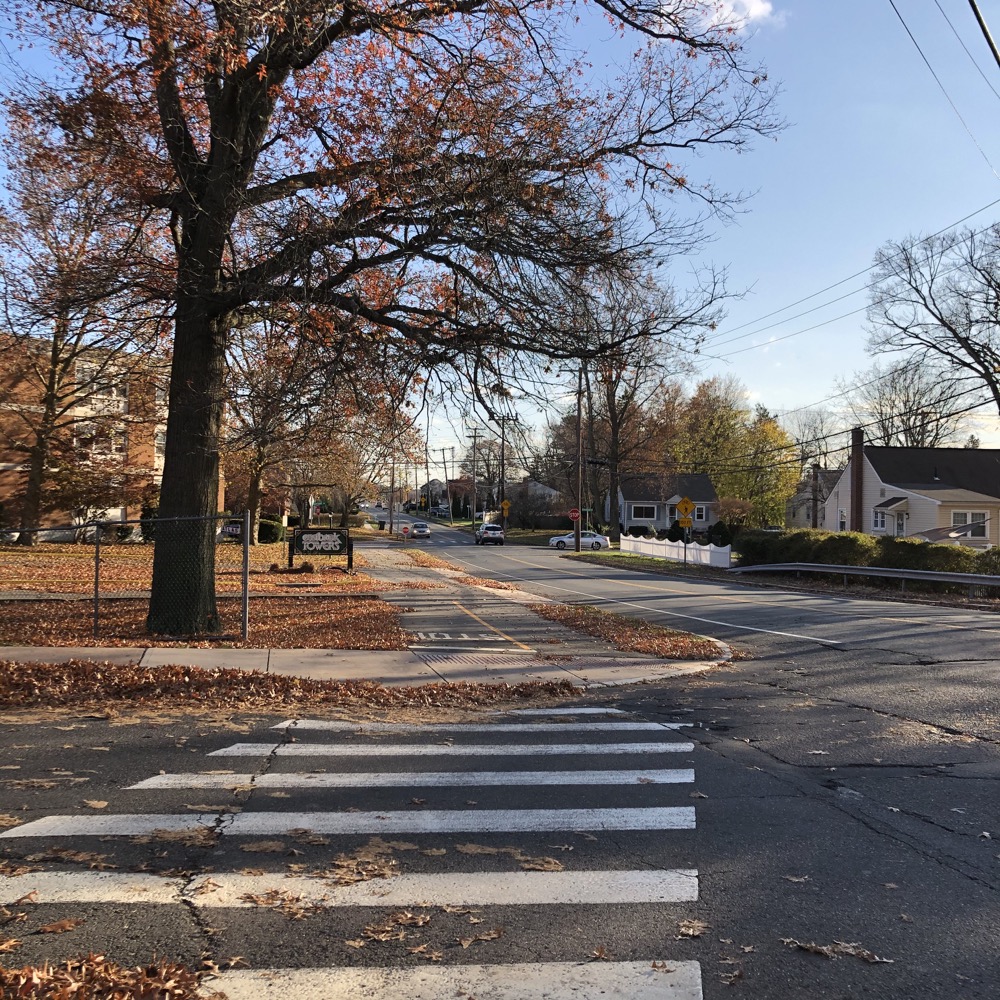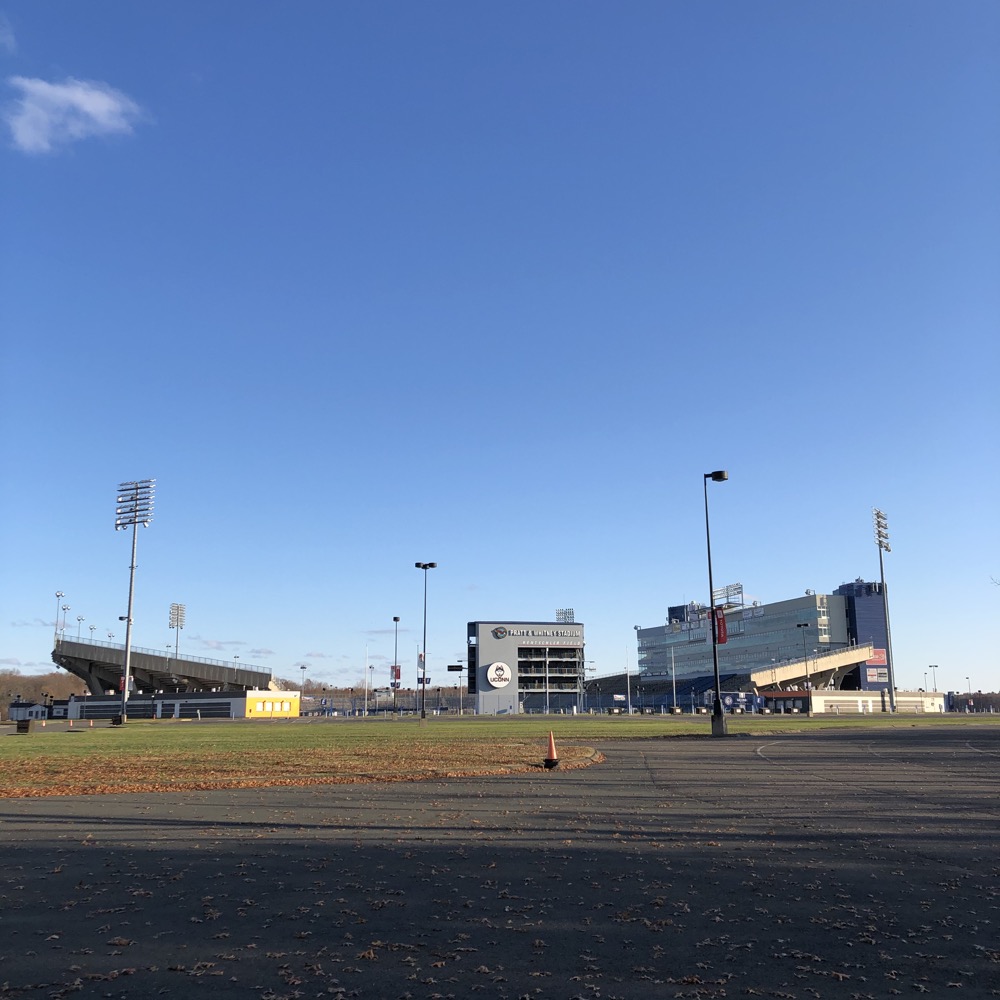 I chose to follow the COG proper; crossing Silver Lane and into The Rent's vast parking area… er, I'm sorry, Pratt and Whitney Field at Rentschler Stadium's parking area, now Raytheon Something or Other. Keeping up with massive corporate mergers is not easy, but man, they changed over the signage around P&W to Raytheon pretty much the day of the announcement.
The COG does have its own pathway for a little while as it approaches the 40,000 seat stadium, home to the hapless UConn Huskies from a campus nearly an hour away. (But also the temporary home of the Toronto FC of the MLS and the Hartford Wolfpack/Connecticut Whale) There's a Cabela's here too, which may interest many of you. For my purposes, the store houses the Connecticut River Valley Wildlife Museum which is infinitely cooler than the guns and stuff.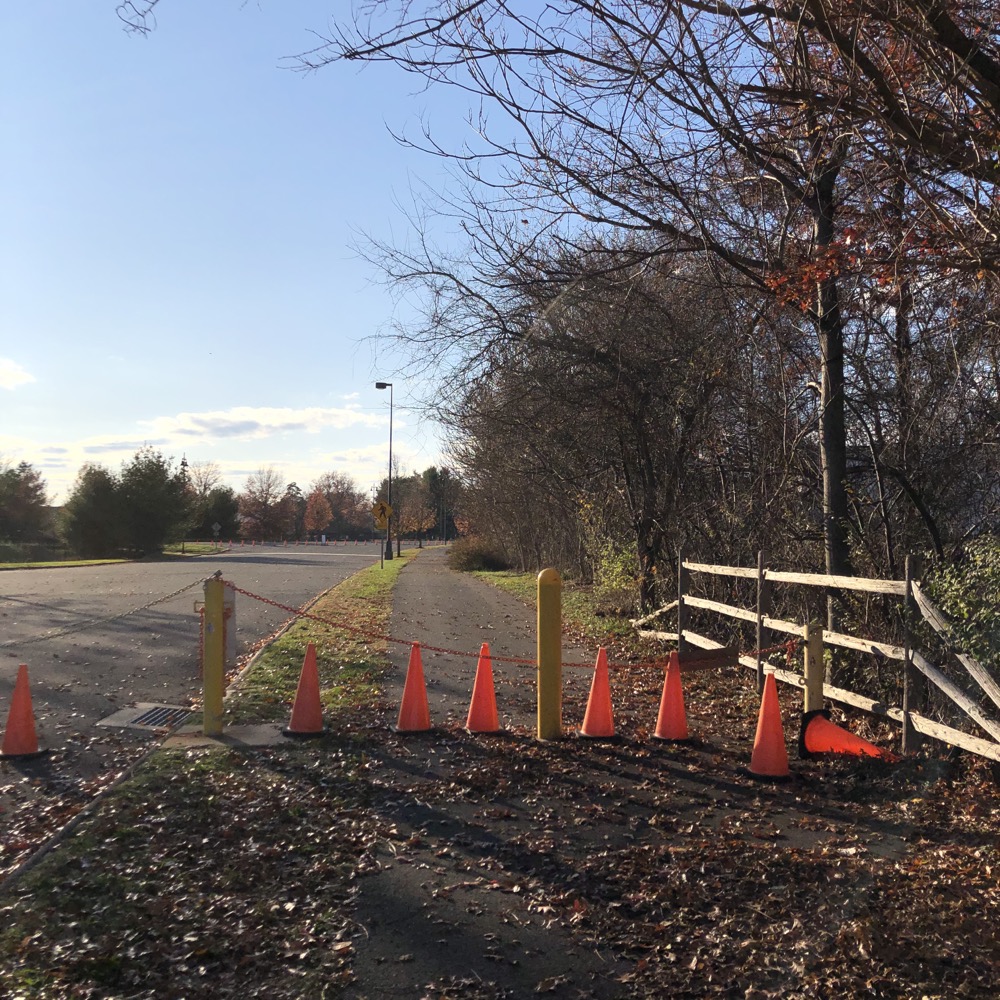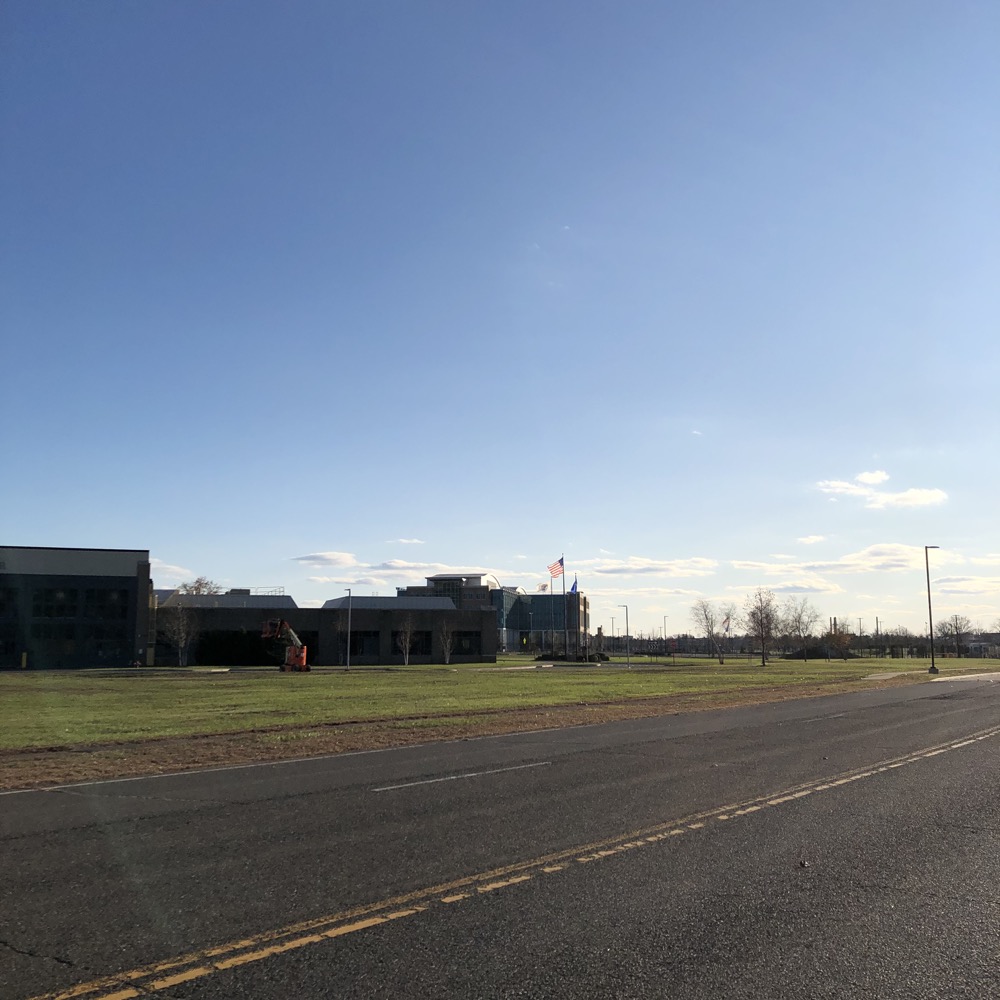 In 2020, the COG is sort of? Kind of? closed through this area as its "under construction." It is suggested to simply follow Silver Lane to Main Street – except via much less busy side streets – over to Willow Street.
Riding through Pratty & Whitney & Raytheon involves riding past guard booths and "COVID temperature Check" stations. Bah. There's bike path signage all the way through the complex and a sidewalk path on which to ride right past the headquarters building and jet engine graveyards and stuff. This is – and will be – the official COG trail, so don't be afraid.
I rode it on a Sunday during a pandemic, so I didn't encounter anyone… I imagine this will be quite different post-pandemic during a weekday. Unless we're at war at which time I'd guess this entire complex will be off limits. But if we're not at war post-pandemic, and you are here on a weekday, try stopping in at the Pratt & Whitney Hangar Museum if you can. Super secret impressive place.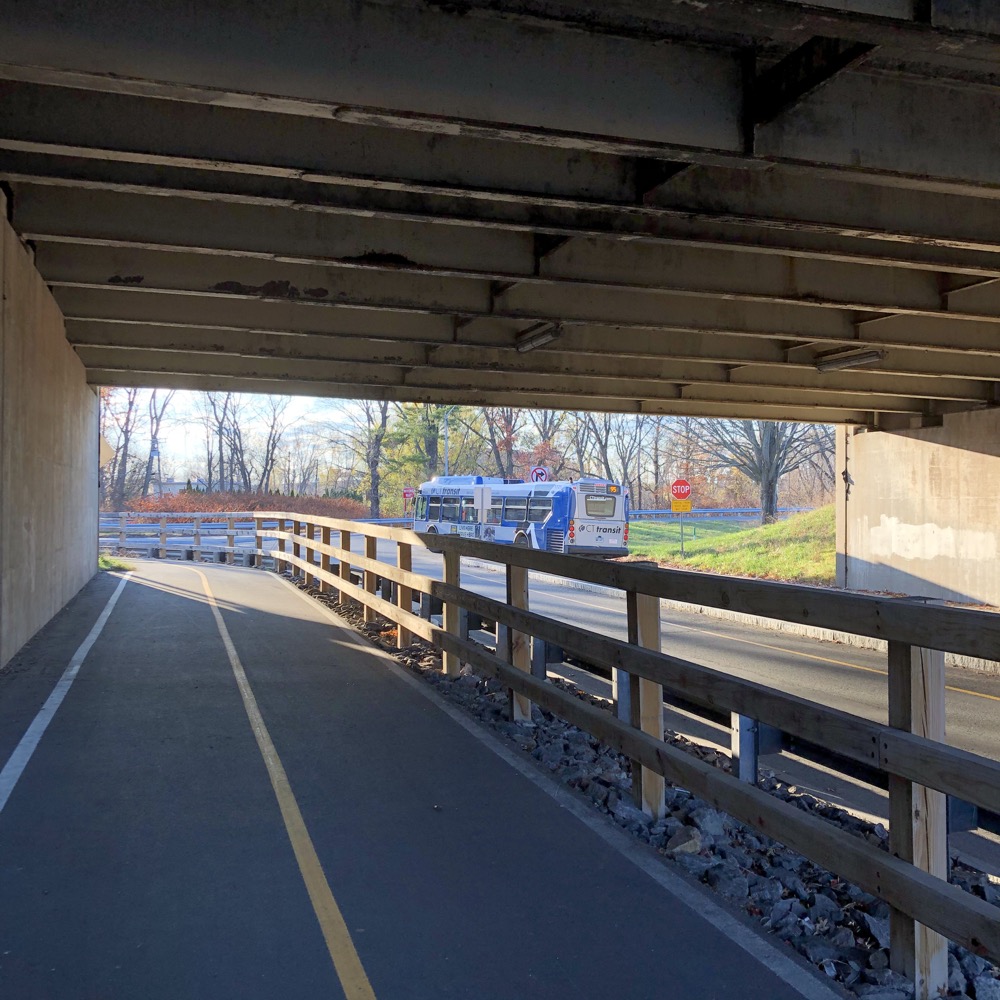 Okay! Continuing on Willow Street, across Main Street, under Route 2, hanging a right at one of the five weird schools and colleges along the river here and along the path between route 2 and the Connecticut River.
There was an expansive and quite active homeless settlement here which I suppose is a pretty nice place to camp. Right alongside a path on which one can safely walk to Hartford or East Hartford and beyond. There's even a wide open gate to route 2 if anyone wants some more exciting bike riding I guess.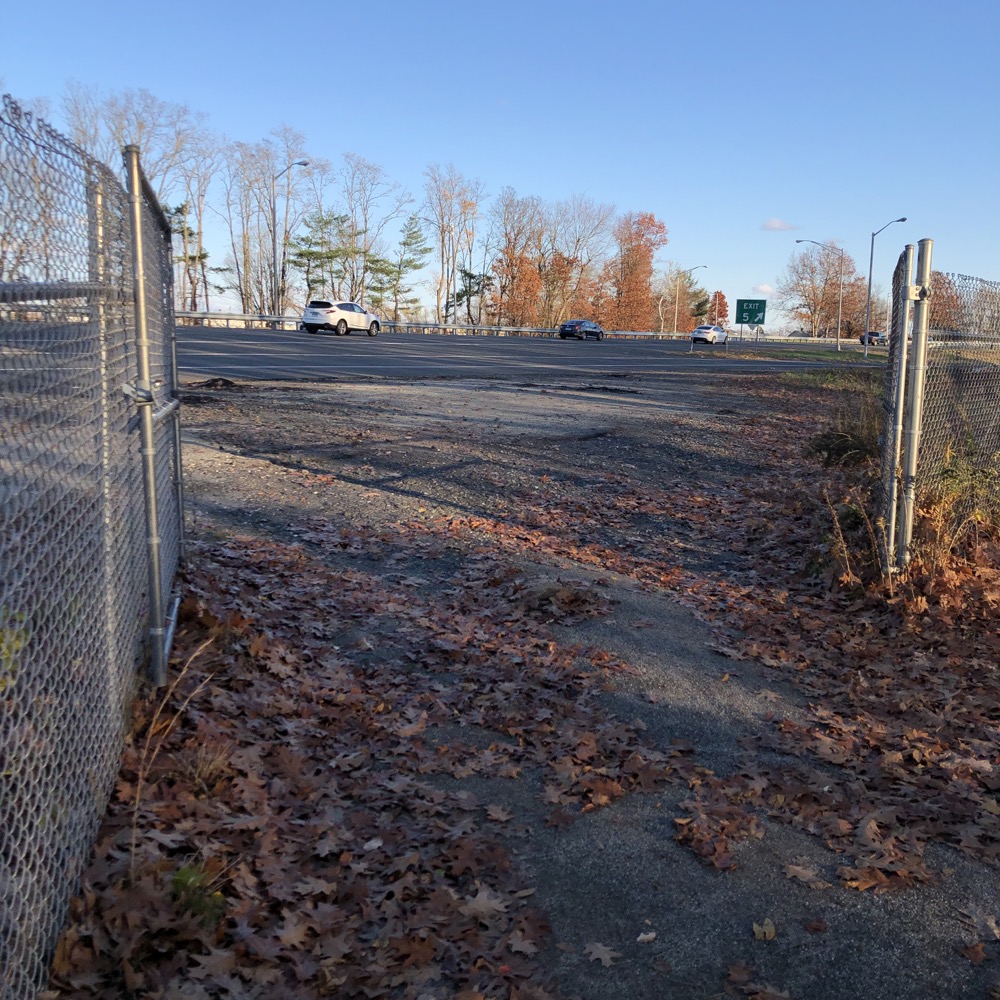 And that's pretty much it! Under the Charter Oak Bridge, across the Hockanum River and then north alongside the river and into Great River Park. I would be failing you if I didn't mention that it's here that the crazy Hockanum River Trail begins its bananas northward journey to Ellington. If you've nothing better to do for the next half an hour or so, you should read about that trail.
I don't really know where the Charter Oak Trail officially ends; whether here or after it travels through Great River Park – which is a nice ride or walk along the river up to the Bulkeley Bridge. I walked the length of it (twice), but wrote it up north to south. No worries, you can figure it out. Whether you ride or walk the path, be sure to check out the Lincoln Financial Sculpture Walk along the way.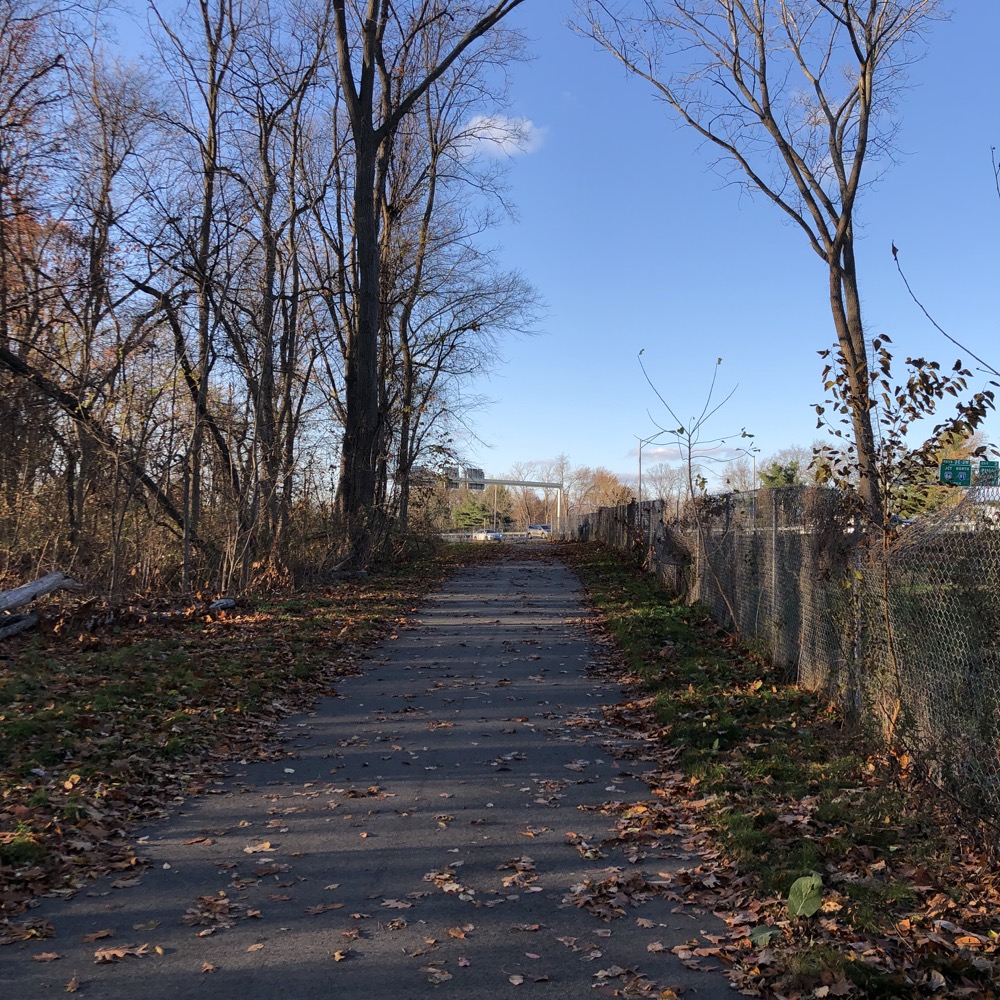 That ends the 15+ mile Charter Oak Greenway. The East Coast Greenway, as it stands now, continues into and through Hartford and then through West Hartford, over Avon Mountain, and down into Simsbury to hook up with the Farmington Canal Heritage Trail there. And once over there, the scenery changes quite a bit from what you just skimmed through.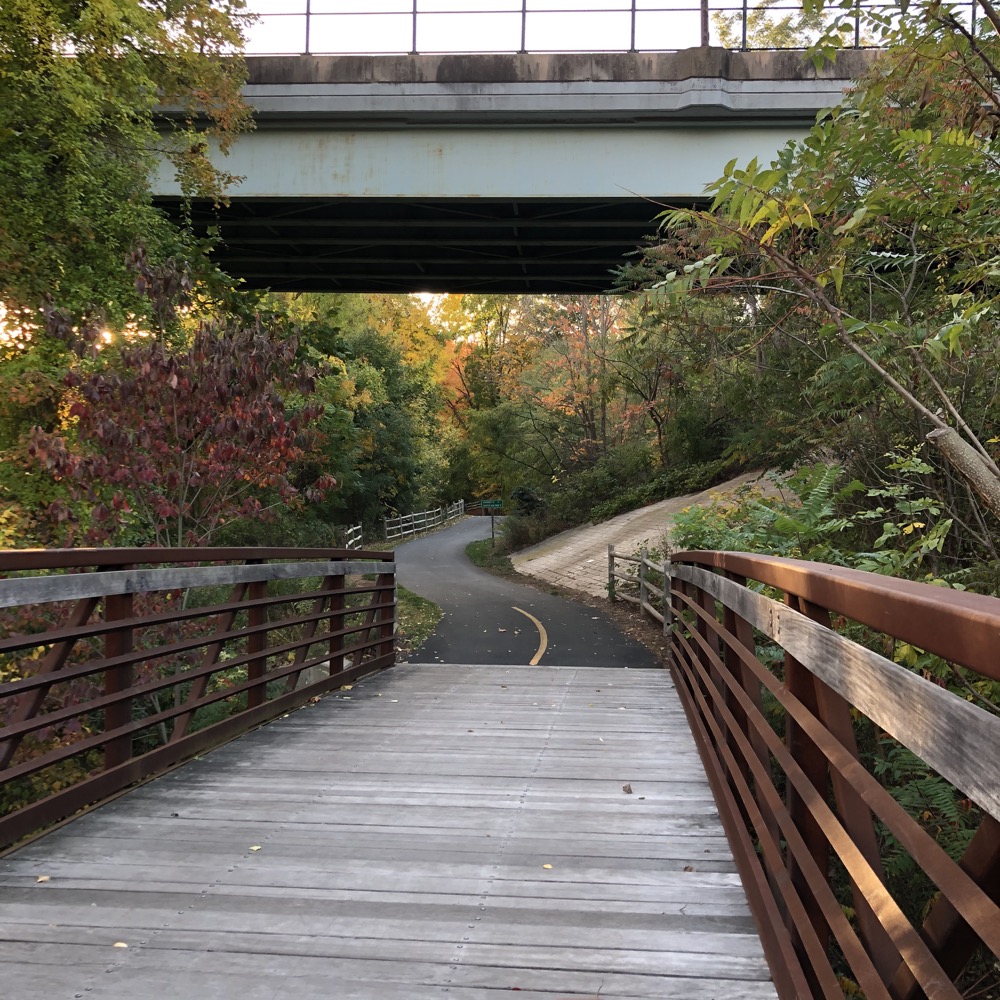 CTMQ's Cycling, Multi-Use, & Rails-to-Trails Paths
Charter Oak Greenway on Bike It or Hike It