Honestly, Abe, Take a Shower
East Hartford & Hartford (Google Maps location)
May 28, 2019
I don't want to make this more confusing than necessary. Riverfront Recapture is an organization that seeks to reclaim the land along the Connecticut River in Hartford and East Hartford. A reconfiguration of the horrible I-91 and I-84 interchange allowed for much of this "reclamation" to happen.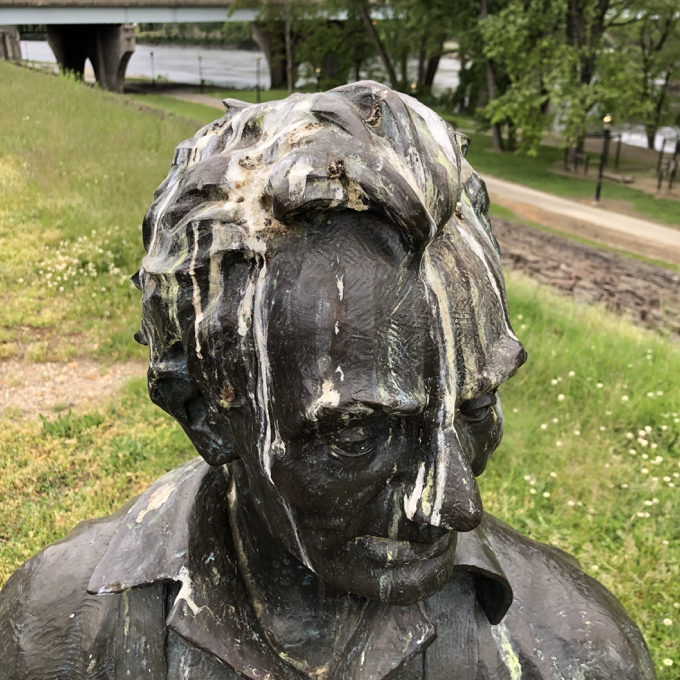 The "recapture" encompasses Riverside Park, Mortensen Riverfront Plaza, and Charter Oak Landing in Hartford as well as Great River Park in East Hartford. Pedestrians can cross the river via all three bridges (the Bulkeley, Founders, and Charter Oak Bridges) which is quite nice. Many events happen at the Plaza throughout the year and many people take advantage of the nice paths in – and connecting – each of the parks.
Within Riverside Park and Great River Park exists the Lincoln Financial Sculpture Walk. Is this a museum? No. But it is an outdoor sculpture garden with explanatory signage and historical significance, so… it's a museum as far as this website goes.
The Lincoln Sculpture Walk began with a $500,000 grant from Lincoln Financial in 2005. The Greater Hartford Arts Council, Lincoln Financial, Riverfront Recapture collaborated to design a sculpture walk in Riverfront's parks system. In a nationwide call for entries, a panel of local art aficionados, representatives from Lincoln Financial and Riverfront Recapture reviewed submissions from accomplished artists around the country and selected 16 works for this permanent public art exhibit. The final sculpture was installed in 2011.
Cool. Let's check it out.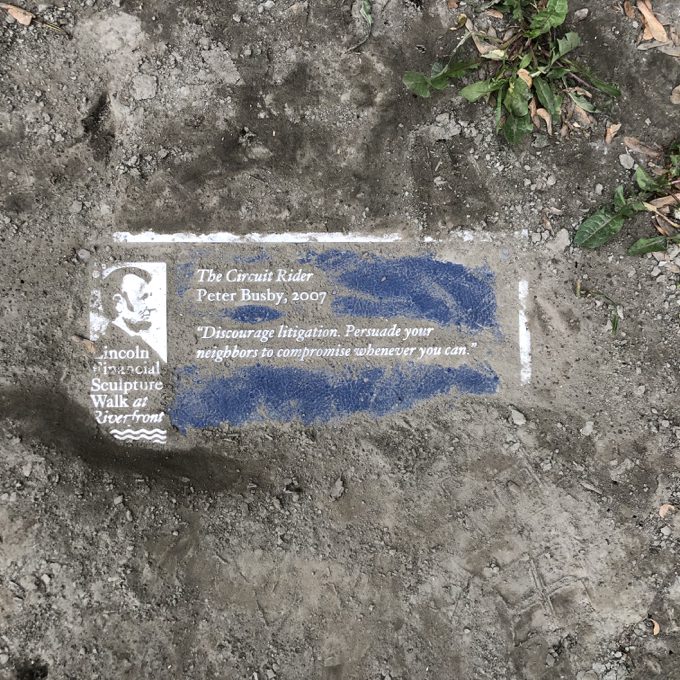 Great River Park, East Hartford
I walked the length of Great River Park which you can read about here. According to the literature, East Hartford is home to six of the sixteen total installations. For whatever reason, I only saw four of them.
Did I just miss two? Did they get washed away in an annual flooding event? Did vandals ruin them? I just don't know. Let's start with East Hartford, north to south.
Career Column, by Gar Waterman (2007)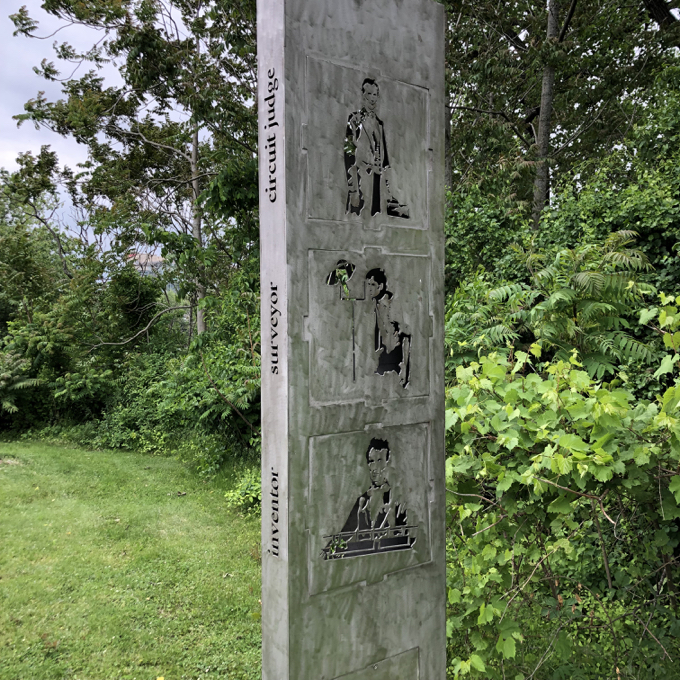 Easily missed and mistaken for a random poll in the ground, this is the weakest of the East Hartford entries in my opinion.
Abraham Lincoln's road to the White House was paved with a variety of careers. He worked on the family farm, plied the Illinois River as a flatboatsman, earned a law degree, and represented the State of Illinois before running for president in 1860.
In 2016, Doris Kearns-Goodwin recorded narration for a mobile tour of the Lincoln Sculpture Walk. Which… is super cool! Lincoln comes to life, in the form of sculptures, along the Connecticut River. It's a little bit random here in East Hartford, but Lincoln was just that important.
A Welcome Conversation, Dan Sottile (2007)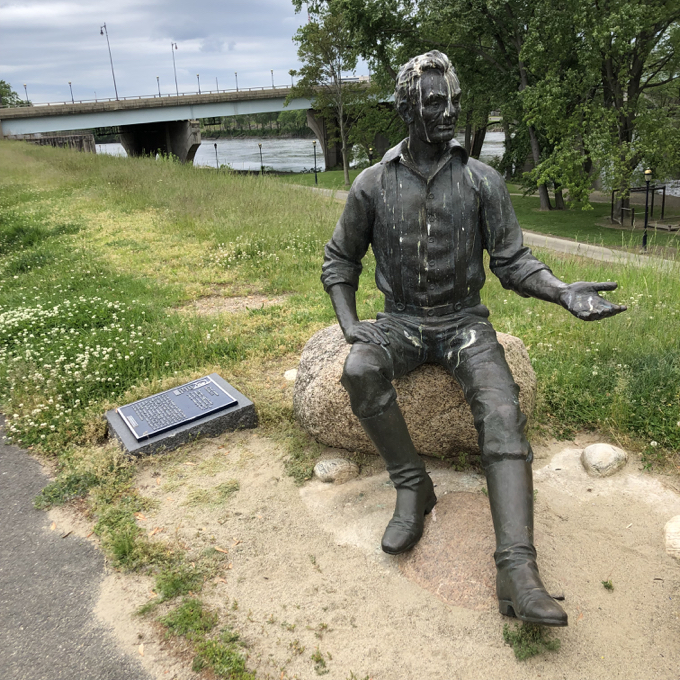 In his early 20s, Abraham Lincoln gained immediate attention as a hard worker and natural leader and was known for his wit and honesty. His colorful phrases and backwoods humor helped him connect with people as well as win their trust and admiration.
This sculpture, arguably the best of the East Hartford bunch, sits up towards some buildings off of the main Great River Park path. Unfortunately, ol' Honest Abe serves as a pigeon perch apparently. I hope he does get cleaned every so often, because he was a mess at the time of my visit.
Transcontinental, Carole Eisner (2008)
"Transcontinental" supports Lincoln's belief that a transcontinental railroad would provide great economic and military advantage and a sense of unity for the young, burgeoning country.
The sign at the base of "Transcontinental" contains a rather macabre bit: "… commitment to building a railroad to the Pacific and he signed the Pacific Railway Acts in 1862 and 1863. Unfortunately, the president never lived to see the railroad completed, but his body was carried by train from Washington D.C. to Springfield, Ill. for burial in May 1865."
Emancipation, Preston Jackson (2006)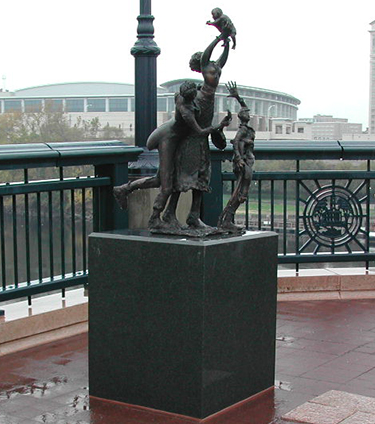 Emancipation celebrates Abraham Lincoln's issuance of the Emancipation Proclamation in 1863, declaring enslaved African Americans as free citizens.
I didn't see this one, but it looks nice.
The Circuit Rider, Peter Busby (2008)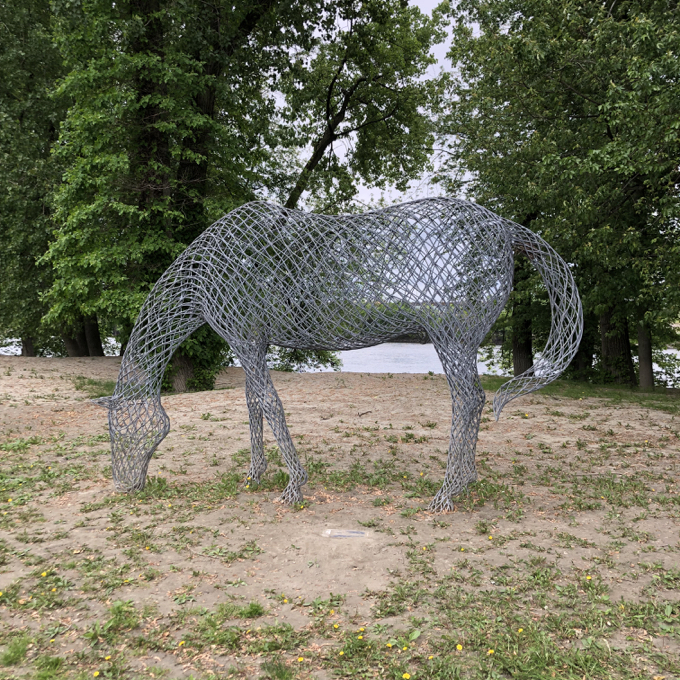 Busby might be Connecticut's most prolific artist specializing in outdoor works since… forever? (Maybe Alexander Calder, Gutzon Borglum, or Evelyn Batchelder would like a word.) You've likely seen his woven-wire works somewhere in the state, although his work shows up all over the country now. I'm glad he has an entry here at the Lincoln Walk.
This larger than life horse depicts Lincoln's time as a circuit court judge. During his travels, he told an array of matchless stories using his inexhaustible fund of wit and humor.
Cool, huh? The horse is fairly close to the river's edge and I wonder if anyone's taken a picture of it in water. I bet that would look pretty rad.
Equality, Del Geist (2007)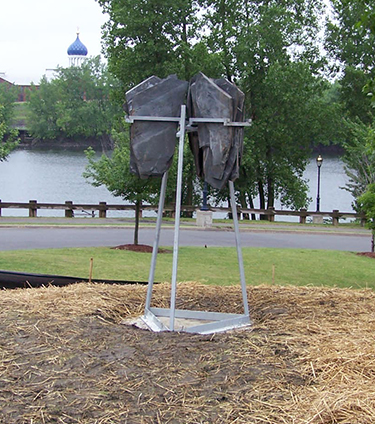 Abraham Lincoln's belief that all men are created equal is symbolized through the suspension and balancing of many slate slabs creating equilibrium and stability in the sculpture.
While I appreciate the abstractness of this piece that was so abstract during my visit that I didn't see it, if your work is so abstract that your one sentence to discuss it explains its existence, well, then, perhaps its too abstract for the workaday East Hartford crowd and perhaps that's why it's been removed in some unknown way.
Or I just missed it somehow; quite possible.
I enjoyed the walk through Great River Park. If you wish, and you should, you can cross the Bulkeley or Founders Bridge and continue the Sculpture Walk in Hartford.
Hartford
Coming soon…

Lincoln Sculpture Walk map
CTMQ's Great River Park walk
CTMQ's Statuary, Memorials, Monuments, & Plaques
CTMQ's Museum Visits