Great River? Or the Greatest River?
Great River Park (Riverfront Recapture), East Hartford
May 2019
I never planned to walk this walk. Well, I mean I didn't plan to walk the entirety of Great River Park the day that I did. But I'm glad I did.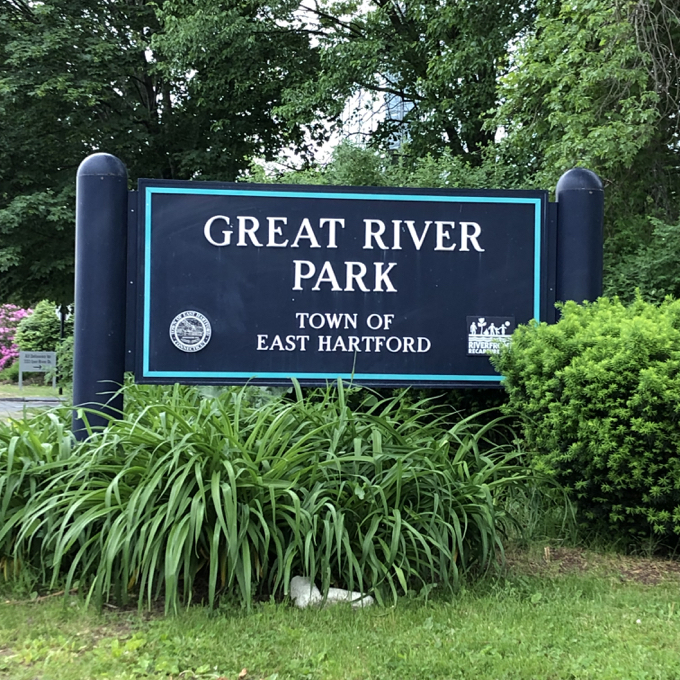 While Great River Park stands on its own as a fairly worthwhile place to walk around, it was merely a jumping off point for me. For if you want to hike the entirety of the wondrous Hockanum River Trail, the quickest way to the southern terminus is via Great River Park.
And while you're about to read all about Great River Park, I can't help but view this page as a precursor for the Hockanum River Trail. An appetizer of sorts. A place to get your feet wet – figuratively and literally. Speaking of wet, the day was swarming with mosquitos and *smack*
These were well-fed East Hartford mosquitos.
I've just now decided to treat the park's Lincoln Financial Sculpture Walk as a museum, separate from the "hike" here. I have my reasons, but the simplest is that it's very possible to walk more than half of Great River Park's nearly 3-mile loop (it's not a loop, but rather two out and backs) and not see one sculpture.
Adding to the confusion, this page is only about the East Hartford side of the Connecticut River. Riverfront Recapture is a non-profit organization that oversees Great River Park in East Hartford as well as Mortensen Riverfront Plaza, Charter Oak Landing, and Riverside Park over on the Hartford side. (The Lincoln Sculpture Walk is split between here and Riverside Park.)
Got all that? Good. Let's go north to south, from the Bulkeley Bridge to the Hockanum River near the Charter Oak Bridge.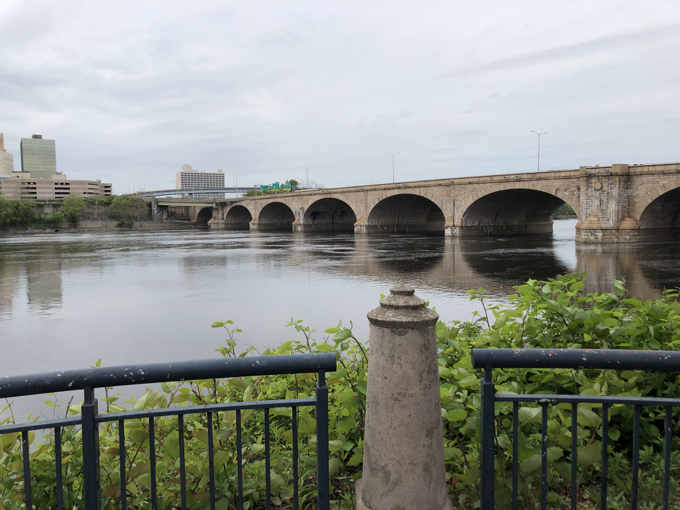 There is a safe pedestrian walkway across the Bulkeley Bridge, so it's easy enough to walk or jog or bike all four distinct parts of Riverfront Recapture's parks in one go. The Bulkeley is interesting in and of itself. It is said to be the world's largest stone arch bridge! It is named for Morgan Bulkeley, a former Aetna president, a former Connecticut governor, U. S. Senator, and the first president of the National League. He's in the baseball hall of fame. He was an early proponent of the bridge and chairman of the special commission created by the State Legislature to oversee its construction. After his death in 1922, the bridge, originally known simply as the Hartford Bridge, was renamed in his honor.
As you can imagine, I've written a page about the bridge.
From the bridge, the paved path simple follows the river south. It is here that you'll find several sculptures. I love outdoor art and sculpture gardens, so I really enjoyed learning about each piece. And you see my man in the distance here?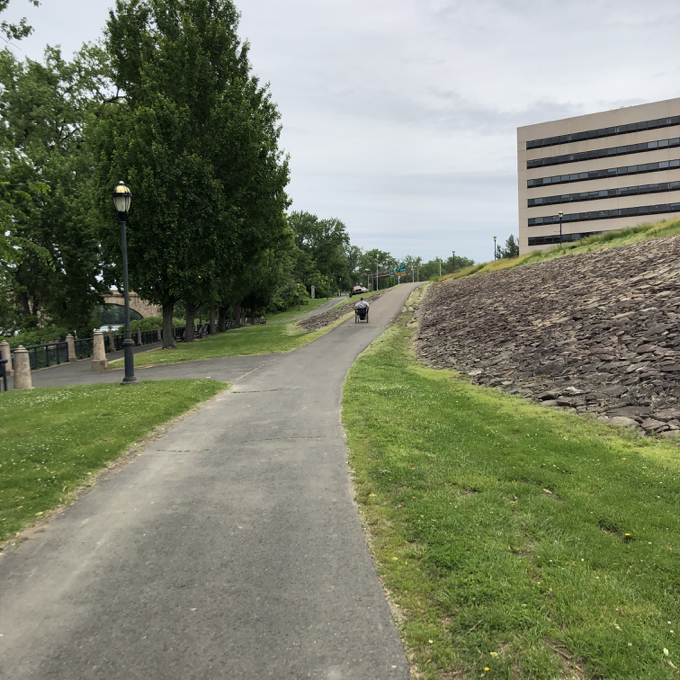 That is a rather steep incline to wheelchair up. I sure as heck know I couldn't do it. But this guy plowed right up, stopped at the top, drank a Gatorade, and yelled down to me, "Yo! There's another one up here!"
He was watching me as much as I was watching him. Just as I was marveling at his strength, he was marveling at my taking pictures of every darn sign and sculpture that he's probably seen a million times.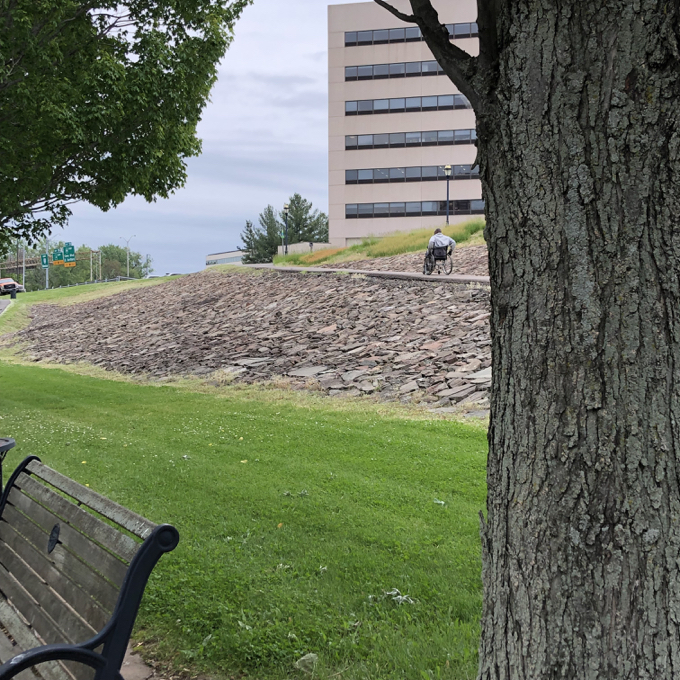 If he wanted, the walkway across Founders Bridge is wide and very nice and he would have no issues with his chair crossing over to Hartford. It's much nicer than the one across the Bulkeley.
The statues were all done by the time you pass under the Founders Bridge. There are some really cool sculptures and statues here and I commend the artists, towns, and sponsors for the installation. Nothing appears stolen or damaged by vandals and it has been at least a decade. As for the trail itself, I was enjoying seeing some of iconic Hartford from a different viewpoint:
Good stuff. Up near the Founders Bridge there's an East Hartford apartment building that sort of stands out. These are the Riverpoint Condominiums and at least some of the living spaces are really nice. I know this because a former boss of mine, the infamous (and deceased) Tommy Altman, used to live in one of the fancier joints here.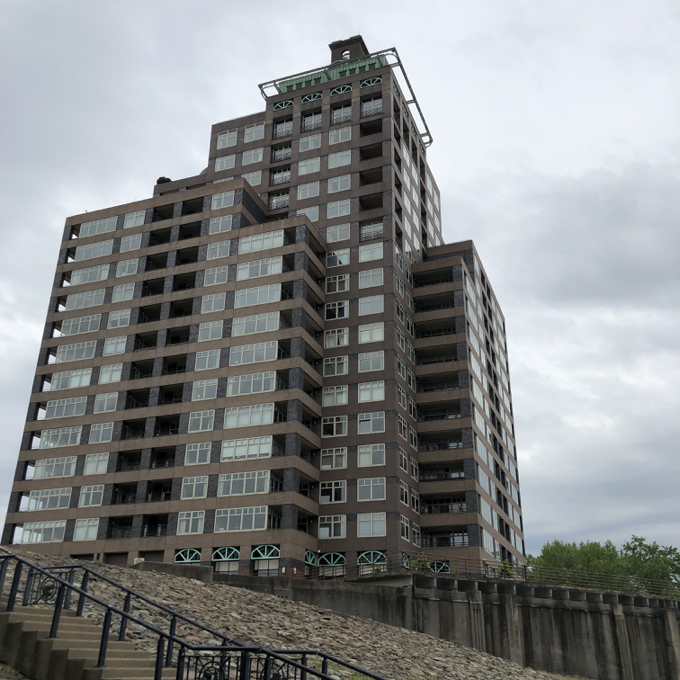 I was going to regale you with crazy Tommy stories, but… nah. For those of you old school Hartford people, Tommy owned the Cool Moose, RooBar, Braza, Pig's Eye and then moved on to Hot Tomato's and – who remembers Bamboleo in Glastonbury? Tommy was troubled, yes, and I mostly couldn't stand working for him but he threw awesome summer parties on his deck.
I remember partying up there during a 4th of July fireworks show (1996?) and having the ashes and shells rain down on us. Good times. RIP Tommy.
The trail continues south past the main Great River parking lot and passes behind the Two Rivers Magnet School. My walk was just after the spring floods subsided, so the walkway was covered in silt and sand, but the town had done a great job of clearing the path.
There are some weird half-walls built along the path approaching the Charter Oak Bridge, but I was far more interested in the mouth of the Hockanum River. The mighty Hock. The River that inspired the Hockanum River Trail.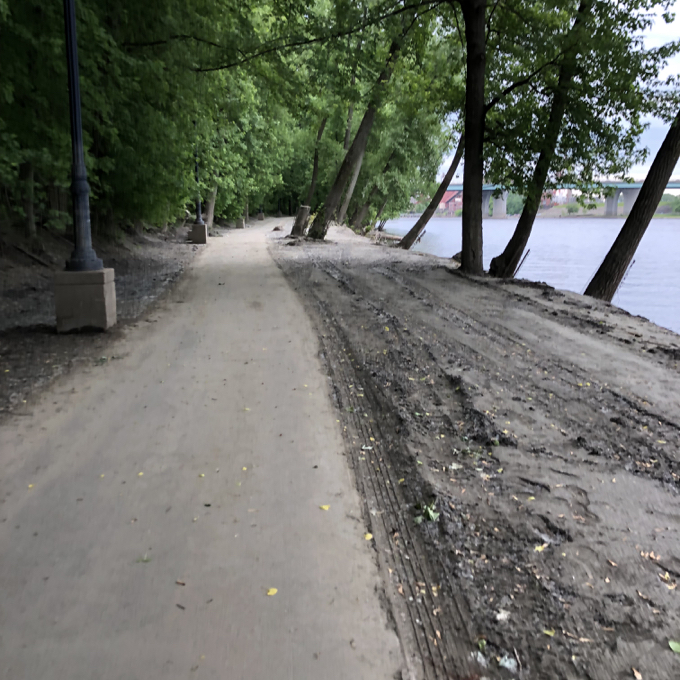 The Great River Park path continues up the Hockanum a bit, teasing would-be Hock hikers. Immediately, there's a massive transmission tower just before the official end of Great River Park and near the beginning of the Hockanum Trail.
You can continue on the wide path south, down the Connecticut River for a bit along the Charter Oak Greenway that will take you up to Bolton Notch State Park and beyond if you wish.
Or… actually, hold on, I just realized you could begin your trek at the northern end of Riverside Park in Hartford. That way, you'd get some more miles in, pass under at least one more highway, get to start near a car junkyard and… hold on again… Now I'm wondering if it's possible to start all the way up in Windsor at the boat launch near Palisado Avenue and work your way down to here. There might be issues at Loomis-Chaffee and behind the Trash Mountain, but man, you'd add so much more! I must investigate.
Okay, no one's going to do any of that. So let's just stick to the Hockanum River Trail.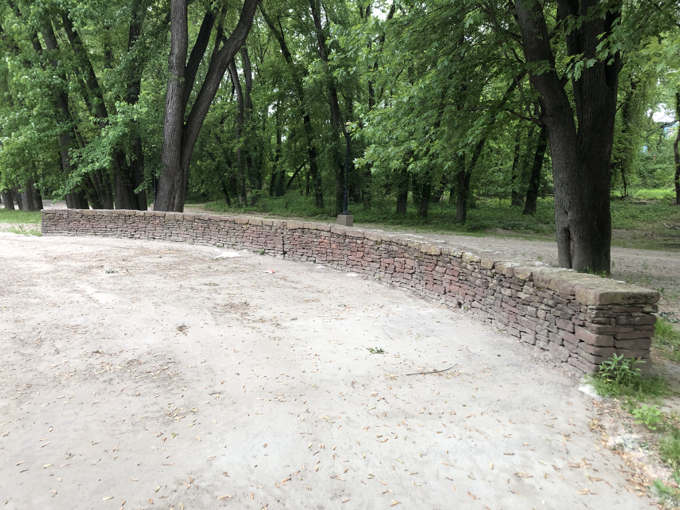 Prepare yourself for a trek north. A trek unlike any other in the state. A trek up the Hockanum River Trail, from this point in East Hartford to a wholly unremarkable parking lot in Ellington. Please, come with me on this journey… the very first section of which took me under route 2, under East River Drive, atop a flood control dyke, alongside a sewage treatment plant, and ends in a former strip club parking lot on East Hartford's busy Main Street.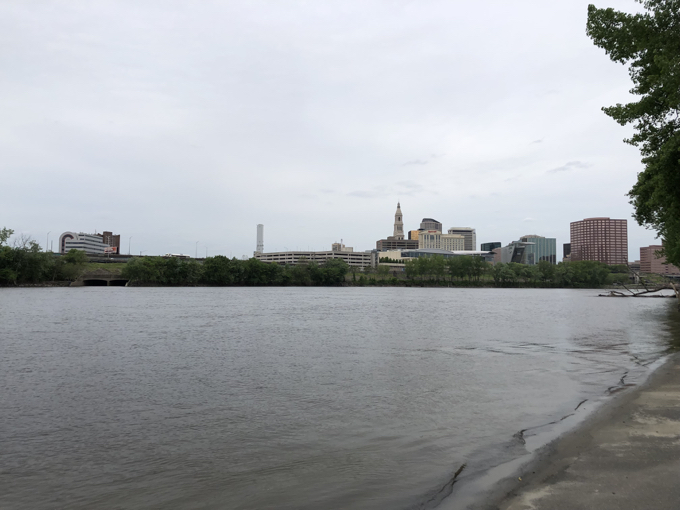 Continue to the Hockanum River Trail: Meadow Hill
Riverfront Recapture/Great River Park
CTMQ's East Hartford Town Trails Intro
CTMQ's Town Trails Main Page