Starting Off with a Bang
Hockanum River Trail: Meadow Hill, East Hartford
1 mile, May 2019
Hello. Thank you for being here. The journey you're about to take with me is a crazy one. What follows are two dozen write-ups of the 24 sections of the wondrous, insane, vexing, perplexing, hilarious, impressive, and incredible Hockanum River Trail (Intro page here). The HRT is one of Connecticut's true urban trails and it has no shame in taking hikers alongside sewage treatment plants, around landfills, underneath interstates, and behind junkyards, an adult superstore, and apartment buildings. But that's not the truly crazy part! What's crazy is the amount of effort, time and money that has gone into the creation and upkeep of the trail. It's mind-blowing. So please, sit back, relax, and come with me on my journey from the mouth of the Hockanum River in East Hartford to a random muddy parking lot in Ellington. Buckle up.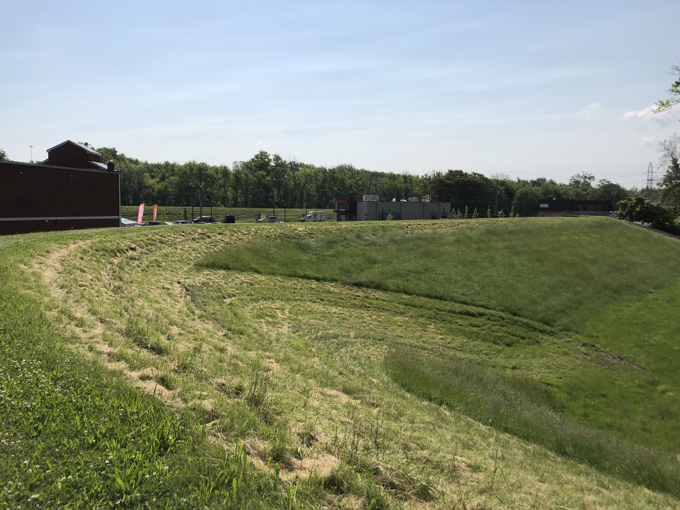 The Hockanum River Watershed Association hasn't updated their website for a while, which is fine. They're too busy building miles and miles of bridges and decking on their trails. But if you'd like the best introduction to the HRT, you can do no better than their first paragraph regarding the first section (going south to north) of the trail:
The 1st segment, Meadow Hill, exists where the Hockanum flows into the Connecticut River. While there is parking about 1/3 of a mile south of the Town Hall on Main Street at Kahoots, a more scenic parking area can be found at Great River Park near the Connecticut River.
Kahoots was a strip club. Behind the former strip club (it's now a Dunkin Donuts) is a sewage treatment plant. But more on that in a minute. I parked at the "more scenic" parking area at Great River Park and walked the entire length of the park before getting my feet wet on the HRT.
Yes, you're seeing that correctly – that is indeed a pallet hanging from a tree. That pallet could have come from anywhere up the Hockanum… or from somewhere upstream on the Connecticut too, of course. The Great River Trail follows the Hockanum for a few hundred yards before crossing it and continuing to the Charter Oak Bridge and onward up to Bolton via the Charter Oak Greenway. It is there, at that sharp bend to the south, that the unheralded HRT begins. There's a huge sign. I imagine a hundred people a day pass this sign and have never ventured north from it. For shame.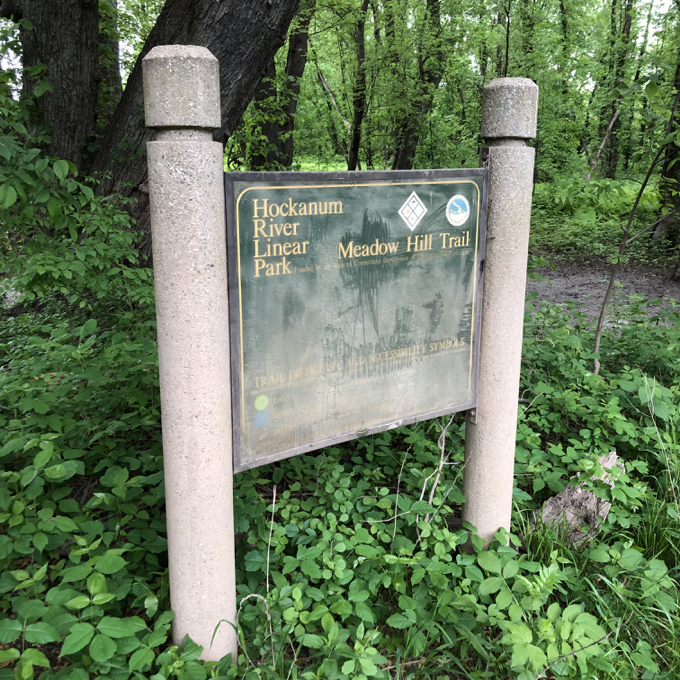 Perhaps it's the somewhat foreboding bridge under which one must immediately travel. Well, if you're an HRT thruhike aspirant, get used to it. For you're going to pass beneath a lot of bridges. Big bridges, small bridges, dark bridges, graffitied bridges… bridges that people live under, bridges that leak, bridges that freak… you get the point. (I was thinking the other day, if one were to start walking or biking from the park in Windsor off of Palisado Avenue and begin heading south… one could not only add five miles to the HRT, but one could also pass under three or four more big bridges and a huge former landfill in Hartford! Go for it!)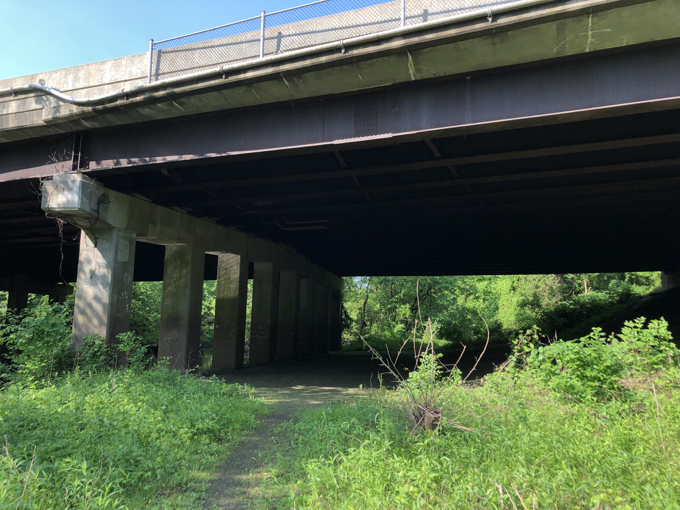 Note: all of my bridge underpassings along the HRT were safe. Homeless people absolutely live/lived/will live under a couple in East Hartford and Manchester, but whatever. They're just doing what they've gotta do.
You may have noticed that the weather changes pretty drastically in my pictures. I walked the first bit on the drizzly day that I explored the entirely of Great River Park. I returned under sunshine a few days later to complete the section. Picking it up again at the first underpass (route 2) and heading back north. The trail hugs the Hockanum River before turning away from it to enter a meadow.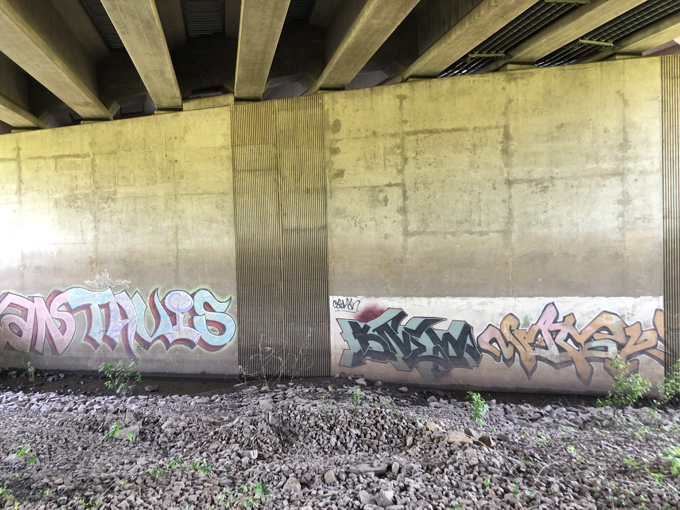 The trail parallels an access road for a bit before heading underneath East River Drive. There is mild confusion around a large transmission tower pad, as the trail's blazes sort of disappear for a bit. This marked the only time on the entire HRT that I was mildly confused as to where the trail went.
The vegetation on this stretch leaves a bit to be desired. Turning back to the Hockanum River Watershed Association website…
Vegetation is mostly grass, though in the floodplain it consists of trees and patches of Oriental Bittersweet, Japanese Knotweed, and phragmites.
Oof. Three terrible invasives that are overtaking the entire state. (And perhaps you noticed the field of poison ivy surrounding the sign in the picture above.) I'll never tire of the HRT's honesty in its trail descriptions. I would think the folks behind it would appreciate what I do here on CTMQ. Like, I walked past severed deer limbs, so what?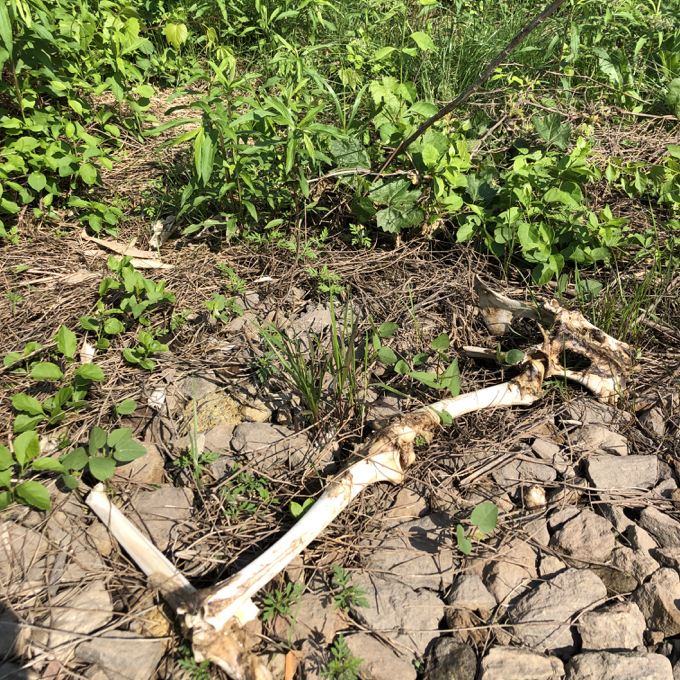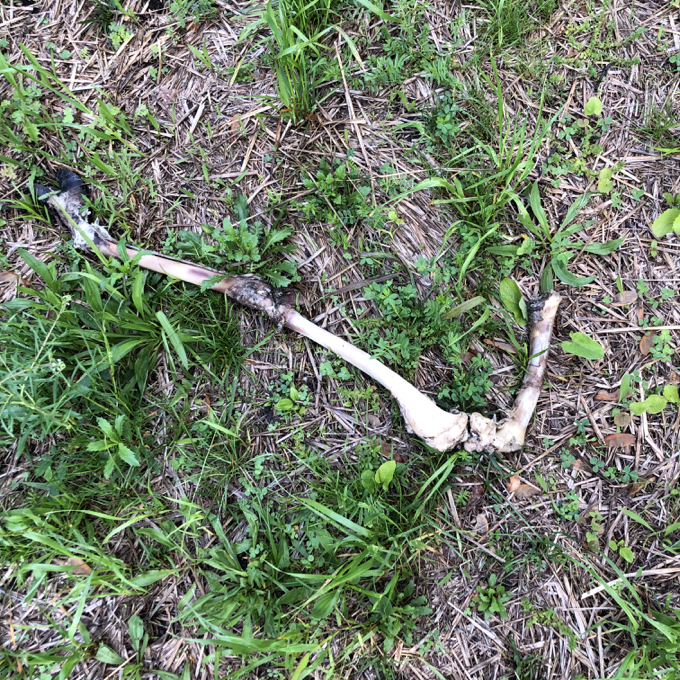 Nature is lit.
That deer once probably played host to hundreds of deer ticks. Please be mindful of ticks when walking this section in the summer, as the overgrown grasses and reeds are surely home to many. The trail is surprisingly cleared through here – I say that because if I'm being honest with myself, not too many people venture along this path.
I know some mountain bikers who use it, and it does provide a shortcut to "downtown" East Hartford from the other side of the river I suppose. (Not really, but go with me here.) Or… perhaps more people enjoy the HRT than I think? I hope that's the case.
After rejoining the river itself again – or more accurately, a spillway slurry of metallic oranges and coppers, emanating from the East Hartford wastewater treatment plant – the trail ascends up onto a large flood control dike.
Sure, many trails in Connecticut use these berms as a pathway, most notably around reservoirs. But here in East Hartford it's a little different.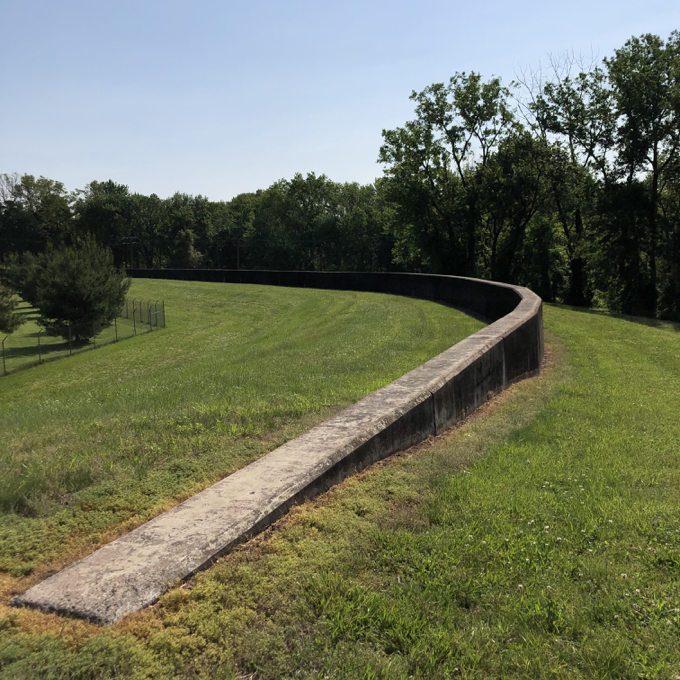 The dike is for true Connecticut River flood control, built up as a reaction to some early 20th-century flood events. There's a cement wall here that mountain bikers call "The East Hartford Wall." Apparently it's a rite of passage to ride along the top of the wall. There is all sorts of fun to be had here along the southern HRT!
What makes this dike walk different is that it gives hikers a nice view of the sewage treatment plant. Not the last one you'll pass as you travel north either. There are two more! I'm not sure I passed near three on the entire Appalachian Trail. Note the Traveler's Tower in the distance… a nice touch.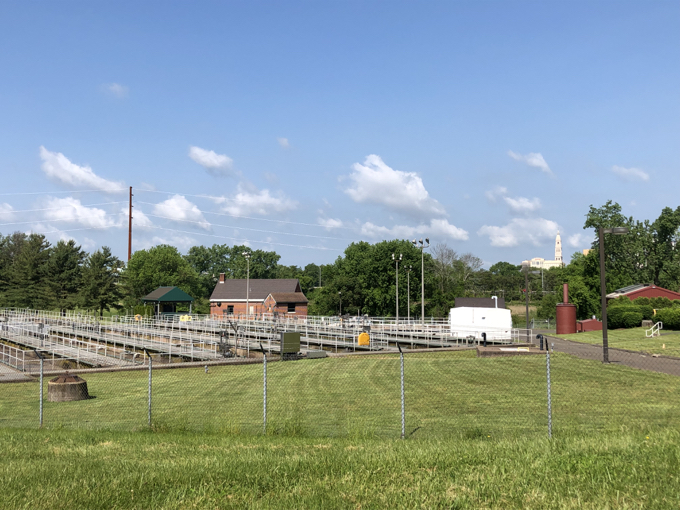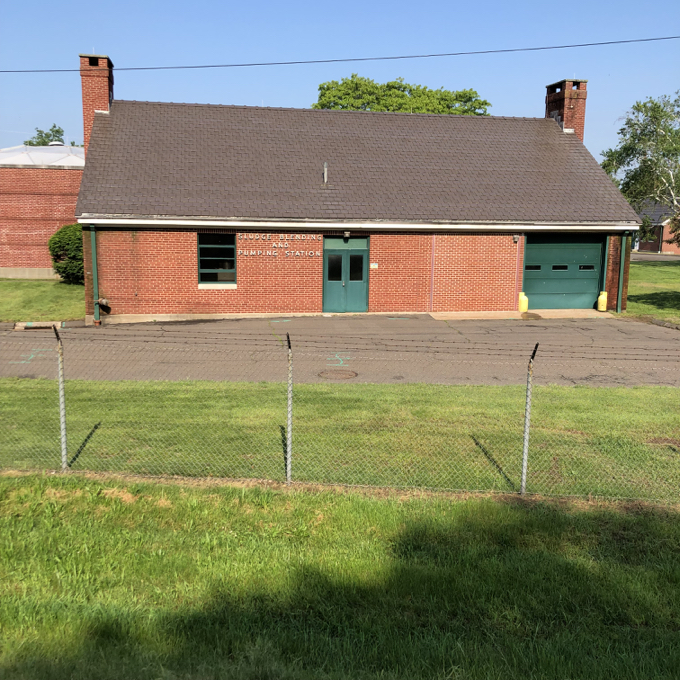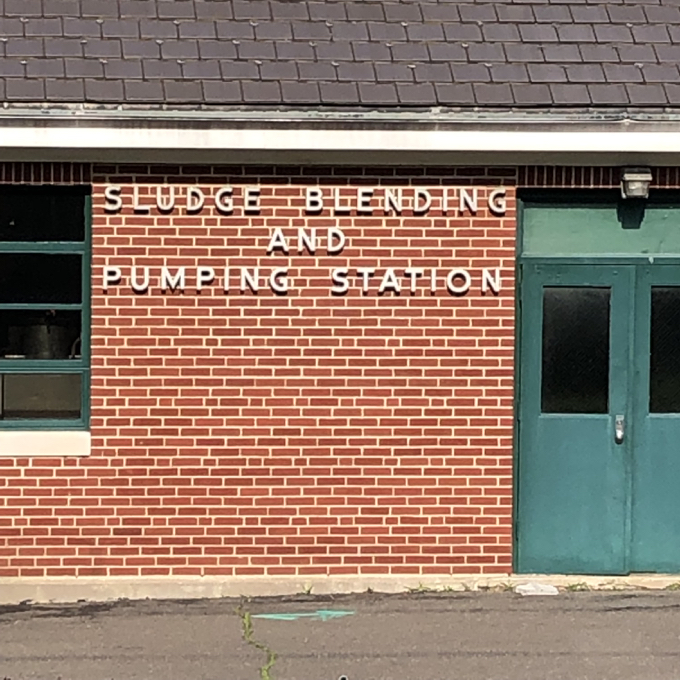 The dike curves around the nicely mowed trail and deposits hikers at a staircase down to a parking lot. As I've mentioned, the gleaming new Dunkin there used to be Kahoots, East Hartford's finest adult establishment. Unfortunately for fans of low-grade strip clubs, its owner was busted for selling cocaine and its dancers prostituting themselves several years ago. Oddly, there's still a Groupon page for them, touting their gluten free options, coffee, and casual attire.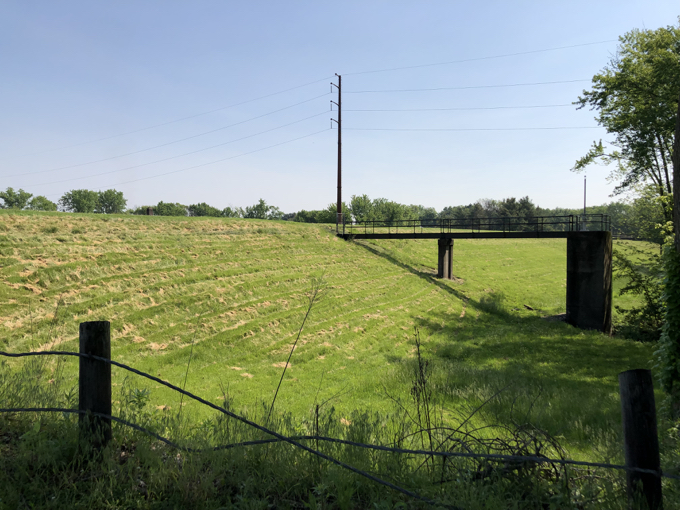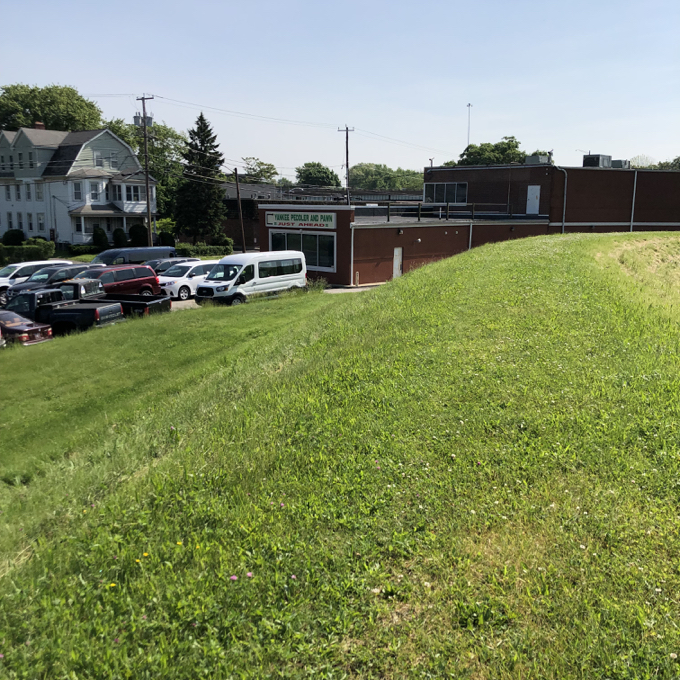 Hey, I'm sure the coffee was better at Kahoots than the coffee at Dunkin. Hey-oooooo. Reaching the next section of the HRT requires a short road walk up Main Street to East Hartford's town hall. Do it, and take in all the sights and sounds of downtown East Hartford. And yes, you'll get to walk underneath I-84, marking the 3rd underpass of the HRT and we're only on the first section!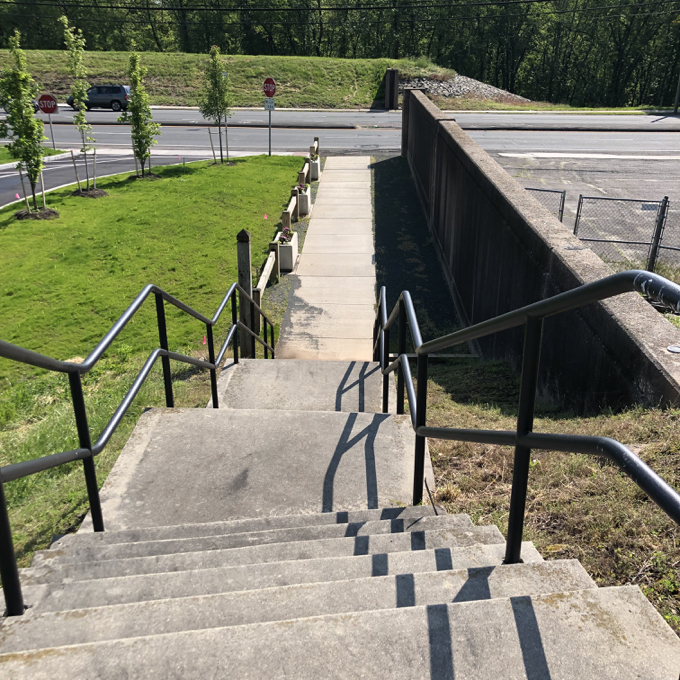 You'll also walk next to a unique structure – a gap in the dike at Main Street. East Hartford and the Army Corps of Engineers does a thing every so often called the Stop Log Exercise to be sure they can plug that gap if necessary.
And you don't see that anywhere else in Connecticut. All hail the Hockanum River Trail!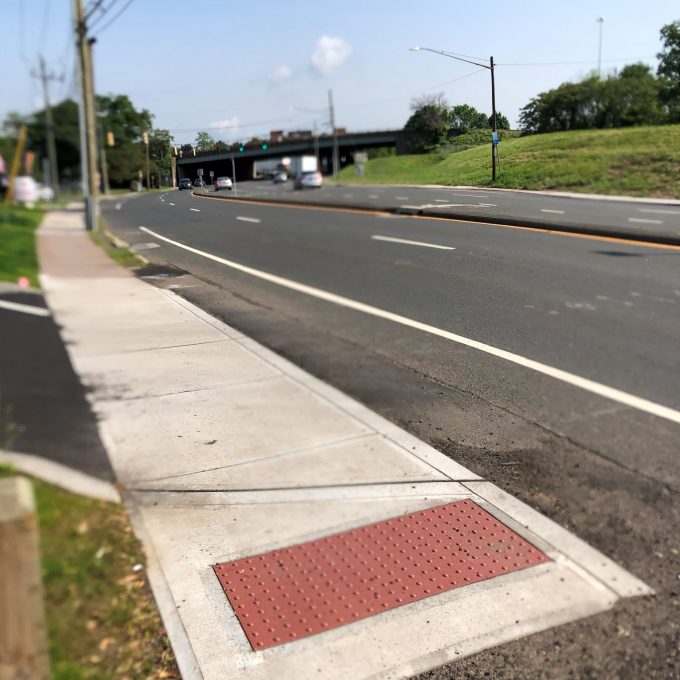 Continue on to Section 2, Town Hall.
HRLPC's Meadow Hill Trail Description


CTMQ's Hockanum River Trails Main Page
CTMQ's Land Trusts Main Page
Hockanum River Watershed Association