UCan't
UConn vs. University of South Florida, East Hartford
October 5, 2019
*Sigh*
Books will be written about UConn football and its unique place in the history of the ultimate implosion of the NCAA. Chapters will be filled with details about the expensive dream. The rise and precipitous fall of the football program is a study in everything that is wrong with collegiate sports in 21st century America.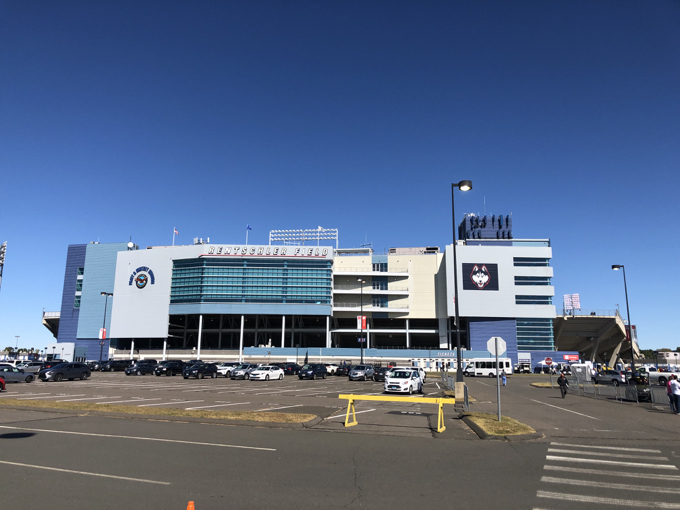 Having said that, I won't be the one to write the book. Ostensibly, the idea behind the Connecticut Collegiate Football Tour is to simply attend a home game of all the college and university football teams in the state. Spending fifty hours researching each program is just not something I'm going to do.
However, UConn is special. One, it's my alma mater. Two, it is the only "big time" program in the state. And three, we're all paying for the current disaster one way or another.
Let me set the stage: I grew up in Delaware and Florida in a football-mad family. The University of Delaware has won several national championships in what was called the 1-AA division. (It's now the FCS – football championship series because they've had real playoffs and a real champion since before I was born.) I grew up going to every UD game on Saturday and watching every Philadelphia Eagles game on Sunday. I know football and rabid fandom.
UConn was in 1-AA while I attended and I went to a bunch of games. I even had season tickets to the on-campus stadium after graduation for some insane reason. They weren't good, but I was single and in my 20's and I had a blast. Shout out to Skip Holtz. Then, with dollar signs in their eyes, someone decided it was time to go big time. Here's what big-time crowds look like in perfect weather in 2019: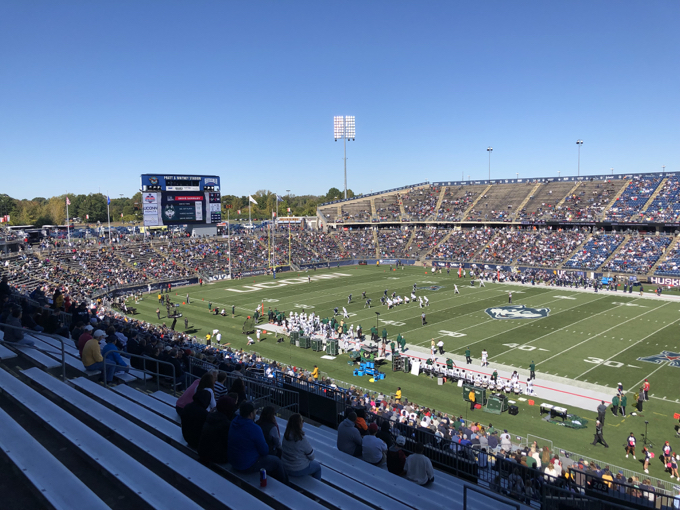 Pratt & Whitney "donated" land in East Hartford and Rentschler Field was built. I've heard rumors about the sweetheart deal and what's buried underground there but that's all unfounded. The parking lots are old runways and mud. I thought the move to 1A (now FBS, for Football Bowl Series, named for all those awesome bowls… not to be confused with the BCS, which is actually separate from the NCAA, and… it's all stupid and the NCAA is a corrupt criminal organization and I digress)… I thought the move was really, really dumb.
No one cares about college football in New England. There was only one other FBS team up here – Boston College – and they hadn't been good since Doug Flutie. The Patriots are beloved, sure, but that's not college football. College football is cultural in the south and Midwest. It's an afterthought here. At best. I was at a great UConn game once, I think it was against Pitt; very close late in the third quarter and thousands of people left. Why? Yankees-Redsox ALCS.
The Rent was built and it is a very nice mid-level stadium. Really not a bad seat in the house. I've attended several UConn football games, a US Men's National Soccer team World Cup qualifier, a Hartford Athletic game, and an insanely cold Hartford Whale/Wolfpack game there. It hosted a few big name concerts back when it was new, and there are a smattering of things like brewfests and whatever once in a while too. These days, the thing gets used maybe 10 times a year. I can't imagine it's done anything for the local economy, other than for the guys who scour the lots for 5-cent bottles and cans after home games.
The stadium is a 40-minute drive from campus which is a terrible thing for those relative few students who care.
From the outset, I was against the move to 1A. It had almost never been successful across the country. Randy Edsall was brought on and I was impressed from the get-go. I liked his philosophy and focus on hard work and academics. He suspended a 21-year-old player once for buying a six-pack. Dude didn't mess around.
He recruited well and understood that the most important thing was to retain the few 1A level high schoolers in-state. Quarterback Dan Orlovsky was one, but to this day, the best high school players are not giving Storrs a sniff. But he did get a surprising number of pro-level talents.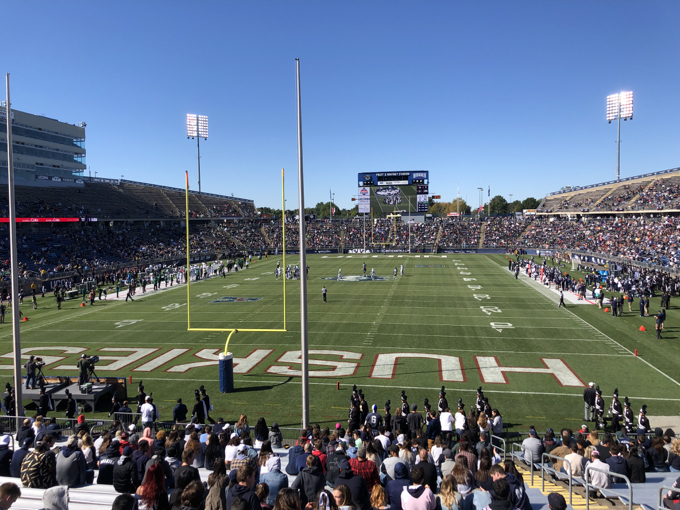 A lot of it, in fact. Suddenly, UConn was… good? Like, legitimately good! The Big East Football conference was also pretty good. UConn beat Notre Dame in 2009 and a host of "known brands." It was craziness.
I was wrong. UConn football was working. It was a thing. The Big East was starting to crumble, but UConn was standing strong! They made the Fiesta Bowl in 2011! Granted, they had four losses and four loss teams don't generally make BCS bowls, but UConn did!
Then it all fell apart. After losing to Oklahoma in the Fiesta Bowl, coach Randy Edsall infamously abandoned his team in Arizona under the cover of night and took an ill-fated job at Maryland. What a dishonorable, disingenuous jerk. The Big East imploded, with almost every remaining team going to a power conference. Syracuse, Louisville, Pitt, Virginia Tech, Miami, and Boston College all wound up in the ACC. West Virginia to the Big 12 and Rutgers to the Big 10.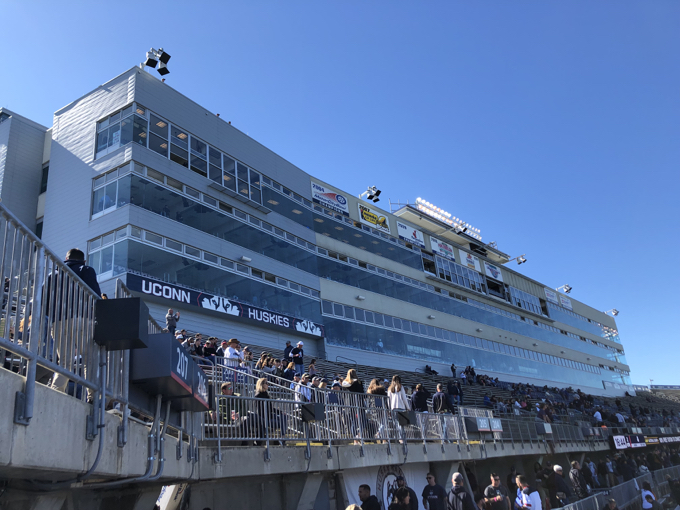 [Edited out my rant about the last paragraph because it stretches to 10,000 words. UConn got screwed over and over and over and over again; with the final death knell being Rutgers to the Big 10. The Big East as a football conference died, UConn wound up in the nightmare called the American Athletic Conference and became the example of "what the heck is going on in college athletics." Top basketball programs in the nation, a good school, and… nothing.]
After Edsall left, the school hired a fossil called Paul Pasqualoni. If you were trying to kill a football program that was dying, this is something you would do. After you were done with him, you'd hire the lunatic Bob Diaco to finish the job. Well done, UConn.
Actually, not quite done yet, they hired Edsall back in 2017! LOL at this program. By 2018, UConn football was actually, literally, the worst football team in the history of the sport. They finished the season 0–8 in AAC play. They set the single-season FBS record for most yards and most points allowed in a single season. This included giving up 50.42 points per game (breaking Louisiana-Lafayette's record of 50.27 in 1997) and allowed 617.4 yards per game (breaking Kansas' record of 560.83 in 2015).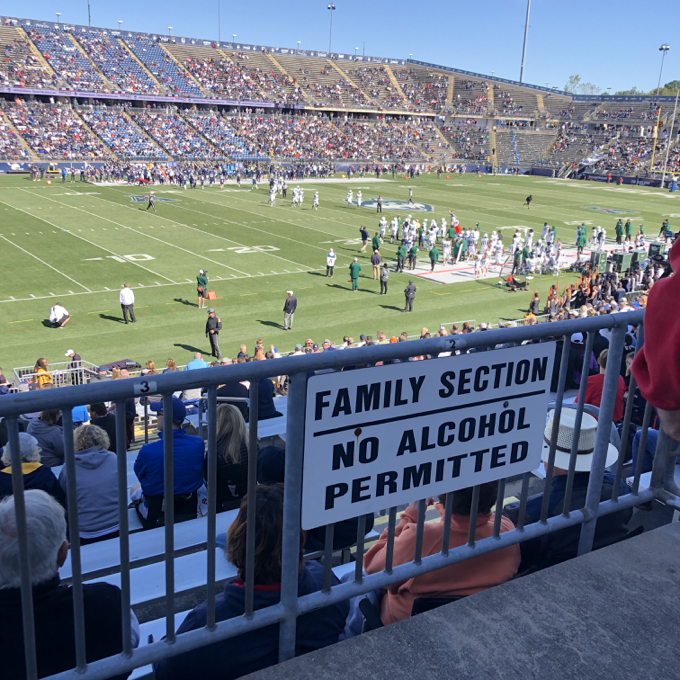 No one goes to the games. The product is unwatchable. The whole thing is just ridiculous. UConn leaves the AAC in 2020 and other sports join the Big East, which has no football. This is probably good for basketball, but football will be Independent, joining both Army and UMass, the two closest FBS teams geographically. UMass and UConn have been ranked in the bottom 10 of the 130 FBS teams for the last few years.
No one knows why both schools continue with this nonsense. (Okay, sure, it's for the money that will "someday" come. Right. To independent football schools not named Notre Dame. I know some very smart people that are STILL 100% behind big time football at UConn.)
To date, only one team has moved from 1-AA to 1A and back down… Idaho. I think. As I write this, I can think of several programs that need to seriously think about doing the same, including UConn. The power structures of college football are now such that if you're not in a power conference, you're doomed. In 2017, the University of Central Florida went undefeated, beating two ranked teams, and was treated as a joke. They didn't get a sniff for a national championship bid and wound up beating Auburn in the second-tier Peach Bowl. In other words, no matter what you do in a non Power conference, you literally can't make money or get anywhere "important" in college football anymore.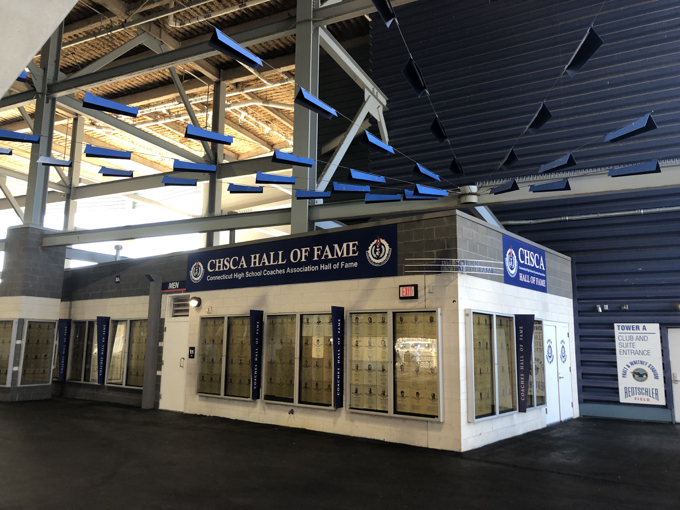 So I went to the game versus South Florida on a perfect October Saturday. I joined a few thousand others to watch yet another lopsided defeat at the Rent – which is officially called Pratt & Whitney Stadium at Rentschler Field. The team is just awful and unwatchable and Edsall is still coach. He punted the ball at least three times inside the 40-yard line. This team won't win a game against an FBS opponent this year (like last year) and the dude is punting at the 37 yard line.
UConn got crushed 48-22. The Huskies have lost 20 games in a row against FBS opponents – many of them against other terrible teams. They've BARELY beating a few FCS teams over the last few years; teams like Stony Brook (by 3!), Holy Cross (by 7!), Rhode Island (by 7!), and Maine (by 3!). Just awful.
At least The Hartford Courant, long a cheerleader, has given up the ghost:

Reminder, that "one win" this year was against Stony Brook, a school with far fewer scholarships and students.
There are a LOT of cops at UConn football games. Dozens. There were at least two guys ready for war; full tactical gear, sunglasses, giant automatic guns on their belts. Dudes, no one goes to these games. Take the day off.
There are also a LOT of beer stands. Dozens and dozens. I guess that makes sense; I had difficulty watching the game stone sober.
I don't know what's going to happen to this clownshow football program. It is a monumental waste of money and effort. I feel bad for UConn in a way, as they absolutely should be in the ACC or Big 10 but they aren't. (They'd be just as terrible there, but would at least get TV money.) I'm happy basketball is back in the Big East. As for football, when the independent UConn is playing Louisiana Tech or Florida International in a cold rainstorm on an abandoned airstrip in East Hartford, I won't see you there and it sure as heck won't be on TV.
Edsall "resigned" in the middle of the miserable 2021 season. UConn, with a 50 million dollar debt, hired Jim Mora, Jr. who will now save the whole mess I'm sure.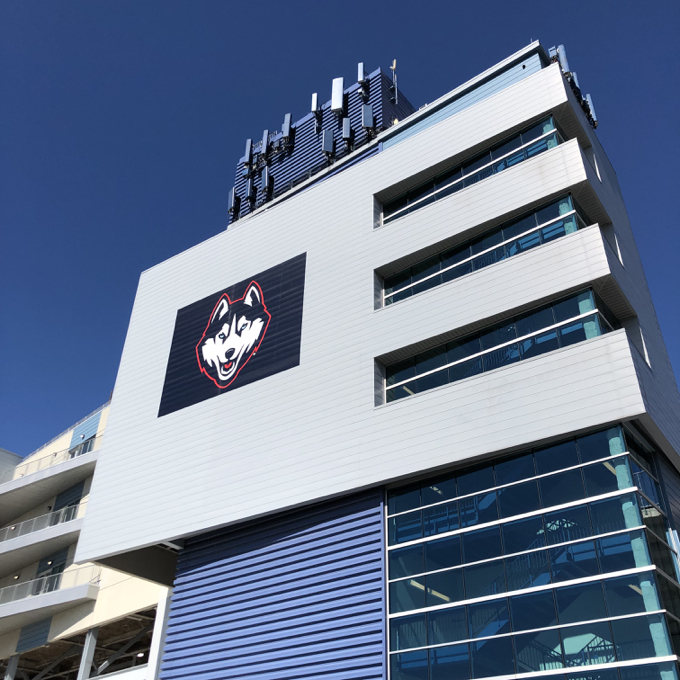 Cost: Free for me. No way would I pay for this garbage, but people actually pay thousands for their season tickets. Whatever single game tickets cost, it's too much.
Stadium: Not bad. When it was full back in the day, this place rocked.
Parking: Massively Overpriced.
Concessions: a billion options and since it's UConn football, there are no lines which is nice.
Overall: Everything is good except the actual game.

CTMQ's Sports & Sporting Events