Nightmare on Elm Street
Hockanum River Trail: Elm Street, East Hartford
~0.75 miles, May 2019
If you are reading my thru-hike of the Hockanum River Trail in order (generally south to north), you have already read the Town Hall Trail page. If you haven't, it's a fun one and you should. Better yet, start at the beginning with the HRT introduction and catch up.

So far along the Hockanum River Trail, beginning down near the mouth at the Connecticut River, we've passed underneath several highways, walked along a berm next to the East Hartford wastewater treatment plant, parked at a former strip club, and have traversed a mindboggling boardwalk through town.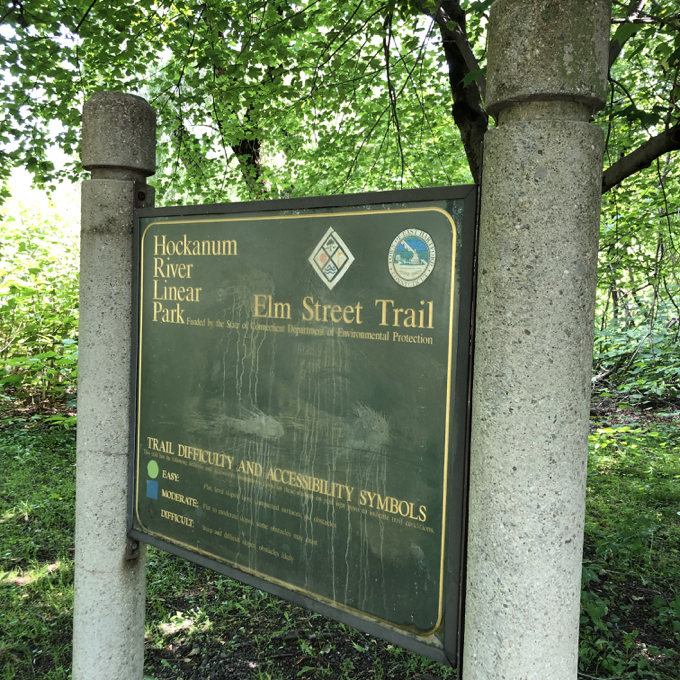 All that in a mile and a half. The next short section of trail can't possibly top that, can it? The official description:
This trail segment goes towards the river and then goes either downstream to merge with the Town Hall trail segment, or upstream through wetland forest and across Ecology Drive.

It continues around the rear of the closed and landscaped town landfill, and then proceeds through more wetland on elevated boardwalks out to Martin Park, where you access the Martin Park to Hillside trail segment.
Ah, yes, our first – but not the last – landfill! We'll get to that in a bit.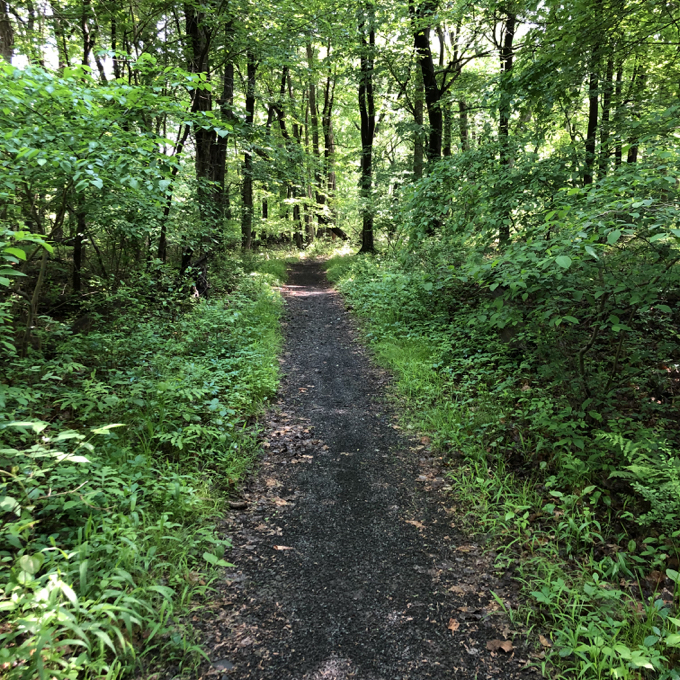 This section starts in the middle of the woods, at the junction with a short access trail off of, you guessed it, Elm Street. There's a huge hiker's lot out on Elm Street which, like all the huge hiker's lots along the Hock, is just so crazy to me. None of the hiker's lots along the Appalachian Trail in Connecticut are this big.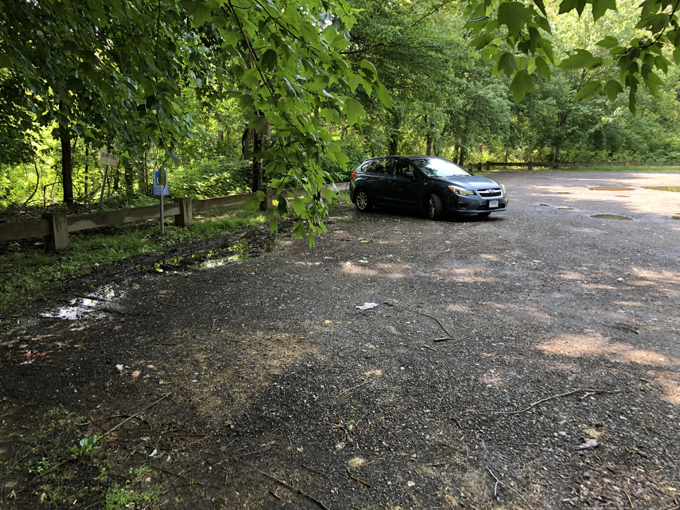 I'm going to guess that this lot is never full. But it's nice that it exists. The little access trail is well-cleared, as is the path towards Martin Park. After the impossibly long boardwalk of the last section, I was almost expecting to be done with them.
Nope.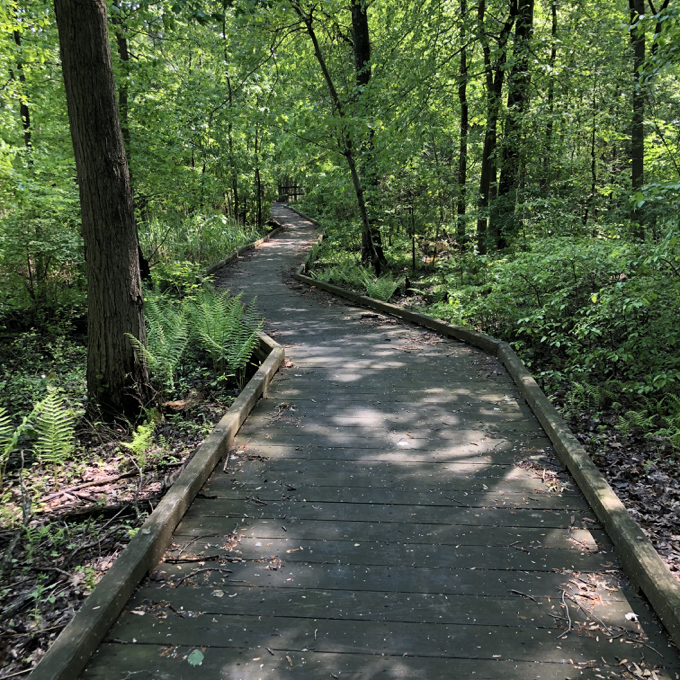 Not at all. Massive bridges too.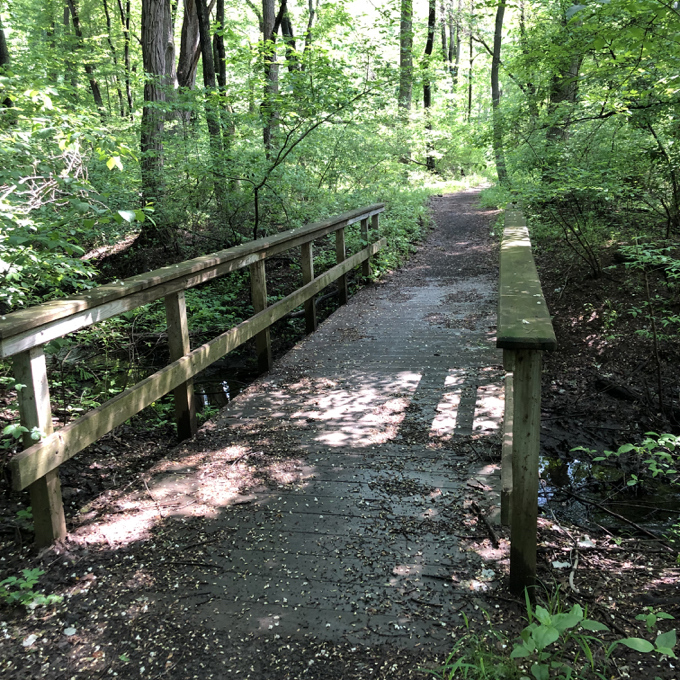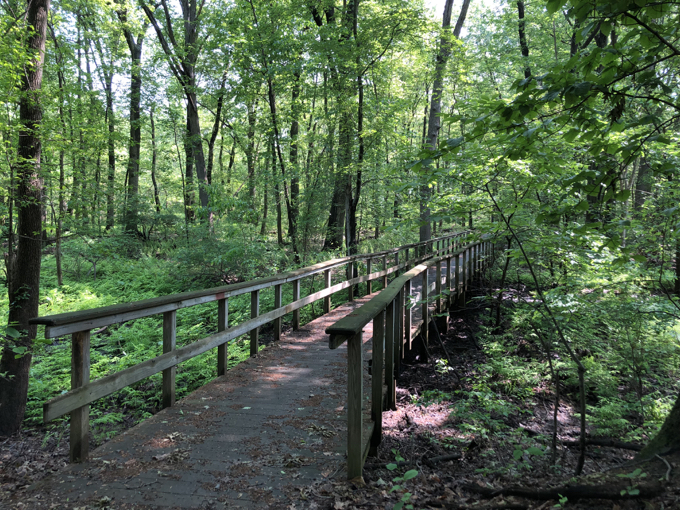 I know you all think I'm really weird to be harping on these structures so much, but you have to understand; the level of craftsmanship and the massive size of this undertaking – for a lightly hiked urban trail with no mountains or beaches – gets me more excited than you can imagine. Here you go, here's another picture along this little section: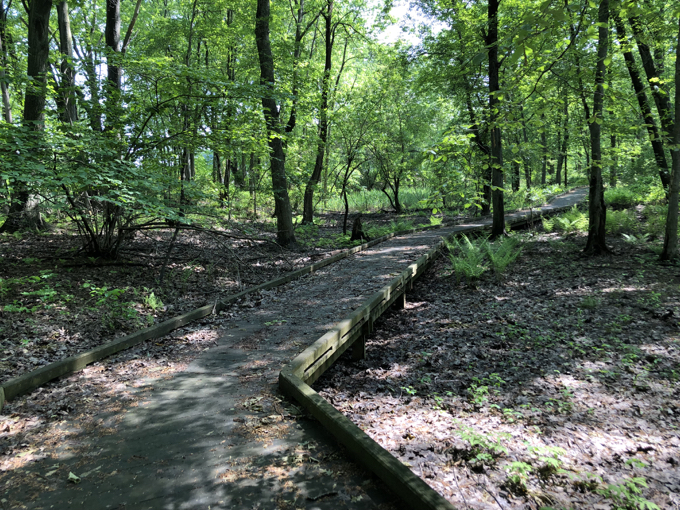 The Elm Street section doesn't have as much of this as the previous section, but there's still a ton. After some pleasant actual dirt trail walking, I crossed Ecology Drive. That's right, East Hartford named the road to its transfer station (and former landfill) "Ecology Drive." That's some Trump-level Newspeak right there.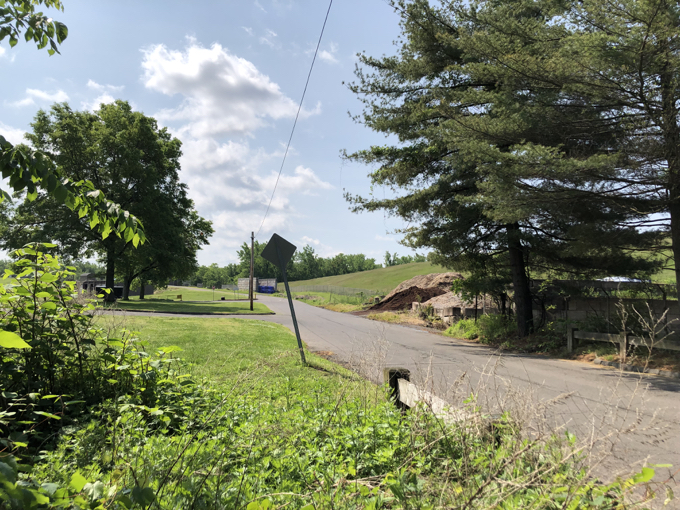 I'm not sure how the property is used now, but it does house the town's workshop and landscaping equipment now. I know this because the HRT is blazed right alongside where all the mowers and stuff are kept.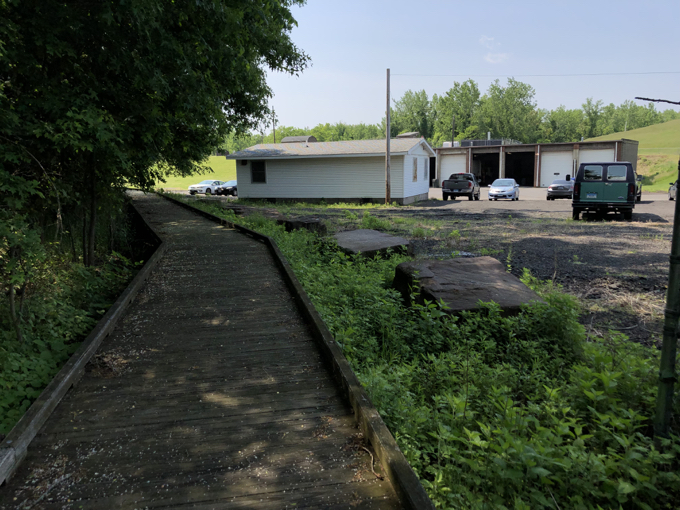 Some men were working on various equipment as I bumbled by. They didn't seem too startled by my presence, so maybe more people than I think walk this section. Either that, or they just didn't notice a 6'3" guy walking along a giant boardwalk behind their fairly secluded garage area.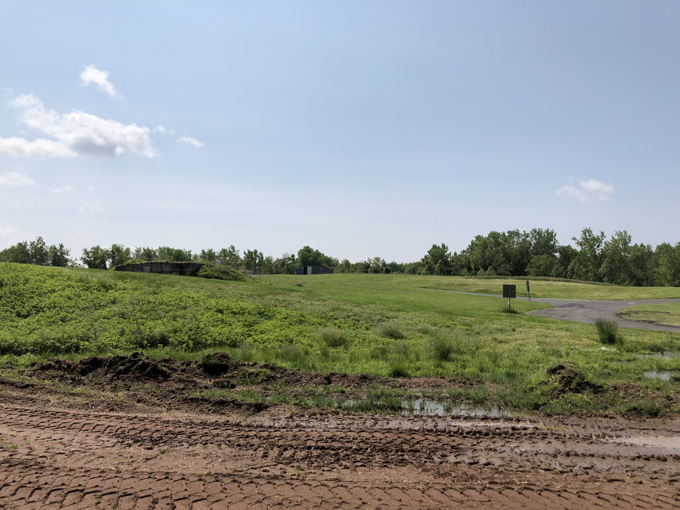 I was definitely noticed by a deer though. Yup, more urban East Hartford deer here. This one, like the last several, just sort of stared at me as a mere curiosity. Surely completely used to humans, these East Hartford deer really don't seem to care about much.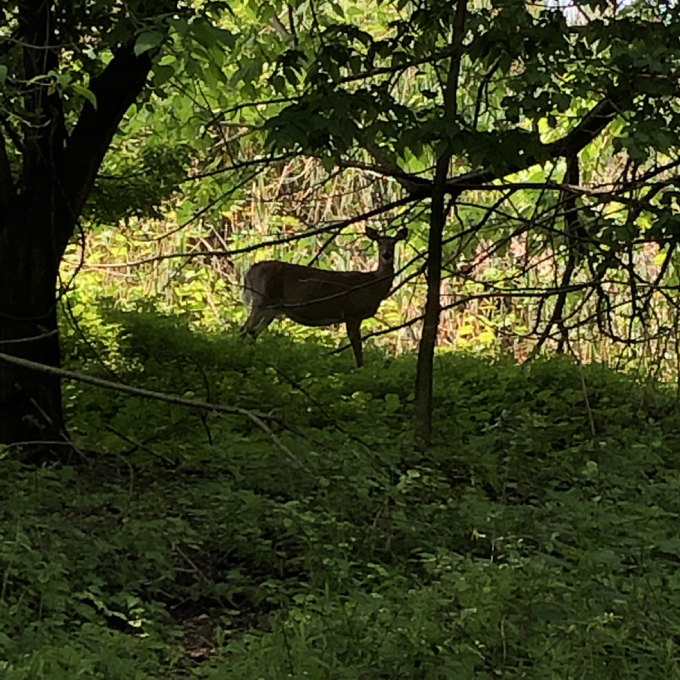 As I approached Martin Park, I crossed more massive bridges over marshes and swamps. Martin Park is a very popular place with local families, as it has a pool, a picnic area, the Historical Society of East Hartford museum complex, and, well, the Hockanum River Trail!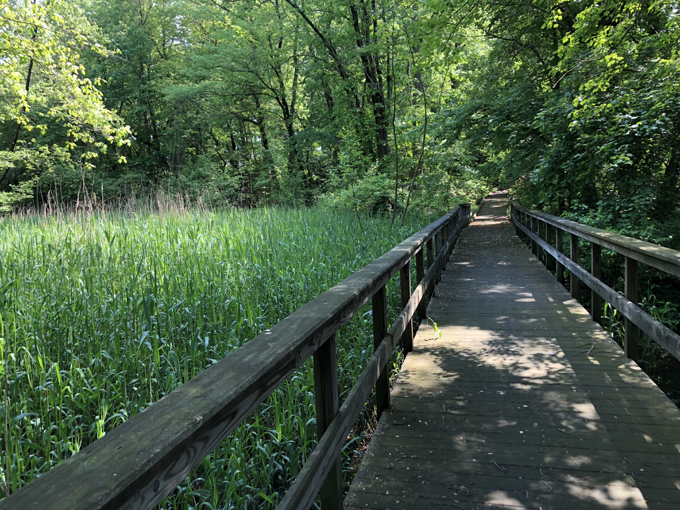 Again, I'd guess only a smattering of visitors actually wander away from the main park to cross these bridges, but I hope some do. It's a fairly nice area, the deer are friendly, and those who built these this trail should get some love.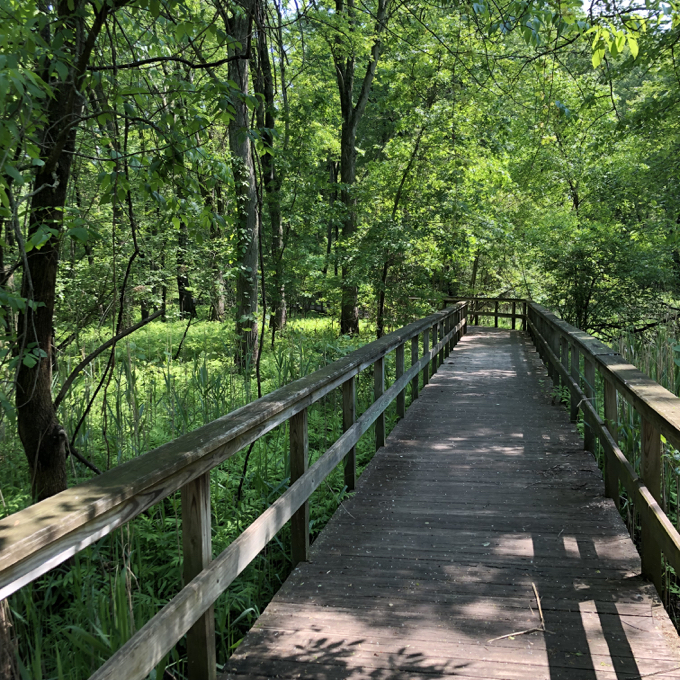 That's all I have for the Elm Street section. The "Nightmare" of this page's title really doesn't mean anything… unless, perhaps, we think about what a nightmare it was to build, transport, and place all this lumber – not to mention the maintenance of it.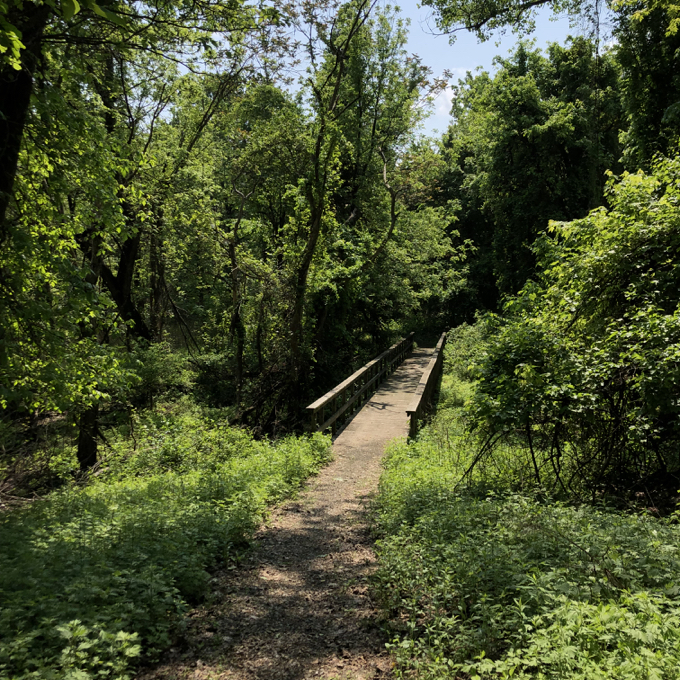 Official Elm Street Trail Description
Continue on to Section 4, Martin Park.

CTMQ's Hockanum River Trails Main Page
CTMQ's Land Trusts Main Page
Hockanum River Watershed Association