A Bloomin' Trail System
Bloomfield/Simsbury Greenway
May 2020
I want to believe that this page is sort of a placeholder for now. For I want to think that in the future, this little 2-mile section of paved multi-use trail will merely be a small part of a much longer link in the New Brunswick-to-Key West East Coast Greenway.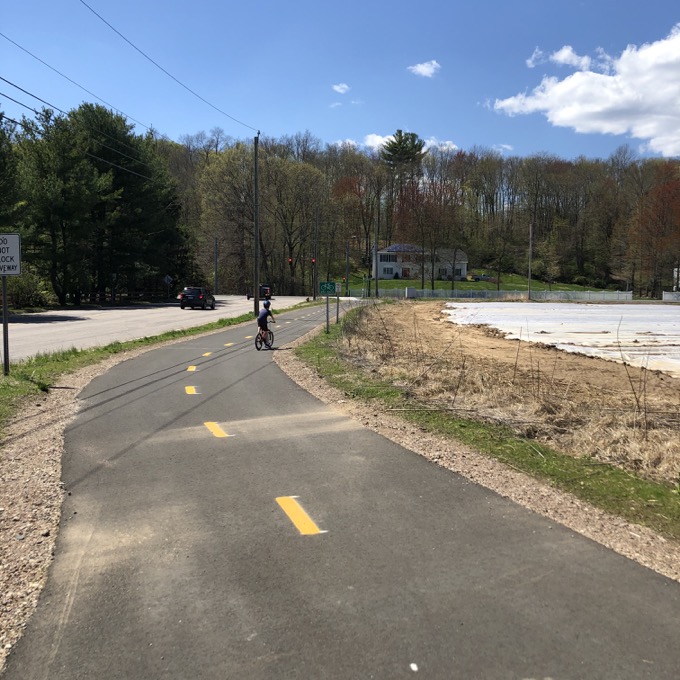 Or, more locally, a small part of a much longer link connecting the Charter Oak Greenway in Hartford to Simsbury and the Farmington Canal Heritage Trail. There is much work to be done and many miles to improve for that to happen. So for now, let's enjoy the somewhat random out and back path from Day Hill Road to (near) route 189.
I have been driving past the Day Hill parking lot for a decade and was impressed with how quickly it all came together once the workers got working. Calvin and I parked and made our way west down the trail.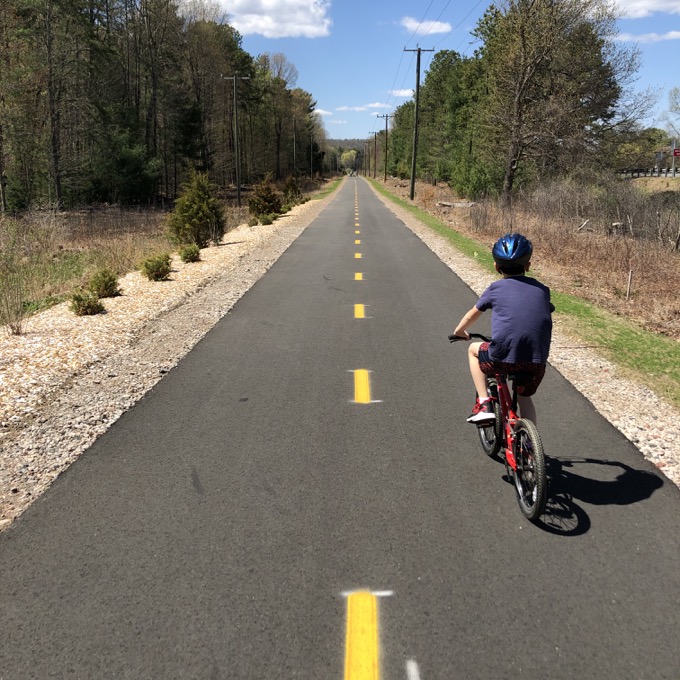 As this was the state's newest multi-use path when we rode it, it was in impeccable condition. The miles – all two of them – flew by.
The path is along the abandoned Connecticut Western Railroad bed on land mostly owned by Eversource. In fact, we got an up close view of a massive Eversource power station (or whatever) near a handsome new bridge on the original railroad abutments crossing Griffin Brook. This stream courses through some thick brush before tumbling down the hill via the Griffin Cascades.
Anyone familiar with this area knows that Eversource went crazy and here with a large powerline project across the Farmington River and beyond. Calvin and I glided by a large parking lot at a church. There were fliers welcoming cyclists. We continued onward, all the way to the… end.
The trail, in early 2020 anyway, simply ends in the woods on its way to route 189. The next phase in the greenway is connecting the unfinished portion in Bloomfield to Simsbury's Tariffville village. This kind of needs to happen, as the current ending of the trail is as unceremonious as is possible.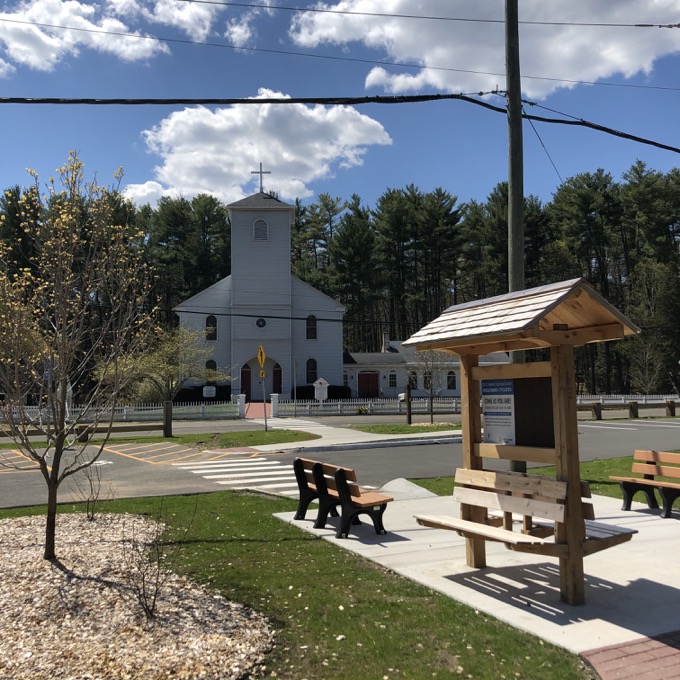 Calvin and I continued beyond the end and rode down the rocky dirt path to the highway. From here, the future trail will follow 189 into "downtown" Tariffville and then, I would guess, course over to the Farmington Canal Heritage Trail on its way south to Florida.
As for the pathway into Hartford, that may prove more difficult. But it's silly for me to suppose on this page in 2020, because eventually these last few paragraphs will be deleted as they will no longer make any sense so I might as well right a run-on sentence with an incorrect homonym for the heck of it. But the next paragraph will likely be retained in some form.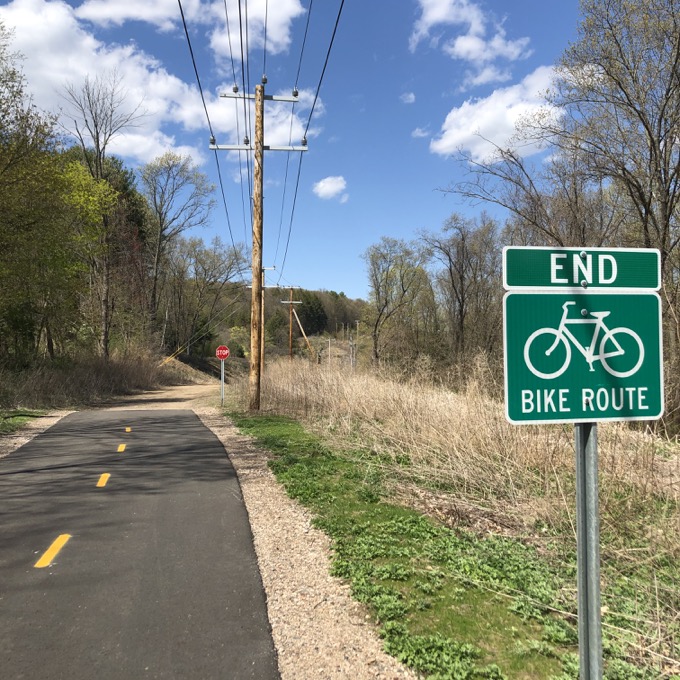 At the end of this section, Calvin and I looked across the highway and the river beyond it, over to the hills of East Granby. Over there, I explained, we'd hiked the Metacomet Trail section and Cowles Park trails. There are the Tariffville Cascades and the Eversource Land Trust trails. So much to see and do in places most would never know.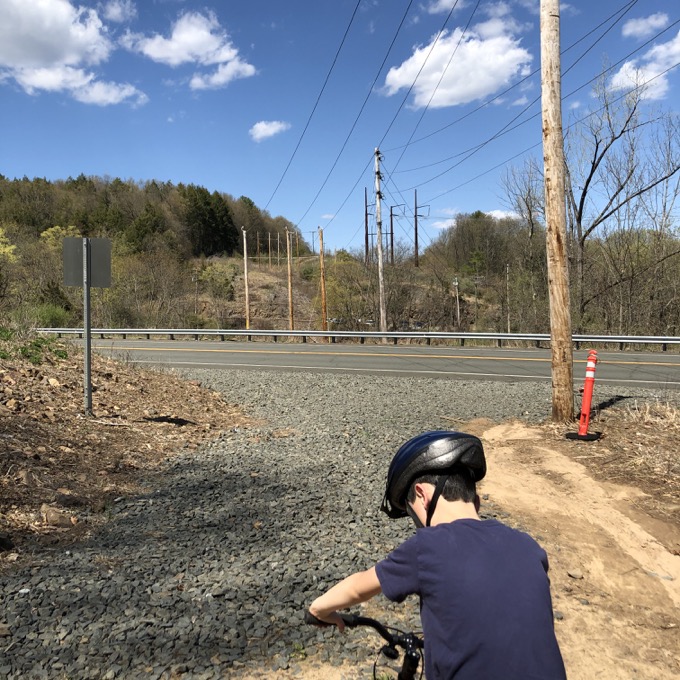 Cycling, Multi-Use, & Rails-to-Trails Paths