An Ever Source of Confusion
Tariffville Gorge, East Granby
April 2019
The Eversource Land Trust is one of those entities that sort of exists on the fringes of CTMQ-land. It's real, and it's exactly what it sounds like: the massive utility company puts some land here and there into trust. Then they pretend they are these wonderful stewards of the environment for doing so.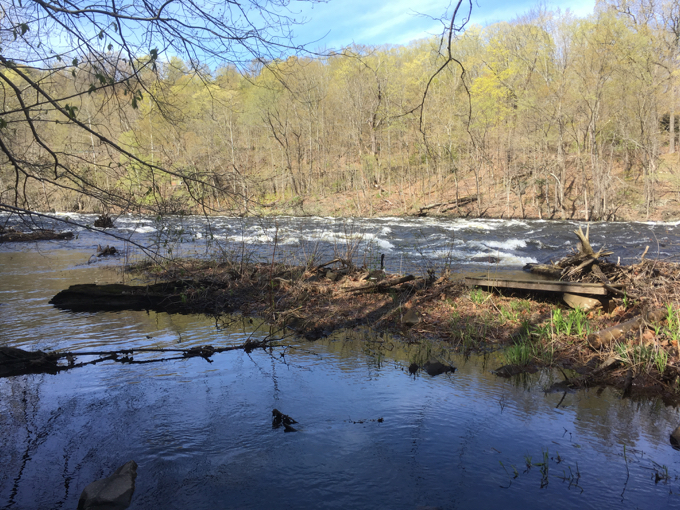 In truth, most of these lands are not able to be developed and/or exist merely to allow for power line cuts. There are a bunch around the state and some are actually worth your time to explore.
Tariffville Gorge is one such place – and for multiple reasons. The most obvious would be to simply enjoy the rapids along the Farmington River from the various trails at the end of Tunxis Avenue.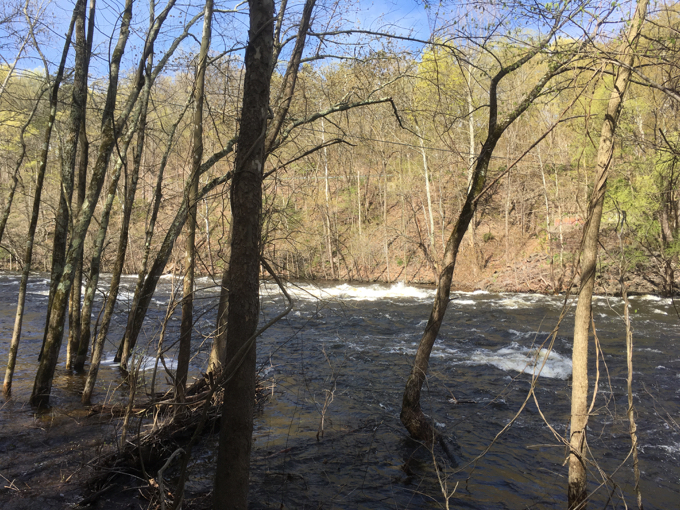 This is a whitewater kayaking hotspot – one of the hottest in the entire state. There are often competitions here and when there's not, you're likely to find someone out in the rapids training or just having fun. It's also a very popular fishing area as well and is additionally, a rather pretty place at which to just to sit and stare.
The heart of Eversource's 535-acre Tariffville Gorge properties in Bloomfield and East Granby is a scenic gorge bisected by the Farmington River. The Farmington River is one of Connecticut's premier trout streams.

Strong rapids are frequently visible in this area. The property also has wooded portions managed for wildlife habitat and forest health. Some of this forestland stretches to Talcott Mountain, and connects with several Town open space properties.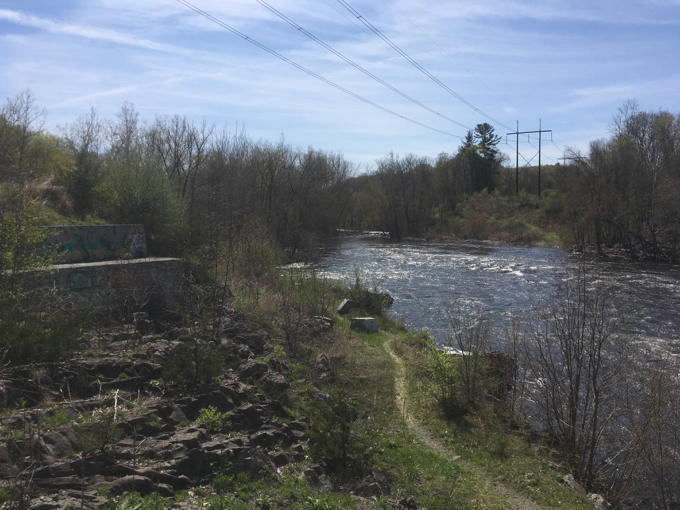 Extensive fishing, hiking, and canoeing/kayaking opportunities abound in the Tariffville Gorge area. The gorge and adjacent lands are crossed by an electric transmission line corridor. The Spoonville Dam once produced hydroelectric power, but was destroyed by extreme flooding in 1955, has been fully dismantled.

In addition to Tariffville Gorge, other nearby open space properties includes a portion of Talcott Mountain State Park, Penwood State Park and Wilcox Park (Town of Bloomfield). Cowles Park (Town of East Granby) borders the northern portion of Eversource's property.

Together, this large protected area provides extensive natural and cultural resources and varied recreational opportunities.
The key (for me) to the above Eversource blurb is how this property connects to so many others. We can ignore the small bit of their land on the Bloomfield/Simsbury side of the river, as there's not much to it. But over on the East Granby side, one can make a really cool hike or mountain bike afternoon of its trails.
Mild correction though – Cowles Park borders the ELT property to the east, not the north. But to be fair, this can be a very confusing area. Fortunately, mountain bikers have done a great job accurately mapping the trails around here, and it will help us get our bearings: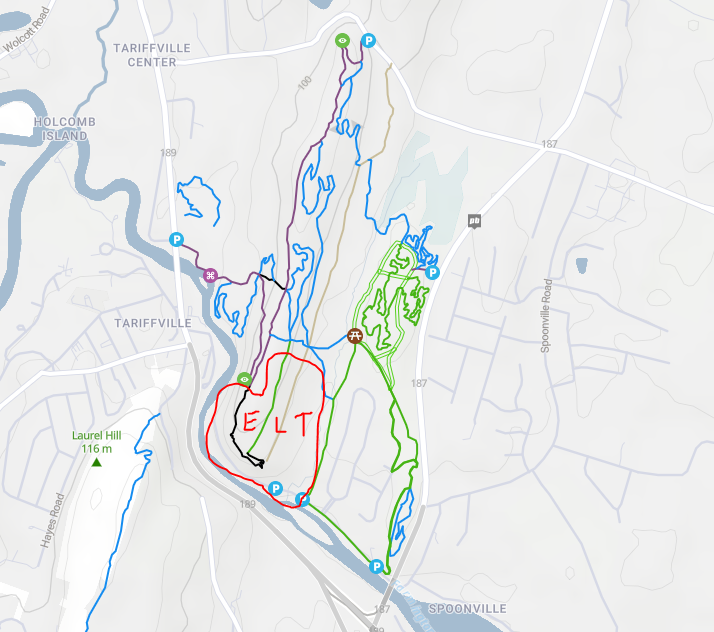 I added the red boundary line (approximate) of the pertinent Eversource Land Trust land. Their purple trail is the CFPA's Metacomet Trail, which travels the spine of the Metacomet ridge from south to north. Don't ride your bike on the Metacomet please.
As you can see, one can access the ELT property from the Metacomet or East Granby's Cowles Park (the mess of trails on the right side of the map above). Or, you can simply park along or at the end of Tunxis Avenue. I'm telling you all of this because this is a really pretty – and pretty confusing – area and as you now know, you can hike to some of north central Connecticut's sweetest views.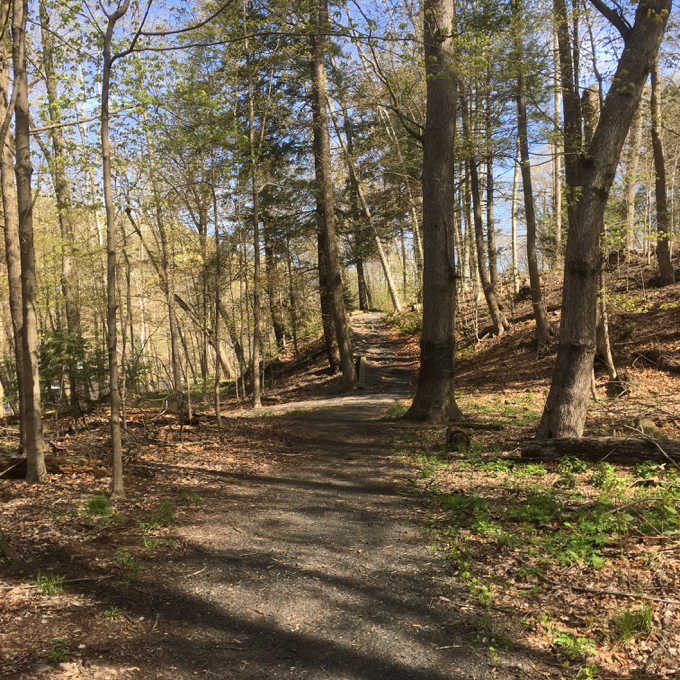 At the dead-end, there's a trail that heads up the river north for a while. This exists mostly for kayak & canoe portage more than anything else. A fainter trail splits off and heads away from the water, but quickly comes to a large, steep scree field. I quickly decided that didn't look too fun and headed down towards the river. (Had I continued, I'd eventually have reached the Metacomet, but… why?)
I followed the river back towards the road at which point I explored more trails between the road and the river. I just read a post from my blogging/hiking friend Sarah, wherein she took her relatives on a bushwhack scramble along the river from the Metacomet! Well done!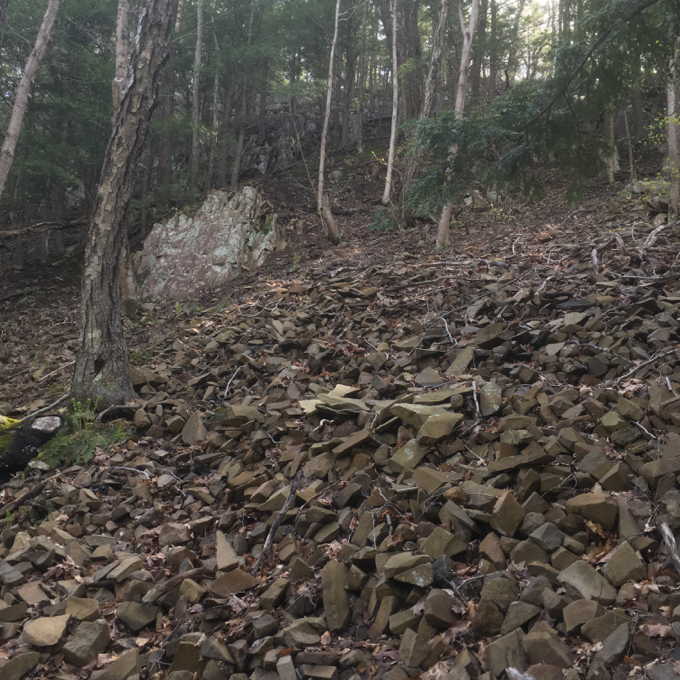 As for me, I moved my car down Tunxis Avenue and poked around some more trails near the river before parking again at an Eversource power line access road. I'm not sure why I felt this necessary – that is, who cares to walk every inch of Eversource Land Trust land? Eh, I had some time and felt like walking straight uphill for some reason.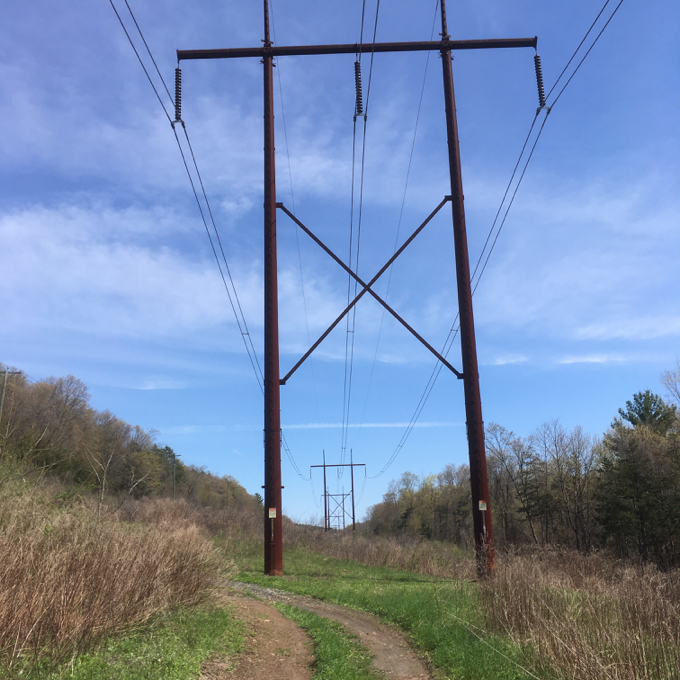 Remember, this is a "gorge" – a Connecticut gorge anyway – so, yeah, it was pretty steep reaching the ridge from the river. Once up there, I found the trail that cuts across the power line going to Cowles and to the mountain bike trails on what I believe is ELT property. I walked a bunch of the mountain bike trails (I believe these are all built and maintained by New England Mountain Bike Association) and was impressed with how "nice" some were.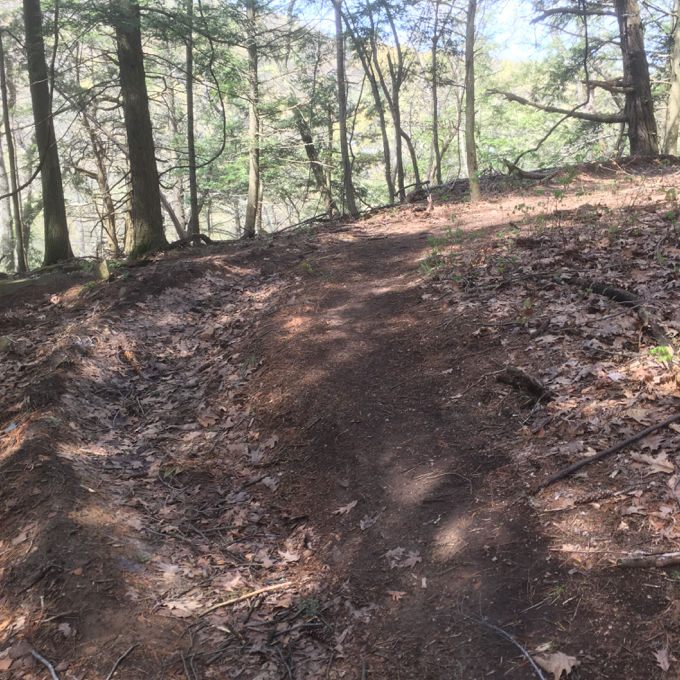 There are berms and nice lines through the woods. It looked like a really fun place to ride and with lots of options and places to go, it must be one of the best spots in the area.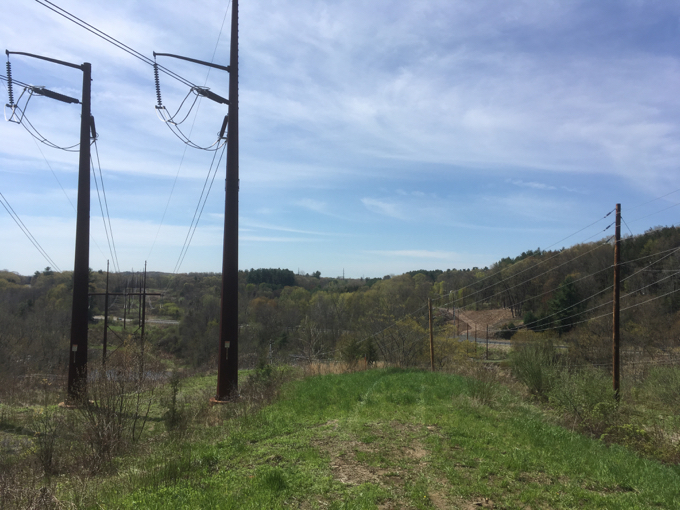 Eversource Land Trust
CTMQ's Eversource Land Trust Trails
Tariffville Cascades