Section 12: We're Still At It!
Farmington River to Hatchett Hill Rd, 2.3 miles
October 7, 2017
Hello? Is this thing on? Yes? Good.
It has been almost exactly SIX years since our last Metacomet Trail section hike. Yup, the last time Hoang and I hiked it was mid-October 2011.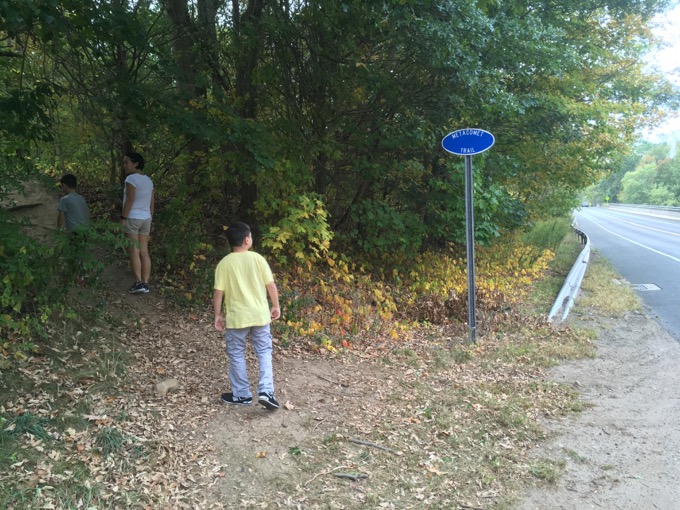 Man, time flies. Back then, Calvin was a mere 6 months old. Now? He's climbed Mt. Monadnock and Mt. Frissell. Crazy.
For those of you unaware (that would be pretty much all of you) reading this, the Metacomet was the trail that spurred me to add the CFPA blue trails to CTMQ. That was back in April 2007; seven months after I began this website. Damian was just a year old.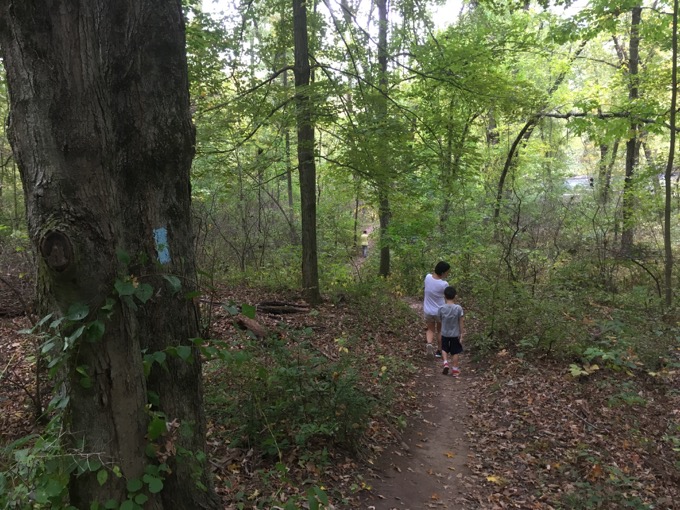 But the Metacomet is the ONE long-distance trail we are doing as a "we." That would be me and my wife, Hoang. So while I could have finished the Metacomet fifty times over since we last hiked it, I didn't.
This is "our" trail. To do together. To the end.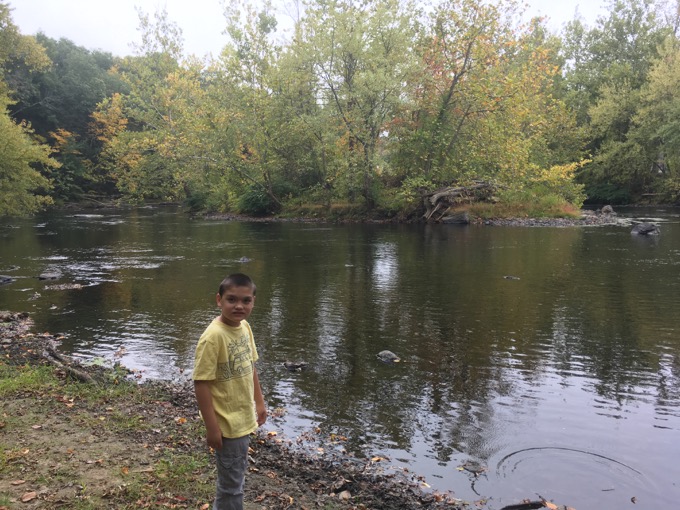 (It should be noted that the CFPA had been working on a very nice reroute "up the trail" in Suffield during the past six years and only completed it a year or so ago. So I was actually waiting for that to be completed all the while.)
I look at this situation as yet another reason why thru-hiking is so great. Granted, the Metacomet is only 60-some miles, but the fact that one can hike it all in a few days, a few months, or over the course of a decade-plus makes it really cool to me.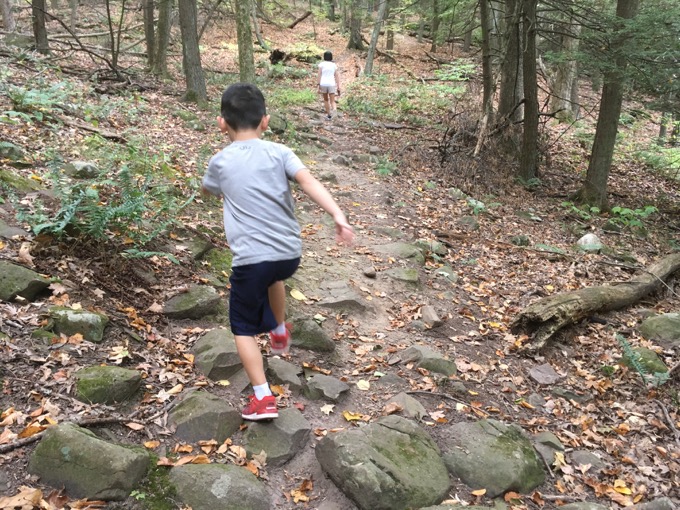 Sure, some of the route has changed in the miles behind us – most notably around Sunset Rock Park in Plainville – but I'll deal with that on my own down the road. Hoang and I are going to finish this thing up to the Massachusetts state line together, as we always planned.
And, for this short section anyway, we had company. Namely, our sons Damian and Calvin.
Hoang hadn't really been "real hiking" with Damian, but she certainly had heard me talk about it for the past few years. It was time to show her what it's all about!
For better or worse.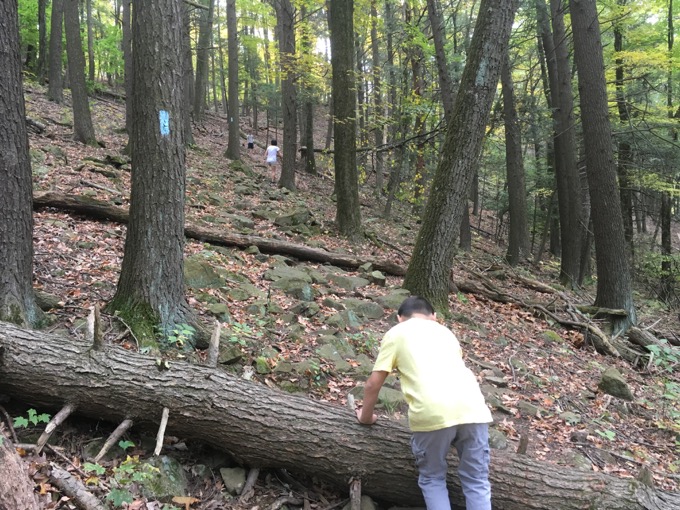 We spotted a car at the small hiker's lot on Hatchett Hill Road in East Granby and then began where we last left off; just across the Farmington River in the Tariffville section of Simsbury.
The first half mile or so winds down to and along the banks of the river. For whatever crazy reason, Damian decided he'd run this whole section. Fine by me.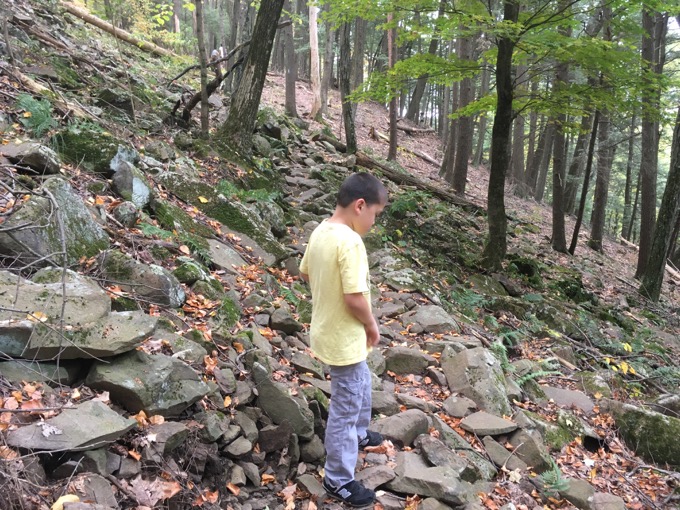 The area is covered in poison ivy, so I figured the quicker we were away from the river and the poison, the better.
Once at the river itself, the boys had to stop and throw stuff into it. Sorry Hoang, that's what your sons do at every lake, pond, river, inlet, outlet, bay, tidal marsh, creek, stream, Sound, puddle…
She has so much to learn.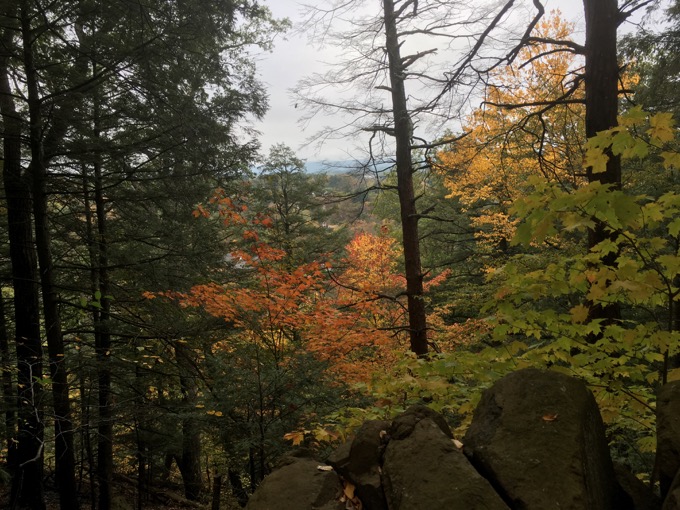 Once we were able to tear them away from throwing sticks, we began to climb the unnamed hill. I spent this entire hike thinking we were on Hatchett Hill – only to later learn that Hatchett Hill is north of Hatchett Hill Road.
Oh well.
Once the trail began ascending, Damian began "behavioring." Hoang and Calvin trudged ahead of us. It was kind of nice not having to hold back Calvin to deal with Damian for once, and it allowed Calvin to "show" mama some of his hiking skills and grit.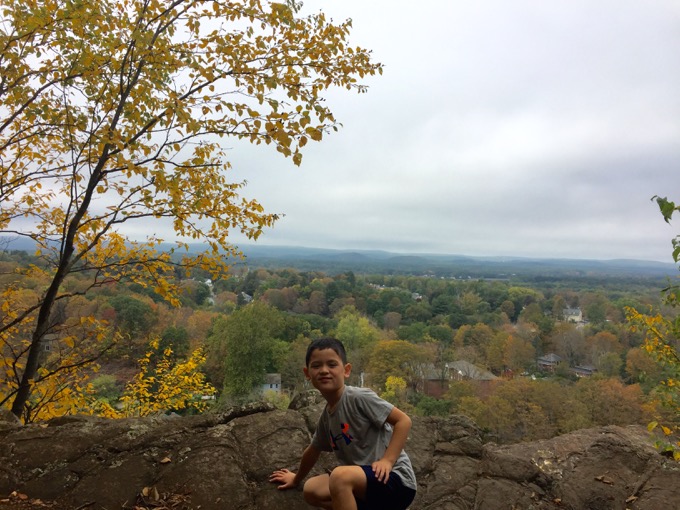 Meanwhile, I had to keep urging Damian along… over the unsteady talus and up the steeper inclines while he wasted energy on his syndrome's more frustrating hallmarks.
But we made it.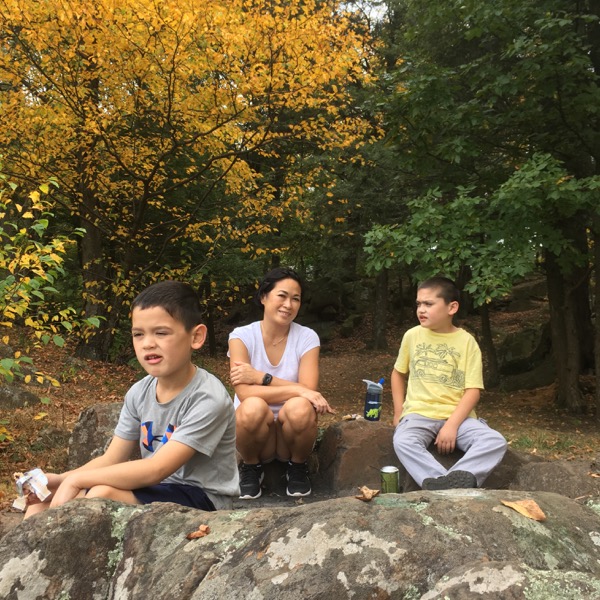 Unfortunately, due to the impending end of the world, this October has been ridiculously warm and dry. As a result, 2017's foliage is abysmal. The leaves are pretty much turning brown and falling off.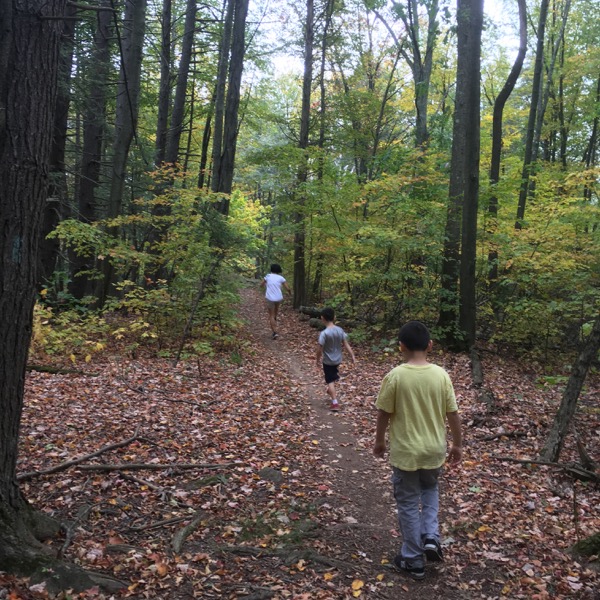 And that's a shame because this section of the Metacomet has a couple sweet viewpoints. The first comes after almost a mile I'd guess and takes in Tariffville and the rest of Simsbury beyond. We could even see some of our dream houses on Westledge Road across the valley.
And I even posed for a picture!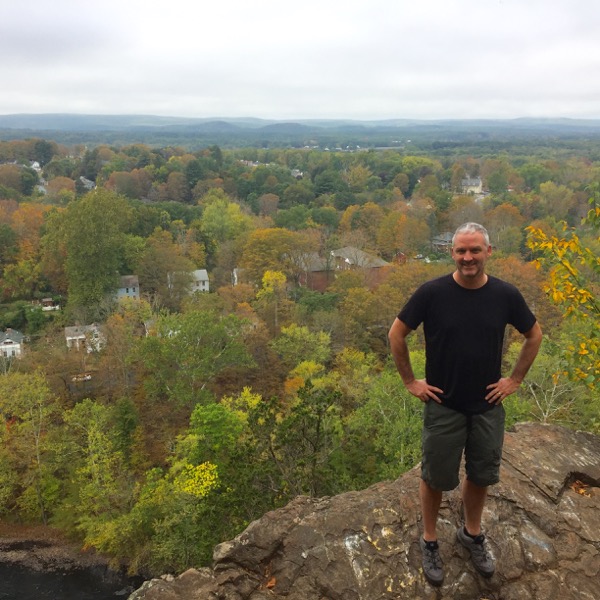 From this area north for about a mile, mountain bikers have created their own trail network. They put up signs and everything. At some spots, the Metacomet seems to thumb its nose at the bikers by sticking to the true, rocky ridgeline when the simpler trail (used by bikers) runs parallel about 10-feet away.
The 180-degree turn north made for what would have been a cool fish-eye lens picture: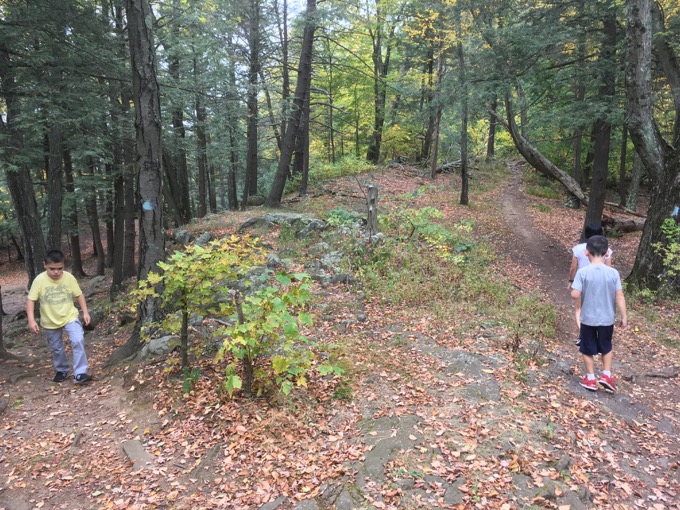 Over the next half an hour, the four of us made our way along the ridge. I made mental notes of the trails that split off to the east, surely over to Cowles Park. For what it's worth, this seems like a really fun place to ride.
And props to the cyclists for creating their own trails (mostly) up here.
There's a random chimney on top of the hill too. Everyone likes random chimneys in the woods.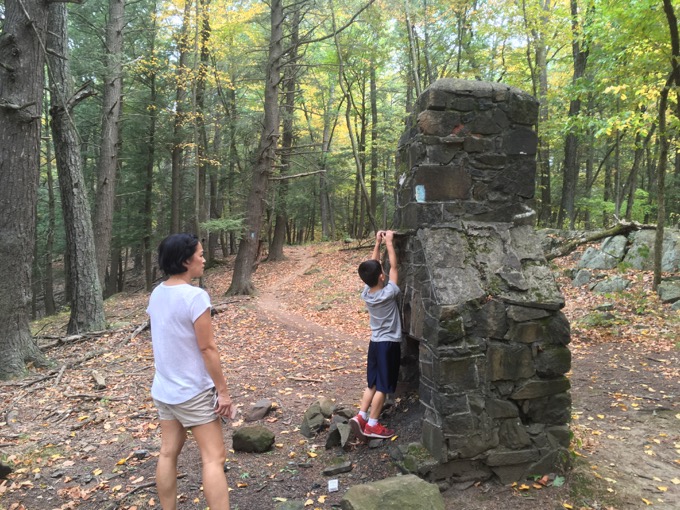 Towards the end of our hike, Damian had it together and we just chugged along. There's another viewpoint and another 180-degree turn just before descending steeply to Hatchett Hill Road.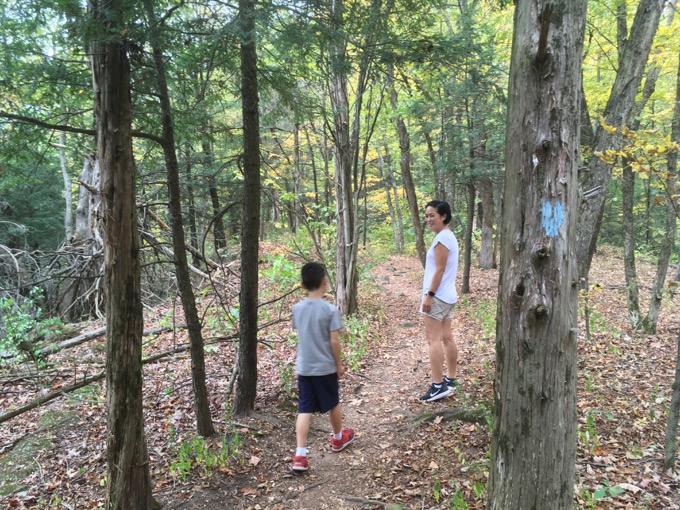 True to form, and bolstering my dinner table hiking tales, Calvin the coordinated athlete fell and hurt his bum while Damian, the special needs kid who still can't ascend or descend stairs confidently, held my hand and carefully and oh-so-slowly picked his way down unscathed.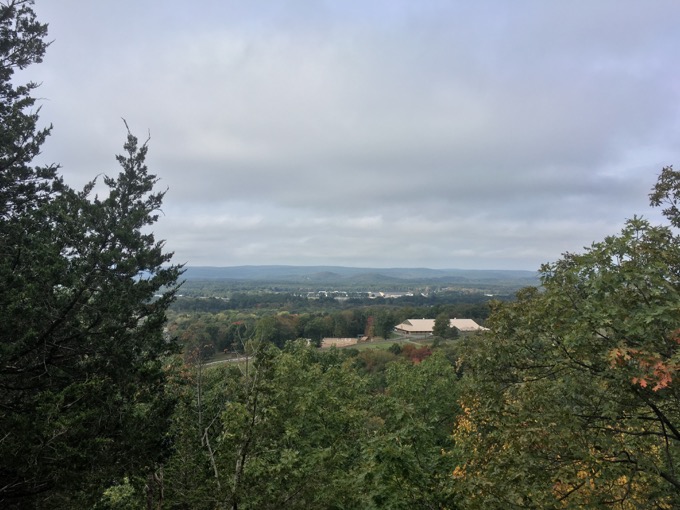 And there you have it! The rare CTMQ-Family hike!
Hoang and I only have 10 miles to go to complete the Metacomet. Here's hoping we do so before six more years pass!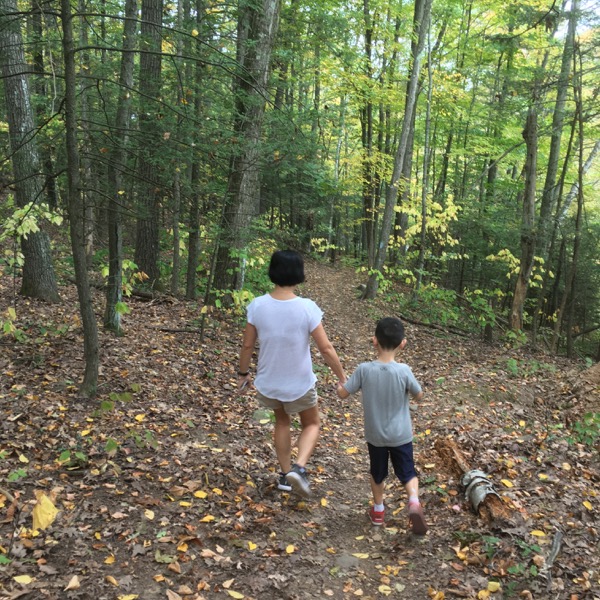 Continue on to Section 13: "Hike Like a Monkey!"
CFPA Trails Map
CTMQ's Metacomet Trail Intro