Let's Get Hoppin'
Colonial Road to Bolton Notch State Park, 6.9 Miles
Manchester, Vernon, Bolton, June 2020
Alright, let's get going with this thing. 20.2 miles of graded stone dust trail from the center of Manchester east to the Airline Trail in Windham. (I suppose I should mention that means Calvin and I will actually pedal 40.4 miles since we only have one driver and one car.)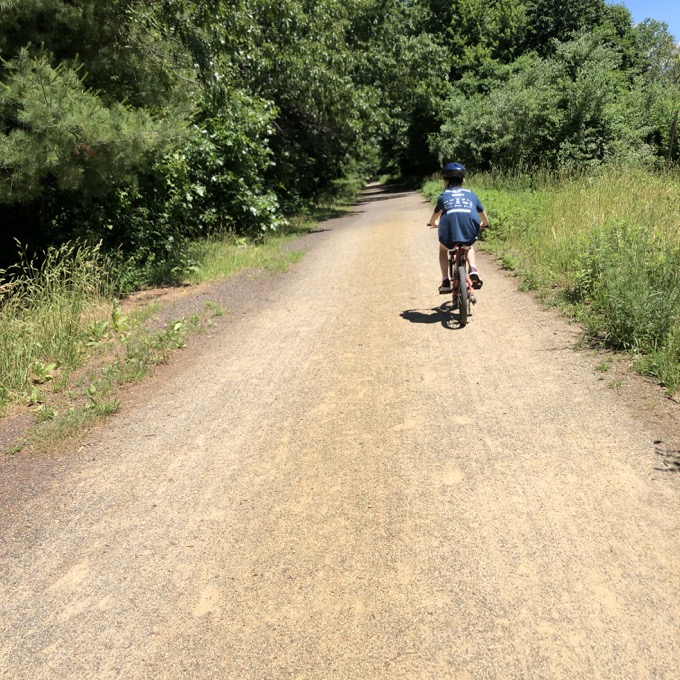 The eastern terminus of the Hop River trail is a large parking lot off of Colonial Road in Manchester. However, one can connect easily enough over to the Cheney Rail Trail that will take you through town down to Hartford Road and the Charter Oak Greenway. You can do a big loop, as that trail connects to the Hop River Trail at Bolton Notch State Park.
Connecticut enjoyed a great railroad building era from the 1840s to the turn of the 20th century. This trail which began as the Hartford, Providence and Fishkill line from Hartford to Willimantic via Manchester was completed in 1849. Six years later in 1855 it was the longest the east-west line in the state. By 1884 the line had become the Eastern Division of the New York and New Haven Railroad and a ticket would get you from Hartford to Willimantic in 65 minutes.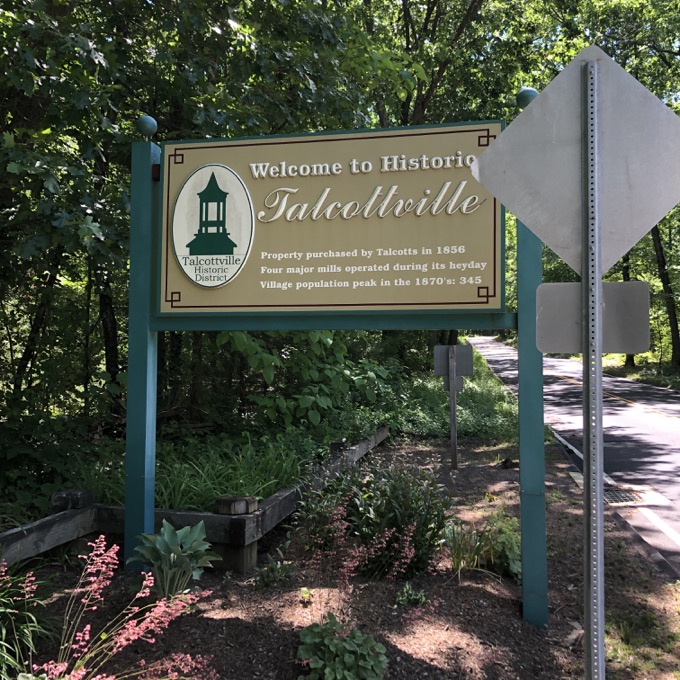 Since then, some towns have grown quite a bit (Manchester and Vernon) whereas some have retained their rural character (Bolton, Andover, Columbia). Since this trail travels through all of those towns, it offers quite a varied peek into some hidden bits of Connecticut.
This section also shares some real estate with the CFPA's Shenipsit Trail, which takes hikers from East Hampton up to the Massachusetts state line at Somers. There are lots of other places we'll pass that are CTMQ-worthy. Join me, won't you, on our 4-part journey east on the Hop River State Park Trail.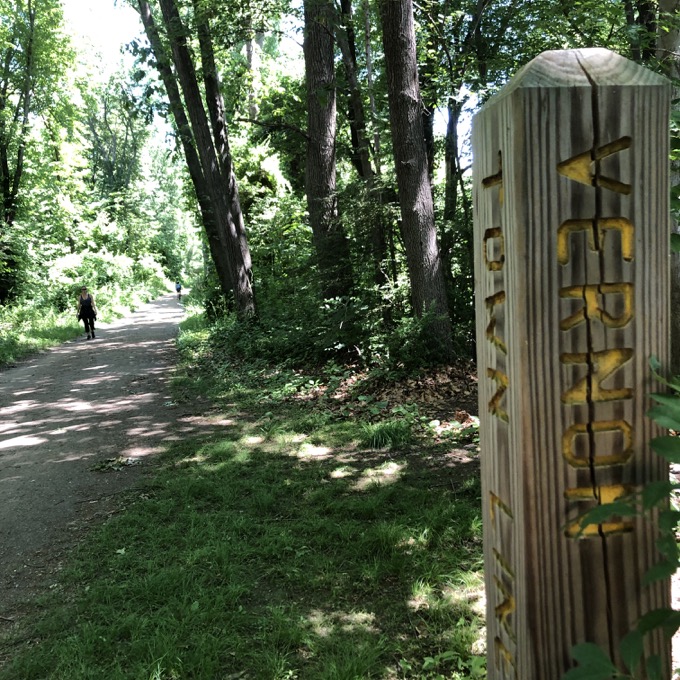 The first couple of miles travel through some business parks and suburban areas. Once it took us into the Talcottville section of Vernon, things got a bit more interesting. Talcottville is a historic area that was an area of town dominated by mills. This rail line served those mills and things were really humming here.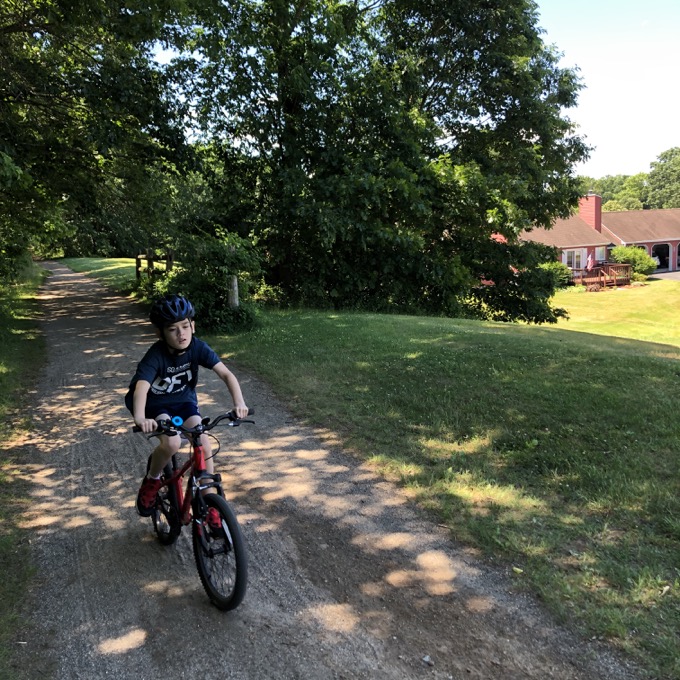 The village of Talcottville was established in 1802 by John Warburton, an English immigrant who was partly responsible for introducing mechanized cotton textile production into Connecticut. Warburton purchased land along the Tankerhoosen River in what was then part of Bolton and is now in southwestern Vernon, and built a dam and cotton mill, as well as a dwelling that still stands. His mill was the first financially successful cotton mill in the state. A second mill, of which only archaeological remains survive, was also built by Warburton in partnership with Peter Dobson at another mill privilege further upstream. The mill complex was acquired in 1856, by brothers Charles and Horace Talcott, and it is under their oversight that the village achieved its greatest extent. The Talcotts established a paternalistic company village, building houses for their workers, as well as a school and other facilities. The mills were finally shut down in 1940.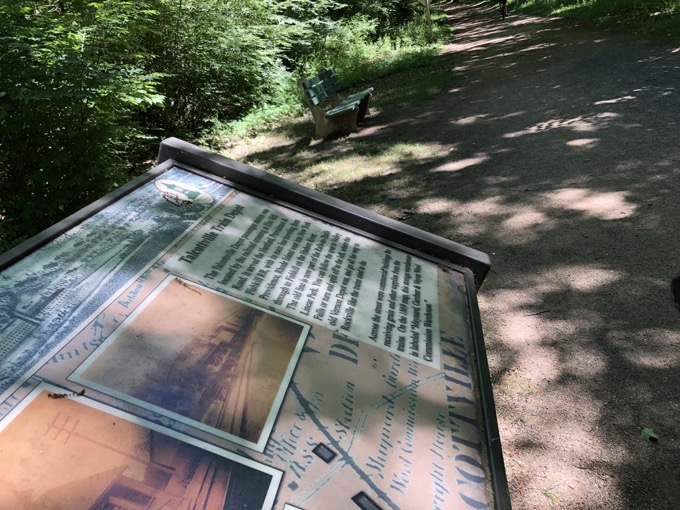 Calvin and I pulled off the trail above one of Peter Dobson's mills. We made our way down the steep trail to check out the waterfall – mostly a fake dam falls, but with some natural tumbles as well. I thought it was enough of a waterfall to previously write up a page on them as a result of a hike on the Talcott Ravine Trail. And now I have pictures from above the other side of the ravine.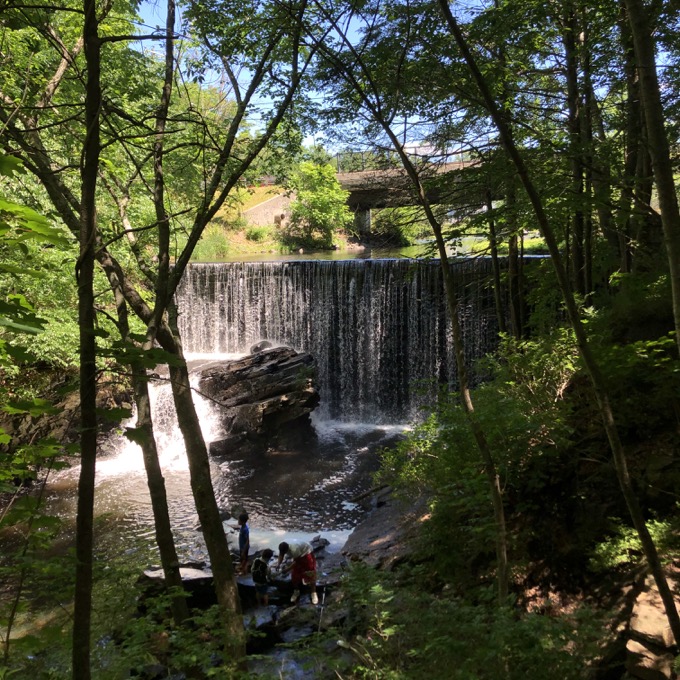 Back on the trail and across another road, we entered the Vernon Railroad Depot Outdoor Museum. I had visited this place in 2011 and I'm happy to see it seems to have grown a bit. Its explanatory signage extends a mile west and east – which makes sense, as a train depot is a large place. As we rode past the main "museum" and the Rockville Spur section of the Hop River Trail, I tried to explain some train stuff to Calvin.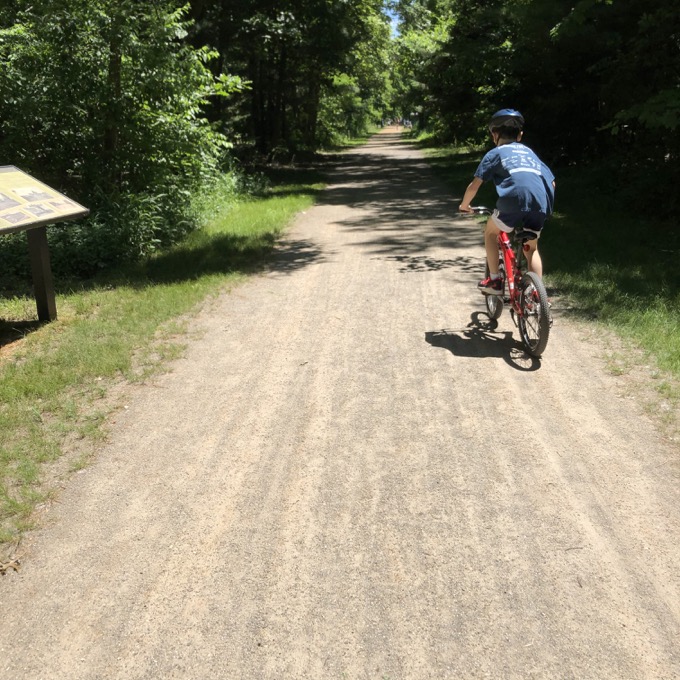 He seemed mildly interested. After the train depot excitement, the Hop River Trail becomes more woodsy. It's all very pleasant and almost totally shaded the rest of the way – all the way to Willimantic. We crossed over the Keyhole Tunnel and Tunnel Road. I was happy to see nerdy dads trying to get their kids excited about the rather cool and unique tunnel down below.
Because they should be.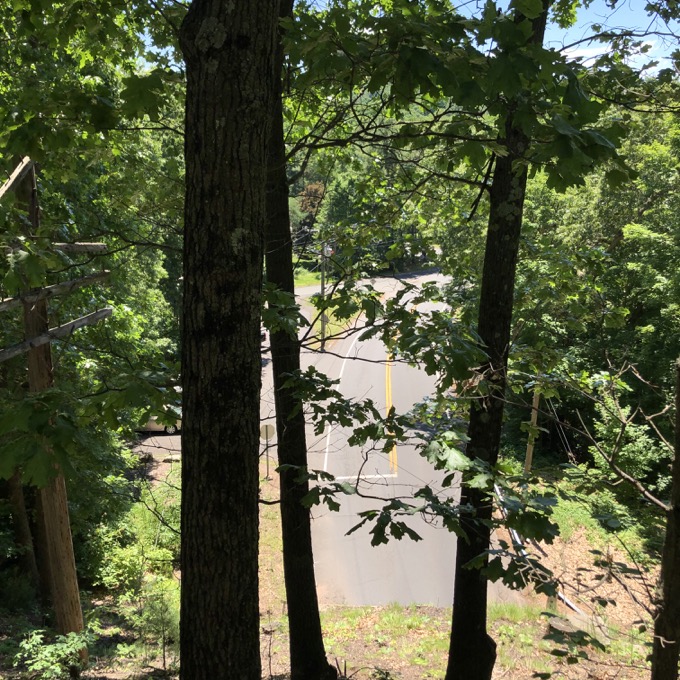 From this point for several miles east, it's all woods, rock walls, creeks, and beauty. We first passed the Belding Wildlife Management Area and Valley Falls Park which both previously surprised me with their mysterious beauty. From the Hop River Trail, several hiking trails lead to Belding and Valley Falls Park (both in Vernon).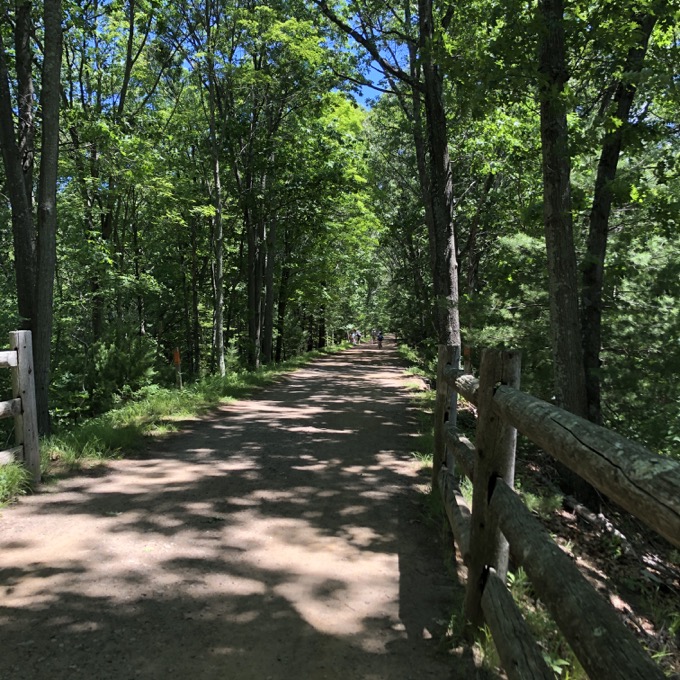 At one of these trailheads, in the middle of the woods, there's a bike rack. I thought that was pretty cool. As we neared Bolton Notch, the rock walls rose to our right and left. It was here that the engineers blasted the path for the train tracks through the hill back in the day. The temperature was about 10 degrees cooler here than anywhere else in the area.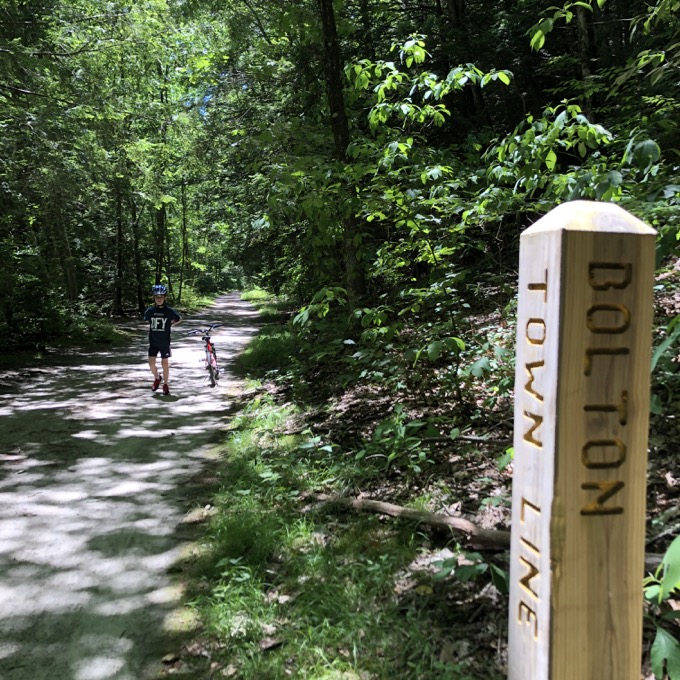 The old electrical posts stand sentry along this section, never removed from the train days of yore. The towering walls of rock ushered us to the the parking lot at Bolton Notch just before the tunnel and what was our next section of trail.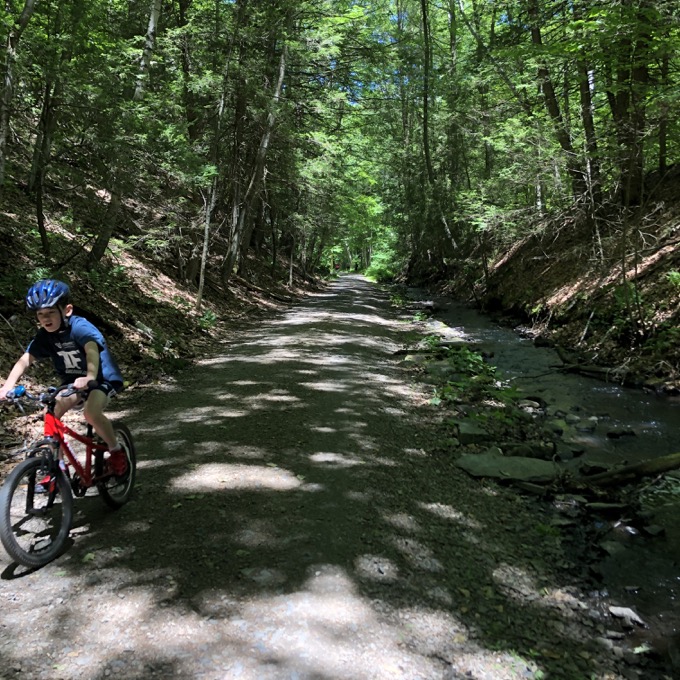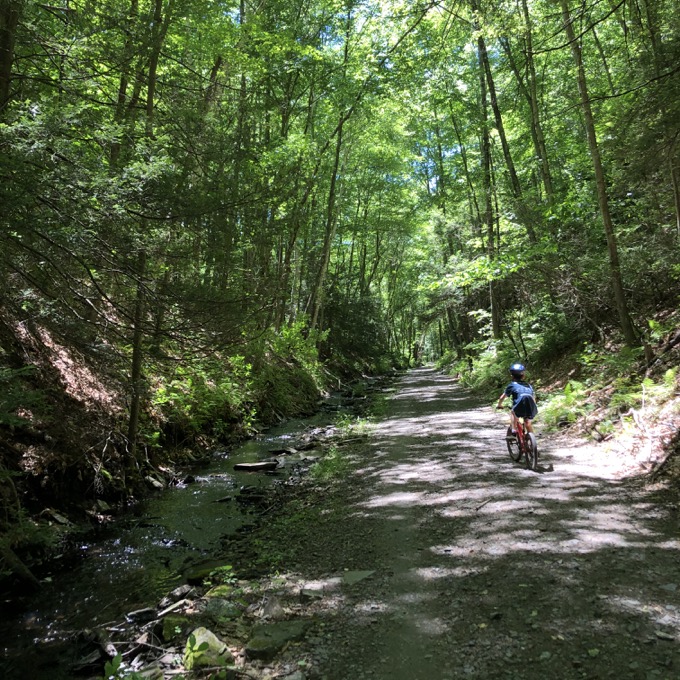 The Hop River Trail packs a lot into its 20 miles and almost all of it is really cool. While it's not paved, and can get muddy in places, it's still a gem and you should keep reading about it… and then go check it out yourselves.
Continue on to Section 2: Spurring Adventure (The Rockville Spur)
Continue on to Section 3: Another Notch in Our Belts (Through the tunnel and east)

CTMQ's Hop River State Park Trail Intro
CTMQ's Bolton Notch State Park Intro
DEEP's Hop River State Park Trail