Canton: Complete!
Lasalle Market & Deli
Here is my list of everything I've done in Canton!
I'm very excited to write this page. This is the 25th of what may ultimately be 169 town completion celebration pages! Yes, of course I am fully aware of how absurd that is. But I love it.
In late 2016, after a decade of writing CTMQ, I decided to try to "complete" towns. In that decade of traveling and writing, I had already done a lot of stuff in most of our towns already. However, I have been continually surprised by how much more there often is to do. This page you're reading includes my "town completion celebration meal." These will sometimes be at the best restaurant in town. Or the most historic. Or the most iconic. Or the most unique. Or the only one. Every town is different.
Let's get to it.

Canton, Hartford County
Population: 10,292 (95th)
Founded: 1806 (115th)
Size: 24.57 sq. mi. (98th)
Here's the Wikipedia page and the town page
Canton was my: 25th town completed
First CTMQ Visit: Canton Historical Museum, June 2007

The Celebration Meal
There are some good restaurants in Canton and some old school classics. But when it came time to choose where to celebrate my completion of the town, there was really only one choice: LaSalle Market, arguably the linchpin of the Collinsville section of town. And Collinsville is inarguably the linchpin of Canton.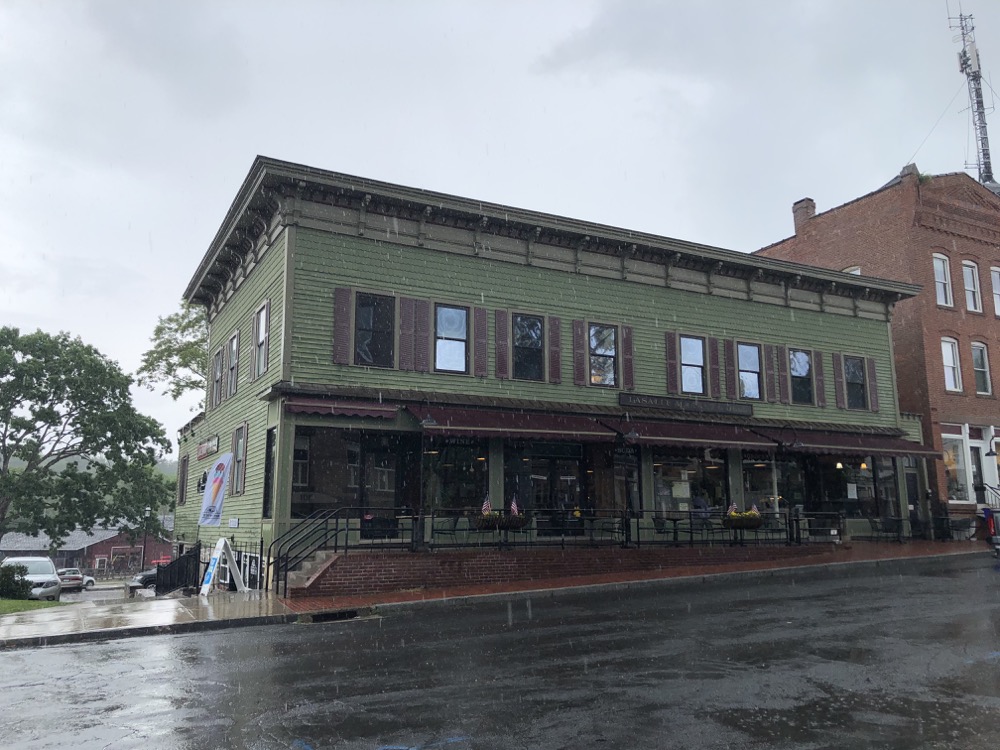 I have no idea how long LaSalle has been operating, but I know it has been a long, long time. It began as Keney Market and then became LaSalle Market when a family member from LaSalle Market of LaSalle Road in West Hartford purchased the business and changed the name. Over the late 20th-century, the menu expanded and it became more of a restaurant than before, but even in 2021 it still provides much more to the community than just good food. It is currently owned by a large family, many of whom work for the business.
This family feel shines through everything at LaSalle's. It just… feels homey. It's a bit ramshackle, a bit "shabby chic," and a bit someone's living room. And it also looks like an old timey green grocer from the street. Sure, lots of businesses in Collinsville look like this, but LaSalle's has the prime location. Across the street from the history museum, along the Farmington Canal bike path, next to the kayak and canoe outfitter… it's really just such a great spot.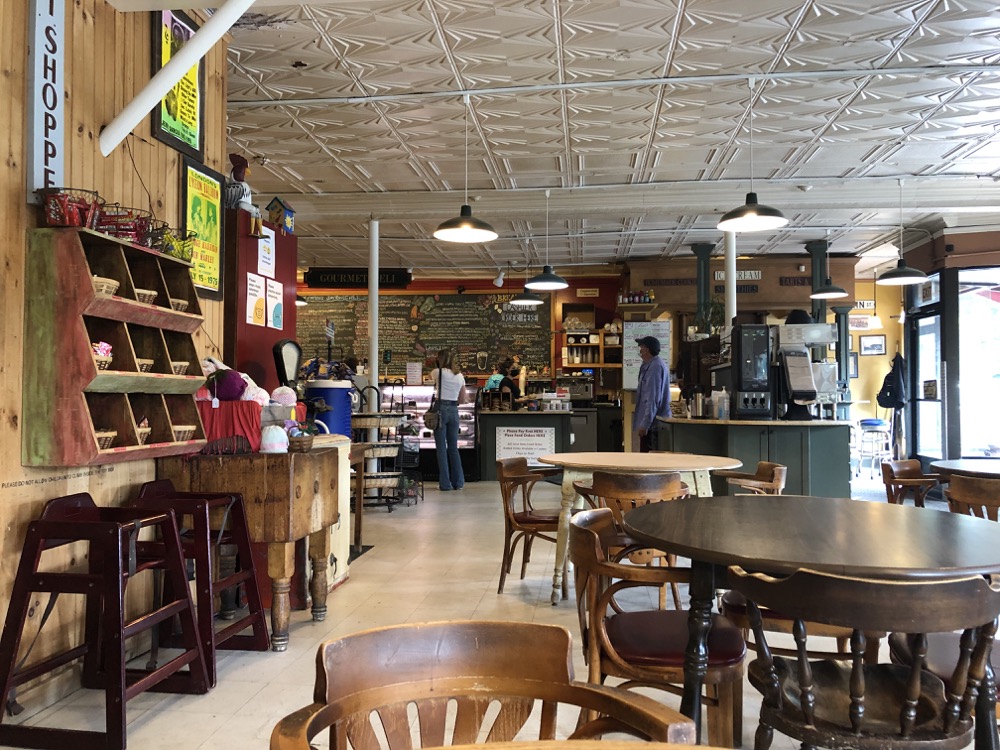 I was there for a quick lunch and went with the "Seth's Pilgrim," one of those Thanksgiving type sandwiches with turkey, cranberry, and stuffing. Always something I enjoy.
The food at LaSalle's is not the best you can find in the area. No one would argue that, but it's always good and relatively quick, and served with a smile. You eat at LaSalle's for the atmosphere and the kitsch and the random old school candies and weird sodas. You eat here because you'll run into a friend or neighbor. You eat here for the live music and the open mics and the Market Art Gallery. There's a good chance you just got off your bike after a few hours or finished up paddle boarding in the Farmington River. LaSalle Market fits the bill perfectly.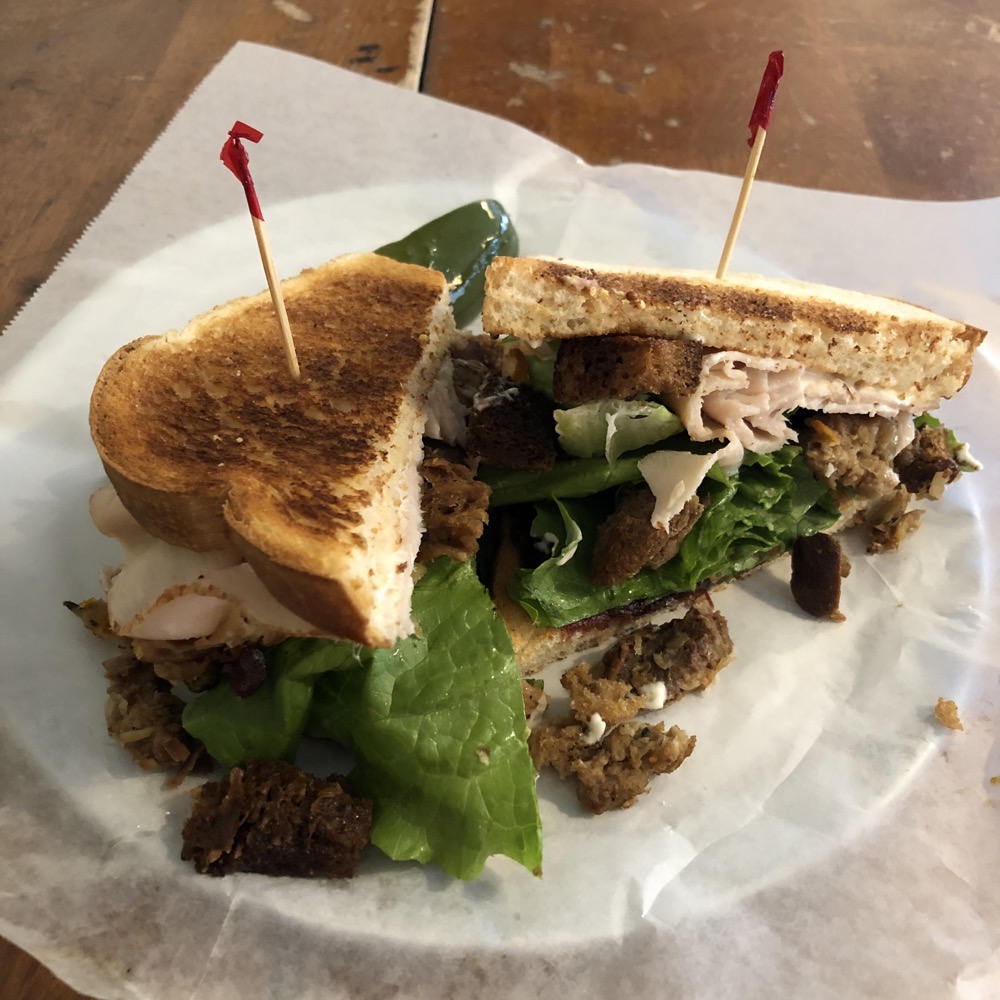 I ate my sandwich in the back of the dining area right in the middle of the "Market Gallery." The gallery got its formal name in 2012 when a group of artists gathered and wanted to change LaSalle's "free-for-all" and haphazard approach to displaying artist's works to more of a Gallery approach to showcasing artwork. In so doing, the owners of LaSalle's created some unique and cool rules.
The works of art need to be appropriate for a family atmosphere and a 20% commission from each piece sold would go towards substance abuse prevention programs. LaSalle Market does not profit from the sale of the artwork. Side note: the owners are apparently quite religious and when it comes to people stealing artwork, they say this:
[The owner] deeply feels so sad when an item is taken without permission and wishes the sinner could realize how many people have been hurt by their poor judgement or deceitful lifestyle.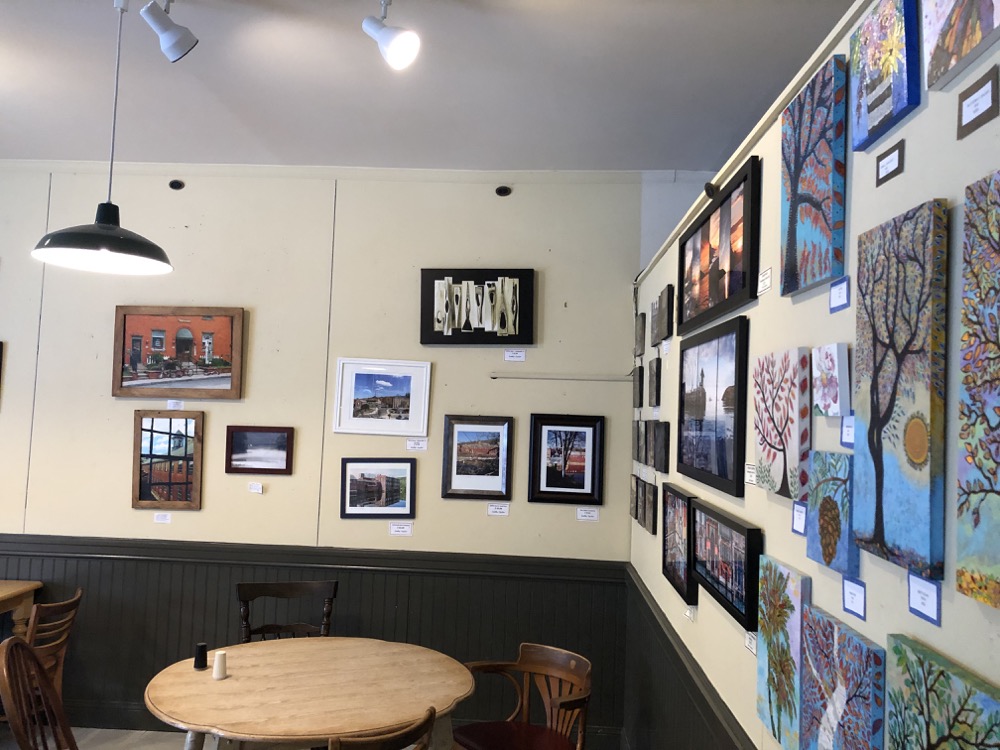 Such a fancy way of saying, "Don't steal stuff, losers."
I'm always happy to eat at LaSalle's Market no matter the time of day or month of the year. And when celebrating my completion of Canton, I never gave my choice of establishment a second thought.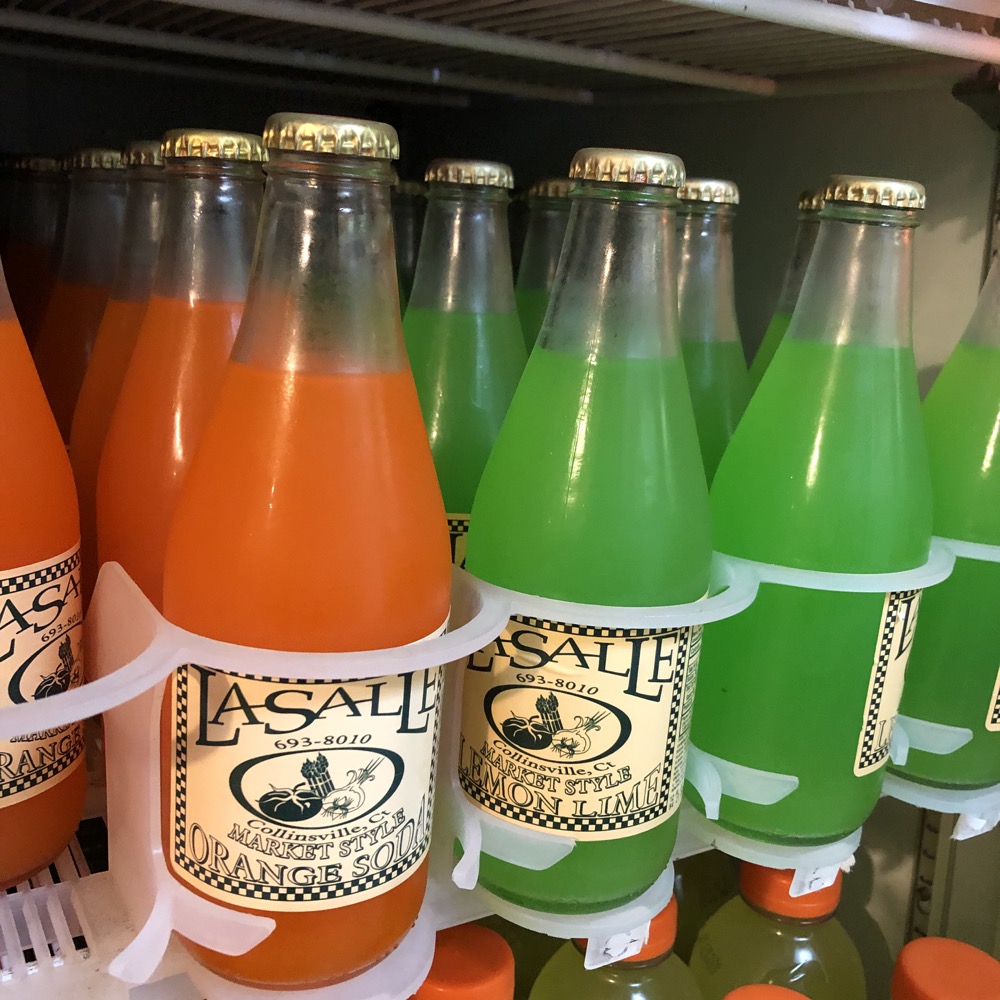 Canton Wrap-Up
If, for some reason, you've read a good portion of my Canton pages, you know of my affinity for the little town. When my wife and I were home-shopping, the only non-West Hartford house we seriously considered was in Canton. And quite frankly, we'd probably have bought it if it wasn't snatched up before we had a chance to make an offer.
The difference between "Route 44 Canton" and the rest of Canton is stark. Route 44 Canton is suburban car culture and shopping America. It's not terrible, but it does have box stores and two CVS's and two Dunkins within eyesight of each other. But just north of the Route 44 corridor? Miles upon square miles of essentially wooded hills. Valleys and streams and farms. And the small part of town south of 44 contains Collinsville; a cool little enclave of historic homes, nightlife, and a sort of Boulder, Colorado feel. 90% of the town is beautiful and 100% near my house – something I'm quite lucky for.
For me, the best parts of Canton are the rugged and remote trails that the Canton Land Conservation Trust maintains. Many of the trails are short but super sweet like the Goedecke-Humphrey Trail, but the longer rugged ones like the Smith Tree Farm Trails are fantastic.
There are "hidden gems" along the winding skinny backroads all around Canton, and I encourage you to spend a day getting lost here.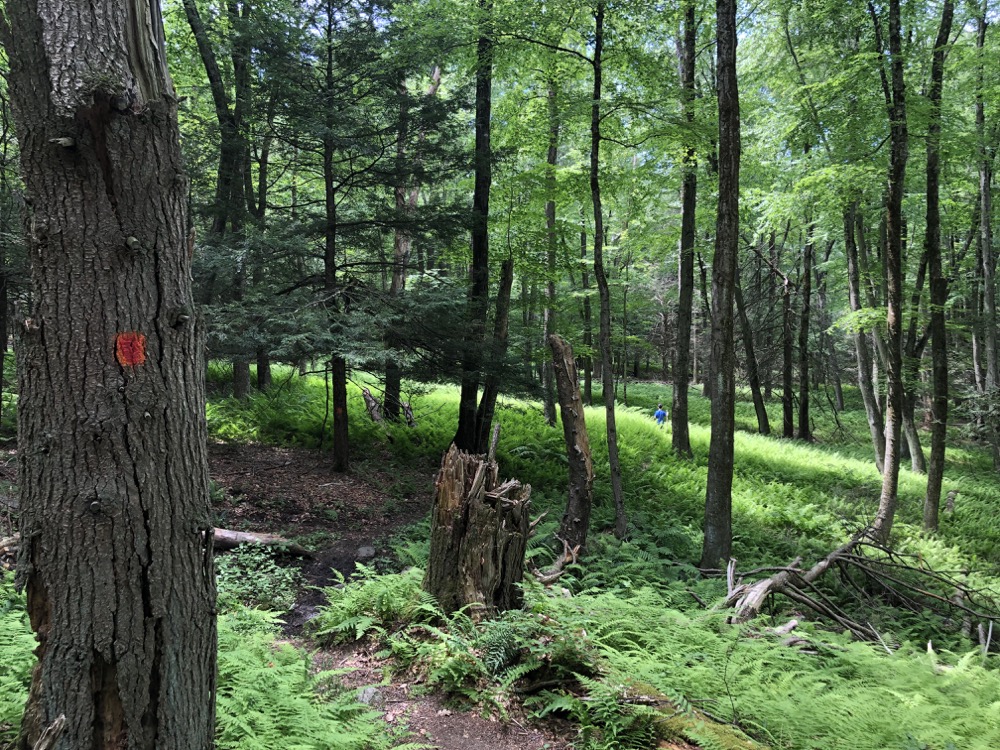 Thought exercise: If I had to send someone to Canton for a day, I would make sure to highlight both Collinsville and the remote north part of town. Perhaps some morning fuel from LaSalle Market before paddleboarding in the Farmington River and a visit to the Canton Historical Museum to learn all about why Collinsville is called Collinsville. After lunch, perhaps a couple smaller loop hikes at the Mary Conklin Sanctuary and the Sun, Wind, and Woodlands Preserve before retiring at the beautiful and charming Cherry Brook Farm and Vineyard. Yeah, that works.
Surprise: I'm always surprised at how remote some of the roads in North Canton are. Very Vermonty.
Favorite fact: Canton is supposedly named after Canton China for no discernable reason.
Disappointment: My outreaches to gain access up the Ratlum Mountain Fire Tower went unanswered.
Canton: Done!
Previous completed town: Bolton!
Next completed town: Andover!