Marlborough: Complete!
Sadler's Restaurant and Bakery
Here is my list of everything I've done in Marlborough!
I'm very excited to write this page. This is the 21st of what may ultimately be 169 town completion celebration pages! Yes, of course I am fully aware of how absurd that is. But I love it.
For those of you who are new here… In late 2016, after a decade of writing CTMQ, I decided to try to "complete" towns. In that decade of traveling and writing, I had already done a lot of stuff in most of our towns already. However, I have been continually surprised by how much more there often is to do. This page you're reading includes my "town completion celebration meal." These will sometimes be at the best restaurant in town. Or the most historic. Or the most iconic. Or the most unique. Or the only one. Or at a gas station. Every town is different!
Let's get to it.

Marlborough, Hartford County
Population: 6,404 as of the 2010 census. (122nd in Connecticut)
Founded: 1803 (112th)
Size: 23.28 sq. miles (103rd)
Here's the Wikipedia page and the town page
Marlborough was my: 21st town completed
First CTMQ Visit: Turtle Rock, February 2008

The Celebration Meal
Sadler's was called Sadler's Ordinary for 40 years. Then, shortly after my visit, they changed the name to Sadler's Restaurant and Bakery. I don't know why. Perhaps it's a signal that the somewhat staid restaurant and its menu would be moving into the 21st century at some point soon.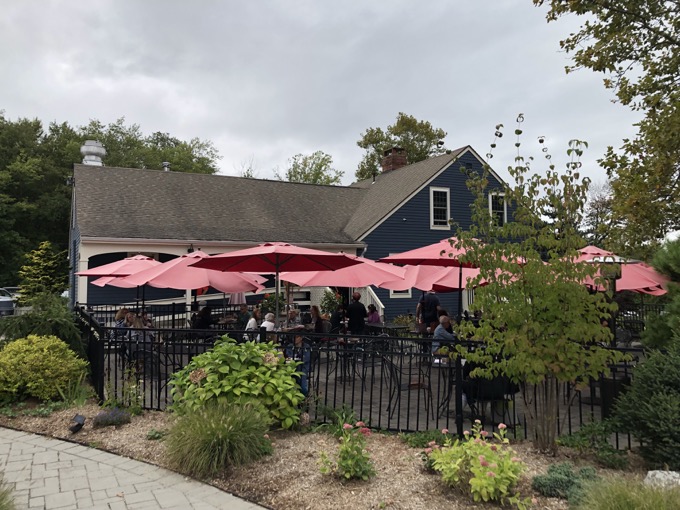 After all, "Sadler's Ordinary" is a bit olde timey. Like, really olde timey. In colonial times an ordinary was a place where weary travelers would get a simple meal and some rest before moving on. Now, some of you are likely wondering why I chose to celebrate my "completion" of Marlborough at Sadler's and not the more famous and historic Marlborough Tavern.
The answer is as simple as the fact I had my son Calvin with me. While he would have been fine at the Tavern, which predates the founding of America, I think we both felt more comfortable eating outside on a patio in his little soccer uniform and cleats. For yes, at the ripe old age of 8, we're deeply immersed in the world of year-round travel soccer. The West Hartford program is strong, and apparently everyone wants to get beat by our boys; from Greenwich to East Hampton, from Suffield to Burlington. It doesn't matter where.
Ahem. Sorry for the proud dad moment.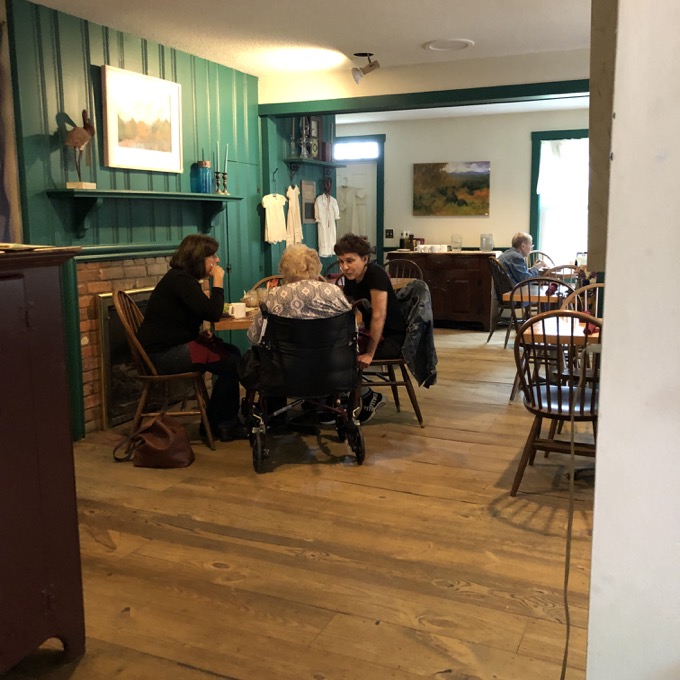 Calvin and I arrived at the collection of shops surrounding the restaurant after a victory down in a friendly versus East Hampton. There was some sort of tag sale or flea market or something going on, so the place was packed with people. Fortunately we were seated quickly and I ordered the only beer that made sense to order: A Victory pils! (to celebrate the soccer victory, you see.)
It was during this doubly celebratory lunch (soccer and Marlborough completion) that I finally had "the talk" with my son.
I explained to Calvin the mission of CTMQ. What it is I do, why I take all the pictures I take, and what it means to me to "complete" a town. He asked what there was in Marlborough to do, so I listed everything I have listed.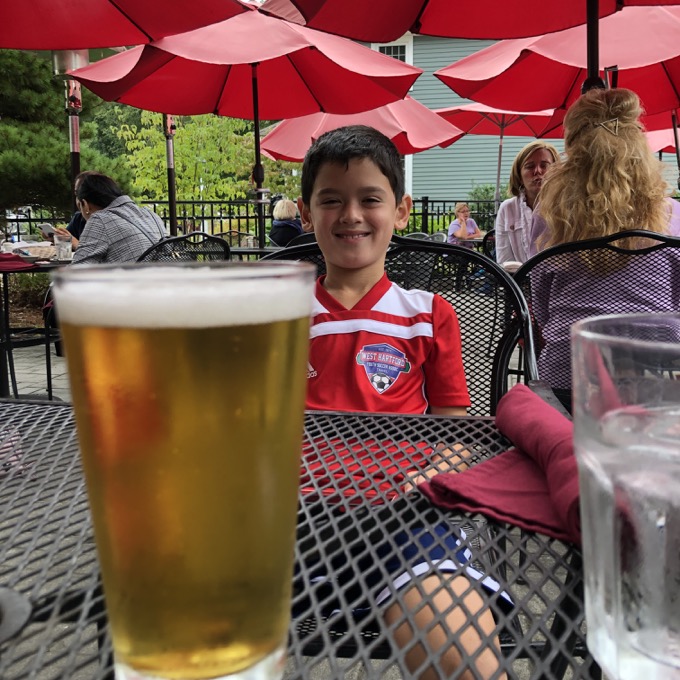 This is when he thought for a moment and offered up, "Sounds more like MarlBORING to me."
And that is when he officially became a man before my eyes. Well done, son, well done. Now let's look at the menu and hope there's something here not so MarlBORING. Actually, for Calvin, it matters not. Sadly, due to the double whammy of food allergies and being intensely regimented, he orders the same darn thing at every restaurant: Buttered pasta.
Sigh. The menu here has a little bit of everything. German staples (knockwurst, bratwurst, potato pancakes), Disco-era American staples (meatloaf, quiche Lorraine, surf & turf), every other American restaurant staples (filet, salmon, chicken pot pie)… hey, if the food is done right, it's not boring. Good food is good food.
I ordered the so-called crabmeat croissant. I love crab and I love croissants. What could go wrong? Let's see… the croissant was standard issue. Like the kind that come in the giant shrink-wrapped box at Costco – which I happen to enjoy. The cheese was fine. The coleslaw was passable and the Utz chips in a bag were divine. But the crabmeat?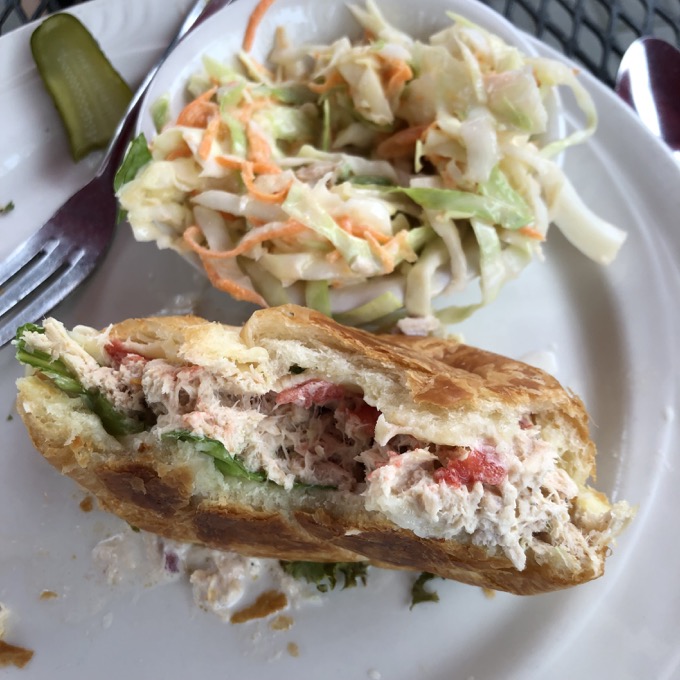 I'm not even sure I got the crabmeat. It tasted of tuna salad. In fact, I'd bet a hundred bucks it was tuna. I happen to like tuna salad, so I just stayed silent and ate it, not even thinking about the tuna-to-crab upcharge because, again, I was celebrating. (I know it looks crabbish above, but I'm telling you, it did not taste of crab.)
Our server was attentive and kind, despite have a ton of tables inside and out. I guess I just didn't feel like dealing with the issue. (Okay, couldn't be tuna but rather those fake crabmeat sticks that are just various whitefishes.)
So to whichever line cook said, "Eh, this is Marlborough. Guy can't tell the difference and we're out of crab," my hat's off to you, sir. You gambled and won. As for your boiling water and butter melting skills, Calvin was impressed: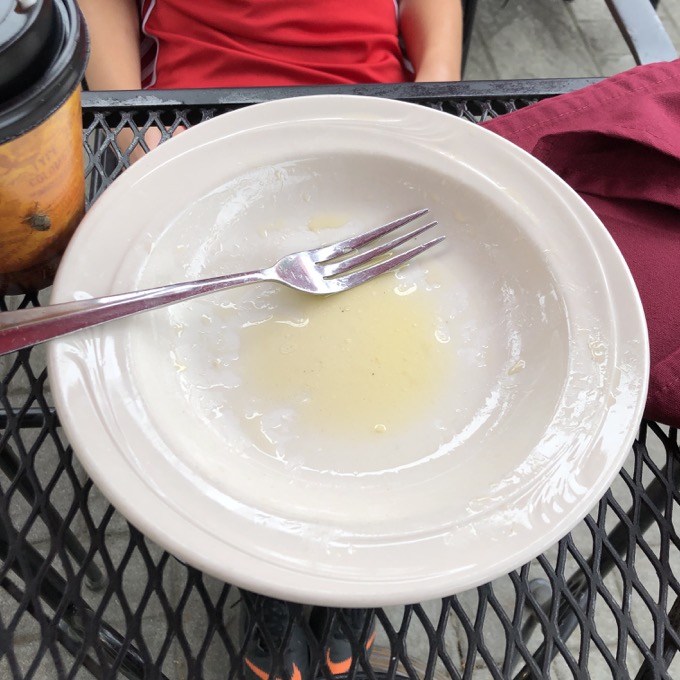 Despite Sadler's having an in-house bakery, we skipped dessert. On offer were mostly pies and Calvin doesn't really do pies. Sure, I like pie, but not in the middle of the afternoon. Our neighbors on the patio seemed to enjoy their pie very much though. I'm sure the pie here is good.
Sadler's Restaurant & Bakery
The New York Times actually reviewed this place and it's pretty funny.

Marlborough Wrap-Up
I hate to say it, but there's just not that much to wrap up here in Marlborough. The town is on the southeastern fringe of Hartford County and lots of large newly built homes here are inhabited by "big city" (Hartford) commuters. People probably are generally not aware of how many very large homes are hidden away in the woods of Marlborough, but after a very pleasant hike along the Blackledge River Greenway, I can report I've seen dozens of them up close.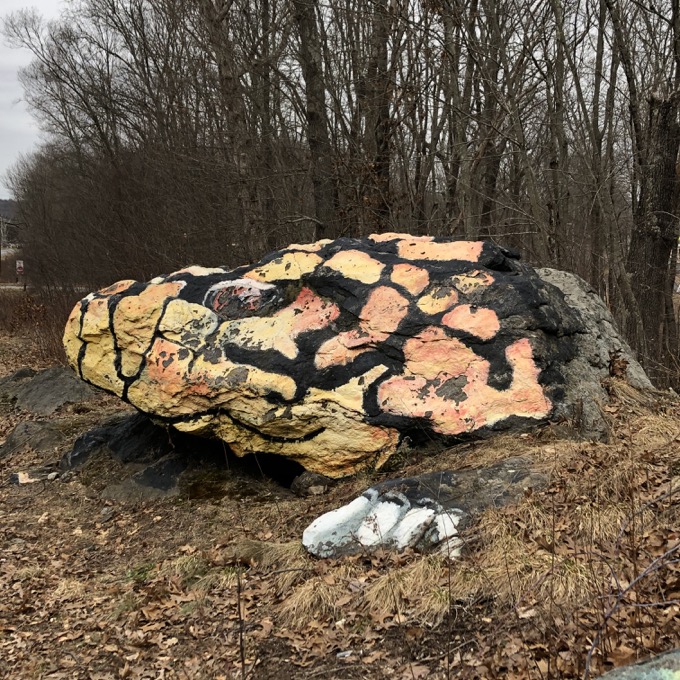 I had to stretch my already stretched definition of museum to get to a museum in town – the very rarely open Marlborough Arts Center. Beyond the Blackledge Greenway, I had to stretch my already stretched definition of trails to find a few trails in town. And, if I'm being mean, Chateau Le' Gari' stretches the definition of French grammar as well as drinkable wine.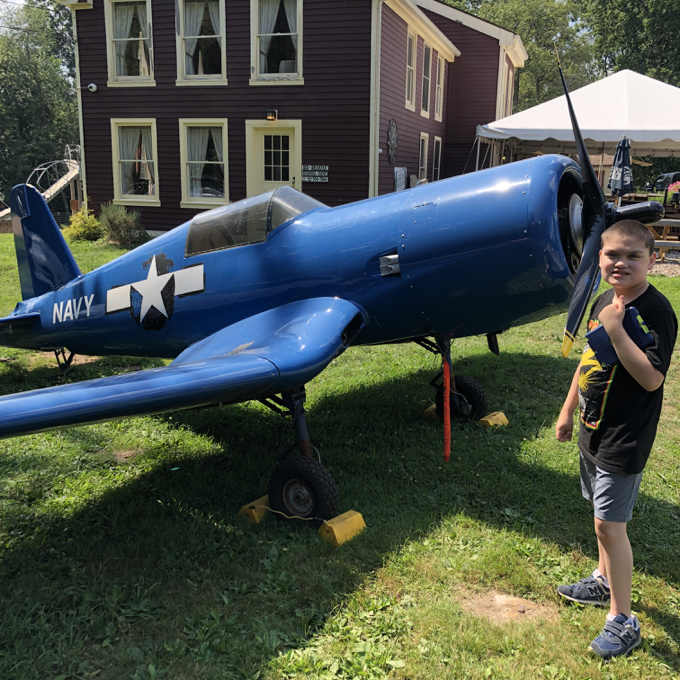 It was funny though, when I was writing up the final thing I did to "complete" the town, it occurred to me that I first visited it for the purposes of CTMQ in 2008. A town that a committed Marlboroughphile could, quite easily, "complete" in a not-too crazy day. I would say that I find that fascinating, but that sounds weird since I'm talking about something no one in the world would do.
Other than perhaps me.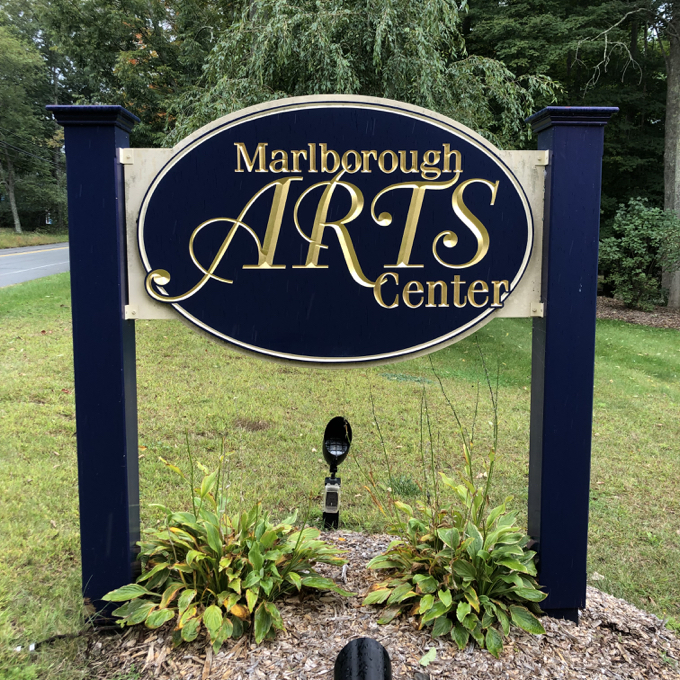 Thought exercise: If I had to send someone to Marlborough for a day, I'd send them to Sadler's for breakfast. Take your time, especially because this trip needs to be in the summer. Enjoy life. Mosey on over to check out one of the state's best painted roadside rocks at Snake/Turtle Rock before continuing down to The Farm at Carter Hill, just because it's so weird. Drink a few beers there and have a friend drive you to Blish Memorial Park for a dip in Lake Terramuggus. You need to have some liquid courage because this is a residents' only beach and that means you need to sneak in and act Marlboroughlian. Enjoy the beach. Then go home. Marlborough, everyone!
Surprise: Honestly, I found nothing remotely surprising about Marlborough other than maybe the fact that The New York Times reviewed Sadler's Ordinary.
Favorite fact: I think the town's shape looks like a hand grenade.
Disappointment: That the town developed an impressive open space trails guide in 2009 but over a decade later, none of it has come to fruition in any meaningful way.
Marlborough: Done!
Previous completed town: Columbia!
Next completed town: Bloomfield!