I Like Turtles
Turtle Rock, Marlborough
February 2, 2008
This page came about simply because I convinced EdHill to get out of the car along the busy route 66 and stand on a painted roadside rock. I can't pretend that I expected him to actually do it, but he did, so here we are.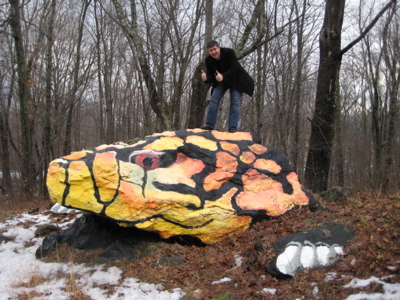 Perhaps he was willing because I had taken him to Eastford's awesome Frog Rock earlier in the day. Or perhaps he was inspired by the "I like turtles" boy.
Regardless of the reason, less than a mile off of Route 2 in Marlborough on the northbound side (though easily seen in both directions) the turtle lies in wait.
The coolest thing about this particular painted roadside rock are the little feet/claws. To me, that makes this one my favorites of those I have seen. Apparently, this guy was originally a snake – with no feet and claws. Then at some point it became what I've determined is a turtle.
If you'd like to spend some time with the rock and don't feel comfortable pulling off to the side of the busy road, you can park at Marlborough's elementary school, walk from the trailhead at the back of the parking lot, paralleling route 66 and it will take you straight to the rock. (The picture below was taken in early 2020… homeboy needs some fresh paint.)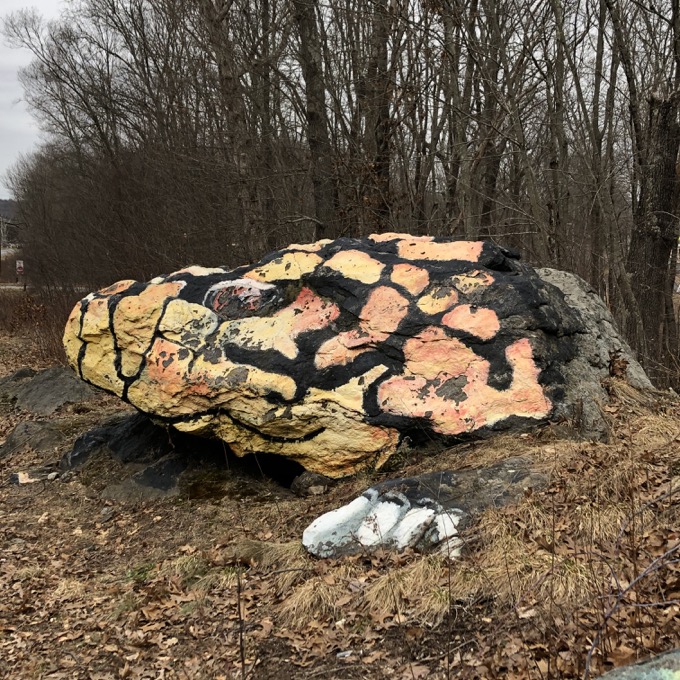 CTMQ's Painted, Named, and Historic Rocks