"Well, You Can Rock It You Can Roll It
You Can Stop And You Can Stroll It At The Hop"
Frog Rock, Eastford
February 2008, May 2017, August 2021
Frog Rock Rest Stop closed in early 2022 due to the owners' health, but was re-opened that summer with a new name: Frog Rock Summer Shack.
This is one of those pages that still surprises me long after I originally wrote it. It gets lots of traffic to this day – and that's great! Frog Rock has come a long way since I began this website in 2006… and has been around since the 1880's!
And if you read through the comments below – and you should – you can piece together the efforts made by a lot of people to turn the rock into the attraction it has become. This was a roadside picnic area way back in the day… I'm talking 100 years ago. When I visited in 2008 (the small pictures), it was just the rock in a dilapidated area.
The whole cycle of the place falling into disrepair, going up for auction, and being saved is preserved in the comments below. Which is pretty cool, I must say.
But when I revisited (the big pictures) in 2017? Wow. It's a whole thing now! There's a gift shop, a food stand, a stage for bands to play, and other knick-knacks and things. There's proper signage, alerting route 44 travelers to the rock. And then, later, a restaurant was added, which I visited in 2021 to celebrate my "completion" of Eastford.
It's great that they've saved Frog Rock and someone is even making a few bucks off of it. Here's my original 2008 visit – which, no longer reflects reality!

2008

When researching the best route for our day in the Quiet Corner (which I had planned an hour before departing), I happened upon a website mentioning Frog Rock. I realized we'd be near enough to it to make it worthwhile, so I added the stop – especially after already enjoying Turtle Rock earlier in the day.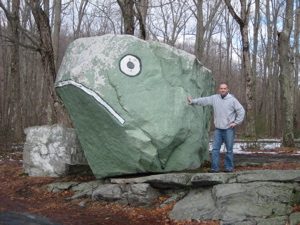 After passing the oldest meeting house in Connecticut and the oldest women's library, we took a left onto Route 44 for about 7 minutes and then pulled over. Pulled over in the rutted out old parking lot, that is. You see, Frog Rock used to be a nice little roadside picnic area, maintained by the state along the "old" Route 44 – many jughandled pieces of which pop out of the "new" Route 44 out here in Eastern CT. For some reason, they quit maintaining it when they re-did Route 44 and now the old lot/road are just crumbled asphalt. No matter, the Frog is still pretty easy to see when heading west.
Frog Rock was the brainchild of 1880's Republican state legislature Thomas Thurber. He passed it often on his trip from Putnam to Hartford and finally decided to paint it like the frog he thought it looked like. It faded over time, of course, but in 1997 Thurber's descendants repainted it green and added a little memorial to the 19th century statesmen on a nearby rock as well.
To find it for a nice picnic (there are still about 3 usable stone picnic tables): The road that the rock was on is gone. Frog Rock can barely be seen behind the trees on Rt. 44 headed west from Pomfret to Eastford. Look for a shoulder on Route 44…. a small gravel area and a guardrail, where you can pull off the road. Park there and walk about 50 feet down the remains of the old road.

2017 & 2021
Wow, I didn't remember it being that run down in 2008. But yeah, there wasn't even a way to drive in to the rock then. It was just lonely and fading in the woods. As I said, it's almost a little tourist trap now. You can buy a dang t-shirt now. Wow, this is crazy.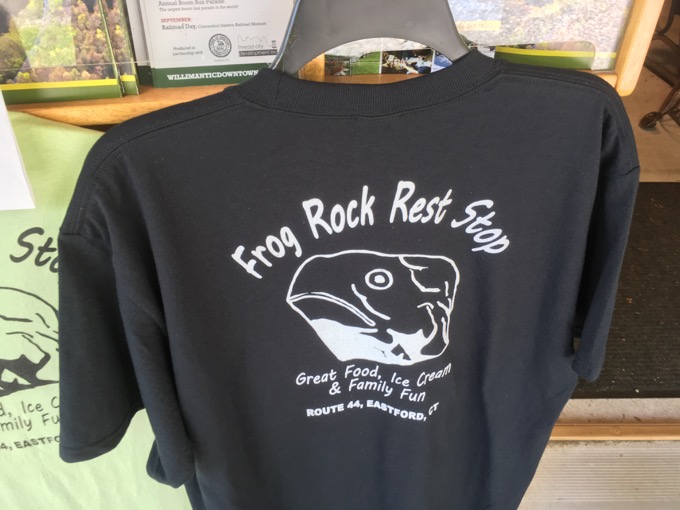 Well, good for the folks of Eastford. I knew this rock, hidden and fading in the woods in 2008 deserved more. I don't think I had a tourist destination in mind, but what the heck. Frog Rock rules. It's actually called Frog Rock Rest Stop now and has proper signage and nicer seating.
The effort to rekindle this area was incremental. The access road and parking was improved, then the little gift shop was built. A stage for musical acts came before the food truck. Over time, between 2017 and 2021, Frog Rock became the Frog Rock Rest Stop and it's pretty great.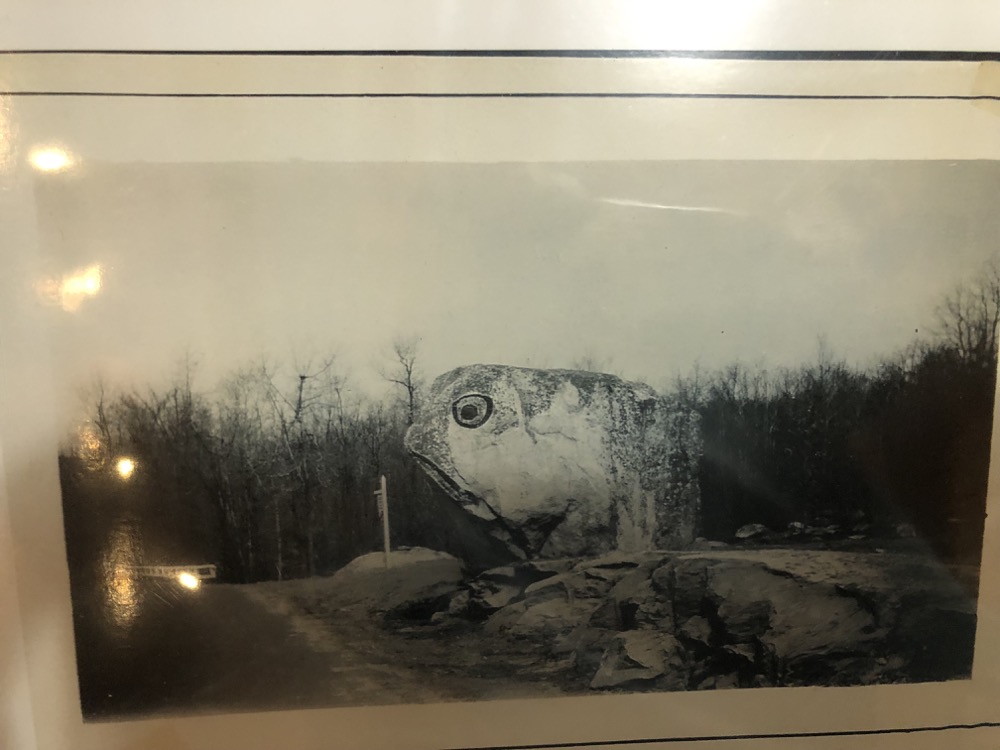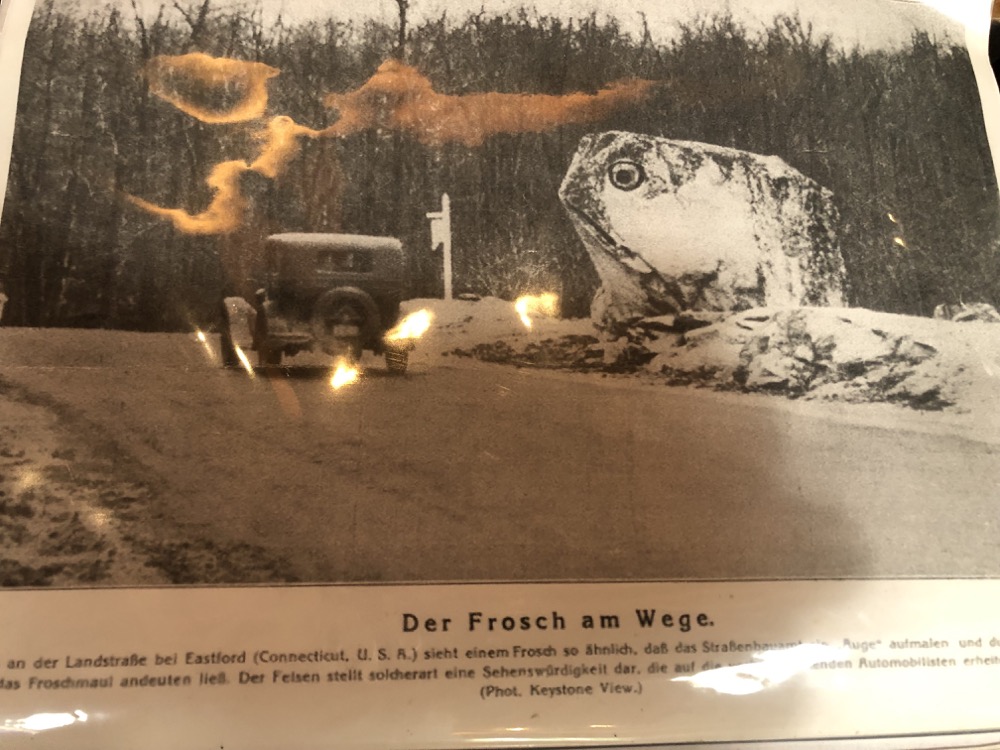 The gift shop contains a very impressive photo album of the rock over the last century, with lots of historic photos and news clippings. When Calvin and I had lunch here, I took some time to look at the photos and the history of the area. It's all very well done.
The evolution of this page reflects the evolution of the rock and the rest stop. In 2008, the pictures were small and straight up junk. I quickly cobbled together a re-edit in 2017 with some nicer pictures and a little more of the story.
And in 2021, I've added much better pictures, took out some of the "old-style CTMQ" wording, and freshened up this whole experience. CTMQ and Frog Rock: together forever.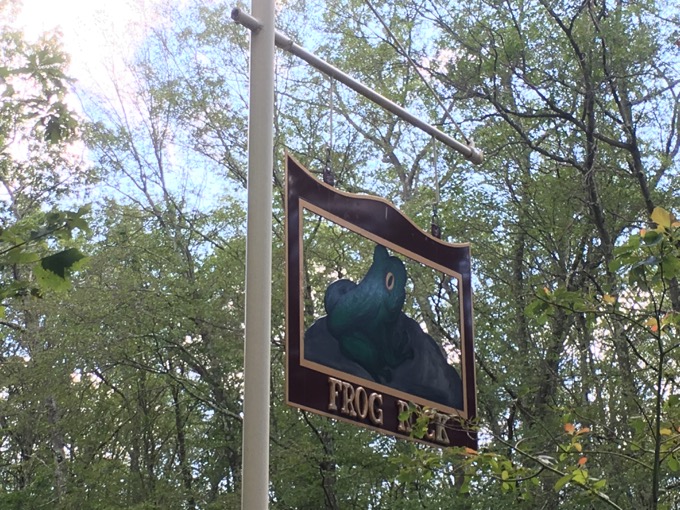 Frog Rock Rest Stop
CTMQ's Painted, Named, and Historic Rocks