Eastford: Complete!
Frog Rock Rest Area
Here is the CTMQ Guide to Eastford with my list and stories about everything I've done there!
I'm very excited to write this page. This is the 27th of what may ultimately be 169 town completion celebration pages! Yes, of course I am fully aware of how absurd that is. But I love it.
In late 2016, after a decade of writing CTMQ, I decided to try to "complete" towns. In that decade of traveling and writing, I had already done a lot of stuff in most of our towns already. However, I have been continually surprised by how much more there often is to do. This page you're reading includes my "town completion celebration meal." These will sometimes be at the best restaurant in town. Or the most historic. Or the most iconic. Or the most unique. Or the only one. Every town is different.
Let's get to it.

Eastford, Windham County
Population: 1,749 (161st)
Founded: 1847 (145th)
Size: 28.89 sq. mi. (77th)
Eastford was my: 27th town completed
First CTMQ Visit: Frog Rock

The Celebration Meal
Frog Rock Rest Stop closed in early 2022 due to the owners' health, but was re-opened that summer with a new name: Frog Rock Summer Shack.
Believe it or not, one of the finest restaurants in Connecticut used to be in Eastford. It was called The Still River Café and the New York Times gave it a rating of Extraordinary. And my two dinners there were both, indeed, extraordinary.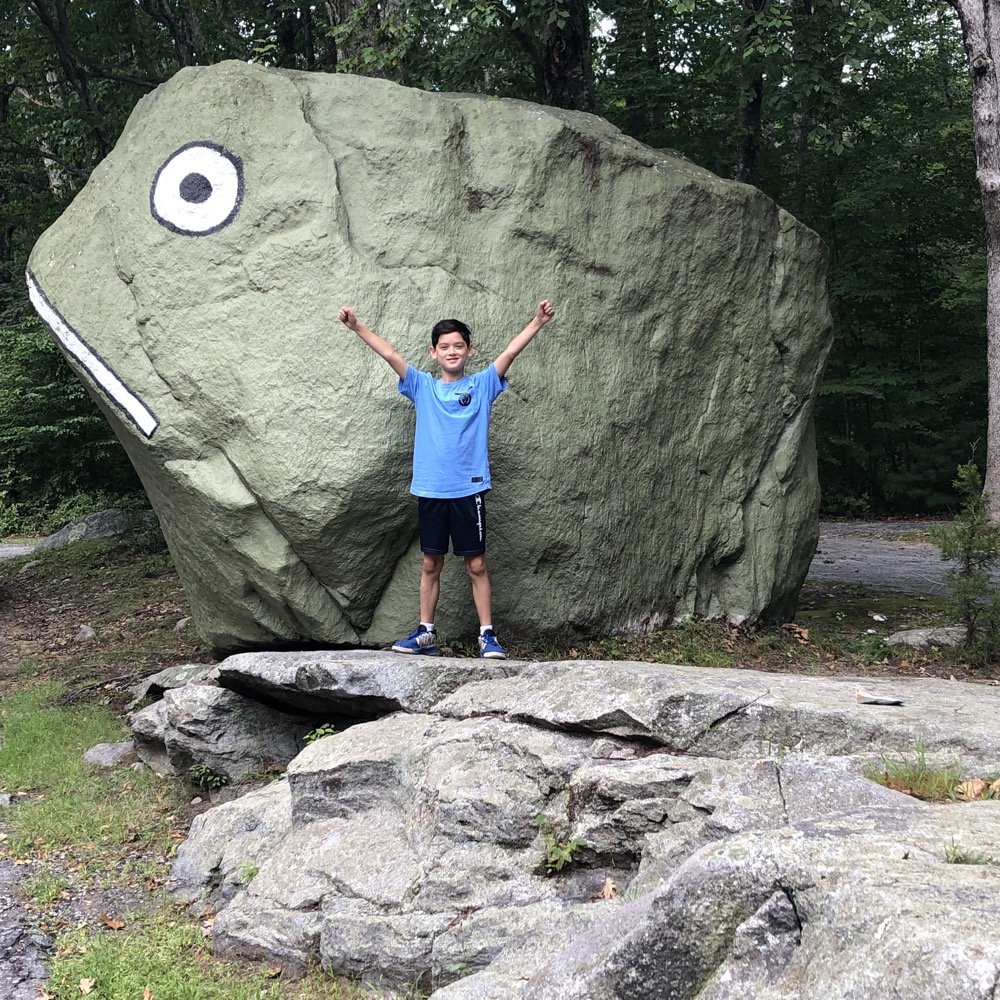 That restaurant is long gone (2012 or so), leaving diners with scant choices in Eastford. In fact, I think the Frog Rock Rest Stop is the only game in town in 2021, and it's not even open half of the year. I'm sure some new places will pop up and disappear over time, but really, Frog Rock is so Eastford, it's where I'd chose to celebrate my town completion regardless.
I had visited Frog Rock before; once in 2008 when CTMQ was a baby, and again in 2017. But other people have been visiting for much longer. Frog Rock has been around for over a century, and was a rest stop for decades prior to its rejuvenation. The painted rock was the brainchild of 1880's Republican state legislator Thomas Thurber. He passed it often on his trip from Putnam to Hartford and finally decided to paint it like the frog he thought it looked like. It faded over time, of course, but in 1997 Thurber's descendants repainted it green and added a little memorial to the 19th century statesmen on a nearby rock as well.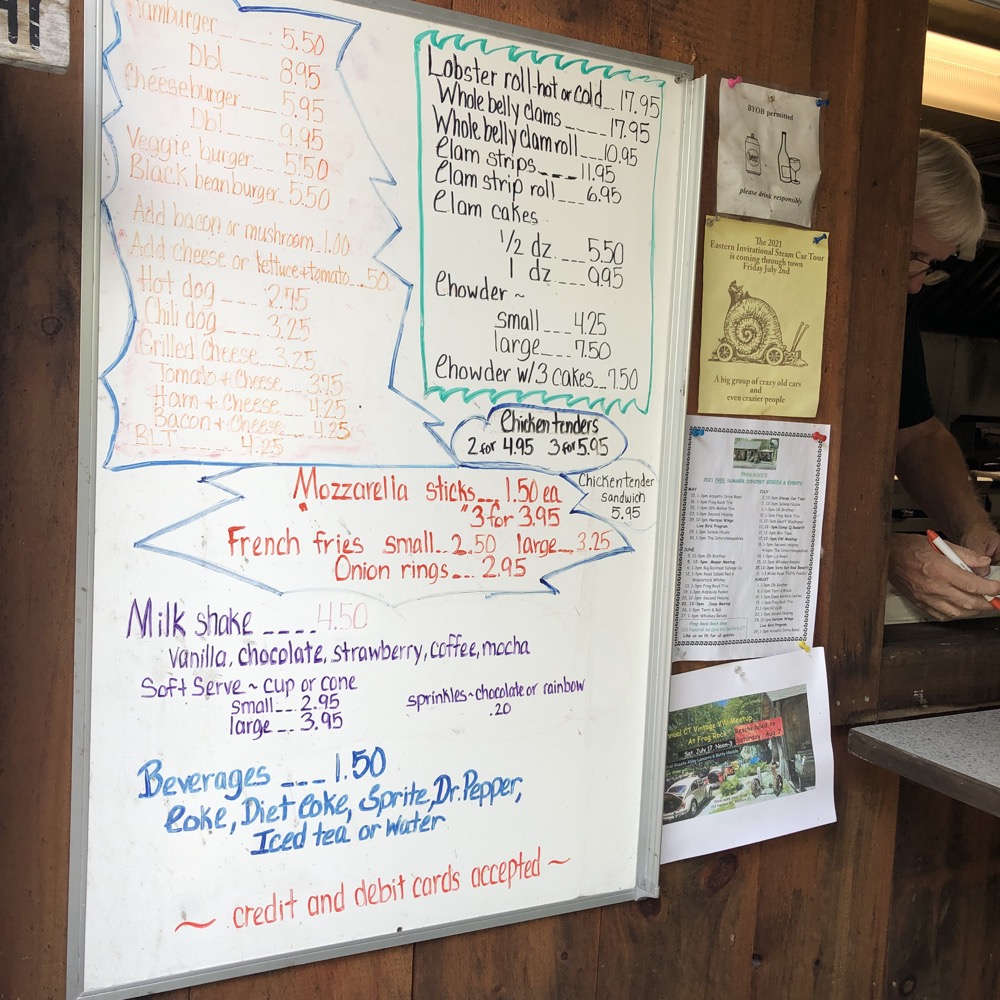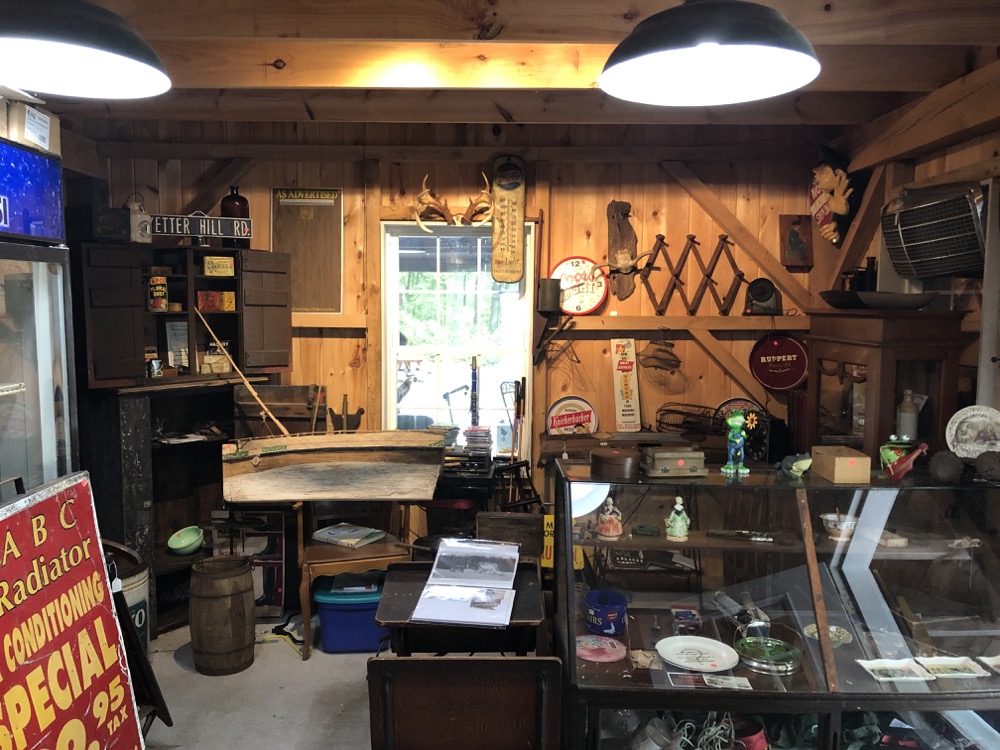 Cool. Since 1997, the area has been improved immensely and since 2017 or so, there's a gift shop, a sort of historic display about the rock, a stage, seating, and a kitchen serving what could best be described as diner/school cafeteria fare. Perfect for Calvin. His favorite.
As surely the first person to ever "complete" Eastford, I kept my accomplishment quiet among my fellow patrons. I just wanted to pop in, enjoy some old white people tunes, eat some food, and pop out. Kind of how I've treated the entire town of Eastford over the years. So that's exactly what I did.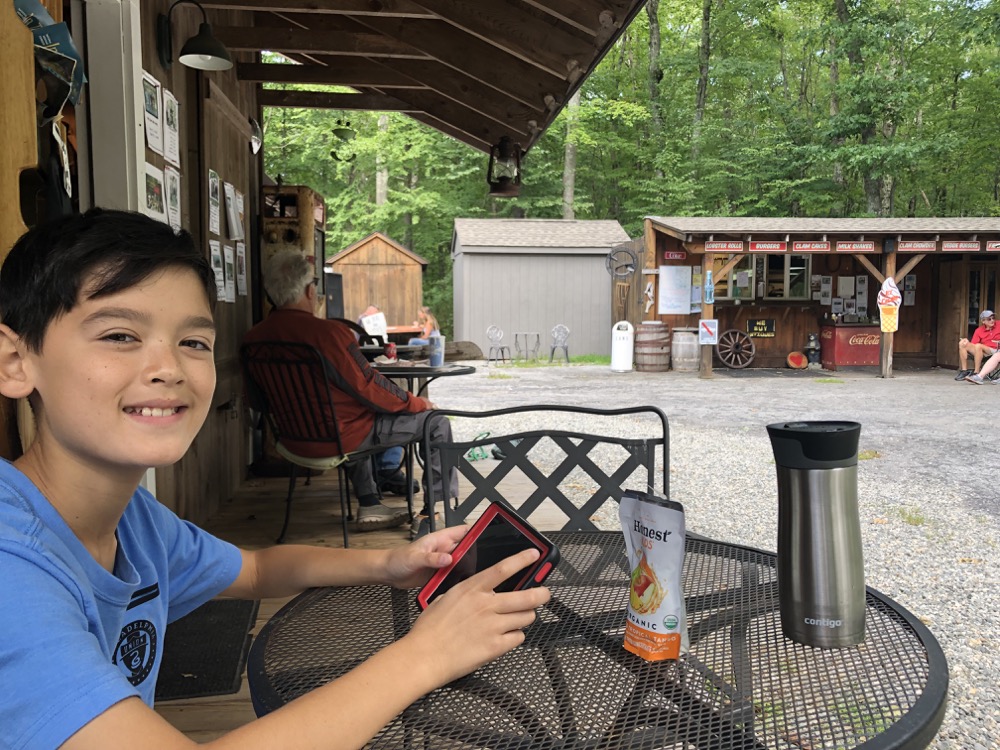 We ordered some chicken fingers and mozzarella sticks for Calvin, and a chili dog for myself. Everything was deep friend and previously frozen and… just what you'd expect at a place called The Frog Rock Rest Stop. Here, you order and the guy tells you your number and then you mull about for a while until the food is ready.
I was told it would be a while, as there were people ahead of me and the "kitchen" was "slammed." We were in no rush and besides, this is Frog Rock! The trio was crooning and the sun was shining. I checked out the gift shop and photo album of the rock. They've collected an impressive array of old Frog Rock photos and news clippings.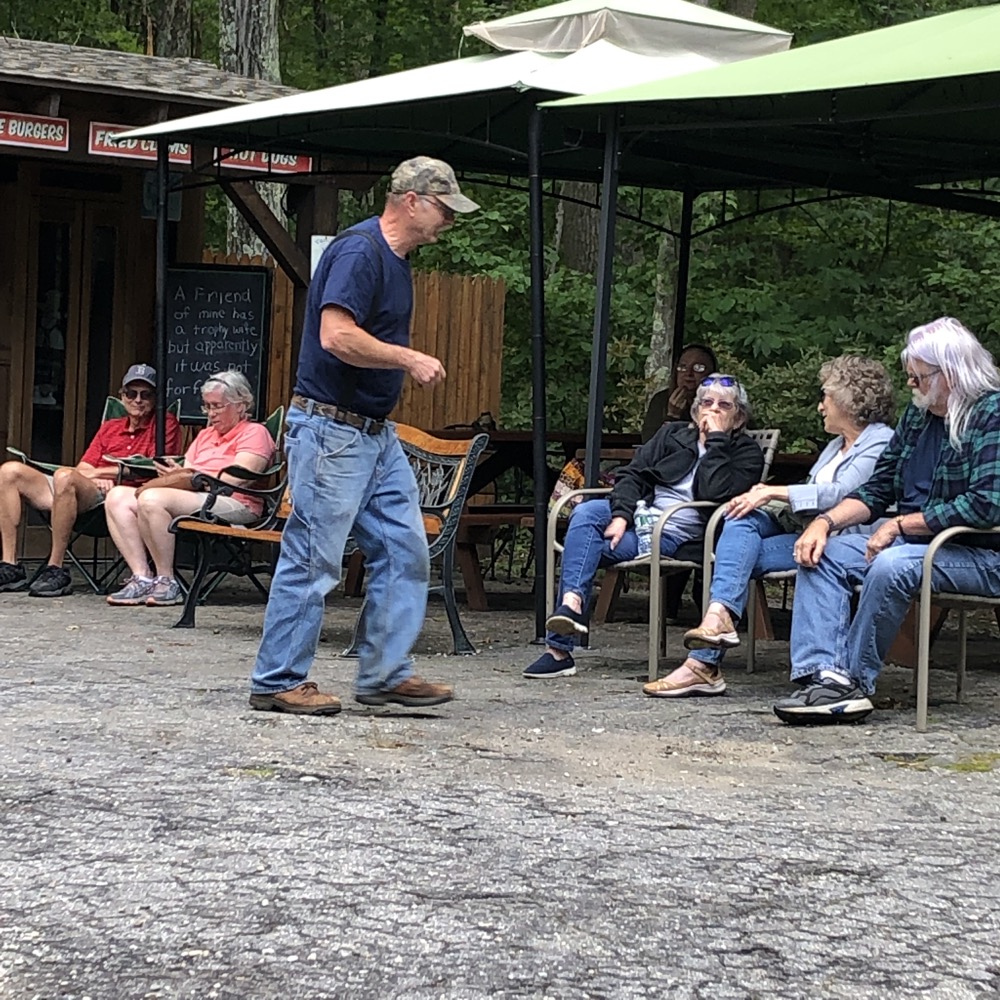 It's all very cute. I love that the family has put so much effort into this whole… thing. What was a forgotten painted rock, barely noticeable from Route 44, is now a roadside attraction and mobile diner of sorts with live music and a community vibe.
Our number was called and Calvin dove right in. Complimenting the chef on the fine mozzarella sticks. I asked him about their quality relative to others he's had. "There's no such thing as a bad mozzarella stick," he said. I took a bite. I disagreed.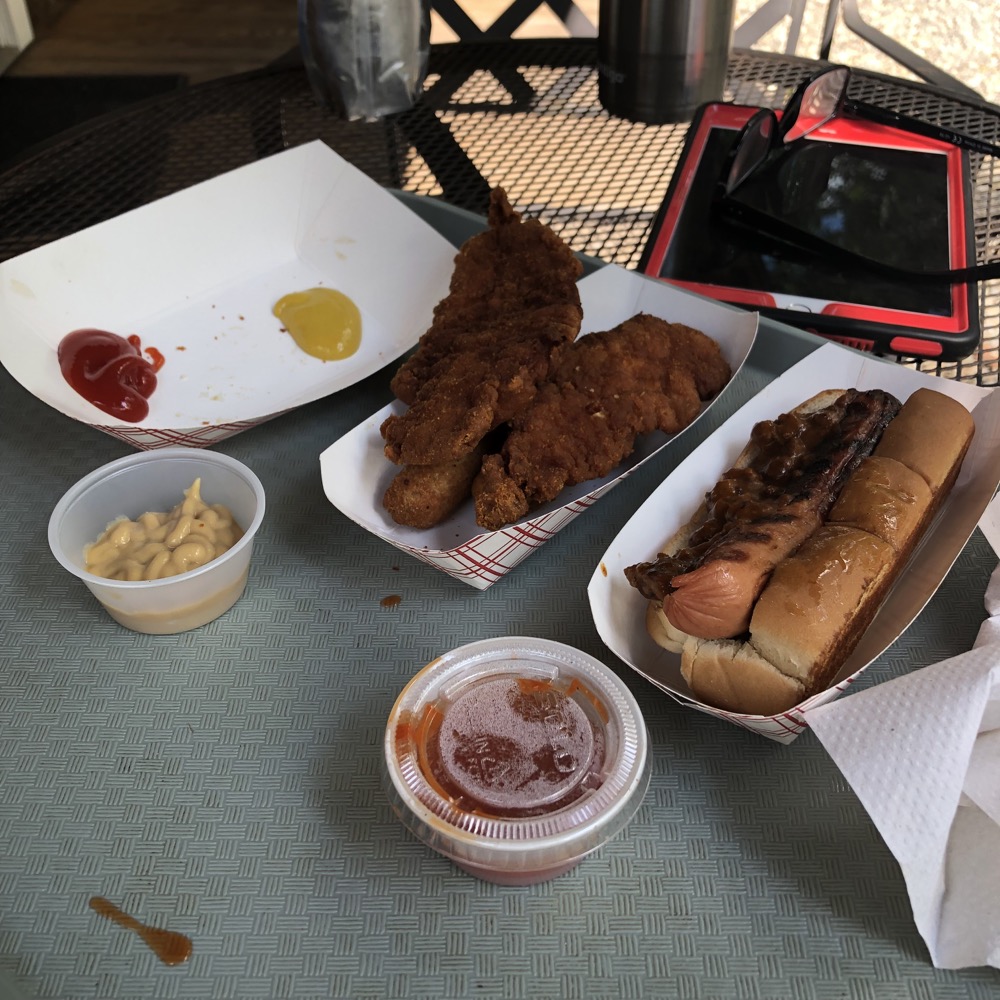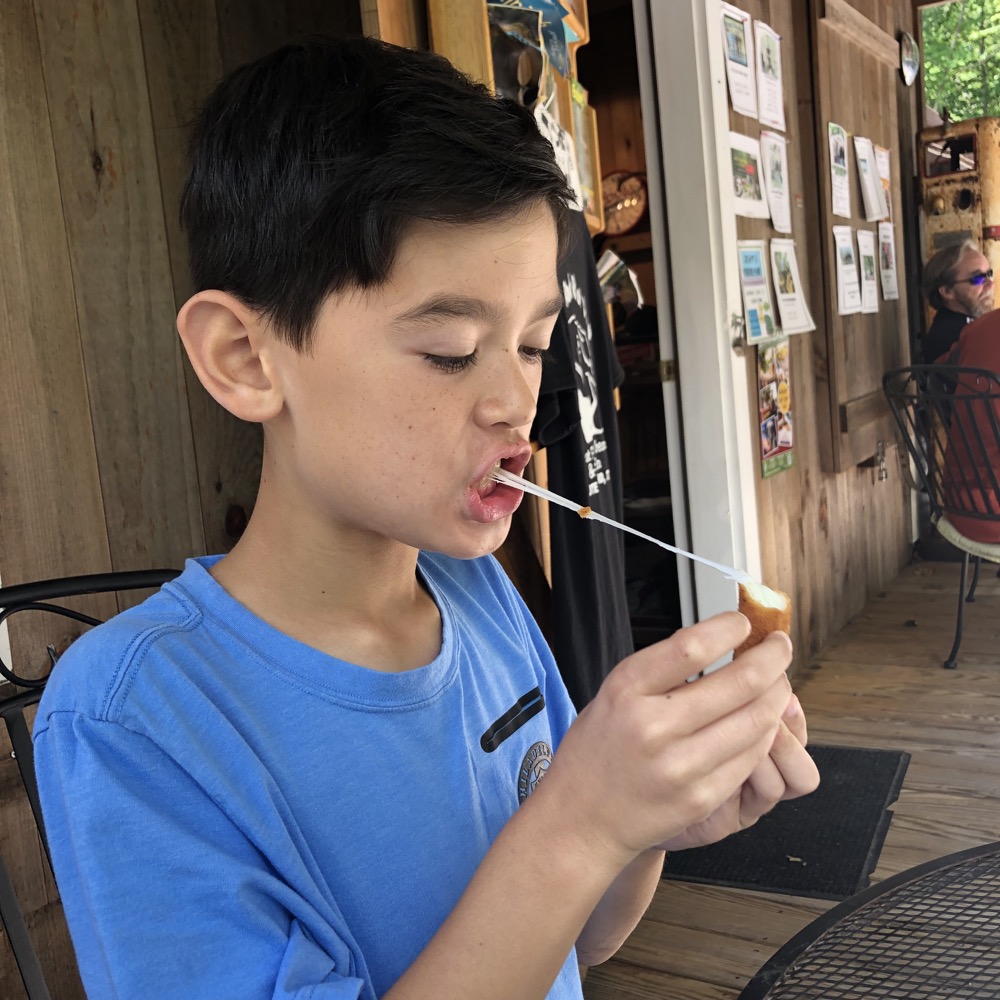 I'm no chili dog connoisseur (or deep fried cheese stick connoisseur either), but my dog was good. I always appreciate a properly toasted bun, especially when chili is involved. The chicken fingers were fine. The bottom line is that we cleaned our plates and were happy to do so.
At some point, Calvin noticed that he was the youngest patron here by a good 50 years. And I was younger than the average age by probably 20. The trio belted out fairly impressive standards from the 1950's and 60's. The crowd was swaying along. I took one last look around, smiled to myself and quietly said to Calvin, "to Eastford!"
He returned my smile, locked eyes with me and said… "can we get some ice cream?" Sigh.
Frog Rock Rest Stop (Facebook)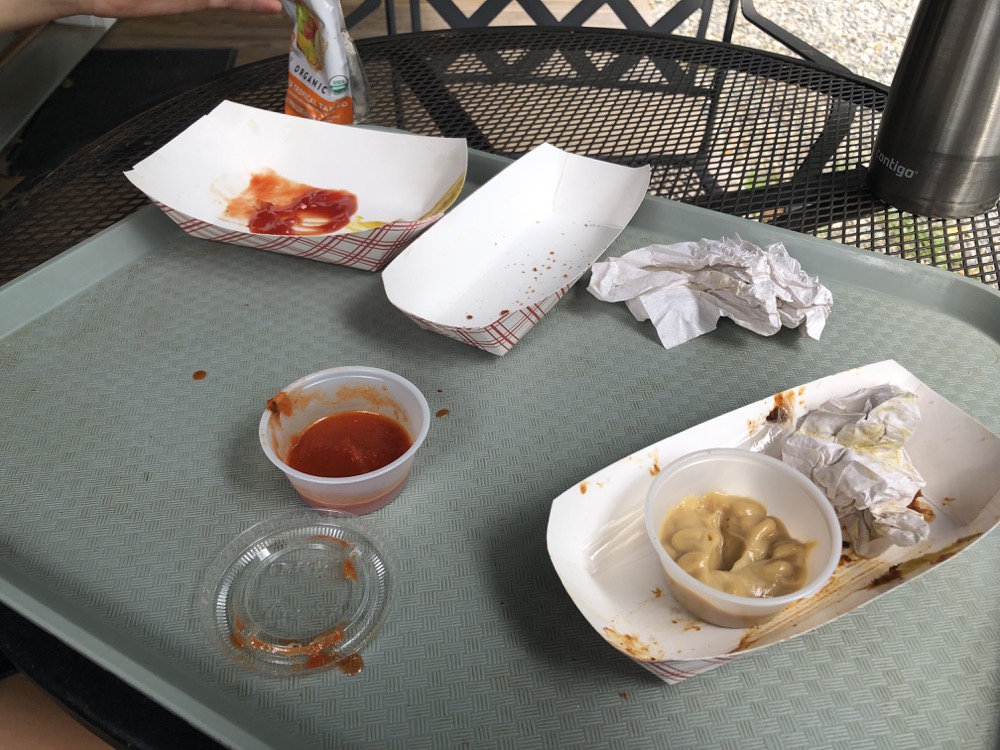 Eastford Wrap-Up
Oh, I see you out there. The Eastford naysayers. "How hard is it to 'complete' Eastford? I didn't even know that was a town!" You people miss the point; completing a town is hard! Eastford has one single darling little museum – The Florence Warren Latham Museum of Eastford History – which only opened in 2017. And it's not open often.
The Boston Turnpike Trail, containing the only remaining unaltered portion of the Boston Post Road! This is also relatively new. The Yalies of Yale-Myers Forest fame blazed and cleared their Red Front Trail in 2020. Frog Rock was just a barely accessible old rock when I started this website. Now it's a thriving seasonal roadside attraction. Crystal Pond Park was a forgotten, overgrown decaying scout camp for decades until Eastford and Woodstock banded together to restore in in the last decade or so.
So you see, Eastford naysayers, I could have "completed" this town in short order in, say, 2006. But I waited. I bided my time until late 2021 when there were all these other things to do up there in the Quiet Corner. And who knows what Eastford will add by 2031? (Hopefully nothing that I'd have on a list because, well, because I need to move on to other towns. Sorry, it's true.)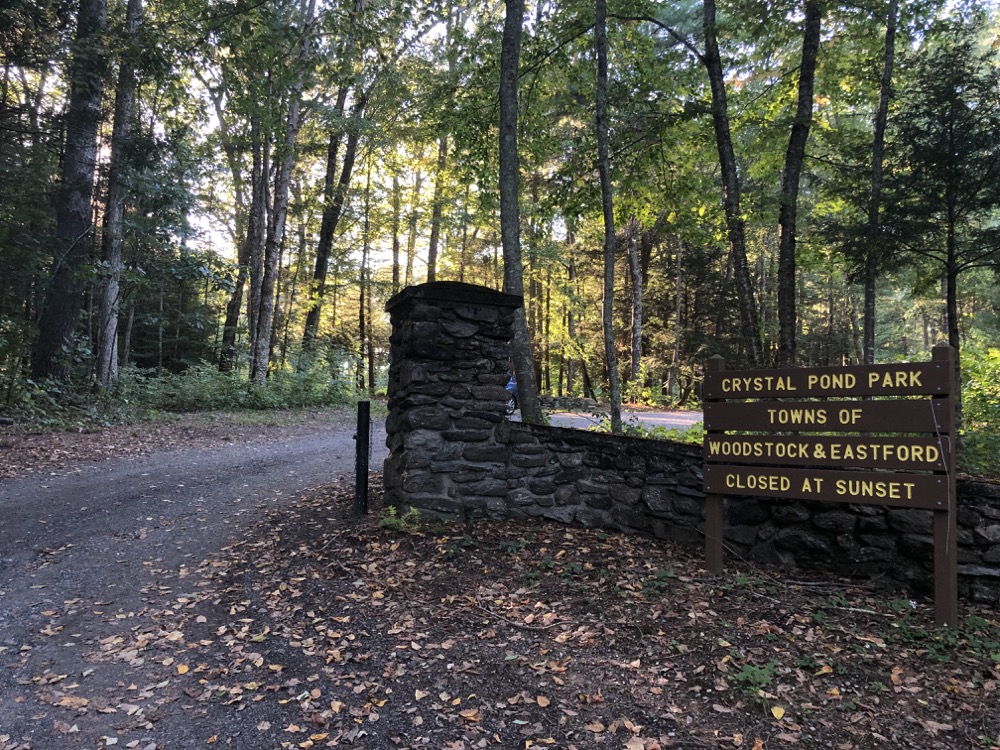 Thought exercise: If I had to send someone to Eastford for a day, I'd first tell the person that I'm not sending them to Eastford for a day. I'm sending them to Eastford for a night! Yes, I'd tell them to pack a pack to hike to the General Lyon Memorial and sleep in the shelter there. Why? Because we don't have too many of these things in Connecticut, because they'd get to learn about General Lyon, and take in a trail along the Natchaug and Still Rivers, which is a very pretty place to hike. Wake up, hike a loop back to the car, and then go have lunch at Frog Rock. Maybe go apple picking at Buell Orchard. Yeah, Eastford's a lovely town, but this is a tough exercise.
Surprise: How much forest Yale owns here. It's a lot.
Favorite fact: Any time someone is celebrated for being the first to die is pretty crazy, right General Lyon?
Disappointment: The Still River Café closed forever ago, but it was one of the state's finest restaurants.
Eastford: Done!
Previous completed town: Andover!
Next completed town: Chaplin!